In imagining the girls' shared space, I knew I wanted a light, beachy and feminine vibe. With pretty pastels and an eclectic mix of pieces, here's the design plan I have in mind.
If you saw the before photos in this post and were totally horrified, don't worry, we've been making good progress and I'm beginning to share a little more about our fixer upper journey and where we are in the process.
One of the biggest changes for the girls in this process was the plan for them to share a room and for Collins to ditch the crib. Yes, I know it may be early for that and I know their age difference is going to make this interesting. Here's my rationale. We knew that evolution out of the crib would come at some point so I decided to take the leap with this new space and jump ahead to a big girl bed for Collins and what will hopefully be a fun, shared space they both can enjoy.
Again, if you want to flip back to the before photo of the room just for giggles, you can find it labeled "bedroom 2". Scary!
Aesthetically, I started daydreaming of a feminine and beachy girls room and was considering upholstered beds or even bunk beds (which Emery voted for) when my mother-in-law found a set of vintage iron beds. They're not identical but very similar to each other and close enough to look like they belong together. I knew immediately I wanted to paint them and decided against pink, since so much of what we already have is pink. I landed on a minty seafoam shade that works with some of the pinks we have and also allows us to branch out to a new look.
I began imagining items around minty beds and here's where I took the design plan: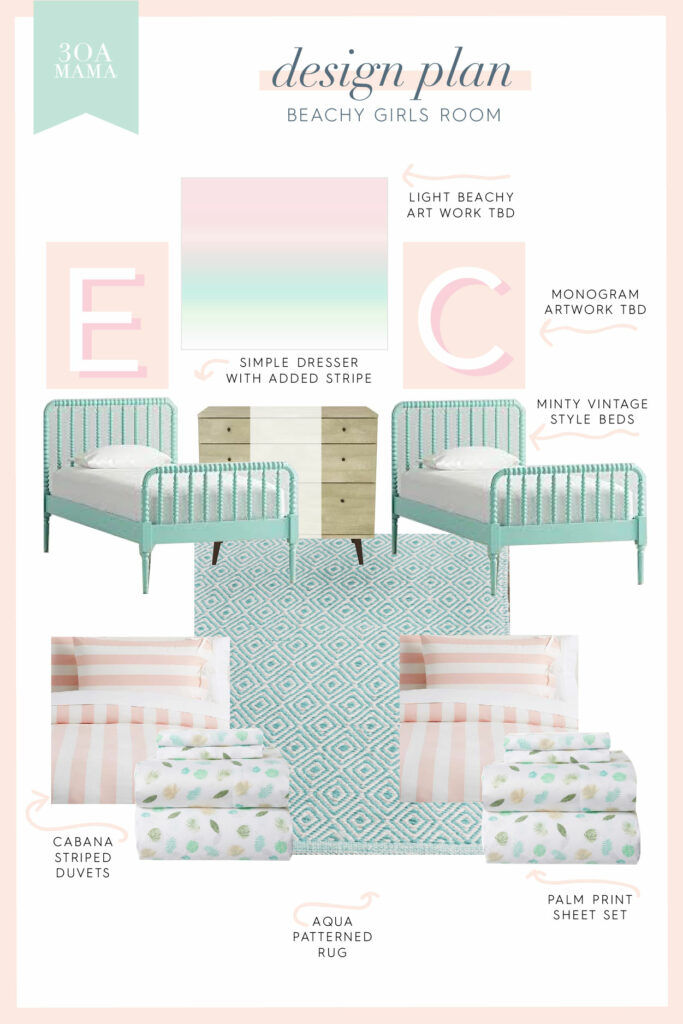 Beds
The ones pictured are not the ones that we have, but look similar. Ours are vintage and unique, but to recreate a similar style, these Jenny Lind beds are simple and timeless. (My mom had a Jenny Lind crib for me and I'm sure a ton of you can say the same.) They also now have options to add a toddler rail, which is great.
Artwork
Still debating… This is a rough idea and I'm still playing with how it will turn out. I don't have a ton of monogrammed items around the house, but I love the idea of giving each girl her own monogram or initial over the bed. I'm leaning toward going more clean and modern with simple lettering, which contrasts with the vintage bed style. I love painting when I can make the time and I'm planning a big pastel pretty sunset piece to hang centered on the wall.
Dresser
This piece was hard since I wanted a beachy vibe but had to mix with an antique bed frame. I went fully eclectic pairing this 3 drawer chest and its mid-century style next to an iron frame of a different era. A lot of the other pieces I considered were either too bulky or not large enough. Hoping this strikes the right balance! (I also loved this dresser at Anthro!)
Bedding
I knew I wanted stripes somewhere in the room and when I came across this blush cabana stripe bedding, they seemed perfect. I love the lines of such a classic coastal pattern mixed with a girly shade of pink. (I also consider this one and this one as options which are both dreamy.) I also found these cute palm print sheets at Homegoods!
Rug
Since the stripes already had a place, I wanted to be careful about avoiding them in the rug while also keeping the pattern fairly simple. (But this striped blue rug is gorgeous.) This Safavieh Montauk print rug was perfect on on major sale here. This size is 6×9 which is plenty large. I may even add a small fluffy runner between the beds.
Drapes
These curtains were originally in our tiny nursery nook for Collins and never got their full shining moment. (I also ordered her personalized crib sheet from Carousel). I have two panels that are white with blush pink vertical border. They're blackout lined which is crucial for a kids room and maintaining a sleep schedule. There's one tall window in the girls' new shared room and these will be framing it nicely. If you want to get lost designing your own online, click here. It's so fun!
What do you think? Any favorite decor pieces your girls love that I should consider? Any helpful tips or advice as we go through this update?
As always, thanks for reading!
Find even more style and motherhood content on the 30A Mama Podcast. Listen on Apple Podcasts or Spotify or online at 30amama.com/pod.