One thing I love about our towns is finding so many hidden gems to enjoy. I'm talking semi-secret beach accesses, restaurants off the beaten path, and 30A playgrounds I can count on for a good time. If you know, you know.
While I'm not cool enough to say that I grew up at the beach, my family moved here when I was in high school, which gives me twenty years as a local and almost 10 as a local mom. (and wow, I feel really old just thinking about that!)
Every time I share a playground or fun little spot my kids love, I get a ton of questions about where it is. I promised to put it all together in one place, so here it is: our favorite playgrounds around 30A.
Our Favorite 30A Playgrounds
For this category, I'm talking about actual playground structures that kids can climb on, swing from or slide down. These spots have at least one thing for kids to "do" beyond just an open space of grass.
Alys Beach Playground
Where: Located along 30A in Alys Beach next to Raw & Juicy (formerly Fonville Press)
Play Area: Easily the most chic of the playgrounds on this list with its beautiful minimal Alys Beach aesthetic, rolling green hills, white sea serpents emerging from the grass and adorable little details spread throughout. We love the rock wall, log tunnel and musical instruments. There are also plenty of places for parents to sit and hang around the playground, plus a full patio with dining tables and striped umbrellas. Bonus: Grab a smoothie or healthy snack from Raw & Juicy while the kids play.
Address: 147 West La Garza Lane, Alys Beach, FL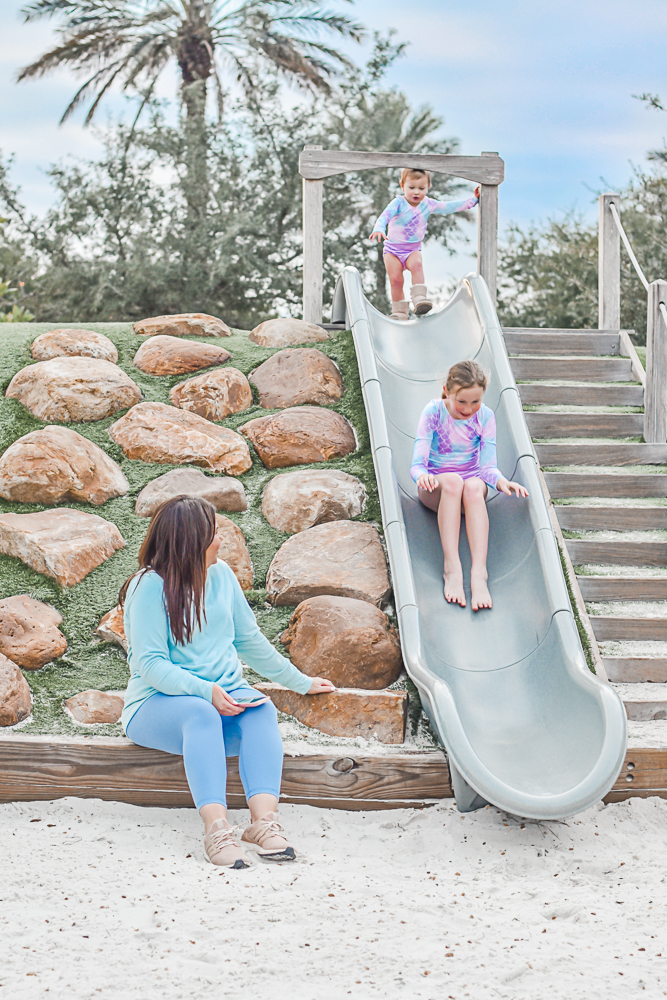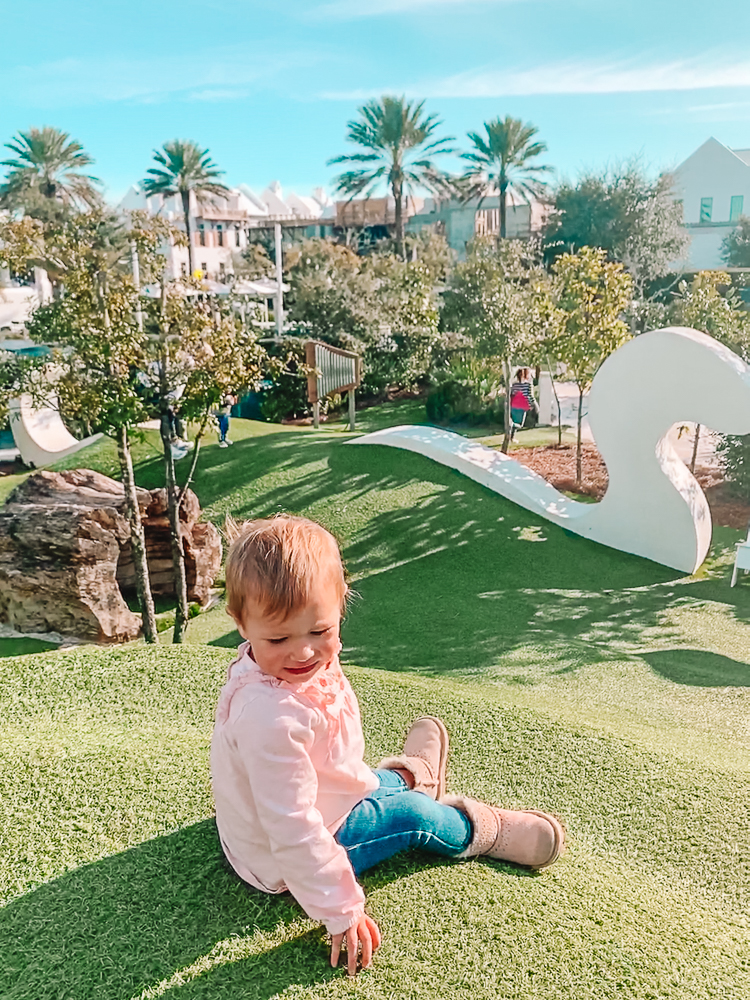 ---
Seaside Playground
Where: Located in the northeast corner of Seaside near the Seaside Swim & Tennis courts
Play Area: This little pocket park is tucked along Forest Street and is easy to miss. It's surrounded by trees and has a woodsy vibe with swings, wooden forts, and slides. It's an easy stroller walk from the main circle if you want to wander Seaside and check out the adorable homes on the way to and from the park.
Closest Address: next to 462 Forest St, Seaside, FL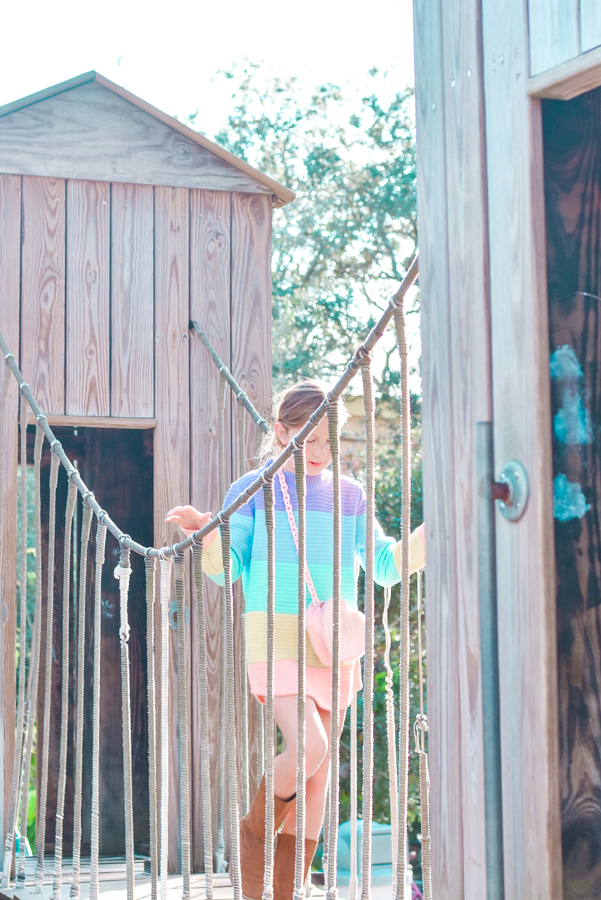 ---
Rosemary Beach Children's Playground​​​​​​​​​​​​​​
Where: Located on the east side of Rosemary Beach between 30A and the Gulf
Play Area: This 30A playground is definitely a hidden gem! Rosemary Beach has so much fun to offer, but the playground is rarely mentioned. It's tucked away in a quiet little section on the edge of town and is easy to walk or bike to from Main Street or the greens along 30A. It's a rustic, wooden style playground that blends in with the trees and has a bit of an old-school feel. Find lots to climb on, slide on and swing on — even a tire swing
Closest Address: Windward Lane, Rosemary Beach, FL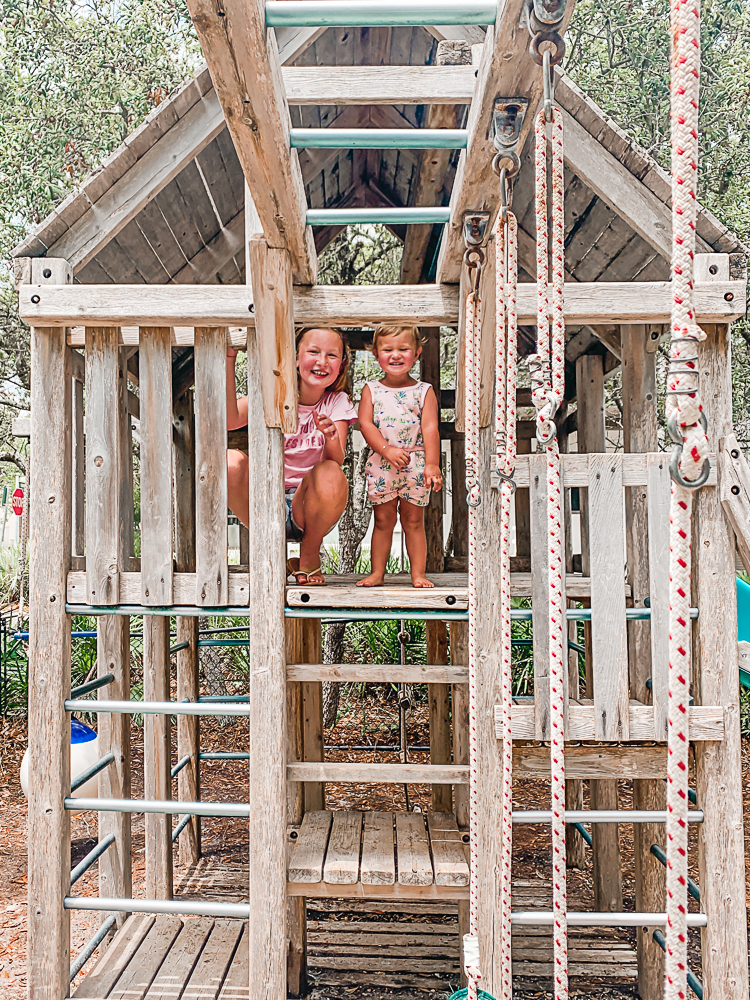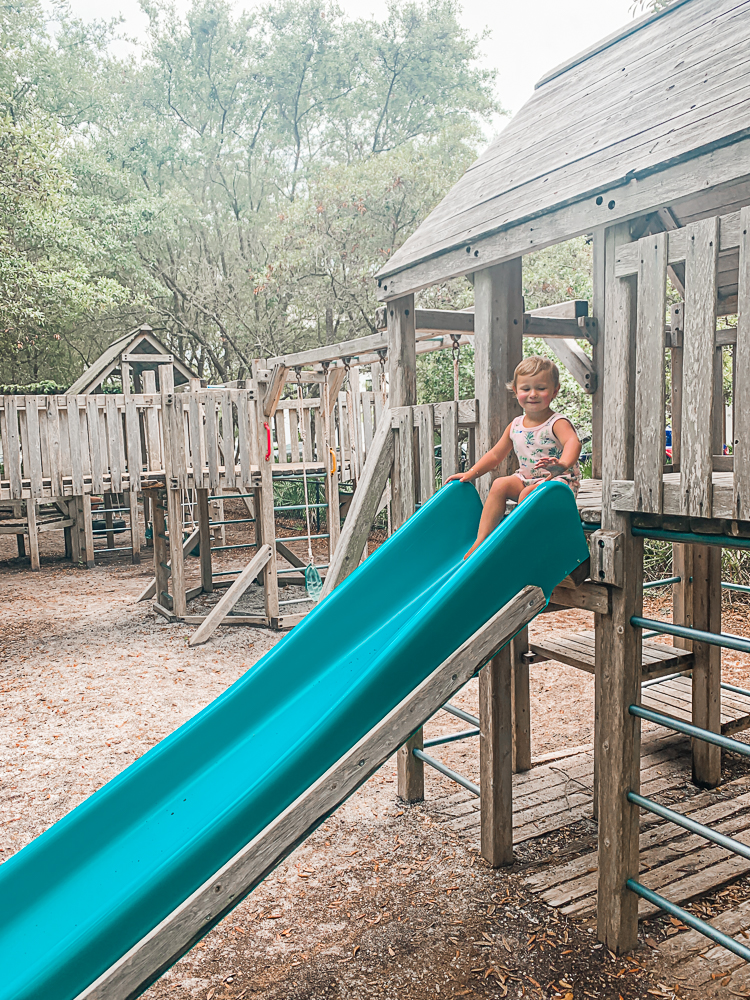 Watercolor Playground
Where: Located next to Camp Watercolor in Watercolor, FL
Play Area: This park looks a little different after the pool expansion at Camp Watercolor and is now on the south side of the building. It has a modern playground with a mini climbing wall, obstacles, slides and a couple swings. This is a fun stop if you walk the trails around Western Lake and as a bonus, there's a big green on the other side of the pools for even more playtime. We like to bring lacrosse sticks and throw the ball around.
Closest Address: next to 205 Spartina Circle, Watercolor, FL
---
Helen McCall Park
Where: off of 98, on Moll Drive in Santa Rosa Beach, FL
Play Area: multiple plastic and metal structures with plenty of slides, swings and tunnels to pass the time. Bonus: Helen McCall Park has a splash pad next to the playground for added warm-weather fun.
Address: 325 Moll Dr, Santa Rosa Beach, FL
---
Baytowne Adventure Land Playground
Where: inside Village of Baytowne Wharf in Sandesin, FL
Play Area: This playground packs a lot into a small space and, even better, is surrounded by the shops and restaurants of Baytowne Wharf. Think ropes courses, a ton of wooden playhouse structures of all sizes, climbing areas, tube slides, the works. On busy days, it can be a lot to keep up with fast-moving little ones, but the playground area is enclosed with a fence and the kids' fun is worth the careful eye. Bonus: Nearby is Adventure Zone, where older kids can enjoy a high-in-the-air ropes course and rock climbing situation.
Closest Address: 9300 Baytowne Wharf Blvd, Miramar Beach, FL
---
Even More Local Playgrounds
Cessna Park
Where: off of 393 N in Santa Rosa Beach at the boat ramp for Hogtown Bayou
Play Area: This is a county park with a simple play area and a few swings. Convenient bathrooms are right next to the playground and as a bonus, you can watch the boats come and go in Hogtown Bayou.
Address: Hogtown Bayou Ln, Santa Rosa Beach, FL
---
Padgett Park
Where: off of JD Miller Road in Santa Rosa Beach
Play Area: This park has some of the newest equipment with fun structures to climb on, up, through…all the things. Lots of little sections for kids of different age to find fun.
Address: 810 J D Miller Rd, Santa Rosa Beach, FL
---
Frank Brown Park
Where: Located in Panama City Beach between Hwy 79 and Pier Park.
Play Area: There are so many activities to do here — it's huge! If you need a major play date, this is worth the drive. The playground areas are sectioned into several smaller zones so it's easy to keep up. From giant building blocks to massive slides and climbing forts, it's enough to fill hours of play. Bonus, you can swing by Target before or after for your own version of fun.
Address: 16200 Panama City Beach Pkwy, Panama City Beach, FL​​​​​​​
Next time you're searching for 30A playgrounds, I hope this list of favorites will help!