One of 30A's most popular tiny towns, Seaside, FL and its New Urbanism design have become a darling destination for families over the past three decades and counting. The popularity is only growing and there are so many details that make this community the iconic vacation spot that it's become. Delicious southern coastal cuisine, stunning architecture, classic beach cottages, white picket fences and the Gulf's white sand and turquoise water make it easy to fall in love with this picture perfect town. As a local of 20 years (my how time flies!!), I've had plenty of time to savor the best of Seaside. In this post, I'm breaking down the dining, the shopping, the activities and the events that I love to experience year after year.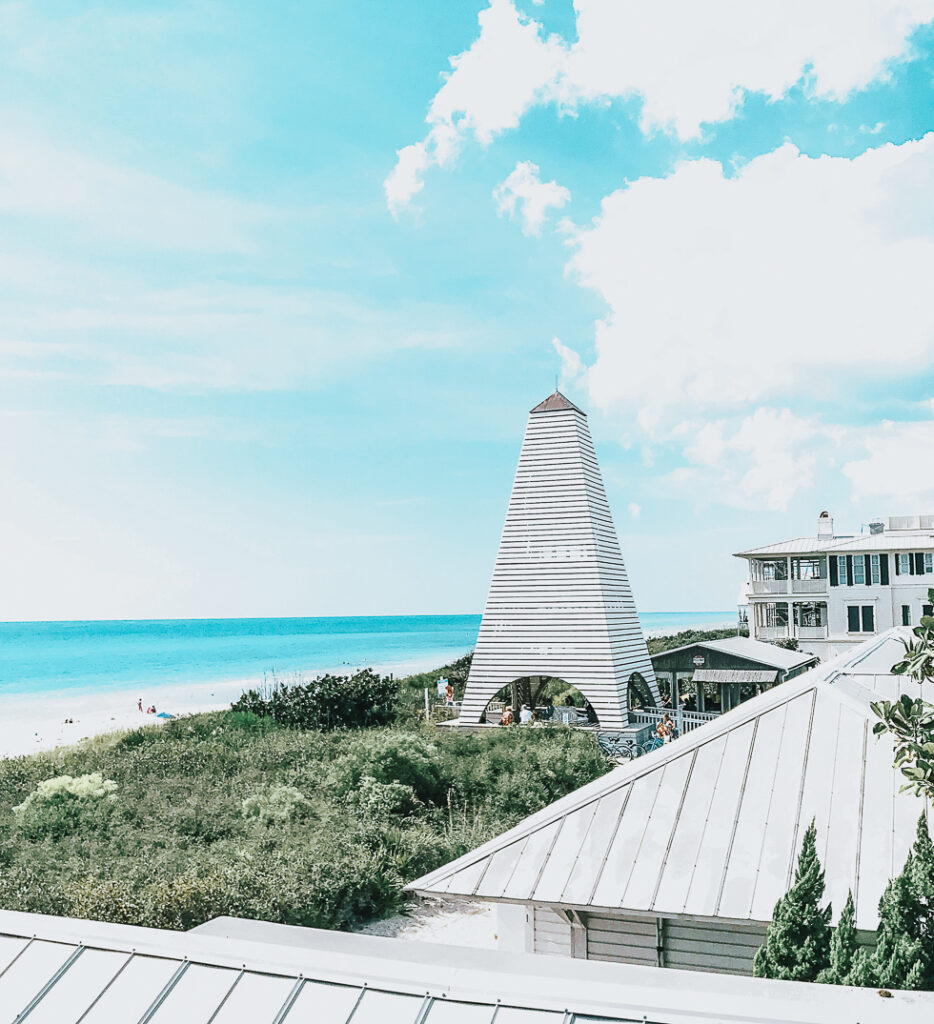 My Seaside Favorites
Food & Drink
Sit Down Dining
Bud & Alley's – This is one of those 30A bucket list spots for the view alone but the restaurant's longevity makes it a local staple. I love lunch or sunset there and usually get a smoked tuna dip or salad. Moe's margaritas and mojitos are the best.
Bud & Alley's Pizza Bar – My favorite cozy spot to sit is in the corner by the beach pavilion with the Gulf right over the dunes. The Brussels sprouts are out of this world and the Funghi pizza is my go-to. You can also grab pizza to go from the call ahead window.
Great Southern Café – Grits a Ya Ya forever. Or the Fried Green Tomato Benedict. Or the mac & cheese with bacon & shrimp. Don't forget the beignets and mimosa. Or the mojito. It all depends on when you go, but you really can't go wrong with breakfast, lunch or dinner here.
Ji'Shi Kitchen – Sushi is always a good idea here, but my absolute favorite is paella night when they cook the most delicious dish on a giant pan out in the courtyard. Worth every bite.
Quick Service Food & Drink
Modica Market – There are so many good things to say about Modica, it's hard to pick a starting point. Great grab and go breakfast items (chicken biscuits, ham and cheese croissants, muffins, you name it) plus the best Giant Mimosa every mama needs. I love sitting down to eat one of their lunch specials (yes to smoked tuna dip and the tomato bisque/grilled cheese), picking up steak for a special dinner, cheese for charcuterie or grabbing an after-school snack, but really the market has a little bit of everything making it an impressive one stop shop.
Bud & Alley's Taco Bar – Tacos. Enough said. I love the shrimp burrito and almost always avoid deciding between queso and guacamole by getting both.
Frostbites – Shaved ice. Sno cone. Snow ball. Whatever you call it, it's delicious. Frostbites was on Airstream row before it was even a thing. I actually try to order something different every time, but there are so many combinations I don't think I could ever make it through to try everything. Bahama Mama is a favorite along with plain and simple coconut. Of course, my kids like to go straight to anything blue!
Barefoot BBQ – When I was pregnant with Emery I craved this mac n cheese something fierce. We love the sliders to split for a light bite or ribs if you wanna go all in. Murphy and the crew make delicious barbecue and their sauce is amazing. Personally, I'm more into Pipeline, but you need to sample them all to find your favorite.
The Meltdown – Grown up grilled cheeses never go out of style. My go-tos are The Cuban McConnell, the Smokin Turkey and the Strawberry Goat Forever .
Wild Bill's Beach Dogs – If there's such thing as a healthy hot dog, this is probably it. Kid-approved, yes, but delicious for everyone with a variety that includes grass-fed beef, family-farmed pork, chili, slaw and vintage sodas.
Amavida Coffee – A certified B-Corp, Amavida makes delicious coffee that is ethically and sustainably sourced. Get your favorite cup to start the day and grab a bag to take home.
Crepe du Soleil – From the savory Le Clasique (ham & cheese) to the sweet Bananas Foster (YUM!!), order one of the grab-and-go crepes for breakfast or lunch plus delicious frosé to go with it.
Shopping
The Seaside Style – Aptly named, this store is the quintessential home of beach chic. Their brands include the flagship The Seaside Style, Beach by The Seaside Style, Kids by The Seaside Style, Cabana by The Seaside Style and Bump & Baby. Find styles for the whole family here including flowy linens, classic stripes, swimsuits, beach toys and accessories, home decor and, of course, the ultimate souvenir — the Seaside tee. I have a full post on all of the stores under The Seaside Style brand here.
Duckie's – If you ask my kids, this is the best store in Seaside and it really is one of the best toy stores in the land. Simply walking in past the big yellow duck lifts spirits and the floor to ceiling stash of toys, children's clothes, books, accessories and all sorts of cool goodies helps anyone feel like a kid again. There are SO MANY THINGS that I can always find something new and neat.
Ophelia Swimwear – This is the ultimate swim shop with every major swim brand, much-loved beach bags, sandals and coverups to go from beach to brunch and beyond.
Willow Boutique – Trendy and fun, this shop has a mix of affordable designers and cute resort wear clothes, shoes and accessories.
Sundog Books & Central Square Records – Shop the bookstore below and browse music upstairs. Not only can you find the best beach reads and the latest best-sellers, but you can also score books from local authors (like my friend Paige Schnell's Tracery Interiors book and Lynn Nesmith's 30A Style and 30A Living books). The kids section is pretty amazing, too.
Mercantile – A little bit country, a little bit boho, this store has flowy dresses, boots, jeans and a farm-meets-beach aesthetic.
Art of Simple – Find cute and colorful decor, art and gifts, plus a variety of apothecary items and beauty products.
Playing & Fun
Seaside Amphitheater – This is THE spot to be when there's an event. Blankets and lawn chairs are welcome and I love to settle in for a concert or movie night. The rest of the time, the green serves as a giant playground for throwing frisbees, balls, just running around or climbing the stage stairs. To stretch the fun, be sure to bring a ball /game or grab one at a nearby shop.
Seaside Pavilions & the Beach – These are my favorite beach accesses along 30A. Each is a distinct work of art in itself, named for the street it sits on. Most are exclusive to Seaside rental guests only, but the center two are open to the public. One public access is located just behind the Shrimp Shack and Cabana and the other is the iconic Obe Pavilion located between Bud & Alley's and Pizza Bar. Obviously the beach is entertainment itself, but its worth checking out the various accesses to get there.
Seaside Sundial – I lived in the area for years before I happened upon this cool discovery. Seaside has a working sundial, which is a neat symbol of the old-school, simple life at the heart of Seaside. Find it in its own little pocket park behind the last house on the left on Natchez St. Try to visit on a sunny day and test your time-telling skills.
Seaside playground – Located in the northeast corner of town near the tennis courts, this adorable playground has swing sets, a wooden castle playhouse and space to run. It's a little hidden but a fun find for the littles.
Events
Seaside School Half Marathon & 5K Fun fact: Hunter is an alumni and attended Seaside the first year it opened! Major funding for the school comes from this annual early-spring race and is always popular with runners year after year. I finally ran it (even though I'm a terrible runner) and had so much fun. Th entire race weekend is a blast. From packet pickup with games and vendor booths to dinner with Emeril that Friday night and post-race hanging in the town square, there's a little something to enjoy every day. Get the scoop or register at runseasidefl.com
4th of July – This is one of those quintessential summer moments in time: hot summer sun, a patriotic parade, stars, stripes, bikes, a day at the beach and a night sky filled with fireworks. Seaside's recipe for the Fourth just works and it's one I love taking part in each year. We ride in the parade first thing, spend the day in swimsuits and finish up with a concert and fireworks at dark. I'm always such a kid when it comes to fireworks and I'm not exaggerating when I say they are some of my actual favorite things in life. It's a busy day but one that always goes down in the books as one of our family's most memorable.
Seeing Red Wine Festival – If you enjoy sipping vino, it's hard not to have a good time at the annual Seeing Red Wine Festival.The main circle is filled with wine tents and tasting booths waiting to fill your empty glass. The fall weather is typically gorgeous (warm without being hot) and the amphitheater green is dotted in beach umbrellas ready for lazy lounging on the grass. Pure daydreamy bliss.
Holiday Season in Seaside – The holidays are underway from Thanksgiving through New Year's on 30A and Seaside's celebrations are always wonderful. From The Nutrcracker performance in the amphitheater to the Christmas parade along 30A and the recent addition of ice skating in the lyceum, there are a ton of activities to jump into for festive fun.
Where to Stay
Check out this post on Cottage Rental Agency for the scoop on rental properties in Seaside. And if you're flying in, check Destin / Valparaiso (VPS) which is about 45 minutes away or Northwest Florida Beaches (ECP), which is about 30 minutes away.