This post is sponsored by Regalo. All opinions expressed are my own.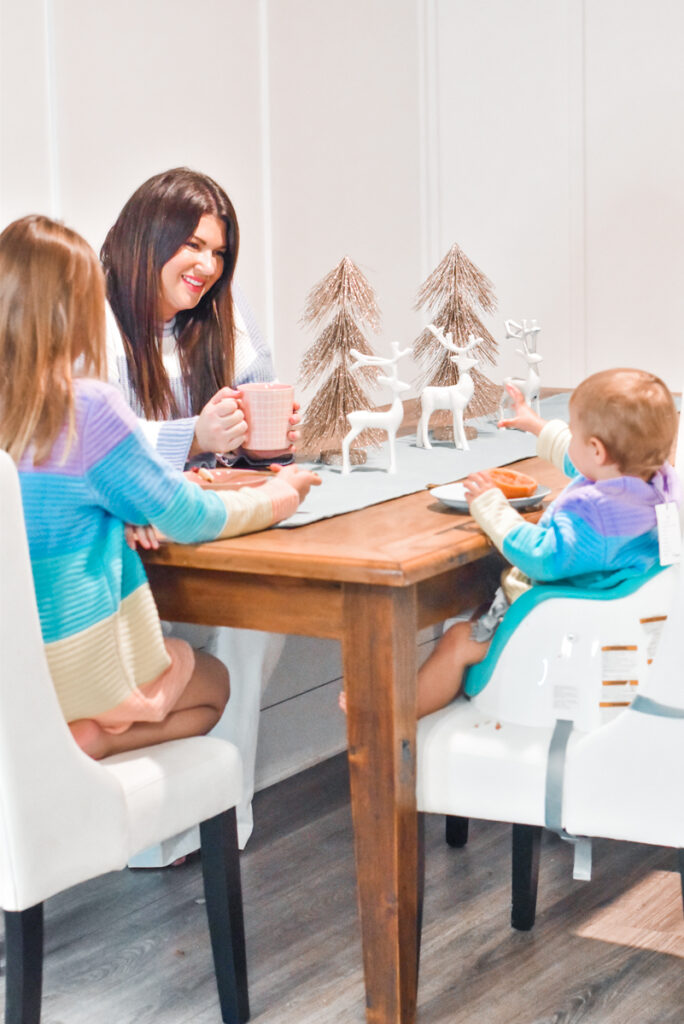 With Collins turning two this month, it's been a major reminder that my little miss is growing up so fast. The first year flew by with all things baby and the past 12 months have made the biggest difference in her personality. She is full of opinions, copies everything Emery does and wants to feel like she's just like us. In fact, she's usually mad if she doesn't get the same allowances or privileges and that includes sitting at the table just like a big kid.
Our dining nook is still a work in progress, but with the built-in bench, there isn't much room for a high chair and I don't think Collins would even go for that at this point. We've been using this booster seat by Regalo lately and it's been such a hit.
I can fasten the straps easily so it's secured both behind the chair back and under the chair seat. This 3-in-1 booster seat comes with a removable insert so it grows with your child and also has a removable tray table that snaps on and off.
We started using it more recently in toddler phase, but the tray is great for babies who can sit up and need a little all-in-one station for eating or just staying in place. I wish I would've had this from the start because it's not just a dining chair, it's a seat that works on the living room floor or in a play area or even traveling.
The turquoise insert can also come out when Collins grows a bit more so she can keep using this booster seat beyond her current phase. Plus, you all know I love my leather-look dining chairs (which are actually vinyl!) because I can easily wipe up any spills or food messes. And if it's something major, the chair just unbuckles for quick cleanup.
Some of my current favorite phrases and words Collins is saying:
wah-yer = water
cahdo = avocado
grink = drink
kickin = chicken
ah gonnn **with hands shaking** = all gone
uncry = hungry
and her 3 most used phrases Mommy!!!! Emery!!! Daddy!!!
Some days I just want to press pause and bottle up this age! For now, I'll just have to keep our funny dinner time moments close so they become lasting memories.
Shop the 2-in-1 Booster Seat here on Amazon or here on Walmart.com.