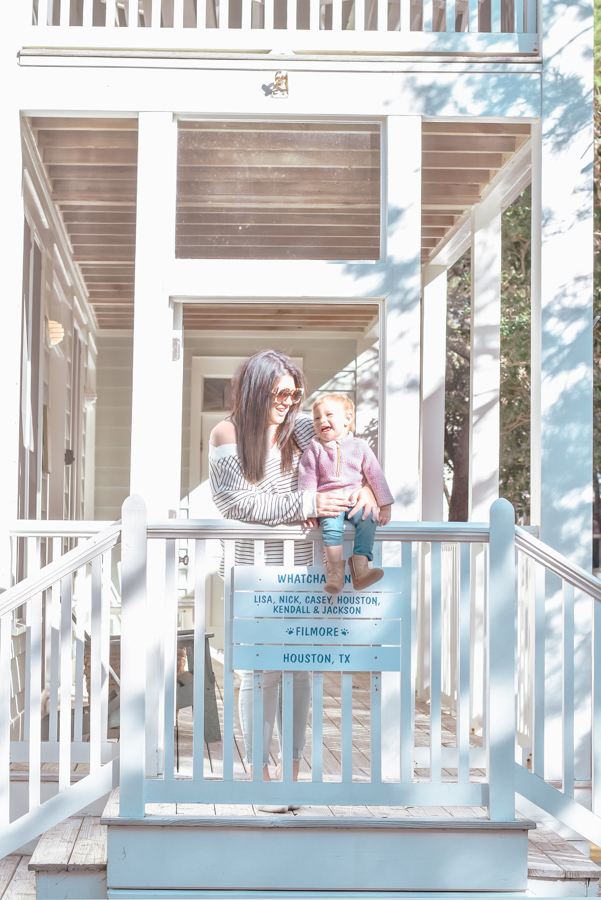 Special thanks to Seaside's Cottage Rental Agency for hosting this stay. All opinions expressed are my own.
When it came time to think about what we wanted to do for Collins' 2nd birthday, I thought it would be fun to skip a traditional party and turn the occasion into a relaxing staycation. With so much happening during the holiday season, an easy, laid-back weekend sounded amazing. We found the perfect beach house in Seaside thanks to Cottage Rental Agency.
About Cottage Rental Agency
Here's a fun fact and a little local trivia: Cottage Rental Agency is the original rental company and the longest established property management company in the iconic town of Seaside, FL. CRA has an incredible roster of homes from Gulf front to ultra chic to absolutely adorable. Some on my saved list in Seaside are Happy Together (ahh-mazing), Outside the Box (Gulf front and glorious), Stairway to Heaven (major mid century vibes), Key Lime, Grand Central (pink and cute!), Beside the Sea (gorgeous views!). CRA's ultra luxe properties are here in the Grand Collection.
Cottage Rental Agency Promo Codes
Book online here or call (800)664-2819.
Take advantage of current rates as low as $109 when you book stays from December 1 through February 13, 2020 at any eligible home or cottage in Seaside and along scenic Highway 30A.
Use code BEACH to get a 3rd night free when you book by January 31, 2020.
Use code SPRING to get 10% off your spring break stay.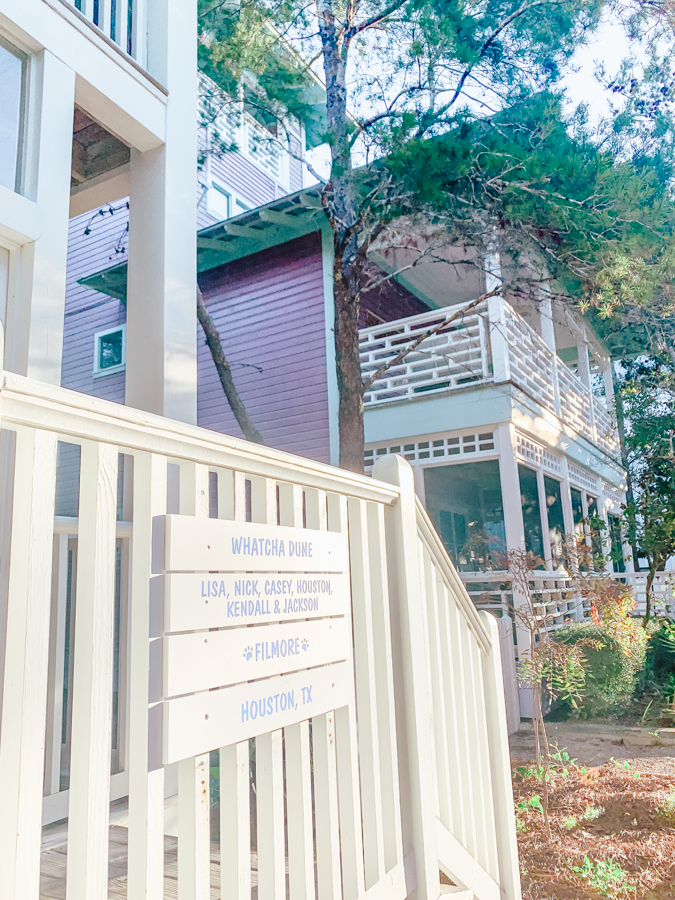 Whatcha Dune
We absolutely LOVED this house! The location was perfect for us. Whatcha Dune is two doors down from the Seaside Chapel, which is situated right behind Ruskin Place, which is right behind the main Seaside Square. It took less than 2 minutes to walk from the house to the post office and the amphitheater.
Whatcha Dune has 3 bedrooms, 3 bathrooms plus a top floor bunk room / play room. In total it sleeps 8. The home is gorgeous with an open floor plan, chic beachy decor and plenty of space for families. The porches look out toward the chapel and the green with parking right in front of the house. You can see the full Whatcha Dune rental listing here.
Cottage Rental Agency had a nice beach-friendly welcome bag waiting with a bottle of choice at checkin, wine tumblers, a wine key and football for the kids to play with.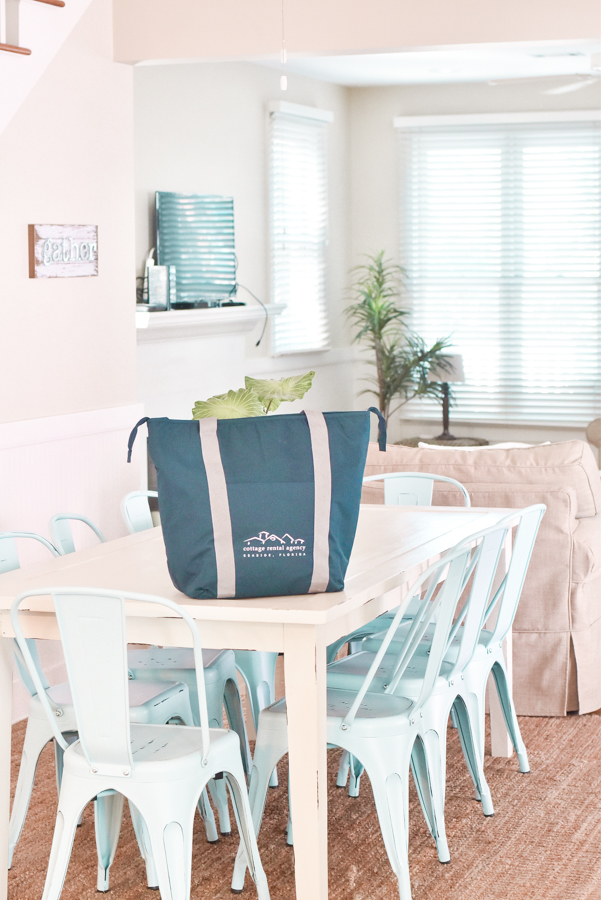 The girls LOVED having stairs since we don't have them at home and spent a LOT of time climbing up and down in bliss.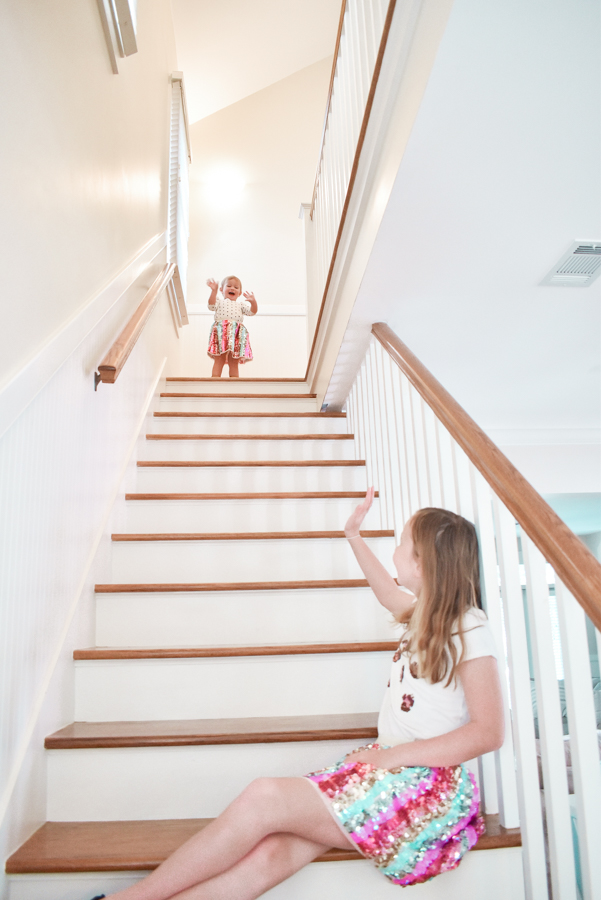 Emery pretty quickly claimed the top room as her own, complete with a game table and its own little staircase to access the space.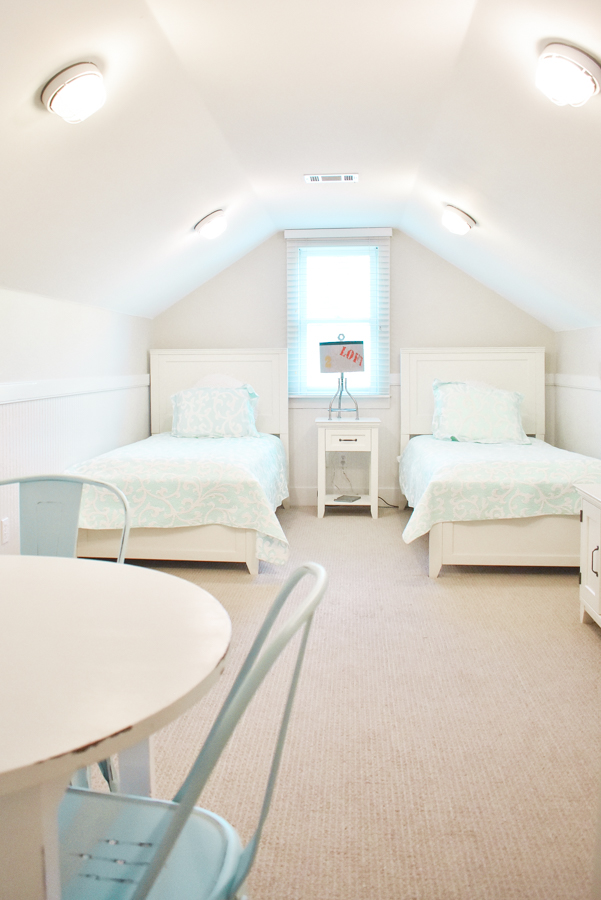 The bedrooms were spacious and comfortable. The master had the most comfy cozy bed and its own bath suite. The birthday girl Collins tried to claim the master as her own!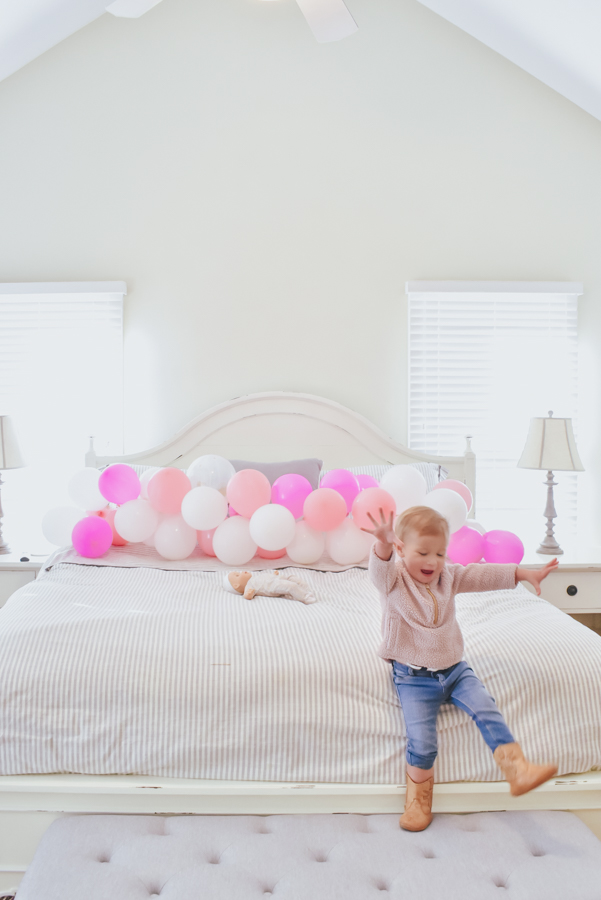 The other two bedrooms were beautiful with a shared bathroom for the two.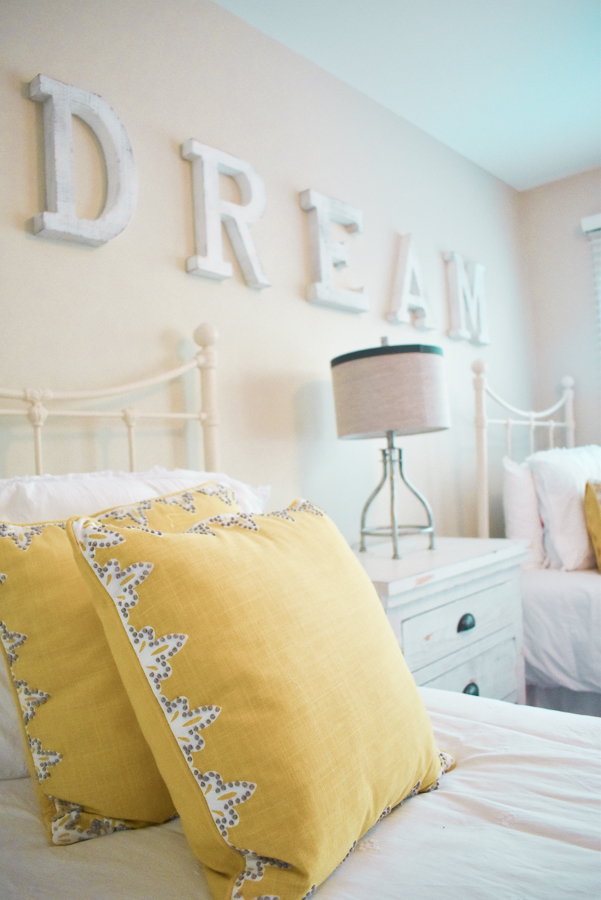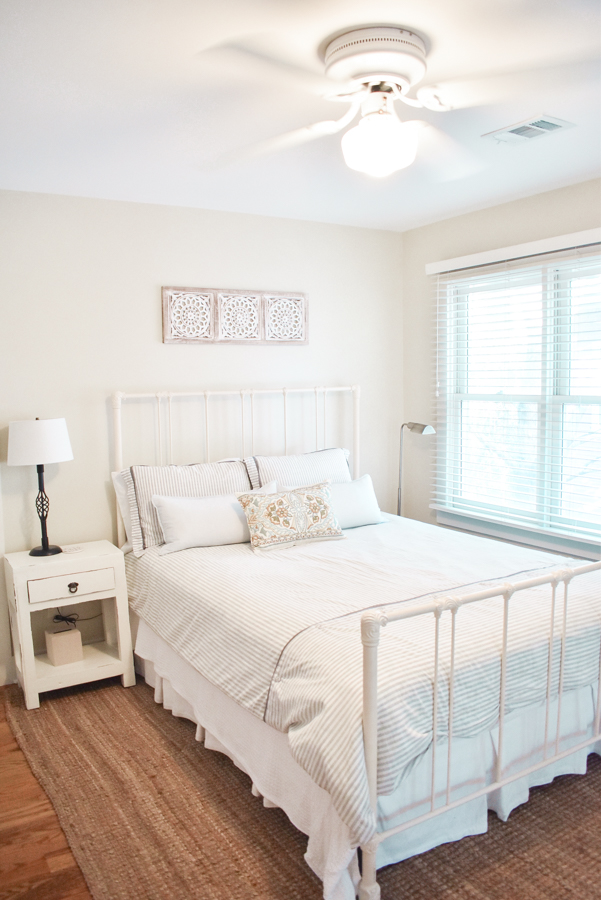 On Sunday morning, we sat outside on the porch with coffee and listened to the service two doors down at the Seaside Chapel. Not a bad way to do church!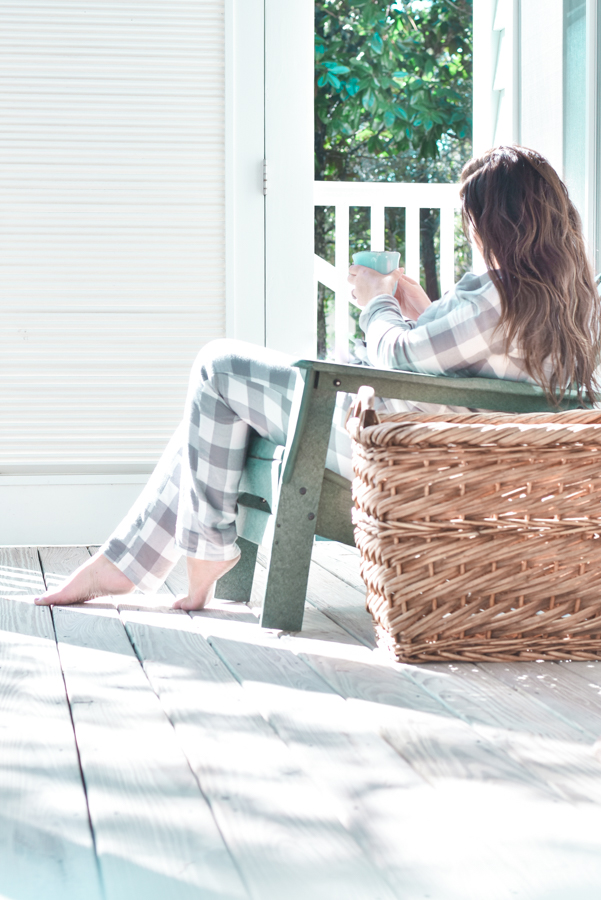 The girls enjoyed opening every single board game in the game cabinet and asking to play as many as they could. We did dominoes. We did Heads Up. We did Candyland. All. The. Games.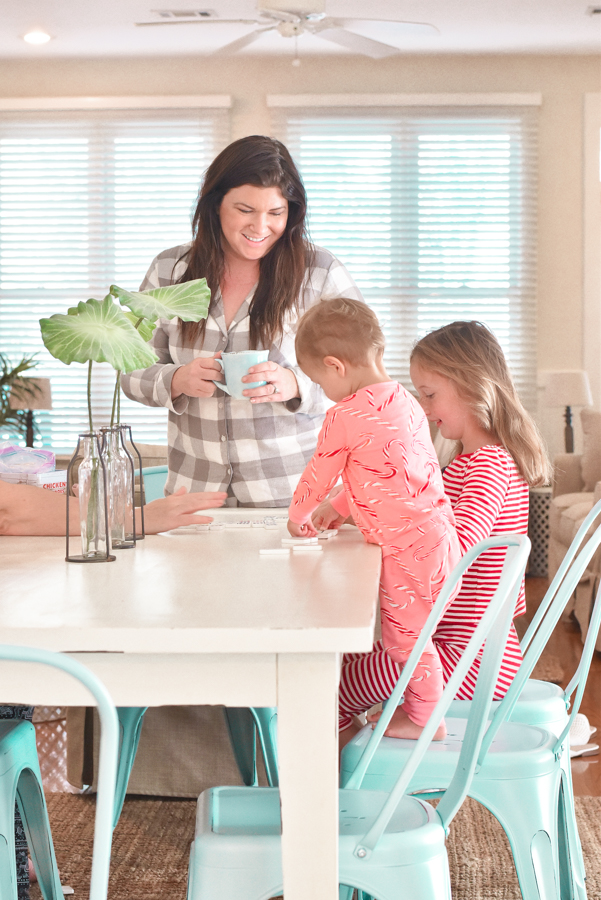 Seaside Cottage Rental Agency Amenities​​​​​​​
While the choices on where to stay seem endless there are a few major perks to point out with Cottage Rental Agency.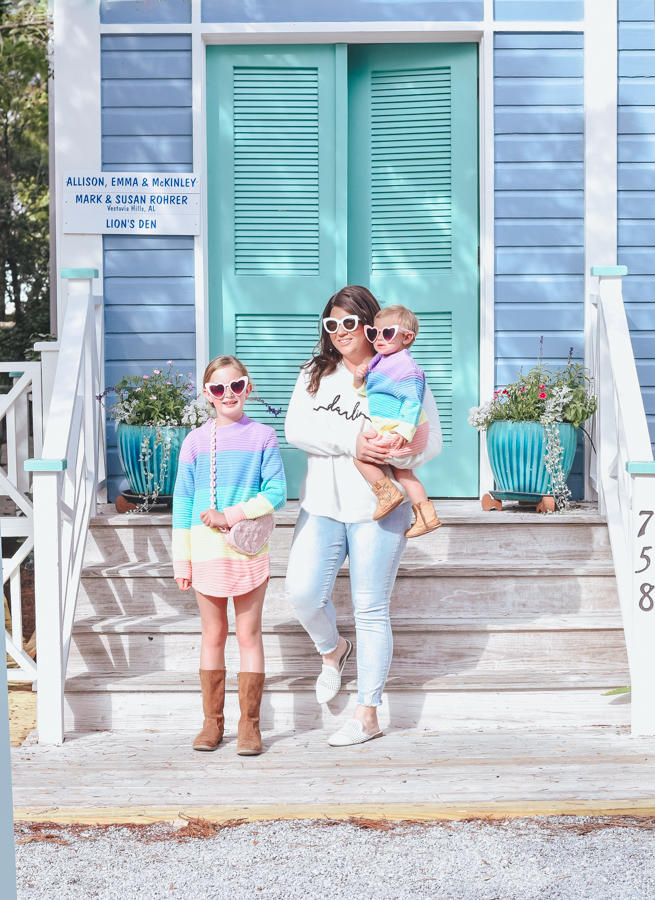 Easy Access to Seaside – Finding a parking space during the busy season can be an adventure itself, so staying onsite in close proximity to all of the shopping, dining or events is huge. You can walk or bike everywhere! We loved strolling around seeing all the colorful houses and coastal designs.
Each house also lists the owners and their hometown which is a neat detail. I love the colors on this one!
Beach Access – Not every vacation rental is created equal when it comes to gaining access to the Gulf. Cottage Rental Agency's properties come with codes for each of Seaside's private beach pavilions and walkovers. Yes, there are public access points in Seaside and along 30A, but these less-crowded spots on the sand are coveted.
Pool – And because nearly every kid loves a pool, Seaside has three to enjoy. Whatcha Dune is conveniently located between the Family Pool and Westide pools, so walk, bike or take a wagon ride on over. The other pool is an adult pool for guests 16 years and older who prefer a more private setting.
Bikes – Once you arrive, it's really a walking or biking trip so the car stays parked. Cottage Rental Agency provides complimentary bikes along with the rental with options to request a kids bike or trailer to carry little ones.
Games & Fitness – Enjoy a game of tennis or a private lesson in Seaside at the premier tennis courts or a fun round of shuffleboard, croquet or horseshoes on any of the town's greens. There's also a fitness center open 7 days a week if you feel the itch to hit the gym.
Around Seaside
The holidays in Seaside are even more magical somehow and we were able to watch the annual "Turn on the Town" event, where the giant Christmas Tree is lit by Santa for the first night of the season. Every bit of Seaside is picture perfect this time of year and the post office is always one of my favorite spots.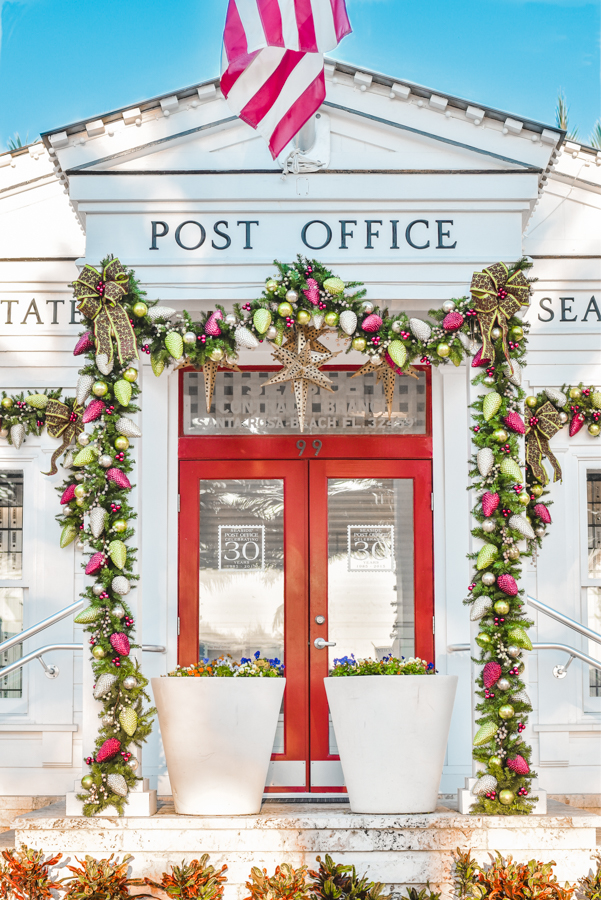 Duckie's is easily my kid's favorite spot in Seaside and that big yellow duck ALWAYS gets them excited. It's like a hint of the awesomeness that awaits inside and if you've been to Duckie's you know… it's pretty amazing.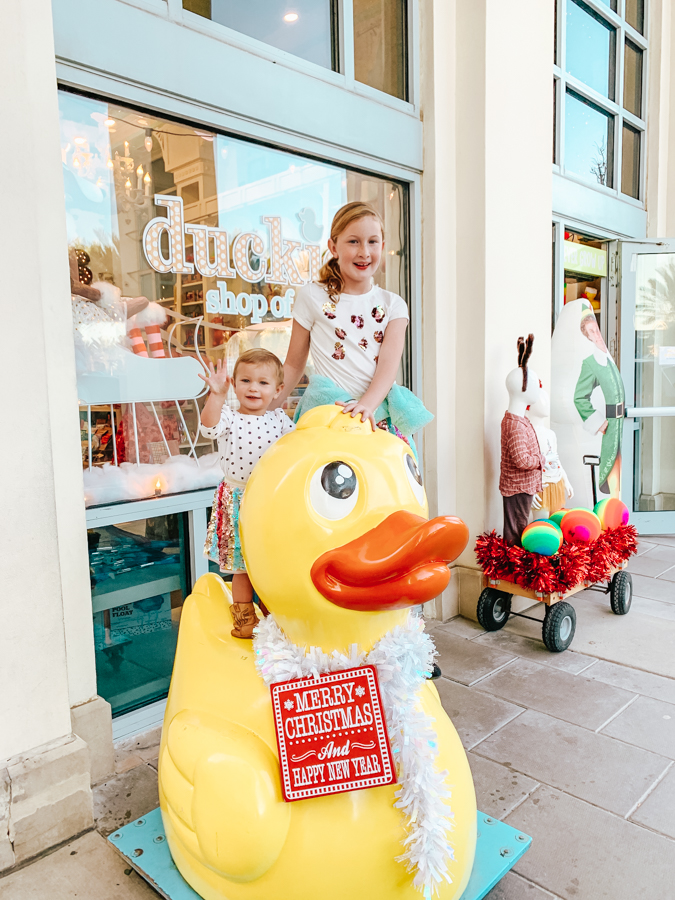 Of course, we visited Santa and while Emery shared her wish list, Collins kept waiting to see where the toys were. I had to explain there's a bit of a delay til Christmas morning. 🙂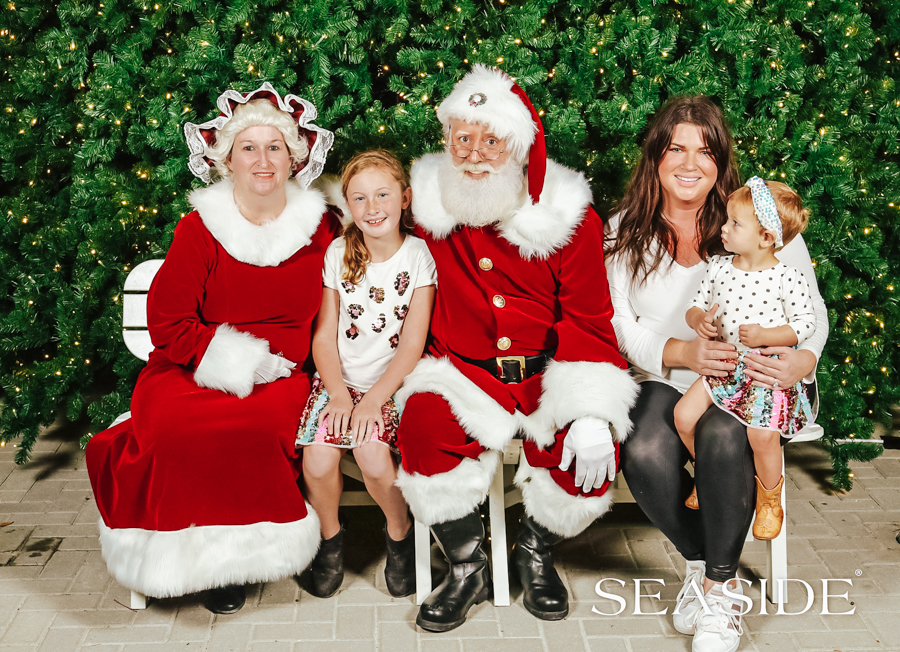 ---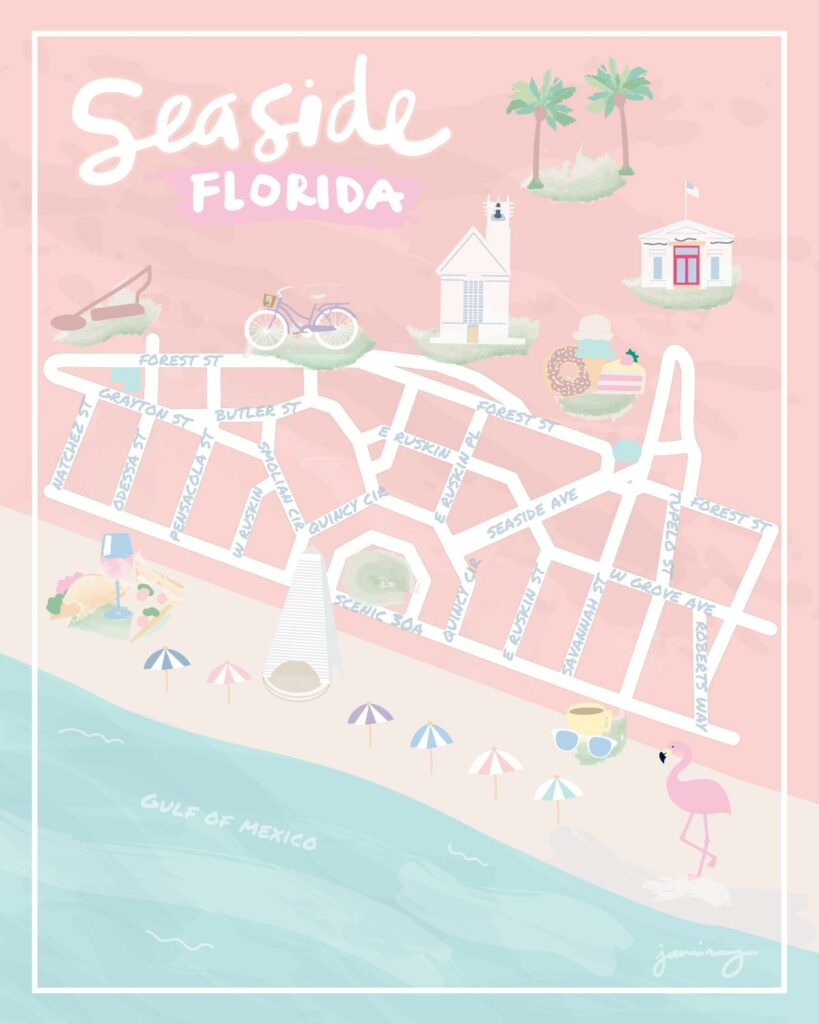 ---
Collins' 2nd Birthday
On to the big day! This little girl is something else and I'm so glad we were able to celebrate her birthday at this adorable house in Seaside. Collins woke up in the best mood and it seemed like she was on cloud 9 all day.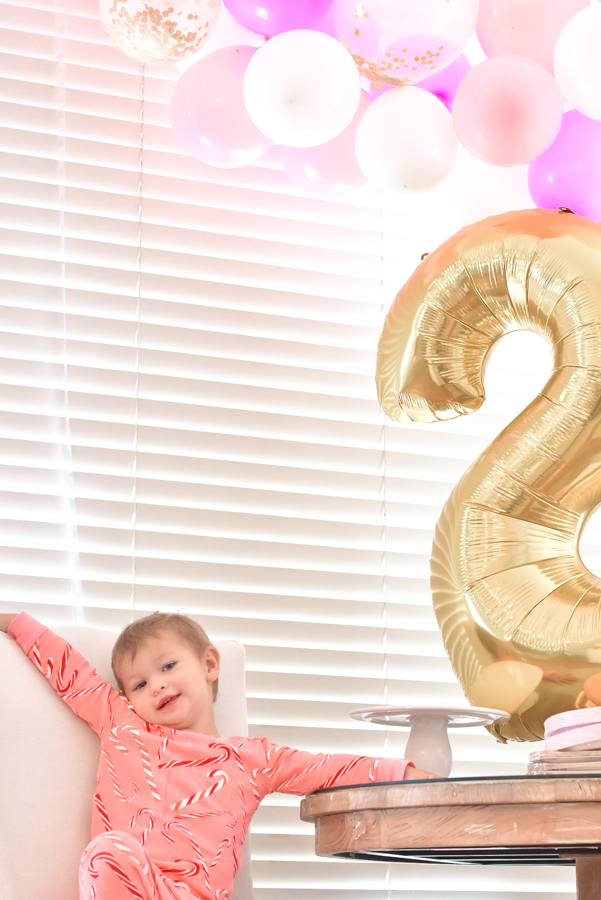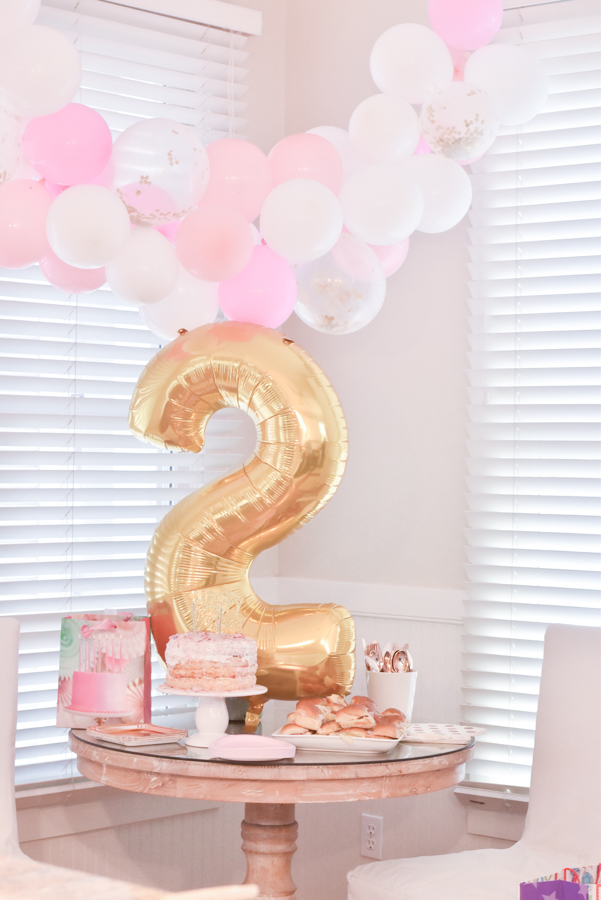 We had a small family party and spent the morning making her birthday cake and snacks. She absolutely loves strawberries and could probably eat her weight in them so we used the fully-stocked kitchen to whip up a "naked" angel food cake with homemade strawberry icing drizzled down the top. Safe to say it was a hit.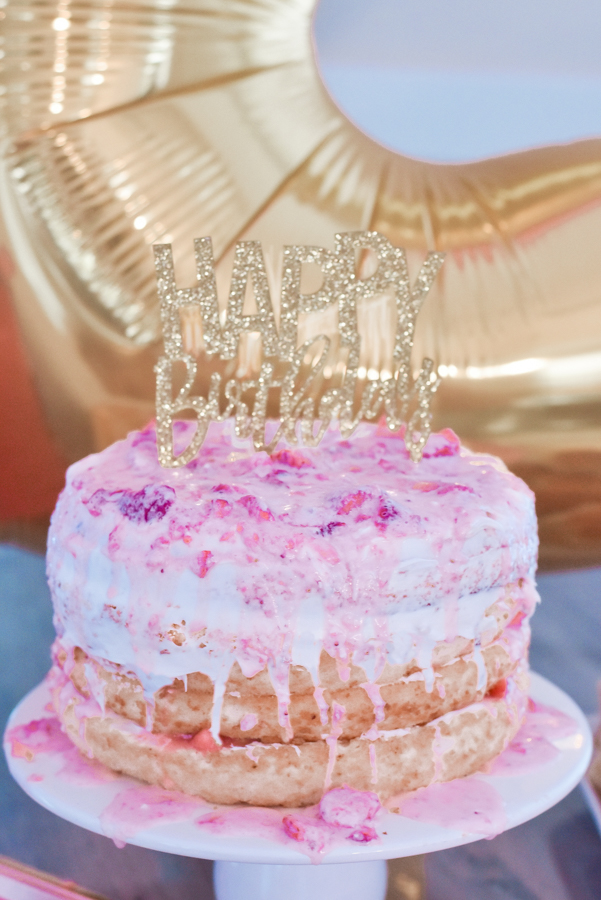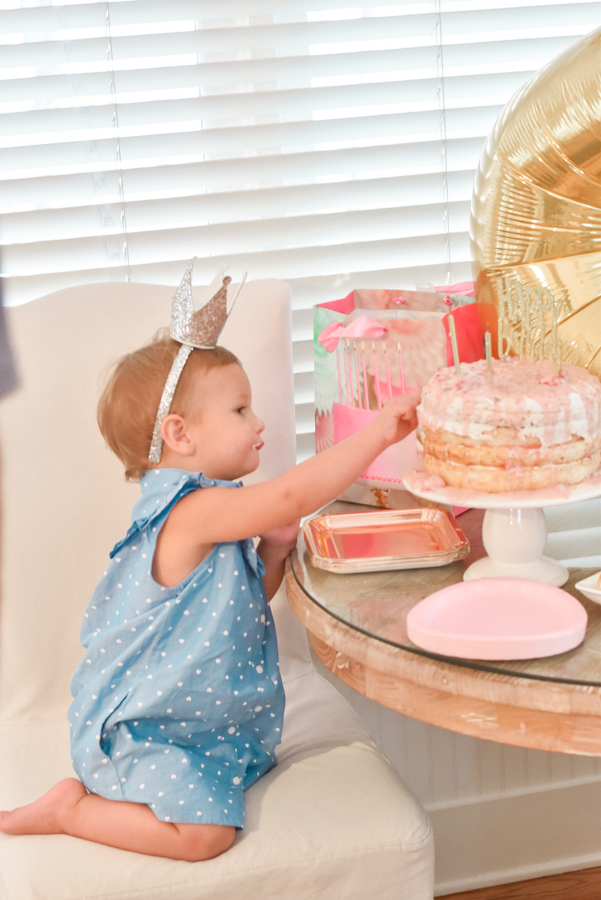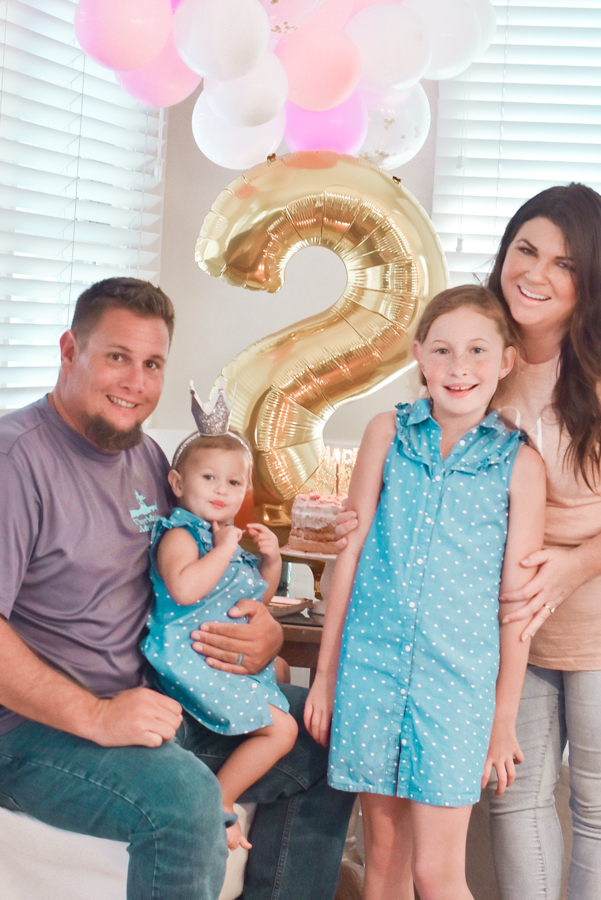 Her "big" present from us was this Land Rover Defender ride-on toy that I made over from orange and black to pink and tan with the help of spray paint. We put it in front of the house and unveiled it to her complete surprise. No driving lessons whatsoever at this point, but she was thrilled. Watch out world!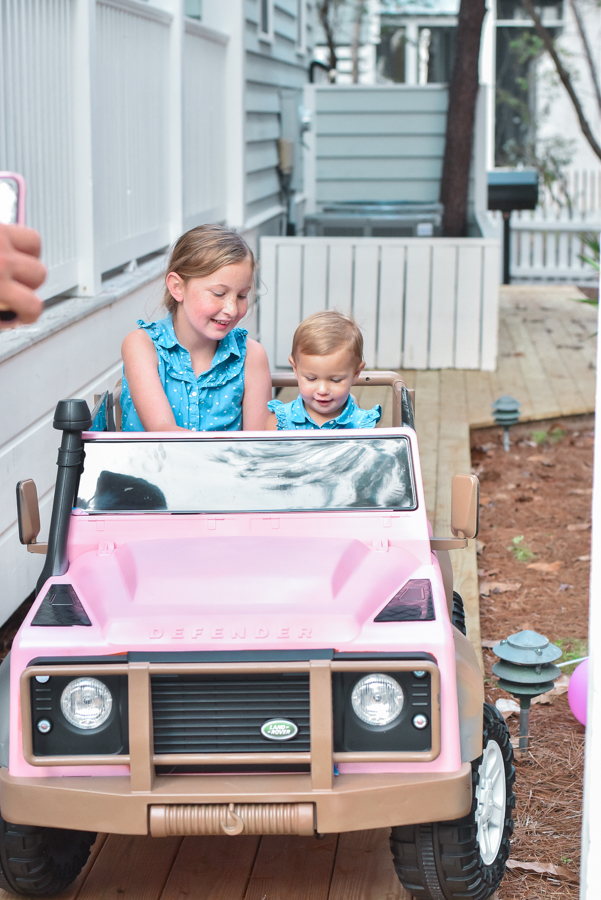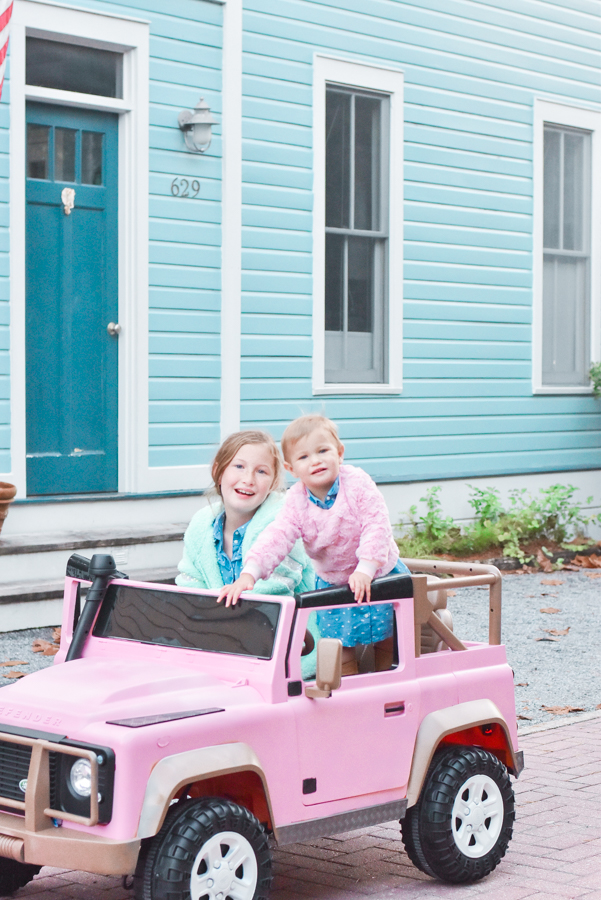 Click to Shop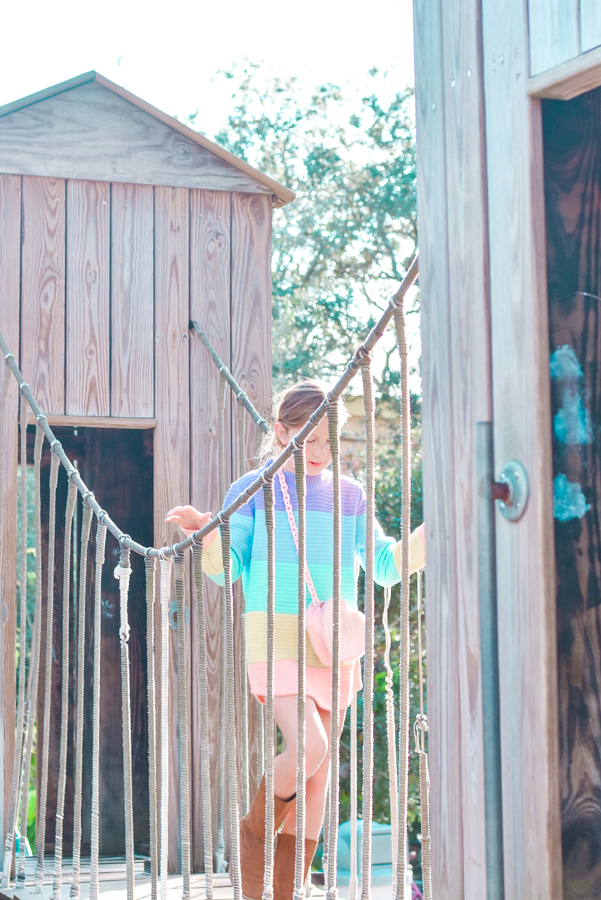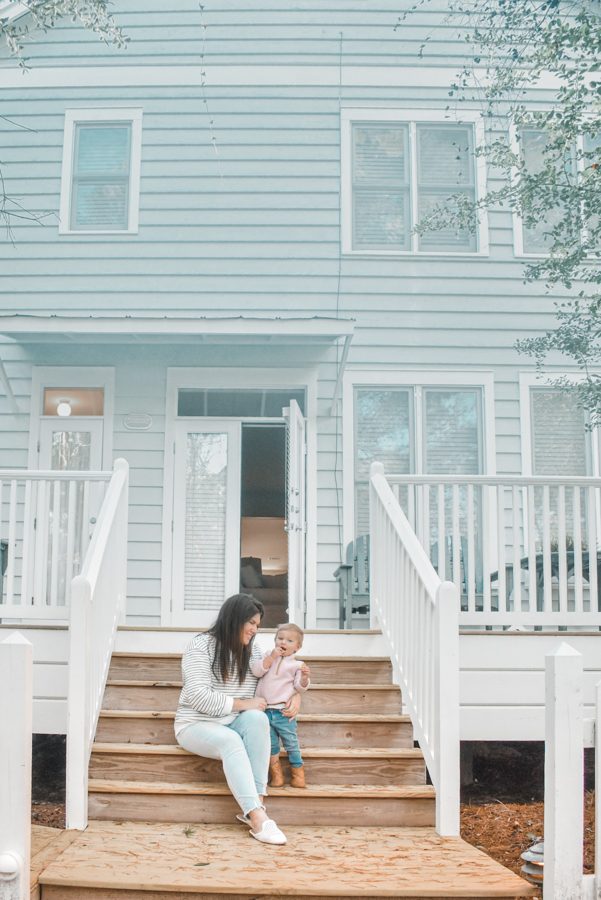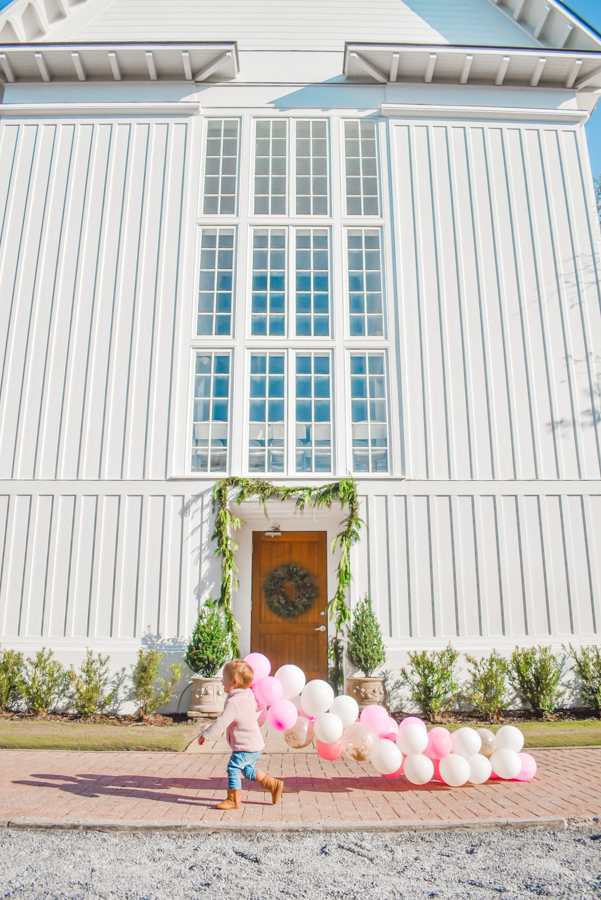 What a fun weekend with so much joy and so many giggles with my girls. Thanks so much to Cottage Rental Agency! From seeing Santa to bopping around the playground to baking sweets and treats, our laid-back birthday stay was just what we needed.