Does anyone else feel like the summer has totally flown by? I may be in a bit of denial that school is starting, but I'm so glad we had the chance to savor the last few days of summer vacation with a trip to Disney Springs. Of course, we've taken Emery before and experienced the traditional Disney adventure at the Magic Kingdom, Animal Kingdom and Hollywood Studios, which is always so fun, but for this trip, we had a different mission: make an end-of-summer splash with our first visit to a Disney water park and soak in all of the shopping and fun Disney Springs has to offer.
Where We Stayed
It was our first time staying at the Disney Beach Club Resort and we loved every bit of it! Adjoining the Disney Yacht Club, the Beach Club's theme is coastal New England with plenty of happy beach colors and amenities including a 3-acre water park and its own ice cream parlor. The lazy river on site even has a sandy bottom to make it feel like you're really at the beach! The resort is located between Epcot and Hollywood Studios (you can even boat back and forth!) and is just a short ride from Disney Springs. When we arrived, we were greeted with a welcome bag full of delicious snacks and I think it's safe to say they were all enthusiastically consumed during the trip!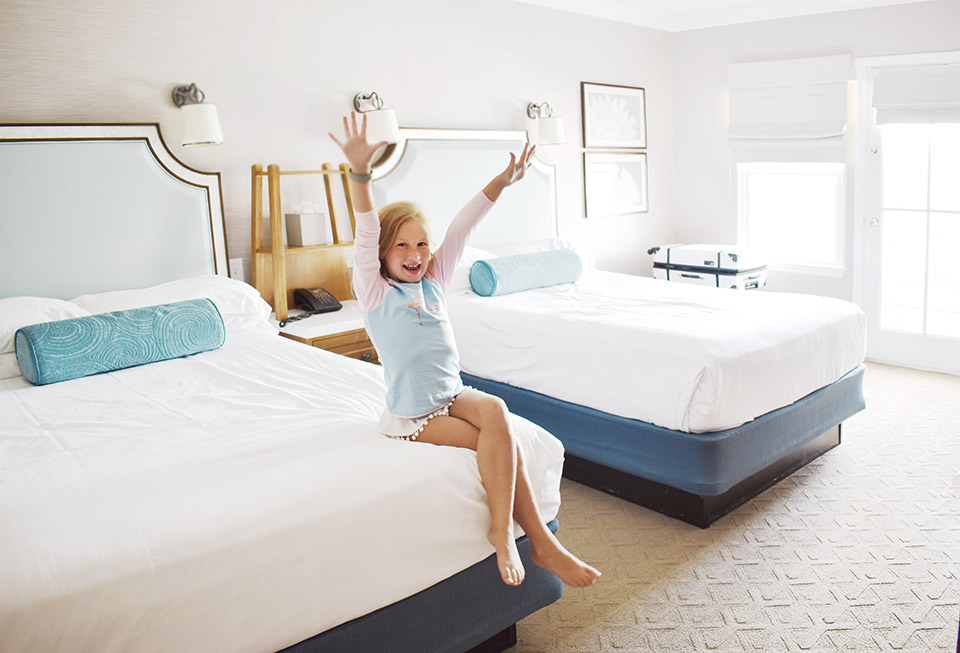 Our Disney Itinerary
Typhoon Lagoon
It's hard to pick a favorite aspect of Disney's Typhoon Lagoon because we had so much fun exploring and splashing about. Even though we didn't arrive at the water park until lunch time, I'd say we still spent a full day there because we stayed until closing and got in about 7-ish hours of activity. The water park itself is expansive with the huge Surf Pool serving as the centerpiece. This is where the giant tidal wave makes waves and was a favorite of ours.The lazy river winds around the pool with several on/off points, which we took full advantage of instead of walking from ride to ride. There are nearly a dozen wet rides at varying thrill levels plus dining and lounging options sprinkled around the outskirts.
Since I'm expecting (and also not as brave as I'd like to be, even if I weren't pregnant!), I skipped out on some of the speedy rides, but loved the family tube rides, especially the Miss Adventure Falls and Gangplank Falls. We rode those over and over! My brother traveled with us and he and Emery took on a few of the more thrilling rides like Humunga Cowabunga, Storm Slides and the Crush n Gusher Slides. After about 4-5 pm, the crowds started to thin out and the wait at each ride was only a few minutes (though the longest we waited all day was about 30). By 6 pm, we could tube down and get ride back in line to go immediately after. It was perfect! I highly recommend trying the late afternoon visit just for this reason. Be sure to rent a locker to store your items safely and don't miss out on the delicious snacks. The doughnuts were perfection!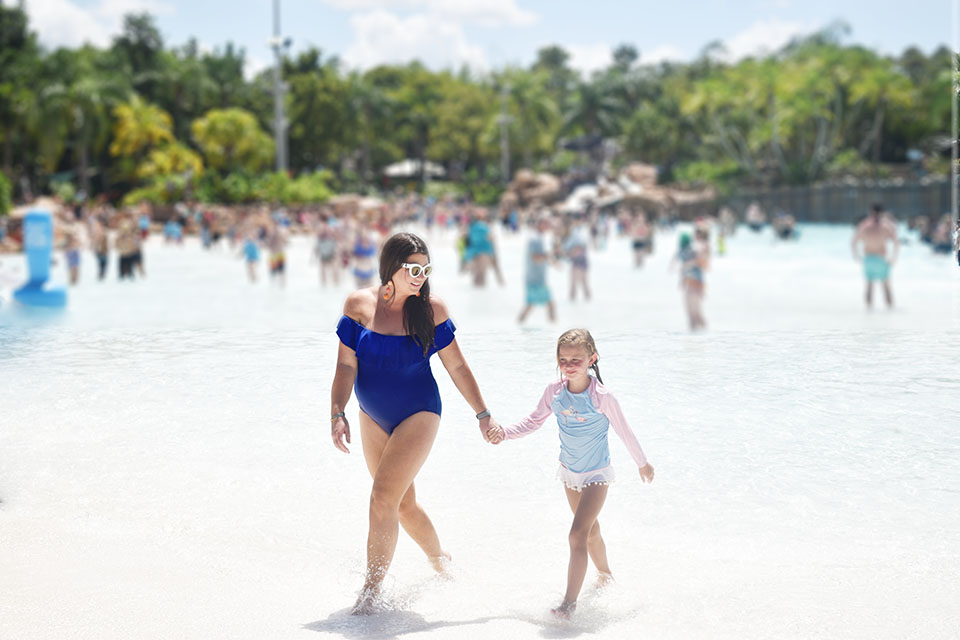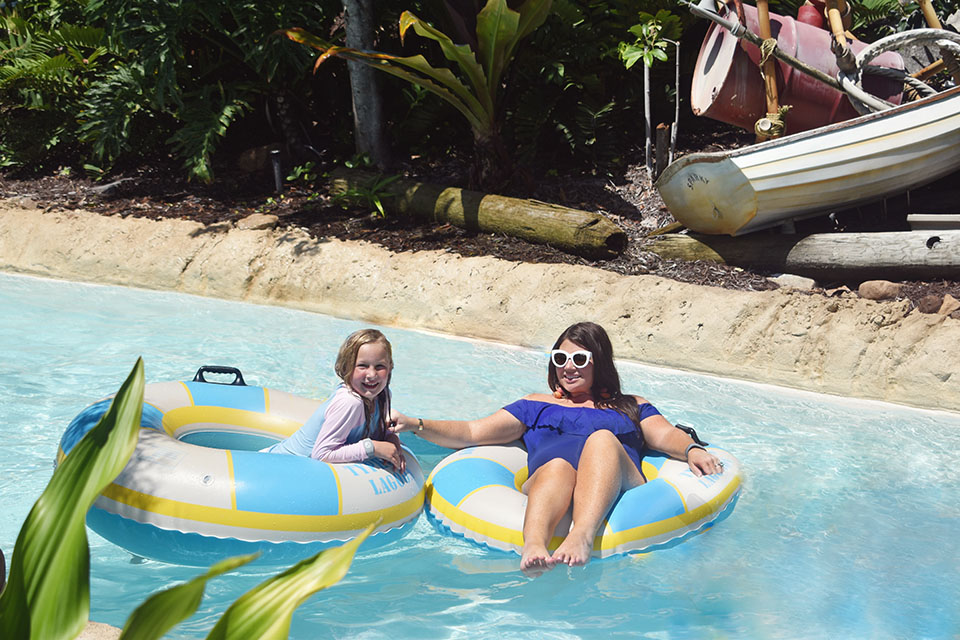 Shopping at Disney Springs
Where do I even start with the shopping options? Disney Springs has grown so much with an impressive collection of over 150 store offerings, food and activities. Of course, you can find the largest World of Disney store at Disney Springs and we certainly had to make a stop in there to take home our mouse-eared must-haves. We found the cutest back to school dresses and shoes at Zara, bright basics at Uniqlo, boho goodness at Free People, the new Naked Heat eyeshadow palette at Sephora, delicious cupcakes at Sprinkles, earrings for Emery's newly pierced ears at Francesca's, mismatched socks at LittleMissMatched and a fun stop at The LEGO Store. My style-loving friends will enjoy Anthropologie, kate spade new york, Lilly Pulitzer, Everything but Water, Loccitane, Kiehl's and MAC and kids will love stores like Disney Design-a-Tee, Once Upon a Toy, Super Hero Headquarters, Bibbidi Bobbidi Boutique, Melissa Boutique and Aerophile Balloon Flight.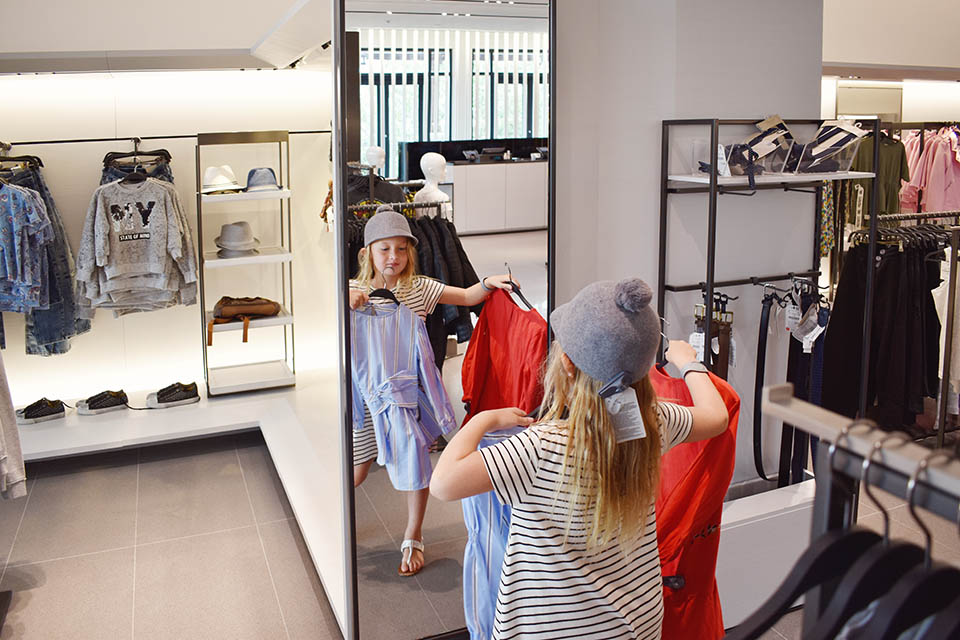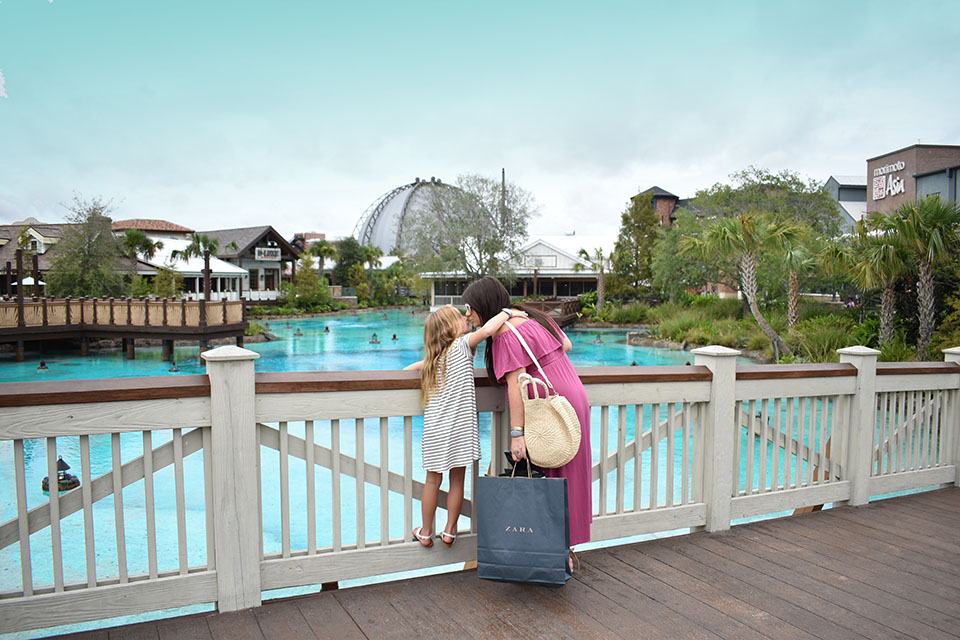 Dining at Disney Springs
With high-end options like STK Orlando, Wolfgang Puck Grand Cafe, Morimoto, The Boathouse and fun restaurants like T-REX and Rainforest Cafe, there's no shortage of places to eat for a memorable Disney experience. We enjoyed lunch at Chef Art Smith's Homecomin' restaurant with a southern farm-to-table menu that was so delicious I'm still thinking about it!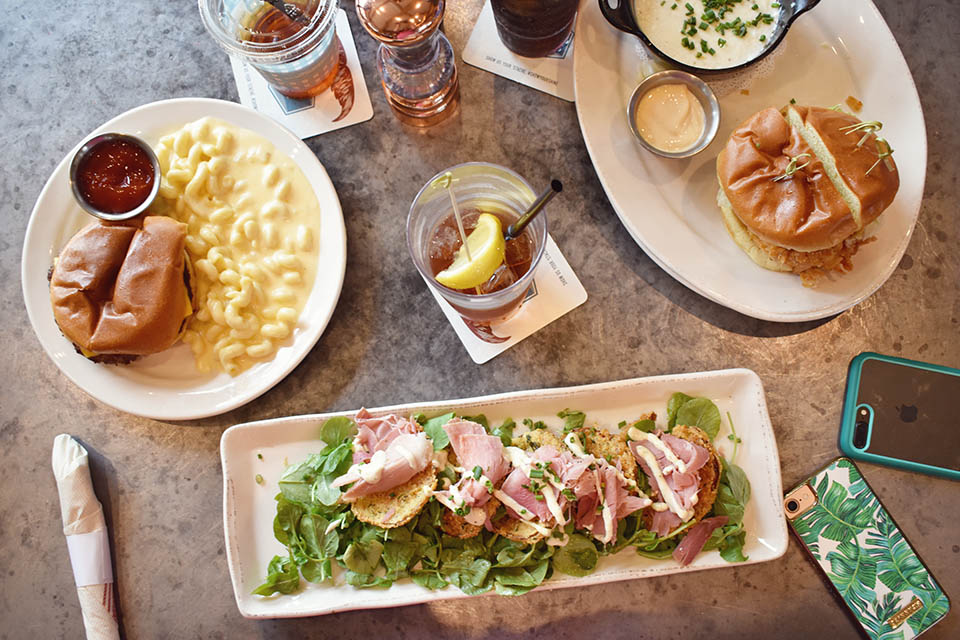 Entertainment at Disney Springs
I love seeing Cirque du Soleil and even though I've been able to watch La Nouba a few times, it was so special because it was the first time for Emery to watch. I couldn't wait to see her reactions to the stunts and skills and her enthusiasm was over the top. We watched colorful characters, acrobats, gymnasts, trapeze artists, trick bikers and so many impressive performers, all while munching on popcorn from our cozy seats. This is the last season of La Nouba, so if you haven't had a chance to see it, be sure to do so before they take their final bow at the end of 2017.
We rounded out our day at Disney Springs with a few rousing games at Splitsville Bowling after La Nouba. They have an incredible space for dining at the lanes and even offer not-so-typical food options like sushi to go along with your strikes.
Tips for Disney Springs
Grab a Map
You'll definitely want to make a game plan for your shopping experience if you have specific places you want to shop in, though you can also wander the entire area and see what you stumble upon if you're more laid-back with your itinerary. With over 150 options, we made a hit list of places to go first and went in order of where they were located to make it easier.
Transportation
There are plenty of parking options, but if you don't have to drive, skip the extra step and hop on one of the Disney buses to ride to and from Disney Springs and your Disney Resort hotel. They run constantly so it's easy to get back and forth. Plus, if you're staying at Saratoga Springs Resort & Spa, Old Key West Resort or the Port Orleans Resort you can take boat from the dock and cruise over Lake Buena Vista to your Disney home. So convenient! (PS You can even hop on for a free ride and get back off at Disney Springs if you're just looking for a little sightseeing break!)
Take Advantage of Merchandise Delivery
Instead of carrying bags around all day, you can easily have them delivered to your Disney Resort hotel or even directly to your home.
Have you visited Typhoon Lagoon or Disney Springs? Any other tips for first-timers? Let me know what you think in the comments. As always, thanks for reading!