Shoe Carnival provided me with product and compensation. The opinions I have shared about the products are my own​.
Mama friends, it's that time again! With the end of summer virtually in sight, it's no surprise we are beginning our annual back to school shopping. This is always one of my favorite things to do with Emery and this year we're putting a new spin on this tradition as I've teamed up with Shoe Carnival to share a few styles we love. Our new spin means working in more athletic and casual styles and, of course, including fun pops of color. With baby #2 on the way, I'm so excited to have this checked off our list and ready to go. Whether your littles are heading off to first grade (like Emery), starting pre-K or navigating double digits, these shoes are sure to help them feel like their coolest, most confident selves. Trust me, I have tested these with a discerning 6-year-old to make sure they have both the athleticism needed for outdoor play as well as the attitude required for cool kids to soak up knowledge in the classroom.
For the Playground Pro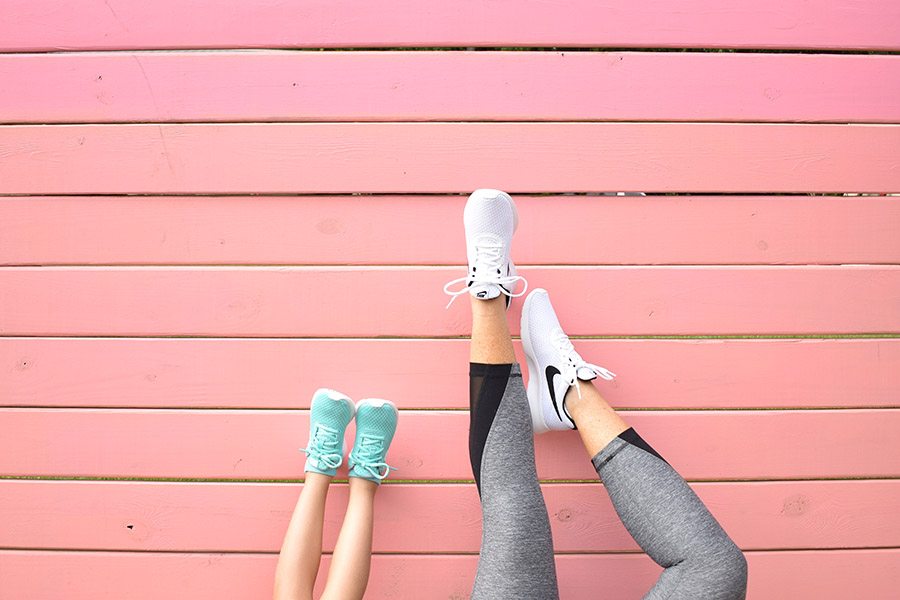 One of the biggest adjustments we had to make when Emery first started school was finding the right shoes. She had been so into wearing girly sandals and open toes, that we didn't exactly have options that were ideal for recess or PE. When we spotted these bright turquoise Nike Tanjun shoes on the shelf at Shoe Carnival, we knew instantly they were going home with us. The color is super fun with plenty of personality and when Emery wears them, it's like she instantly turns on a soundtrack in her head, dancing and hopping along. These will see many hours on the playground, no doubt! And for my mamas who are heading to the gym after dropoff or simply want to relax in yoga wear (we've all been there!), these crisp white Nike Tanjun shoes are perfect. Take them to the grocery store or on your morning walk.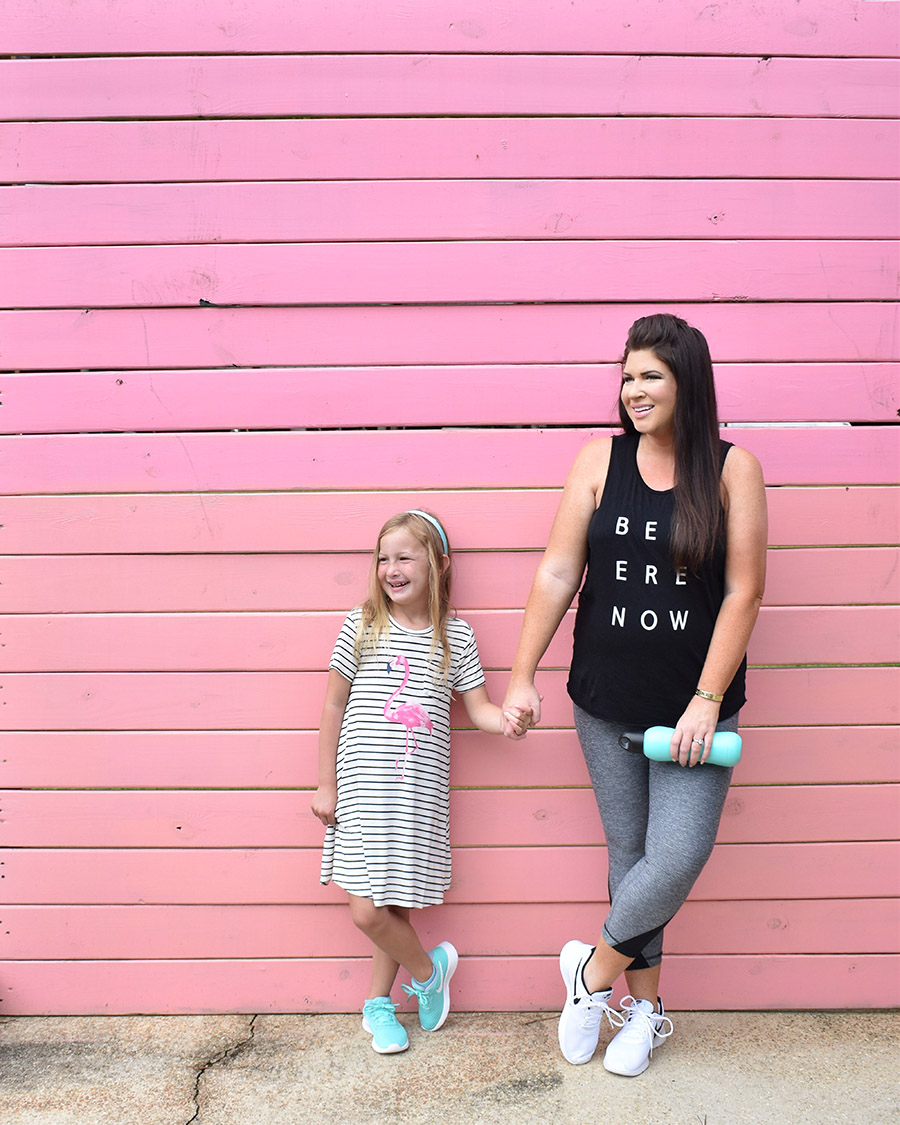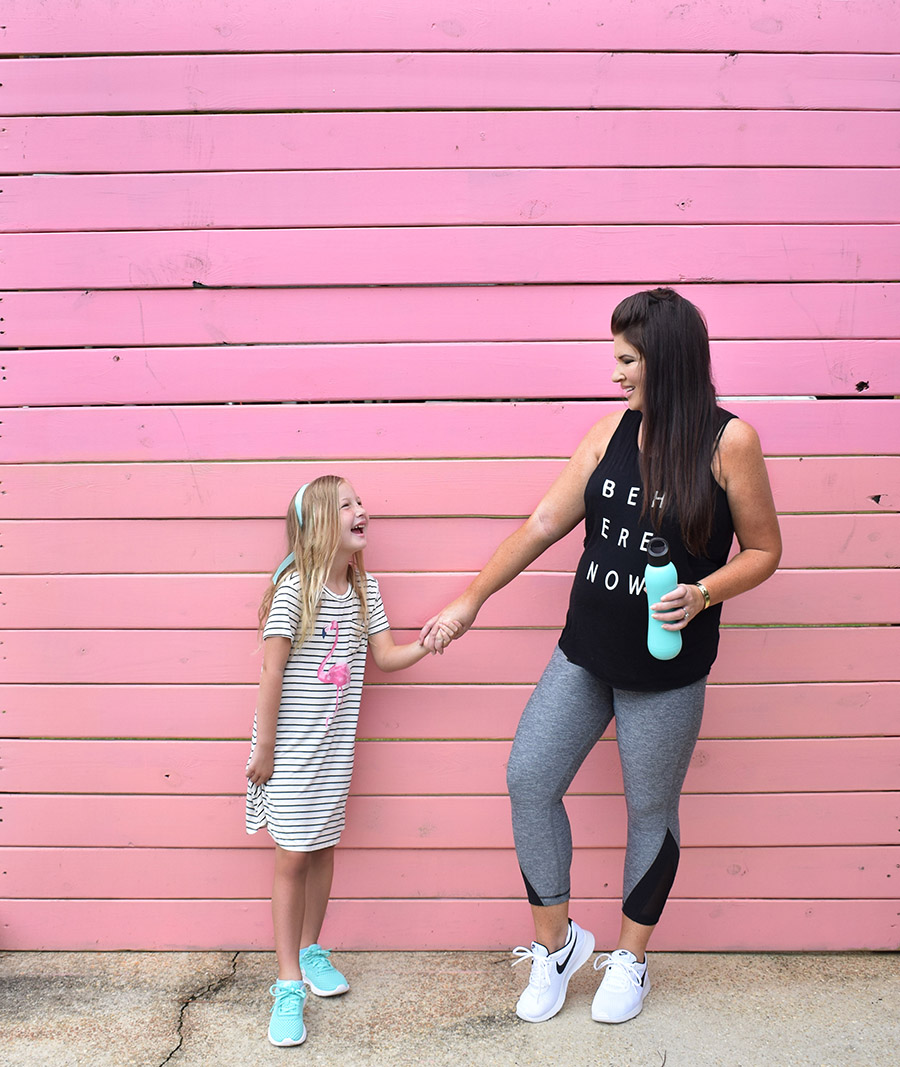 For the Mini Fashionista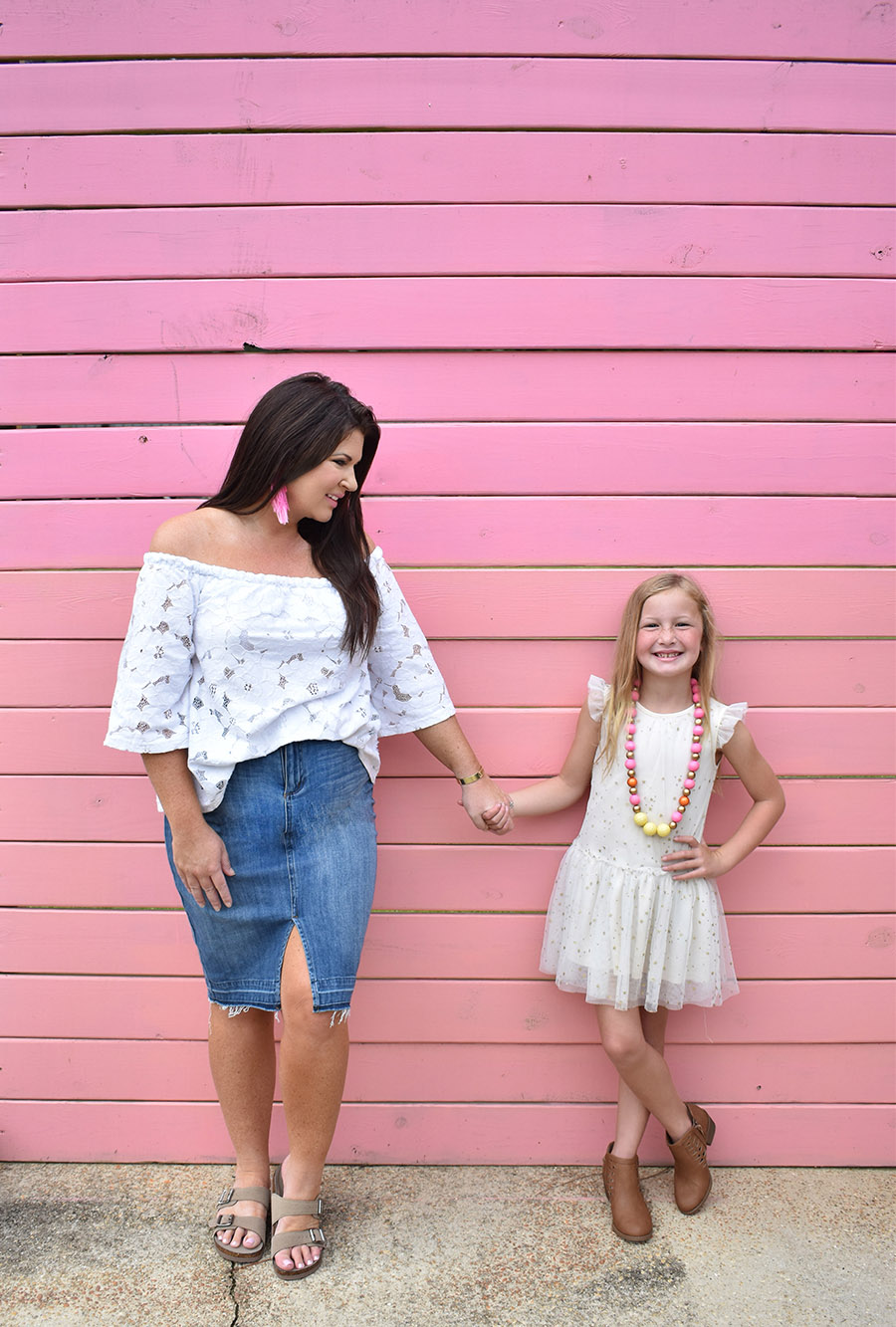 For the days when we can get away without athletic shoes, these Unr8ed Scribble Booties will be a go-to for stylish outfits any tiny trendsetter will love. They're a great transition to fall and work equally well with dresses, jeans or leggings. Emery fell in love with this style and immediately decided to strut around the house on an imaginary runway. We've let her wear kitten heels for a few special occasions, but this was her first pair of "everyday heels" (in her own words – ha!) and I'd say she was hooked! I still hadn't stepped up to the Birkenstock-inspired trend so I couldn't resist grabbing these super comfy Madden Girl Brando Footbed Sandals. I could easily take these on a walk, they felt so great. Plus, they're the type of shoes you can keep in a handy place to throw on and go when you're running late and don't want to be tardy.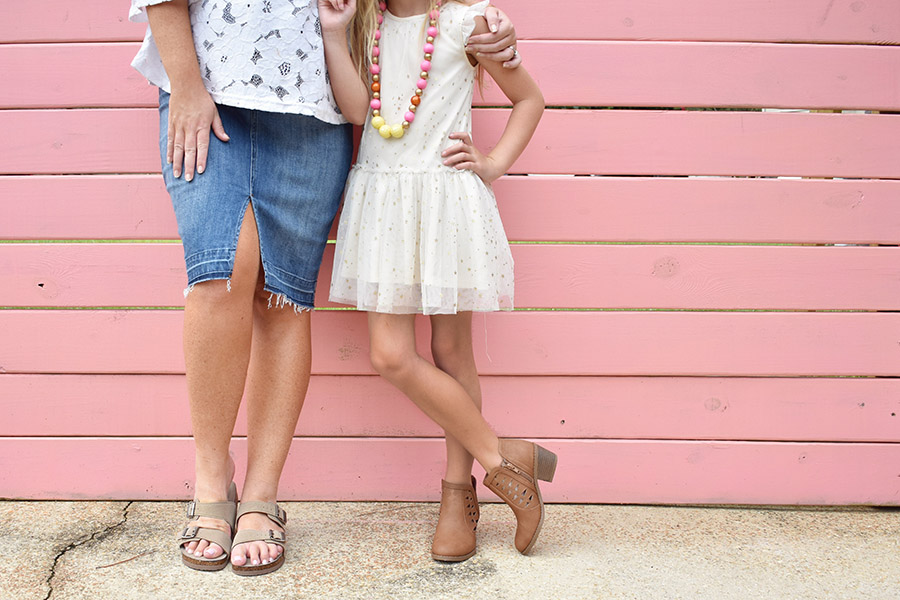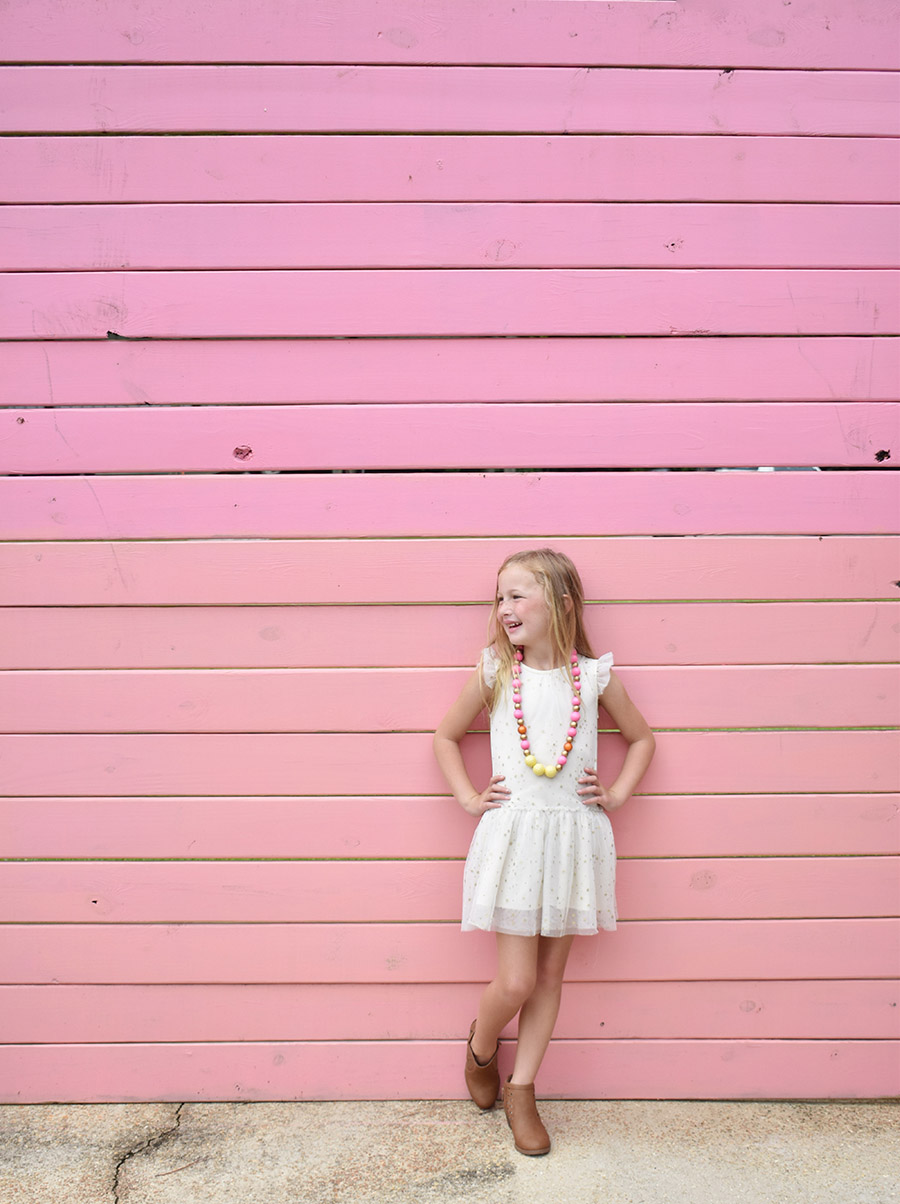 For the "Star" Student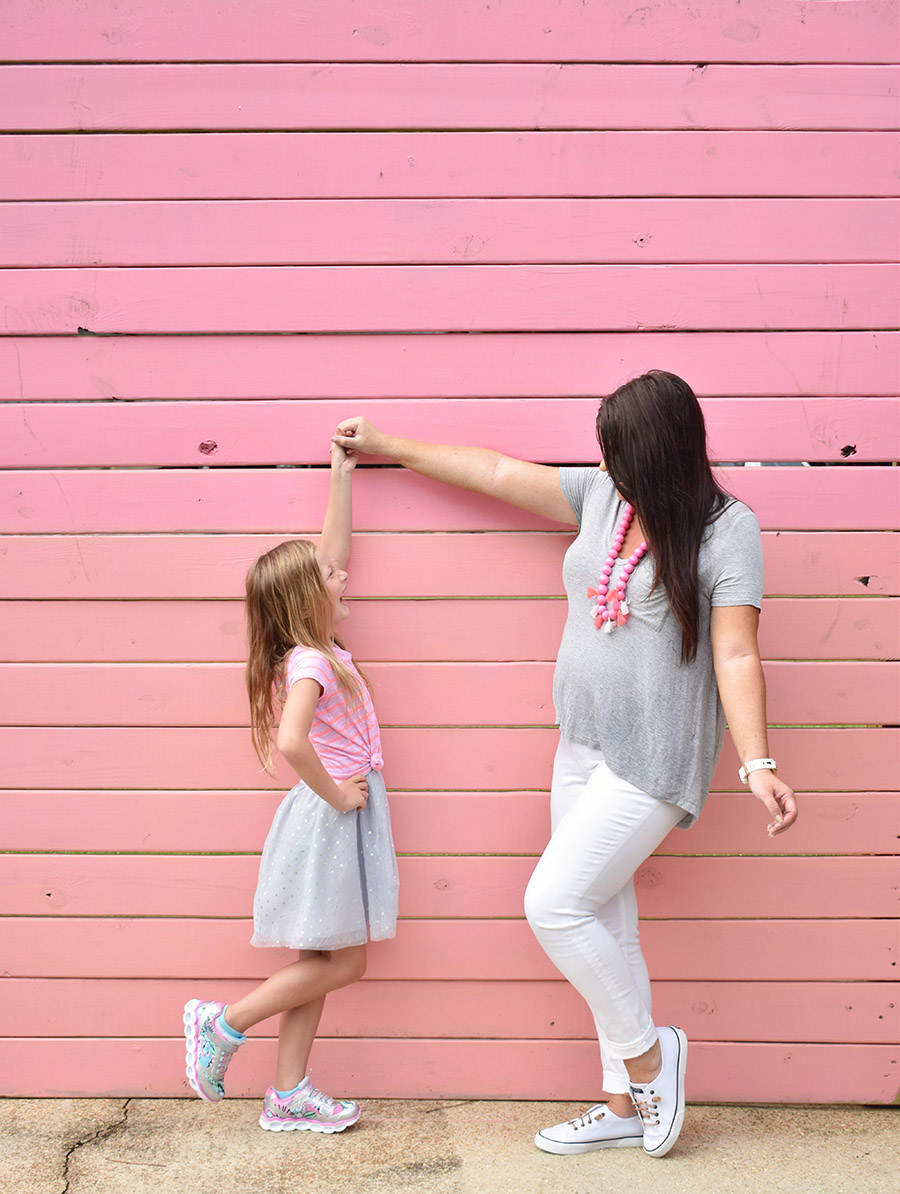 These Skechers Lumi-Lux Pop Art shoes were another first for Emery. Somehow we've missed out on the light-up shoe sensation until now. If you watched my Insta-stories the day we stopped in Shoe Carnival, you might remember how excited a certain six-year-old was to take these home. She gave me a run-down of their features and said something along the lines of "sparkly things, pretty silver color and lots of light." With blue, white and pink shades dazzling with every step, it won't be a stretch to shine bright in the classroom and on the playground. Get it? 🙂 Plus, with no laces, there's more time to focus on learning and less time on tying bows and knots. Win, win! On the other end of the shimmer and sparkle spectrum are the shoes I'm wearing – a classic Sperry Pier View shoe that slips on and pretty much never goes out of style. I love how beachy and classic these are!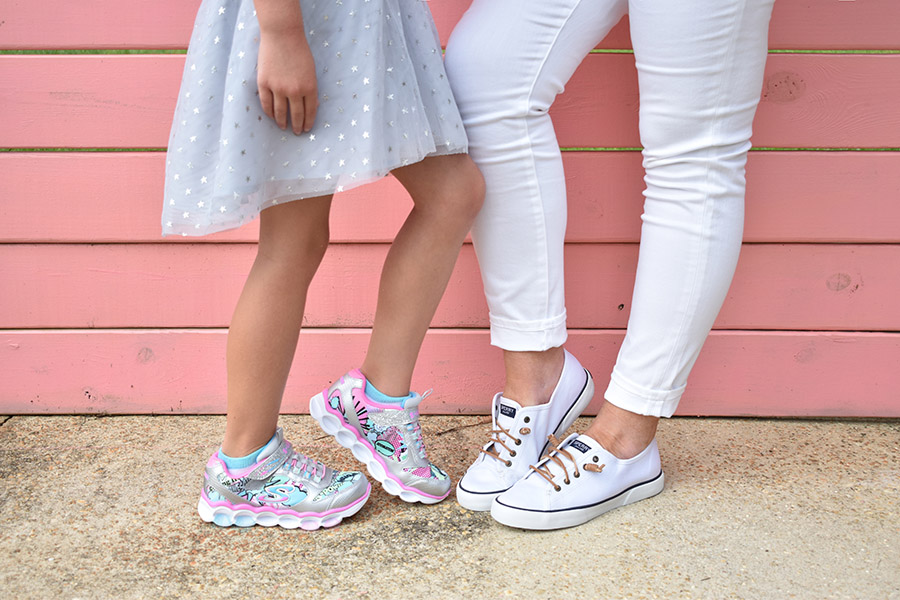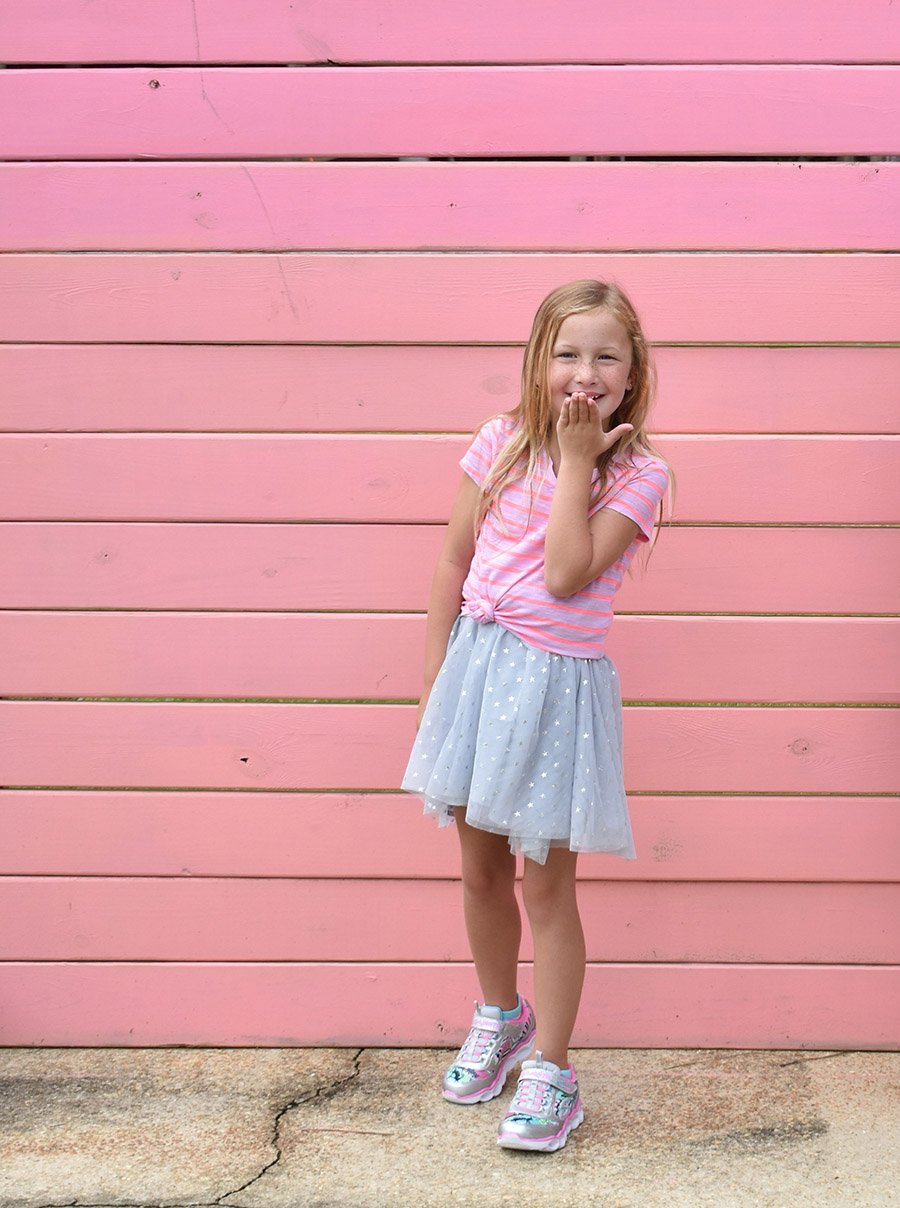 We love being able to start a new school year with fresh new kicks and with a shoe selection like this, it's easy to let your little ones dress the part to fit their personality of the moment. In terms of budget, you really can't beat the value here, especially considering we brought home a mixture of trusted brand names and trendy styles. Plus, Emery LOVED spinning the wheel at Shoe Carnival to see what extra savings we landed on – so fun! I know you mamas are like me and love a chic steal! What other styles are you shopping for? I'd love to hear!
Save this post by pinning the image below.