With our new baby on the way, I feel like I've begun nesting mode already. It may seem a little soon since I'm only around the halfway mark, but my focus hasn't even been baby-related — yet. I've been wanting to update our master bedroom for awhile and with sleep, comfort and relaxation moving steadily up my priority list, now seems like the perfect time. Our current bedroom set is more of a rustic aesthetic with a light finish pine sleigh bed and oversize dresser / mirror combination. The bed is large and comfy, but the sleigh bed style makes it feel like the bed is overtaking the room. Plus, I just haven't found the right layout since both pieces are so big and I also use one wall of our bedroom for my desk and accessories. The room hasn't been totally decorated or felt quite as homey as I'd like, so my mission for this update is to create a calm, open space with a coastal glam style.
Instead of one extra large dresser and mirror set, I'd like to find pieces that fit on either side of the bed. I think this will balance the room with the symmetry we haven't had before and allow us to keep our drawer space by using chests instead of a traditional nightstand. To replace the big wooden sleigh bed, I'd love to switch to a clean, upholstered platform bed in fresh white, with cozy white linens. (I know a lot of people are wary of white, but I've found that white is much easier to wash and bleach in a pinch instead of trying to spot treat something with baby spit up that you can't bleach.) You all know I love lots of color and feminine details, so I'm working to incorporate soft punches of pink and turquoise while still keeping the overall vibe light and beachy. One item I'm still on the hunt for is a fabulous sea glass lamp. I've come across a few, but haven't fallen totally in love just yet.
Here's a peek at my mood board and inspiration for our drool update. I'd love to hear what you think!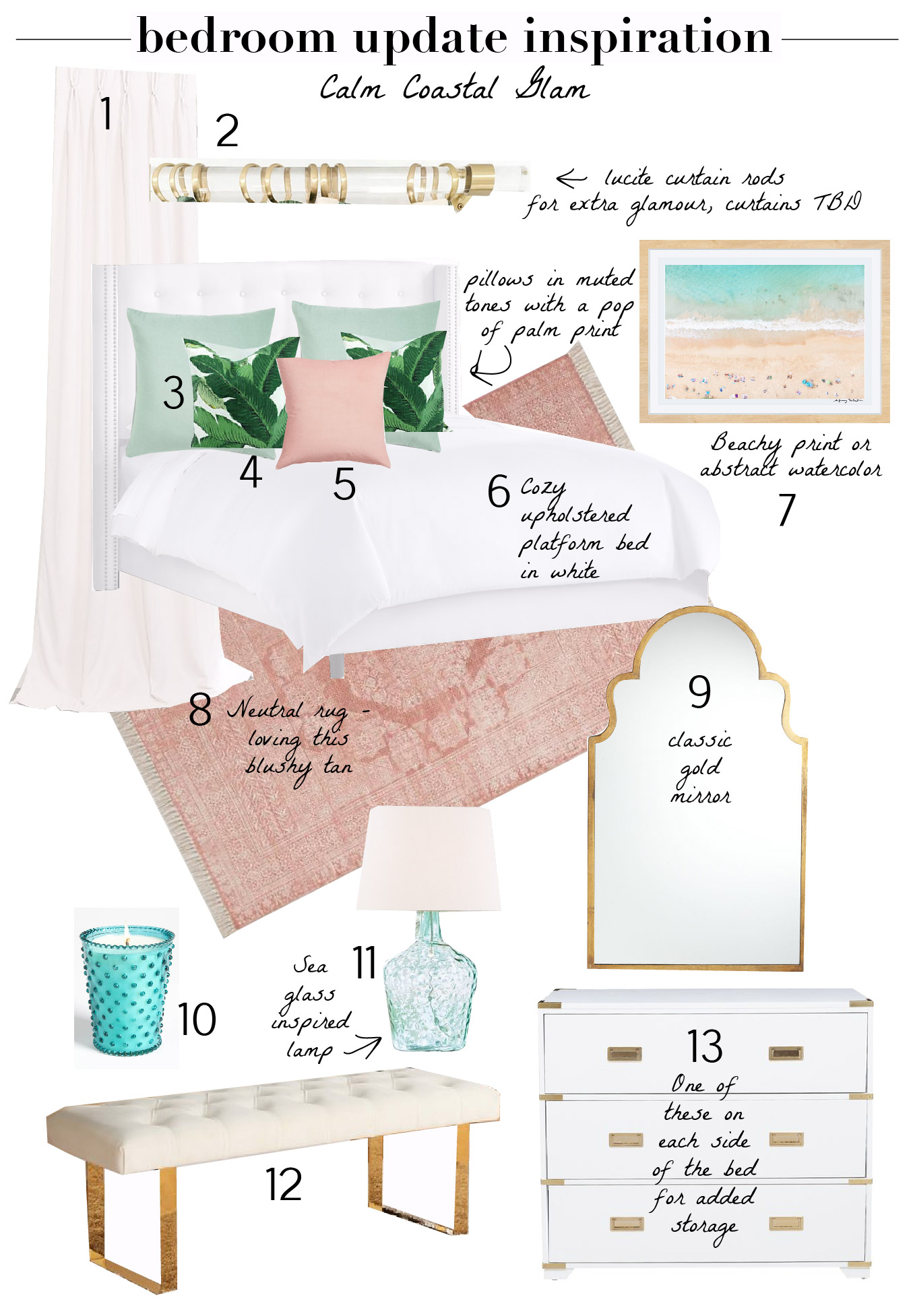 1. Blackout Curtains / 2. Lucite Curtain Rods / 3. Large Pillow in Ocean Blue / 4. Palm Print Pillow / 5. Blush Pillow / 6. Upholstered Platform Bed & White Quilt / 7. Art / 8. Rug / 9. Gold Mirror / 10. Hobnail Candle / 11. Sea Glass Lamp / 12. Bedroom Bench / 13. Campaign Dresser or Campaign Dresser Steal