Rounding up some of the cutest, sweetest, most mom-approved gifts for your little Valentines as well as a hint list you might want to slip to your significant other. Be sure to scroll down to see all the lovely gift ideas and let me know what's on your V Day gift list. <3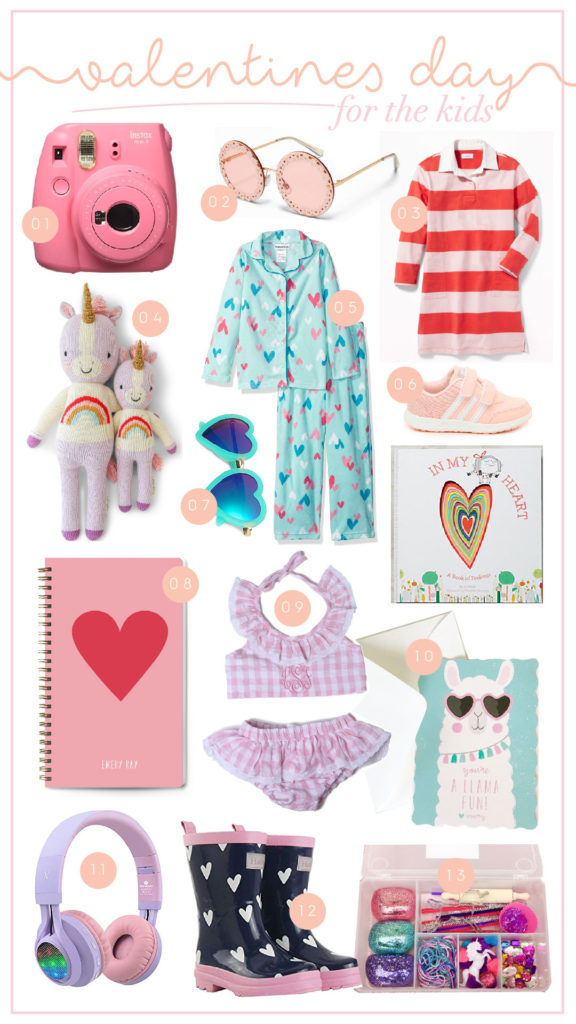 Valentine's Day Gifts for Kids
01- Pentax Instant Camera – This has been a favorite of Emery's lately and since she already has the camera, I'll be adding a stack of film to her goody bag to keep her creativity flowing.
02 – Daisy sunglasses – So glam I can't stand it. I love the round style for a little fashionista.
03 – Stripe Dress – It doesn't get much more classic than a preppy striped dress.
04 – Cuddle & Kind Unicorns – My girls have a matching set of Cuddle & Kind and recently asked about these unicorns. They're so soft, so cute and have such an incredible mission of giving back.
05 – Heart Pajamas – Amazon alert, I wish these came in baby and toddler size as well, because I would be creating a matching moment for the girls with 2 clicks. This turquoise heart pattern is perfect for Valentine's Day!
06 – Baby Adidas – Oh my goodness, how cute are these little shoes? Since Collins is so in love with walking everywhere right now I've been wanting to get her a pair of baby athletic shoes and these are definitely adorable.
07 – Trendy Kid Heart Sunglasses – I never get tired of heart glasses and am loving this turquoise shade to mix it up!
Heart book – I somehow left off the number to this but how cute is this book from Anthro?
08 – Heart Notebook – this is so cute and can be customized with your kid's name, but what I really love is that you can choose the type of pages inside – blank, lined or graph paper. I can't wait to see what creative fun Emery comes up with!
09 – Gingham Swimsuit w/ Monogram – With spring just around the corner, I simply can't resist this adorable gingham suit in a sweet blush pink. And the monogram? Icing on the cake.
10 – Classroom Valentines – You're a Llama Fun – Stop what you're doing and order these right now. Check one thing off your list and in turn, you'll have the most adorable personalized Valentines for your child to take to school or hand out to friends. Emery loved this llama print with Tic Tac Toe on the back and I think we'll pair it with cute X and O pretzels!
11 – Headphones – For when you've heard the movie for the 102nd time and just want to keep the musical numbers from repeating in your head all day long. Ha!
12 – Rain boots – These are so cute and come in a few different prints. Loving the hearts for Valentine's Day!
13 – Young Wild & Friedman sensory kit – These kits are so genius and I just wish I'd come up with the idea. Created by an inventive mom craving fun sensory activities for her kiddo, I love how Julie always combines such sweet details with bits and pieces that extend playtime and make for a super fun experience. And did I mention she makes her own playdough? So amazing! Clearly, I love the unicorn kit, but here's a fun dino kit, too. Be warned, these always sell out quickly!
Valentine's Day Gifts for Her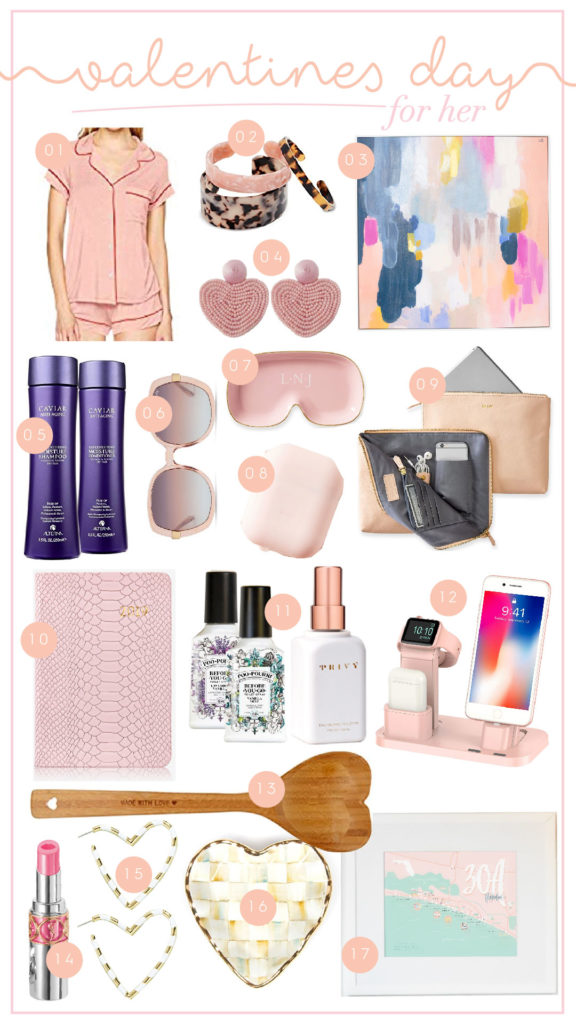 01 – Pajama Short Set – In spring and summer, I love wearing short sets to bed and around the house. These are so soft and cozy, plus they're pink, so they're a win in my book.
02 – Lucite cuff set – This is an easy accessory to pair with so many outfits since you can wear as a set or individually. Plus, tortoiseshell always reminds me of leopard print.
03 – Blush and blue abstract art – I love the tones in this print and the best part, it's on major sale! If you're searching for a desk art piece of one for a girly space, this is it.
04 – Waiting on Martha beaded earrings Sweet earrings are perfect for a darling V Day celebration and these heart earrings are so cute!
05 – Caviar Shampoo & Conditioner – Champagne and caviar are perfect Valentine's Day duos, so grab a bottle of bubbly and gift this luxe shampoo and conditioner as a fab set.
06 – Quay glasses – Pink and chic. Enough said.
07 – Sunglass dish – These are adorable for stowing your sunglasses at the end of the day or dropping your jewelry on your bedside table.
08 – Airpod – These headphones are everywhere right now and give your Valentine a cordless connection with a chic minimal look.
09 – Commuter Clutch – This is so genius! Stash your electronics and charge on the go!
10 – Gigi New York journal – Whether you're a paper planner or digital diva, I love blank journals for recording thoughts, writing random lists, reviewing daily devotionals or just logging your day to look back on. I love the sweet pink leather!
11 – Poo~Pourri Spray Okay, mamas, this is keeping it real and I know yall can appreciate this for your galentine, your significant other or even for your own home. Poo~Pourri is the original before-you-go, all-natural toilet spray that stops odor before it even begins. Find your perfect scent with the Meet Your Match quiz here.
12 – Charging station – If you have even one of these items, this is the charging station you need. Add this to your dresser or nightstand to recharge your phone, Apple watch and Airpods all at once.
13 – Bamboo spoon – Add a little lovin' to your kitchen with this heart-shaped spoon. If you're like me and not super savvy with cooking, it might even motivate you to whip up something you wouldn't normally make.
14 – YSL Volupte Tint-in-Balm in Tease Me Pink – This is one of my most-worn lipstick shades and is a soft sheer pink that becomes stronger toned with 2-3 applications. It's super moisturizing and goes on smoothly, with an adorable lip print inset.
15 – Heart earrings – Can you have too many heart shaped gifts or goodies this time of year? I think not! These are under $40 and have a subtle pattern, but are so fun to wear.
16 – Mackenzie Childs Heart Plate – Jazz up your serving situation with a lovely heart plate by the incomparable checkerboard pattern, updated in soft cream tones. This would also be a fabulous wedding gift!
17 – 30A Map Art Print – Can't leave without a quick mention of this fun illustrated map of 30A, whimsically designed with pink, turquoise and all of the 30A neighborhoods included.