This post comes in collaboration with Universal Orlando Hotels. All opinions expressed are my own.
For Endless Summer hotel rates and booking, click here.
If you've been following me for awhile, you know I love traveling with my family and also that I'm a bit of a Harry Potter nerd. Give me theme parks, pool time plus an adventure with my crew and I'm a happy camper. This time around, we took both girls, which was our first trip taking a toddler anywhere like this.
Let me tell ya ALL about it…
Hotel Vibe
Beachy Cool at Universal's Endless Summer Resort
Remember how much I loved the vintage style of Universal's Cabana Bay Resort when we stayed there? The Loews Hotel group at Universal Orlando has such fun themed resorts and Endless Summer's fresh coastal, shore-inspired theme was perfection. It was sunny, relaxed and so inviting. Think shades of blue from ocean to aqua mixed with warm sunset oranges and yellows plus lush greens and natural wood tones to complete the palette.
In the lobby, a giant wooden wave curves behind the check-in desk and fishing net fixtures float down from the ceiling. Beach Break Café, the main onsite dining hub, welcomes with neon waves, woo​den swings and surfer style.​​​​​ Nearby is a Starbucks, an arcade room, the gym and an expansive pool deck just beyond the lobby.
Weather note: For our November visit, it was in the 70s and 80s!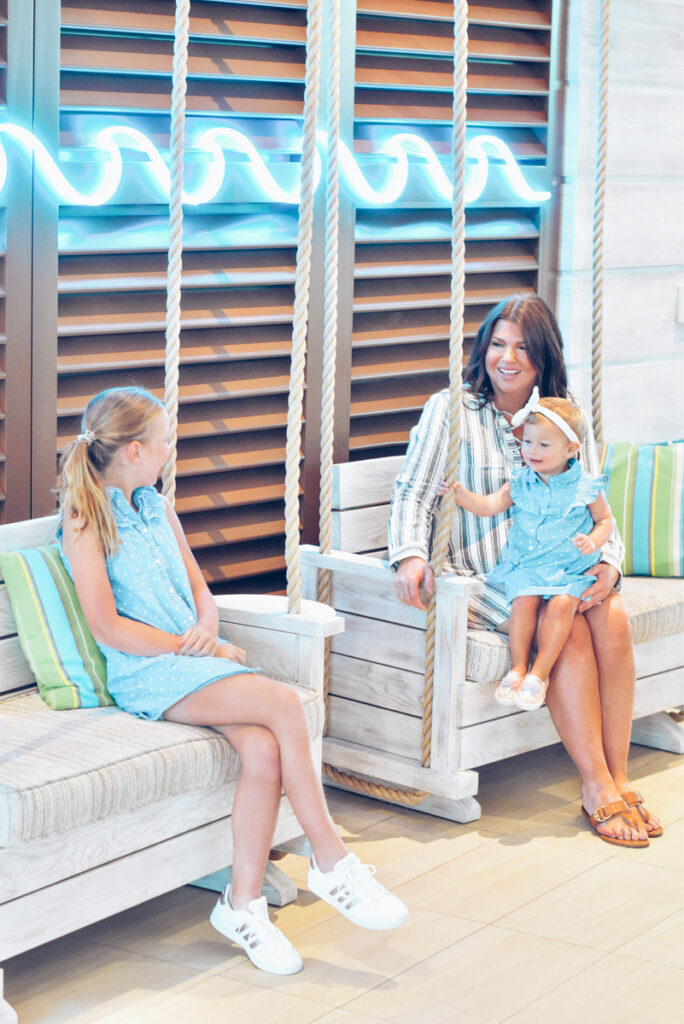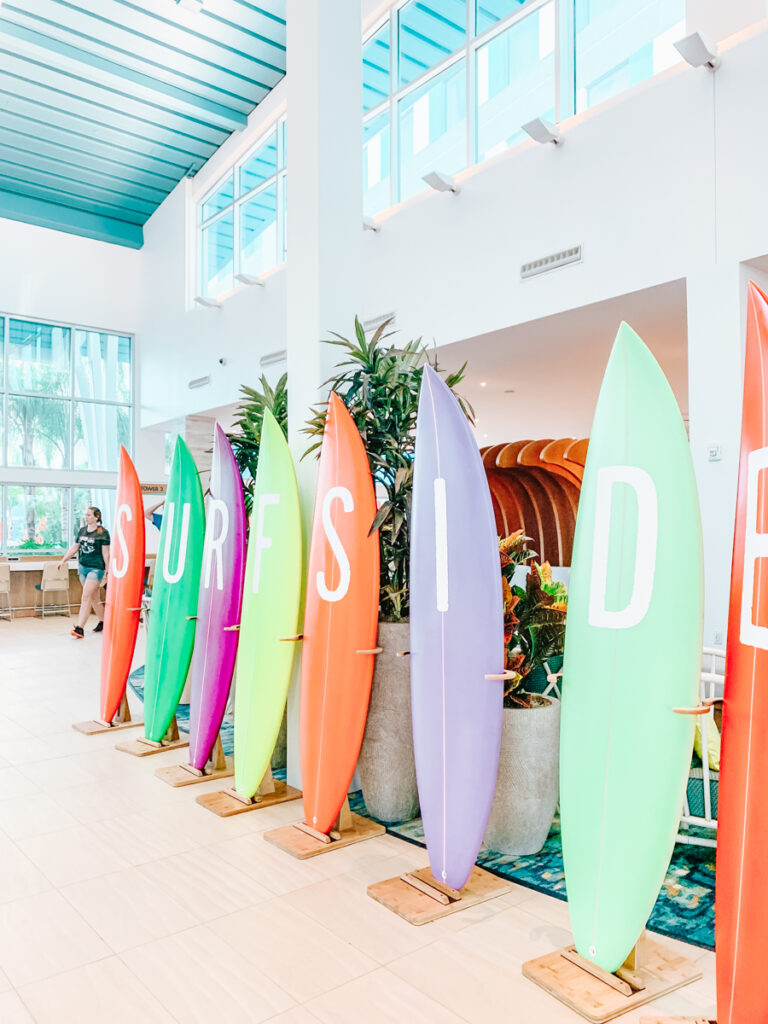 Endless Summer Resort Suites
Sleeps up to Six
We absolutely loved the style and layout of our room. In addition to standard rooms, Endless Summer also has spacious two-bedroom suites. First, the beachy decor helped us feel right at home as soon as we opened the door. Happy turquoise accents, a bold water-inspired curtain, a surf board and throw pillows that read SUN, BEACH and SURF give just the right elevated coastal vibes you'd expect from a resort with summer in its name.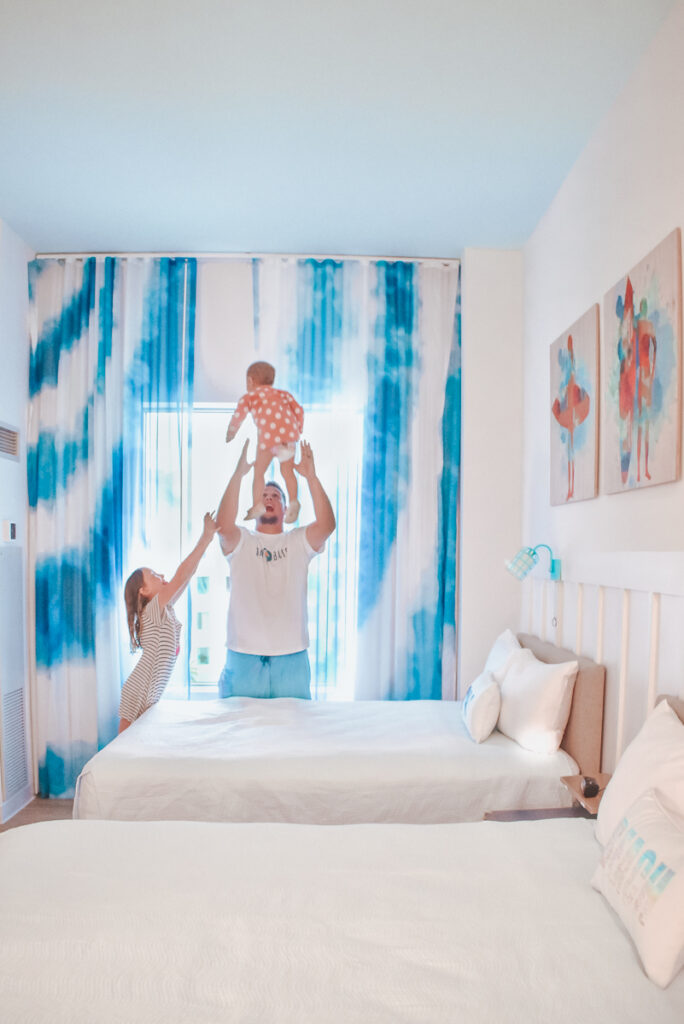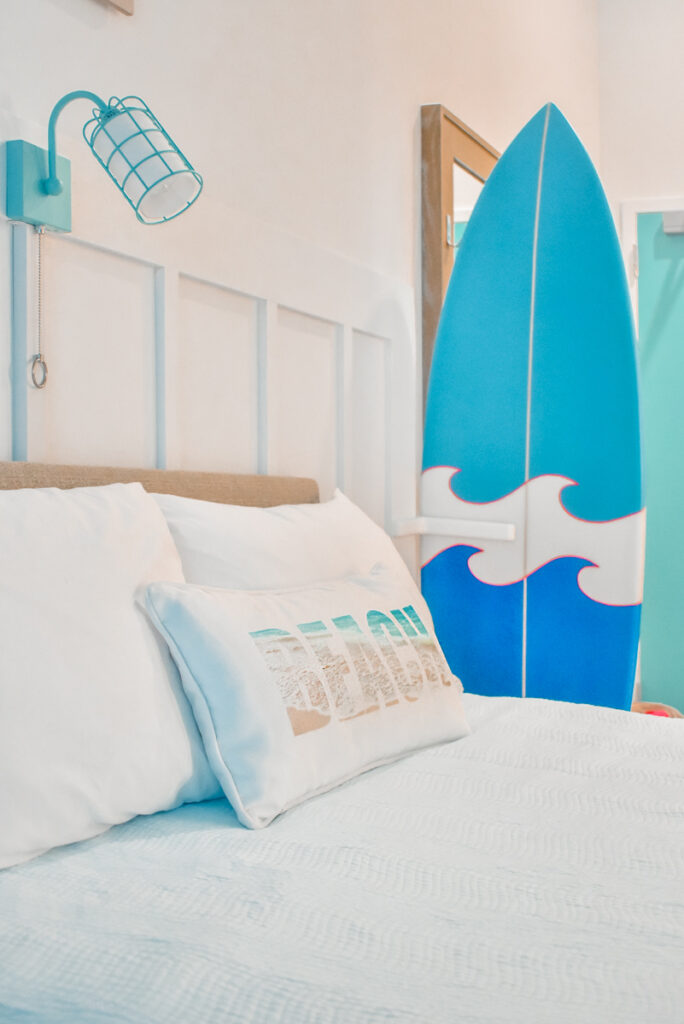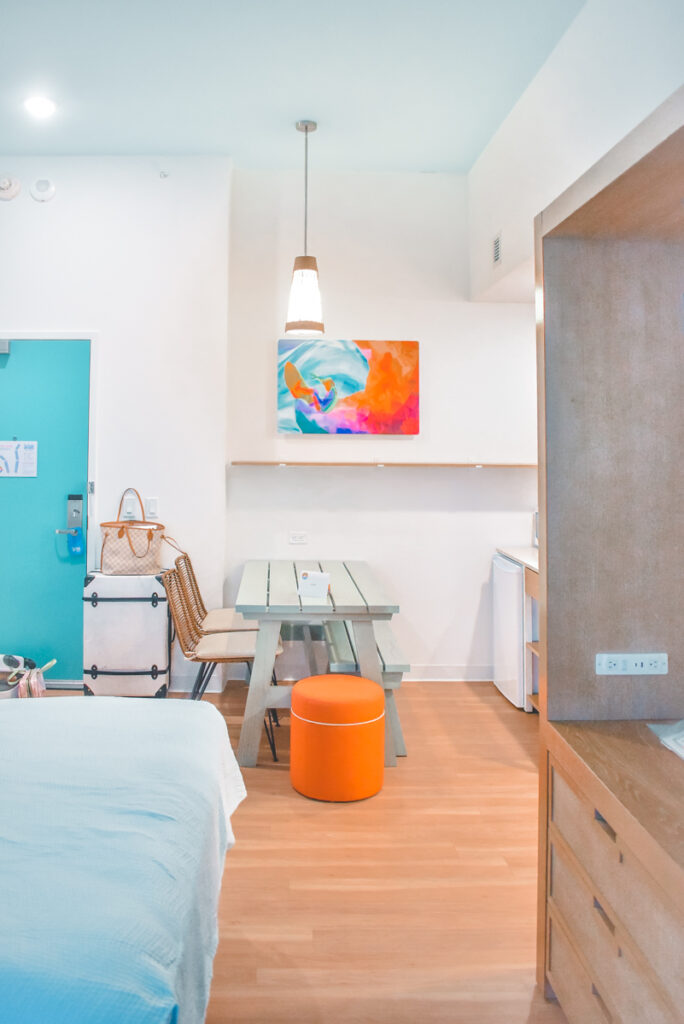 The suites also have a kitchenette, picnic table for in-room dining, and a second bedroom to separate parents, kids or make room for a larger party.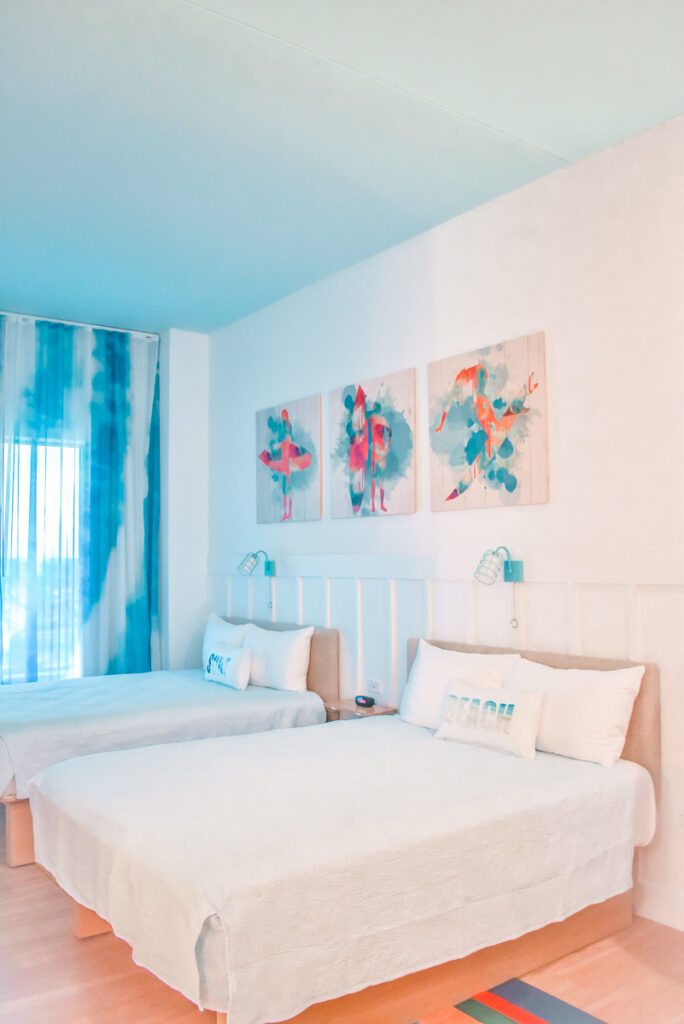 Pool Area
As soon as I saw the huge fish-shaped pool, I knew my girls would LOVE splashing around. One end is zero-entry with bubbling fountains, which was perfect for little ones like Collins and kept her entertained in one main area. Endless Summer also has life jackets if needed, which we used. Let me tell you, she did not want to take it off! Emery wanted to swim all over and made friends with a couple other girls visiting.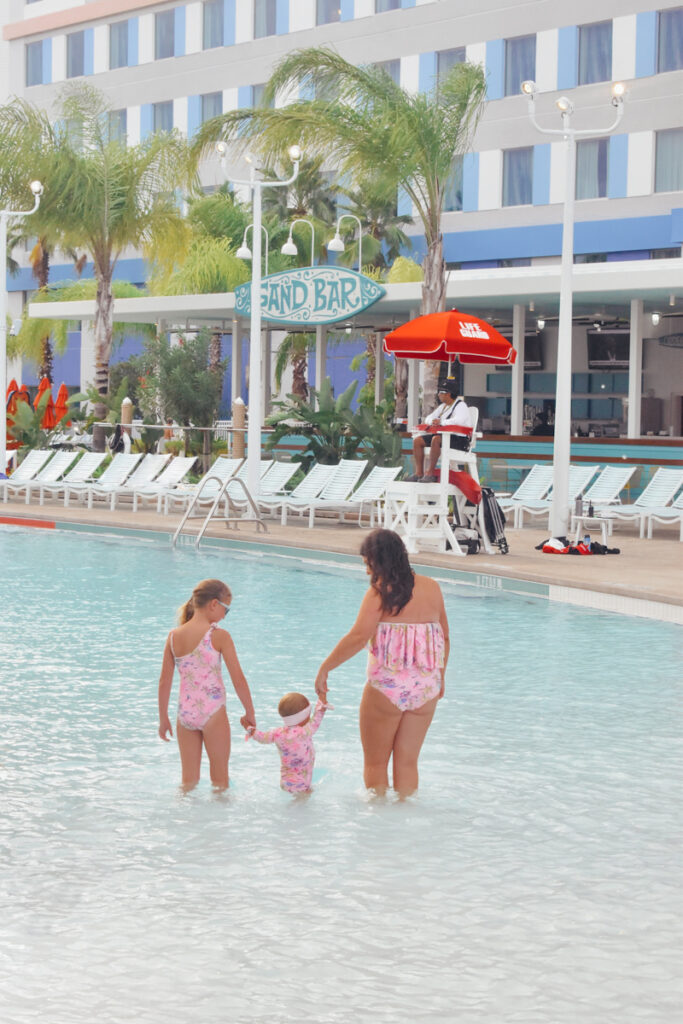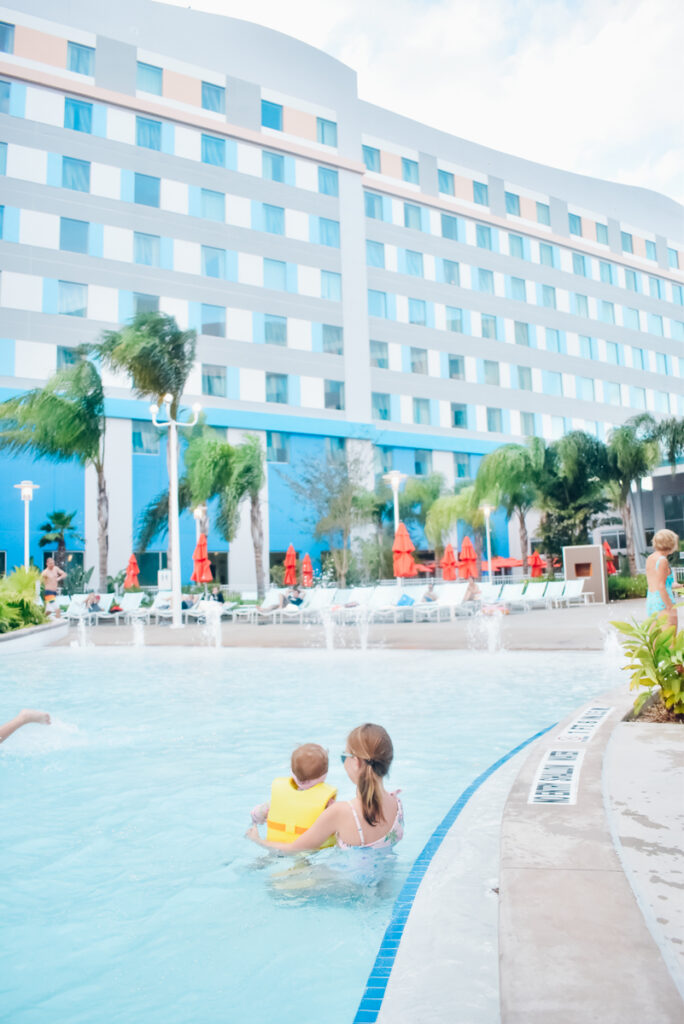 Collins was having a ball and when she was ready to be out, she settled in on a chair without any prompting or coaxing. What can I say? The girl knows how to relax.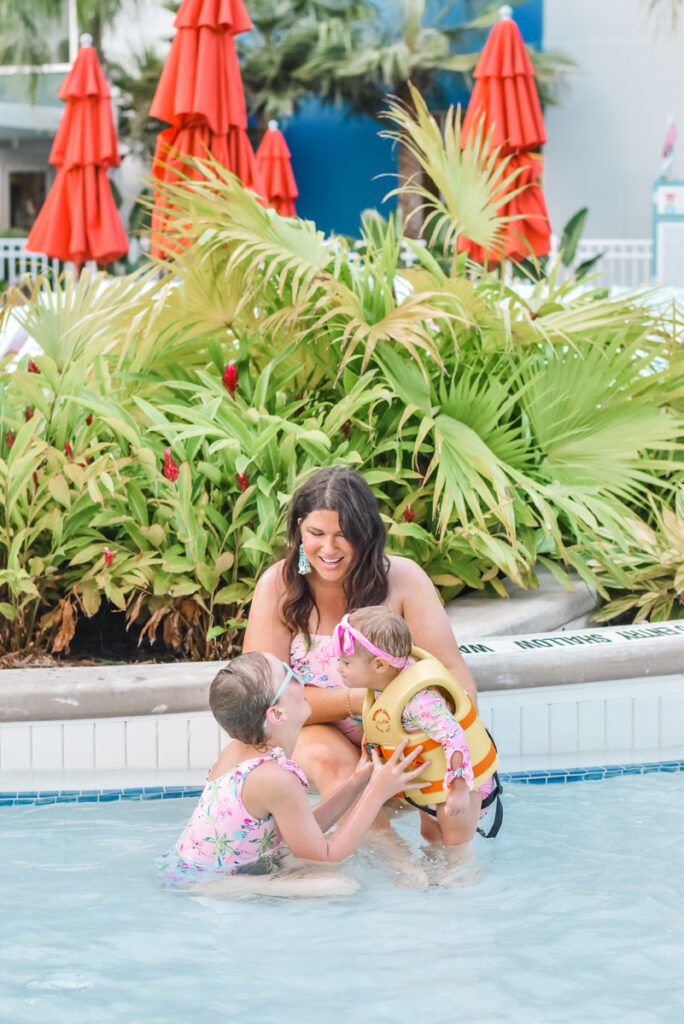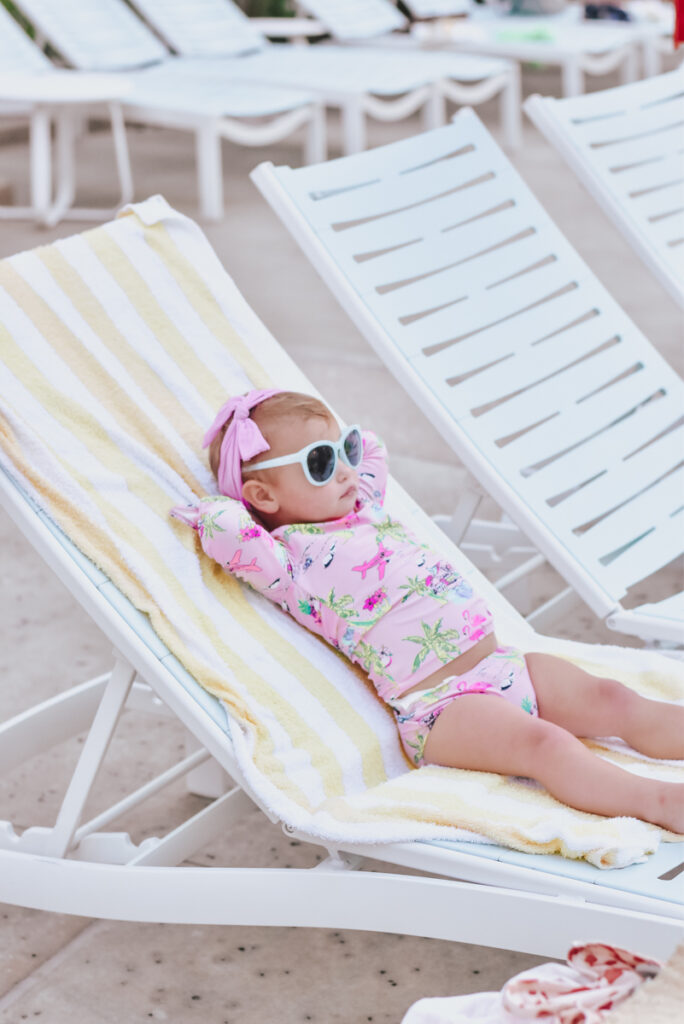 Just off the pool deck is Sand Bar, a swimsuit friendly spot to grab drinks, food and my favorite – Frosé. I loved all the turquoise and white with a pop of yellow. And after a day of go-go-go starting at dawn, it was fabulous to sit and sip by the pool.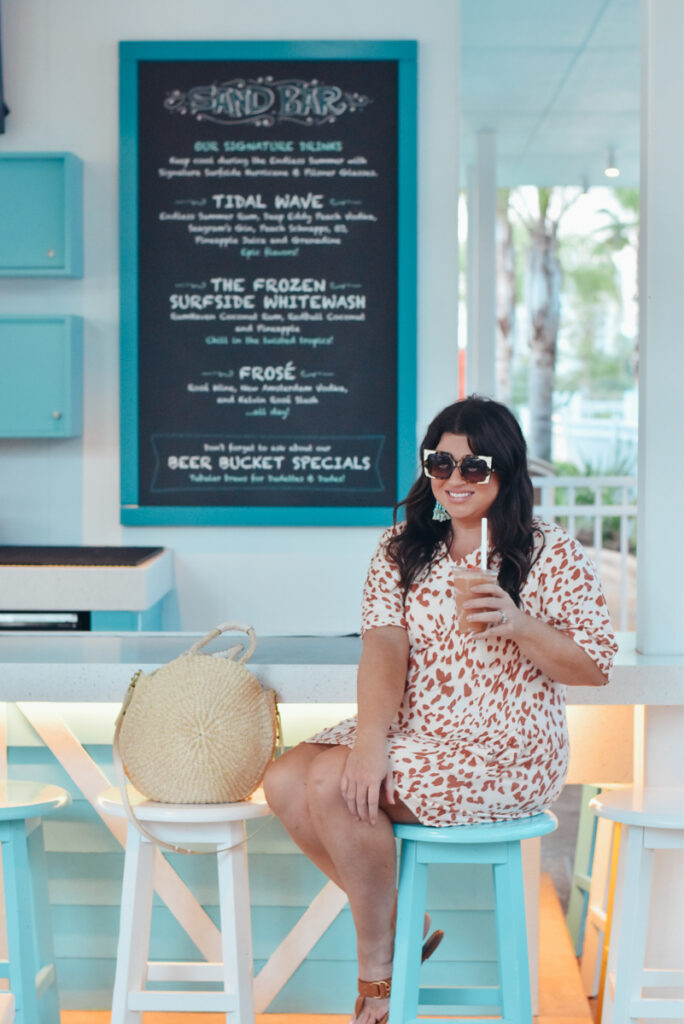 Onsite Dining
I mentioned the Beach Break Café downstairs and having that onsite is so convenient! It has a "grab and go" area with drinks, snacks and kid-friendly food (which you can also take to the pool) plus hot and cold food stations that serve a variety of quick service options for breakfast, lunch and dinner. For dinner one night, we had a mix of burgers, mac and cheese, and a carne asada bowl. We devoured it!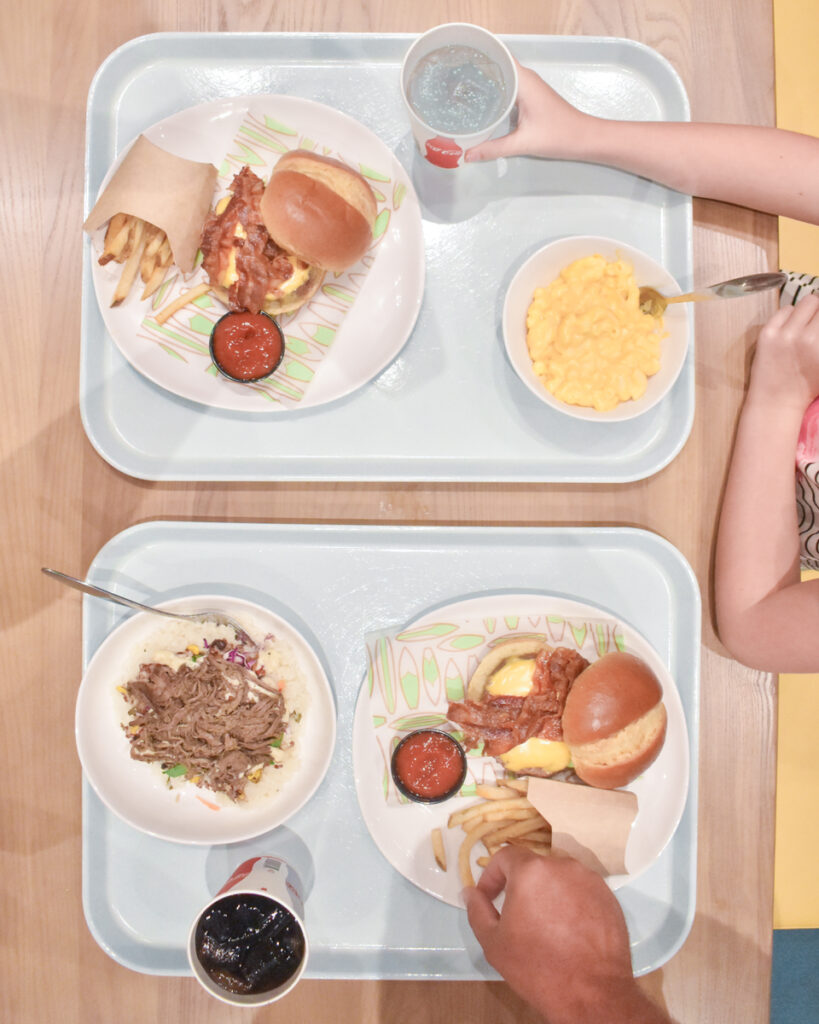 If your family is anything like mine, you might also want to take advantage of the in-room pizza delivery, which we did another night after a full day at the parks and pool. By evening, the thought of getting this crew out of swimsuits and ready for a sit-down somewhere seemed like too much. Hot pizza in bed in pajamas sounded amazing. So that's exactly what we did.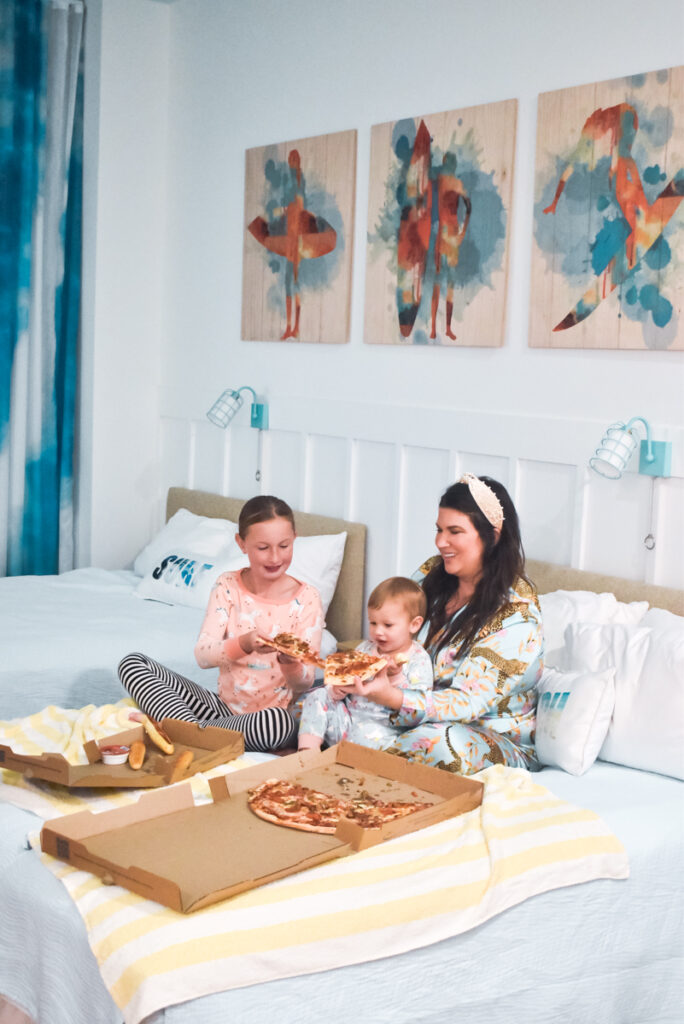 Now onto the parks…
About Universal Orlando
If you're new to the Universal fam, there are three parks that make up Universal Orlando: Universal Studios Florida™, Universal's Islands of Adventure™ and Universal's Volcano Bay™. CityWalk is the surrounding shopping, dining and entertainment area that also serves as the park entrances. Here's a quick breakdown of each:
Universal Studios Florida – This park has seven main areas with The Wizarding World of Harry Potter™ – Diagon Alley™ at the top of our list. The others are Hollywood, New York, San Francisco, Production Central, Springfield: Home of the Simpsons, Woody Woodpecker's KidZone™ and World Expo. (park map here) More on what we loved most below.
Islands of Adventure – The Wizarding World of Harry Potter™ – Hogsmeade™, Jurassic Park™, Marvel Super Hero Island®, Port of Entry™, Seuss Landing™, Skull Island: Reign of Kong™, The Lost Continent™, and Toon Lagoon™. (park map here) More on what we loved most below.
Universal's Volcano Bay™ – Rainforest Village, River Village, Water Village and, of course, the Volcano. (park map here) More on what we loved most below.
Universal Hotels – operated by Loews Hotels
Benefits of Staying on Property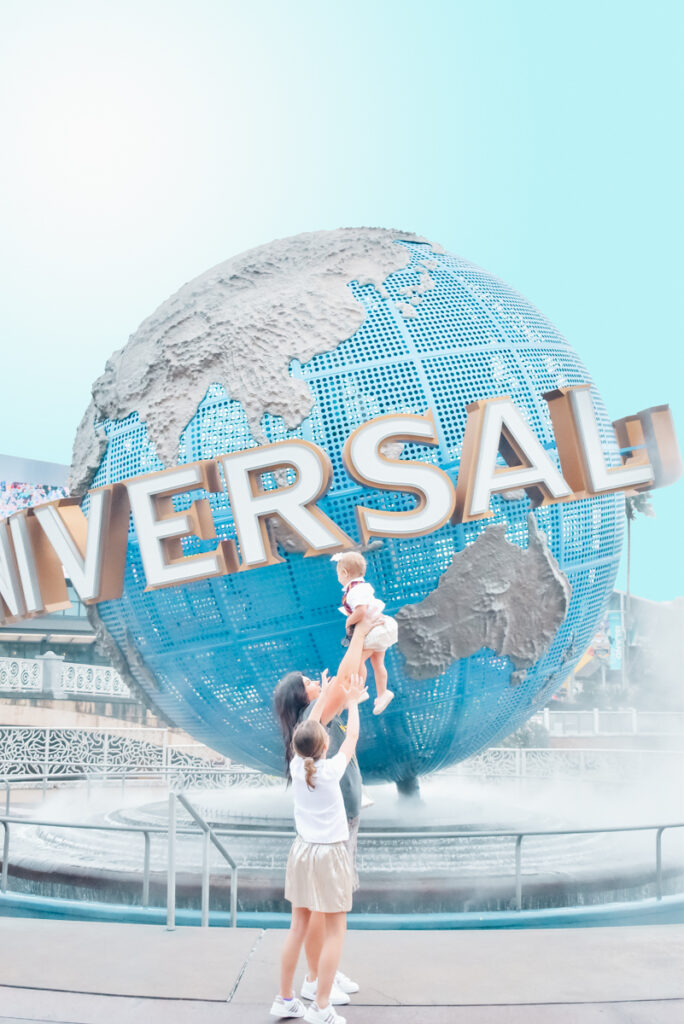 Early access one hour before. If you have a specific ride in mind or want to get ahead of the crowds, early access is a big deal. With our room key, we were able to go straight to Diagon Alley in The Wizarding World of Harry Potter and do a ton before it felt crowded. Most of the rides have no wait time. It's also a great time for photos because there are fewer people in the background.
Free upgrade to Universal Express™ Unlimited if you stay at select hotels. The Universal Express is Universal's tool to help you avoid lines and wait times when the park gets busy. It allows you to go into a different line at a fraction of the wait, which in our experience was often under five or ten minutes. You can choose from the standard Universal Express, which allows you to skip the line one time per ride or the Universal Express Unlimited, which allows you to skip the line an unlimited number of times per ride. Volcano Bay uses a different system called Virtual Line and the watchbands they provide, called Tapu Tapu allow you to tap your wrist to "get in line" and see on the watch how much time remains until your turn. The Premiere hotels where this upgrade is included is Loews Portofino Bay Hotel, Hard Rock Hotel Orlando and Loews Royal Pacific Resort.
Free shuttle bus or water taxi from the hotel to the park. Water taxis are available at several hotels (not ours this time) and shuttles are available from all properties every 10-15 minutes. It took around 10 minutes to go from the lobby to the shuttle to the park, but depends on how many people are in line for the shuttle.
Plus, free merchandise delivery from the parks to your room and priority seating at select Universal Orlando restaurants!
What I Packed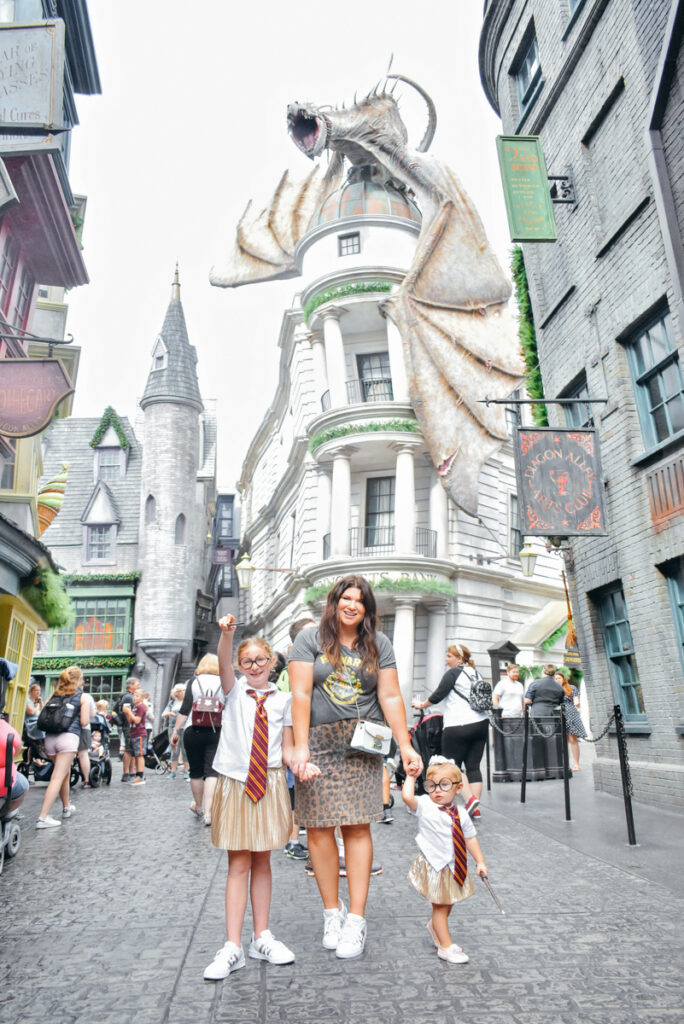 Comfy shoes are essential. And I mean 100% non-negotiable. Right before our trip, I grabbed a new pair of these shoes for myself and a youth version for Emery. Mine have Cloudfoam which makes a world of difference when walking 10-20K steps around the park. I highly recommend these for a day at the parks.
I also found these adorable glasses and ties on Amazon for the girls to wear as little Gryffindors. You can find a ton of merchandise at the hotel and park, but if you want to plan ahead, here are a few favorites.


Don't forget swimsuits and pool clothes. If you're planning to do the wet playzone (Curious George) or go on a wet ride, you may want to wear swimsuits to the park.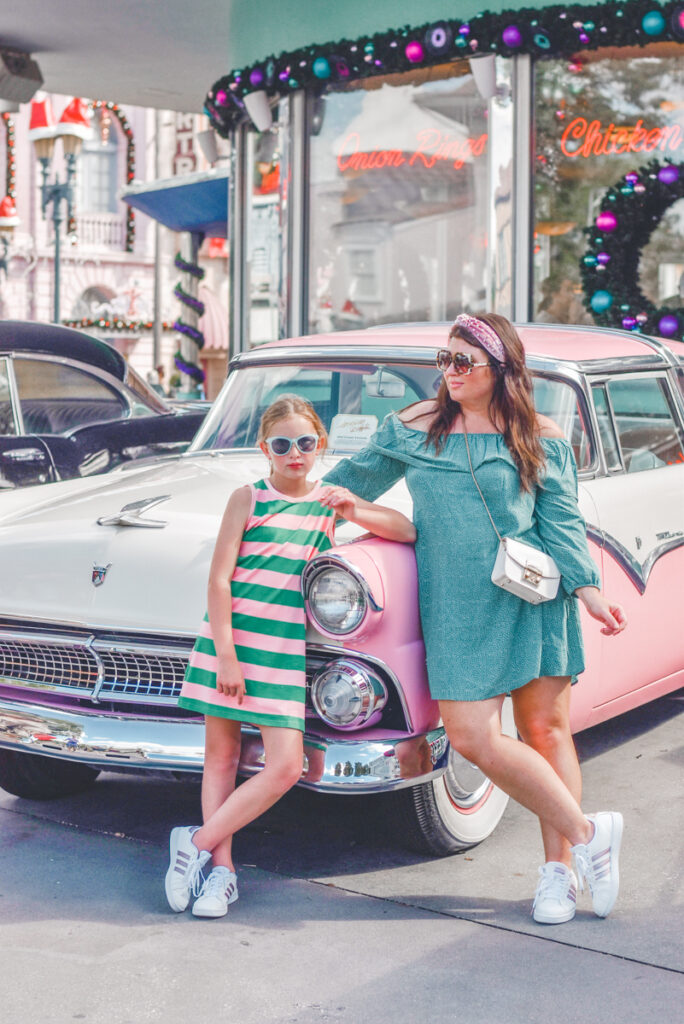 Universal Orlando Trip Tips
Check the Height Requirements
If you're traveling with a toddler or young kids, you'll need to know their height to plan ahead or check it as you enter the park. Emery was more than tall enough for all rides, but Collins had a shorter list to work with.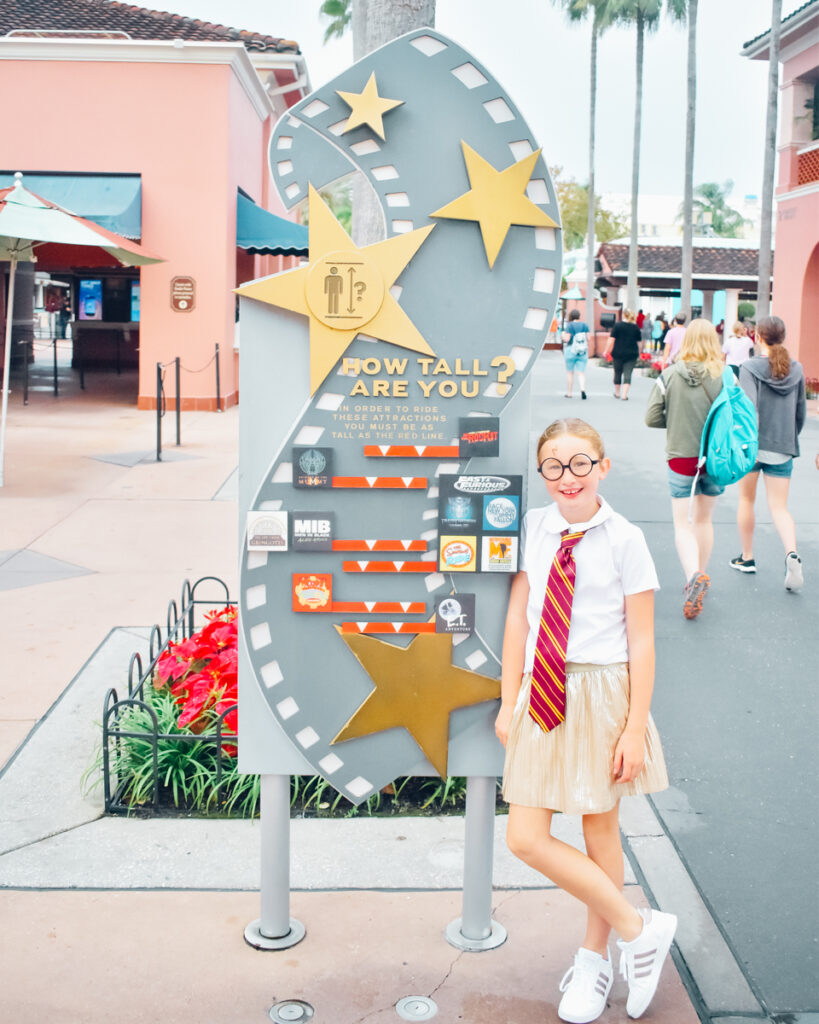 Bring a Stroller
We planned to bring a stroller for Collins since she's only 1 and I knew she wouldn't be able to walk everywhere herself — nor did I want to carry her everywhere! It was such a perk to have the stroller to stash drinks or bags in, but also, with a stroller, you can't ride the escalators or go up stairs on the rides. You have to take the elevator which turned out to be a bit of a perk since those lines were separate (and typically shorter). If you're on the fence about taking a stroller, it might be worthwhile to go ahead and bring it. And if it's easier to travel without it, you can also rent a stroller onsite.
Toddler Friendly Areas
This was a big one for us this trip. I knew we'd have to trade off big kid and little kid activities to please everyone.
At Universal Studios, toddlers can do:
Despicable Me: Minion Mayhem (with stationary seating)
Shrek 4-D (with stationary seating)
Kang & Kodos' Twirl 'n' Hurl (which Collins loved!)
Knight Bus™
Ollivanders™
Gringotts™ Money Exchange
Fievel's Playland™
Curious George Goes to Town℠ wet play area
several options in Woody Woodpecker's Kid Zone.
Hogwarts™ Express (with park-to-park admission)
At Islands of Adventure, toddlers can do
Caro-Seuss-el™
If I Ran the Zoo™ play area
Storm Force Accelatron®
Camp Jurassic™ play area
The Mystic Fountain
Poseidon's Fury (though she was scared by the fire at the end)
Me Ship the Olive® play area
Hogwarts™ Express (with park-to-park admission)
Many other elements have an interactive element or something to "do" that wasn't specifically a ride.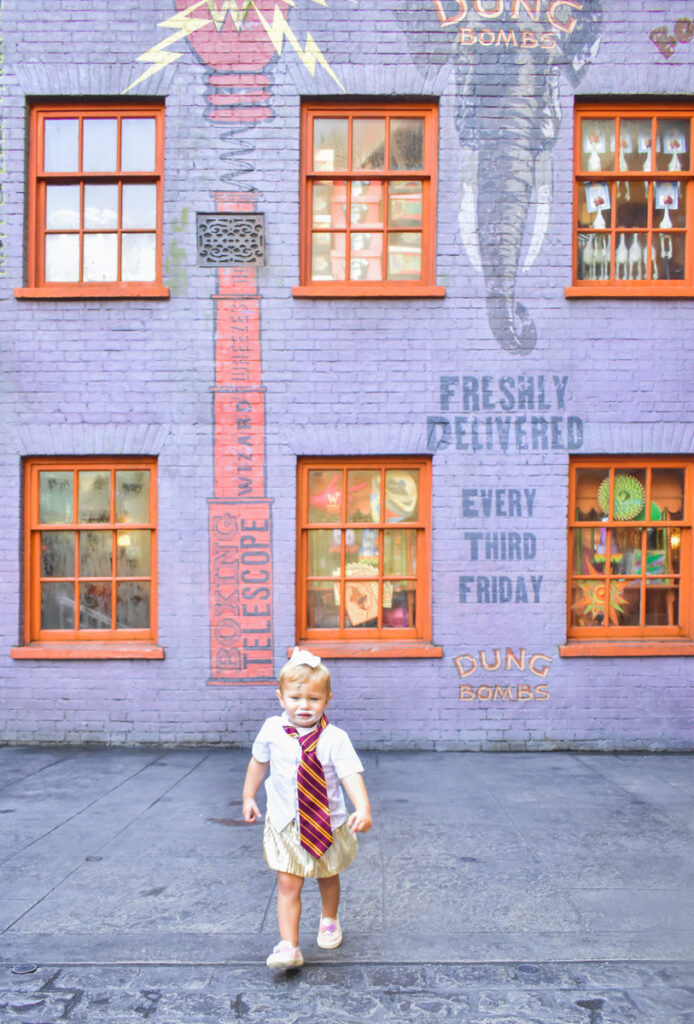 Elementary Age Favorites
Emery is 8 and at the in-between age where the little kid stuff isn't always thrilling but the big kid/adult stuff might be too scary. For instance, this trip we rode the brand new ride Hagrid's Magical Creatures Motorbike Adventure™ and while I absolutely LOVED it, she was slightly terrified. Just gauge how into the coasters and simulator style rides your kid is, but with that in mind, here are a few essentials for elementary age park-goers.
At Universal Studios, big kids will likely enjoy:
Despicable Me: Minion Mayhem
Shrek 4D
TRANSFORMERSTM: The Ride-3D
Race Through New York Starring Jimmy Fallon
Revenge of the Mummy (depending on thrill level)
Fast & Furious – Supercharged
Harry Potter and the Escape from Gringotts™ (get in line early!)
Ollivanders™ (not a "ride" but more of an experience for HP fans)
Men in Black™ Alien Attack™
The Simpsons Ride™
Woody Woodpecker's Nuthouse Coaster
At Islands of Adventure, big kids will likely enjoy:
The Amazing Adventures of Spider-Man®
Popeye & Bluto's Bilge-Rat Barges®
Dudley Do-Right's Ripsaw Falls®
Skull Island: Reign of Kong
Pteranodon Flyers
Jurassic Park River Adventure
Flight of the Hippogriff™
Harry Potter and the Forbidden Journey™
Hagrid's Magical Creatures Motorbike Adventure™ (depending on thrill level)
Poseidon's Fury (not a "ride")
The High in the Sky Seuss Trolley Train Ride!™
Caro-Seuss-el™
One Fish, Two Fish, Red Fish, Blue Fish™
The Cat in the Hat™
Ask For a Tour
Full disclosure, this isn't always possible, especially if you're visiting during a busy time, but it's worth a try! They'll let you know if it's possible and if so, it's the most amazing upgraded experience FOR FREE! You get to access special, off-limits areas, have a personal tour guide show you around and feel like a total VIP. At Men in Black Alien Attack, ask for the "Immigration Tour" when you enter the line. This lets you go on the control room floor and even fill out intake paperwork. Emery loved this!
That's the only tour we were able to do, but I hear you can ask for a bank tour at Escape from Gringotts and see cool music memorabilia normally off-limits at Hard Rock Café.
Hope y'all enjoyed following along and hearing all about our experience. If you're heading there with little ones, I hope this post was helpful and informative. And if you have any questions feel free to email me or leave a comment below.​​​​​​​
Try the Snacks
Some of our favorite bites weren't full meals, but snacks along the way.
The Flaming Moe (inside Moe's in Simpsons Land) it's an orange soda that bubbles and is so fun to drink. Both my girls loved trying it!
The Big Pink donut (from Lard Lad Donut in Simpsons Land or Tea House of Horrors)
Giant cotton candy from Honk Honkers Gourmet Candy in Seuss Landing This is made to order and one easily goes for a group. Flavors like birthday cake and pink vanilla are so tasty! Plus you can add toppings.
Ice Cream at Florean Fortescue's Ice Cream Parlour in Diagon Alley flavors like Earl Grey & Lavender, Butter Beer or Clotted Cream are delicious!
Frozen Butter Beer (from Diagon Alley or Hogsmeade) we like this so much more than the regular hot or cold versions
Chocolate Frog (from Sugarplum's Sweet Shop in Diagon Alley or Honeydukes in Hogsmeade)