This post comes in collaboration with Universal Orlando Hotels. All opinions expressed are my own.
I am so excited to share more of our spring break trip to Universal Orlando on the blog. We had such an amazing time getting acquainted with the parks and our adorable onsite hotel, Cabana Bay Resort. I hadn't visited since I was a teenager, so in a lot of ways it felt like going for the first time. We let our 1 year-old sit this one out and only took Emery, which meant her interests and age dictated our itinerary. In this post, I'm breaking down the basics of Universal Orlando, where we stayed, why staying on property makes such a difference, what we loved at each park and tips to plan your next trip.
For special Florida resident rates, click here.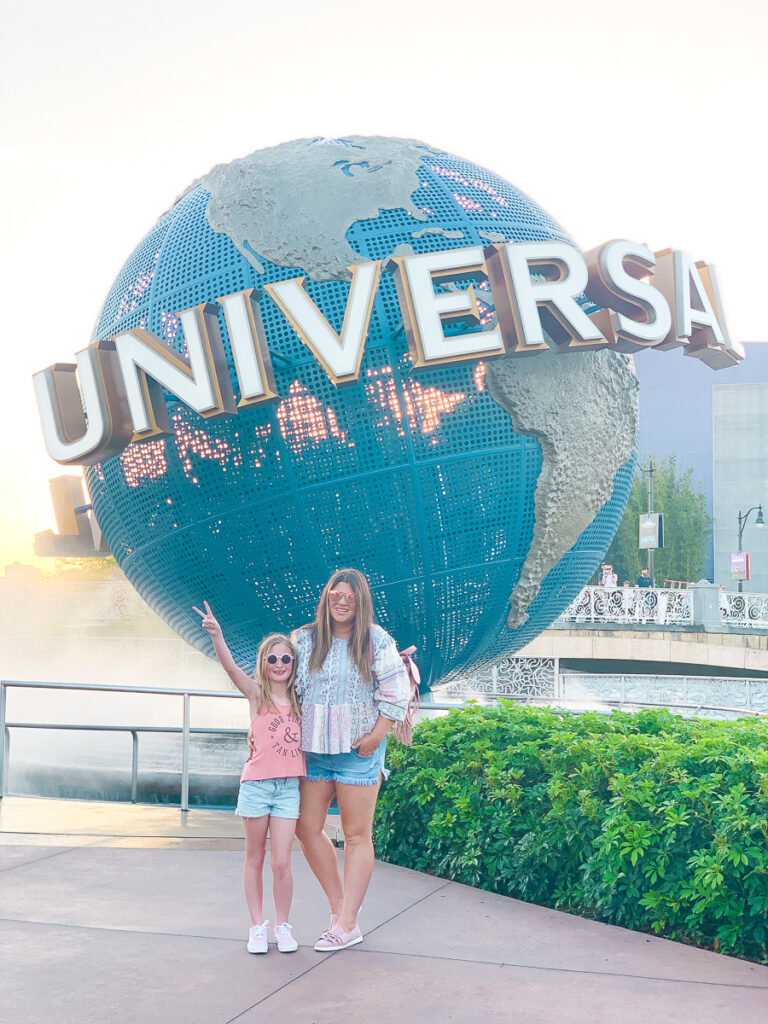 About Universal Orlando
First things first, in case you need a quick refresh, there are three parks that make up Universal Orlando: Universal Studios Florida™, Universal's Islands of Adventure™ and Universal's Volcano Bay™. CityWalk is not technically one of the parks, but is the surrounding shopping, dining and entertainment area that also serves as the entrances to the parks. Here's a quick breakdown of each:
Universal Studios Florida – This park has seven main areas with The Wizarding World of Harry Potter™ – Diagon Alley™ at the top of our list. The others are Hollywood, New York, San Francisco, Production Central, Springfield: Home of the Simpsons, Woody Woodpecker's KidZone™ and World Expo. (park map here) More on what we loved most below.
Islands of Adventure – The Wizarding World of Harry Potter™ – Hogsmeade™, Jurassic Park™, Marvel Super Hero Island®, Port of Entry™, Seuss Landing™, Skull Island: Reign of Kong™, The Lost Continent™, and Toon Lagoon™. (park map here) More on what we loved most below.
Universal's Volcano Bay™ – Rainforest Village, River Village, Water Village and, of course, the Volcano. (park map here) More on what we loved most below.
Universal Hotels – operated by Loews Hotels
Universal's Cabana Bay Beach Resort
Universal's Endless Summer Resort – Surfside & Dockside Inn and Suites (see my Surfside stay here)
Universal's Aventura Hotel Loews Sapphire Falls Resort
Loews Royal Pacific Resort (South Pacific themed)
Hard Rock Hotel (music themed)
Loews Portofino Bay Hotel (Italy themed)
Benefits of Staying on Property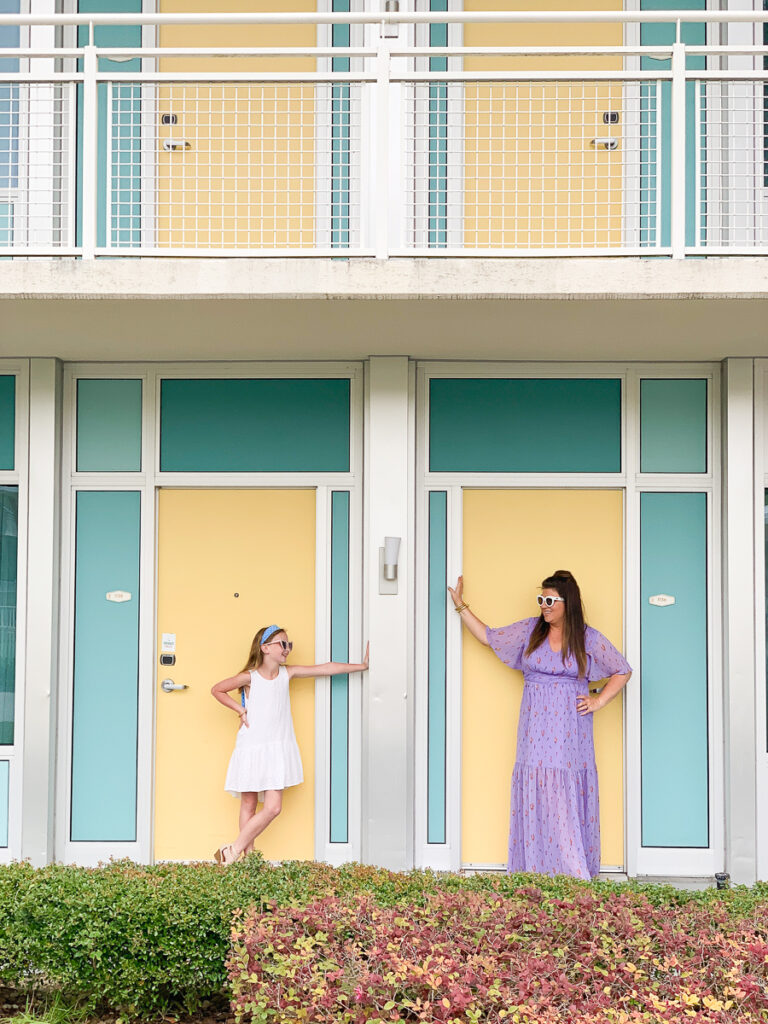 Early access one hour before. This proved to be a HUGE benefit since we knew we wanted to head straight to Diagon Alley and Hogsmeade, two of the most popular areas of the parks. We were able to enter with our room keys and start enjoying all the magic of the day before long lines took over. We walked through New York one morning and Hollywood another morning on our way to The Wizarding World of Harry Potter with only a handful of people on the same block. It felt like we had the place to ourselves for an hour!
Free upgrade to Universal Express™ Unlimited if you stay at select hotels. The Universal Express is Universal's tool to help you avoid lines and wait times when the park gets busy. It allows you to go into a different line at a fraction of the wait, which in our experience was often under five or ten minutes. You can choose from the standard Universal Express, which allows you to skip the line one time per ride or the Universal Express Unlimited, which allows you to skip the line an unlimited number of times per ride. Volcano Bay uses a different system called Virtual Line and the watchbands they provide, called Tapu Tapu allow you to tap your wrist to "get in line" and see on the watch how much time remains until your turn. The Premiere hotels where this upgrade is included is Loews Portofino Bay Hotel, Hard Rock Hotel Orlando and Loews Royal Pacific Resort.
Free shuttle bus or water taxi from the hotel to the park. Water taxis are available at all hotels excluding Universal's Cabana Bay Beach Resort and Universal's Aventura Hotel and shuttles are available from all properties every 10-15 minutes. The ride is only minutes from the hotel to the park! No need to deal with parking or walking to your car!
Plus, free merchandise delivery from the parks to your room and priority seating at select Universal Orlando restaurants!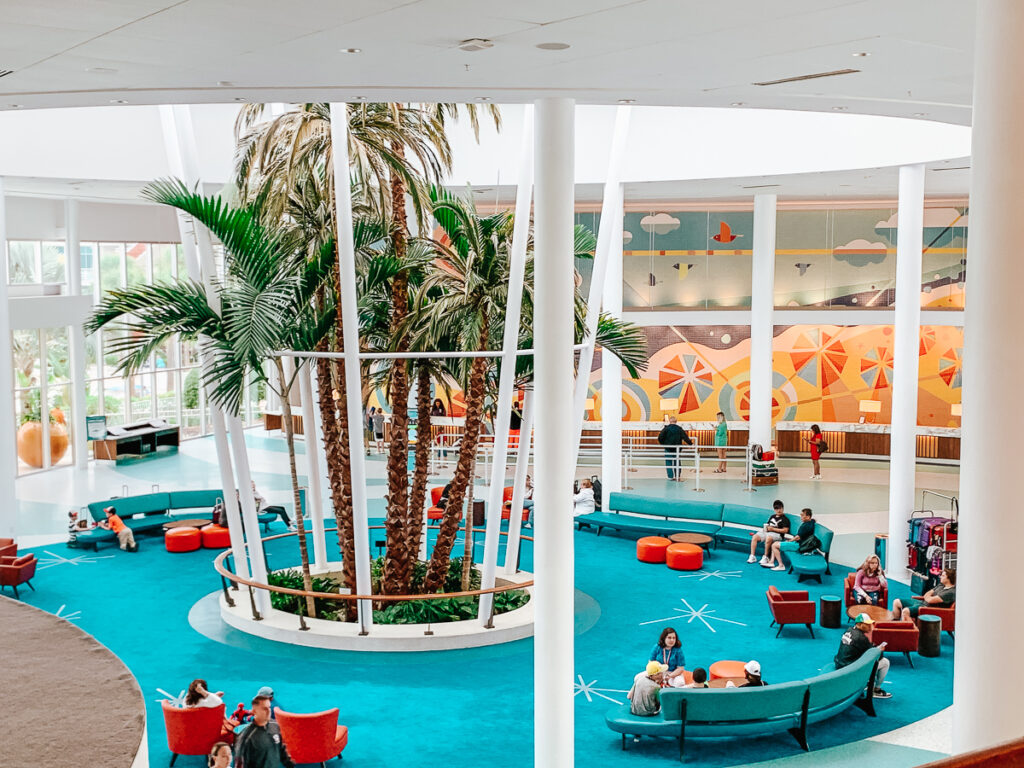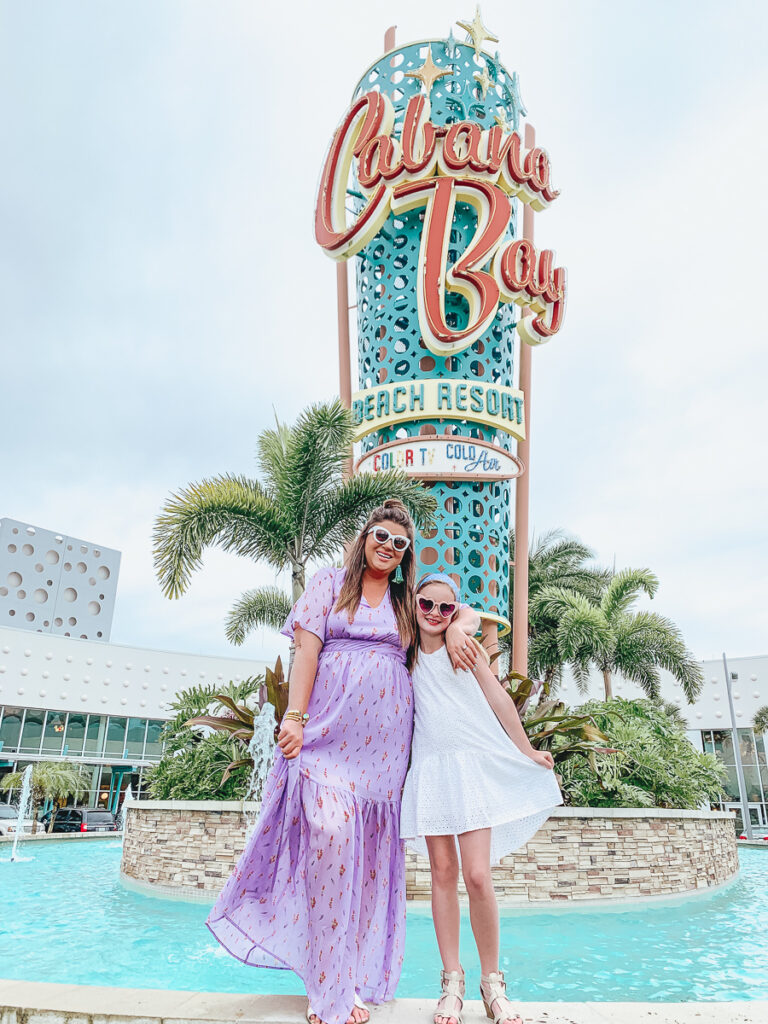 Where We Stayed: Cabana Bay Beach Resort
I shared a video tour of the hotel and our room on my Instagram stories @jamiray. The first thing I noticed when we pulled in to the property was the retro vibe. The entire 2,200 room hotel is themed as a throwback to the late 1950s and early 1960s. Colors like turquoise, citrus, lemon and white prevail with design details everywhere that feel like the set of a 60s era movie. Here are some of the amenities and details of Cabana Bay that we loved most.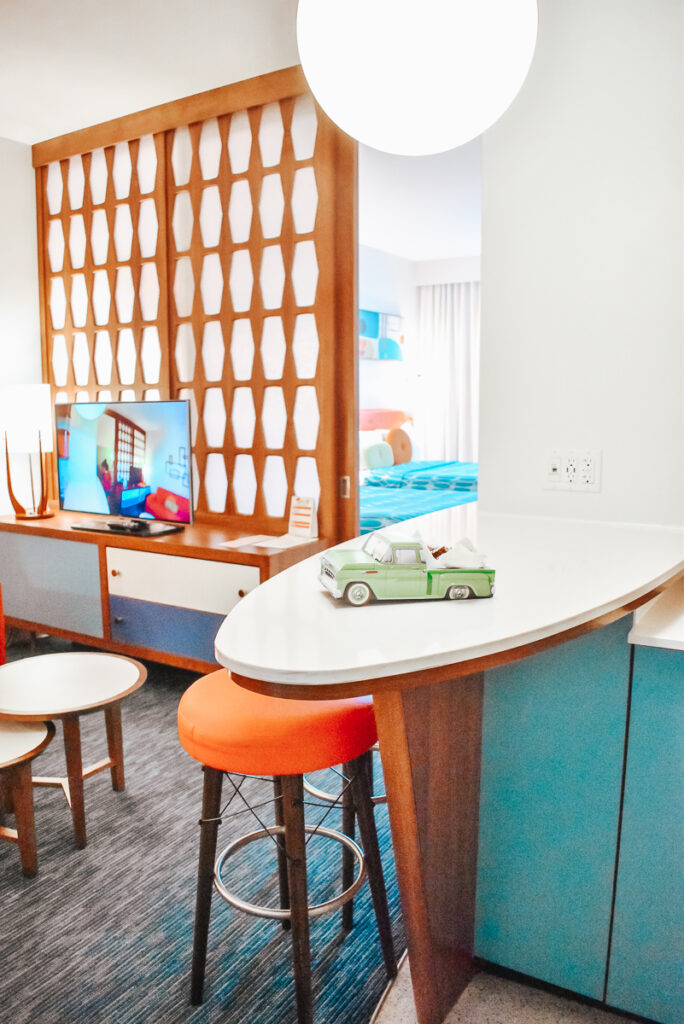 Hotel Vibe. For family travel, we loved the themed out feel of the hotel. The staff said things like, "Have a swell time!" and even the dining hall showed vintage cartoons playing on two giant screens. It really felt like a refreshing stop along a midcentury roadtrip. Every area from the bar to the vintage cars out front lent more texture to the scene making it feel more authentic than cheesy. There was even a Woody station wagon, which I'm sure would have been our ride of choice for a family trip had I been a mom about 50-60 years ago. Each of the buildings was named after an iconic hotel from that era. There were the Thunderbird, Castaway and Starlight in the Cabana Courtyard and the Americana and Continental in the Lazy River Courtyard.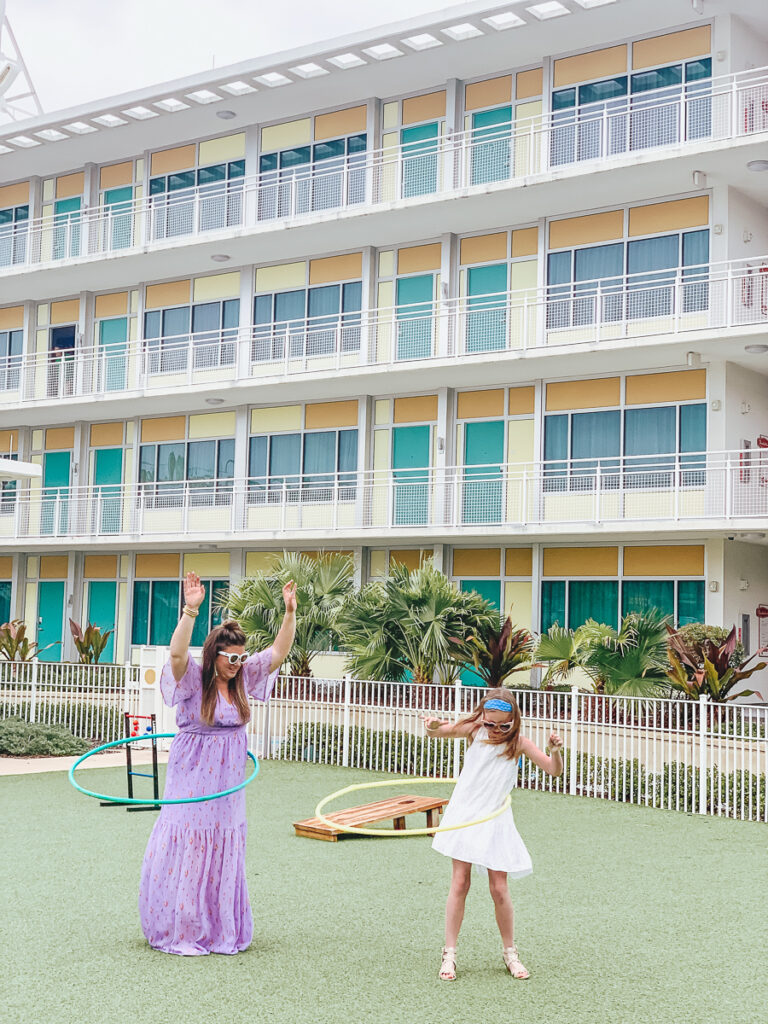 Family Suite. We stayed in a room with two doubles, which is typical of our family travels, but this room also had its own kitchenette and TV lounge area. A sliding panel door allowed this to be sectioned off separately, which was great since we usually go to bed and wake up at staggered times. The decor was bright and kitschy, with details like Zest soap and V05 products shampoo/conditioner in the bathroom. We had a partial view of Volcano Bay and a gorgeous view of the pool and lazy river, though you can request a full volcano view room if you prefer.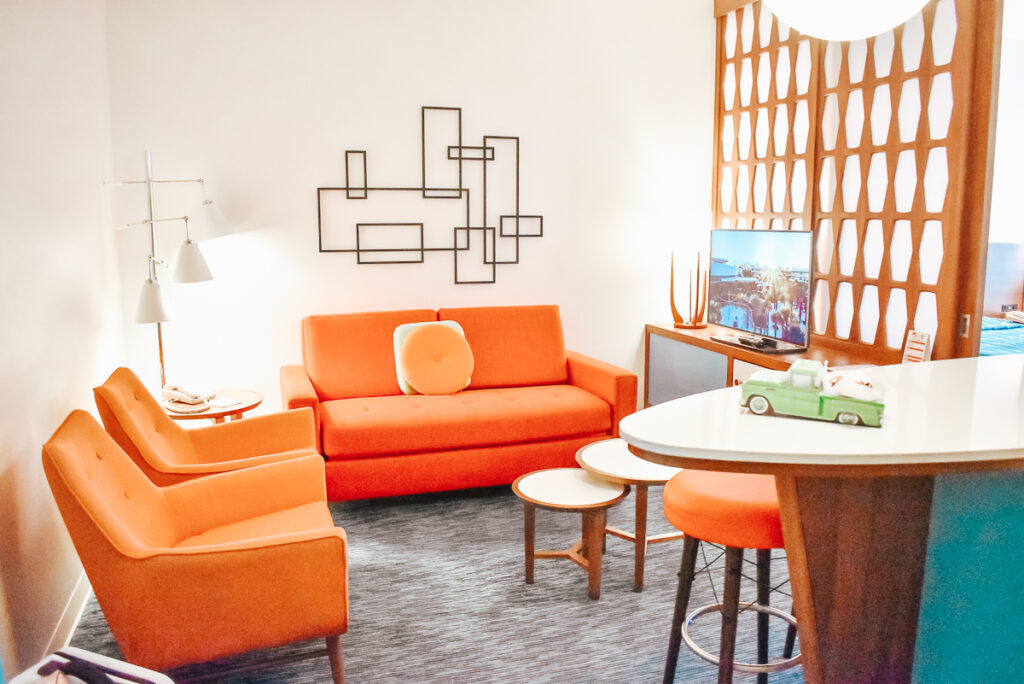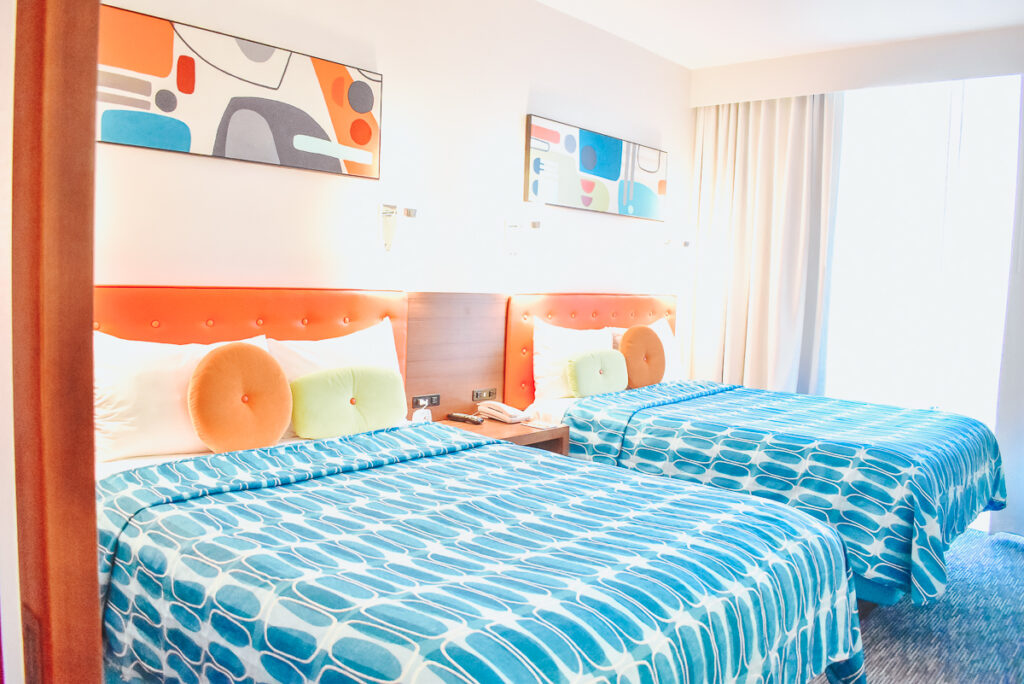 Two pools, a water slide and a lazy river. The hotel setup is kind of like two different campuses on either side of the main building. I liked this because even though the hotel is large, it didn't feel like we were in huge crowds thanks to this design. The Lazy River Courtyard is a bit triangular fanning out toward Volcano Bay with a huge pool area, lazy river and The Hideaway Bar & Grill. This side had movies playing on deck each evening after dark. The Cabana Courtyard is sort of a quad with a second pool, water slide, grassy play areas and the Atomic Tonic bar. We loved playing games and doing an impromptu hula hoop contest together.
Lazy river note: Inflatable tubes are available for purchase on the pool deck, though you can also bring your own if you're on a budget or prefer not to spend extra on something you may already have at home.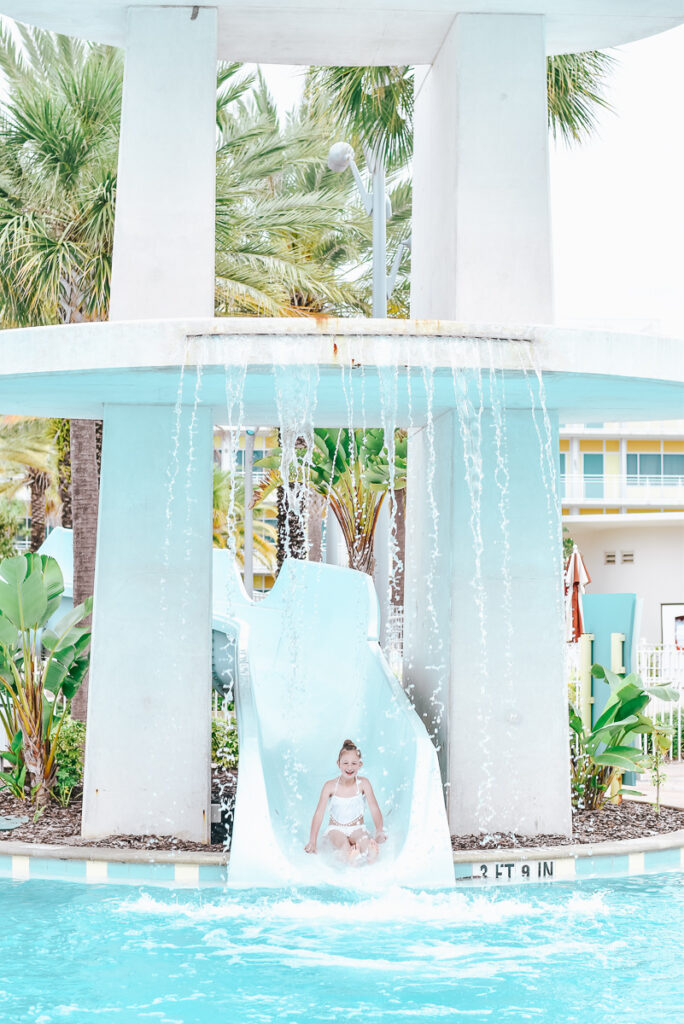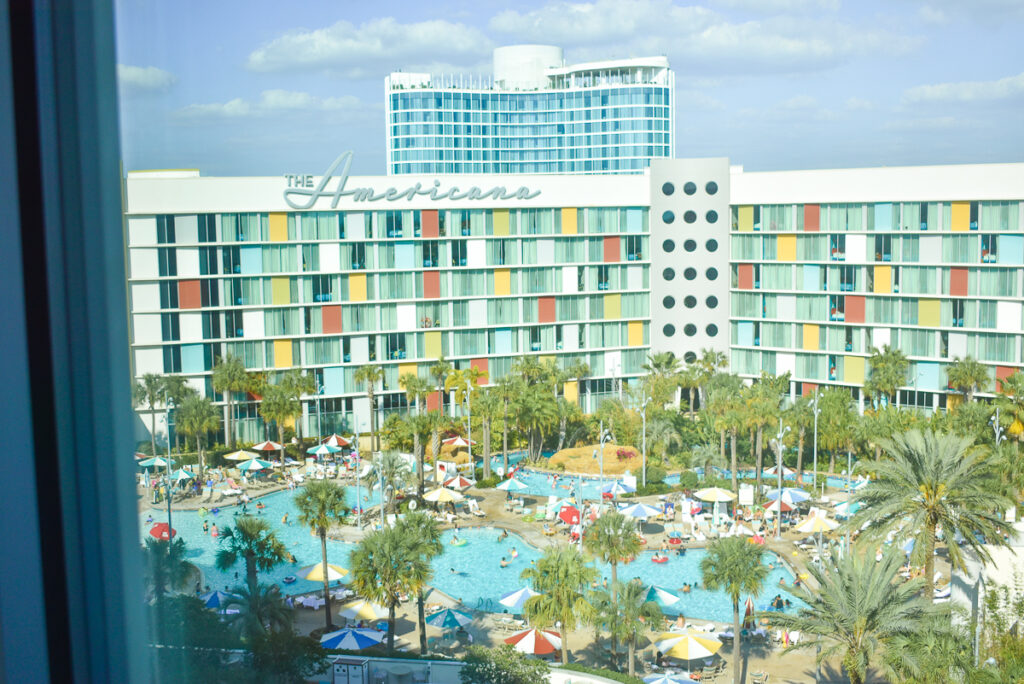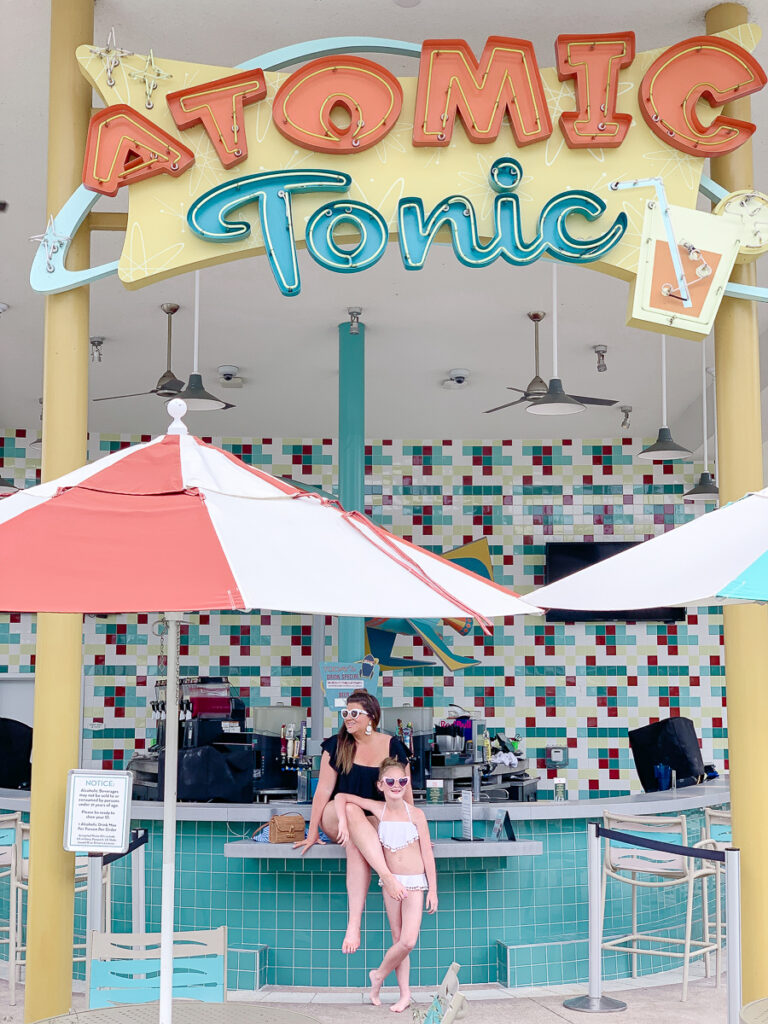 Arcade and bowling alley. The first night we arrived just in time for sunset and a swim in the lazy river. After dinner, we weren't quite ready for bed but also didn't want to venture out since the next day would be so busy at the park. We found our way to the second floor mezzanine and put our name on the list at Galaxy Bowl. Next door is Game-O-Rama, so we challenged each other to arcade games and battled in air hockey, basketball and racing before deciding to call it a night. We didn't make it to the pinewood that night, but it would be a perfect rainy day activity or an alternative to the parks.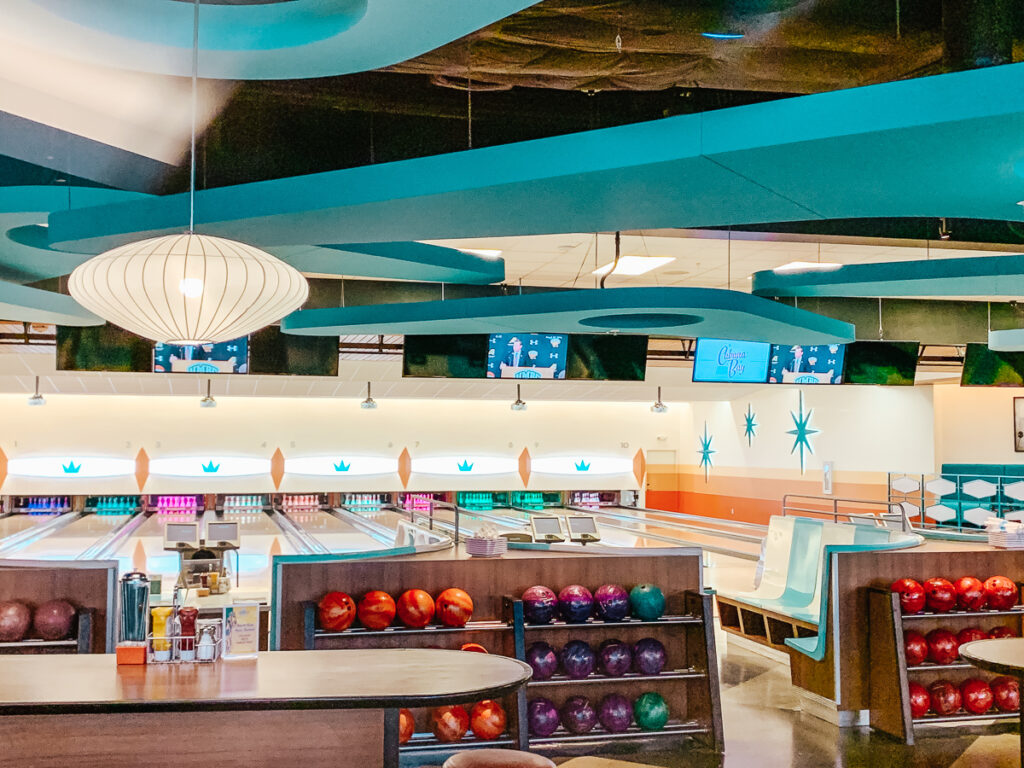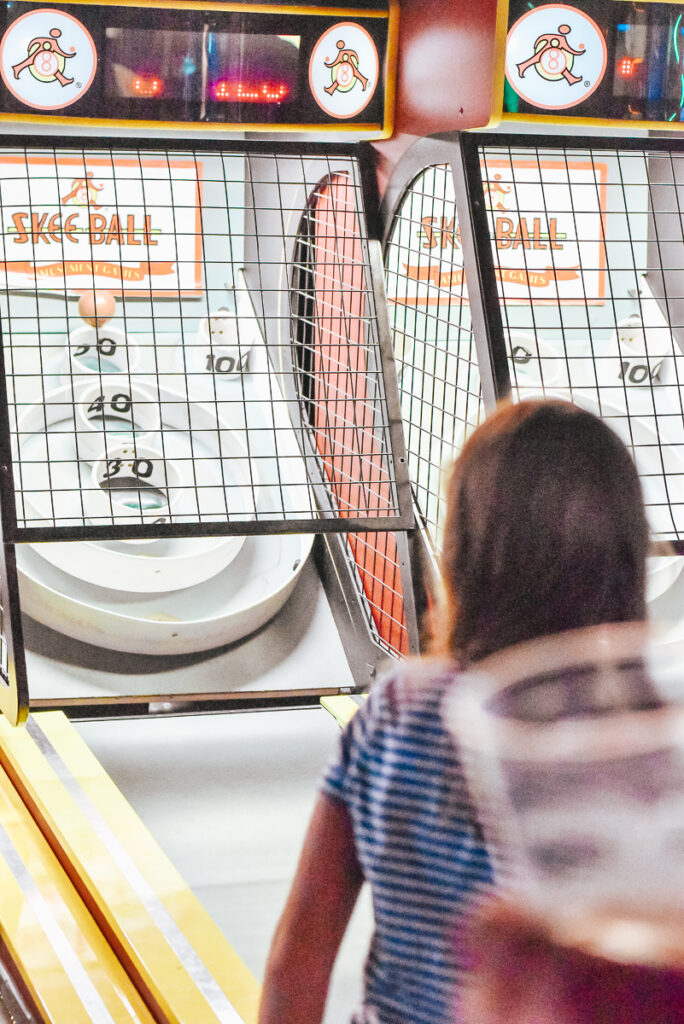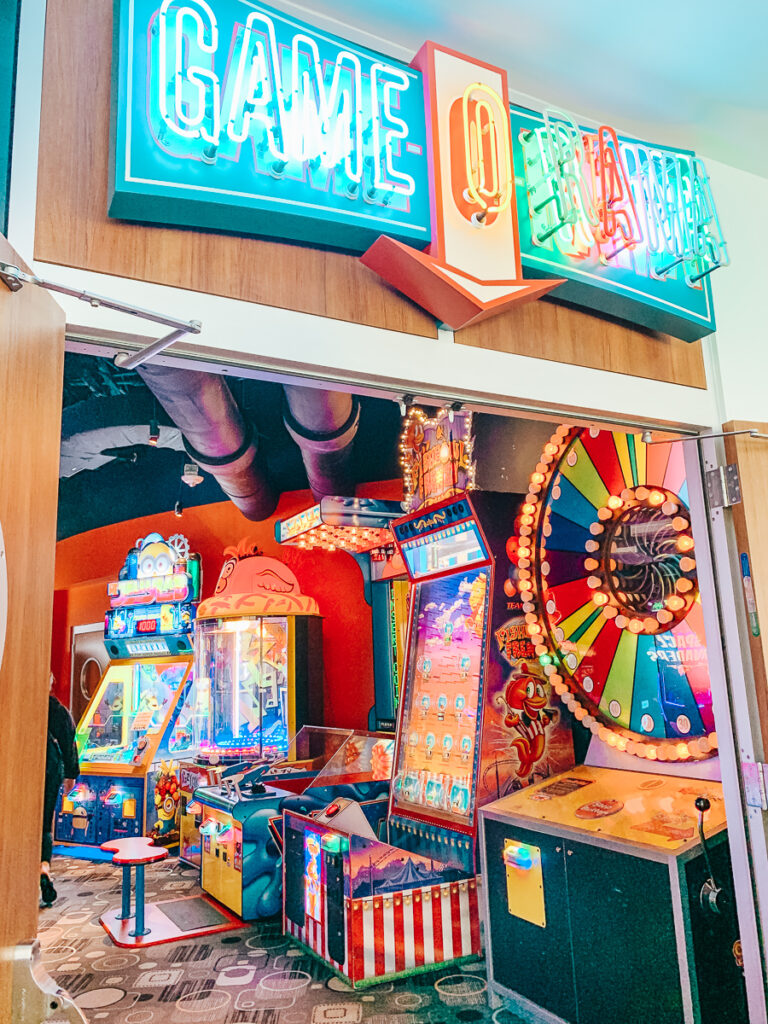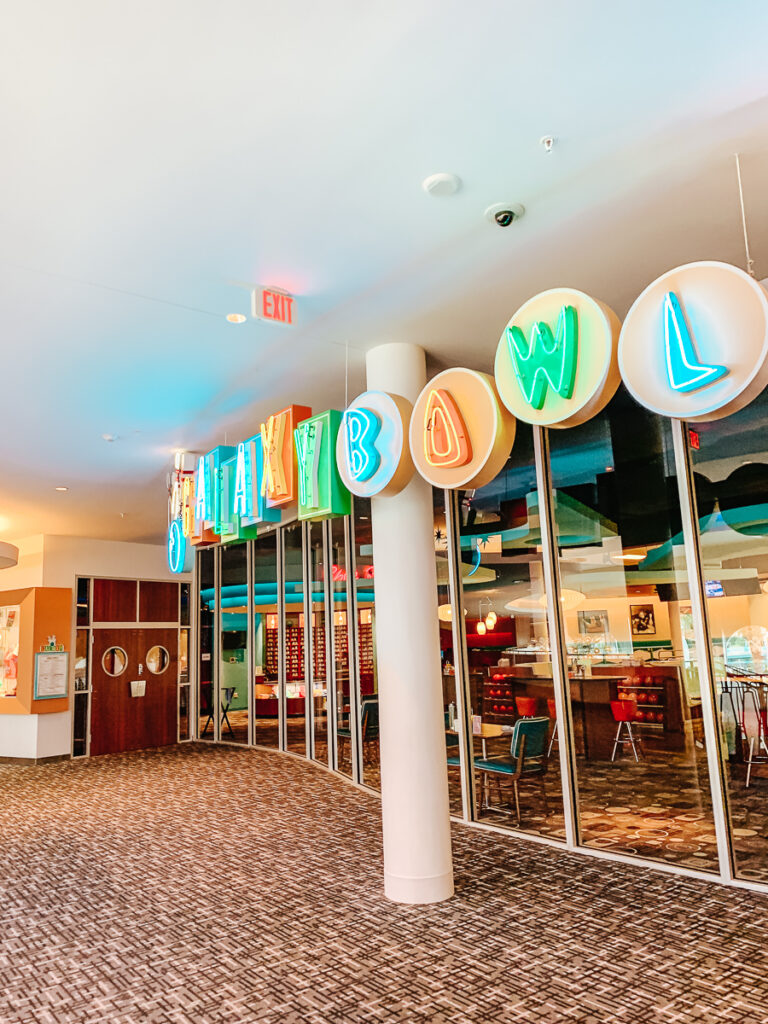 Onsite dining at Cabana Bay. The Bayliner Diner, the main dining area, is an expansive, cafeteria style dining room with plenty of seating options and a variety of sections that fit parties of 3 like us as well as large groups dining together. There are four main food stations called Deli, International, Pizza and Burger. There is also a Salad and Dessert Station. plus a fresh station to make your own yogurt parfait at breakfast or build your own salad for lunch and dinner. In addition, convenience store style coolers offer a ton of grab and go food and drinks that are great to take to the pool, park or back to the room. One night for dinner I ordered Chicken Alfredo, while Emery had a kids pizza and Hunter had a French Dip. One morning for breakfast I ordered a bacon-egg-cheese croissant with fruit on the side, while Emery had a parfait and pancakes and Hunter had a traditional bacon and egg breakfast. We also grabbed a Delizioso Pizza to take to the room one night. On the pool deck, we sipped drinks from the Hideaway and had a late lunch poolside. From a turkey club wrap to a cheeseburger to nachos, we all devoured our meal after a day of fun.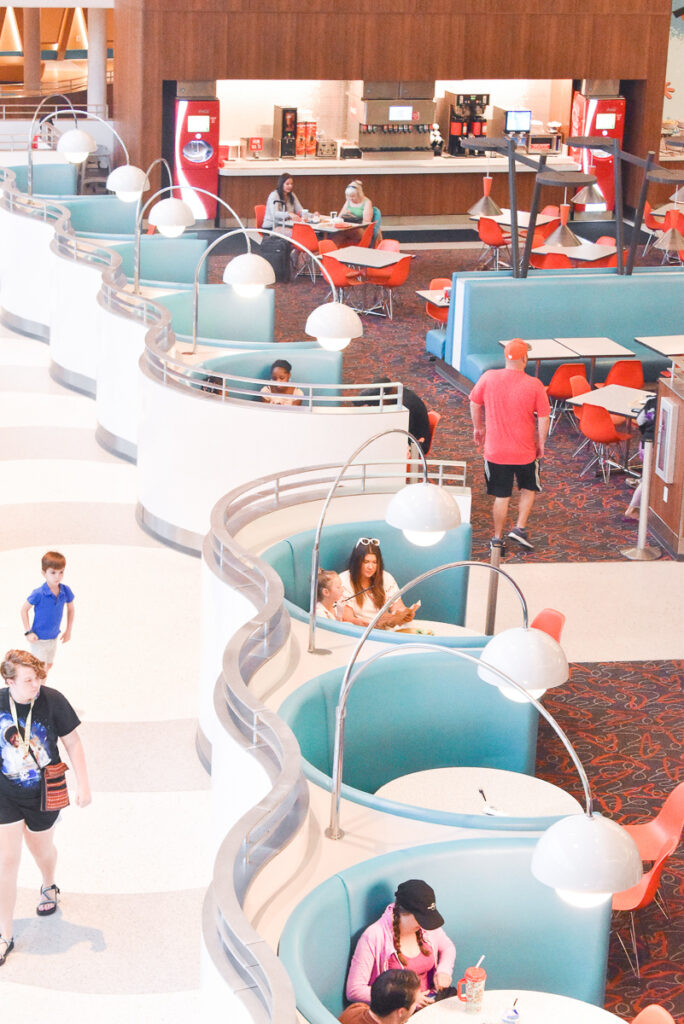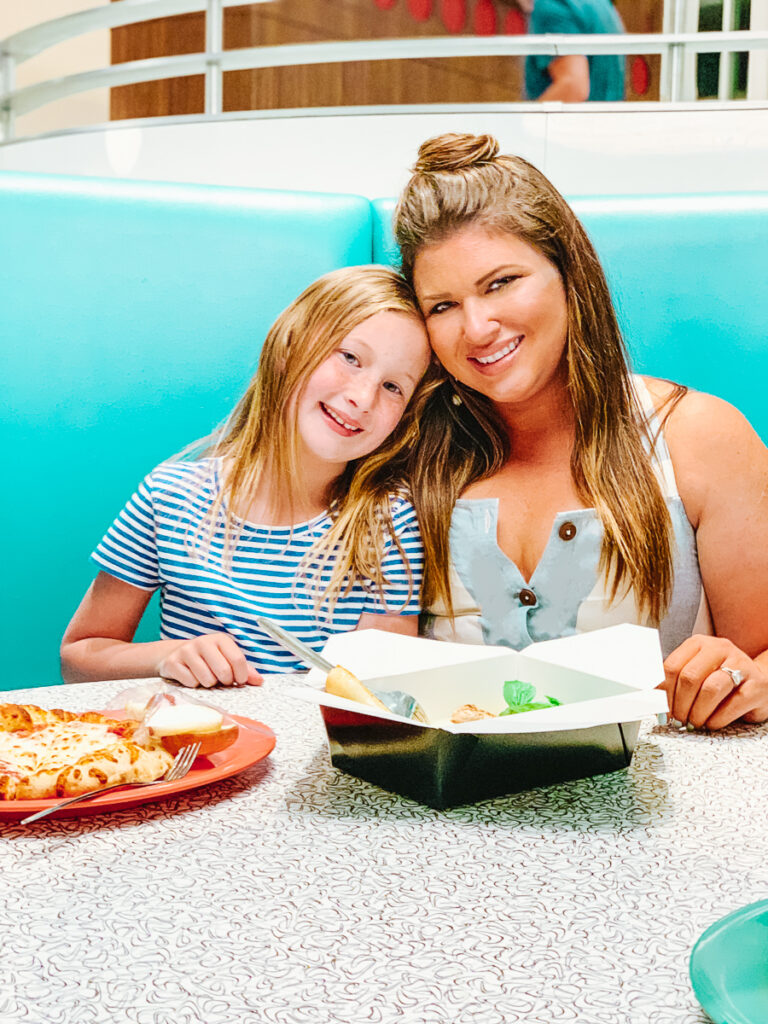 One of our favorite experiences was attending the Caribbean Carnaval at Loews Sapphire Falls Resort. This takes place every Friday and is an entertaining musical journey through the islands with a cast of performers covering Gloria Estefan (Cuba), Bob Marley (Jamaica), Rihanna (Barbados) and more. Not only was the Caribbean fare delicious and beautifuly presented, but we just couldn't help grooving along to the music. I was dancing in my seat — partly thanks to the rum punch but also because the mood was that contagious. Emery was on her feet the entire night and by the end, we were all doing the conga and limbo! I highly recommend this!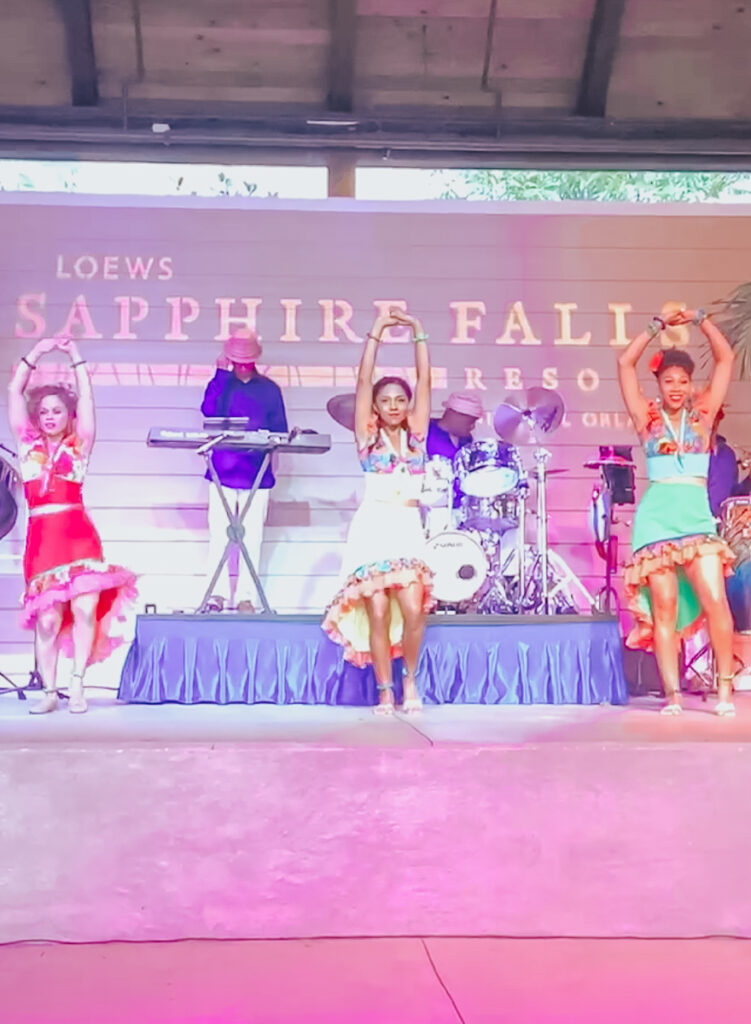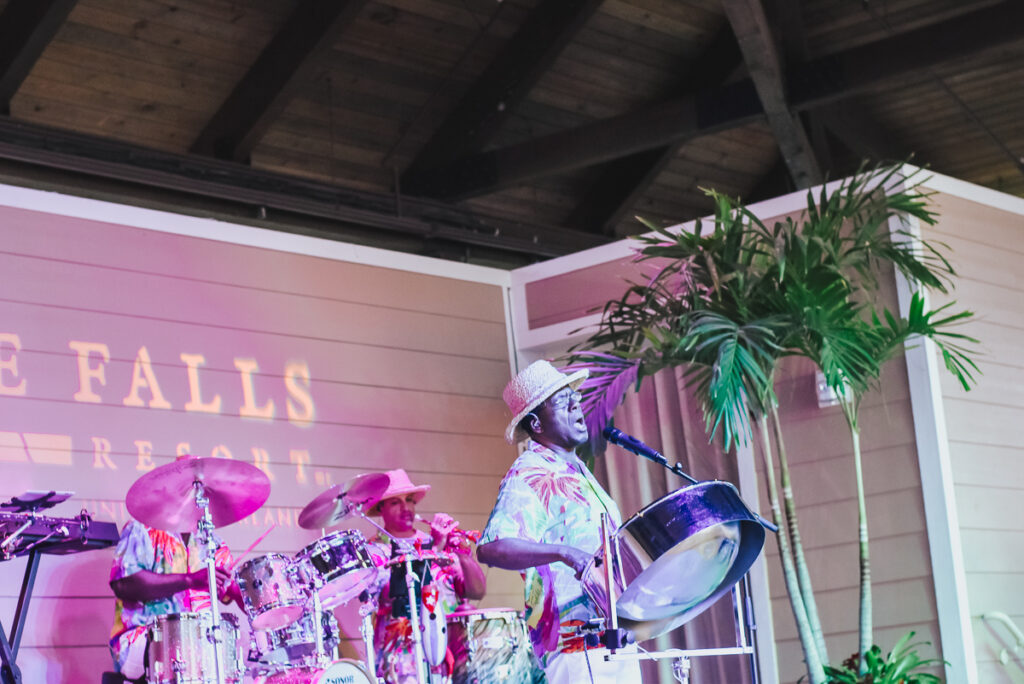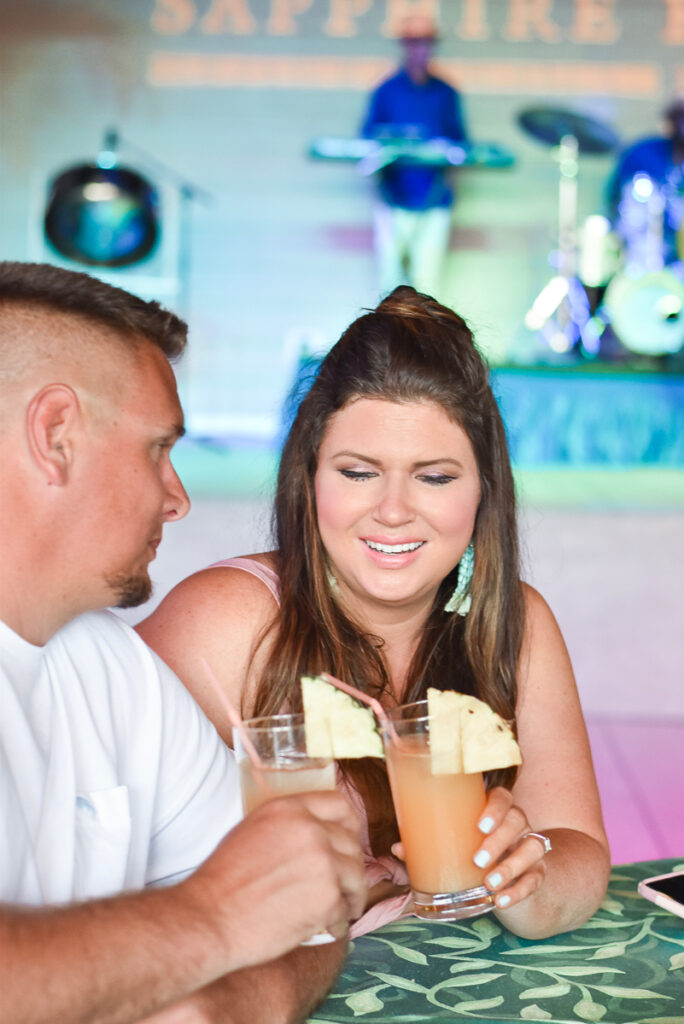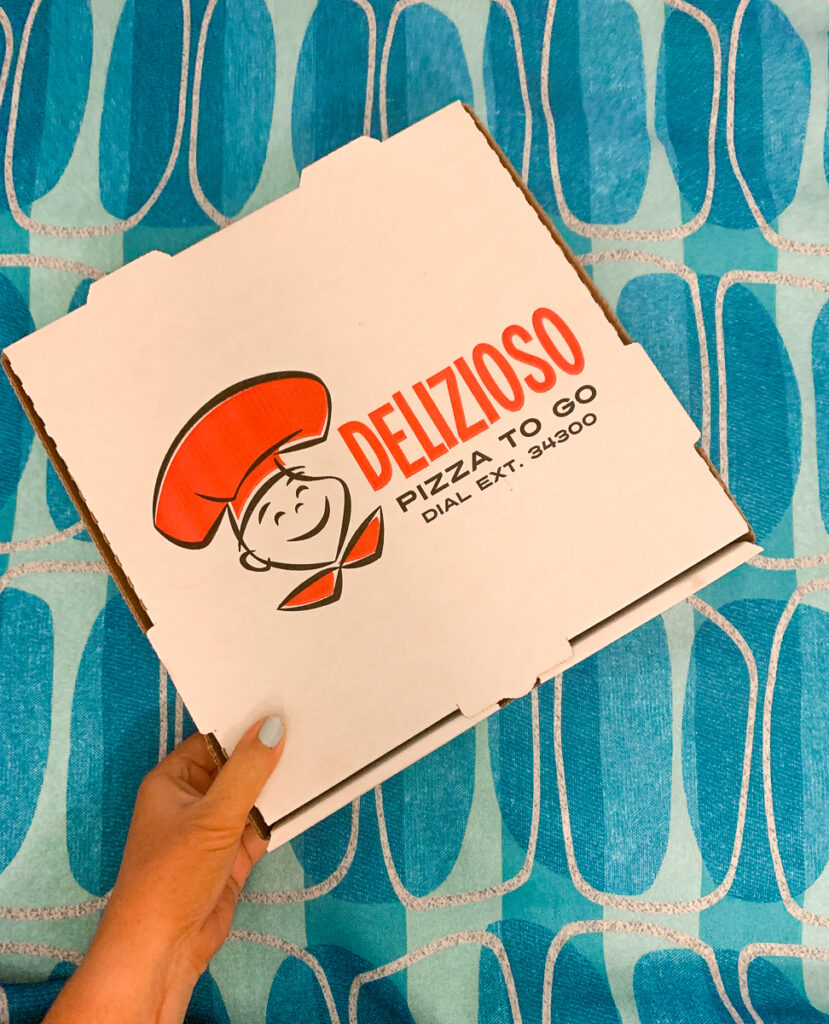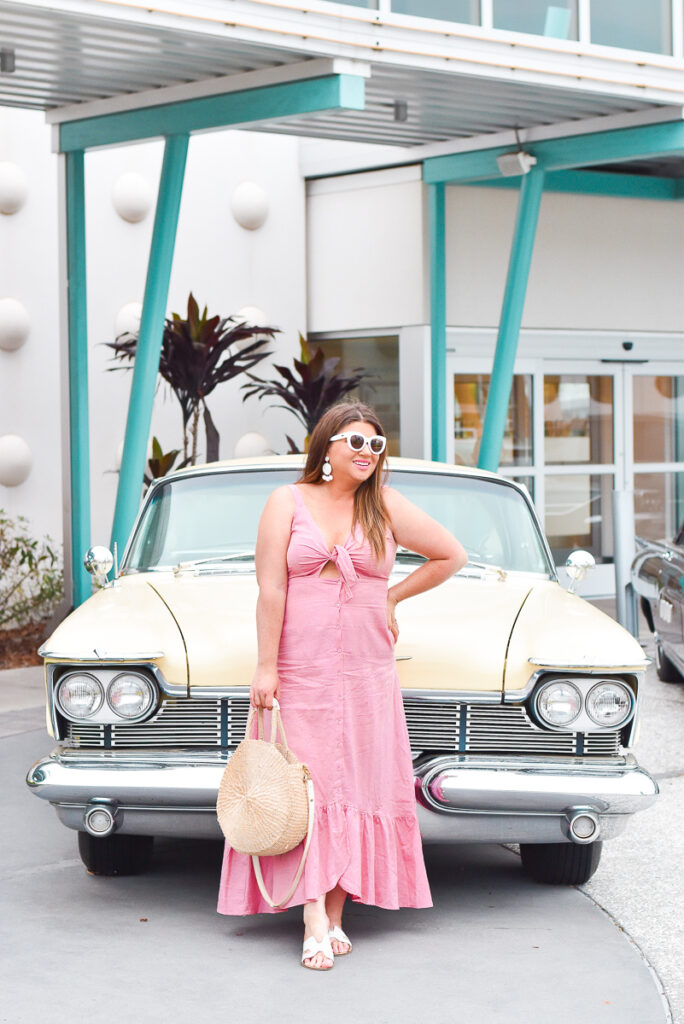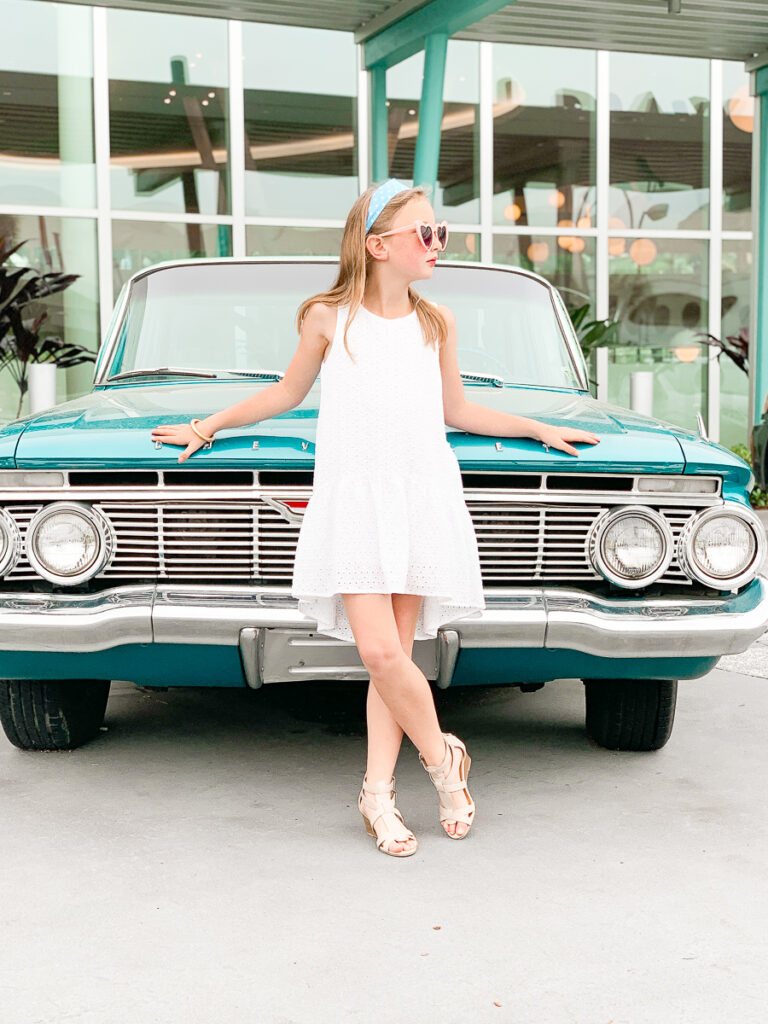 Walking path to Volcano Bay. Since we knew we were planning to visit Volcano Bay, one of the things I appreciated was being so close to the water park. We didn't need to hop on a shuttle or drive anywhere because there was a walking path from one property to the other, which was under 10 minutes to walk. (More on Volcano Bay below.)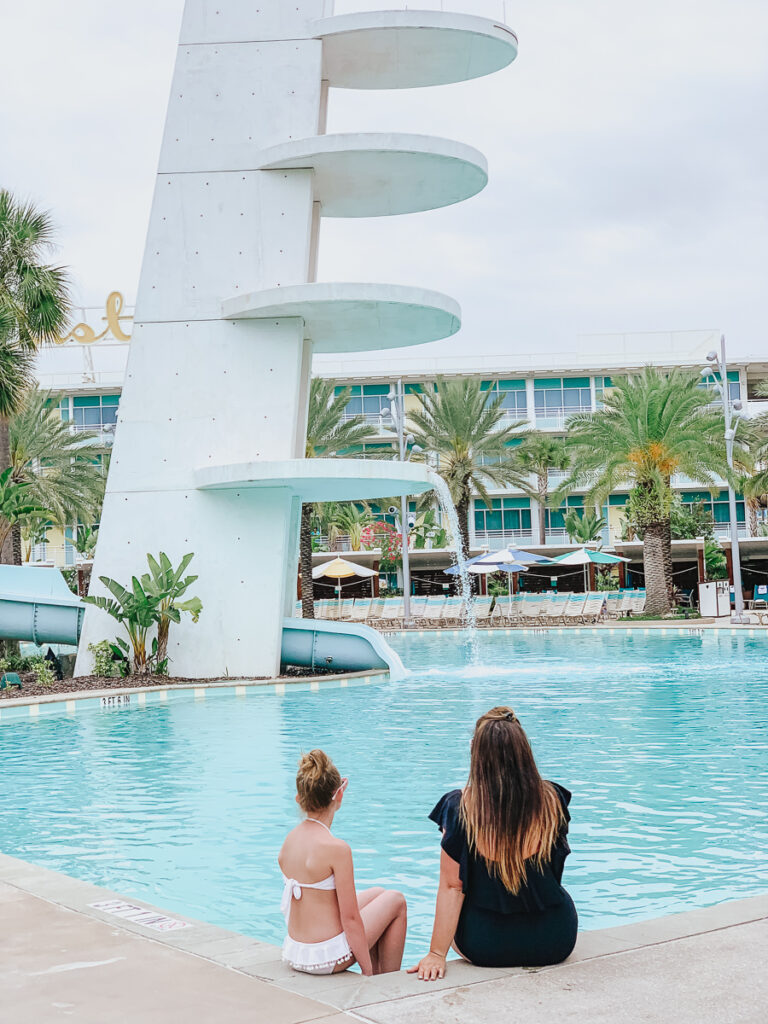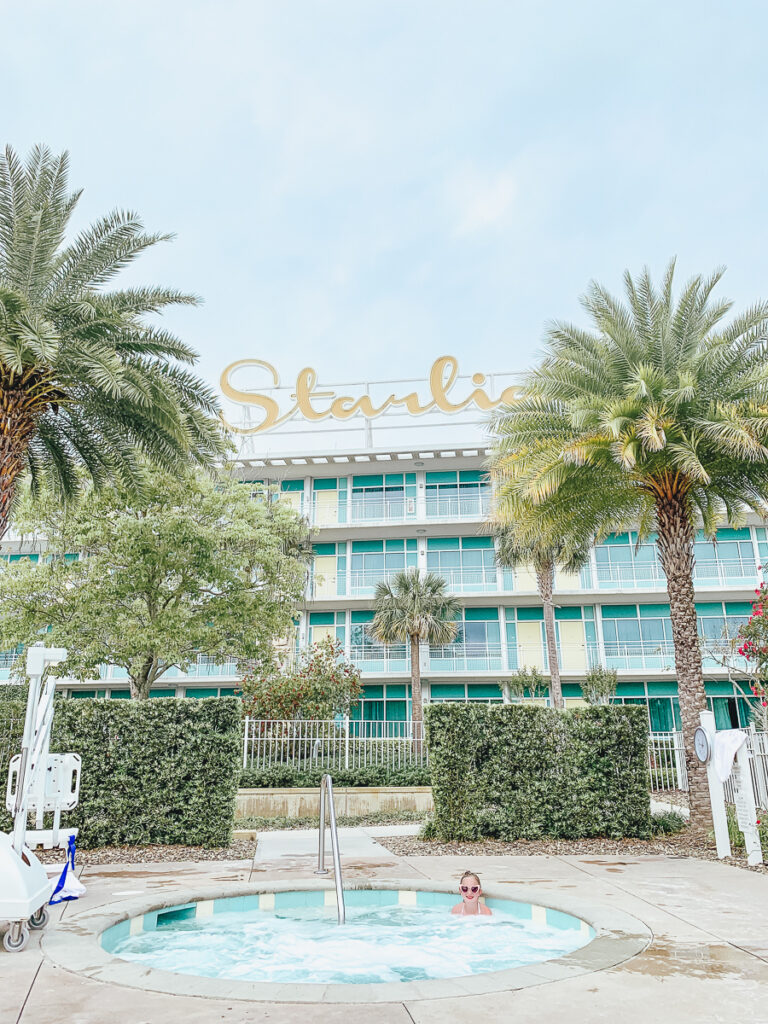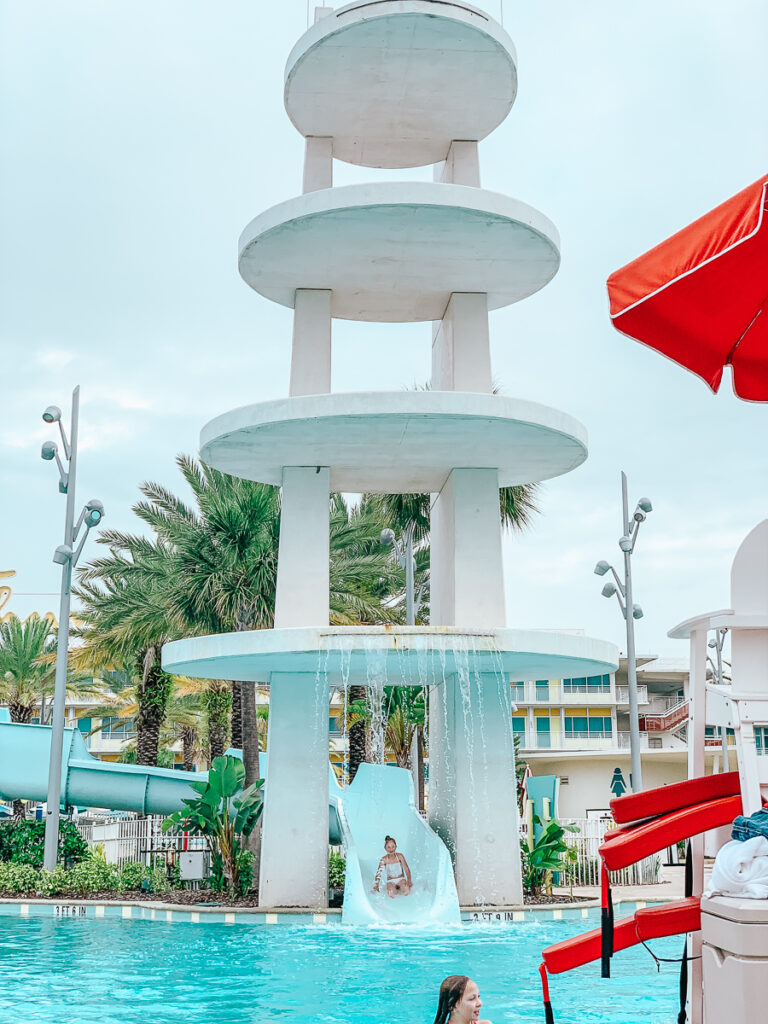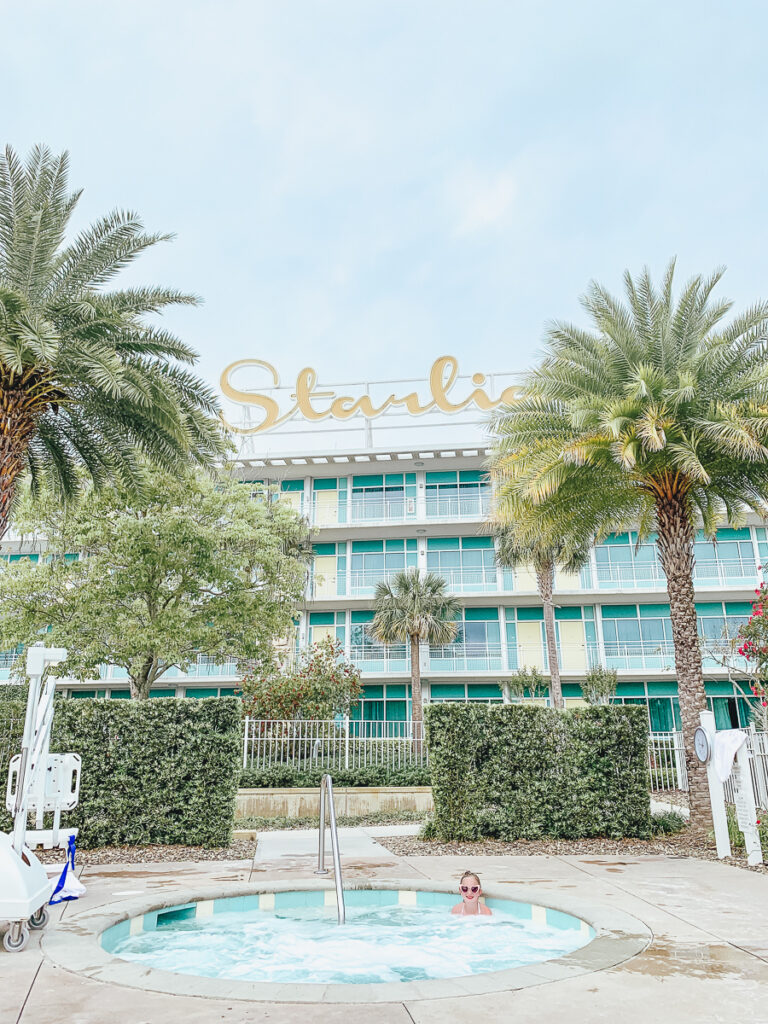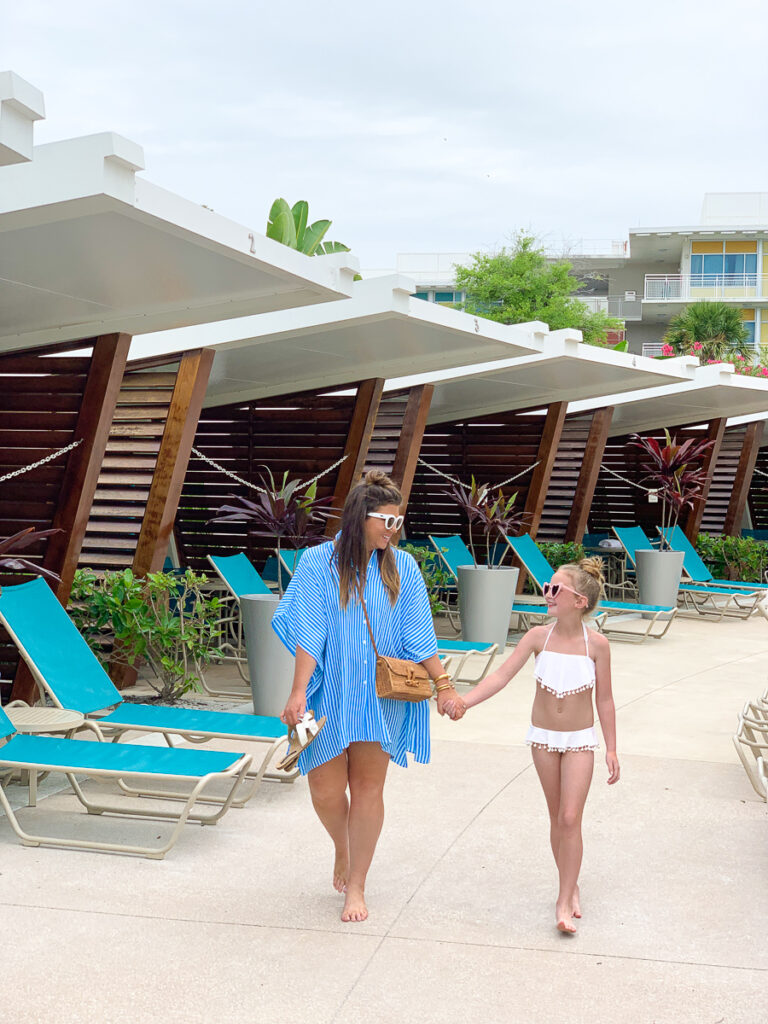 Universal Studios
Rise and shine! Since we stayed at one of the Universal hotels we were able to get into the park one hour early. This is a huge perk to beat the crowds, but even if you're not staying onsite, start as early as you can to make the most of the morning. (This is always my tip for getting better photos!) Important to note here, that there is a Starbucks both onsite at Cabana Bay and when you first enter CityWalk. On this day, the early access park was Universal Studios, so we at breakfast, boarded the shuttle and arrived at CityWalk. We were on a mission to get a wand first and do magic around both the Wizarding World of Harry Potter – Diagon Alley and Hogsmeade. This is located in the back corner of the park so we strolled through Hollywood, wound around the edge of Production Central, down a street in New York and straight through San Francisco to arrive in what appears to be London.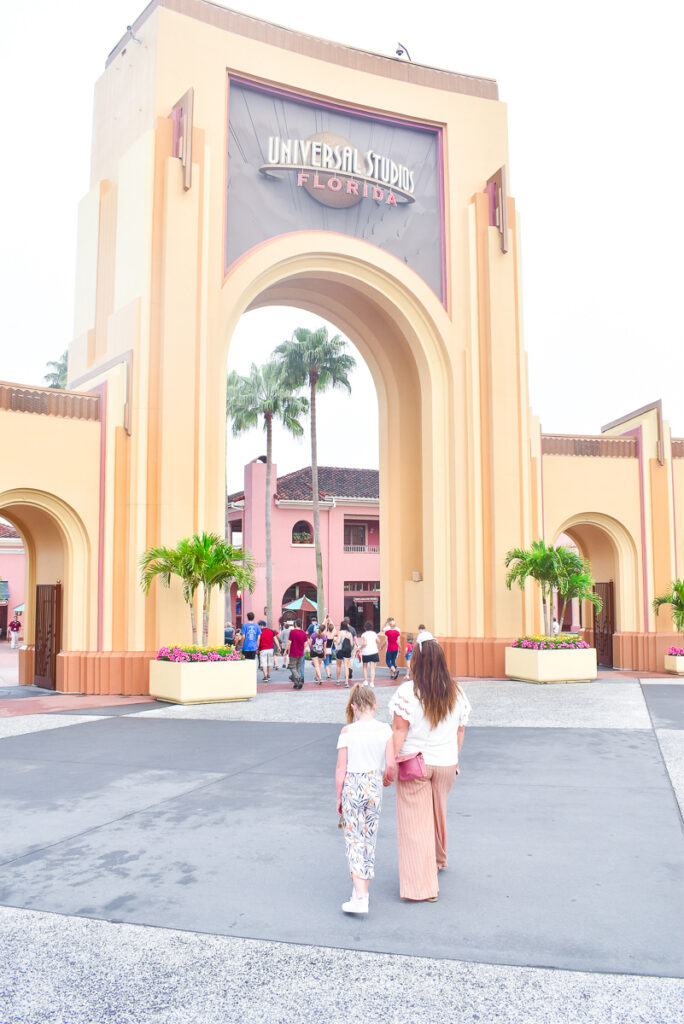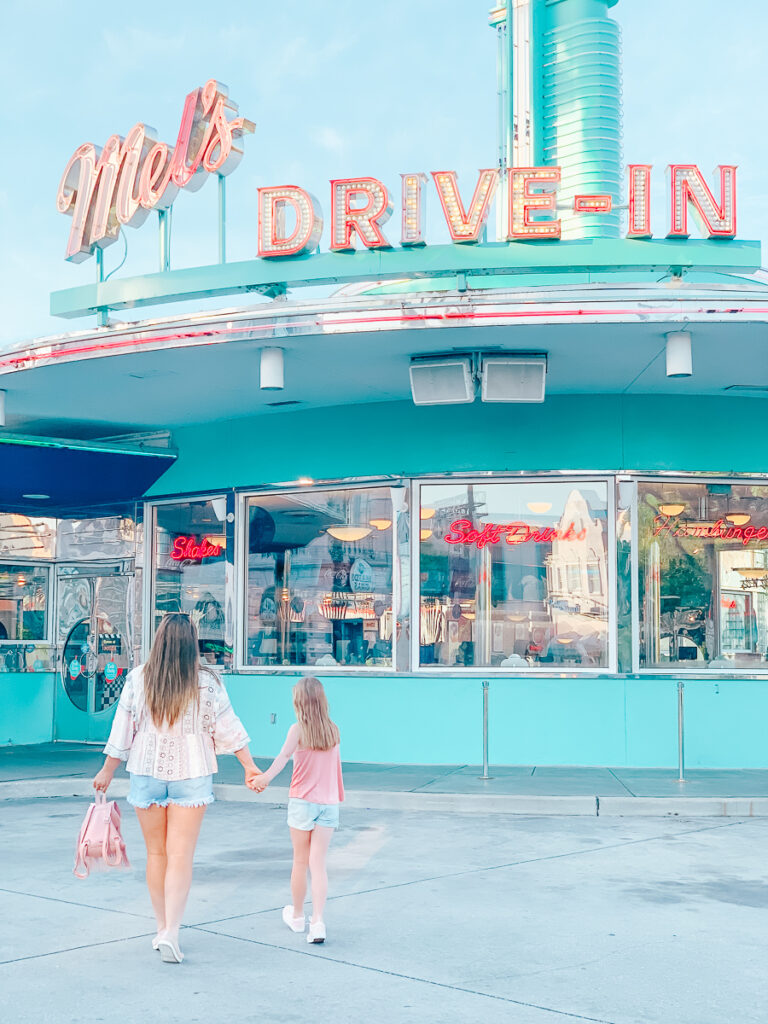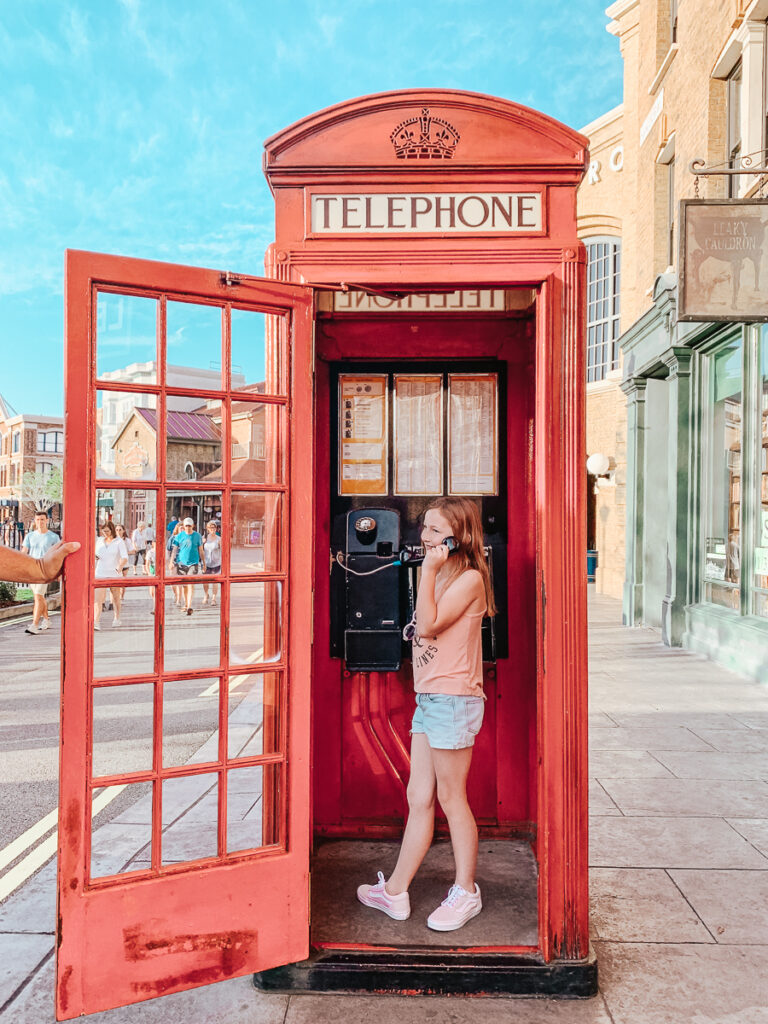 Wizarding World of Harry Potter – Diagon Alley
We immediately noticed the red telephone booth (where you can dial MAGIC 62442 for a special message) and the Knight Bus with the driver standing outside ready for photos or a quick chat. Directly across from the Knight Bus is a building with two bright red archways, the not-so-secret entrance to Diagon Alley. You turn a corner and on the other side is the coolest sight: Diagon Alley in all its glory. We had been catching up on the movies and making sure we were fresh on details because the attention to detail here is beyond impressive. Buildings looks as if they might shape shift slightly or even rise off the ground.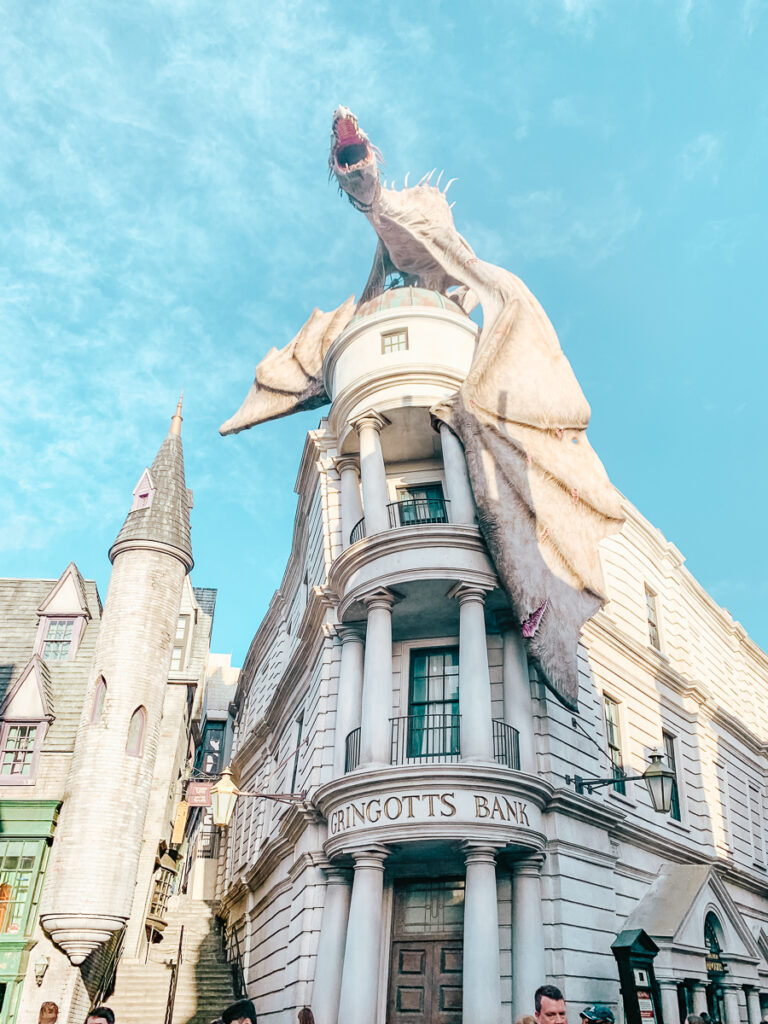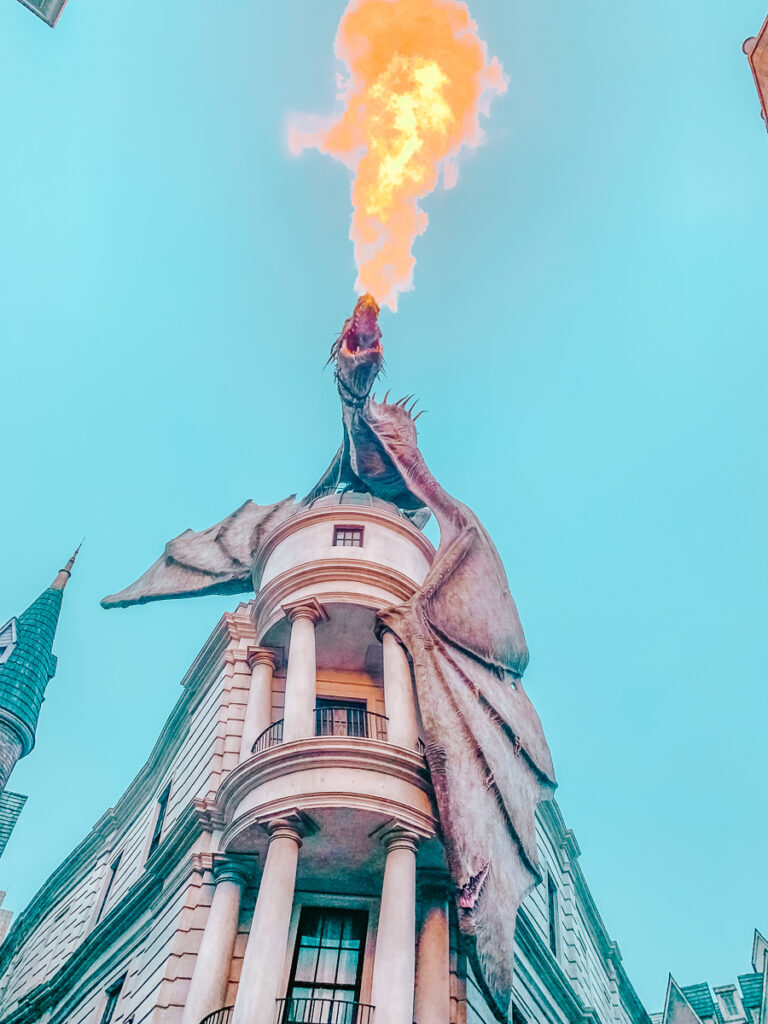 A huge dragon sits atop Gringott's and roars fire every so often. It's quite the scene and the first time (when you least expect it) is so dramatic it made me shriek. The cue is to listen for the rumblings and within seconds, it's a full-on fire breathing scene that I enjoyed each time. You can actually feel the heat of the "dragon's breath" on the street and simply looking up to see a stream of fire roaring above feels quite, well… magical.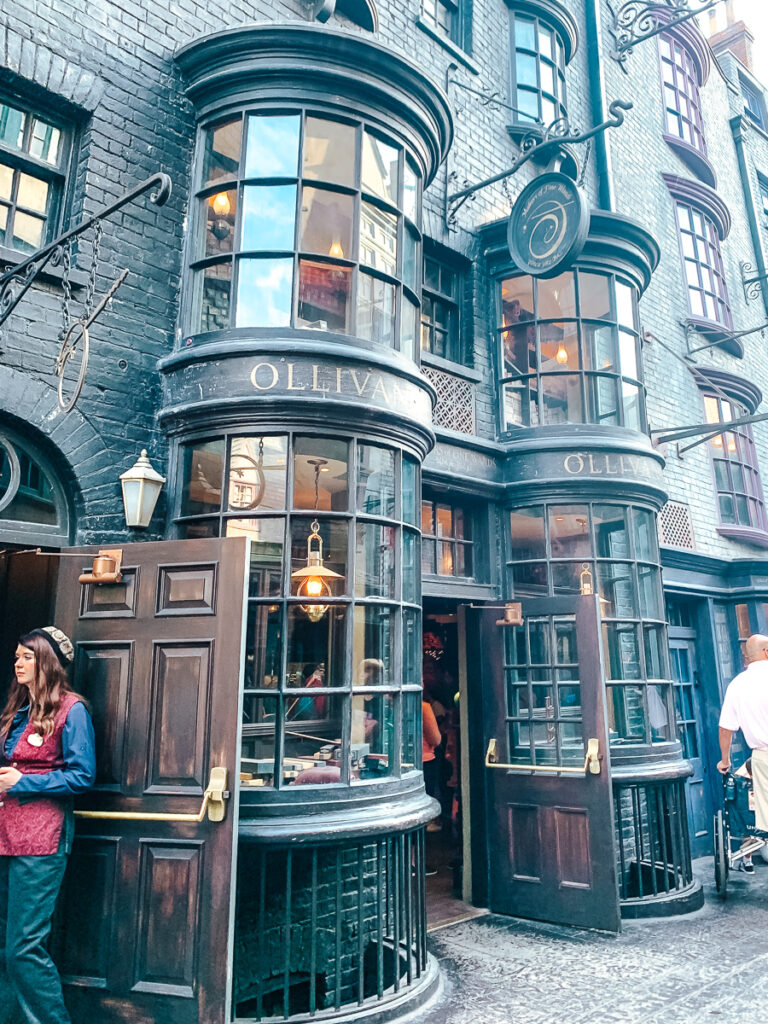 Our first stop was Ollivander's for Emery to find her very first wand and true to form, this shopping trip was an entire experience just like in the books and movies. If you just want to grab a wand and go, there are carts in both Diagon Alley and Hogsmeade for that. However, if you want to wander through Ollivander's and hear all about how a wizard and a wand are matched with a few funny examples and pointed advice from a wand master before being released to browse on your own, be sure to hop in line for that.
Emery selected a wand of ivy and absolutely loved putting it to work practicing her charms. Each wand comes with a map that tells both where there are marked areas to do magic and where there are secret spots visible in black light. Gold medallions on the ground show both the words of the spell and the motion to do the wand. Assistants are positioned in each of those areas to help when needed.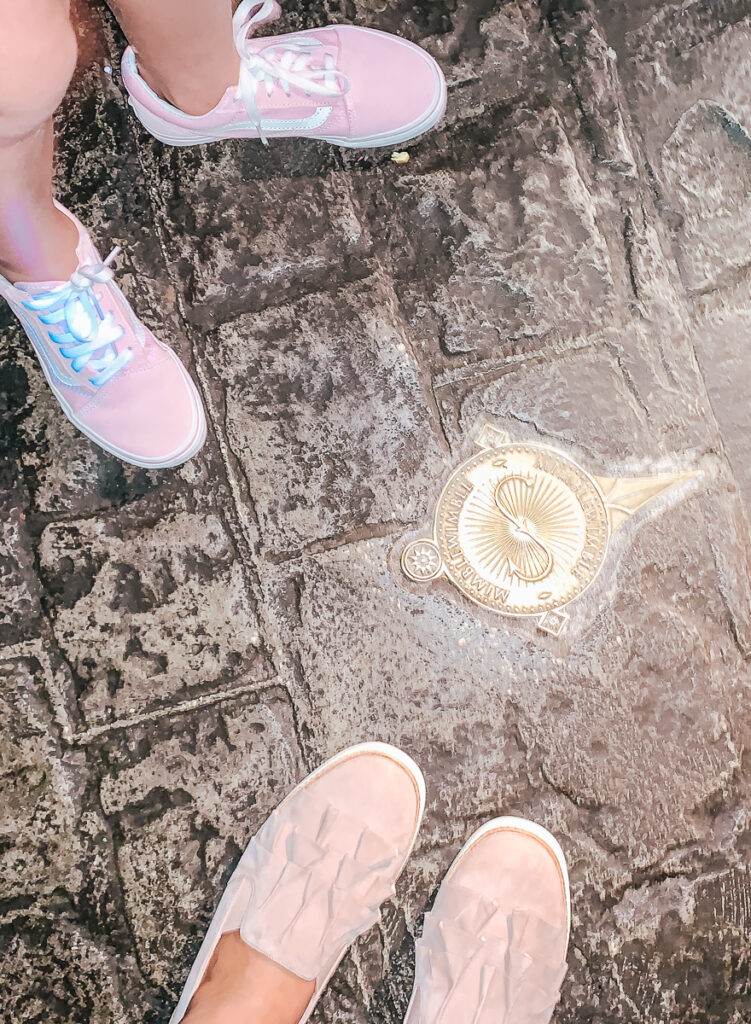 A couple of the secret spots are the right window of Scribbulus and Slug & Jiggers window with the dragon poop.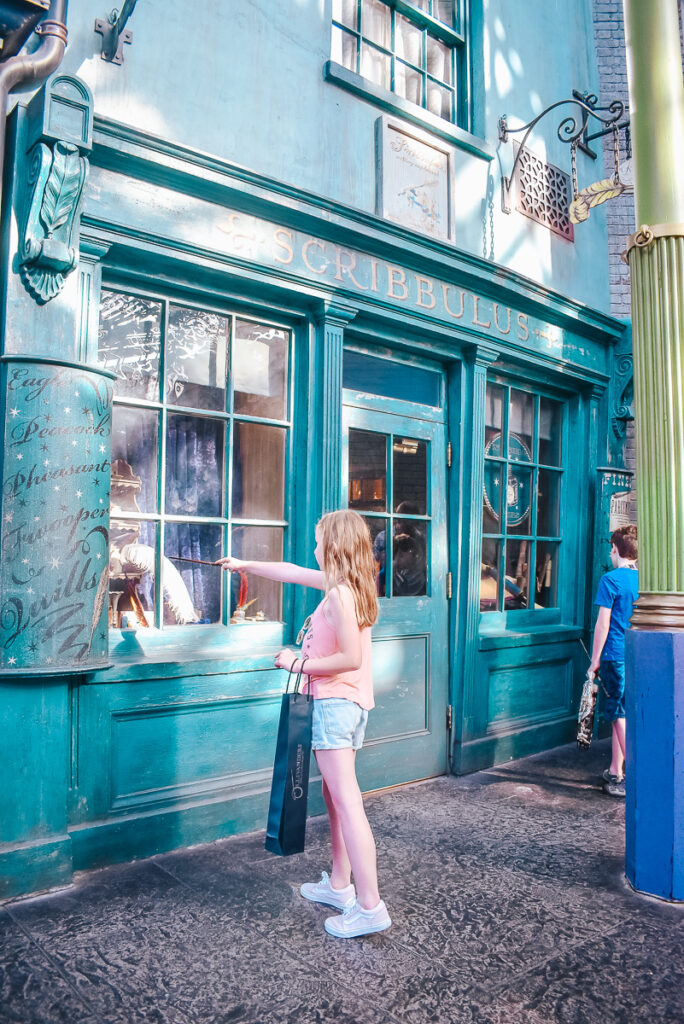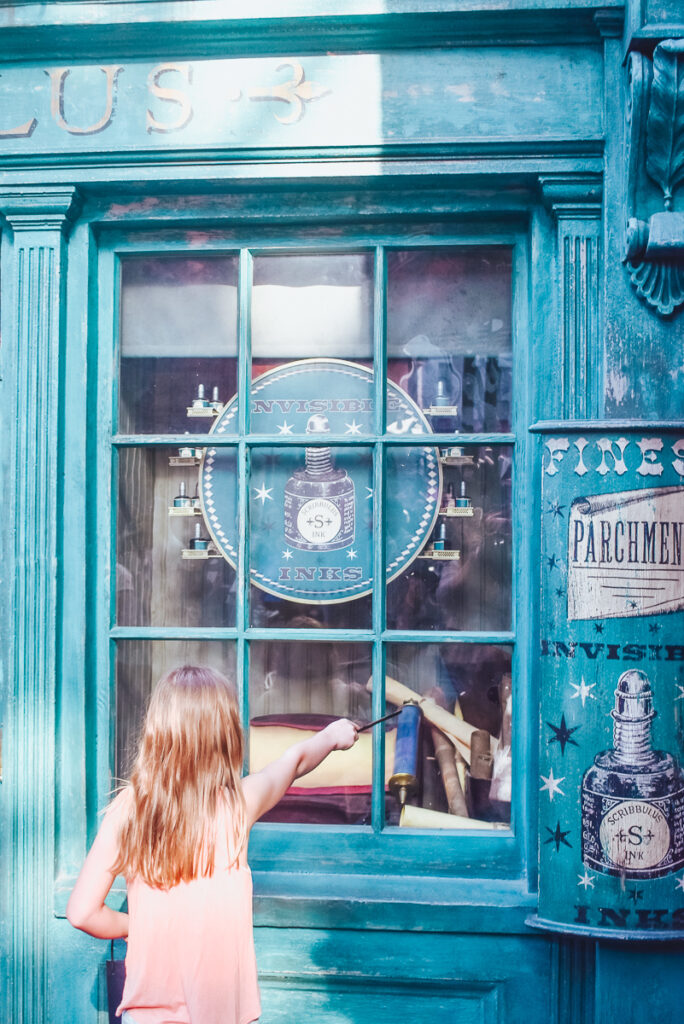 Diagon Alley also has a darker section known as Knockturn Alley (where Harry ends up when he mistakenly says diagonally his first time). Take time to look at each window display and the store's interior. No detail is overlooked.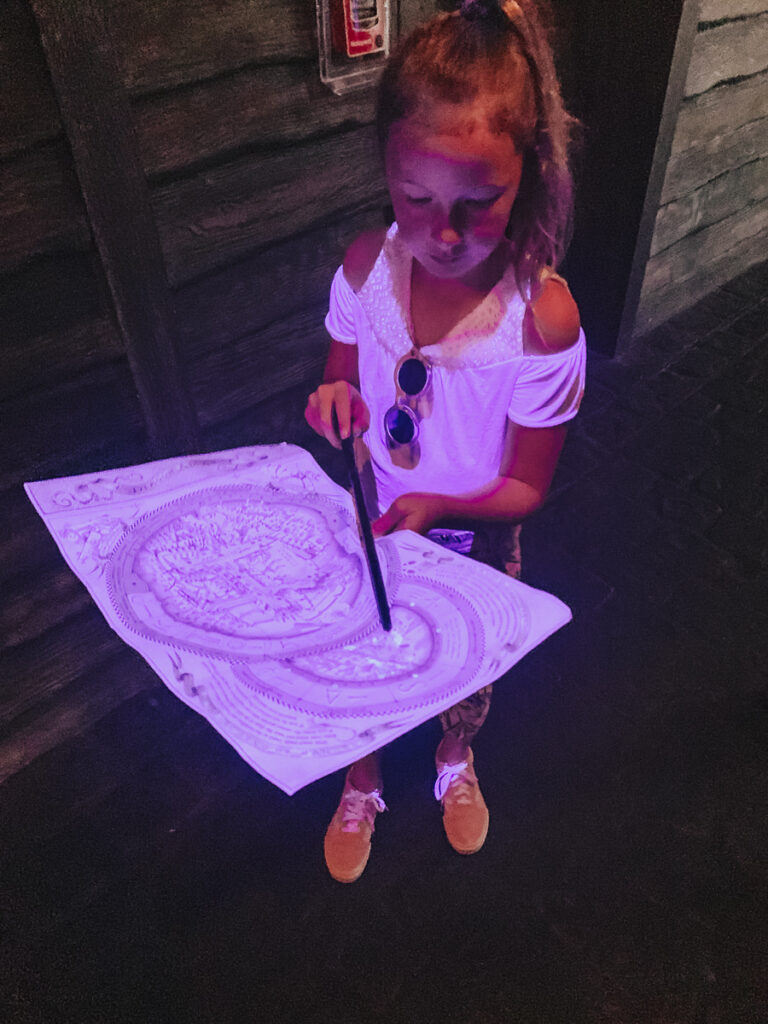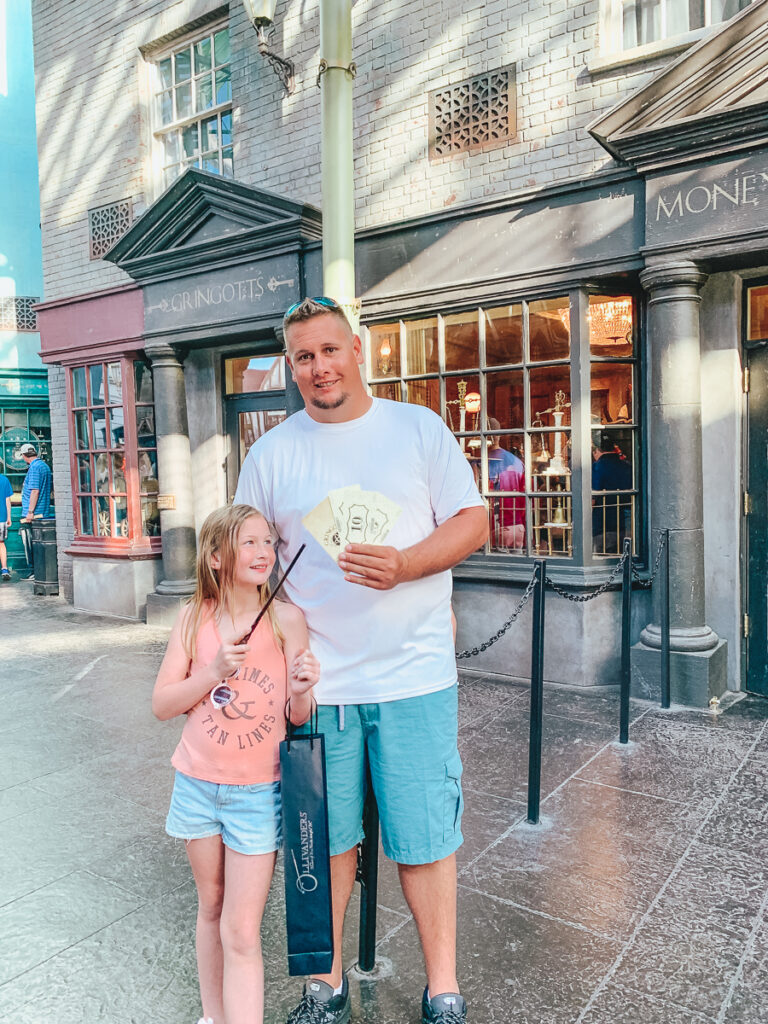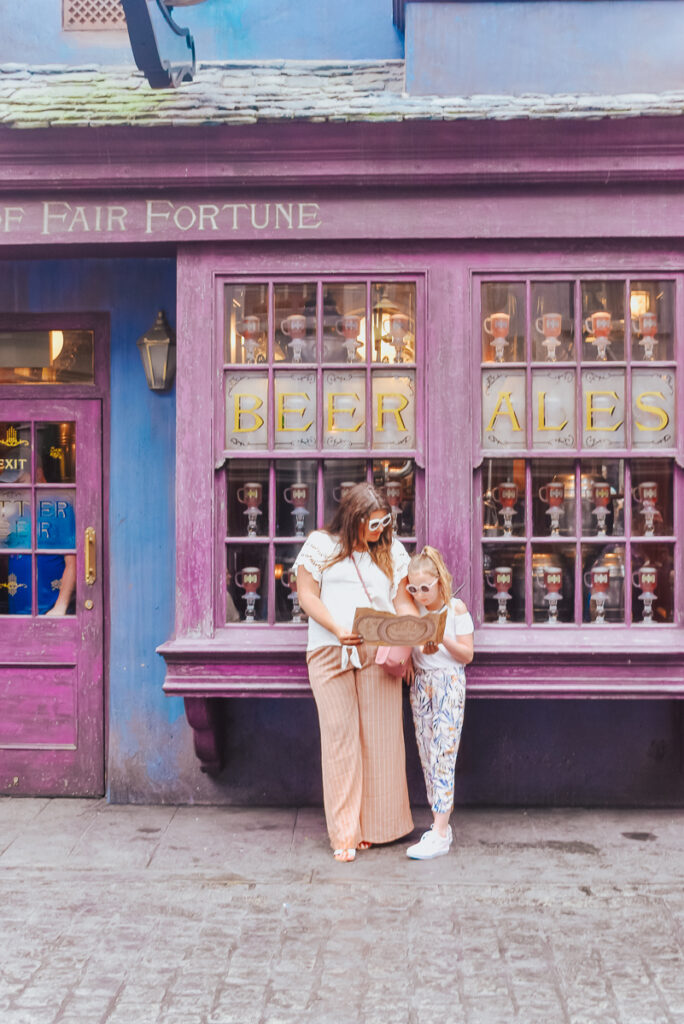 You can even visit the muggle money exchange to get official bills from Gringott's, which are treated like cash and good all over the park and hotels.
We made sure to try our first sample of Butterbeer. The original cold version is actually two layers and the soda part is like a cream soda mixed with butterscotch with a thicker, marshmallow-ish topping. It also comes frozen, hot (when in season), as potted cream, ice cream and fudge. In Diagon Alley, The Leaky Cauldron has cold, frozen, hot, ice cream or potted cream Butterbeer; The Fountain of Fair Fortune has cold, frozen, hot, and ice cream; The Hopping Pot has cold, frozen, hot, and ice cream; Florean Fortescue's Ice-Cream Parlor has ice cream and Sugarplum's Sweet Shop has fudge.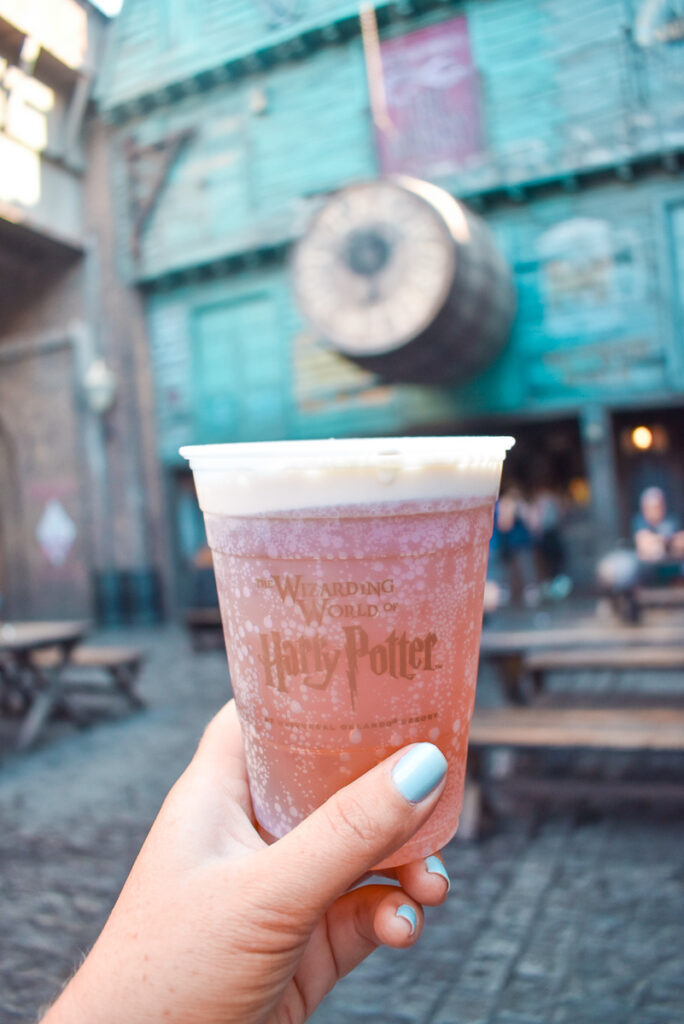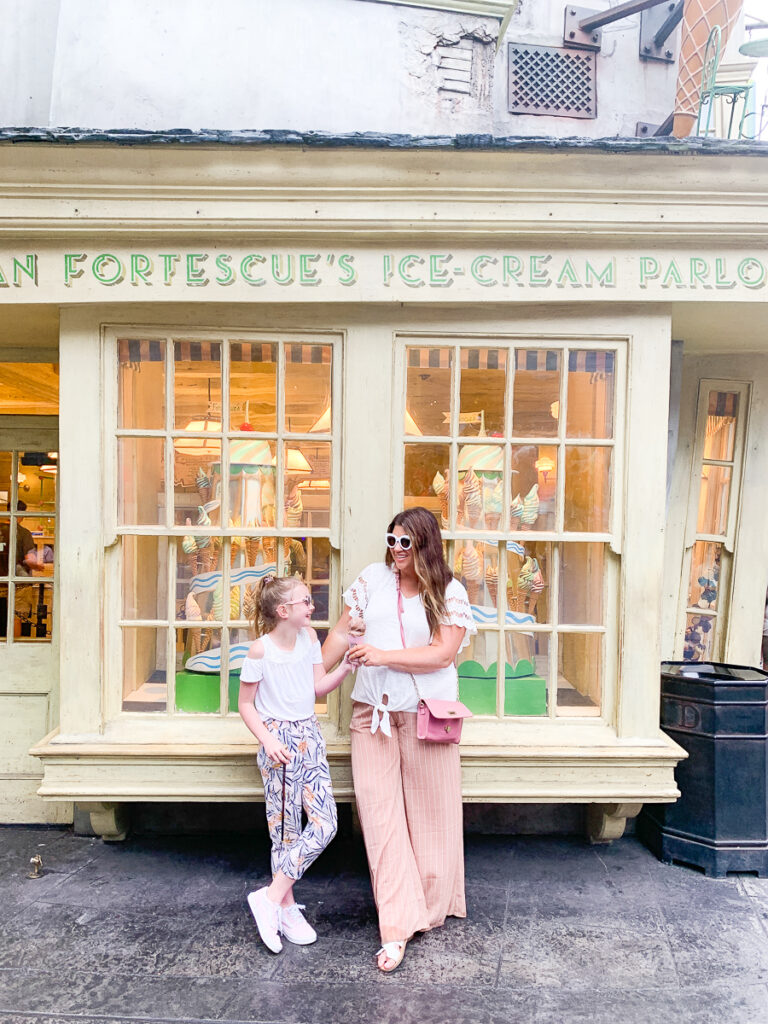 Our first ride was Escape from Gringott's, which was so fun and only a little scary for Emery. Note: You have to get a locker to stash your belongings if you have any thing in your hands or in a bag. No loose items are allowed. There are large lockers for a few dollars, but grab a small locker if you don't have anything too big to fit.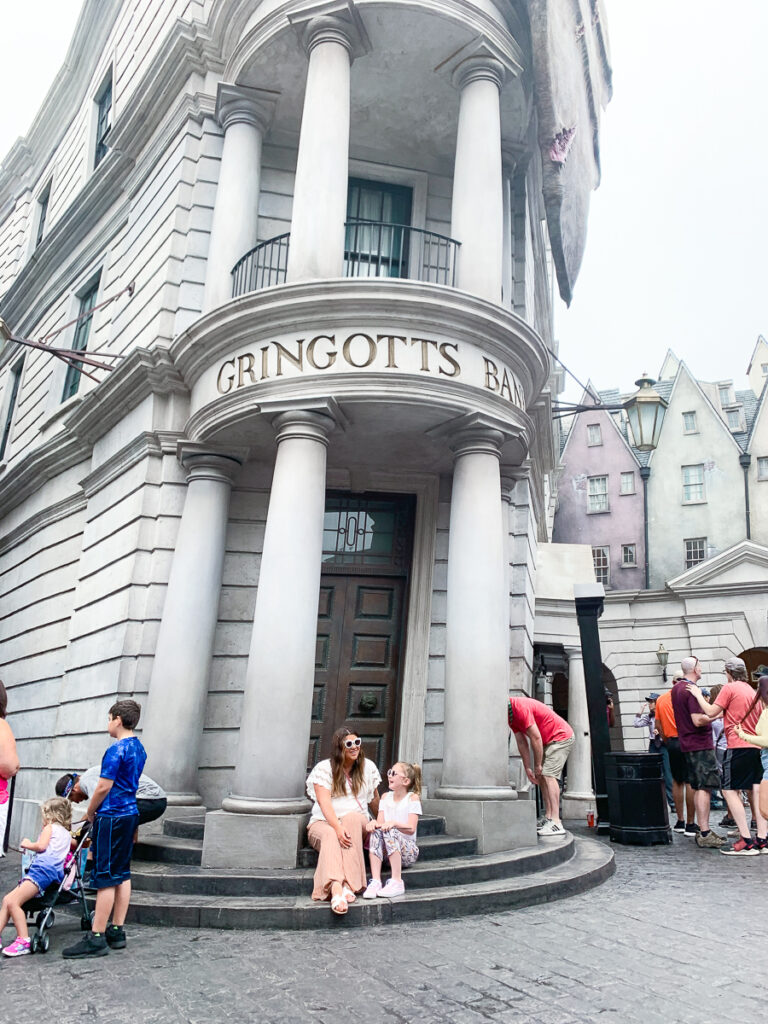 This is a great time to point out Universal's "child switch" program. We would have definitely used this if we had Collins, but this trip we were able to ride altogether. Basically, your party goes into line together but you tell the attendants as they scan your pass that you want to use child switch. One parent (and other kids not riding) waits in a comfortable room close to the actual ride on/off point. When the ride with the first parent is over, the parents switch and ride without having to go back through the line.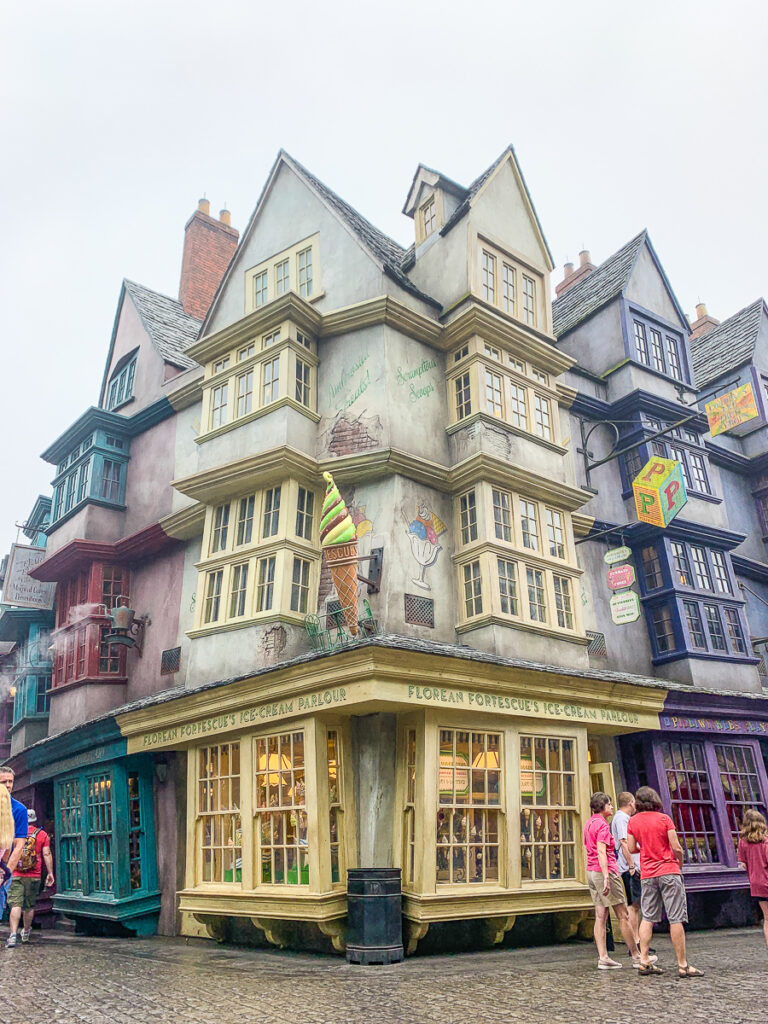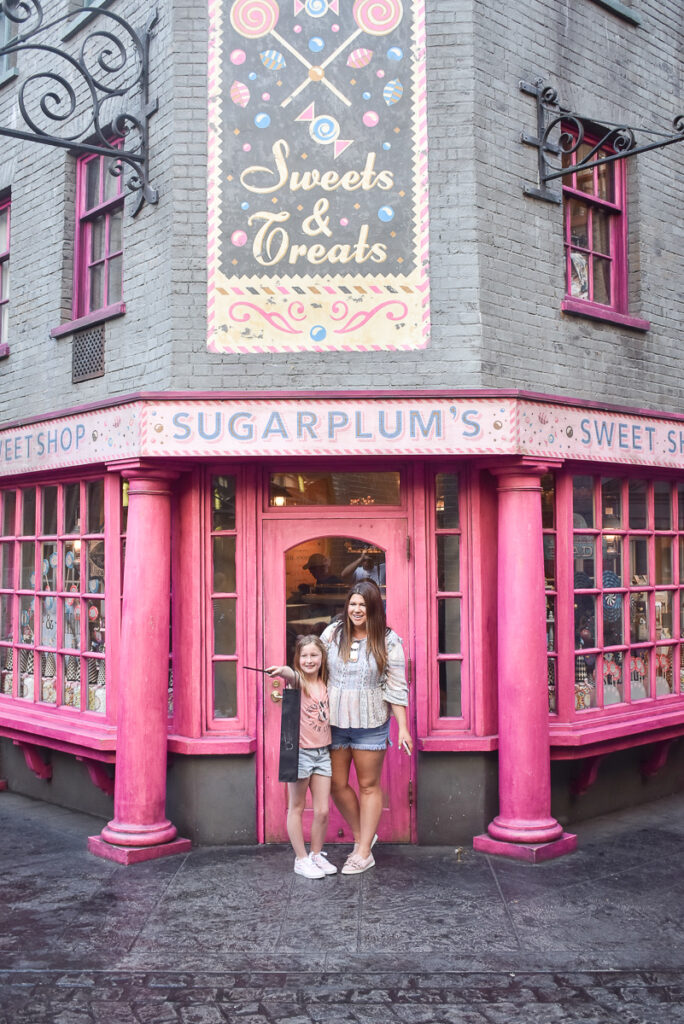 If you stand near The Daily Prophet's front door, you can actually hear a series of headlines being read aloud.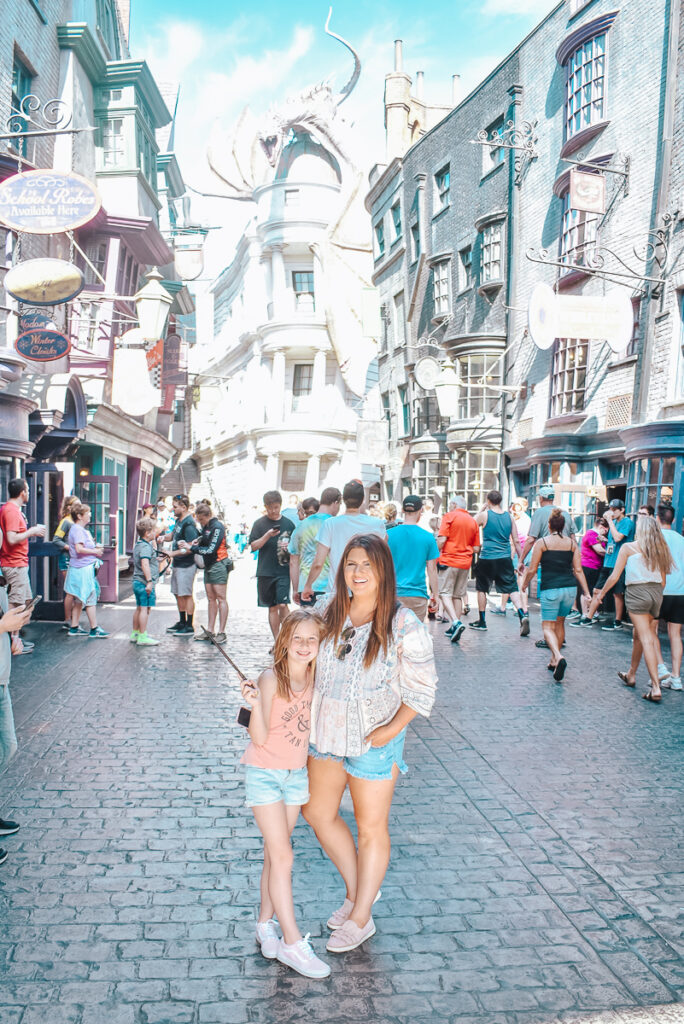 We also made sure to walk down to 12 Grimmauld Place, which is just past the Knight Bus. Every so often a house elf appears in the curtain, which was a total surprise and delight for Emery. I didn't spoil it ahead of time but made sure she was watching.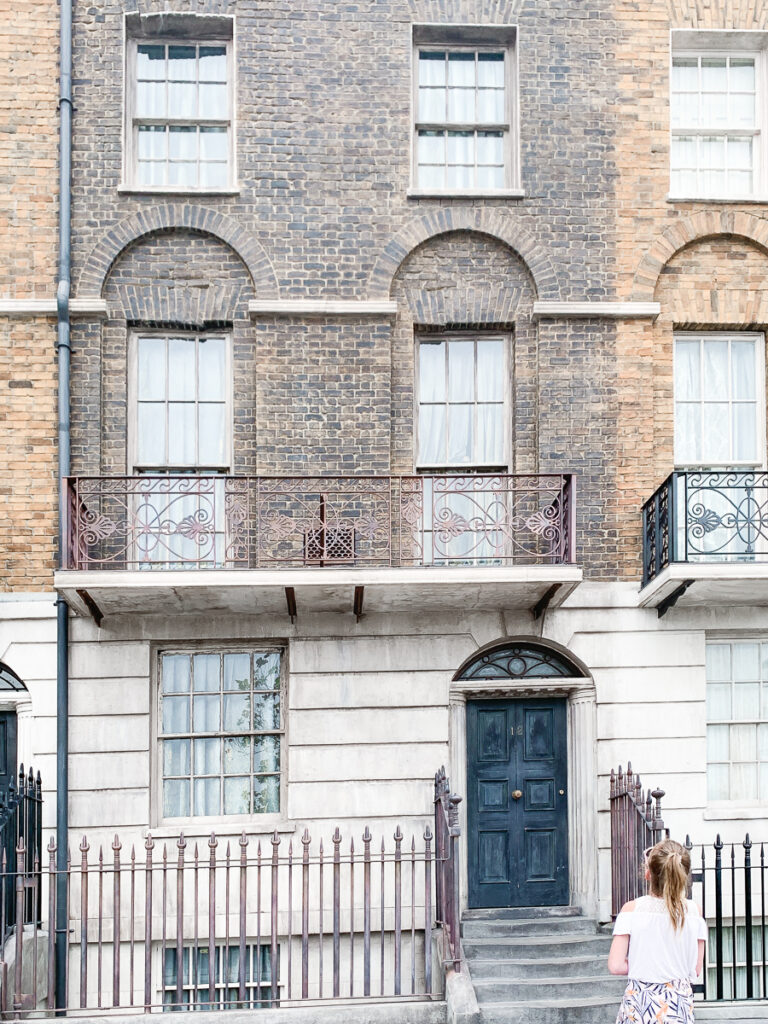 Islands of Adventure
Park hoppers for the win! Since we had 3-park tickets, we were able to ride the Hogwarts Express from King's Cross Station in London (Universal Studios) to Hogsmeade Station (Islands of Adventure). We entered King's Cross and made our way to platform 9 3/4. Even the train ride itself is entertainment and, of course, looks just like the train cars where Harry first hangs out with Ron and Hermione. (By the way, with the park hopper, you can ride back and forth an unlimited number of times.)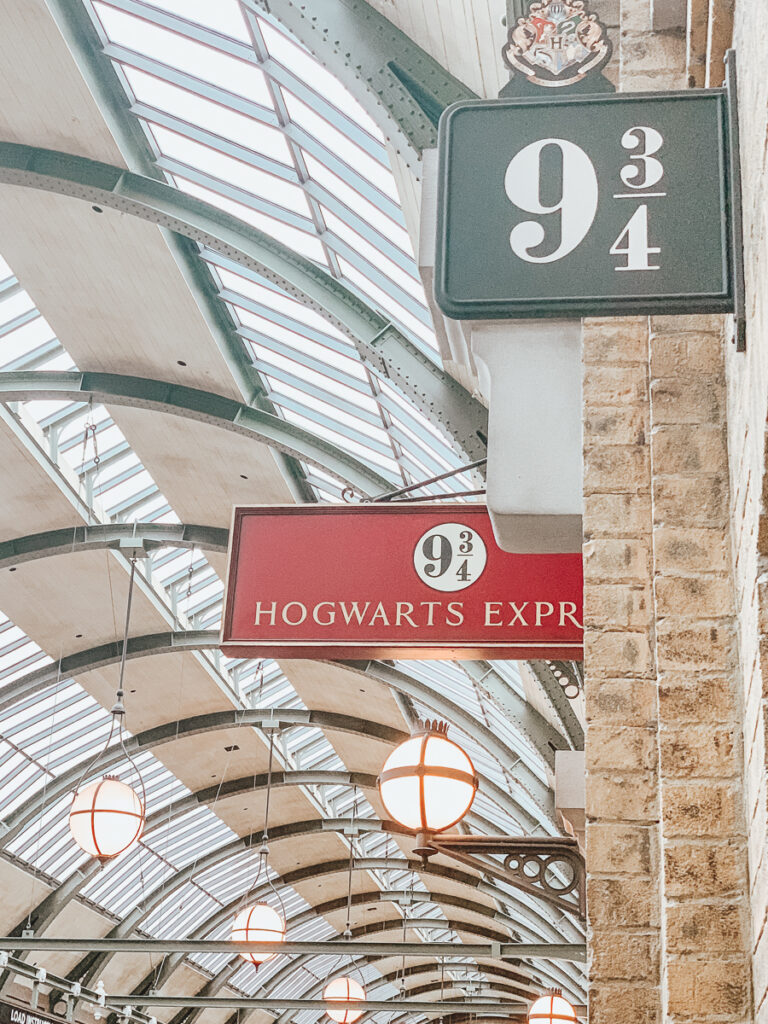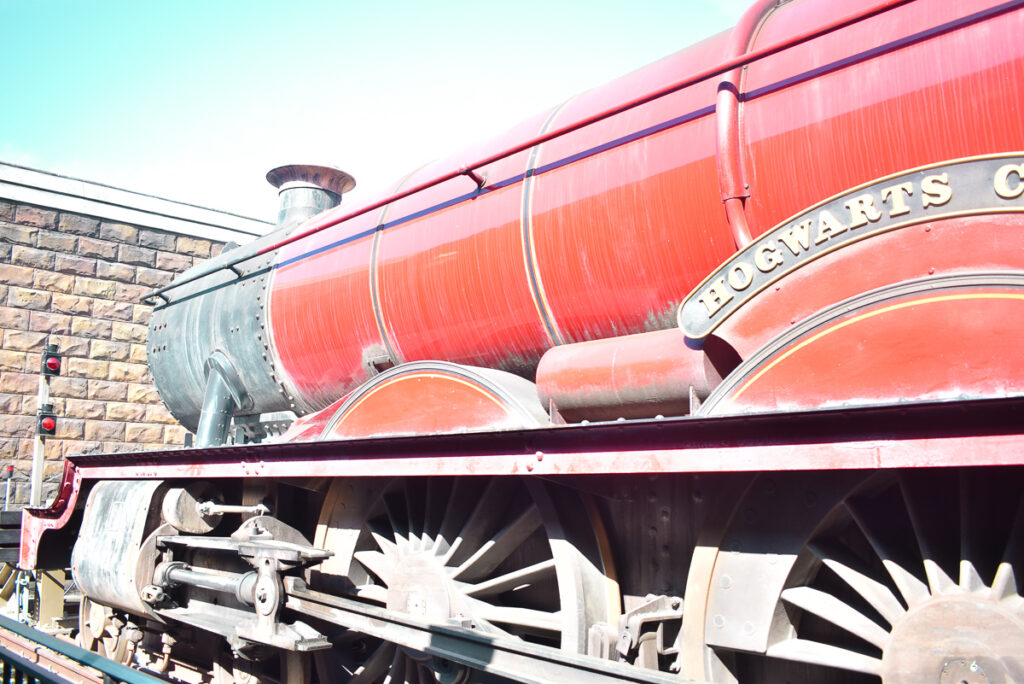 Wizarding World of Harry Potter – Hogsmeade
If you're looking for Butterbeer in Hogsmeade, The Three Broomsticks has cold, frozen, hot, and ice cream; The Hog's Head Pub has cold, frozen and hot; Honeyduke's (Hogsmeade) has Butterbeer fudge and the street carts have cold, frozen and hot.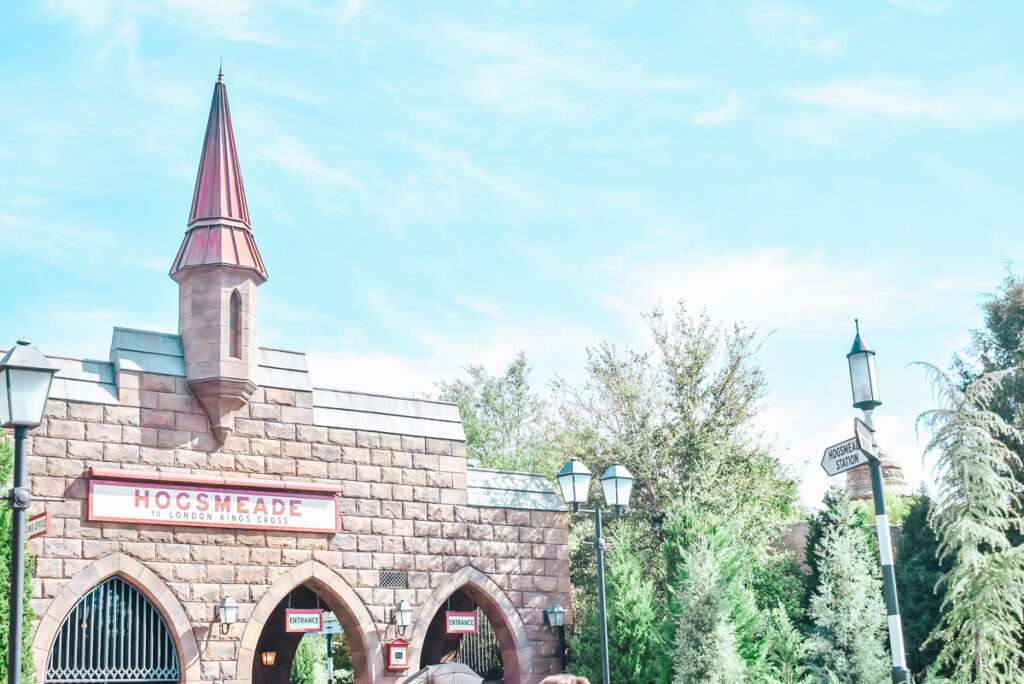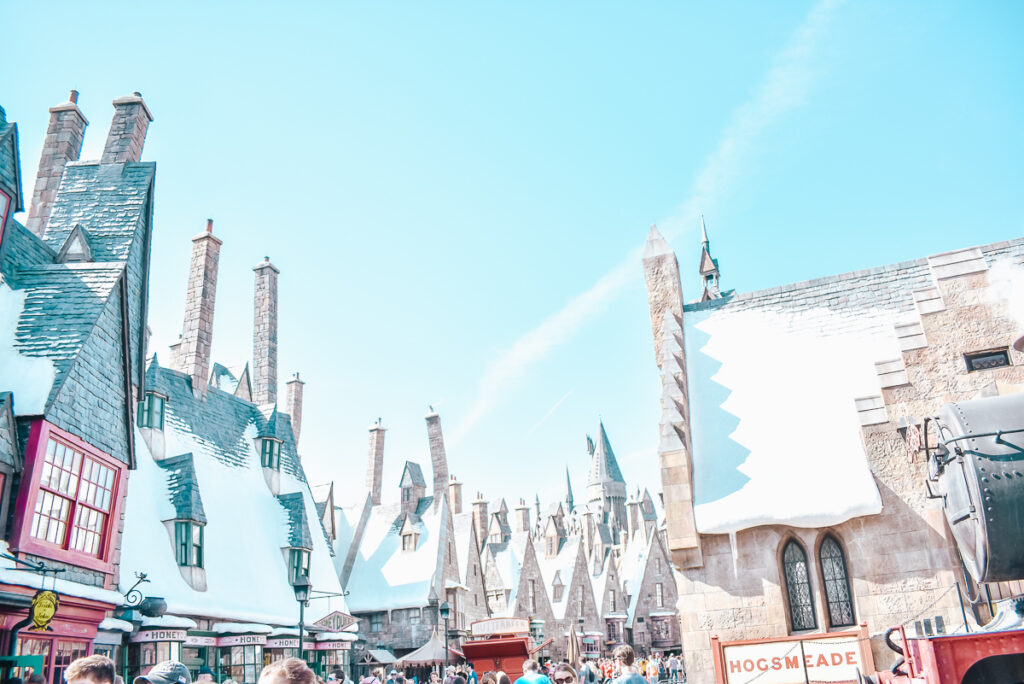 Emery wasn't feeling brave enough for Harry Potter and the Forbidden Journey ride (which everyone has raved about!), but we did ride Flight of the Hippogriff, which was her first roller coaster of that size.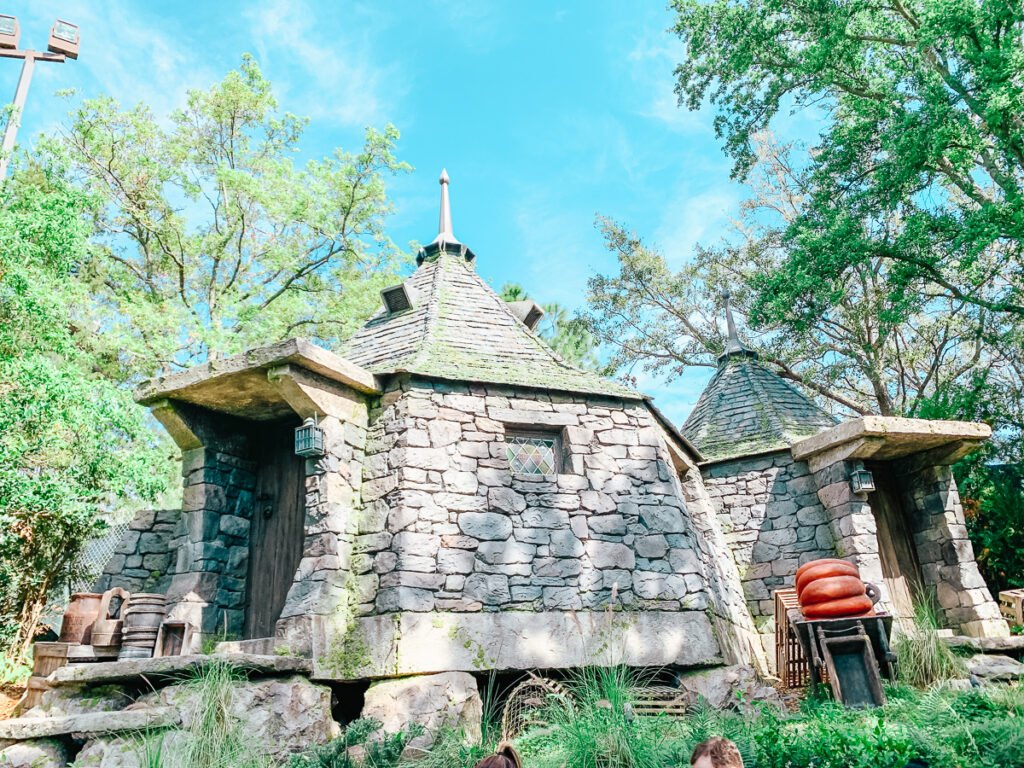 We couldn't resist a stop for sweets at Honeydukes, which is one of the most popular store exteriors to take a picture in front of.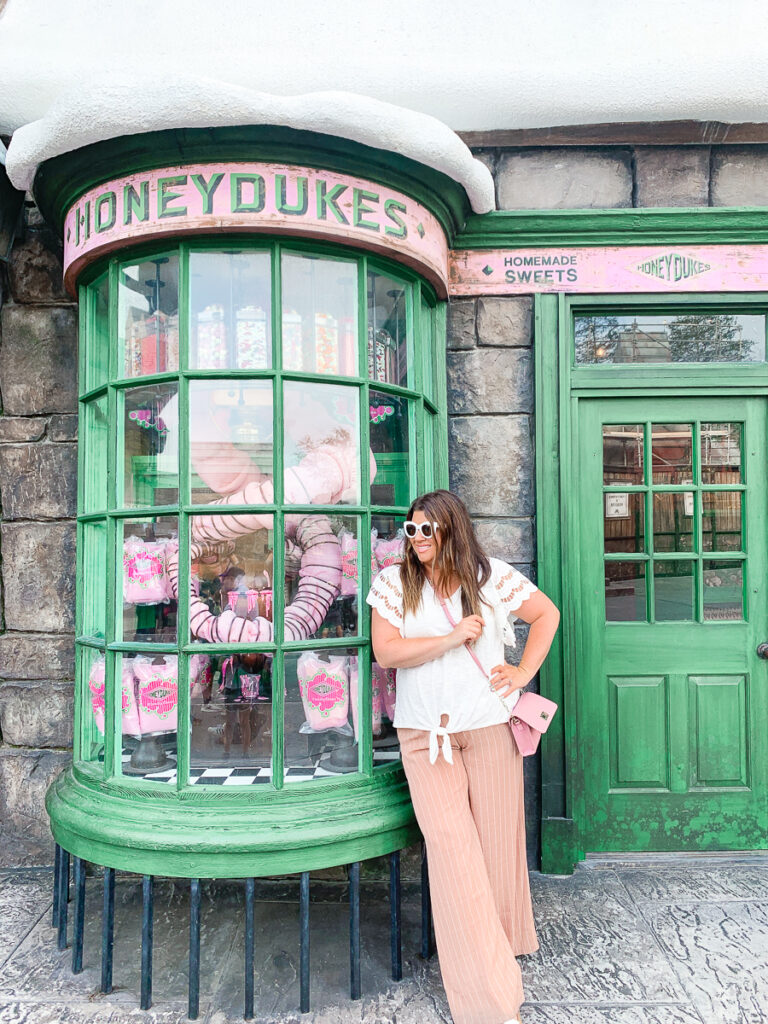 We followed the map to cover all the magic spots in Hogsmeade.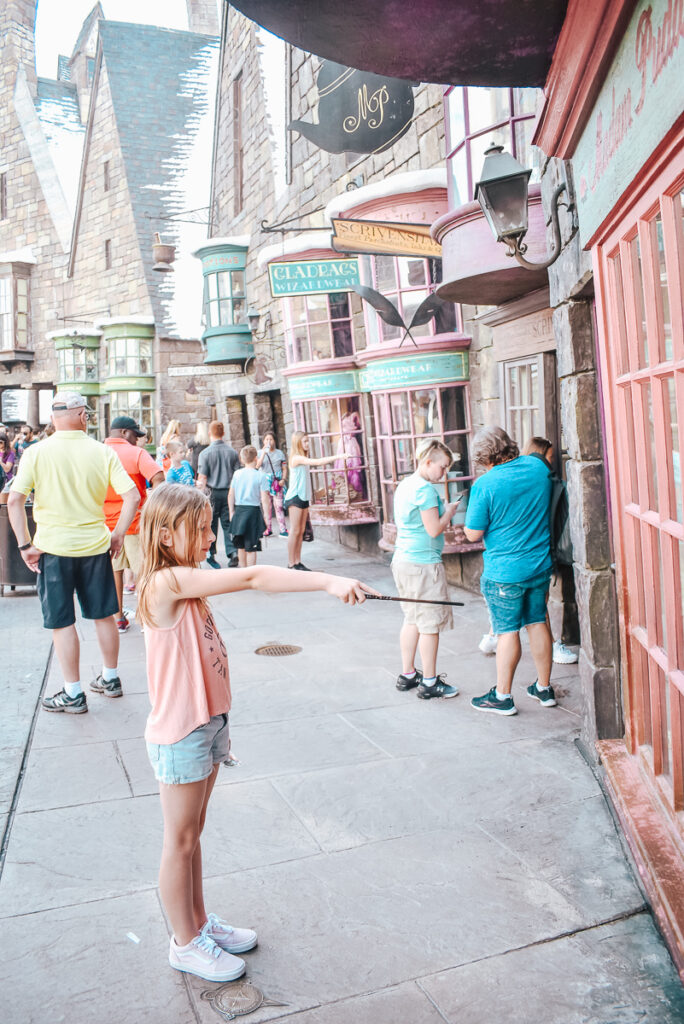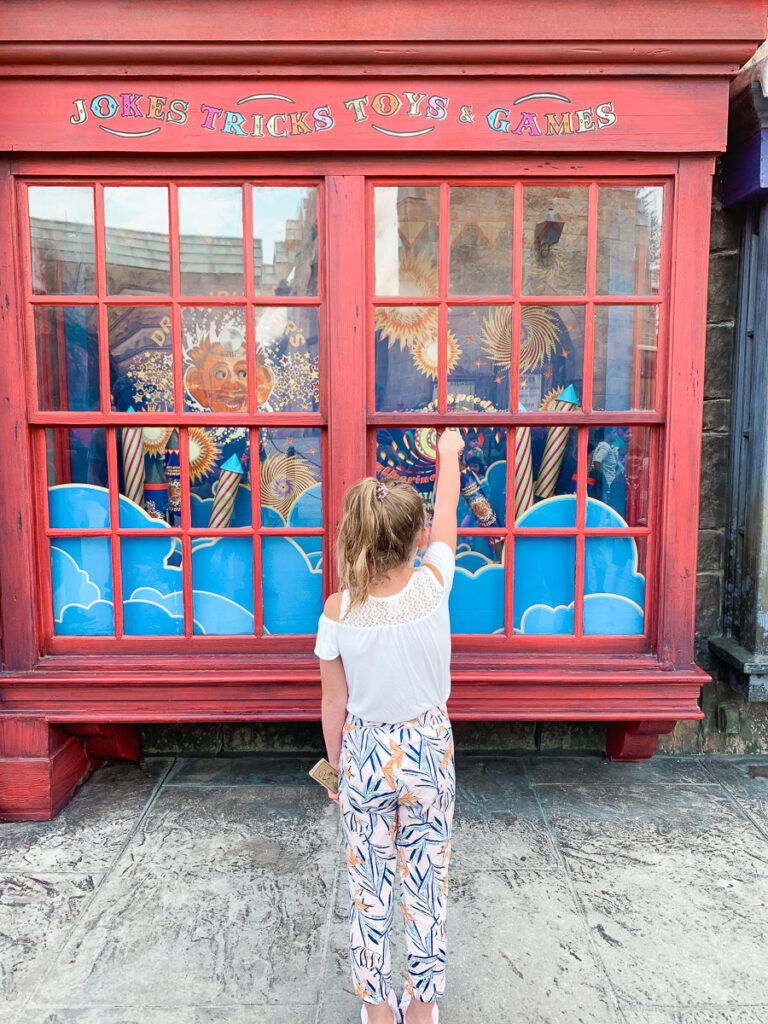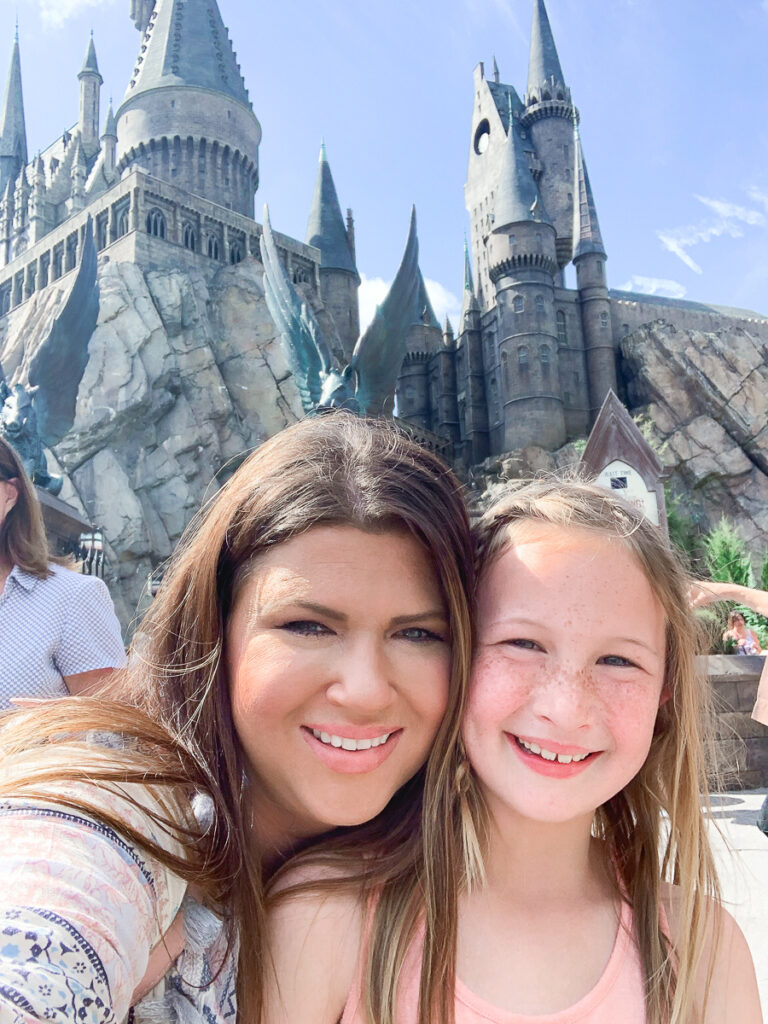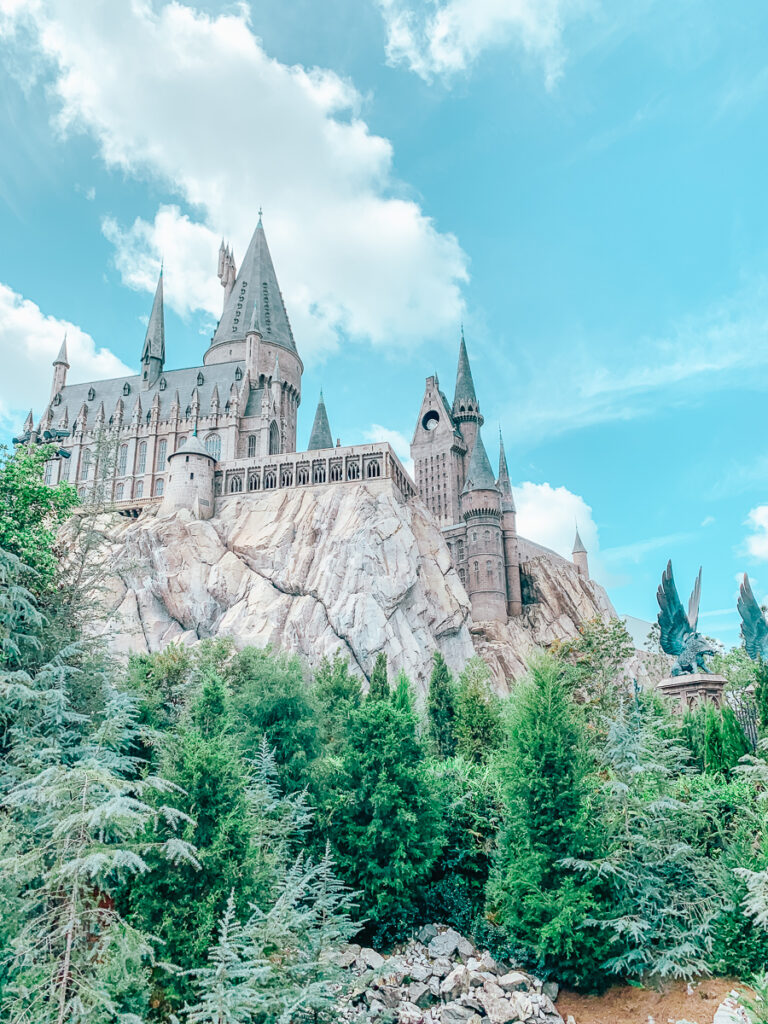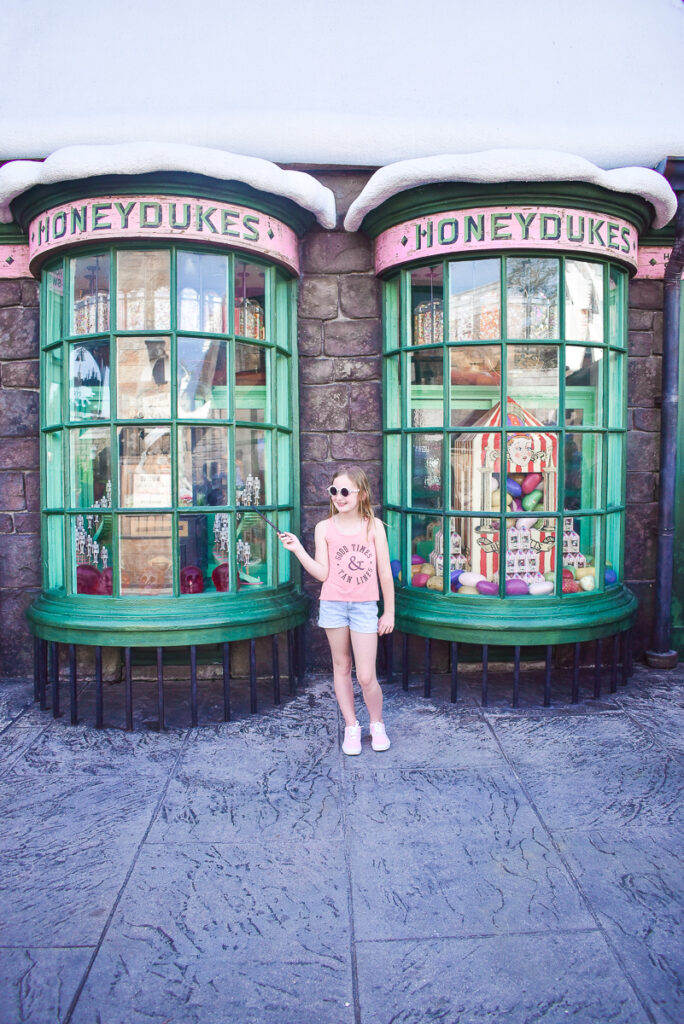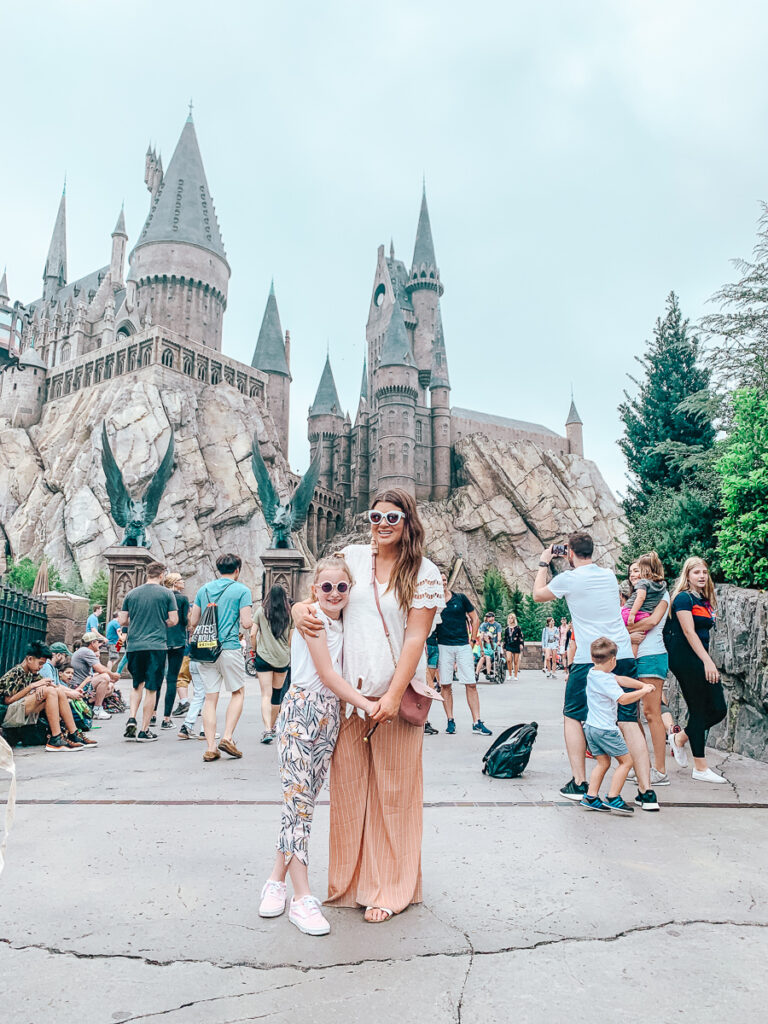 After exploring Hogsmeade, we ate lunch in Jurassic Park at The Burger Digs and rode Jurassic Park River Adventure. Pteranadon Flyers is a great ride as well as Skull Island.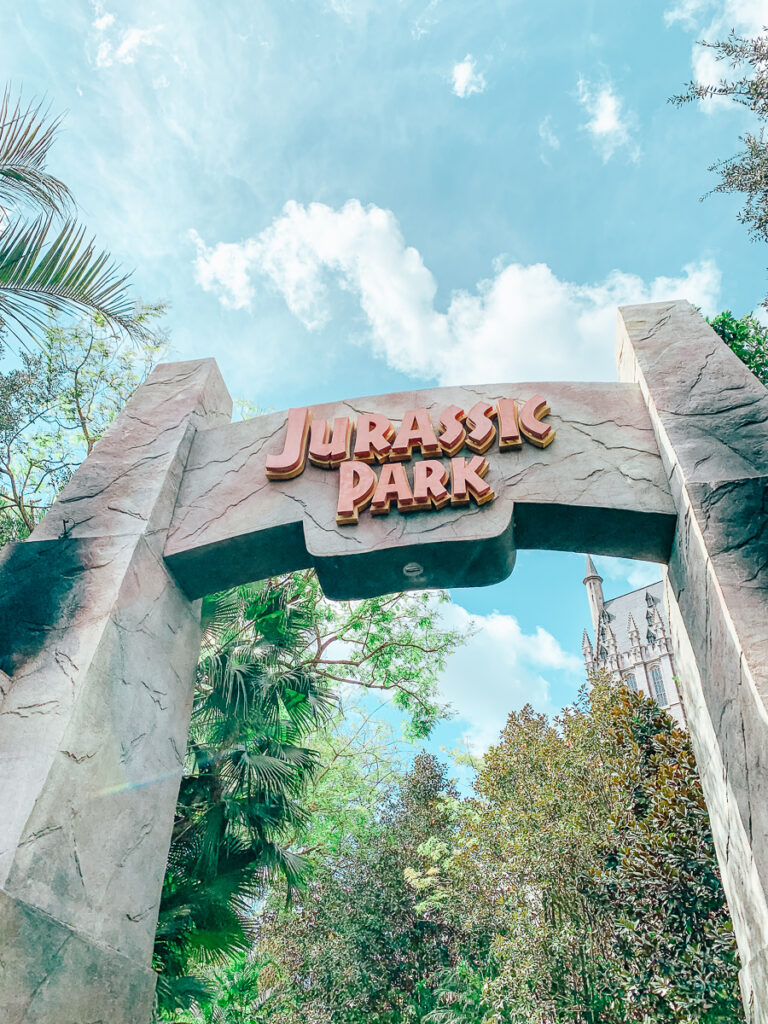 We wandered through Toon Lagoon and I was hoping Emery would be up for Dudley Do-Right's Ripsaw Falls, but she was a little nervous. Popeye & Bluto's Bilge-Rat Barges were closed for maintenance, but definitely on our list for next time.
Marvel Super Hero Island just in time to see four superheroes ride down the street on motorcycles and wave hi to Captain American. This is where the big thrill rides are: The Incredible Hulk Coaster and Doctor Doom's Fearfall. Just watching the giant coaster from the ground was enough for me! Emery isn't really into super heroes at the moment, but if your kiddos are, you'd definitely want to spend extra time here checking everything out.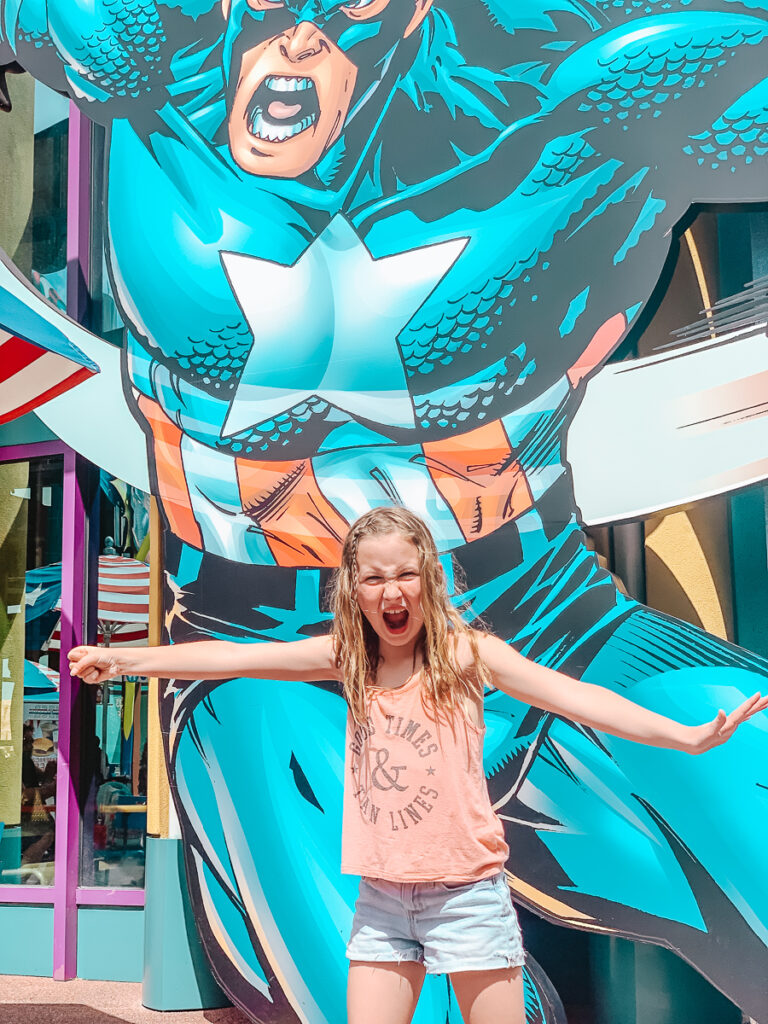 From Marvel we went to Seuss Landing and rode The High in the Sky Seuss Trolley Train Ride! This is also a fun area for younger kids with so much fun color and rides like the Caro-Seuus-el.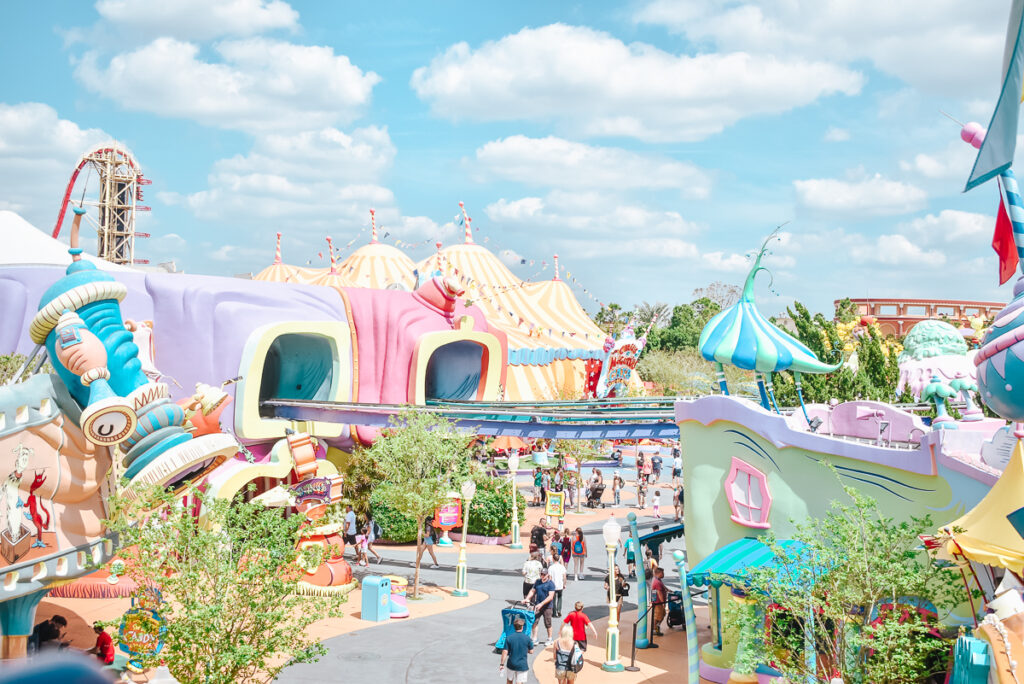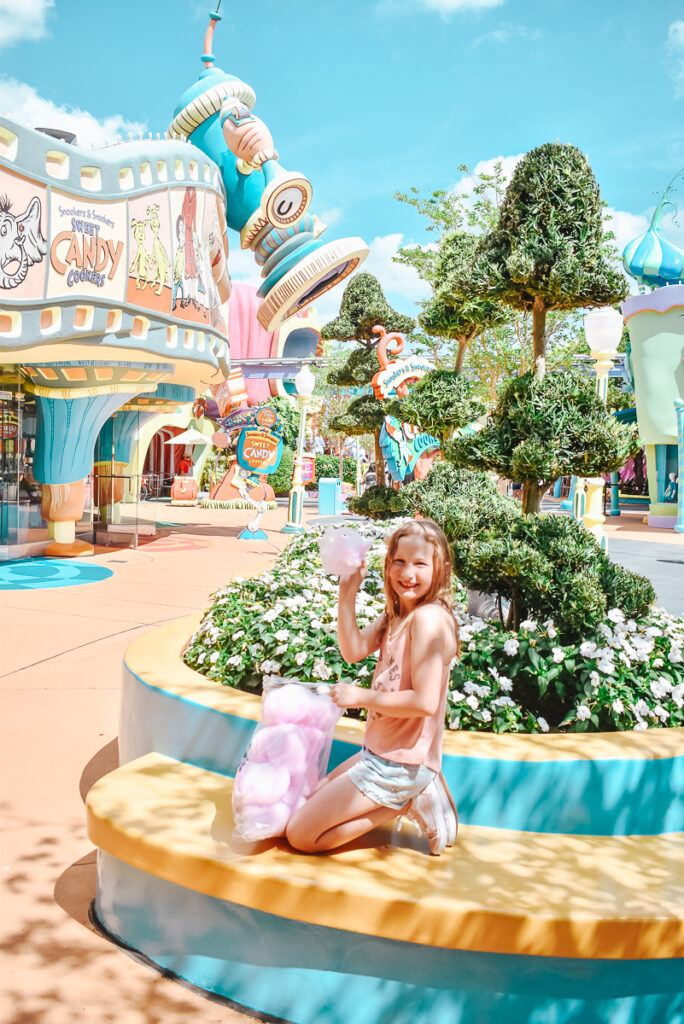 In The Lost Continent, we did Poseidon's Fury, which wasn't a ride as much as a multi-scene show. It was fun storytelling a little drama at the end.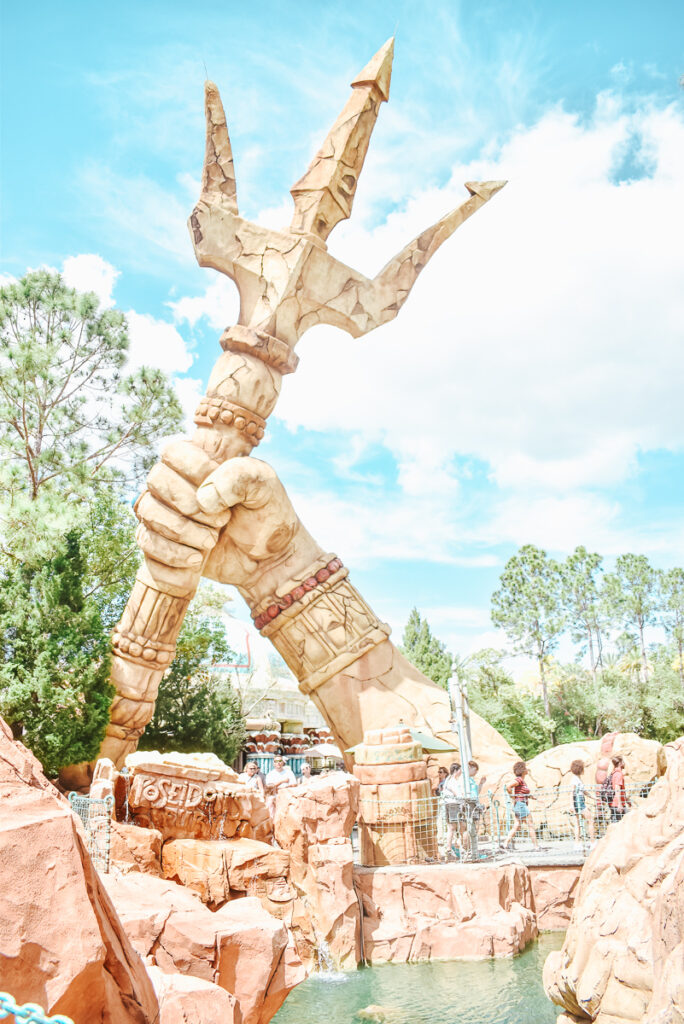 We actually ate lunch at CityWalk on the way out, which has a ton of great restaurants and a Voodoo Donuts location.
Volcano Bay
Go after lunch and stay til close. We decided to save our water park adventure for an afternoon and stay until they closed at 6pm. This was the best decision and we had an amazing time at Volcano Bay. I had heard that the mornings get busy and by lunch, people are either going back to let little kids nap or are going to the park. There was still a good crowd when we arrived early afternoon, but it felt very relaxed and left plenty of room for fun.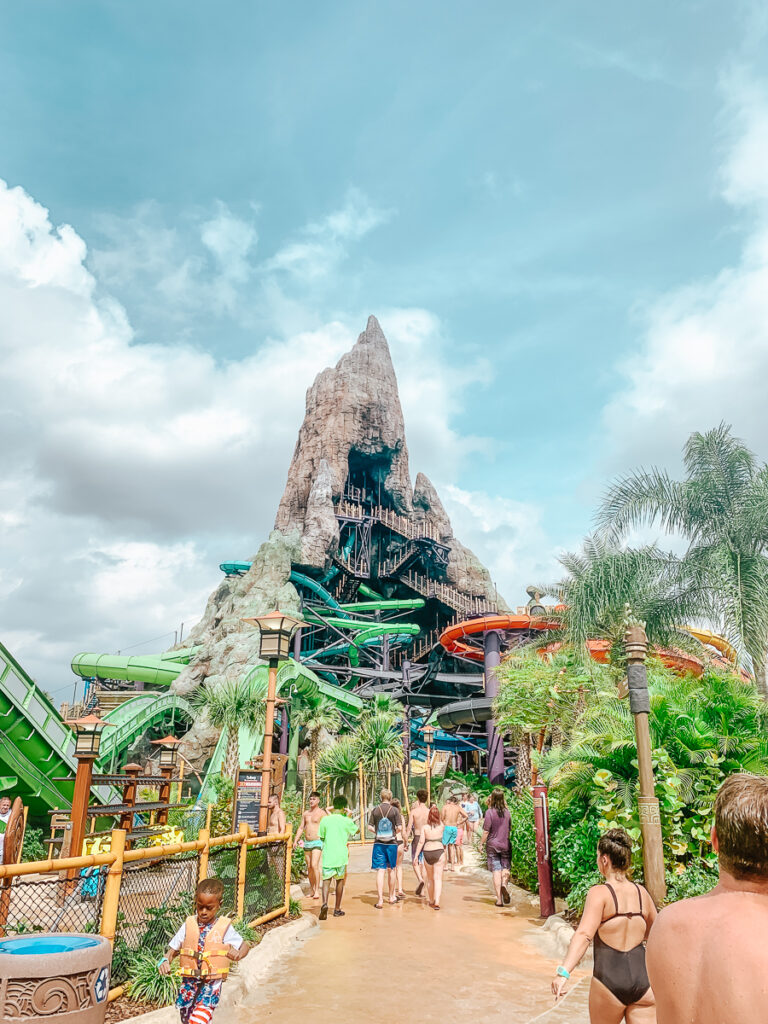 Consider a cabana. We didn't plan to spend all day at the water park, but if we had, I would have loved to have our own cabana. These are so cute and look like two-story tree houses. They sell out quickly, so you might want to send one party member over first thing to reserve one, even if you're not planning to go to another park beforehand.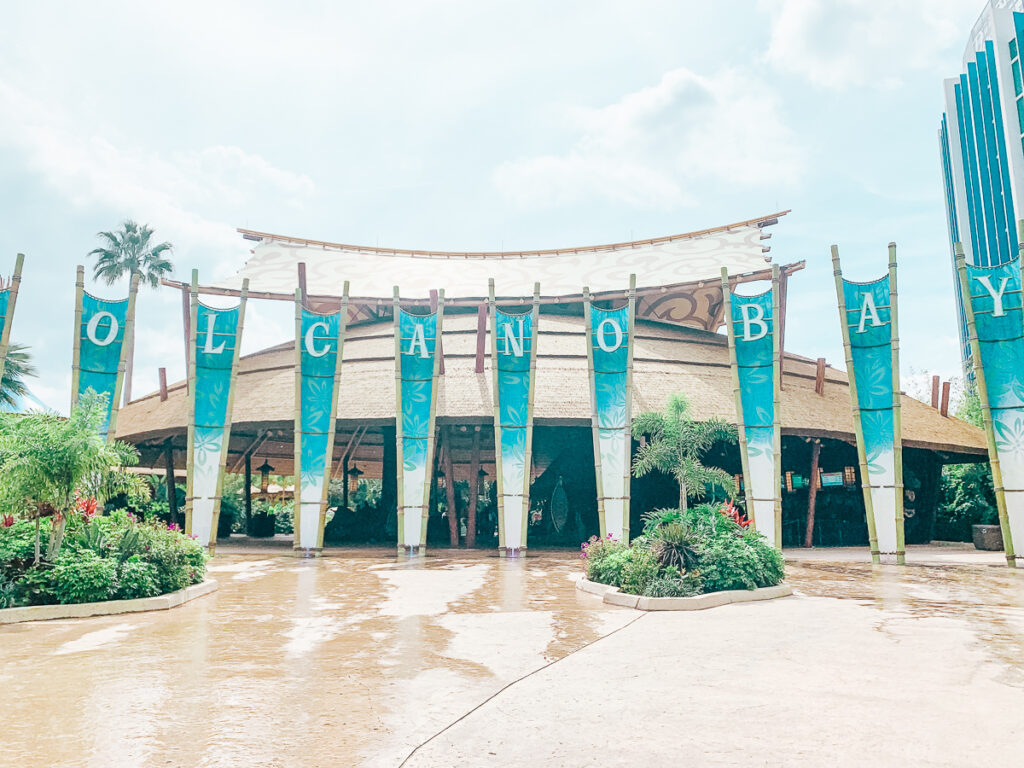 Use the Tapu Tapu to reserve your space in line. Upon entry, every person in your party gets a waterproof digital band to wear called a Tapu Tapu. Simply walk up to the ride entrance and tap your band at the kiosk. Your band will give a reading showing the number of minutes to wait, such as "15 minutes to ride." It's so easy and convenient. One warning though, some rides are side by side – like the Ohyah and Ohno Drop Slides or the Puihi and Maku Round Raft Rides, so be sure you're tapping in for the one you want.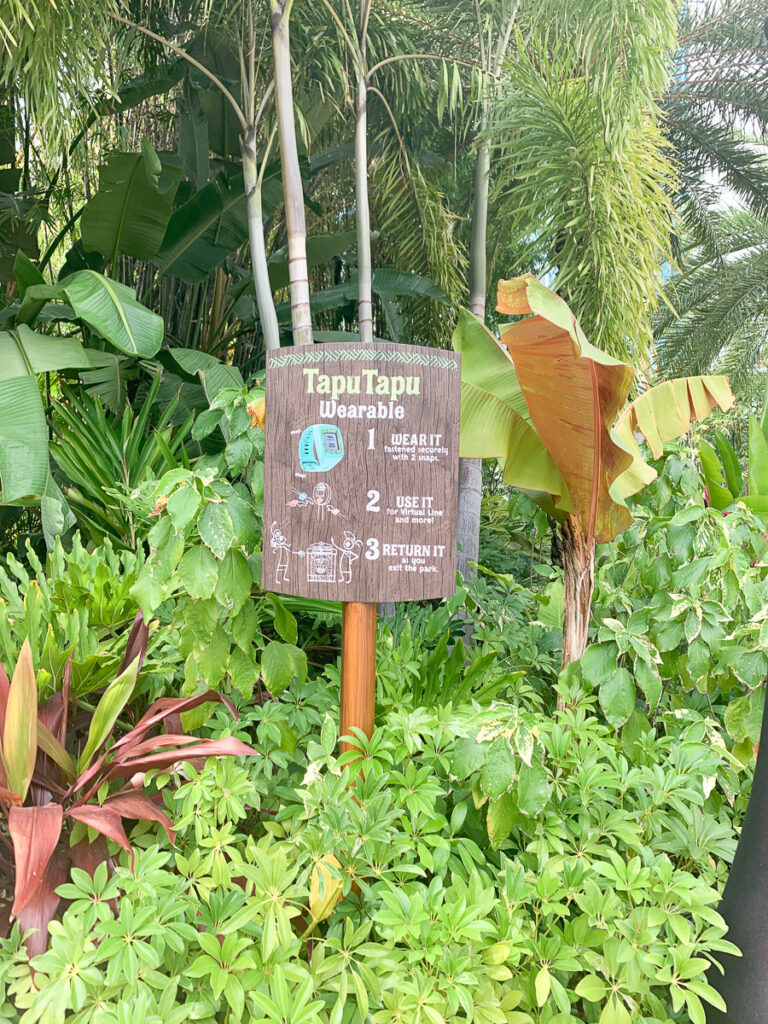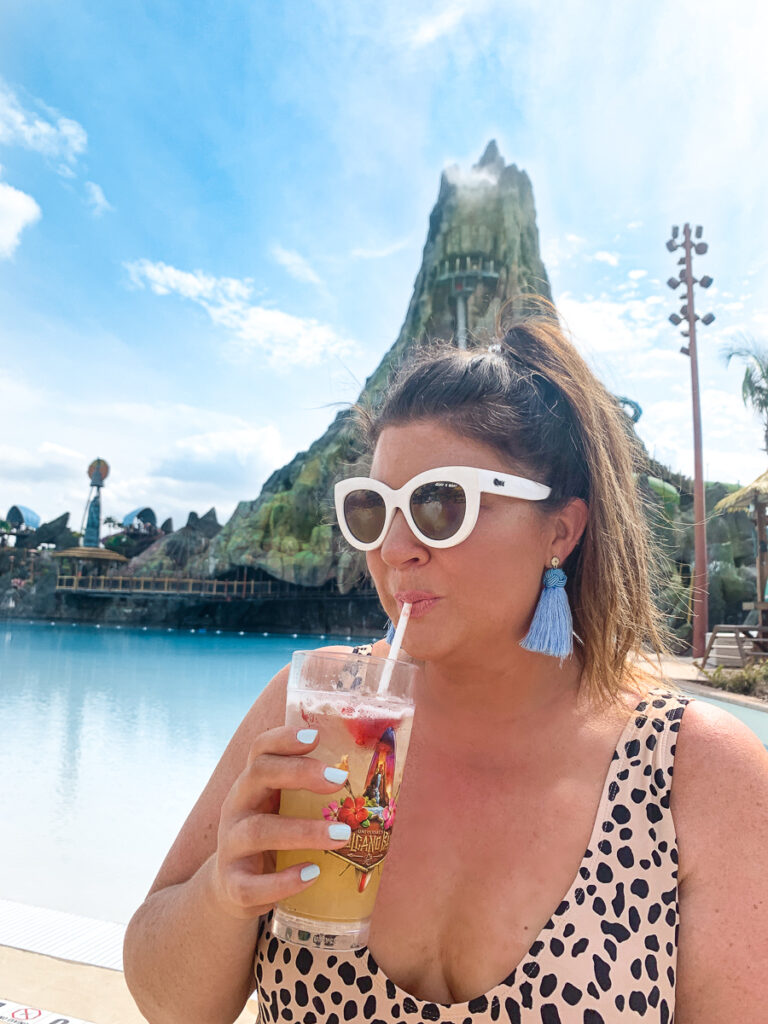 Grab a cocktail and relax. Lately, my vacay drink of choice has been a Piña Colada and the one I had at Volcano Bay was delish. There are a ton of tropical style drinks and beer at various places around the park, but I loved The Kunuku Boat Bar and the Dancing Dragon Boat Bar. The souvenir cup also saves you a few dollars on a refill.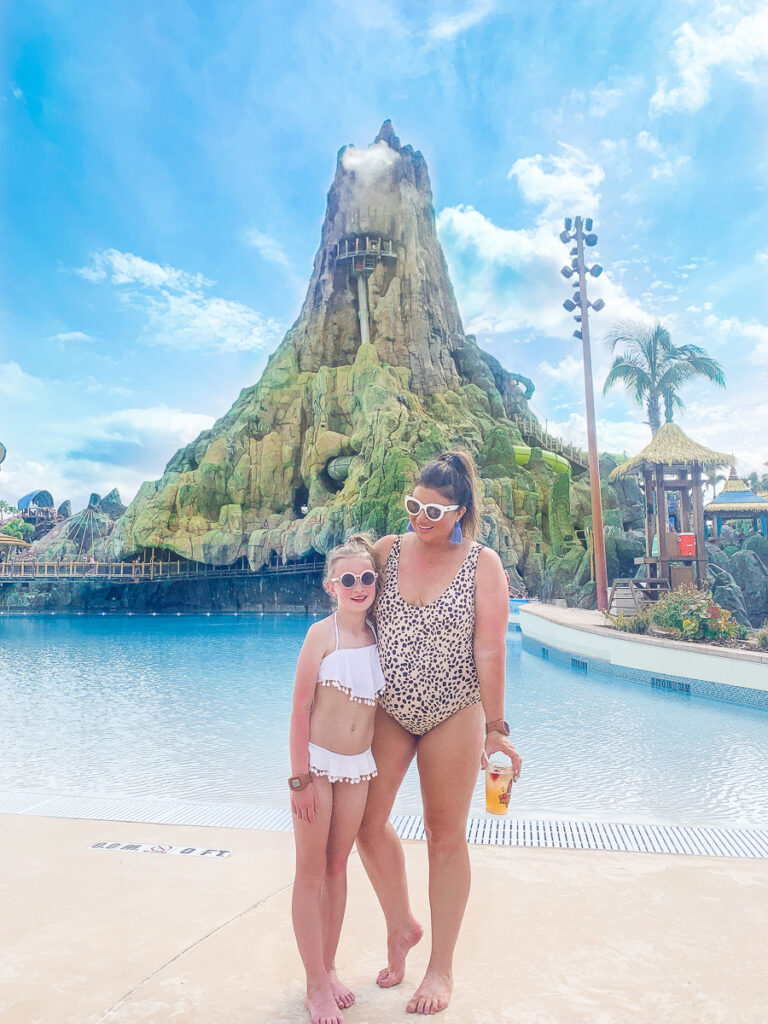 Favorite Big Kid Rides + Experiences
Escape From Gringott's (Universal Studios)
Men in Black Alien Encounter (Universal Studios)
Woody Woodpecker Roller Coaster (Universal Studios)
Flight of the Hippogriff (Islands of Adventure)
Jurassic Park River Rapids (Islands of Adventure)
Skull Island Reign of Kong (Islands of Adventure)
Popeye and Bluto's barges (Islands of Adventure)
Poseidon's Fury (Islands of Adventure)
Puihi (Volcano Bay)
Ohno and Ohya drop slides (Volcano Bay)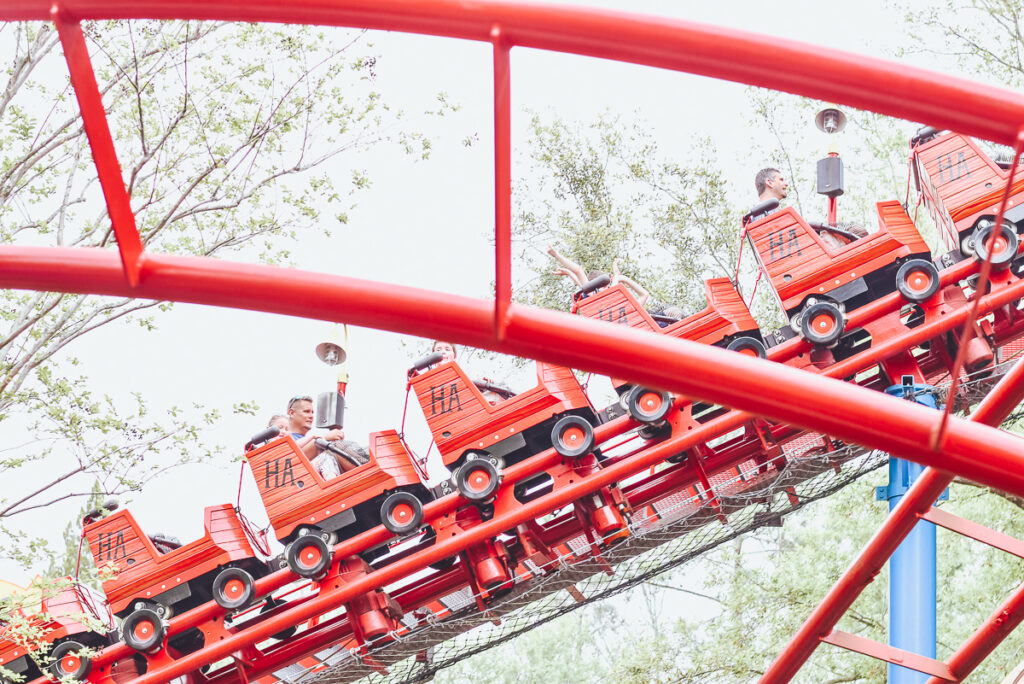 Characters
While we weren't focused on seeking out characters for this trip, some of you mamas asked about them and I was able to find a list of who can typically be found where. We ran into a few of these in passing, which was fun to stumble upon.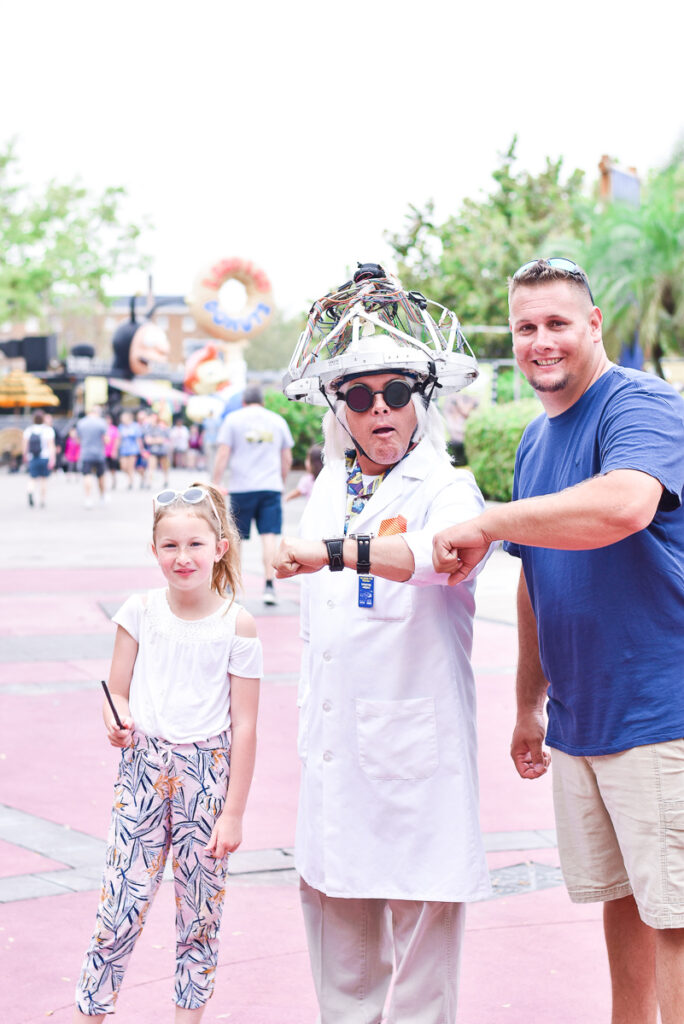 Universal Studios
Celebrities (Face Characters)
Doc Brown from Back to the Future: Hollywood: at the Delorean outside Fast Food Boulevard
The Men in Black: Hollywood; World Expo outside MIB
Marilyn Monroe: Hollywood, New York near Macy's
Knight Bus Conductor & Talking Head: London Waterfront outside Diagon Alley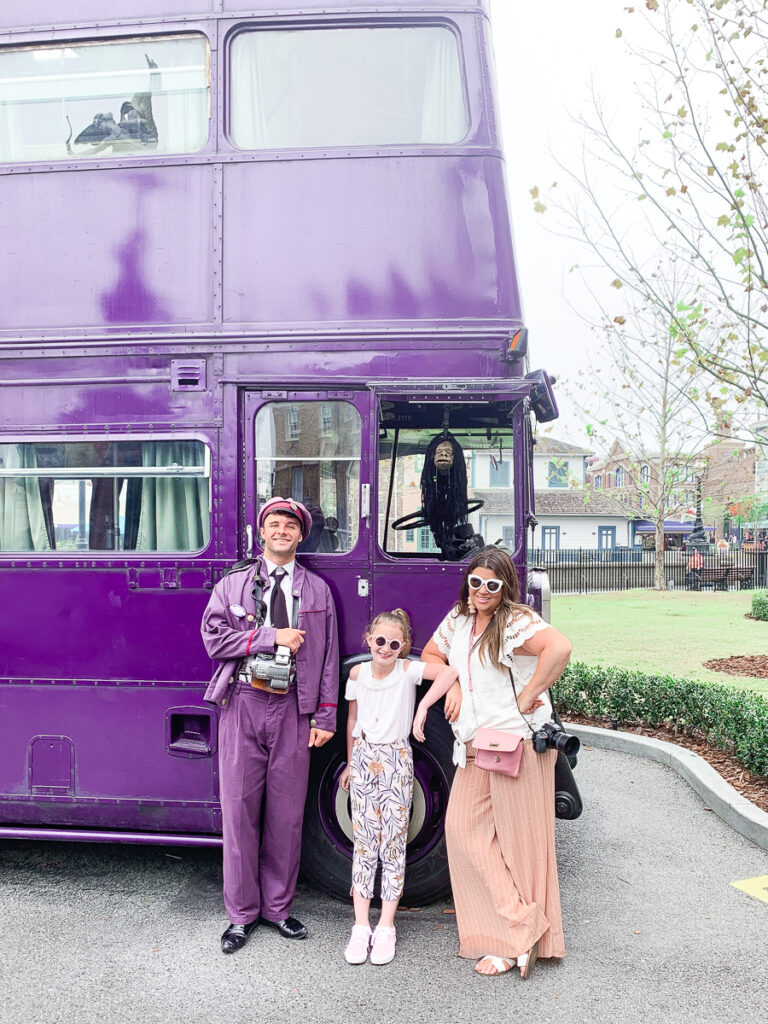 Animated (Costumed Characters)
Barney the Dinosaur, B.J., & Baby Bop: KidZone at

A Day in the Park with Barney
Curious George & The Man in the Yellow Hat: Hollywood; KidZone E.B. from Hop Hollywood
Despicable Me Minions: Hollywood; exit of Despicable Me ride
Gru, Agnes, Edith, Margo, and Vector from Despicable Me: Hollywood Dora the Explorer & Diego Hollywood
Hello Kitty: Hollywood outside her store
Optimus Prime, Bumblebee, & Megatron from Transformers: 8th Ave between Shrek 4-D exit & Mel's Drive-In
Scooby Doo, Shaggy, and the Mystery Van: Hollywood; KidZone
Shrek, Donkey, & Princess Fiona: 8th Ave across from Shrek 4-D exit
Homer, Marge, Bart, and Lisa Simpson: Hollywood; Springfield outside Kwik-E-Mart
Sideshow Bob and Krusty the Clown: Springfield outside Kwik-E-Mart
SpongeBob SquarePants, Squidward, & Patrick: Hollywood; Kidzone inside Spongebob StorePants
Woody Woodpecker: Front Lot
Islands of Adventure
Celebrities (Face Characters)
Betty Boop: Toon Lagoon outside Betty Boop store
Captain America: Marvel Super Hero Island outside Captain America Diner
Dinosaur Keeper: Jurassic Park
The Grinch (live-action version): Seuss Landing inside All The Books You Can Read store (seasonal only)
Hogwarts Express Conductor: Hogsmeade across from Honeydukes
Popeye & Olive Oyl: Toon Lagoon outside Comic Strip Cafe
Rogue & Storm: Marvel Super Hero Island outside Marvel Alterniverse store
Spider-Man: Marvel Super Hero Island; inside Marvel Alterniverse store
Wolverine & Cyclops: Marvel Super Hero Island outside Marvel Alterniverse store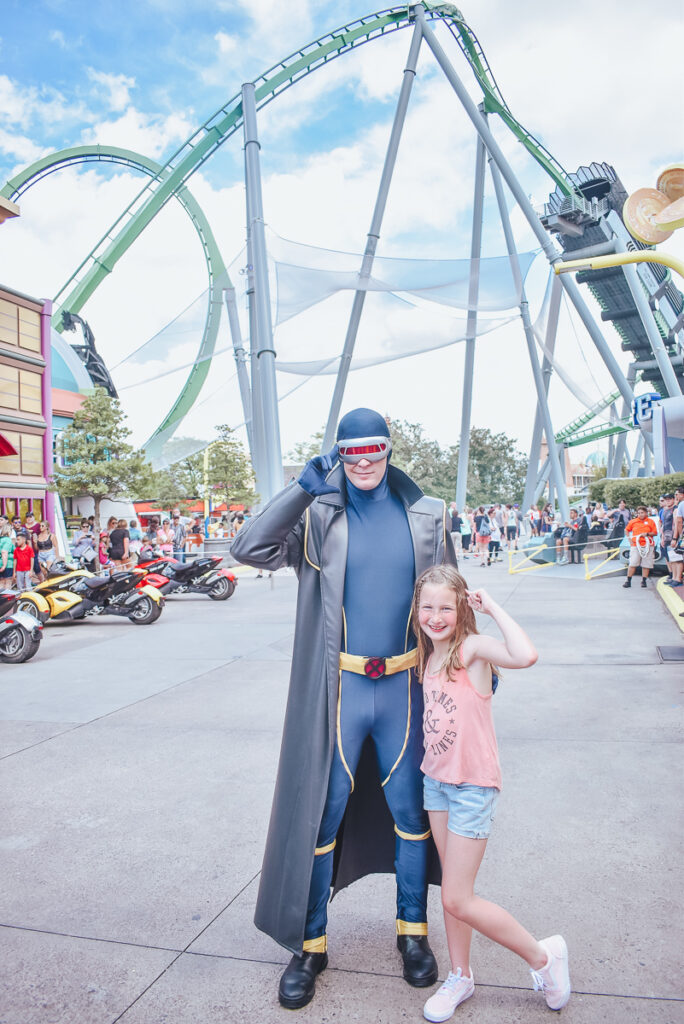 Animated (Costumed Characters)
Beetle Bailey: Toon Lagoon outside Comic Strip Cafe
Cat in the Hat, Thing 1 & Thing 2: Seuss Landing at Oh! The Stories You'll Hear
Green Goblin, Doctor Doom: Marvel Super Hero Island outside Doctor Doom's Fearfall
The Lorax & Sam I Am: Seuss Landing at Oh! The Stories You'll Hear
The Grinch (cartoon version): Seuss Landing at Oh! The Stories You'll Hear
Woody Woodpecker: Port of Entry