This post comes in collaboration with the Sheraton Bay Point. All opinions expressed are my own.
If you clicked through my Instastories last weekend, you got an up close and personal view of our staycation at the Sheraton Bay Point. Thank you so much for following along! I got so many questions about our stay and where exactly we were, so I promised a full recap for your reading pleasure. We really had the best weekend!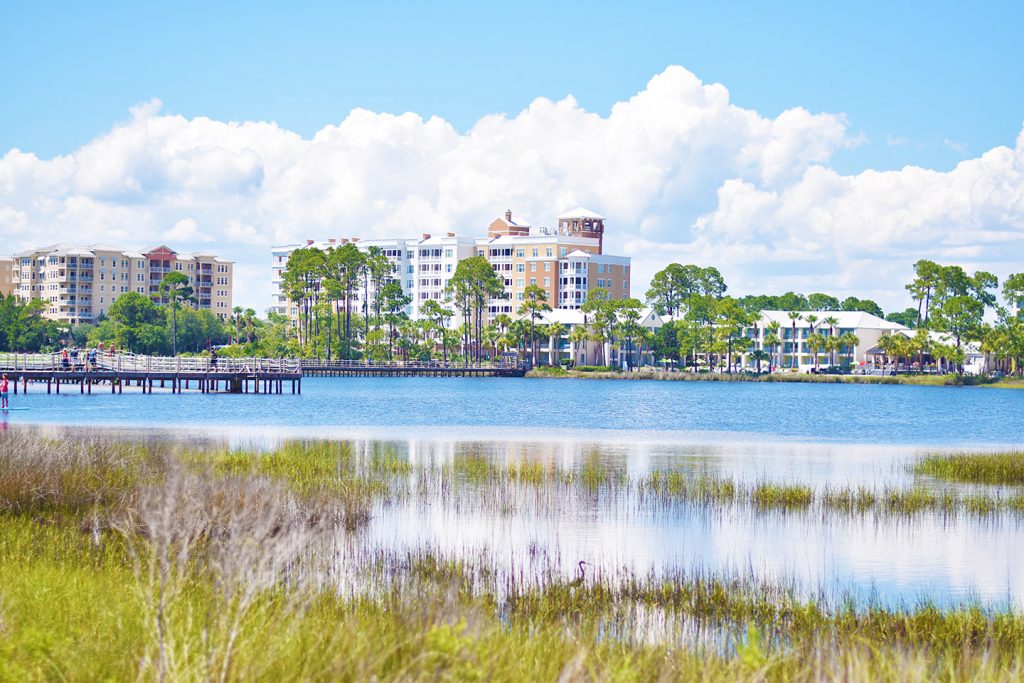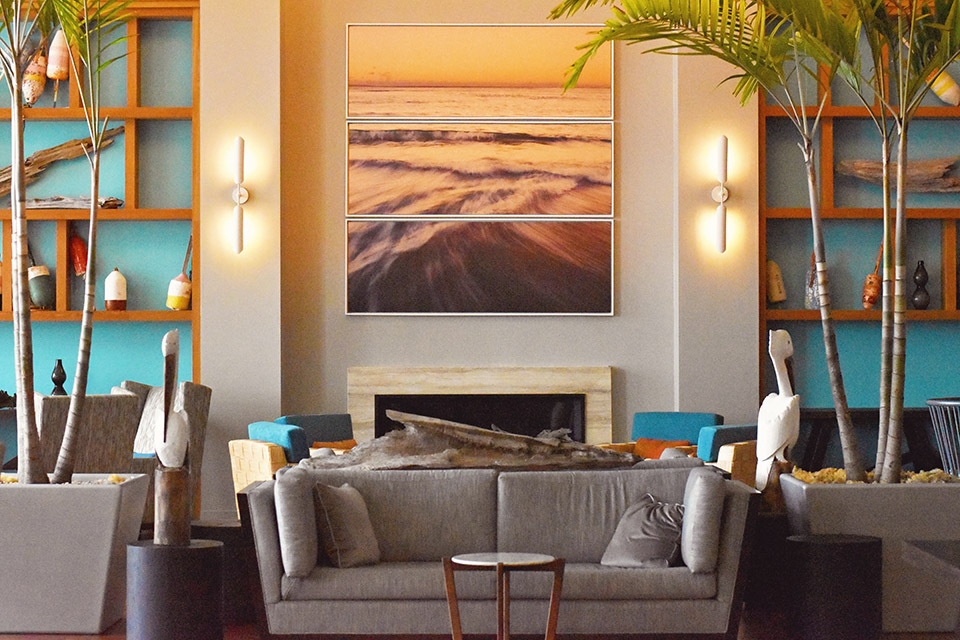 Location + Property
A short drive from 30A, the Sheraton Bay Point is situated on the east end of Panama City Beach near Grand Lagoon on St. Andrews Bay. The luxe AAA Four Diamond hotel boasts a recent $30 million renovation and offers sweeping waterfront views of the bay and beyond. We were able to tour the grounds and get an up-front look at everything that makes the Sheraton an easy choice for a relaxing getaway. The expansive property has a main hotel plus separate villas perfect for larger groups or multiple families staying together. We peeked at the gorgeous ballrooms and meeting spaces — a beautiful choice for weddings or corporate getaways.
While DIY cooking and cleaning has its place on vacation, I find there's nothing quite like a full-service hotel to feel truly pampered and luxurious. The Sheraton has several onsite dining options, room service (I can never resist!), two spacious pools, a modern gym, two golf courses including one designed by Jack Nicklaus, a kids activity room and (my favorite!) a full-service spa. Read on for more on what we did, where we ate and even what I wore.
Activities + Perks
Natural Views. I loved waking up and stepping out onto the balcony to watch the boats go by as I eased into the day. There's nothing like a water view to put you in a perfectly serene mood. One of my favorite details of the property was the long, winding boardwalk that stretched from the main building out to the marina. It may be the longest one I've seen! Walking along it, we spotted so many birds, fish and crabs that the kids loved every step. We even had to go crab hunting one night just to show Emery how many crabs there were — way too many to count!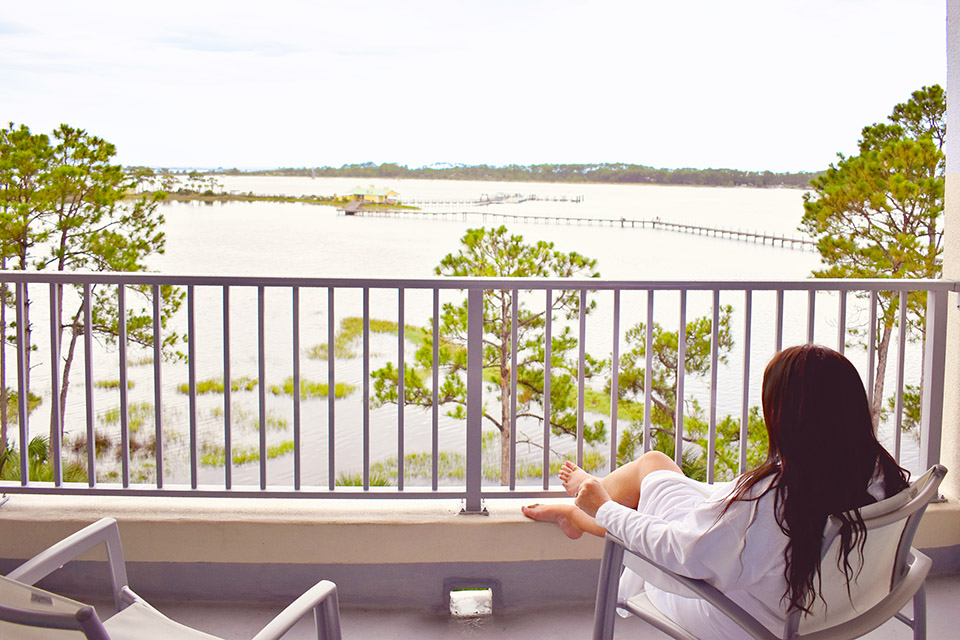 I snapped this sunset view on our first night. It was gorgeous!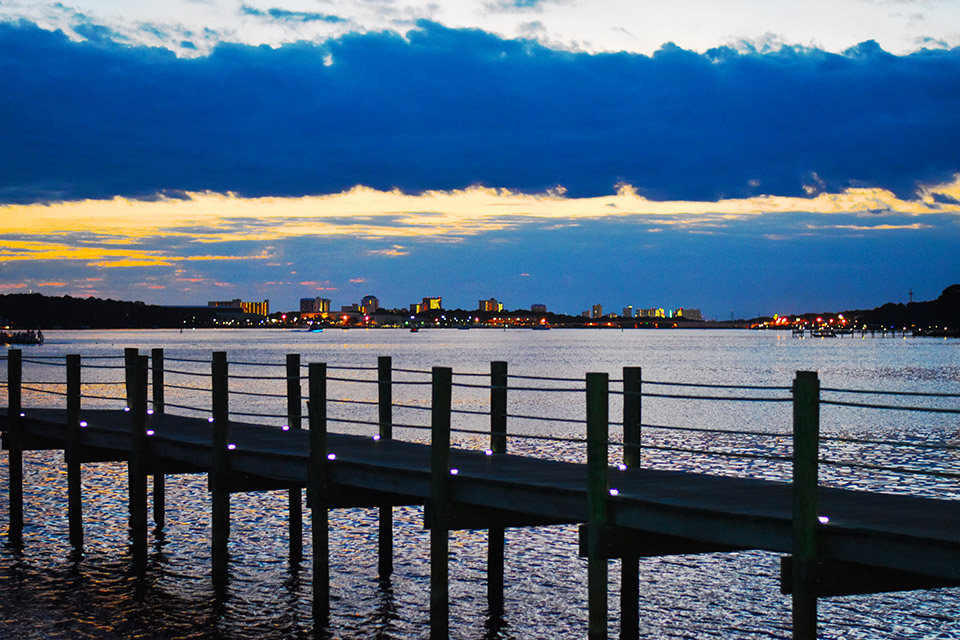 Resort Pools. With two pools on property, we easily found a place to jump in and cool off, letting Emery splash for hours with little friends. Every parent knows that a swimming pool is one of the secrets to family vacation bliss and these were no exception. Plus, the pool-side service and proximity to the outdoor dining was a bonus! If you plan on being a frequent pool visitor, inquire about one of the ground level pool rooms for easy access back and forth without having to pack up the whole gang.
Shell Island. I think this was Emery's favorite part of the weekend and I have to admit, it was pretty memorable. We walked down the winding boardwalk (golf carts are also available if needed) and hopped on the morning resort shuttle for a scenic 20 minute boat ride out to the island. We looked for dolphins along the way and watched the weekend boat traffic cruise along until we arrived. Shell Island is such a beautiful spot and since it's only accessible by water, it's one of those places that seems to have remained unchanged over the decades. It's simply classic beach fun and lucky for us, we were treated to some of Florida's most picture-perfect weather. When it was time for lunch, we hopped on the boat and headed back to the resort, though for a full day outing, you could easily pack a lunch for everyone and stay all day.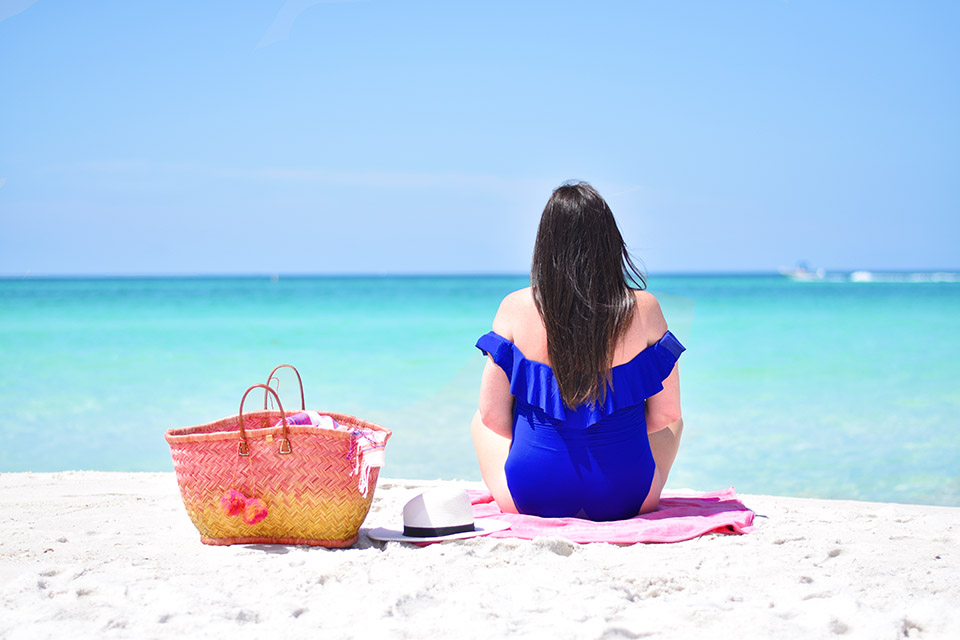 Bag (similar) | Swimsuit (in 4 colors!) | Hat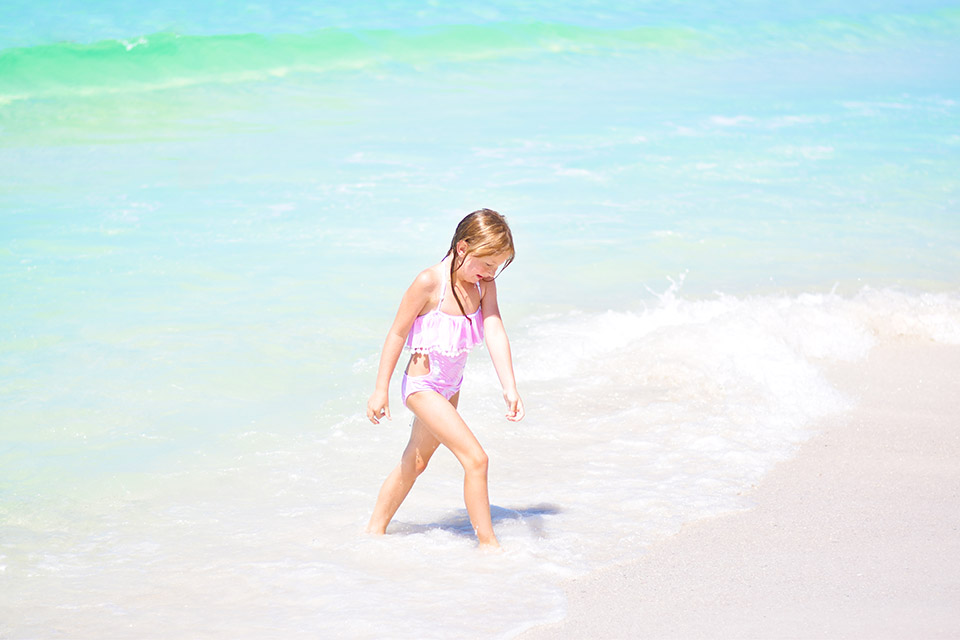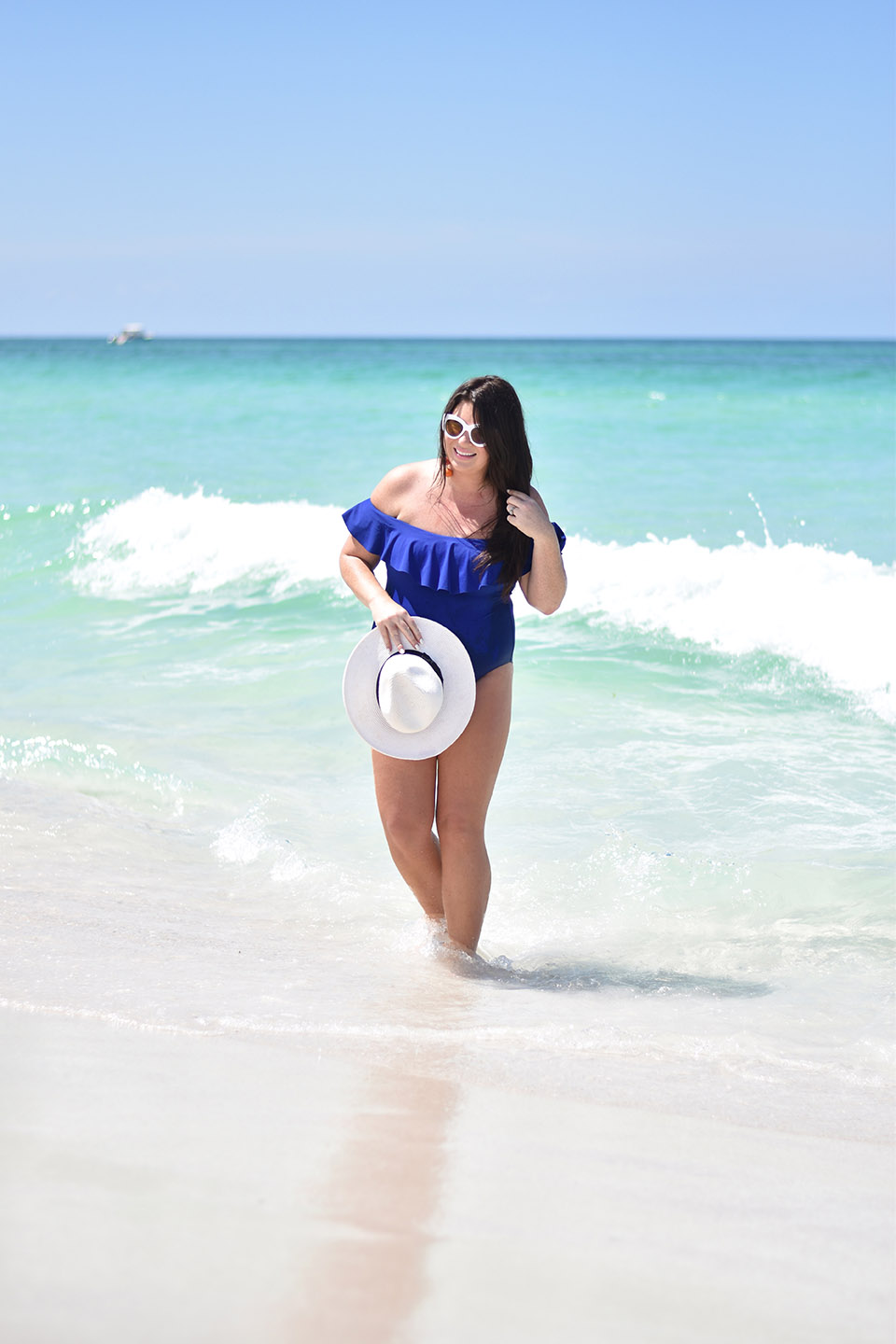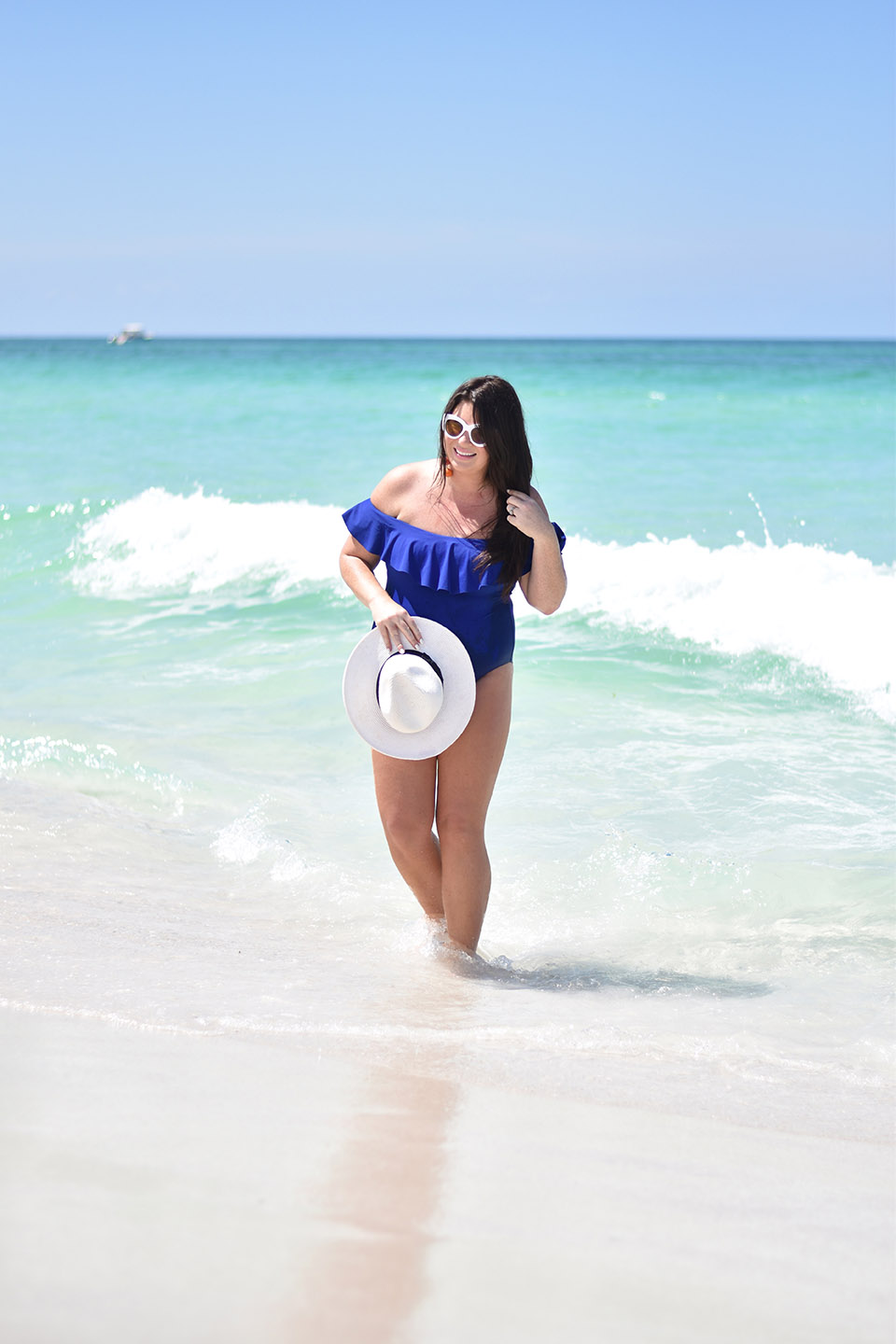 Swimsuit (in 4 colors!) | Hat | Sunglasses
Private Beach. We enjoyed not one, not two, but three fun options for soaking up the sun. In addition to the pools and the shuttle to Shell Island, the Sheraton's private beach is a fun alternative and has its own little tiki hut for drinks along with paddle board rentals and a quiet bay-front stretch of sand with a laid-back vibe. The kids absolutely loved splashing and swimming in the shallow water.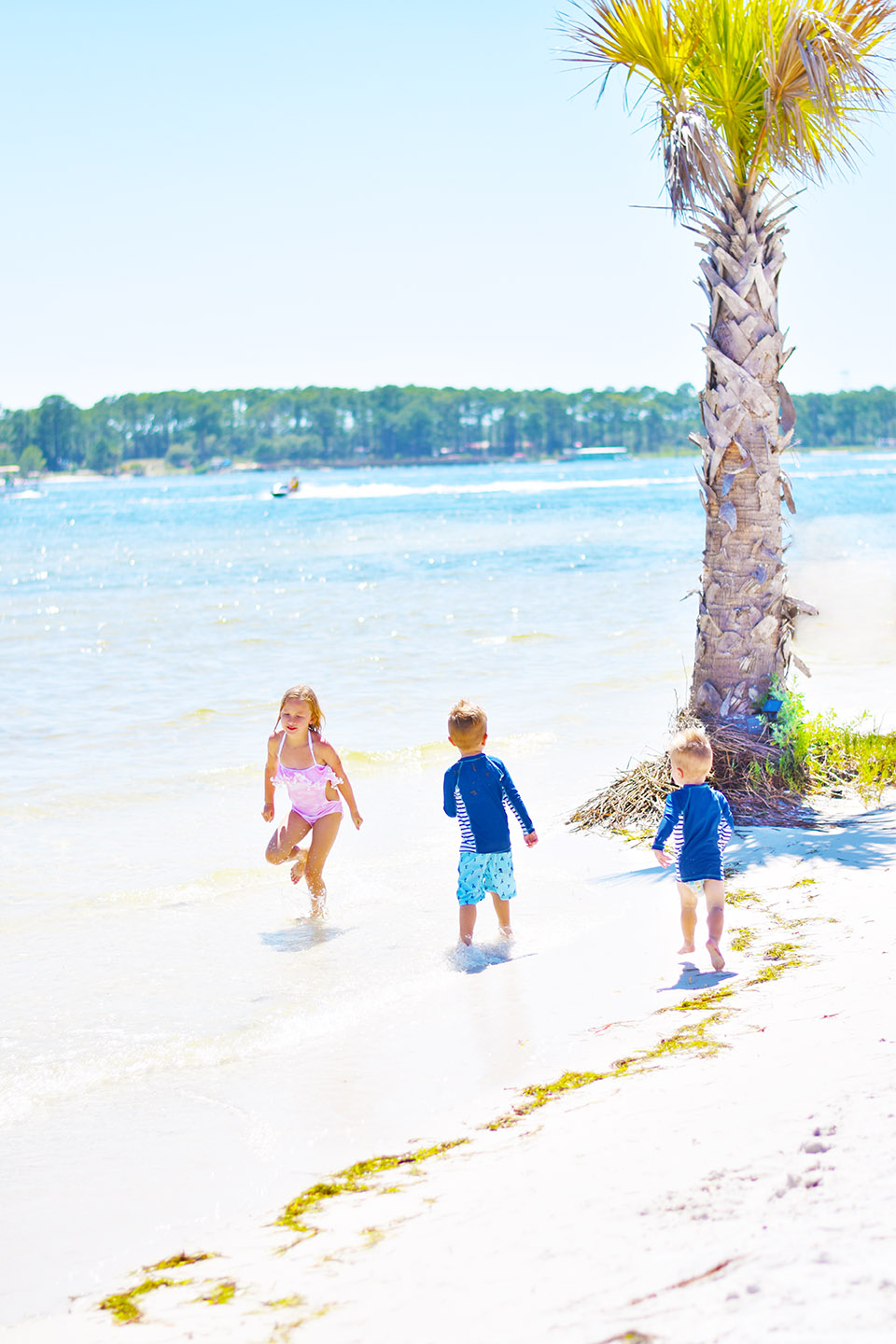 Serenity Spa. If you're anywhere near Sheraton Bay Point, do yourself a favor and run, don't walk to Serenity Spa. What mama doesn't jump at the chance for a quiet, serene morning to herself — especially if it includes a bit of pampering? All weekend I was looking forward to my spa time set for Sunday morning and what do you know, but the only bit of rain we had all weekend was exactly during my spa appointment. It was 100% a sign to kick back, relax and unwind. I arrived before my facial to change into the most comfortable robe and check out the facilities. What is it about a spa that makes you feel automatically calmer as soon as you walk in? Serenity has a steam room, sauna, whirlpool and chic spa lounge plus an outdoor pool clients can enjoy. Since I'm expecting, I couldn't partake in some of the hot features, but made sure to dip my toes into the whirlpool. My facial was pure bliss and I left with the softest skin and a glow that even my hubby noticed. Bonus: with any appointment booked, you can stay and enjoy the spa perks all day long!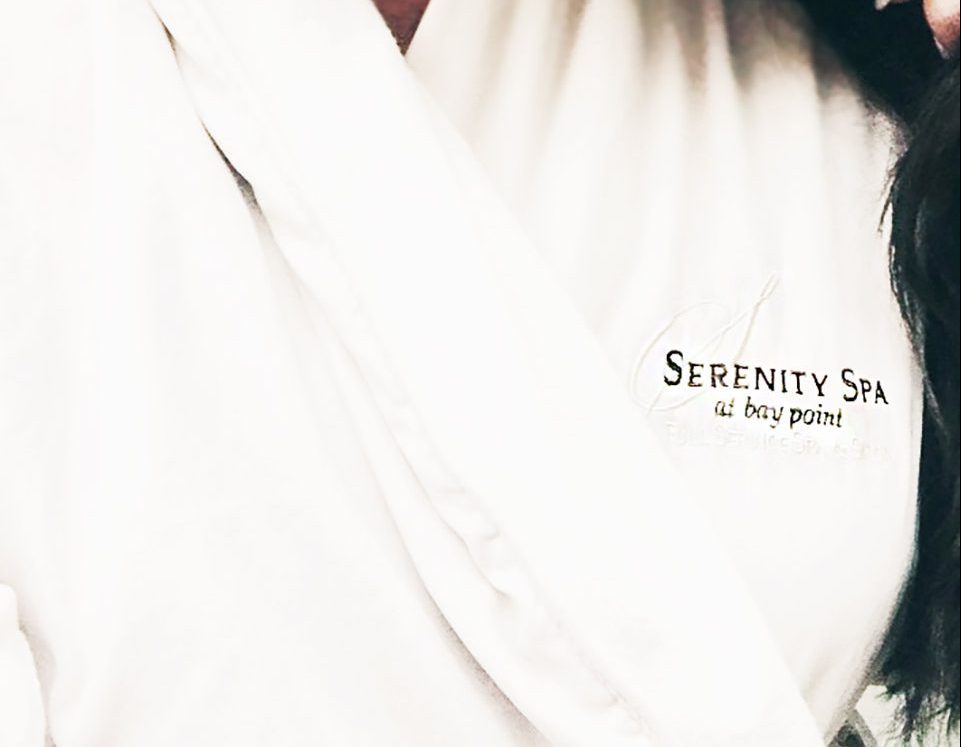 Golf. For the golf lovers vacationing at the beach or maybe for you gents on a guys getaway, the Sheraton Bay Point has two courses, with one designed by famed golfer Jack Nicklaus. This is currently the only Nicklaus-designed course in north Florida, so if you're ready to take a swing, be sure to check it out.
Dining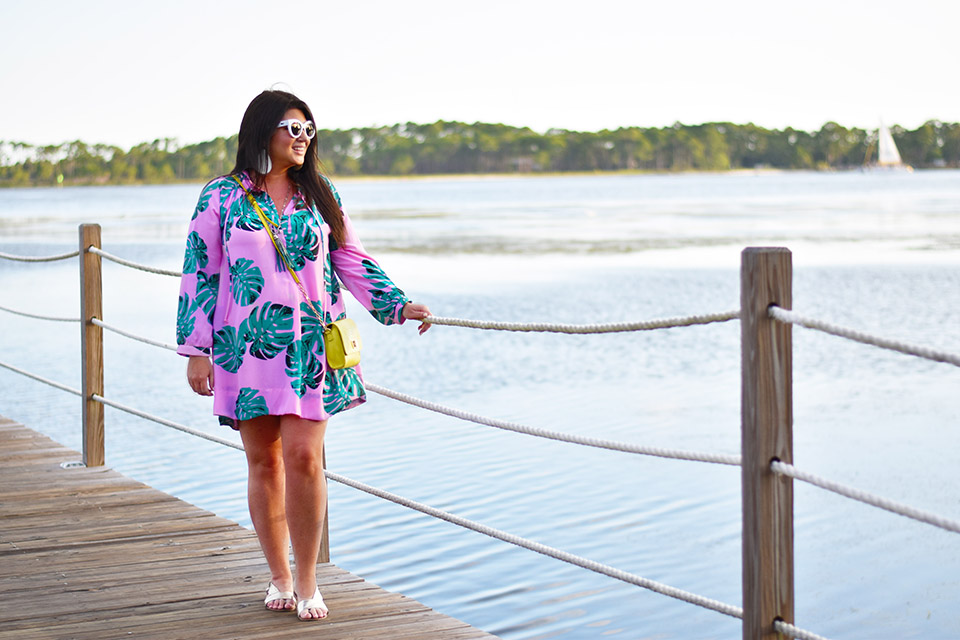 Flip Flops. The Sheraton Bay Point has plenty of dining options and we loved checking out each one. First up, we kicked off the weekend at Flip Flops, an open-air spot nestled between the two resort pools. I ate a yummy flatbread pizza and the kids were right at home munching on their dinner and listening to live music. This is a fun place to watch the game with friends or hang out with a cocktail and watch the sun go down.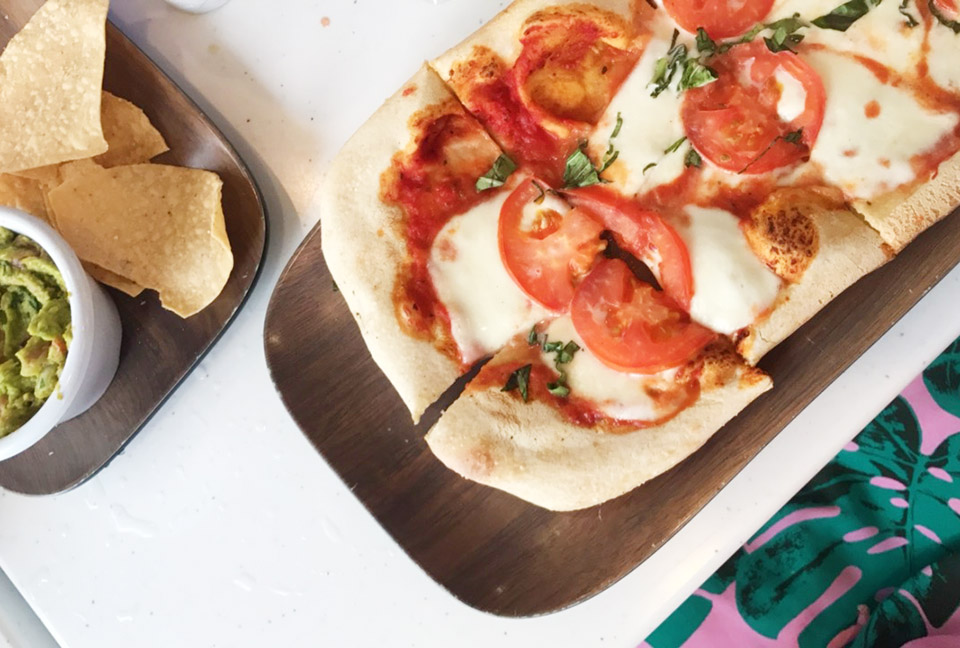 Pelican's. Remember the long boardwalk I mentioned? Pelican's is like the gold at the end with a salty outdoor bar and grill vibe. The marina is right next door and after our return trip from Shell Island, we opted for lunch at Pelican's and I couldn't resist a little mommy mocktail with icy mangos as a refresher on such a hot and humid day.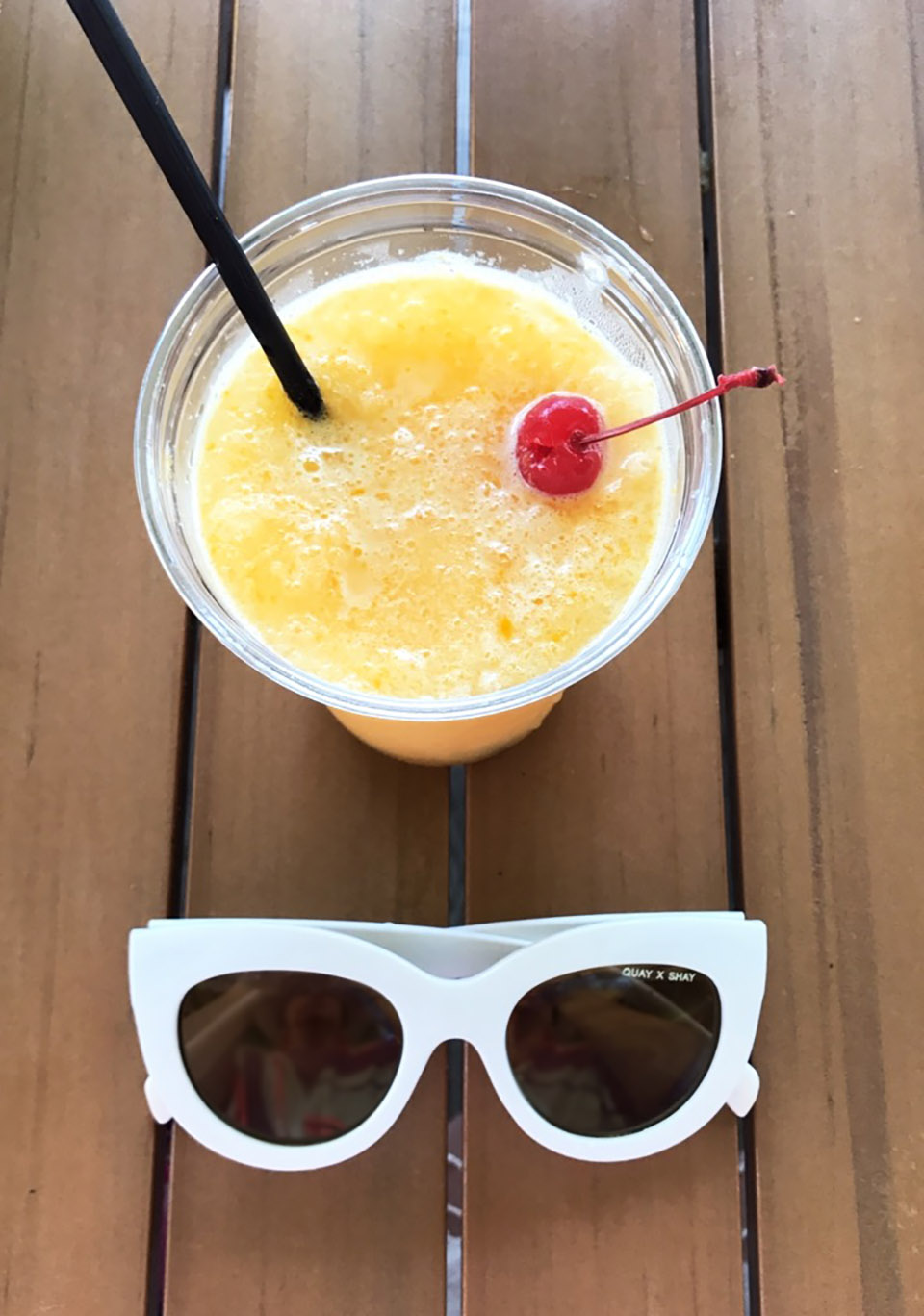 Tides. On our last night we were treated to an amazing dinner at the Sheraton's upscale restaurant downstairs. For all my wine loving friends, this is the place to sip and swirl. I wasn't able to test drive the wine list, but can say that it was pretty impressive. Everyone at the table ordered something different and each plate was left totally empty. That's always a sign of a delicious meal!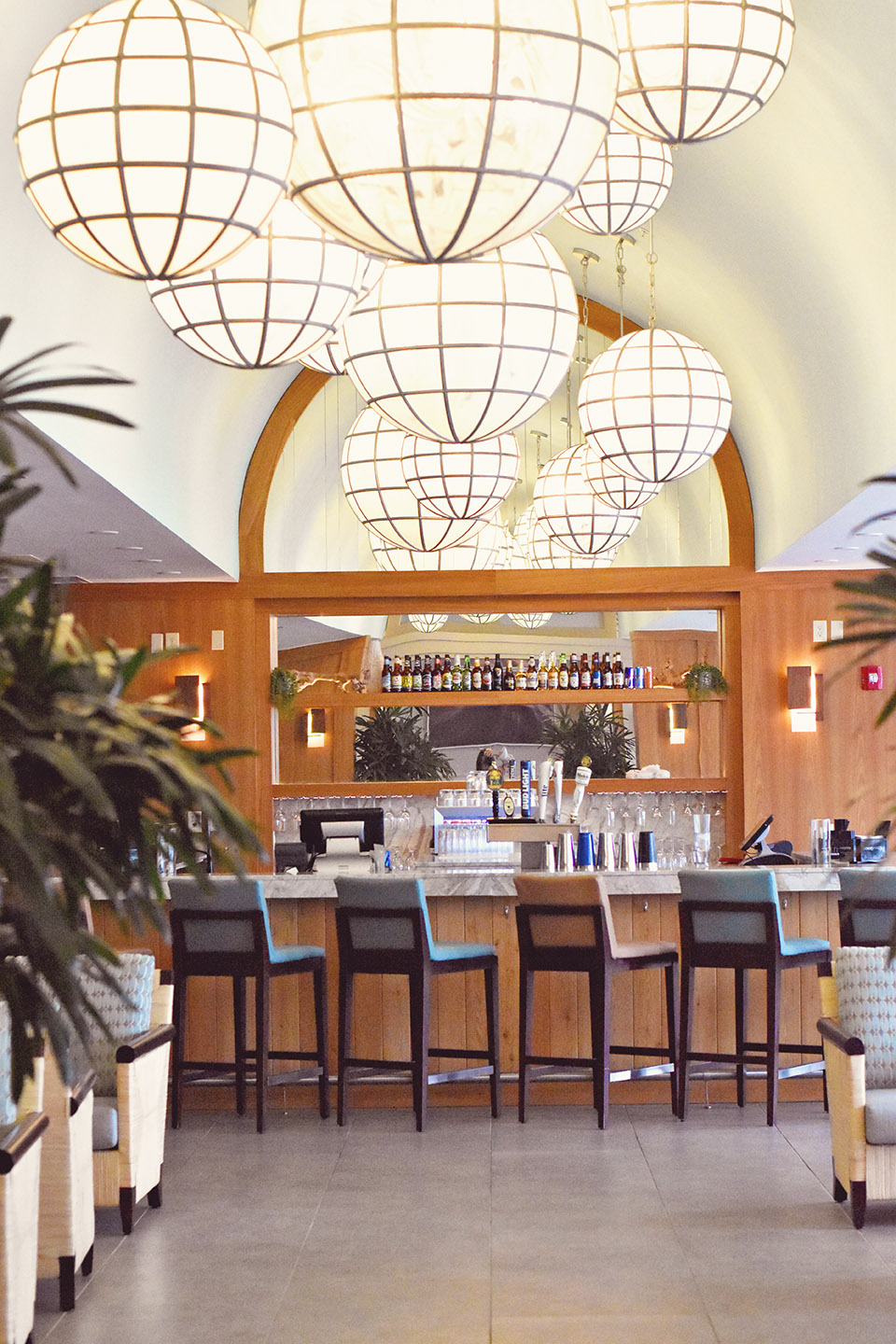 Room Service. When we travel as a family and to be honest, anytime I travel and have the option for room service, I always indulge at least once on the trip. I love being able to enjoy breakfast while still in comfy mode. It's a lovely way to start the day and means I can take a bite of pancake and eat my avocado bacon omelet while wrapped in a cozy hotel robe. Hard to beat!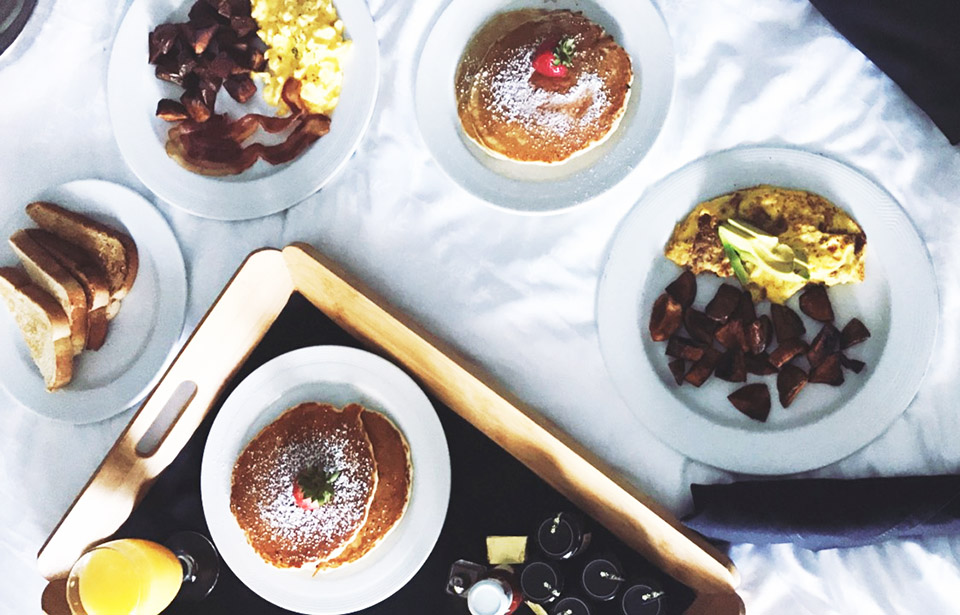 And finally… This weekend wrap-up wouldn't be complete without mentioning one of my favorite moments of our stay at the Sheraton Bay Point. Before dinner on our last night, we strolled down to the boardwalk and snapped this sweet family photo which served as our announcement for baby #2! It was a picture perfect evening and we couldn't resist using this scenic spot for big news.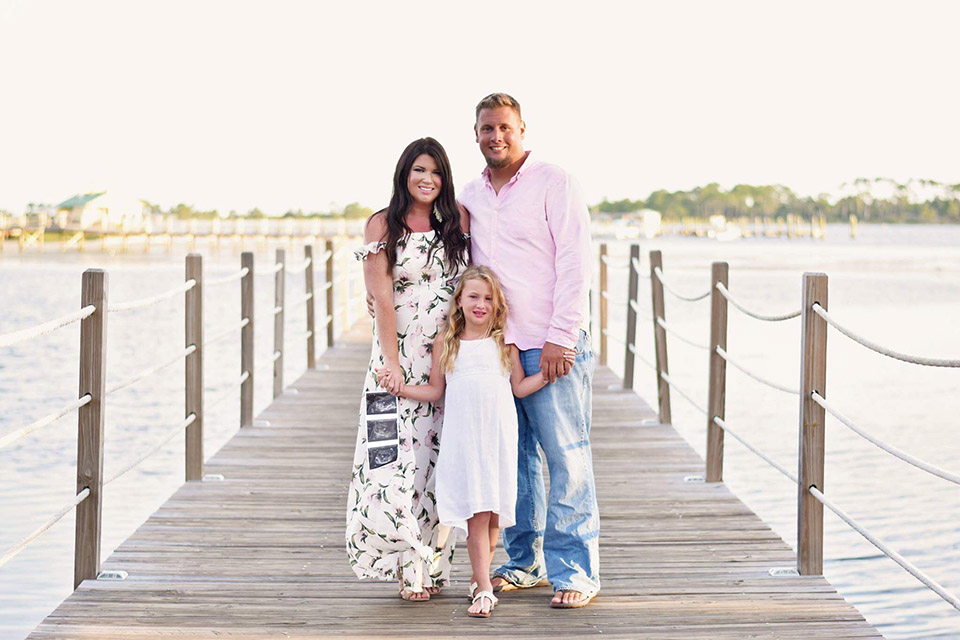 Thanks for a wonderful weekend, Bay Point!