This post is part of my weekly Q&A series "30 Questions on 30A" where I interview friends, blogger babes and girl bosses to learn what makes them tick and find out their 30A favorites!
Read on to get to know Jamie Green of House and Hanger in this fun Q&A.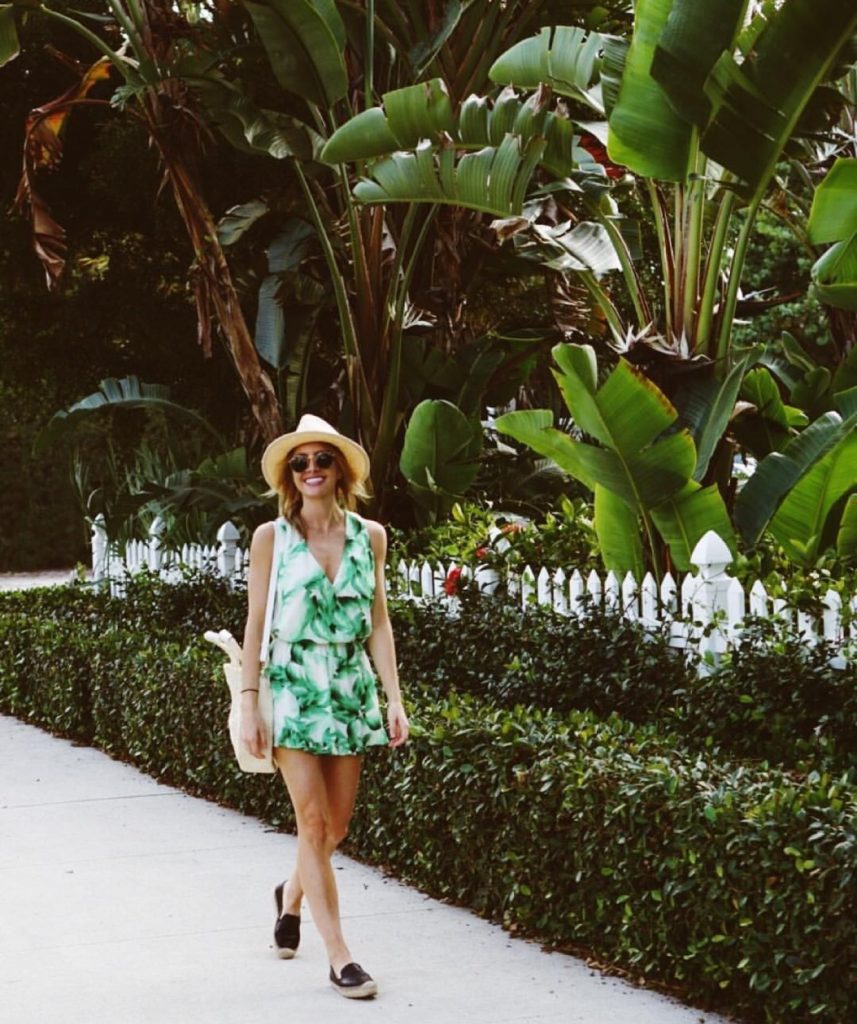 1. How do you describe your business in 3 words?
Fashionable Lifestyle Destination
2. How do you describe your personal style?
Classic, Cool, Effortless, Chic. Since moving from Atlanta to Chicago 4 years ago, my wardrobe has changed with the climate. I've collected a lot of iconic staples that will last for years. Jeans, leather/suede jackets and blazers are my go-to, with flat boots or fashion sneakers and a cool coat. When the weather is warm, you'll find me wearing more coastal inspired attire: flowy dresses and tops with a bohemian 70s feel.
3. How did you first hear about 30A?
My mom has lived in the area since I graduated from college in 2009, so I've been lucky to call this beautiful place my 'home' for a while now!What is your can't-miss 30A restaurant? Too many to choose from! I love Wine World in Watercolor. They have half-off carafes most days and the best meat and cheese plate. Another can't miss is Cafe 30-A — classic restaurant with fresh seafood and the best dirty martini.
4. Favorite low-key spot on 30A?
Great Southern Cafe. It's the perfect brunch or lunch spot.
5. What do you order when you get coffee on 30A?
Large medium roast coffee with almond milk. Amavida coffee is my favorite spot in Seaside.
6. Who would you dream of having coffee with?
Shea McGee from Studio McGee. I love her story of starting an interior design business from her spare bedroom and now she owns an award-winning design firm with her husband. It'd also be cool to meet the sisters behind Veronica Beard, who are sister-in-laws married to brothers who left their finance and fashion careers to create a cool fashion brand for the modern woman. Their brand represents my style well.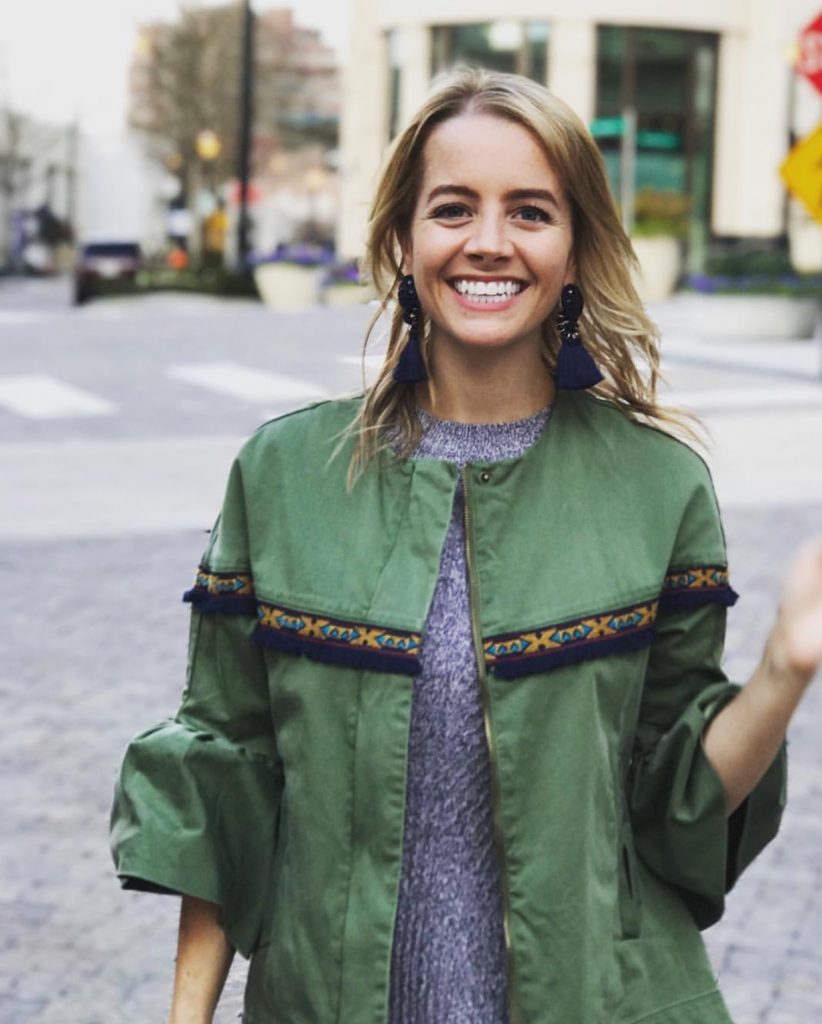 7. Best spot to grab cocktails?
Havana Beach Rooftop at the Pearl! I love the design aesthetic of the space. With black and white stripes, pops of yellow and view of Rosemary Beach, it's a design lover's paradise.
8. Favorite sunset view on 30A?
Bud & Alley's offers the best view on 30A, and they have the best tuna dip!
9. Favorite 30A memory so far?
Celebrating my bachelorette party with 13 of my best friends in Watercolor. We stayed in a gorgeous house, spent the days at the beach, drank rose, had a beach bonfire at night and hit up some of my favorite spots on 30A. What more could a girl ask for?
10. What's in your beach bag?
Beach Towel, Sunblock, Hydrating Face Mist, a design or fashion Magazine, Wallet
11. Favorite color?
Ah, this one is hard. I gravitate towards muted blues or neutrals.
12. Favorite time of day?
Early morning before anyone else is awake.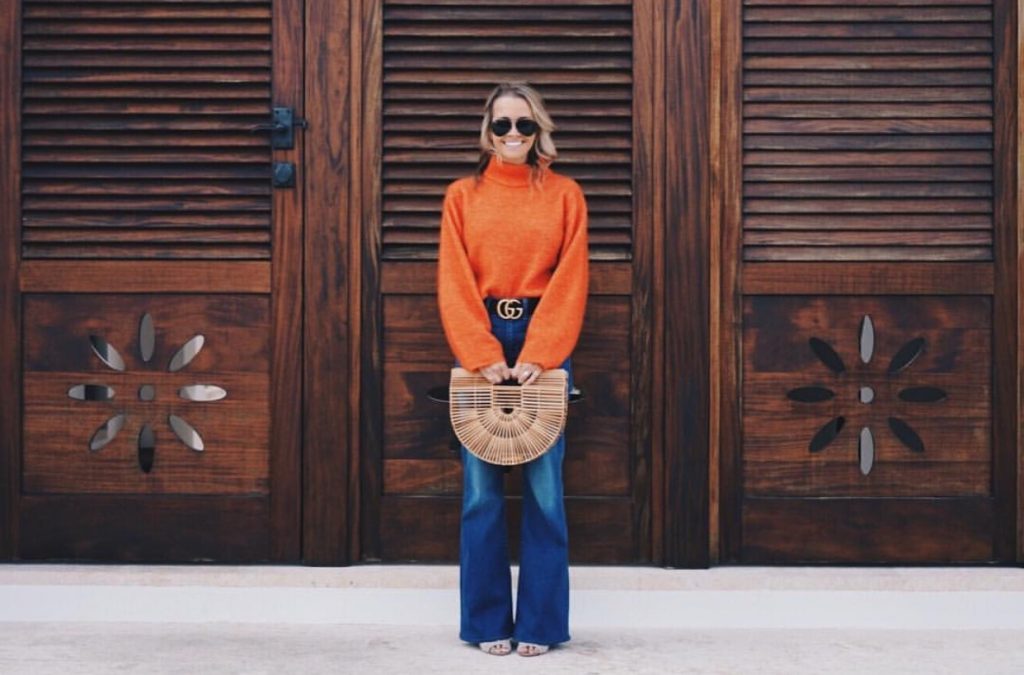 13. First website you check in the morning?
Gmail.
14. Last dish you ordered?
Spinach salad with salmon.
15. Last book you read?
Honestly, I have been slacking on reading books so I couldn't even tell you. I typically read magazines, but I just picked up The Power of Now book which I'm excited to dive into.
16. Most used app on your phone?
Instagram, duh. Ha! And VSCO – I edit most of my instagram photos on that app.
17. What one beauty product can't you live without?
Currently the one beauty product I can't live without is Urban Decay's Naked Skin Weightless Liquid Makeup. Just like the name says, it's lightweight but offers a natural coverup, making your skin look flawless and smooth.
18. What is the last clothing or accessory item you purchased?
A navy, off-the-shoulder MISA dress. I have a feeling it's going to be a versatile piece in my closet for spring/summer to dress up or down.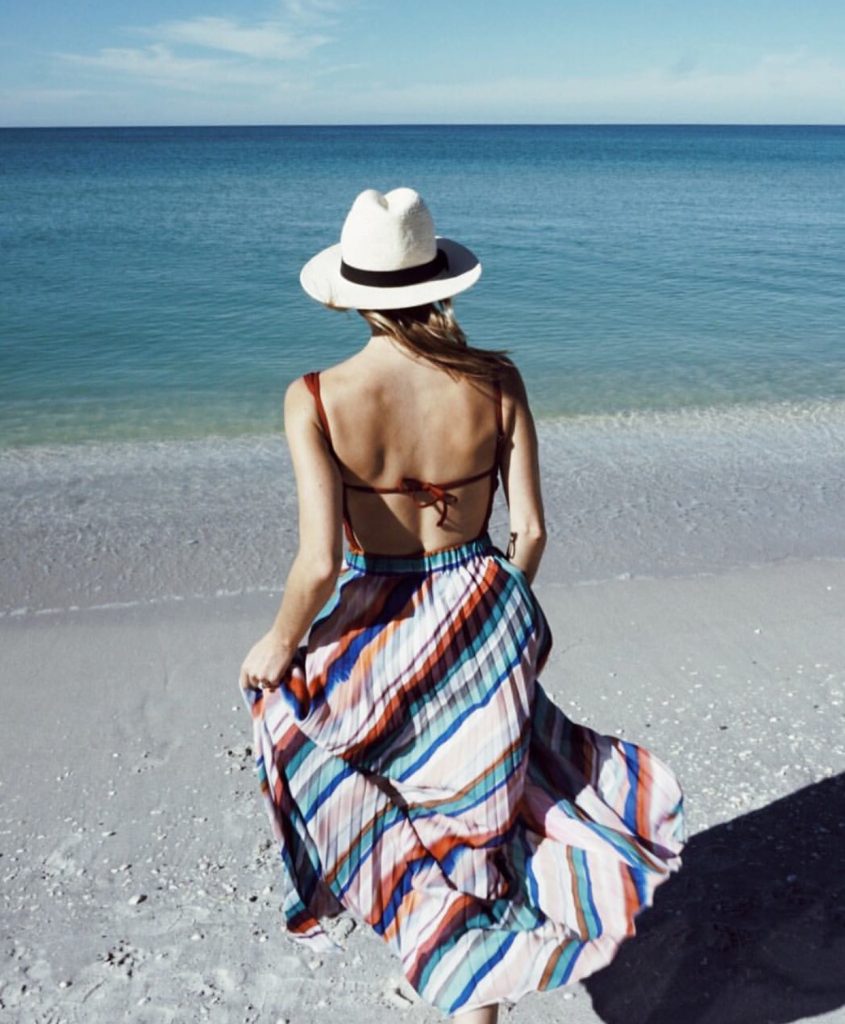 19. What is your go-to outfit?
Jeans, tee, leather jacket, sneaks.
20. Favorite fashion trend of all time?
Fashion sneakers. Who doesn't like to be comfortable and stylish at the same time? Or athleisure wear. I love being able to wear leggings with a leather jacket and it being totally acceptable. Are you seeing a trend? ha!
21. What influencers do you love to follow?
I love following Amber Interiors for her killer cali-cool style and Studio McGee for classic design inspiration, Julia from Gal Meets Glam for travel and lifestyle inspiration, and for major fashion inspiration Mary of Happily Grey.
22. How do you unwind?
My favorite way to unwind is taking a hot yoga class, cooking, or snuggling on the couch with my fiance, miniature goldendoodle and a glass of wine.
23. What is your guilty pleasure?
Mexican food and margaritas
24. What would you never wear?
Anything sparkly or glittery.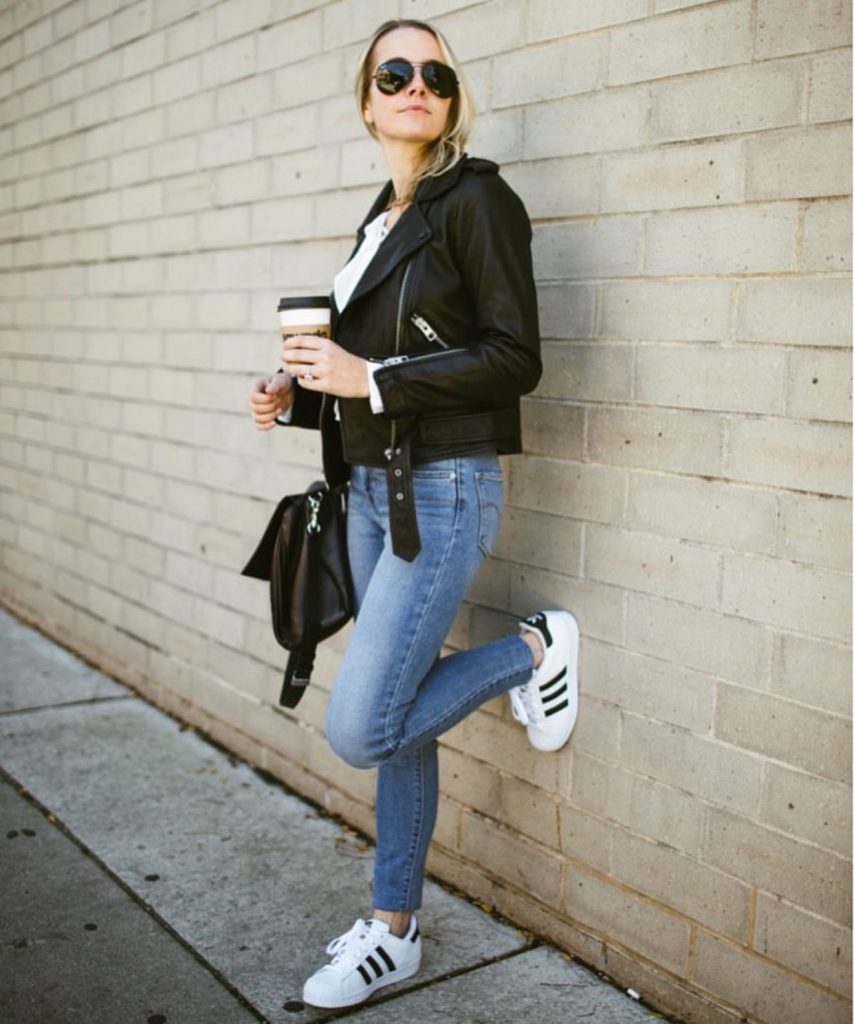 25. Who is the last person you called on the phone (texting doesn't count)?
My sister and mom. We talk at least 3 times a day.
26. What would you be doing if you weren't on your current career path?
I've always dreamt of being an interior designer, fashion designer or owning a lifestyle boutique at the beach.
27. Who has been your biggest influence?
Probably my mom. Growing up with divorced parents, she taught me how to be an independent woman that can be successful on her own.
28. What are your best words of advice for aspiring lady bosses chasing the dream?
Stop thinking about it and start doing it. Life is too short to not go for what you want, and we're responsible for creating our own future. The hardest part is letting go of self-doubt, so just believe in yourself and big things can happen. No one wants to wake up 10 years from now with regrets.
29. Tips for balancing it all?
Most likely, you're working a full-time job and focusing on your dream as a side-hustle. With that comes priorities and you have to manage your time effectively to get it all done. I've learned to say 'no' to a lot of things so I can focus on what is most important to me. But always keep in mind success won't happen overnight. I'm still learning the ins and outs of blogging after starting 3 years ago and still have so much more to learn to grow my brand.
30. What most excites you about life lately?
We are in the process of building a new home in Chicago and designing every last detail. It's been fun! We will hopefully be moving in June!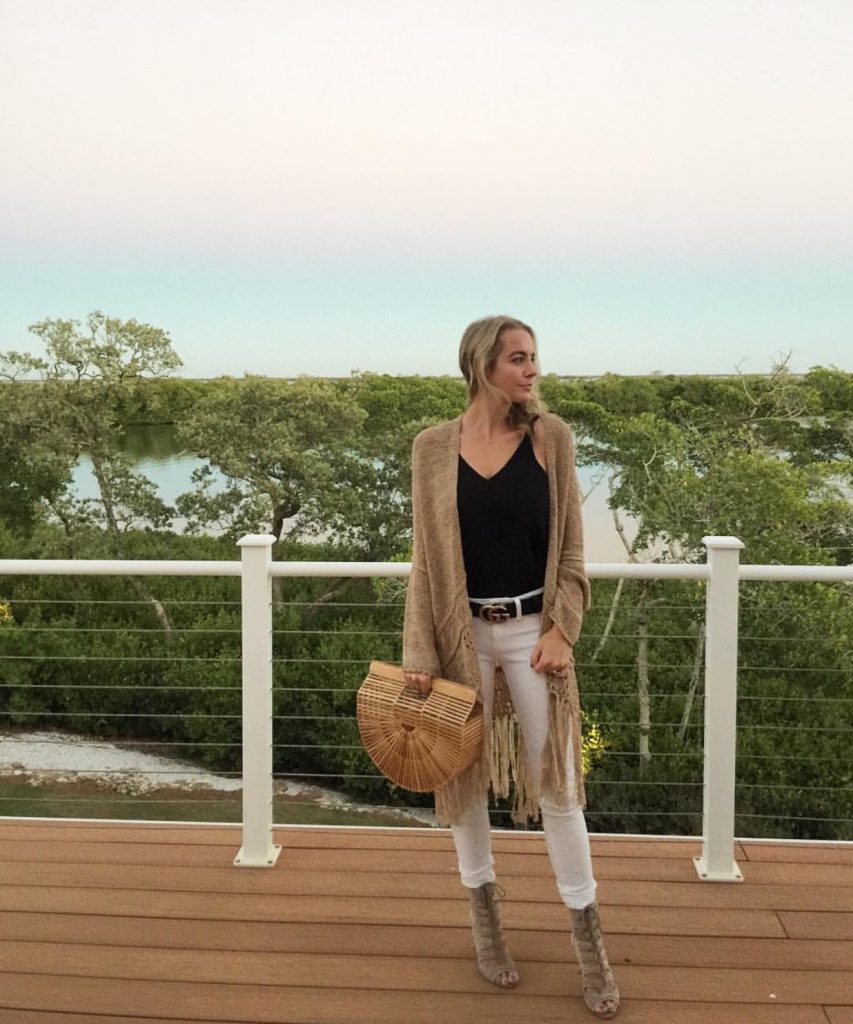 Thanks for reading!
Save this article by pinning the image below.