My excitement level for this is OFF. THE. CHARTS. So… this December is going to be a bit different than our usual holiday "routine" with a whole new level of Christmas cheer. Instead of over-shopping and spending way too much on random things, I'm jumping ahead and trading in a few of our would-be gifts for a festive trip to the Big Apple with Emery and Collins. Yes, that's right. Christmas in New York has been on my family bucket list for years as a mom. (I took Emery on her first trip to NYC when I was pregnant with Collins but haven't been back since). I just know the girls will be as enchanted by the city at Christmas as I am, with every block all dressed up for the holiday with lights, sparkle, and so many memories ready to be made.
Side note: did you know Destin (VPS) has direct flights to Newark (EWR)?
I'm also taking my mom (who by the way doesn't know the destination just yet!) and we're planning only a few days to squeeze in a lot of fun with the girls. I know that with kids along for the ride, the pace varies and anything can change. You have to be a bit scheduled, a bit flexible and ready to see what the day holds. My philosophy with family travel is start strong with a plan then wing it. Plus, the wandering and happening upon things serendipitously is often the very best part.
With that said, here are some of the things I'd love to do and see, though this is clearly more than we have time for. We'll just have to see how far we get!
Things to Do During Christmas in New York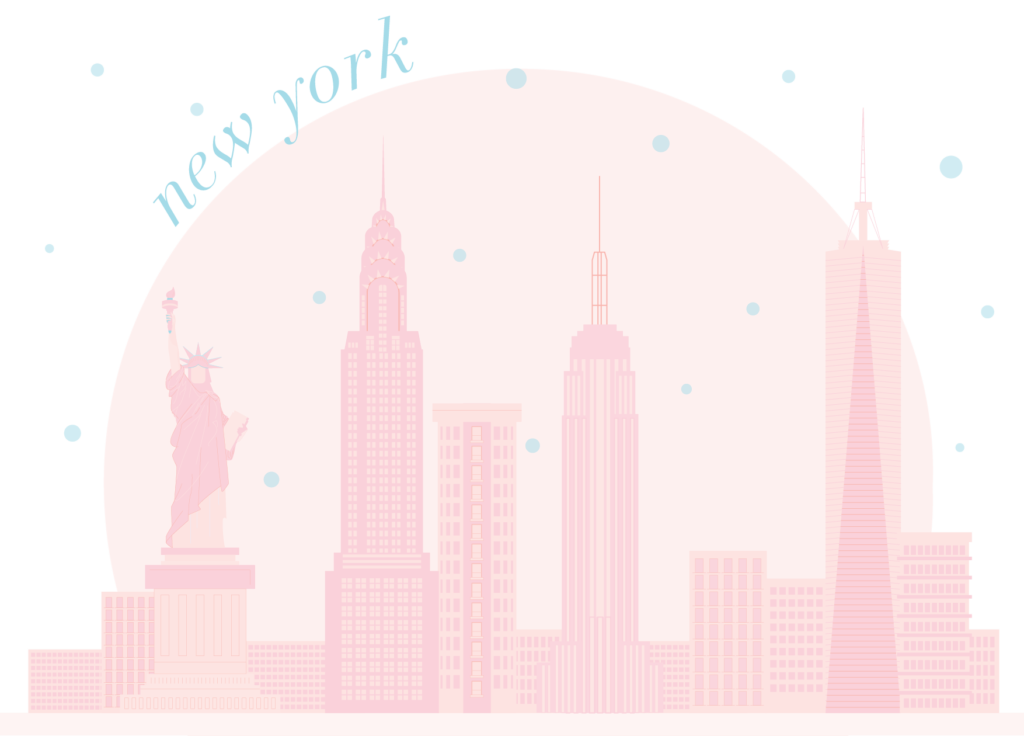 ---
cold-weather styles I'm loving

---
See the Rockefeller Center Christmas Tree
This scene at Rockefeller Center is so iconic and overflowing with all the magic you imagine for Christmas in the city with the biggest tree I've ever seen, gold statuettes and the picturesque ice rink below. Definitely a must visit to see the tree and the plaza all lit up.
Christmas Spectacular featuring the Rockettes
This is one of those quintessential New York traditions that I've always wanted to experience. I mean, the world famous Rockettes performing at Radio City is maybe as classic as it gets. I've tried to prep the visit showing the girls videos of their performances and sharing how insanely talented these women are, but there's just nothing like seeing it live and I can't wait to share this with the girls.
Plenty of Festive Performances
New York City Ballet's The Nutcracker
Ice Skating in NYC
Wollman Rink ​​​​​​​
Spacious and scenic, this one has a gorgeous Central Park backdrop, a huge rink and the ultimate NYC atmosphere. (It's also the most affordable, if you're on a budget).
Bryant Park Rink ​​​​​​​
​​​​​​​This one is a cozy rink surrounded by a cute Christmas market with a ton of food, gifts and plenty of holiday charm. I've heard this has that warm holiday feeling that feels a little like magic.
Rockefeller Center Rink
Clearly the most iconic of all, Rockefeller Center and the enormous Christmas tree paint a beautiful holiday picture that is quintessential December in New York. It's also the smallest and most crowded, but worth the wait once you're skating because it feels so intimate.
City Views
Observation Deck (reserve a time ahead of your visit or day of). This one is my favorite because the views are less obstructed thanks to clear panels.
Empire State Building
A classic spot to see the city all lit up from 86 stories in the air.
Time Square
I don't know if it's possible for Times Square to get brighter, but I think Christmas time is it. Definitely a little crazy and touristy, but on the list for my tiny first-timers.
Soho & West Village Wandering
These are maybe the less obvious Christmas bucket list choices, but still two of my favorite neighborhoods to wander. So much character around every turn and I love to see how smaller businesses decorate. It's always amazing!
Holiday Markets
Hoping to find a little something special as a gift or souvenir at one of these markets. Many of these vendors are cash only, so be prepared if you want to buy!
Union Square Holiday Market
European style market in Greenwich Village, November 15 – December 24, 2019.
Bryant Park Winter Village
Over 170 vendors plus festive dining at The Lodge
Alsace Christmas Market
French-inspired market in Bowling Green Park, Financial District, December 6 – 22, 2019)
Department Store Windows
Wandering Fifth Avenue and taking in the sights and holiday lights is a free and easy activity. The sidewalks are busy, but the incredible displays are on another level. Definitely on our Christmas in New York checklist.
Best Window Displays
Saks Fifth Avenue (Fifth Avenue between 49th and 50th streets)
Cartier (Fifth Avenue between 41st and 52nd)
Tiffany & Co. and Bergdorf Goodman (Fifth Avenue between 57th and 58th
Bloomingdale's (Lexington Avenue between 59th and 60th streets) streets)
Barneys (Madison Avenue between 60th and 61st streets)
Lord & Taylor (Fifth Avenue between 38th and 39th streets)
Macy's (Broadway between 34th and 35th streets)
Fabulous Holiday Decor
Sightseeing the most luxurious and amazing holiday decorations inside and out is always so inspiring. Hoping to check out:
The Plaza
Radio City Giant Lights & Ornaments
Grand Central Station
Lotte New York Palace (aka the Gossip Girl hotel)
The Standard, High Line
Holiday Shopping
FAO Schwartz
I'm so excited this store has re-opened! A few NYC trips back, I visited the original location near the Plaza Hotel and loved how it felt like a kid's dream come to life as a multi-story toy land filled with treasure. I can't wait to let the girls enjoy it and see what they pick out.
Rockefeller Plaza area
The American Girl store is here along with countless other stores and shops.
Macy's
In addition to everything in store, Macy's also has SantaLand which is covered in all things Christmas including a chance to see Santa himself.
---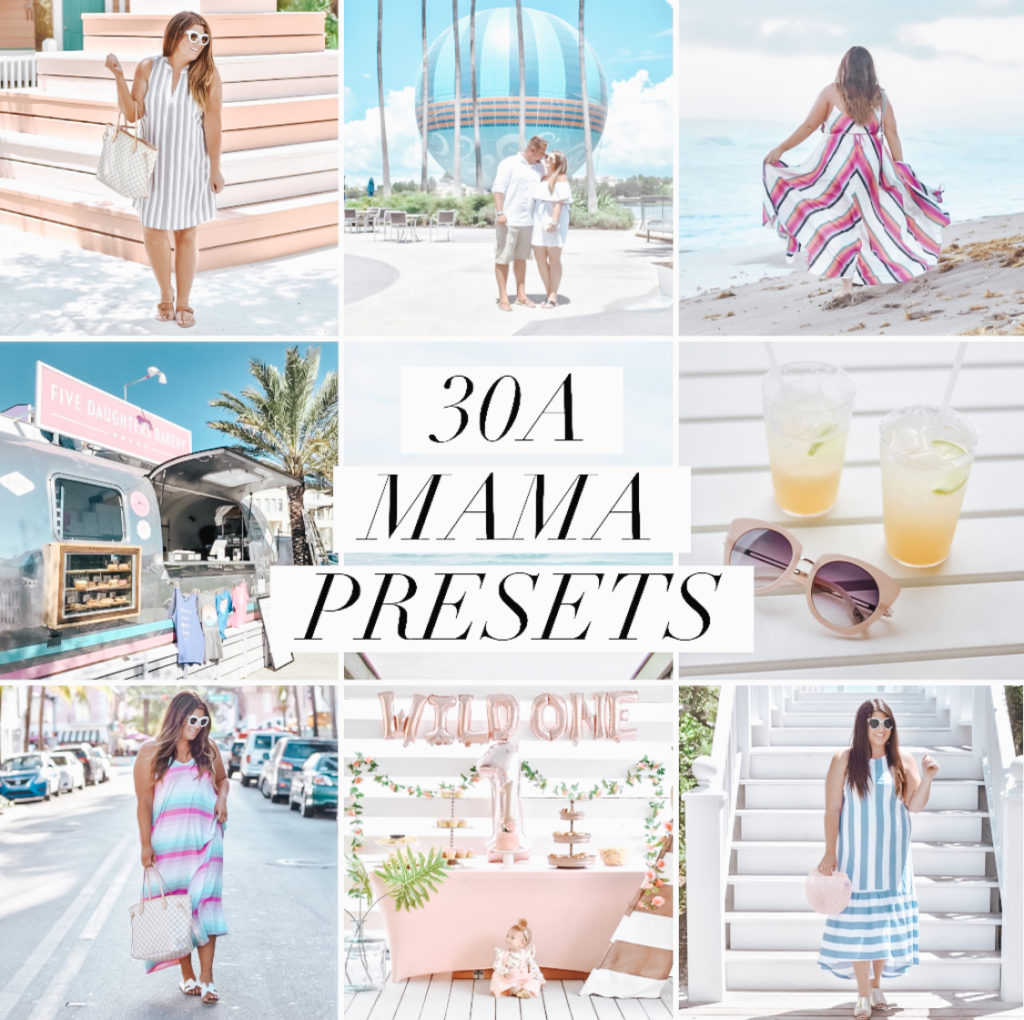 Download the 30A Mama Lightroom Presets for 30% off with code SANTA. Click here.
---
Hot Chocolate Sipping
Max Brenner's Hot Chocolate
Everyone raves about this and since Emery is a major fan of hot chocolate as soon as the temps go below 60, I made sure this was on our list.
Dominique Ansel Bakery
There's a little something called a blossoming hot chocolate here, and if it's anywhere close to the level of yum the artisan cronuts were that I had on my last trip, it'll be heaven.
City Bakery
Rich, delicious and topped with a homemade marshmallow. Yes, please!
Festive Dining
Rolf's Winter Wonderland
Festive holiday decor and German food. It looks like Christmas exploded in here and I've heard the schnitzel and mulled wine are pretty fab.
Eataly's Winter Rooftop
Lillie's Victorian Establishment
Refinery Rooftop
Light Displays
Not sure how many places we'll be able to squeeze in, but so many people have these stops on the list for impressive Christmas light displays. After watching the Great Christmas Light Fight, we are totally in the mood for over-the-top scenes of all things merry and bright.
LuminoCity
Lights on lights on lights. This immersive LED light festival on Randall's Island called Magical Winter Nights looks like all things sugar-coated and kitschy covered in glowing technology with a heavy dose of neon. In other words, it looks amazing.
Dyker Heights Holiday Lights
For an ultimate Christmas light display, this neighborhood tops so many lists. There's a 3.5 hour bus tour if you have time to ride through and see all the beautiful lights aglow.
Themed Museums
These don't exactly scream Christmas, but while we're in town, I'd love to pop in to one of these if we have time. Talk about an Instagram jackpot!
So, I know that's A LOT for Christmas in New York and we'll only get to a fraction of these things, BUT I couldn't be more excited for this trip with my girls. I hope they love the city as much as I do!
Have you done Christmas in New York? If you have any suggestions for a fun kid-friendly spot or activity, I'd love to hear it.