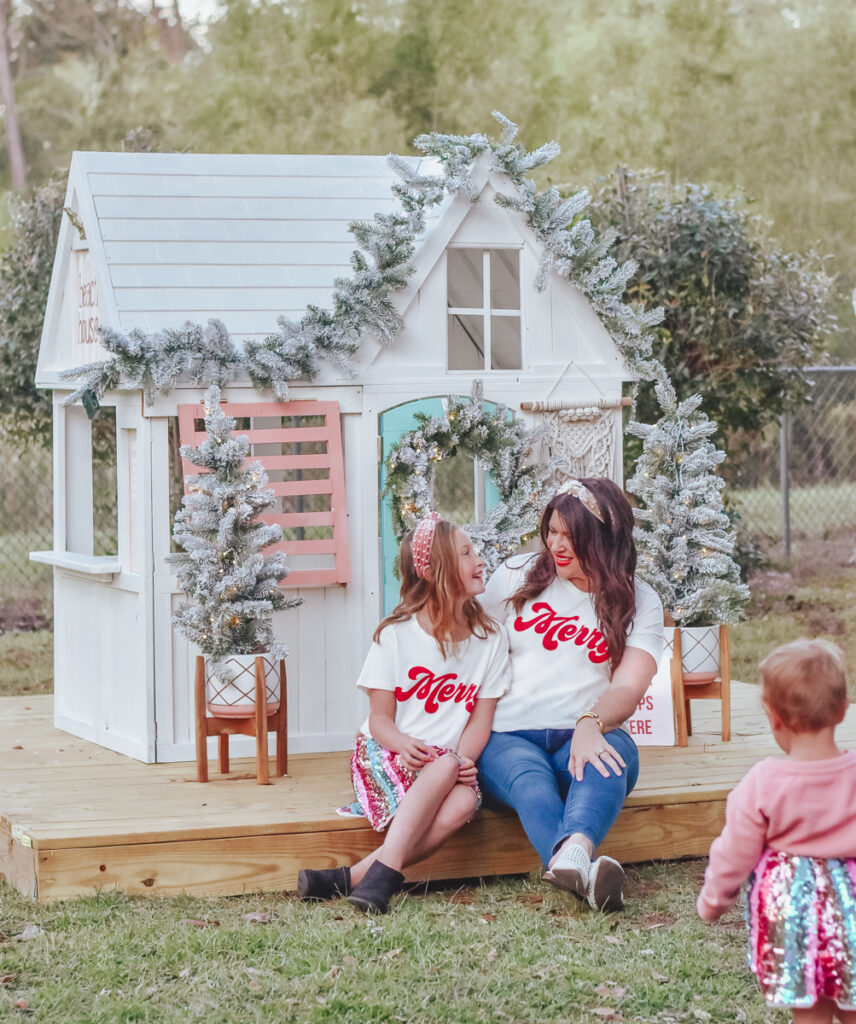 Decorate the Christmas Tree
Step one may be pick out a Christmas tree if you haven't gone the faux route, but decorating it is always so much fun. Though I have to admit, I still rearrange after the kids a tiny bit. Anyone else?
Bake Holiday Treats
Where to begin? Gingerbread cookies? Snickerdoodles? Old-fashioned divinity? Yummy cinnamon rolls? Lately I've been drooling over Elisabeth & Butter's holiday recipes so if you need baking inspiration, that's a good place to start.
Make Hot Chocolate
So simple and yet so delicious. Add marshmallow or peppermint for a jazzed up version. If you're drinking this on the go, just ask for "kids temp" at your favorite coffee shop.
Wear Matching Pajamas
I was late to the game on this because it wasn't a tradition for me growing up, but now I love wearing slightly cheesy but adorably fun matching pajamas. I'm sure my kids will roll their eyes to this eventually but for now, I'm going full steam ahead.
Visit Santa
Put on your festive fashions and take a visit to the local North Pole or a family photo op. These photos are some of my favorites to look back on each year.
Decorate the Kids Playhouse
Grab a little leftover garland and any pint-sized decorations to make the kids play area festive, too. We used a flocked set from King of Christmas. Get 10% off your order with code JAMIRAY
Watch a Christmas Movie
Our favorites every year include Elf, Home Alone, Home Alone 2, National Lampoon's Christmas Vacation, The Santa Clause and How the Grinch Stole Christmas.
Try a Holiday Craft
From pinecone painting to wreath making
Make a Gingerbread House
Always a favorite activity, grab a gingerbread kit or DIY one with graham crackers and pile on the icing and candy. I always say, the more the merrier. PS Gingerbread Day is celebrated December 12!
Go See Christmas Lights
Scout your neighborhood for the best light displays, drive around town or set up your own front yard fun.
Write a Letter to Santa
Naughty or nice? Help your kids write a letter to Santa explaining their behavior (which is always so funny to hear how they see it) and listing the top toys they're wishing for. Bonus if you can find a cute Santa letter drop around town or at the post office.
Enjoy a Family Game Night
From holiday themed Pictionary to Heads Up or Monopoly, find a fun game to entertain for a night of no screens.
Wrap Gifts
Have your kids help wrap gifts for the other parent, grandparents or siblings. They might not be pretty, but it's one less thing on your list later.
Read a Christmas Book
Whether it's a cute classic like Frosty or Rudolph or an updated story like The Gingerbread Fairy (which my girls loved), find a festive book to read together. You can even wrap one up so they have to guess what book it will be.
Donate or Give Back
Round up clothes that don't fit or toys that aren't in heavy rotation and take them to a local donation center or shelter. It's so important to share the giving part of Christmas and not just the gift-getting side.
Make a Holiday Playlist
Smooth classics, the Trans Siberian Orchestra or maybe a country Christmas? Let the kids help make a family playlist then jam out with your best dance moves.
Explore Your Town
Check the events calendar and make your way around. From outdoor movies to Christmas parades and beautiful lights, there's so much to see and do when you're out and about.
Hang Mistletoe
Does it get any sweeter than this? You can usually find mistletoe with the greenery, but if you're in a pinch, make your own out of construction paper.
Do a Random Act of Kindness
Make cookies for a neighbor, leave goodies for your delivery guys or just say hello to everyone you pass. It's amazing what a little kindness does for the holiday spirit.
Mail Christmas Cards
Did you do family photos? Great! If not, have your kids draw or decorate cards and send to family on your list. The more personal the better.
Go Ice Skating
Find a faux ice rink (like Baytowne on Ice or skating in Seaside) and lace up those boots for a little winter dancing. This is one of my favorite things by far (even though I'm a terrible skater) because it feels so out of the ordinary for our usual Florida Christmas.
Write New Year's Resolutions
Get a head start on being intentional as the holidays come to a close and the new year starts. Talk with your kids about what goals they might have and set both individual standard and family standards. Make it small or large, but make it measurable so you can track progress and celebrate the little gains together.