If you haven't had a chance to try one of the new 30A arrivals, consider taste testing one of these local restaurants during your next visit. Keep in mind, dining establishments are currently allowed only 50% capacity indoors, outdoor seating or limited to-go options. Check online or call ahead to see what individual businesses are doing as it may vary week to week.
Cocina Cubana
Location: Seaside
The Vibe: Grab and go or hang out to enjoy the outdoor seating along 30A. The people watching is gold and the Cuban cuisine is delicious. Located on the south side next to Pickles in Seaside, Cocina Cubana offers create-your-own-bowl options with proteins and veggies along with traditional and updated Cuban sandwiches.
What to Order: Customize a bowl to your taste, try a Cubano and add tostones. Sip a Frojito (a frozen mojito) if you're in vacay mode or try a cortadito if you need a caffeine boost.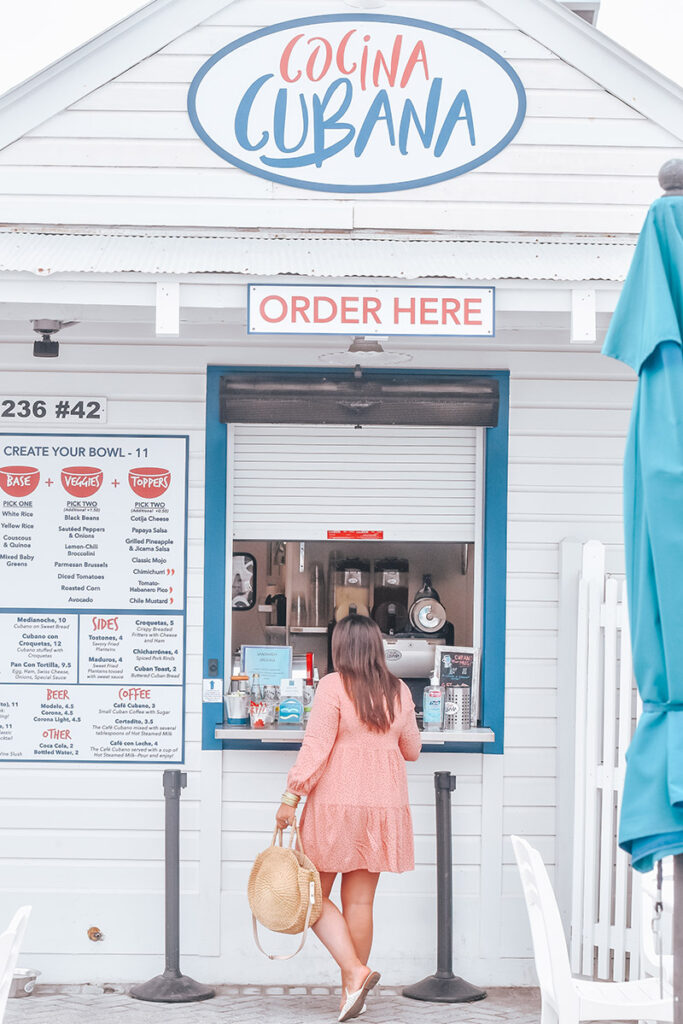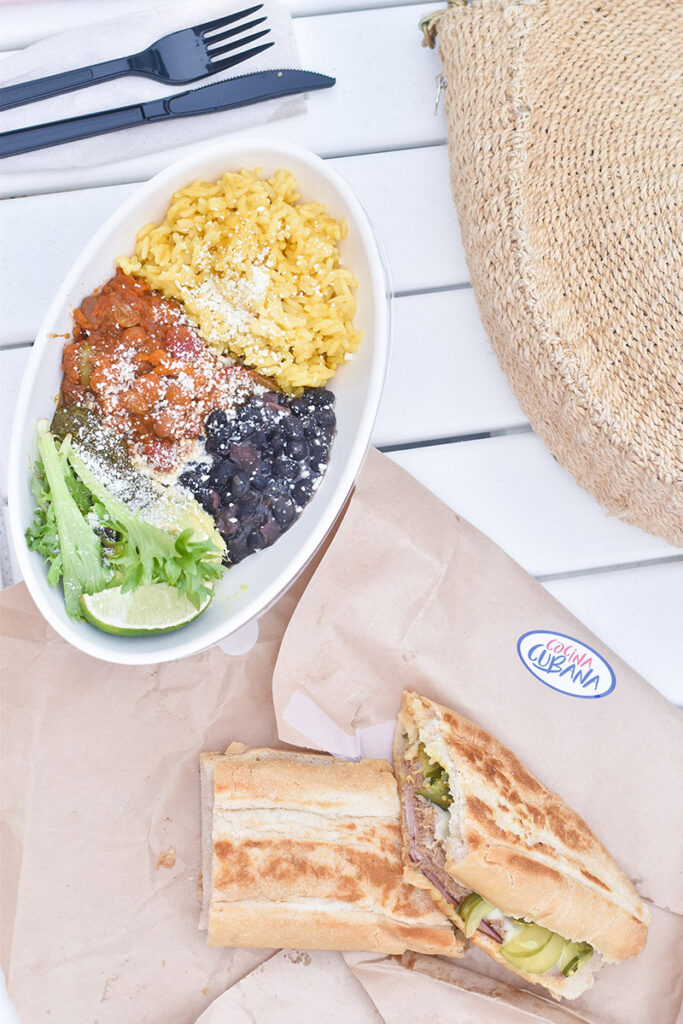 Amigos
Location: 30Avenue, Inlet Beach
The Vibe: Upscale Mexican
What to Order: Tacos, tacos, tacos! You really can't go wrong with old school favorites like chicken, shrimp or pork belly tacos, but the new school tacos are worth a look. For something different, try the buffalo cauliflower tacos, black grouper tacos, avocado salad, or the spicy blood orange margarita below. More info here.
Farm & Fire Southern Pizzeria
Location: in Santa Rosa Beach across from The Bay at the foot of the 331 bridge
The Vibe: The upstairs has a sleek speakeasy theme while downstairs offers family friendly indoor/outdoor dining with a beautiful view of the bay, where kids can play in the saned while parents sip and dine. Find coal-fired pizza, southern burgers, salads, sandwiches and a few surprises.
What to Order: I love the Tuna Poké Bowl and the Margherita Pizza while Hunter usually goes for one of their stacked burgers. ​​​​​​​​​​​​​​Full menu here.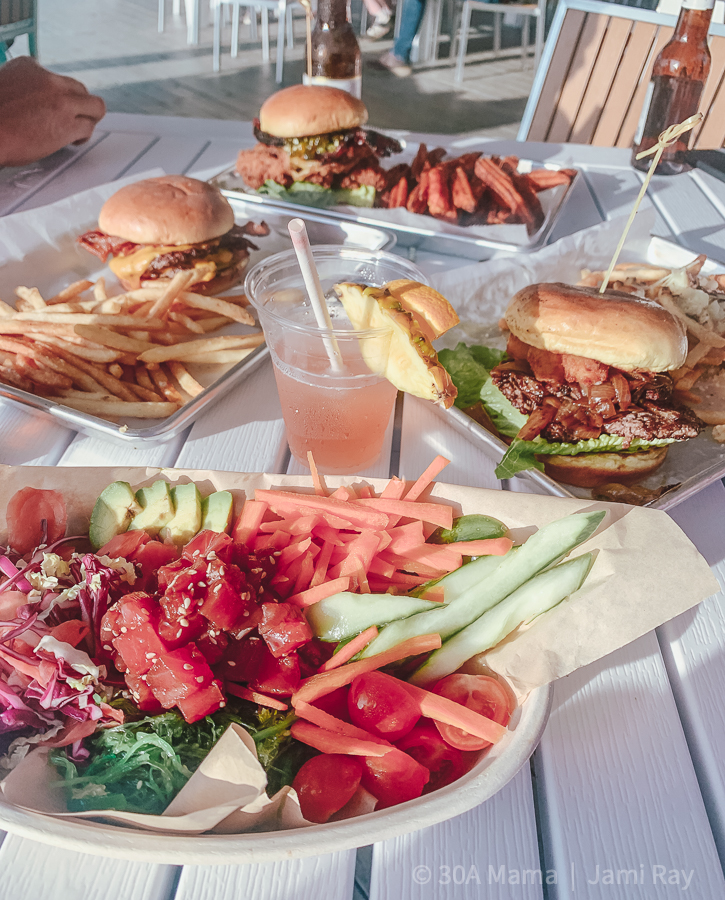 Gratify
Location: Carillon Beach (just east of Inlet Beach)
The Vibe: Coastal sports bar with courtyard dining and a pretty view of Lake Carillon looking toward the Gulf.
What to Order: This is owned by the same restuarant group as Crabby Steve's in Seacrest and there's plenty of seafood to savor here. Try the fish sandwich at lunch, the baked crab dip as an appetizer or go for the pick 2 seafood plate at dinner.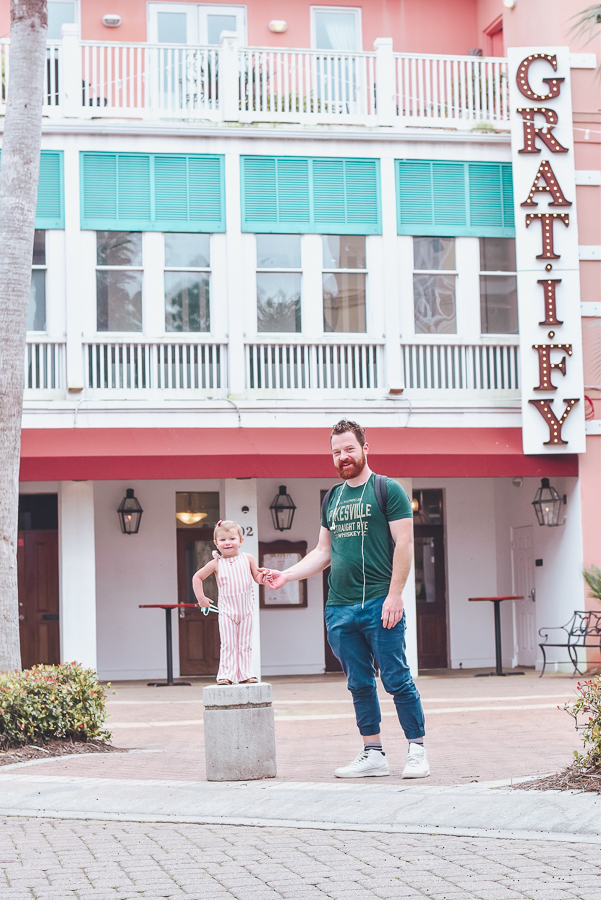 Blue Mountain Bakery
Location: in Blue Mountain Beach next to For the Health of It
The Vibe: This quaint little bakery puts out big flavor for its tiny space. Find all sorts of baked goods from cinnamon rolls to scones and artisan breads. For breakfast, find quiche, frittatas and breakfast burritos plus delicious wraps and bowls (including gluten-free!) at lunch.
What to Order: Try a ham and cheese scone, cinnamon roll or the Sand Dunes Combo – a coffee with a side of banana bread. For lunch, bite into a delicious slice of the Tomato Pie or Beans, Rice & Greens. Full menu here.
Hokulia Shave Ice
Location: in Seagrove across from One Seagrove Place (the tallest building)
The Vibe: Colorful spot for authentic Hawaiian shave ice, ice cream and smoothies with over 50 flavors to choose from.
What to Order: Pick your favorite flavor (Piña Colada often wins for me) then try adding a scoop of ice cream in the middle, a creamy Sno Cap on top or coconut flakes for a delicious twist. The green one below is called the Emerald Coast! Full menu here.