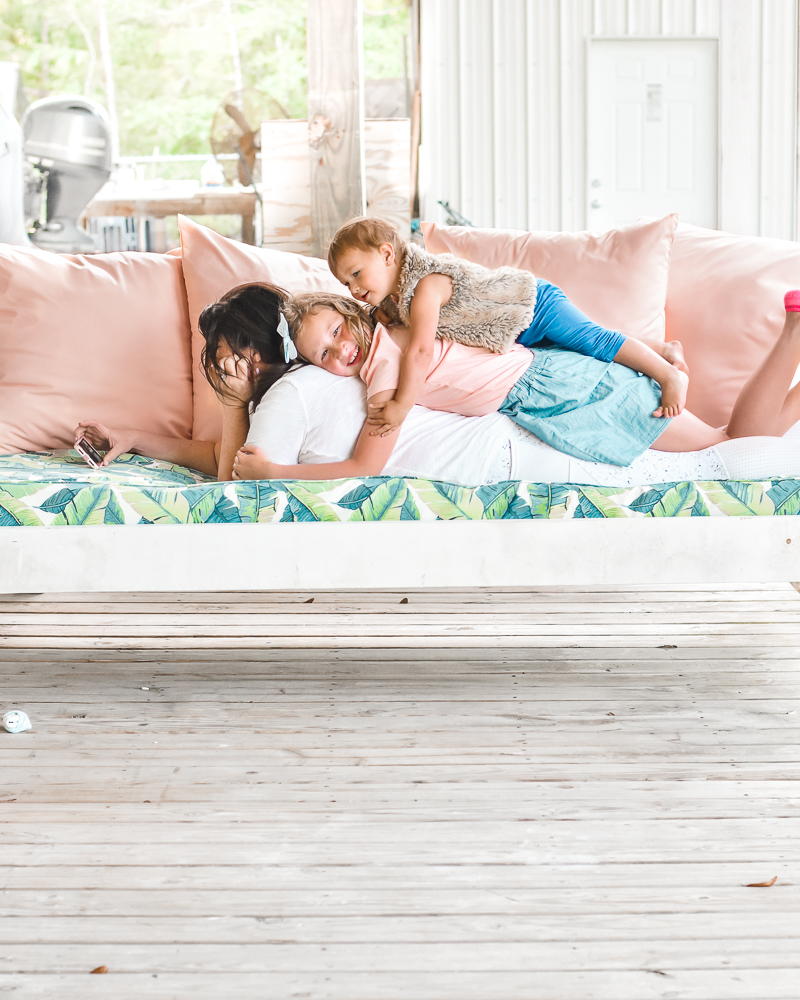 I love diving into a new year of books and even though I feel like I'm off to a late start this year, I'm excited to get into my 2020 reading list. I typically go for a mix of thrillers, light romantic comedies and some historical fiction. I do have a monthly subscription to Audible, but with so much time at home and around the house this year, I've found myself purchasing a few extra audiobooks here and there. ​​​​​​​​​​​​​​​​​​​​​
And yes, I know a lot of you are paper, real-book readers for life, and as much as I love to turn the pages and read an actual book, Audible is just what works best for me. I can listen anywhere, at any speed, mark favorite passages and really enjoy being read to. The different narrators make such a difference with their tones and inflections and honestly, closing my eyes to a good story feels like a luxury these days.
This post was originally published in January 2020 and I'll be updating as I read more. I'd love to hear what books you're reading and listening to, so I can add them to my list. Sharing is caring! ​​​​​​​​​​​​​​
Here's what I've read so far….

by Lucy Foley
This one is set during a weeding weekend in Ireland and feels like a classic mystery in terms of the rotating perspectives of several guests. There's the bride, the groom, a few old school mates of the groom, the plus one, the maid and others who add to the fabric of the story and make it unclear exactly what is happening, who is responsible and who is a victim. The changing POVs can be a little to keep up with at first, but it all comes together in a way that makes it totally worth it. And personally, I love the English accents, which even in a mystery thriller are so smooth and soothing to listen to. // The Guest List on Audible

by Liv Constantine
If you read my book rec from last year called The Other Wife, this book does have some parallels but still a great read on its own. As the wife of a wealthy, well-known business man, Mrs. Daphne Parrish is constantly on display and expected to handle all the nuances of society, staying young and beautiful, being a doting wife and raising her two children without a stumble. She handles her role beautifully. But then, her new friend Amber, begins to execute a faux friendship with ulterior motives and plots to become the next Mrs. Parrish. With alternating POVs, the story is cleverly unfolded so we see that each has a lot to learn and that appearances aren't what they seem. Bonus points if you enjoy reading lifestyle details of the rich and famous. // The Last Mrs. Parrish on Audible

by Jessica Simpson
Talk about juicy, this memoir covers all her past loves, first husband and Newlyweds days, current marriage, career roller coaster, drinking problem and all the things in between. I have to say, I definitely think of her in a more favoriable light and didn't realize the depths she's experienced. Definitely recommend if you like celebrity gossip but also for an honest look at motherhood and growth as a woman. // Open Book on Audible

by Kiley Reid
A witty mix of hot topics including racism, pre-conceived notions, first impressions and two totally different women who find they have both common ground and a world of difference. // Such a Fun Age on Audible

by Jennifer Weiner

by Kimberly Belle
I love a good thriller! This one centers on two women – one missing and one on the run. Beth manages to escape her violent husband, but doesn't feel safe no matter how far she gets. Sabine's husband can't understand why she would disappear, though it becomes clear she had begun making plans for a life without him. The detective is growing more obsessed at solving the case and it's unclear whether the two women are actually the same person. There are intense details of domestic violence as well as multiple first-person perspectives to add layers of mystery. If you love a twist and a captivating thriller, this one is exciting. // Dear Wife on Audible

by Celeste Ng
I was a little late to this story, but when I saw it was on Hulu with Reese Witherspoon and Kerry Washington, I wanted to dig in and read. I have to say, I think the book is better! It's set in Shaker Heights, OH, a planned community outside Cleveland with strict rules, standards and social expectations. (I loved these details that reminded me of some of our local planned communities). The story dives into the lives of two mothers and their intertwining lives while jumping back to moments in their past. Elena is seemingly the "perfect" mom of four, with a nice house, a successful husband and a career. Mia is an artist and mother who hasn't put down roots and hasn't been totally honest about her history. The way their truths come to light shows how gloss and grit have their places and give us the raw edges and finish that define us. // Little Fires Everywhere on Audible

by Kristin Hannah
What a story this was! Set in WWII-era France, The Nightingale focuses on two sisters who are total opposites and endure the happenings of the war in very different ways. Vianne is a teacher, mother and wife, who finds herself forced to live with an enemy Nazi who has requisitioned her family home. Isabelle is a rebellious teenager who desperately wants to find purpose and flees her small town to take on the risks and adventure of fighting the Nazis from within France. The trials these two endure are unimaginable and both have to live with the decisions they've made to stay alive. I couldn't stop reading this one! It really puts into perspective what we view as hardships and challenges as they pale in comparison to what these sisters faced. // The Nightingale on Audible

My Remaining 2020 Need-to-Read List
The Things We Cannot Say by Kelly Rimmer (recommended for those who love The Nightingale)​​​​​​​​​​​​​​​​​​​​​
28 Summers by Elin Hildebrand (absolutely loved the Paradise series and this story seems even better)
Made for This by Jennie Allen (guidance in finding your purpose and meaning in life)
Emma by Jane Austen (a classic on manners and matchmaking if you haven't read it before)​​​​​​​
All the Bright Places by Jennifer Niven (now on Netflix starring Elle Fanning)
No Bad Deed by Heather Chavez (a thriller about woman who's good deed turns her life into a question mark)
Royal Holiday by Jasmine Guillory (light and festive holiday romance)
Pin to Save