This year's back to school season is already looking different than ever before. I know as moms, we are all trying our hardest to make decisions that work best for our family and our kids as we navigate new situations. That may look different for each of us, but in any case, keeping some sense of familiarity and fun definitely helps. To be honest, I don't know which school, virtual school or homeschool option we'll be doing this year, but I do know that I'm keeping our back-to-school shopping tradition because it's something we look forward to every summer.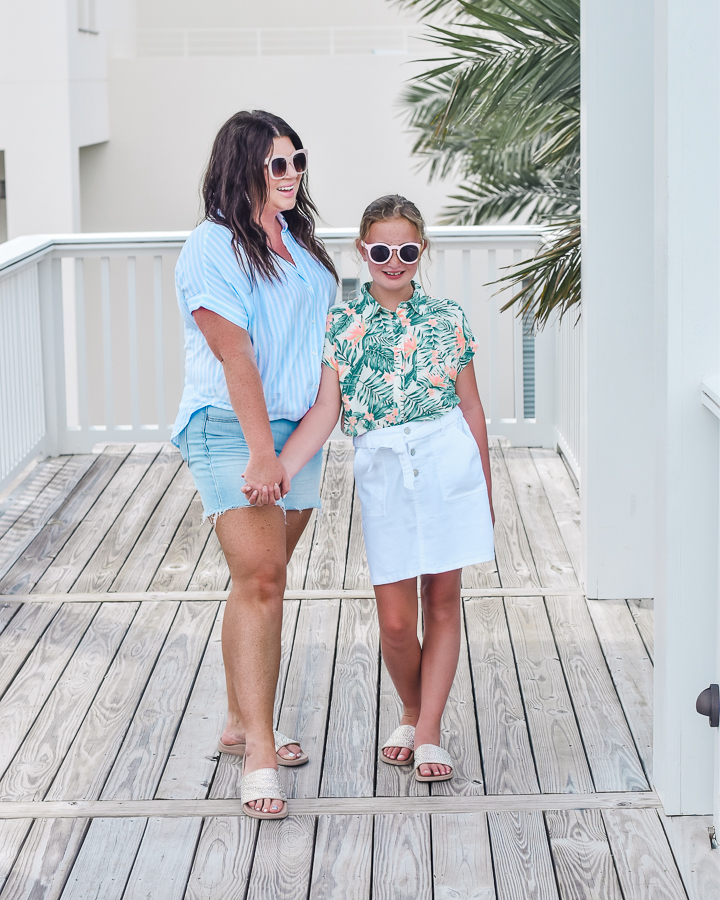 (on me) stripe button-up  (on Emery) tropical tie front shirt (love this stripe version) + white denim skirt + sunglasses  + (shoes are Walmart in-store only)
---
No matter what school looks like this year, I want my kids to feel as normal and confident as they can going into a new year. We've been out of a solid routine for so long, that something like back to school shopping and the anticipation of a fresh start is more welcome than ever right now.
Stylish Looks for a Steal
However your kids go back to school, Walmart has your back. Walmart Fashion has been stepping up their style for some time and for back-to-school clothes, I knew we could find pieces that do well for school work or play. There are always incredibly low prices at Walmart and I love that personally picking out school clothes helps kids feel proud, excited, and motivated. Even better than you can do this together online for convenient and safe shopping, then opt for store pickup, Free 2-Day or Free-Next Day Delivery. Honestly, it's so easy.
At 9, Emery is old enough now to count money and understand costs. I decided to make a bit of a lesson and a game out of this project by setting a budget of $150 and challenging us both to find as many versatile pieces within that range. We agreed to go for simple play clothes with stylish details to mix and match. Shoes are always a big choice because they're worn with so many outfits and need to work for play and casual clothes.
We searched Walmart's back-to-school hub and here's what we chose.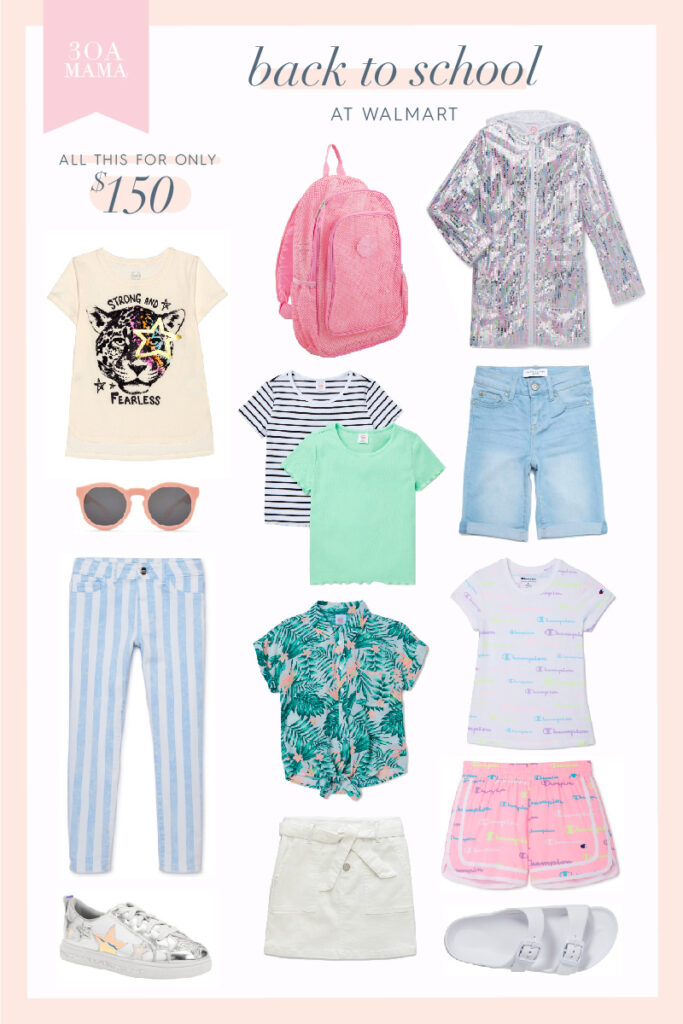 $150 Walmart Haul
tiger tee $14 (comes as a 2 pack with a solid tee)  
sunglasses $14
stripe ribbed tee $10 (comes as a 2 pack with a solid tee)
tropical tie front shirt $9 (love this stripe version)
bermuda shorts $10
Styled Back to School Looks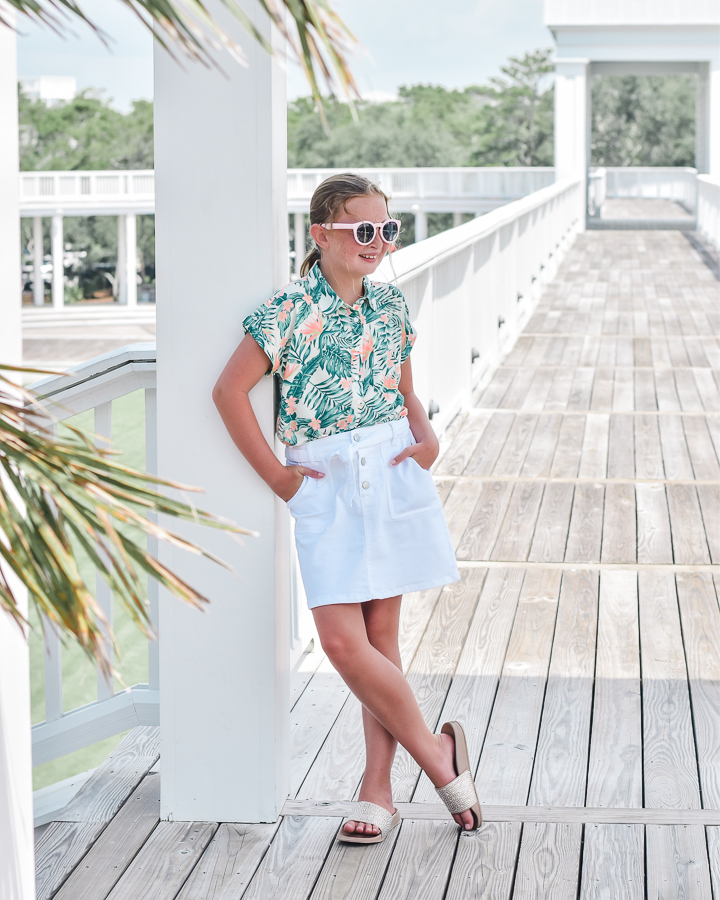 tropical tie front shirt (love this stripe version) + white denim skirt + sunglasses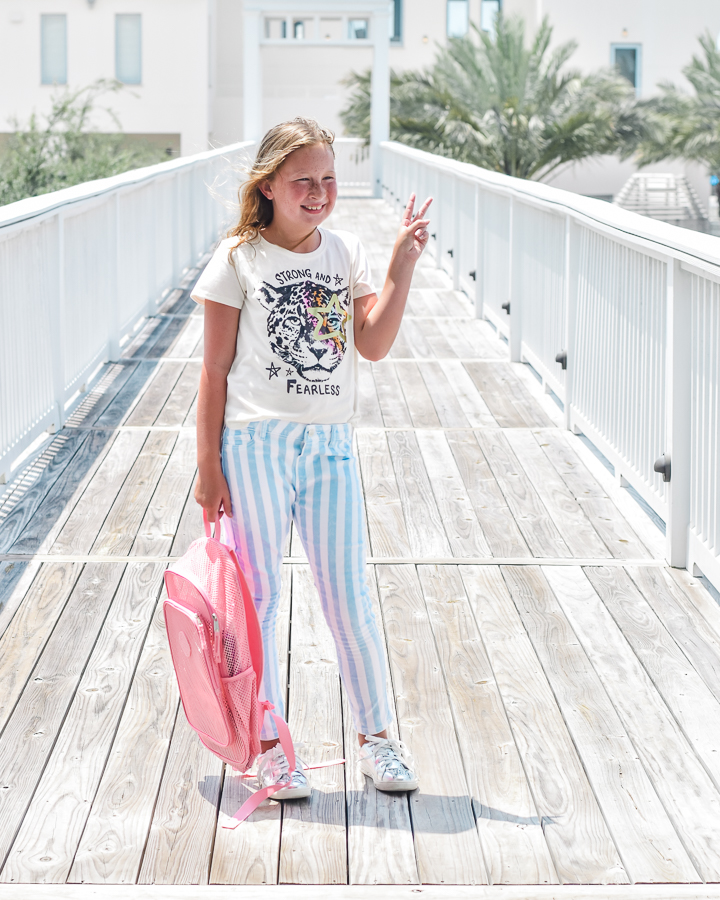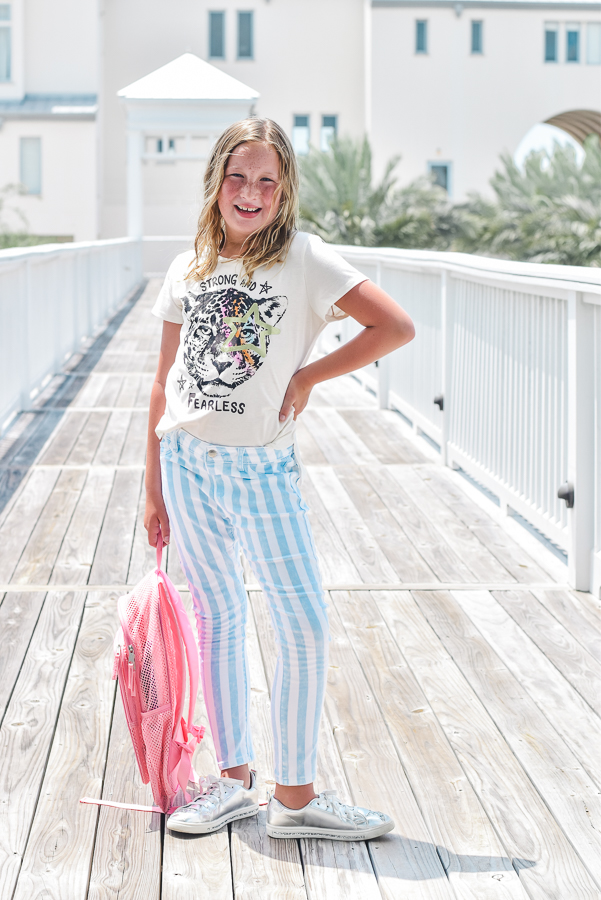 tiger tee (comes as a 2 pack with a solid tee) + stripe jeans leggings + silver star court shoes + mesh backpack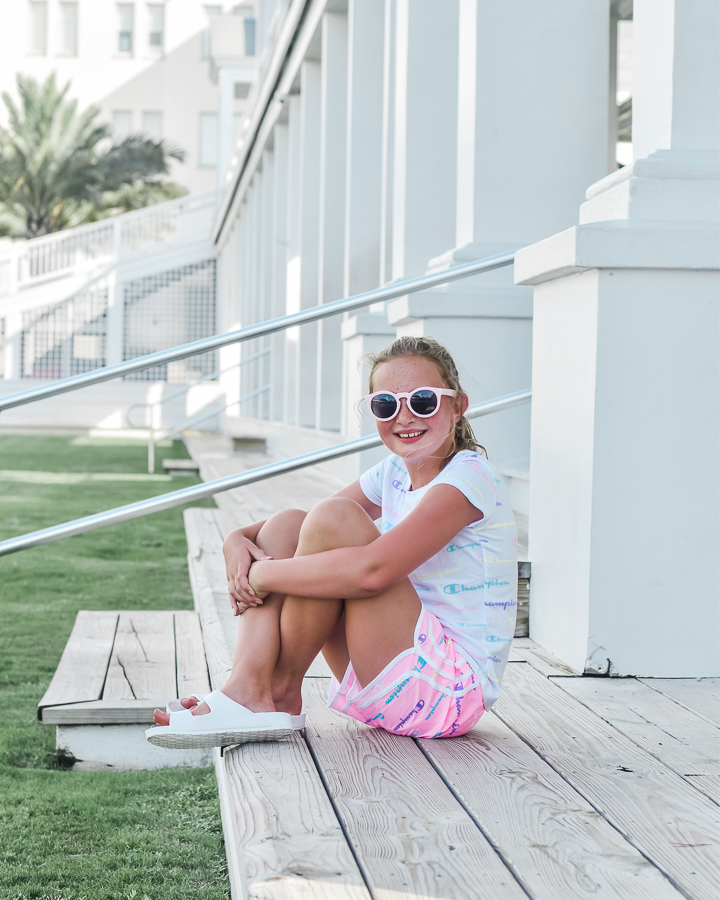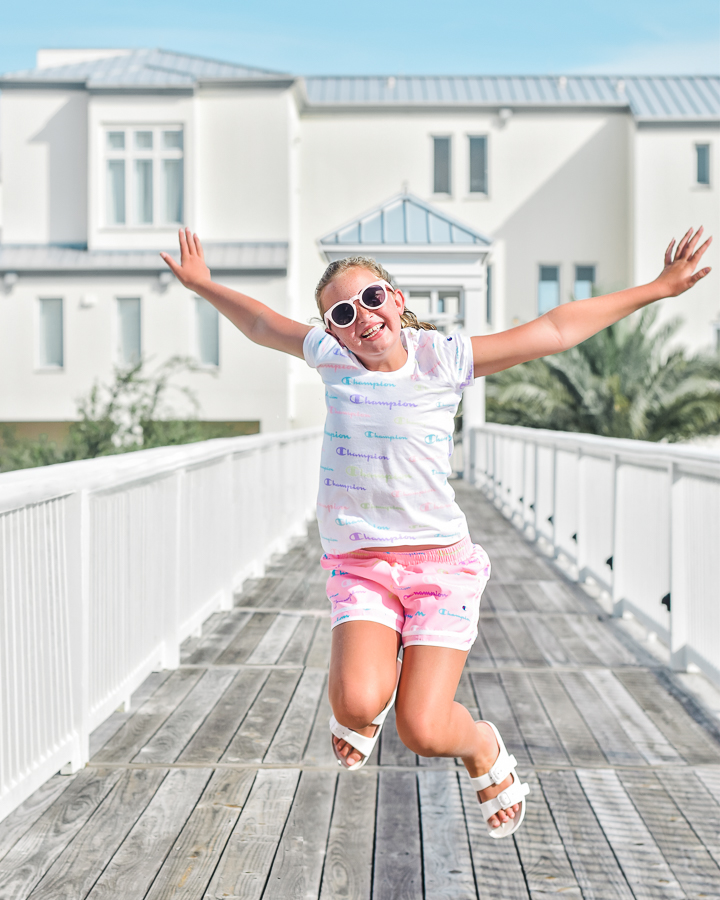 Champion logo tee + Champion active shorts + white buckle slides + sunglasses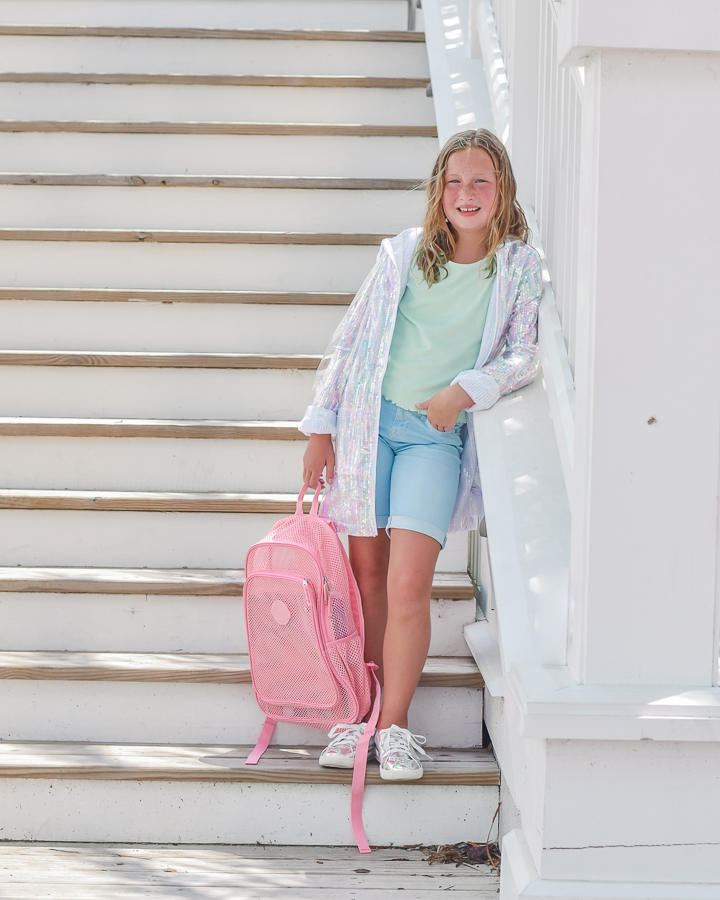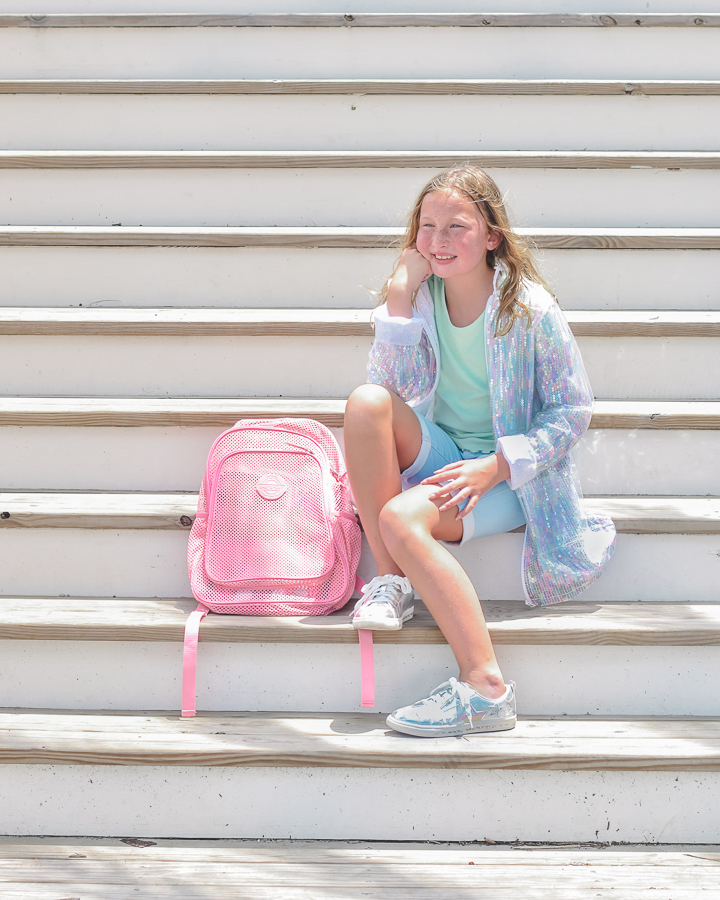 sequin rain jacket + bermuda shorts + mesh backpack + stripe ribbed tee (comes as a 2 pack with a solid tee) + silver star court shoes

How Did We Do?
All of these items were around $156, so I'd say we did pretty well sticking to our budget. And I love that they can all be mixed and matched. Almost every top and bottom can be switched around to make more outfits and they're all ready for active play or a day of lessons.
Items like the sunglasses and rain jacket were fun pieces Emery insisted on and I love that she found a few statement accessories to make her smile and feel confident.
I'd call this a win, win for her, for our budget and for bringing a little joy during a time that is so different for all of us. If you do your own back-to-school challenge or add any of these pieces to your kids' closets, I'd love to hear what you pick!
Find all of our selections and more, right here at Walmart.