If you're reading this, I think it's safe to guess you're well acquainted with Seaside, Florida. So much of the Seaside vision and experience becomes tangible thanks to The Seaside Style® and the five stores that make up this collection. But let's back up. This tiny town's humble beginnings became groundbreaking as the first community of its kind. Not only is it the center of our beloved Scenic Highway 30A, it's been the center of attention in architectural studies, travel circles, and countless feature articles carefully dissecting the appeal of its simplicity. I'm not here to do that. Yes, the academic aspects and historical significance are impressive. But for vacationers, locals and people like me, Seaside is home to a laundry list of things to love: gorgeous beaches to enjoy, white picket fences where no two are alike, candy colored cottages from peach to periwinkle, adorable shops with thoughtful goods, favorite restaurants to eat in or take out, the most beautiful pavilions, green spaces our kids run endlessly, fun events all year long, picture perfect moments on every turn and details that make you want to come back for more.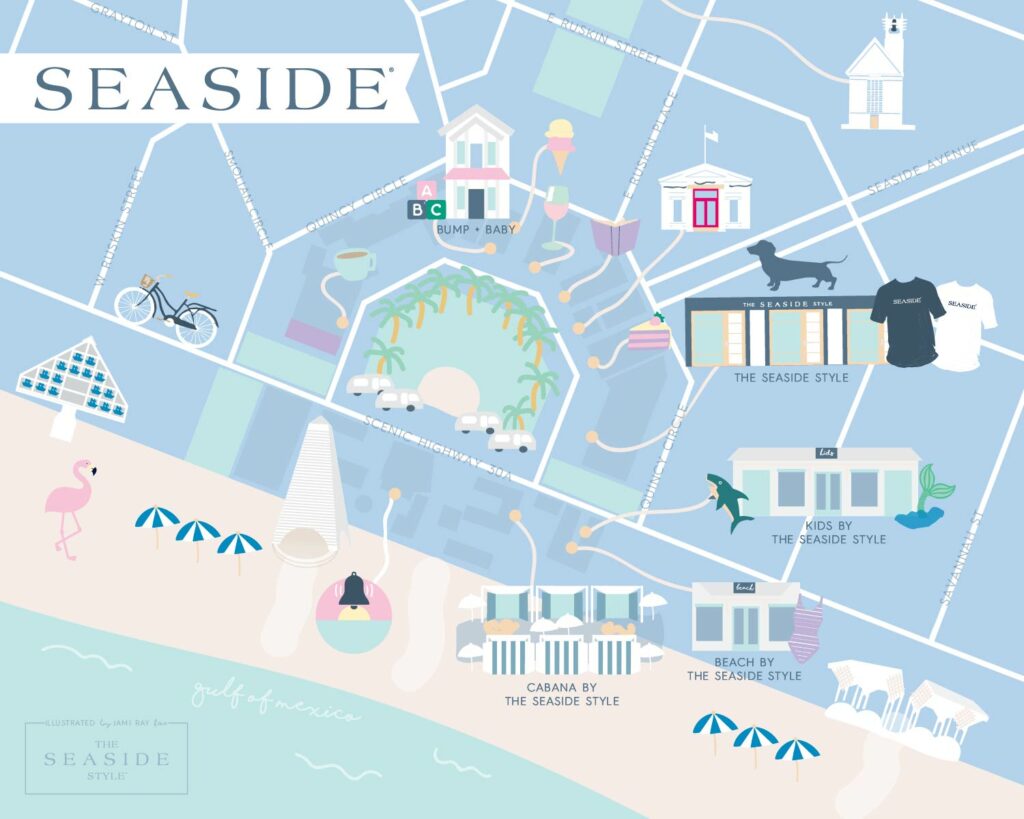 Chances are, you've probably wandered into one of the stores and at minimum, bought a t-shirt or a hat or maybe a toy. The shops of The Seaside Style® are where you'll find the pieces to sprinkle into any girlfriend escape, morning with the fam, week-long beach trip or just a day wandering. From the aesthetic to the goods themselves, there's so much to love about The Seaside Style®. And in case you could use a refresher, allow me to give you the scoop on each of the stores.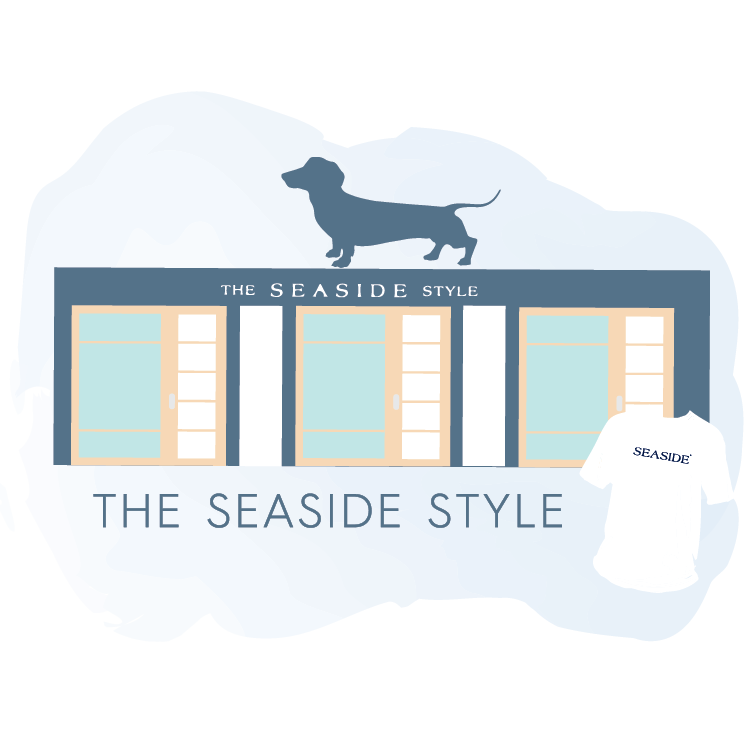 The Seaside Style
Aesthetic: This store is the classic of all classics. You won't find anything darker than navy and the curated selections of upscale-coastal are so fine-tuned that everything blends seamlessly while allowing for standout pieces to shine. Think navy, light blue, and white. Stripes, linen, and chambray. All things coastal and luxurious.
What You'll Find: From the simple branding (often emulated, but never duplicated) to the beautiful array of chic, coastal finds, this is the hub for finding the perfect Seaside takeaway. While you can't forget the expertly folded stacks of t-shirts in navy and white — easily the #1 souvenir, there are also men's and women's resort wear ranging from golf shirts to stripe coverups and woven fedoras, light scarves that double as sarongs or wraps, coffee table books (30A Style and Visions of Seaside are my top picks), hand soap, linen spray, luxurious throw pillows, gorgeous gold-filled jewelry, champagne flutes, beach cruiser baskets and more. One corner, called Bud's Shop, is devoted to the iconic dachshund (and your furry friends) carrying all things canine including chew toys, chic dog leashes, pet beds and treat jars. If you're craving a classy beach haven, this is it.
Brands to Love: Most of the items found in The Seaside Style® are either original branded items or exclusive collaborations. Find E. Newton, Nantucket Basket Company, CP Shades and more.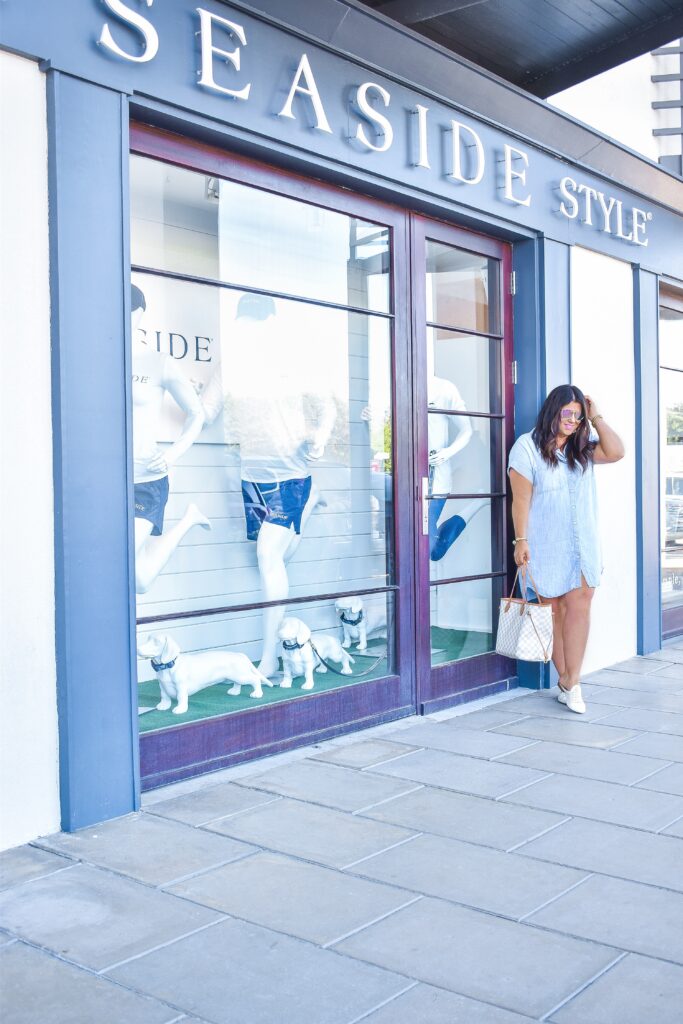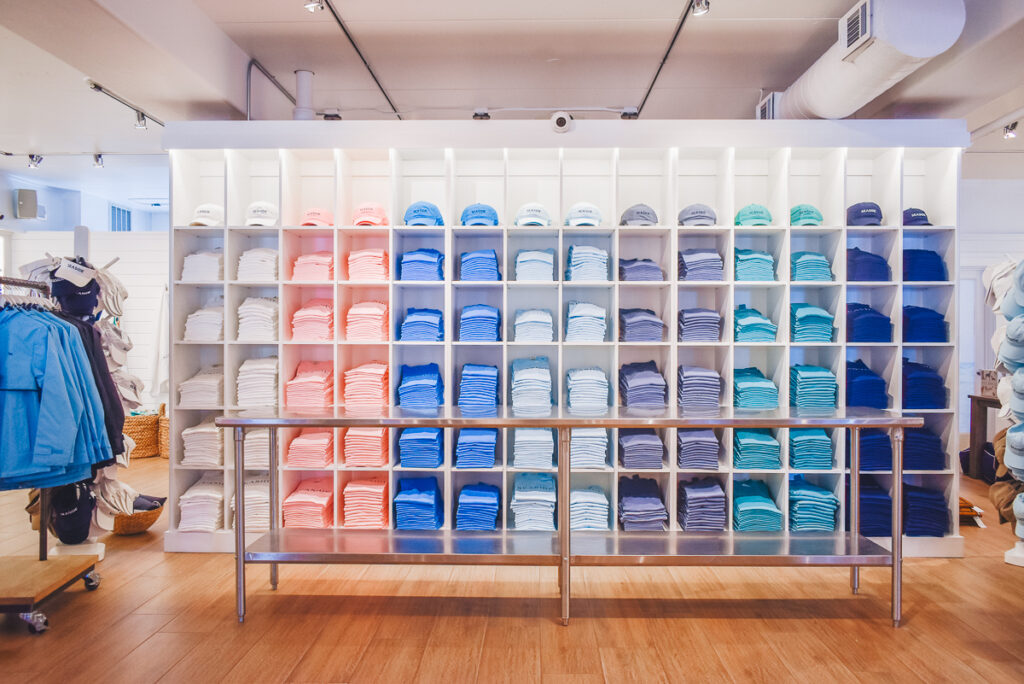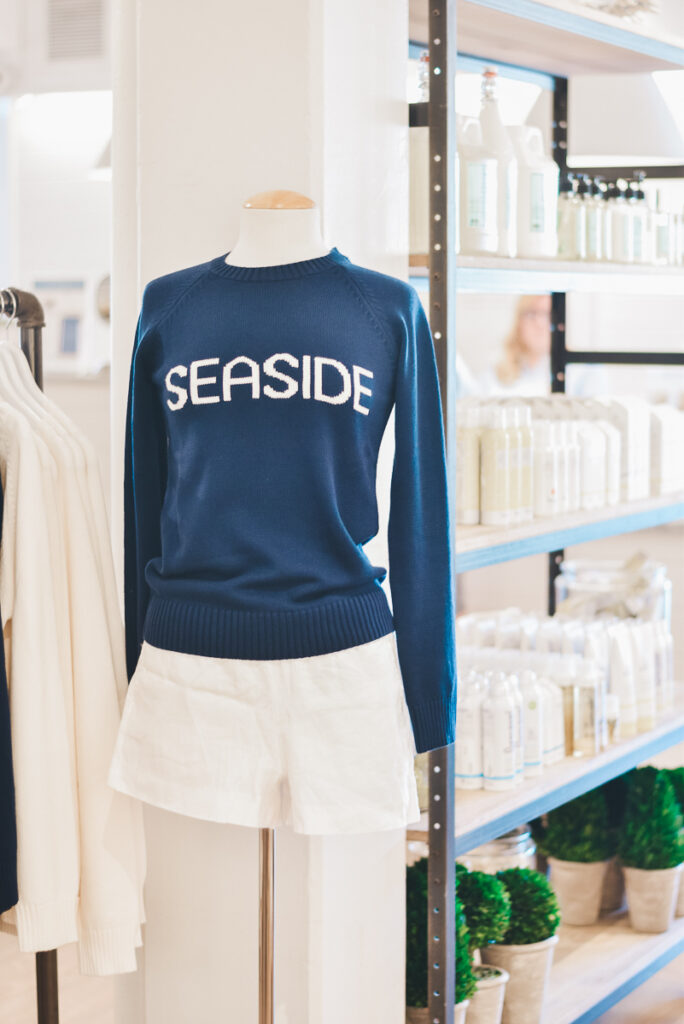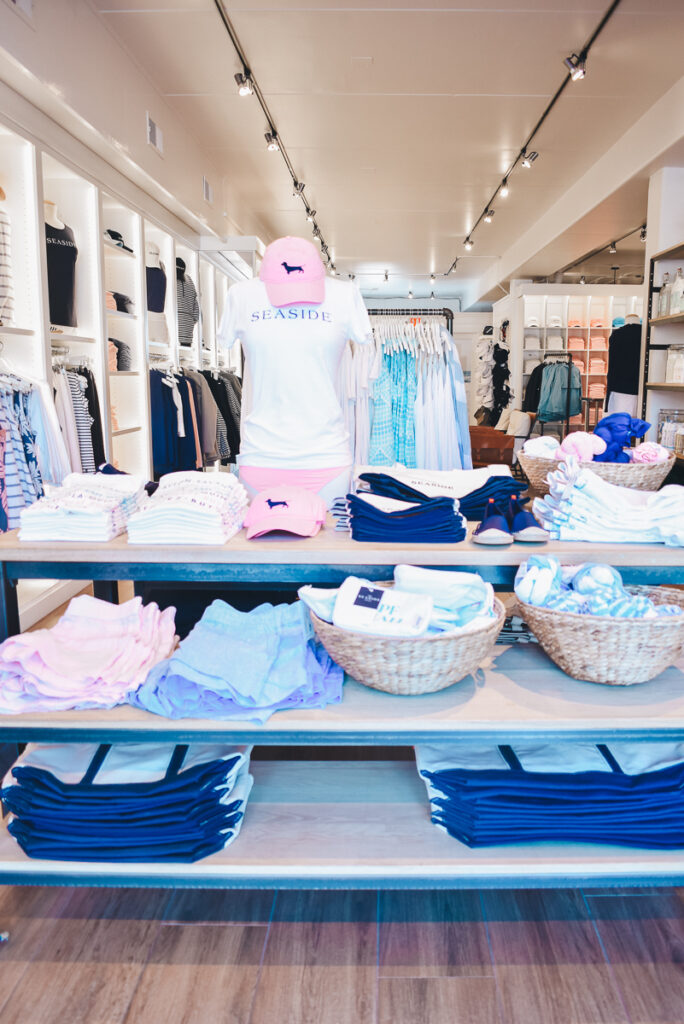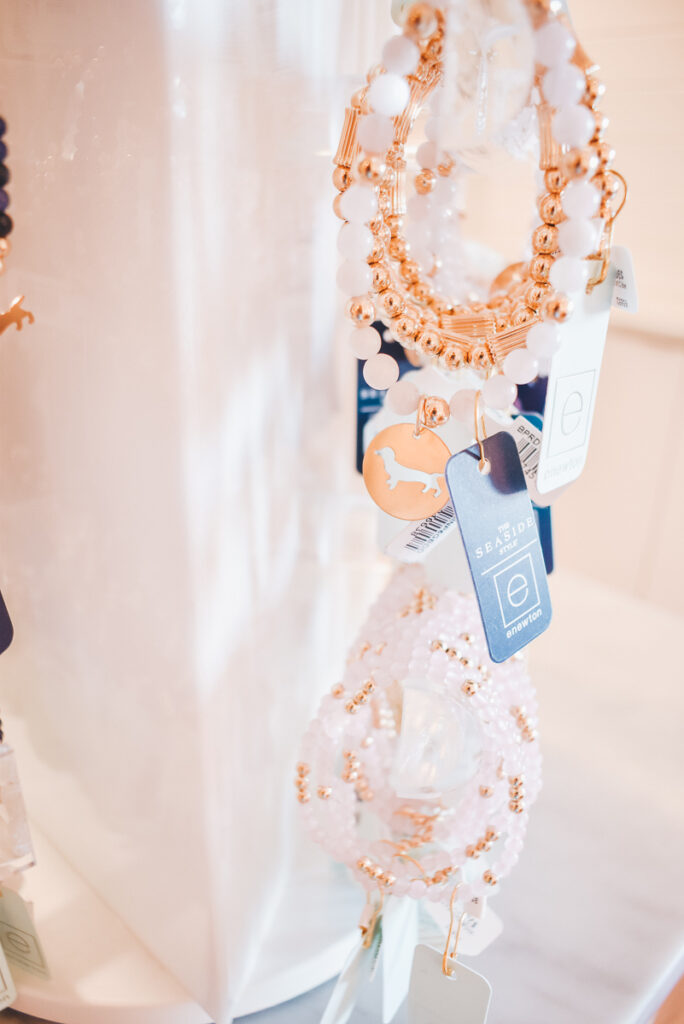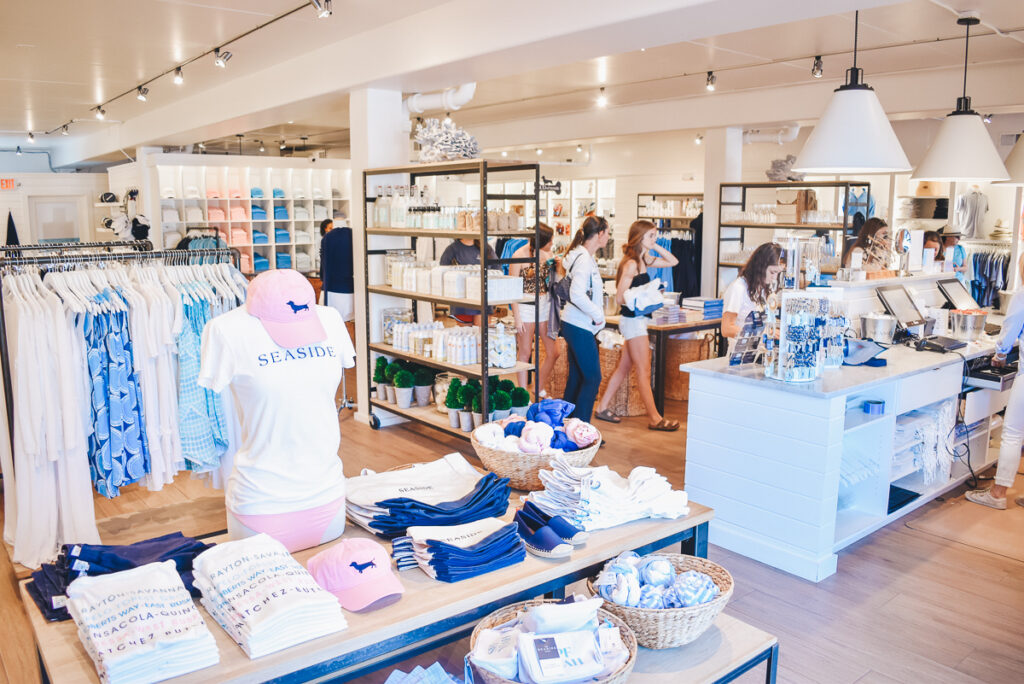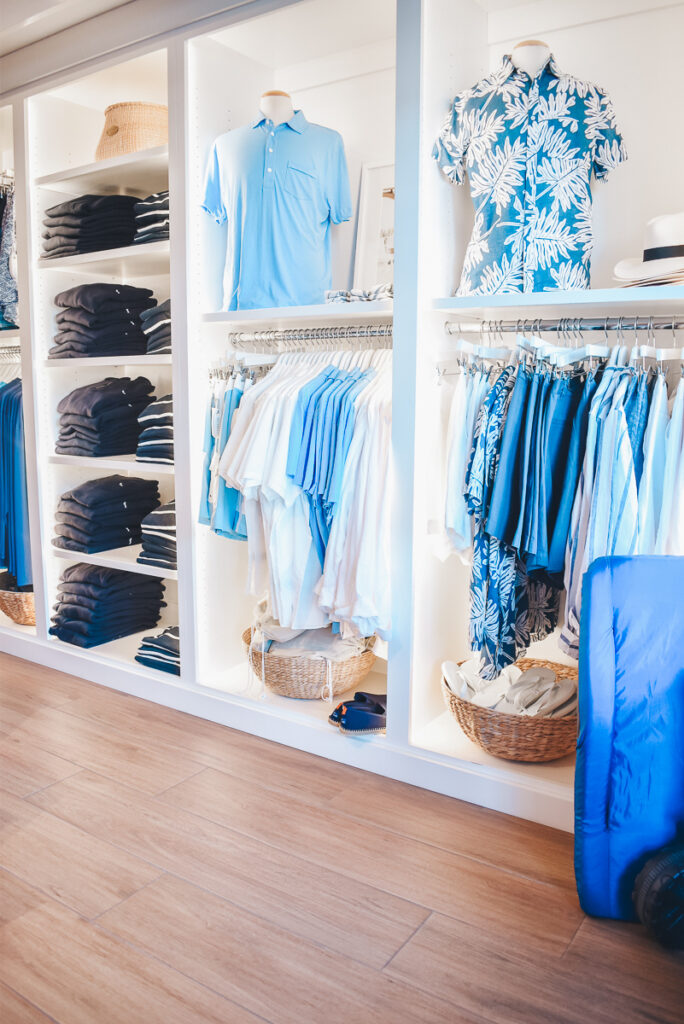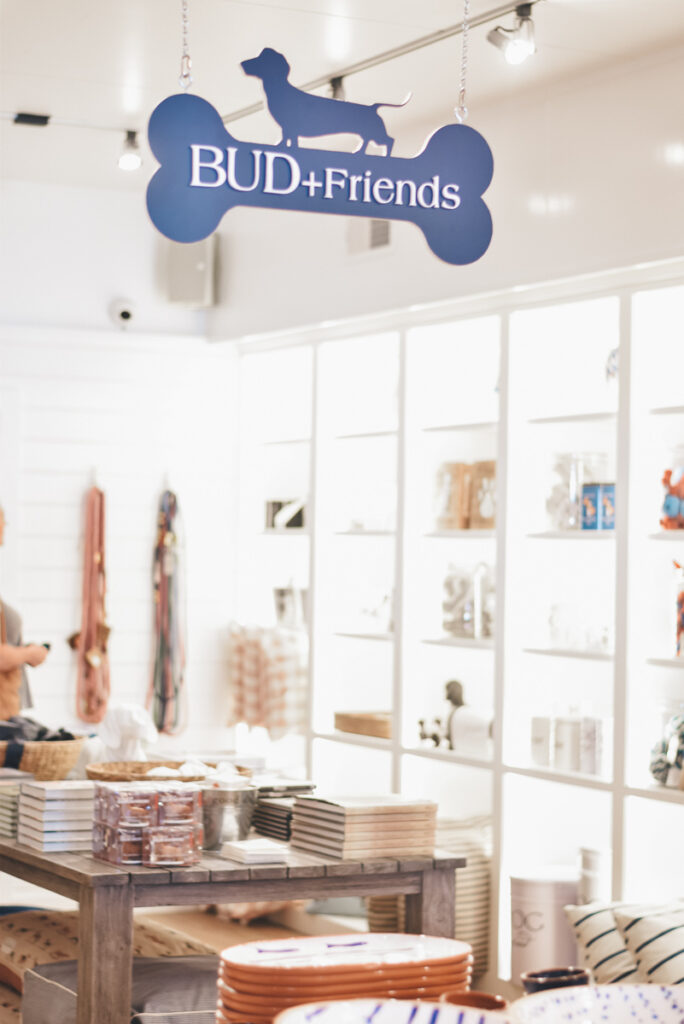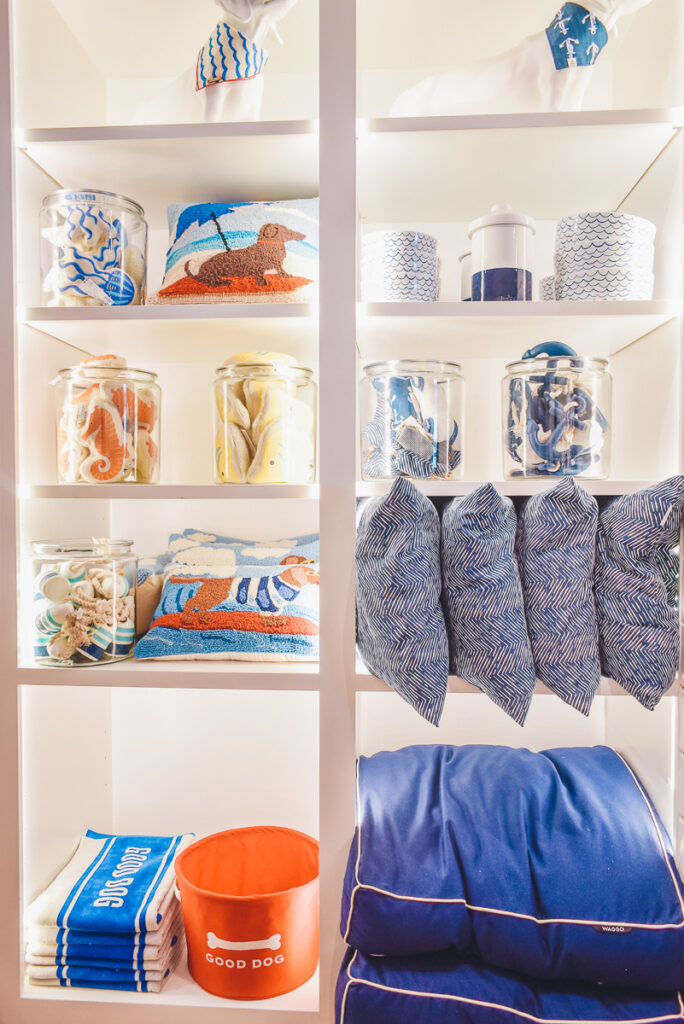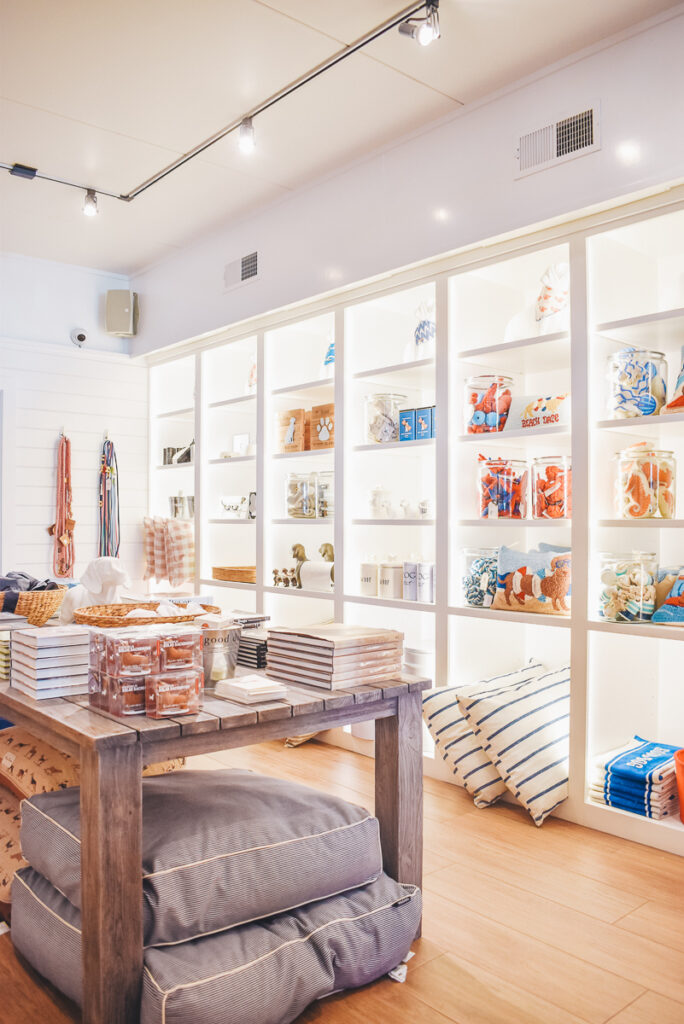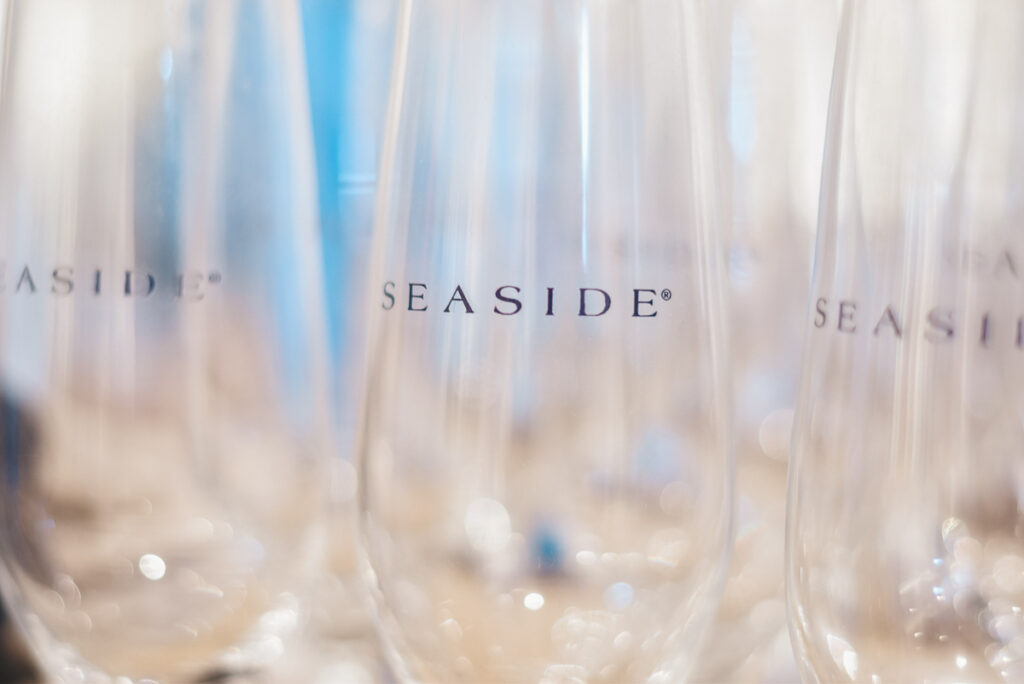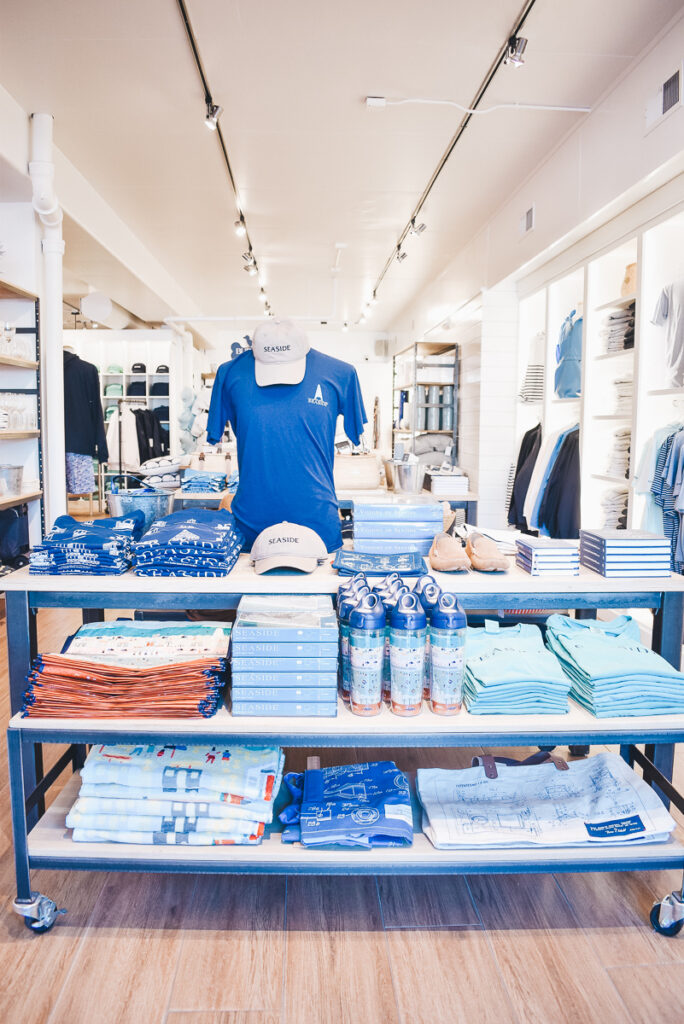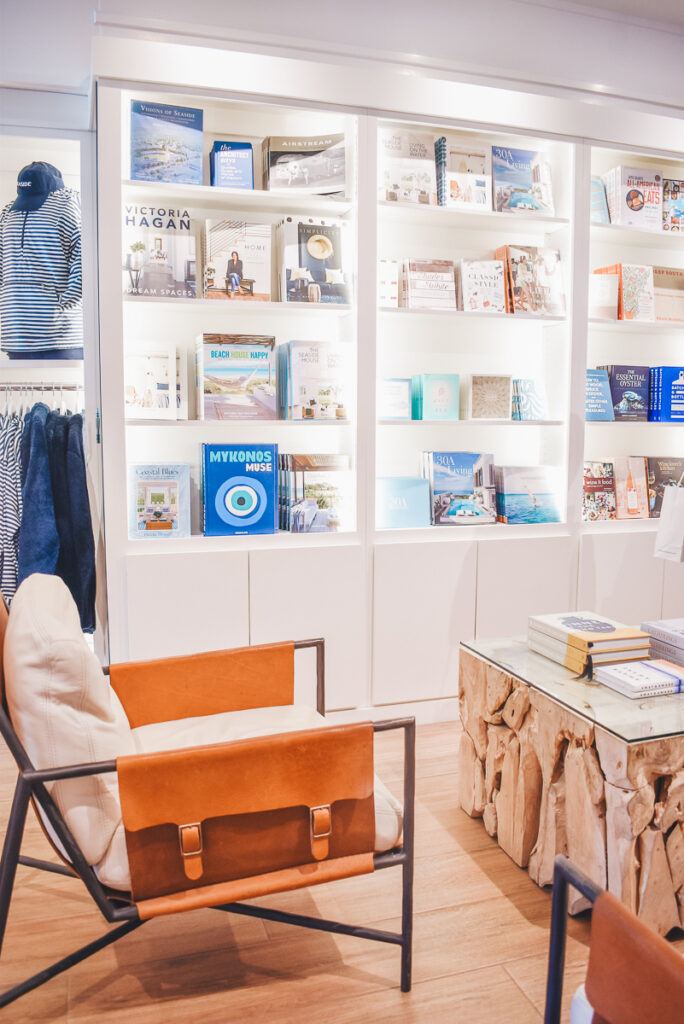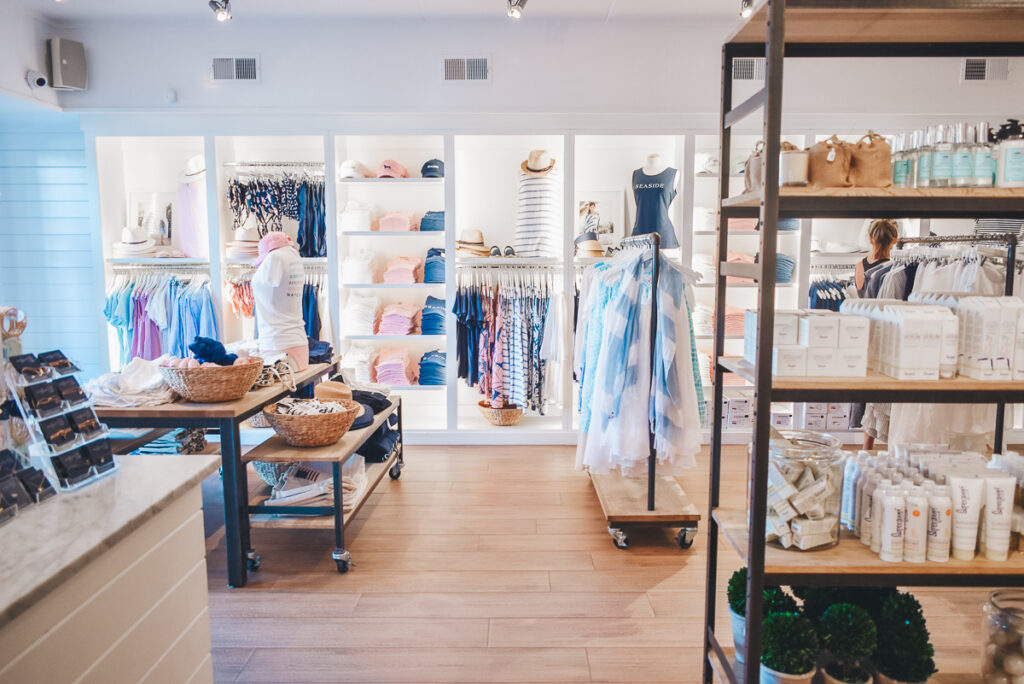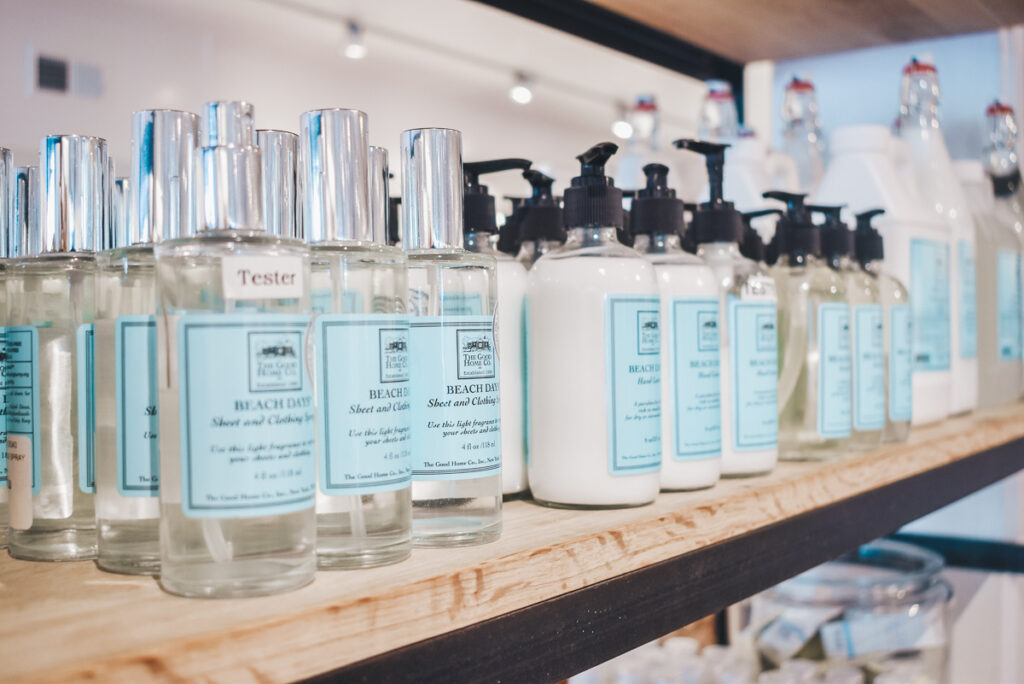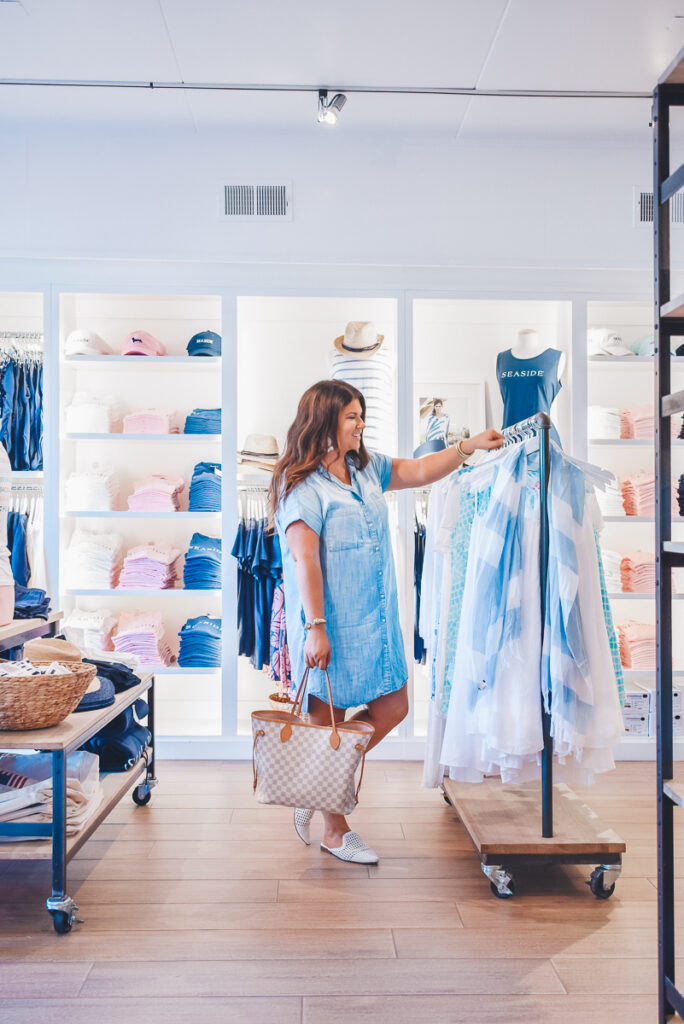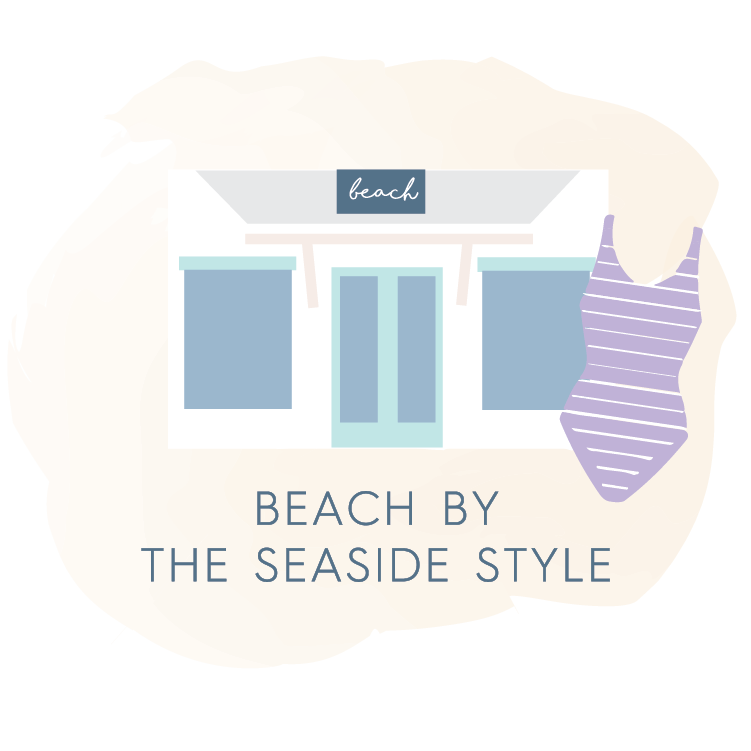 Aesthetic: More relaxed and vibrant than its classic sister store, Beach is where sunset colors, bare feet and sandy floors reign. The color story this season includes turquoise, lilac, butter yellow and pinks that fittingly match the pretty pastel beach cottages nearby. If you fall asleep dreaming of fun days frolicking in the Gulf, this store is your happy place.
What You'll Find: Beach is stocked full of swimsuits, swim trunks, towels, flip flops and everything you'd expect to find in a store by that name. For anyone needing an instant make-under for a day in the sand, this is where you'll find the goods. Mint logo hat? Check. Ruffle swimsuit? Check. Turkish towel? Check. Instagram worthy float? Check. Backpacks and beach totes? Check. Sorted by color, their styled shelves mix in items like collapsible water bottles, sunscreen, beach-friendly wine tumblers and sweatshirt blankets begging for a cozy beach bonfire.
Brands to Love: Eberjey swim, Shade Critters, Herschel Supply, SuperGoop, Gray Malin, The Nice Fleet and more.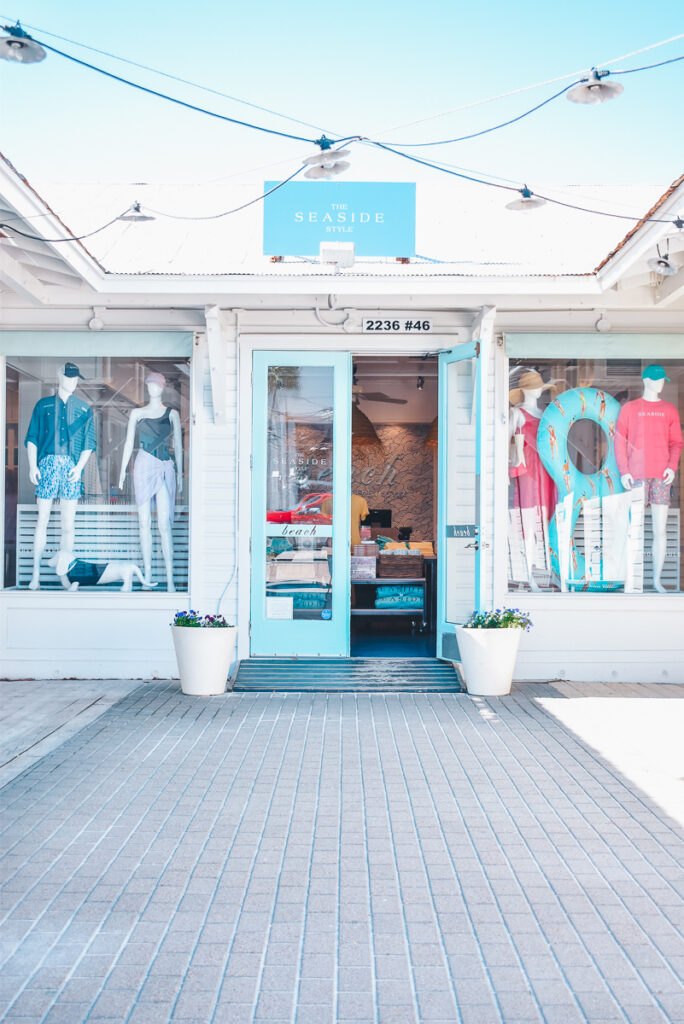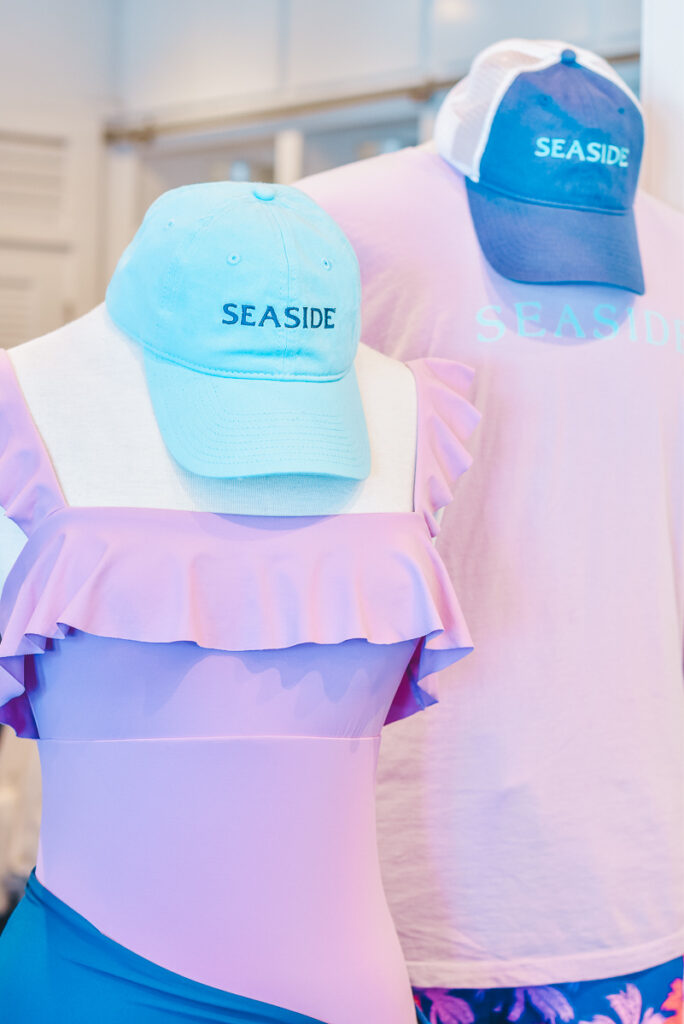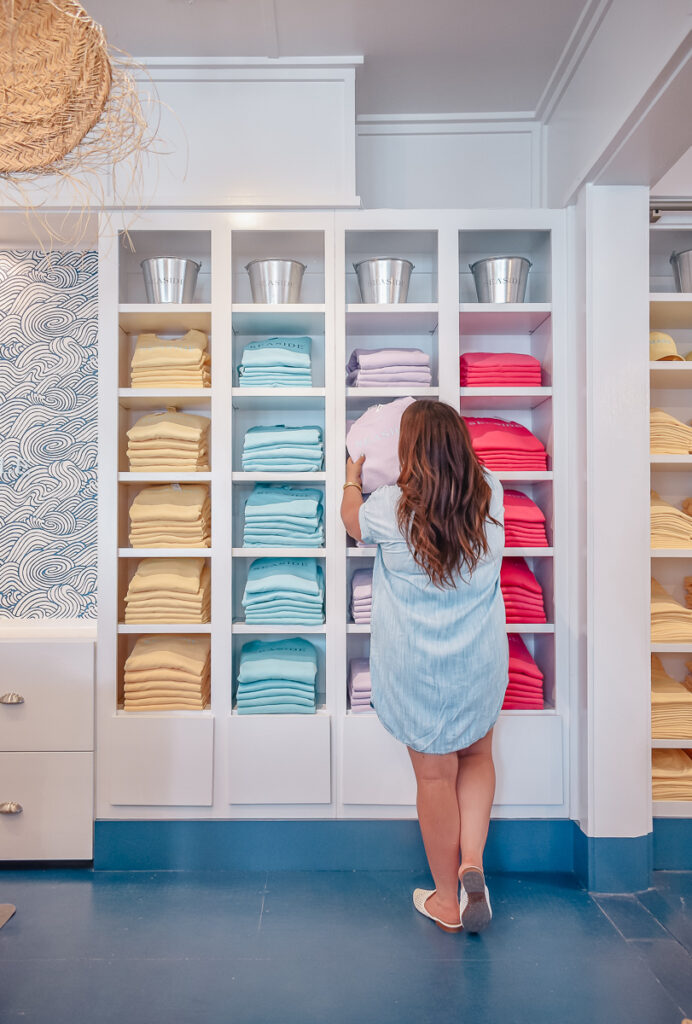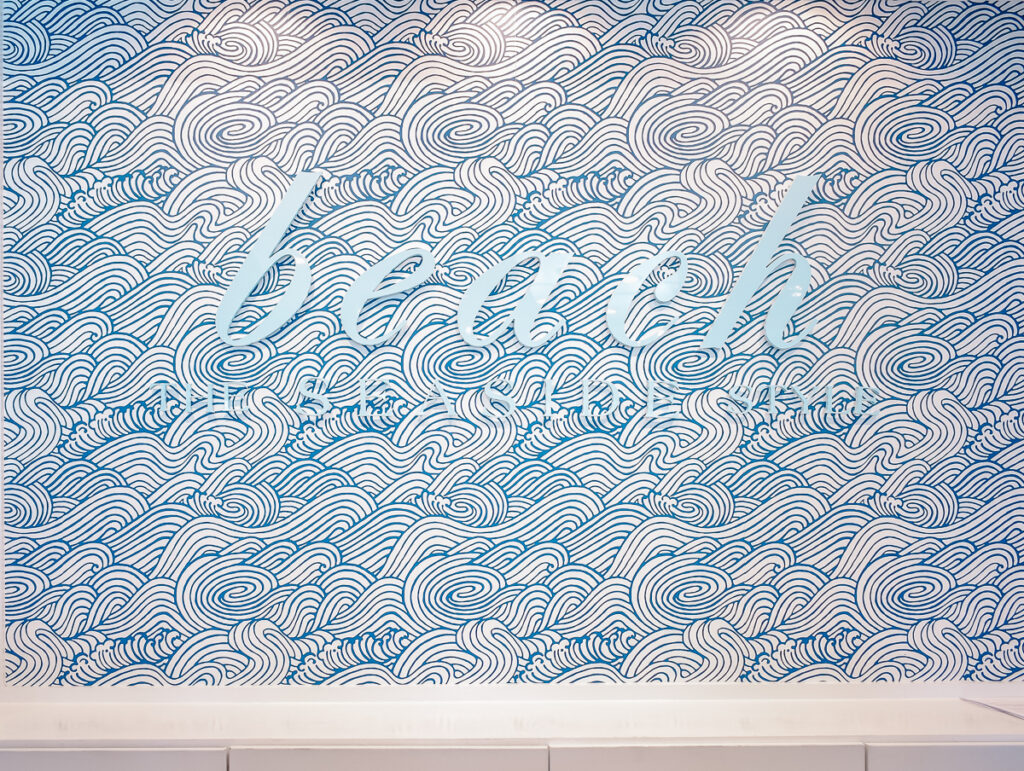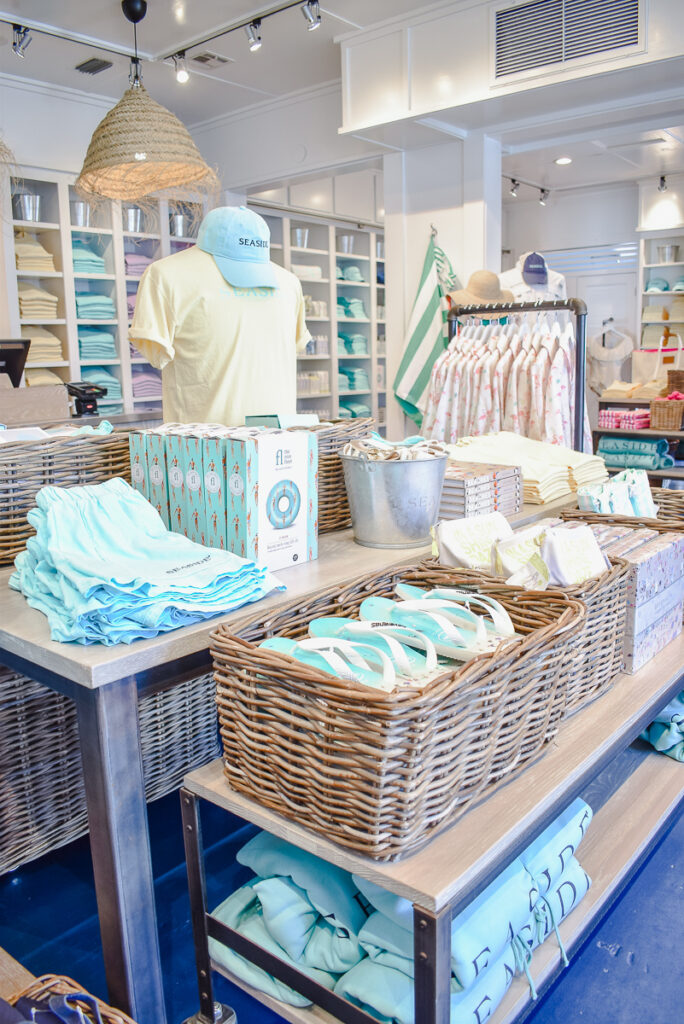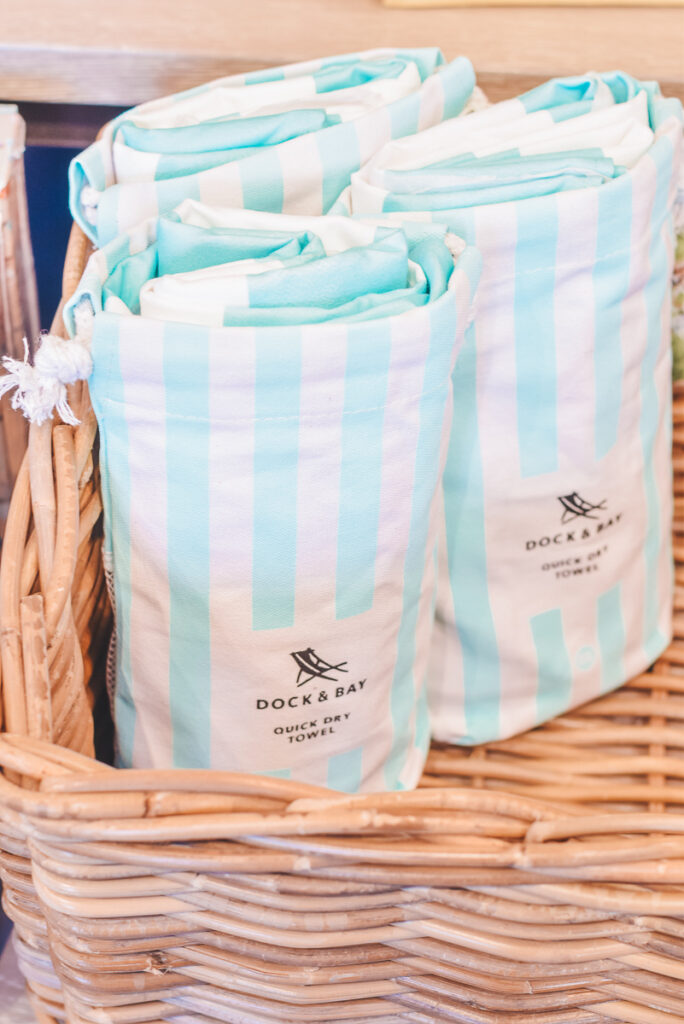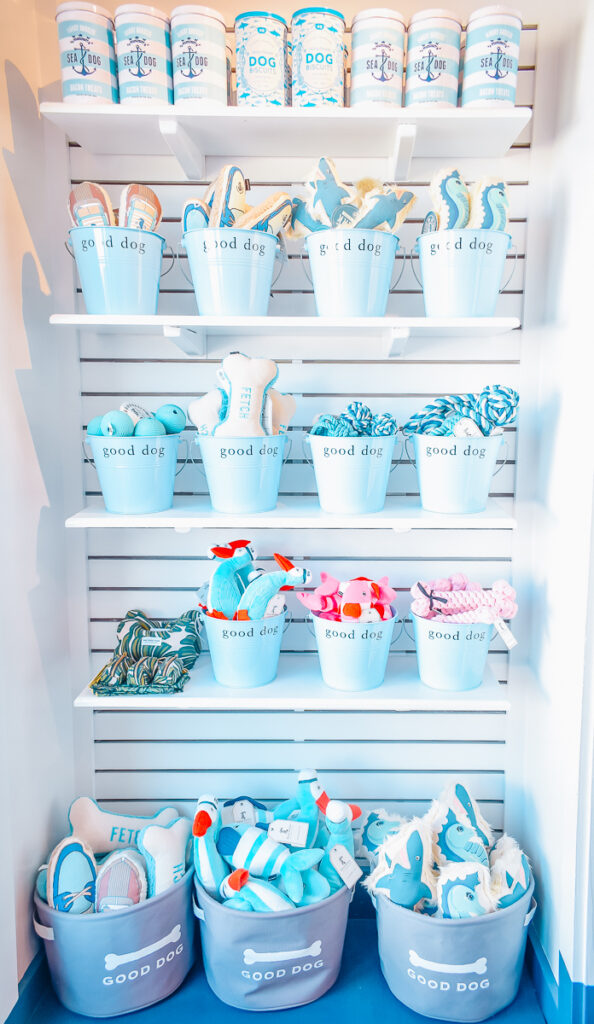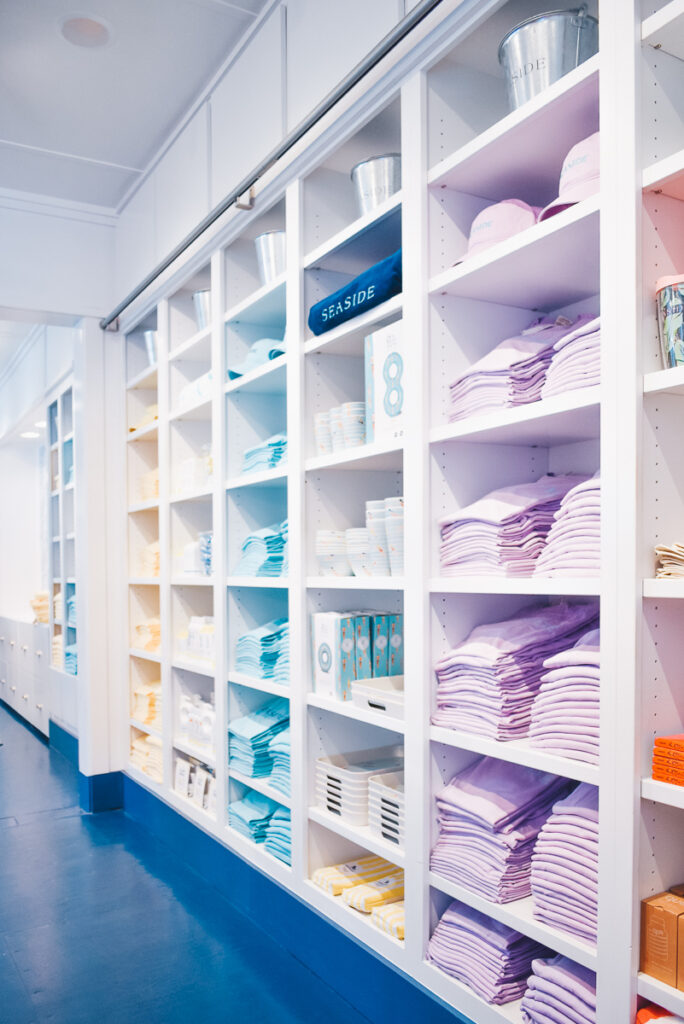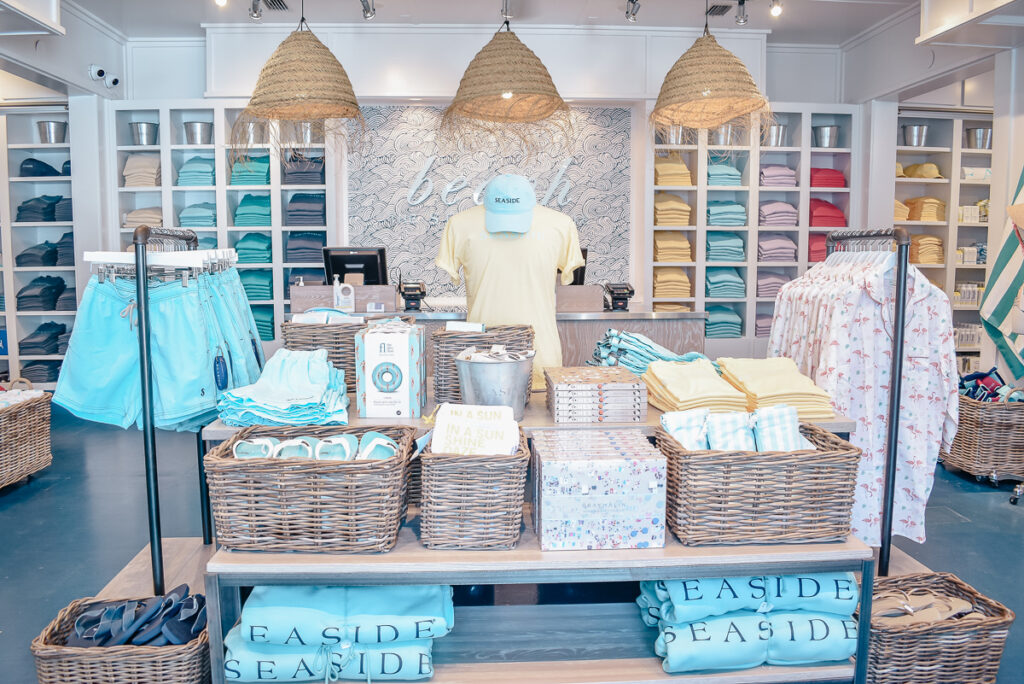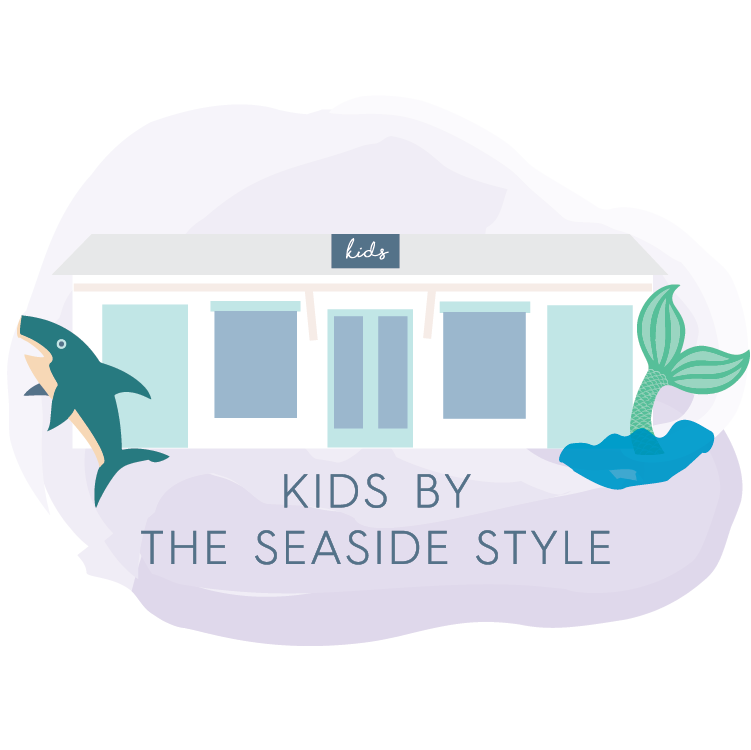 Kids by The Seaside Style
Aesthetic: Preppy, beachy and overflowing amusements. The Kids store is filled with all the ingredients to sweeten a little one's beach day. Find a mix of the happy tones at Beach and the classic shades of The Seaside Style®.
What You'll Find: This shop is the capital of fun. It's wall-to-wall flamingoes, mermaids, sharks, sea animals and all the things kids love. Get coordinating swim looks for a full crew, stripe dresses and tassel tunics for the girls, shark shorts or performance tees for the boys – it's all here! Find candy-colored necklaces, kid beach hats, sandals and accessories that both parents and kids can appreciate. Check out sequin swim tails, pint-size temporary tattoos, toys and games for water or land, cool cups, children's towels, books for the beach or bedtime and lovies galore. It's all too adorable to resist.
Brands to Love: Bella Dahl girls, Tegu blocks and Jelly Cat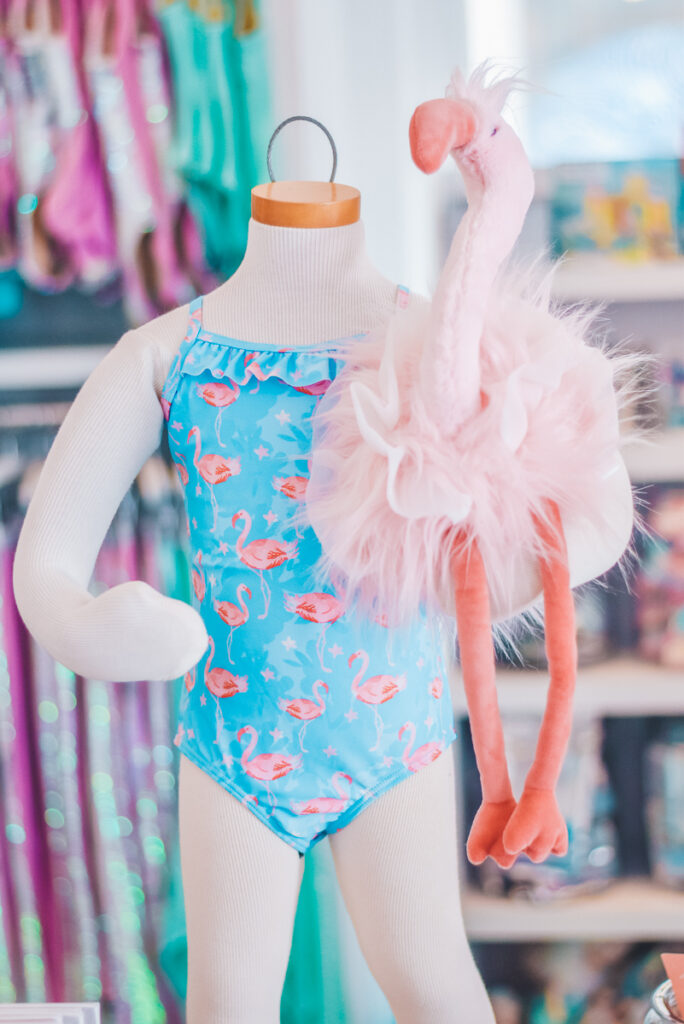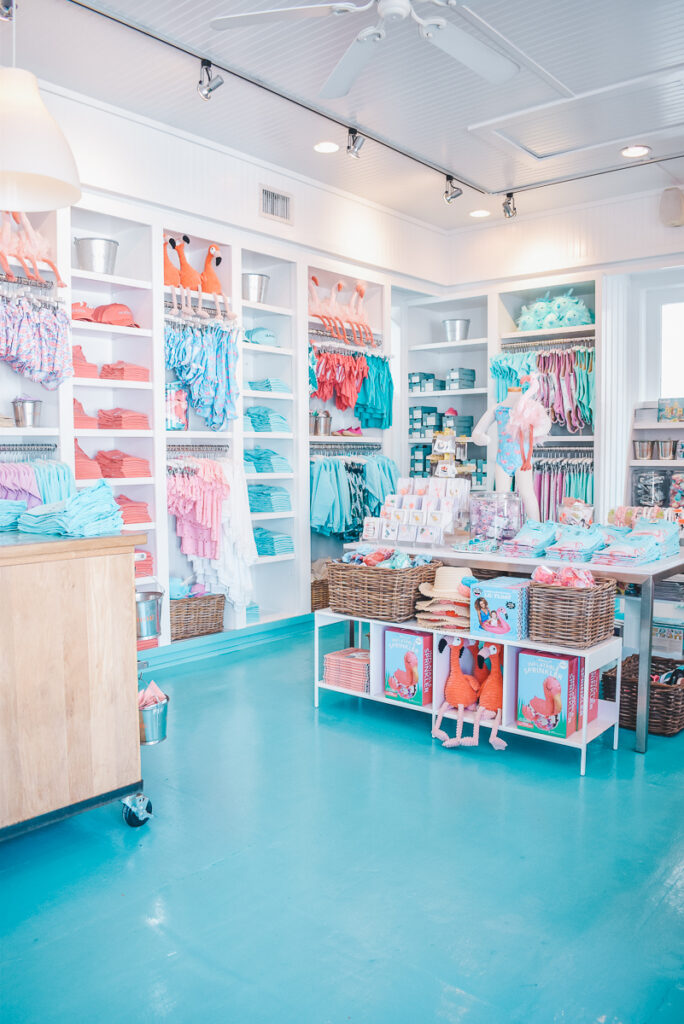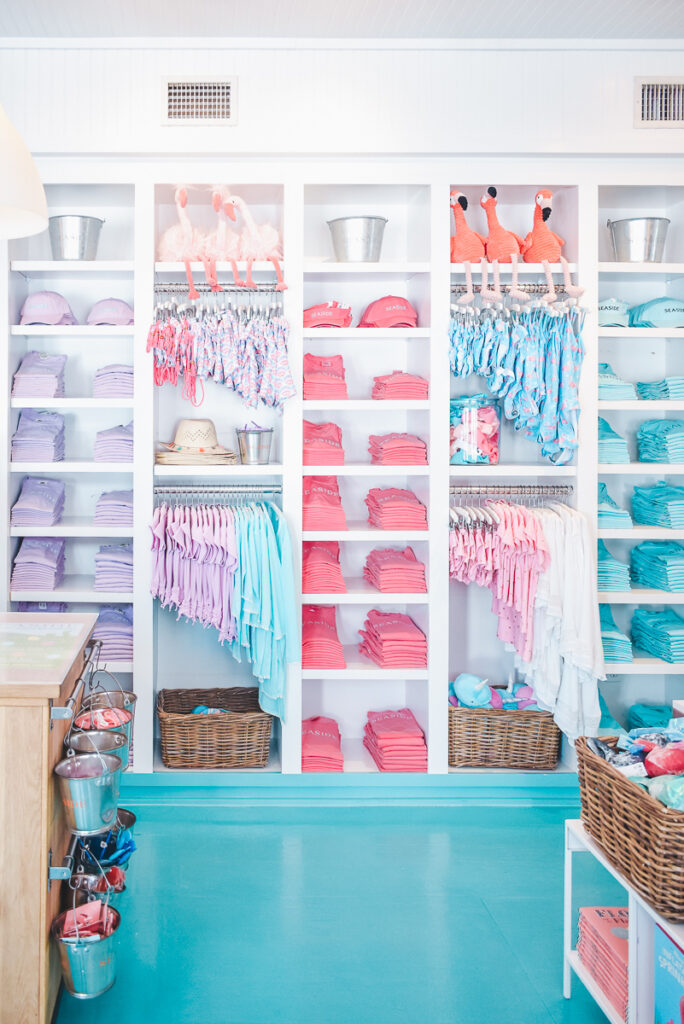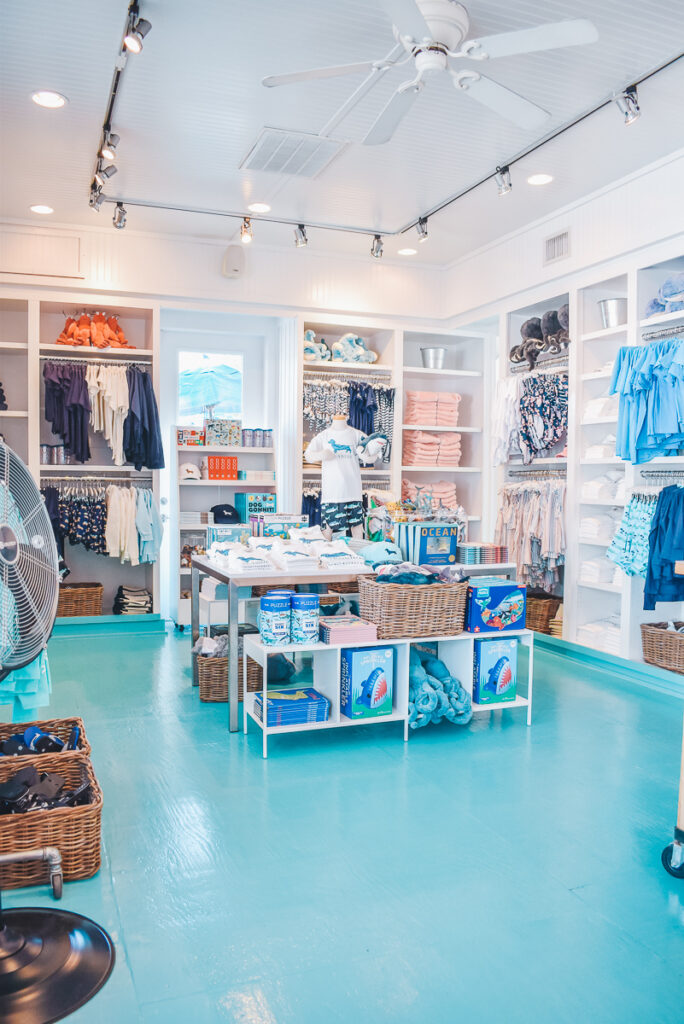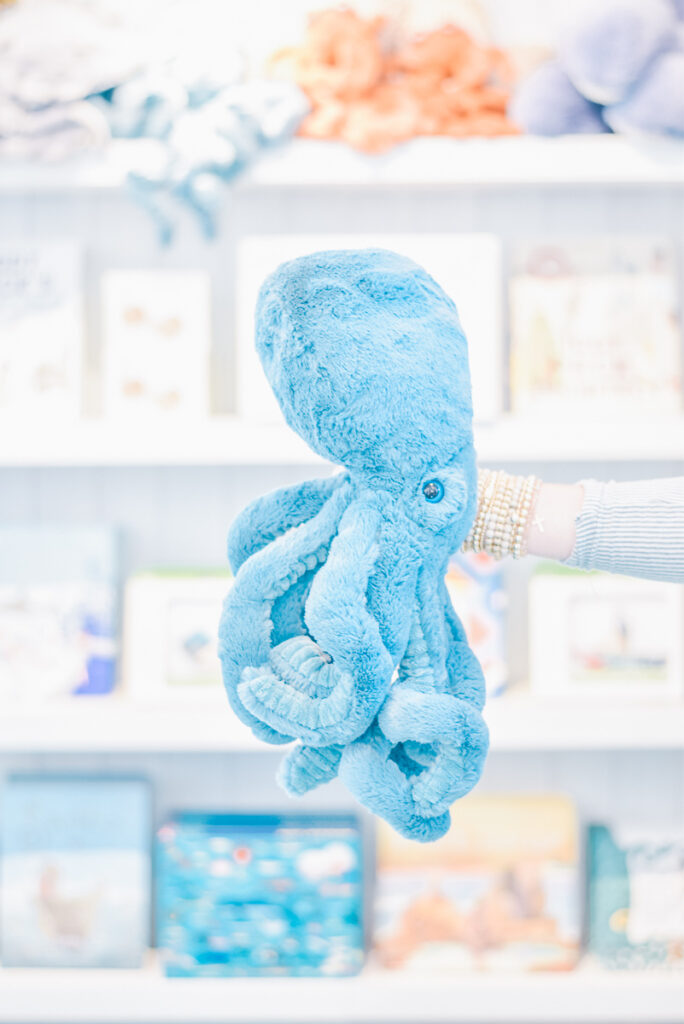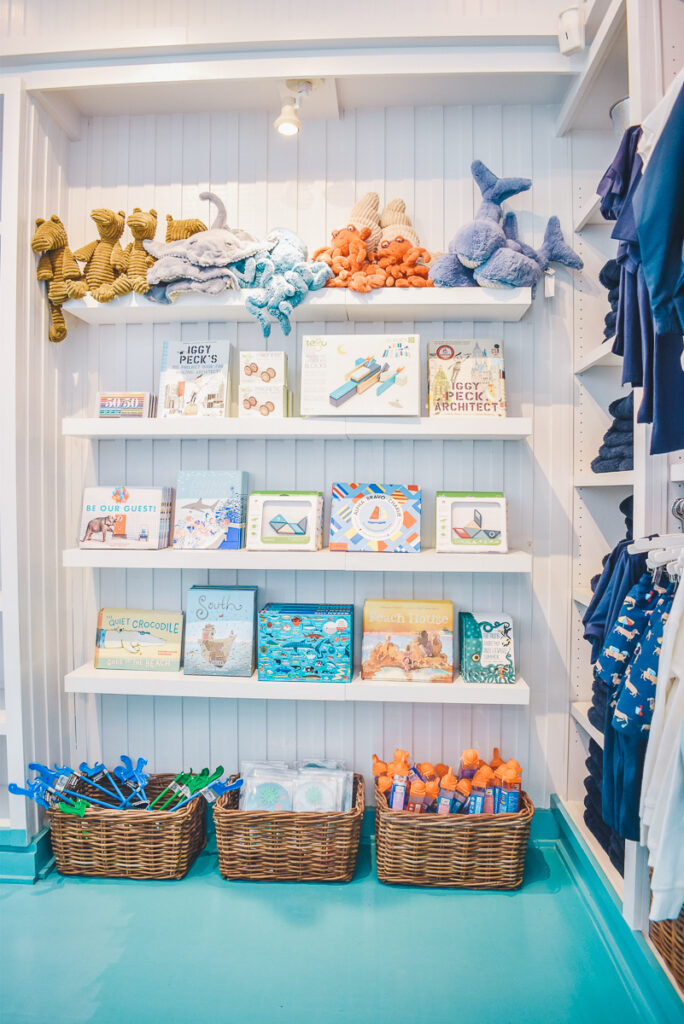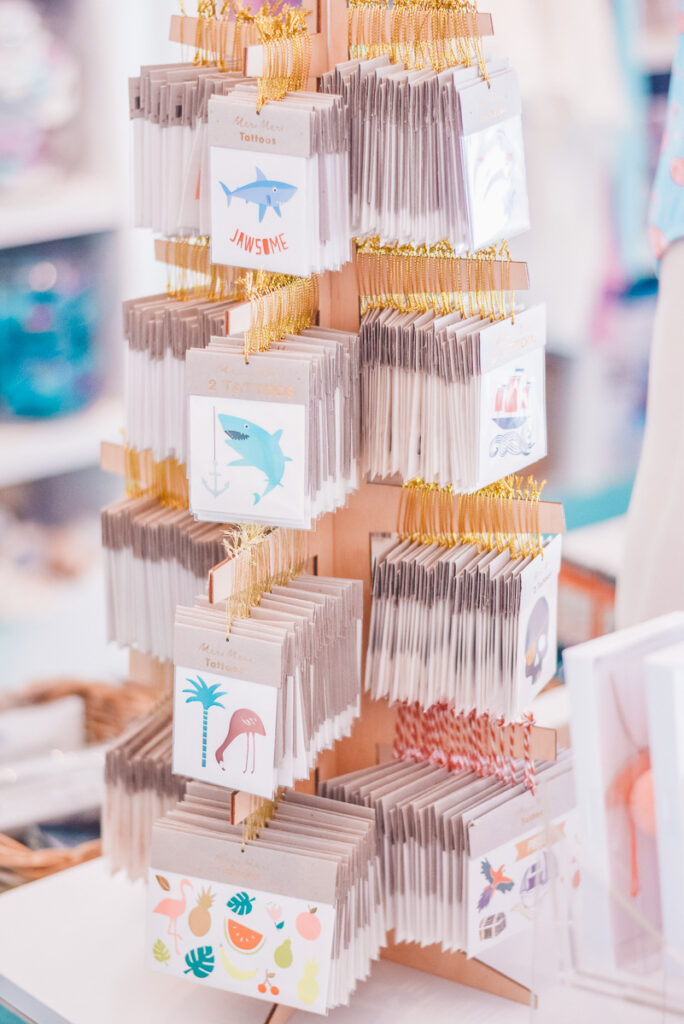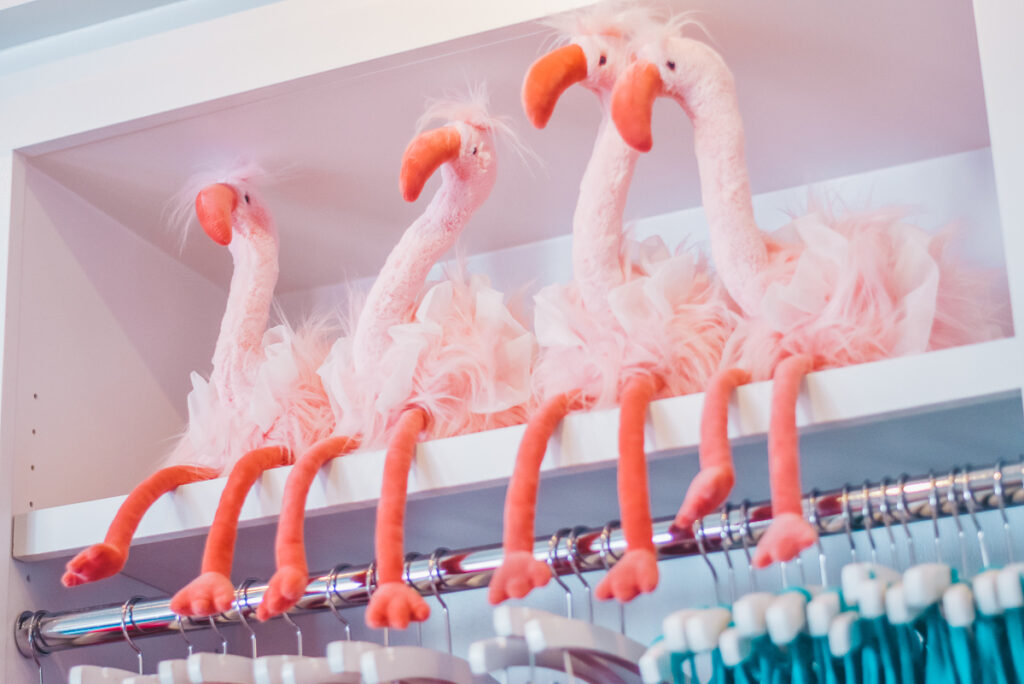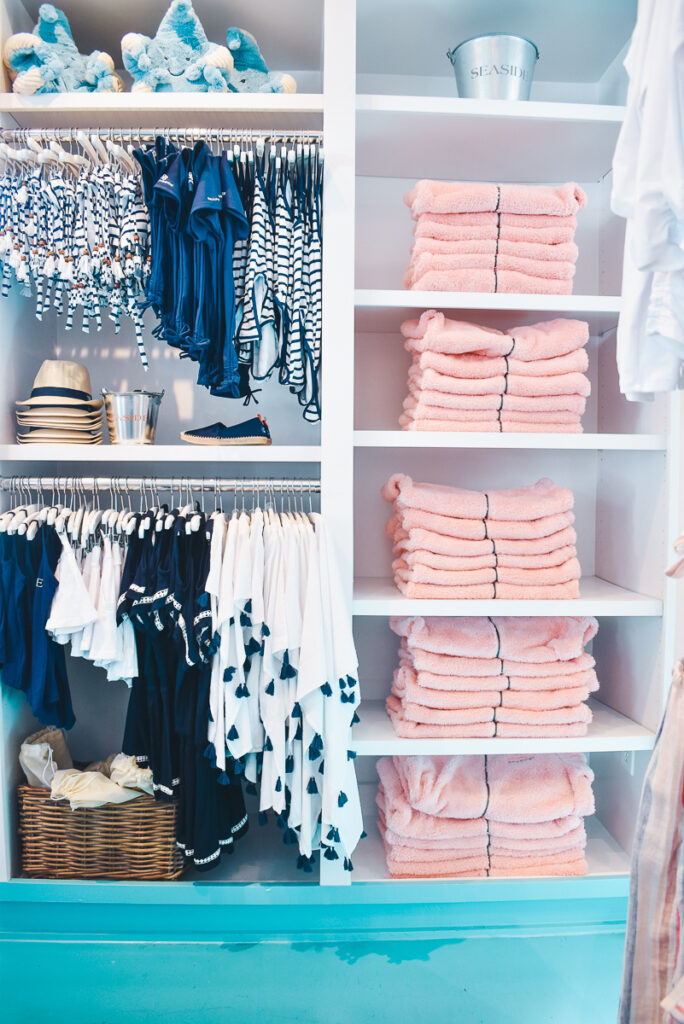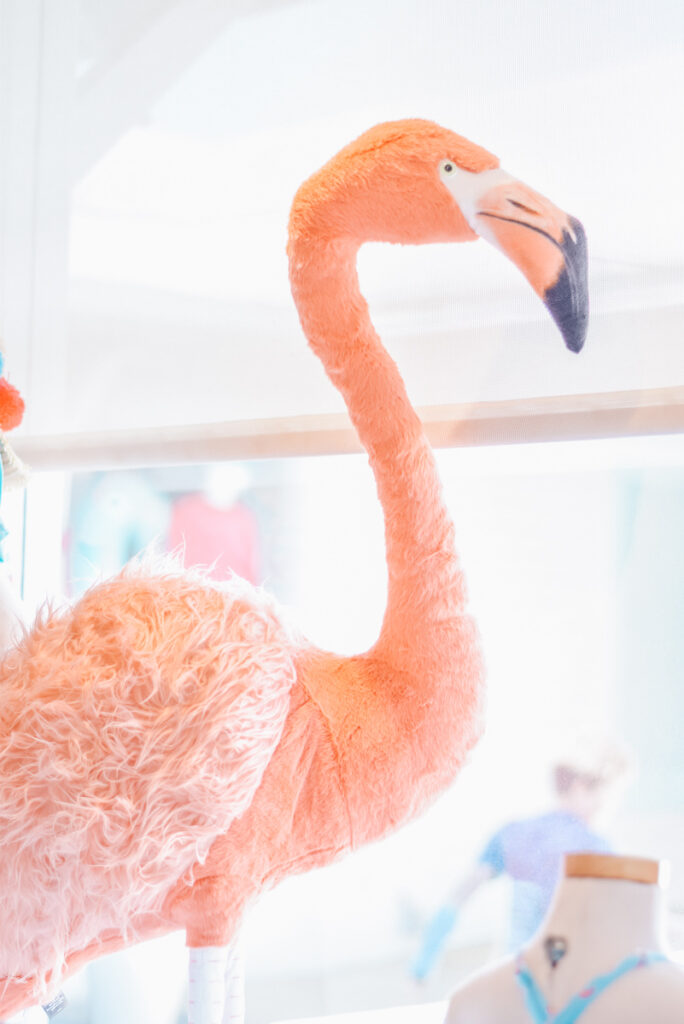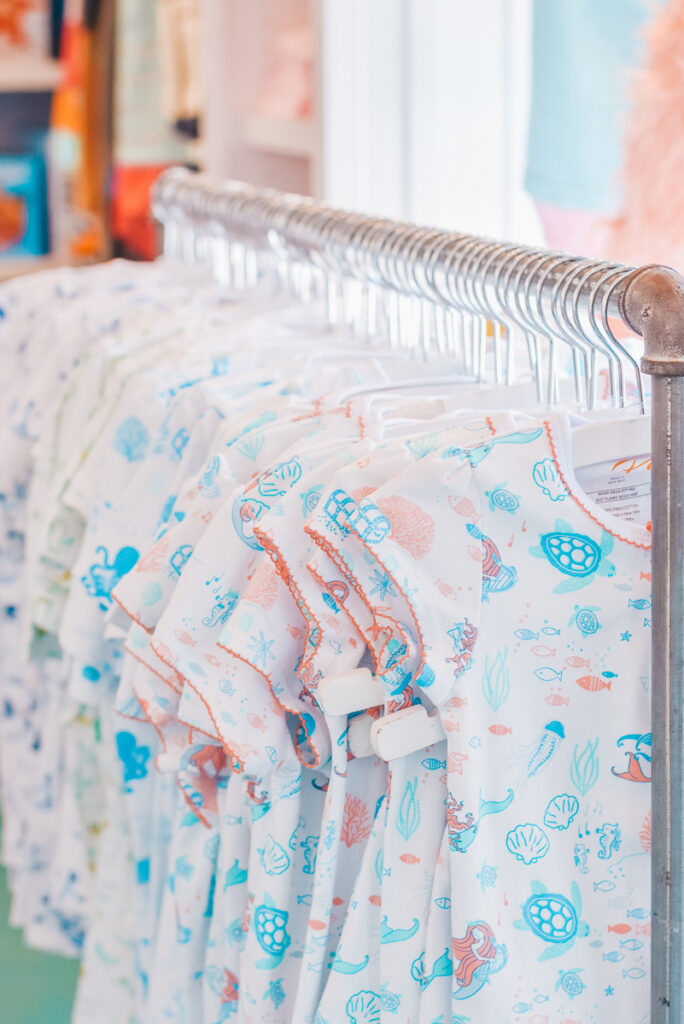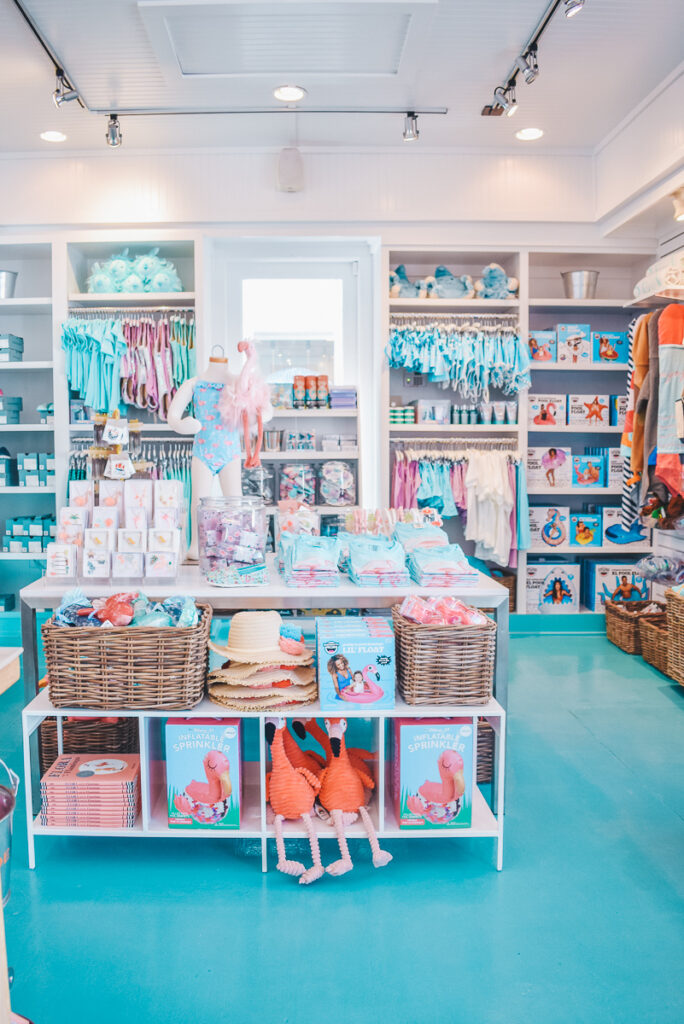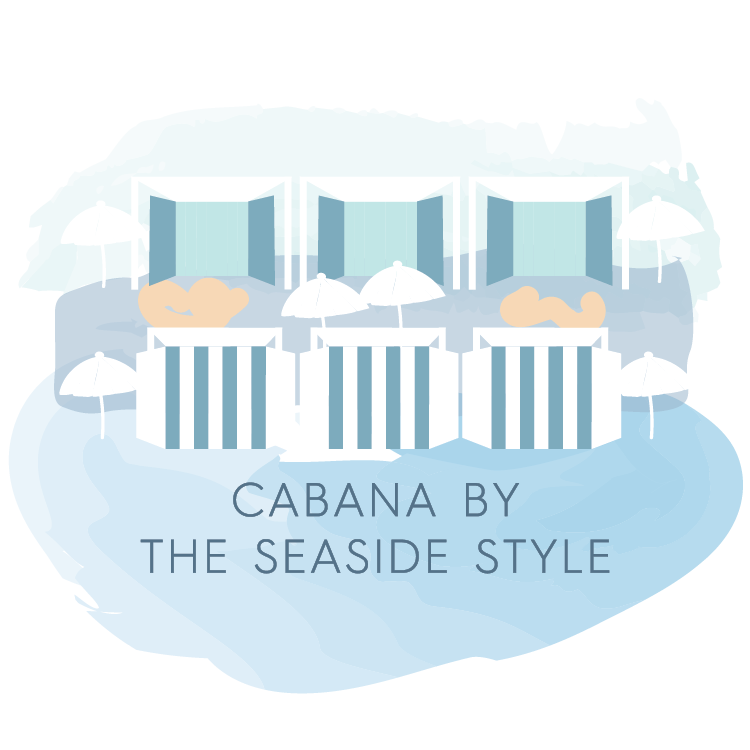 Cabana by The Seaside Style
Aesthetic: Is there anything more beachy than shopping out of cabana with sunshine and salt air in tow? I think not. Formerly known as Perspicasity, Cabana's signature turquoise and white stripes serve as the perfect welcome to Seaside's chic open air market. Palm print and bamboo add elegance to the fitting rooms and baskets upon baskets of goodies give you plenty to drool over. The vibe is relaxed enough to peruse in a swimsuit yet luxe enough to find a keepsake item to last you season after season. In short, it's forever summer.
What You'll Find: There's nothing fussy here. It's simple and timeless. Think easy, breezy, flowy and gauzy clothing. Imagine anything that works with white jeans — tunics to tanks and the details that complete an outfit. Find beads in long strands, stacks, and statements styles. Dip your toes into shoes that fit a beach day or a sunset dinner date. Take your pick of beach bags: natural fiber totes, raffia accessories and woven pieces are always in stock. Discover dresses, coverups, tops, pajamas, bags, beach towels, sunglasses and trend jewelry. Items are typically under $200 with many accessories under $40. There are even housewares and customizable pieces you can order and send home. I love the gorgeous golden bangles by E. Newton that can be worn in the water, salt and sun. You might notice that each cabana tells a different color story or features a favorite line.
Brands to Love: Find Seaside's exclusive collection of CP Shades, the fabulous local designer Nicole Paloma, familiar names like Splendid, Fresh Laundry, Velvet, Sam Edelman and Bella Dahl plus beautiful accessories from John Hart Designs, Gigi New York and Jack Rogers to name a few.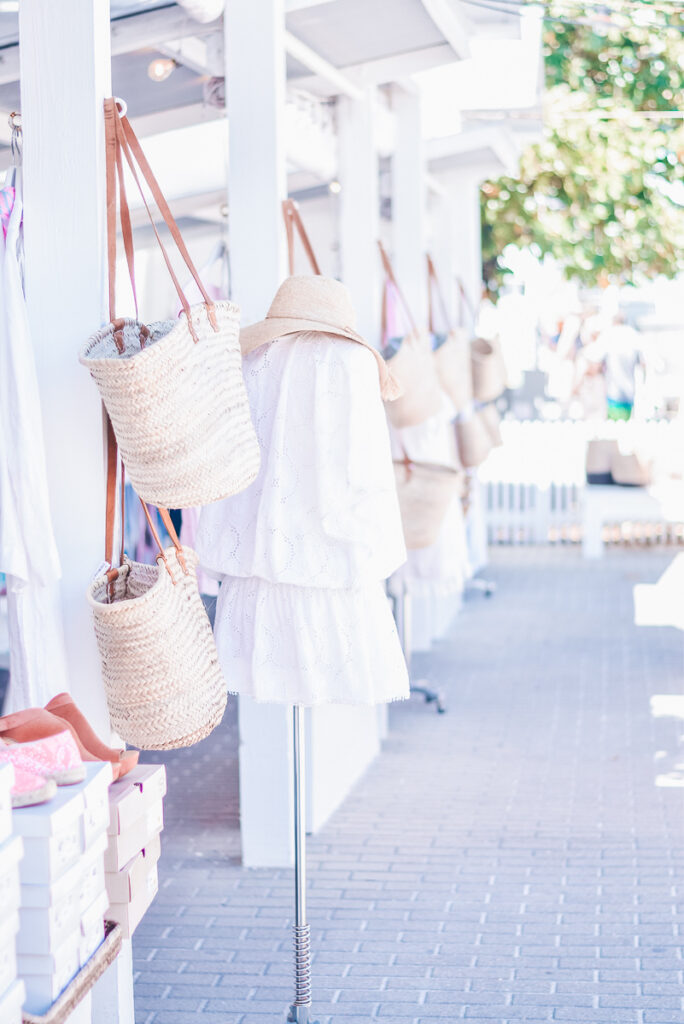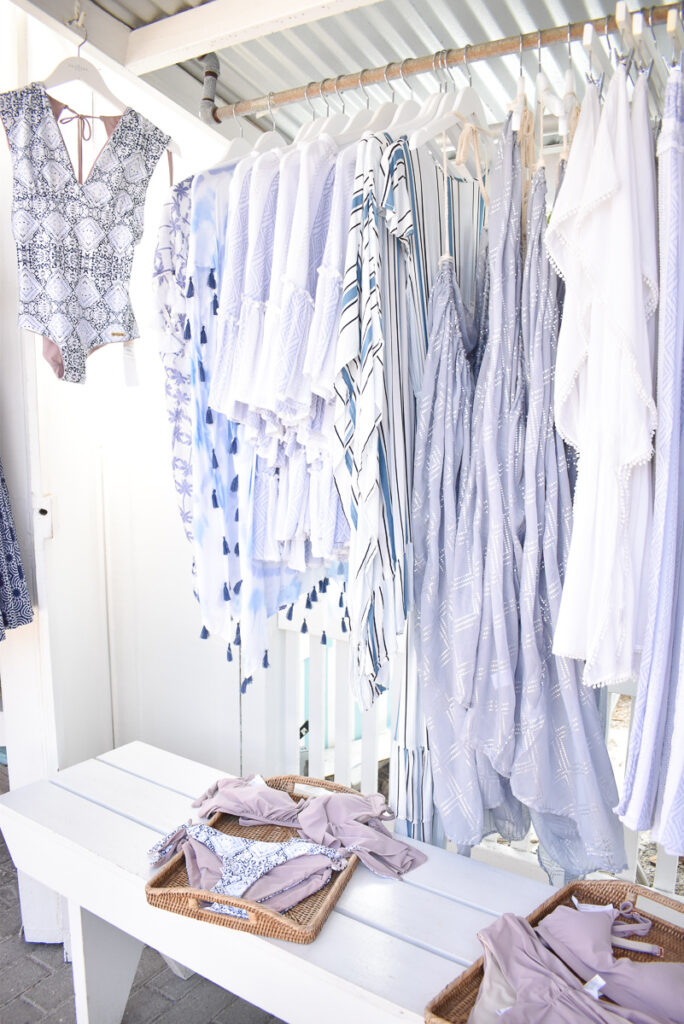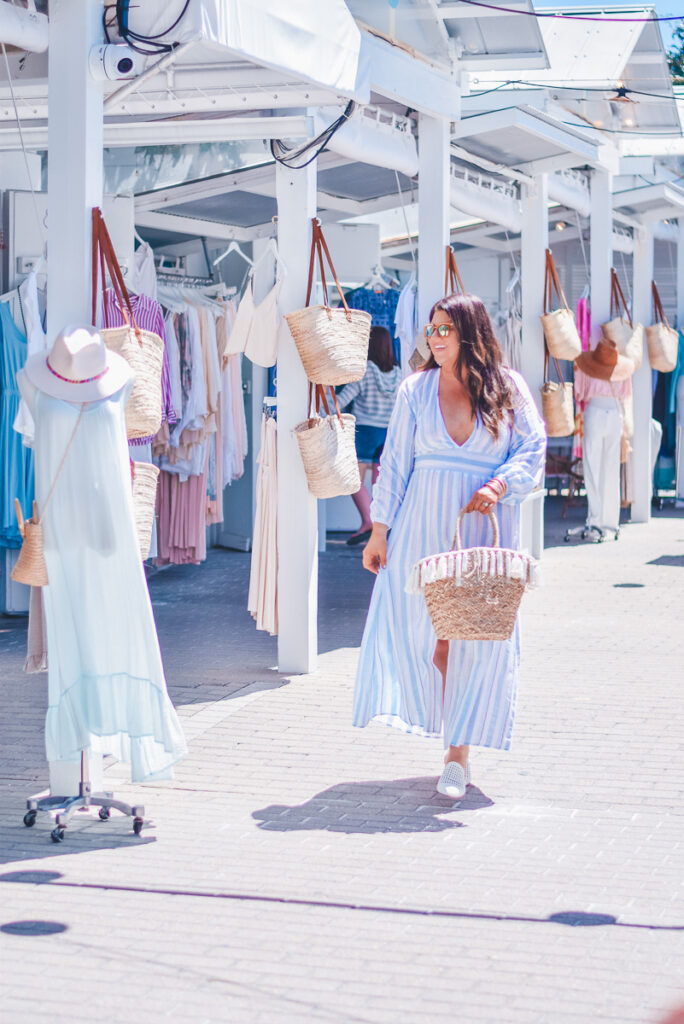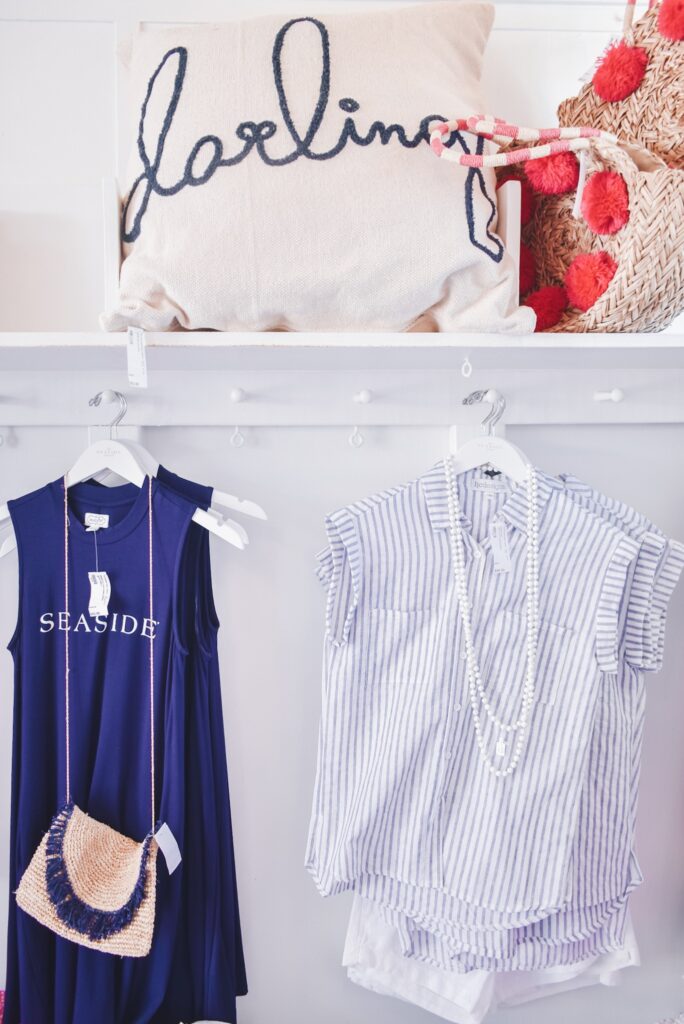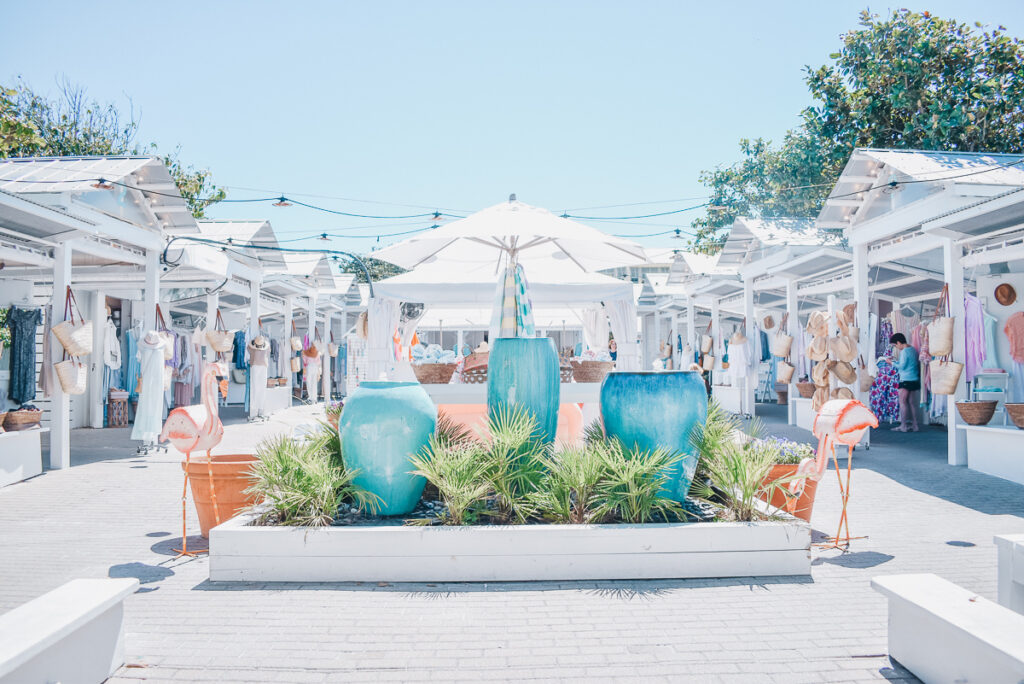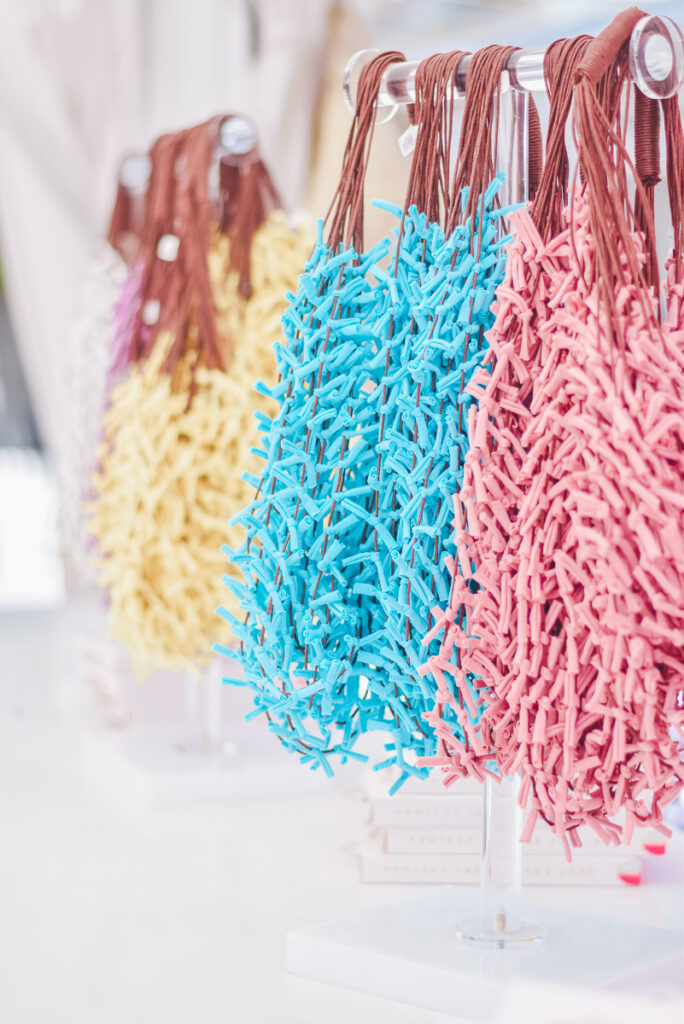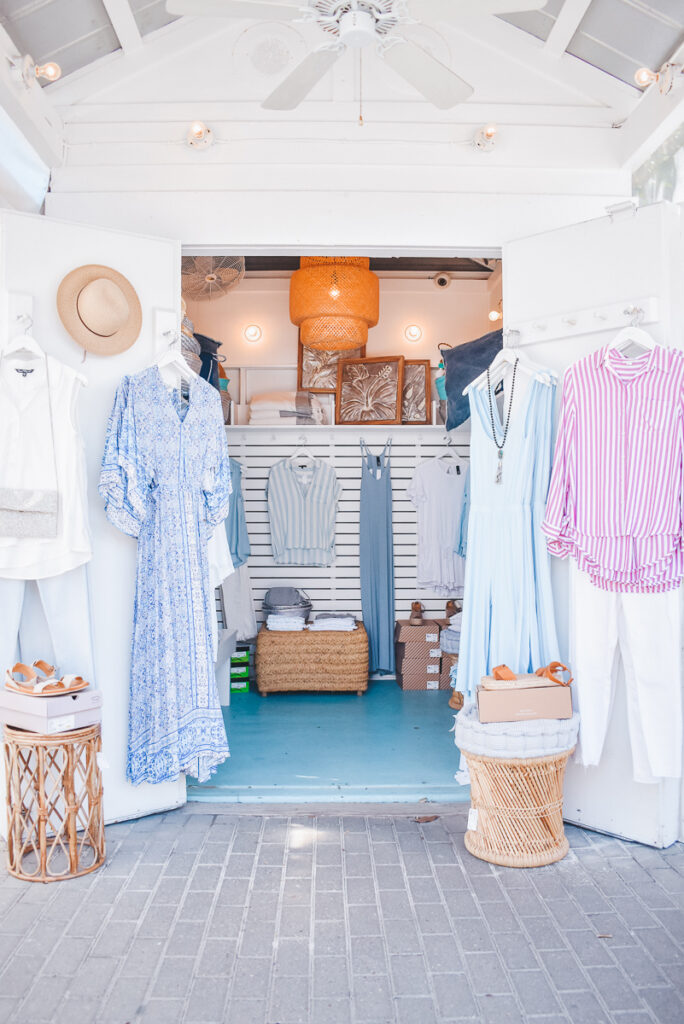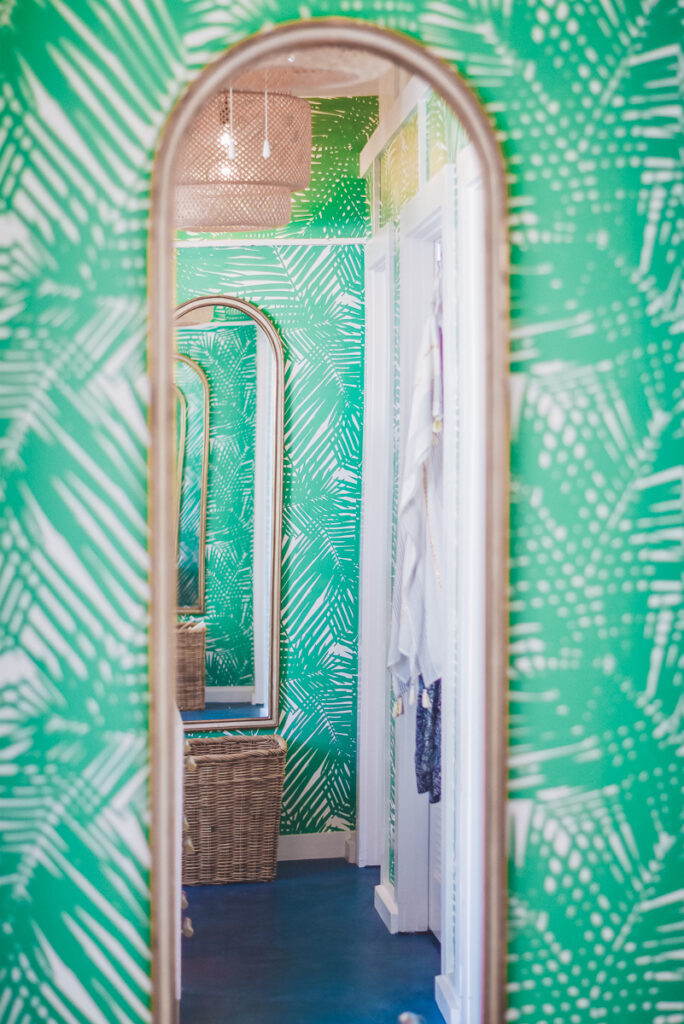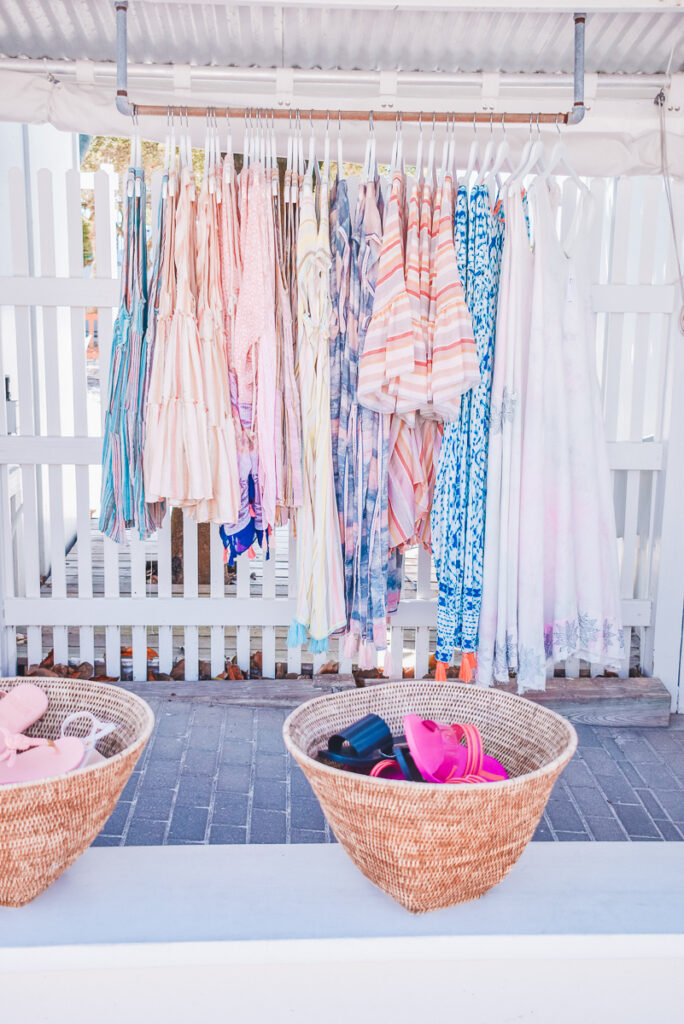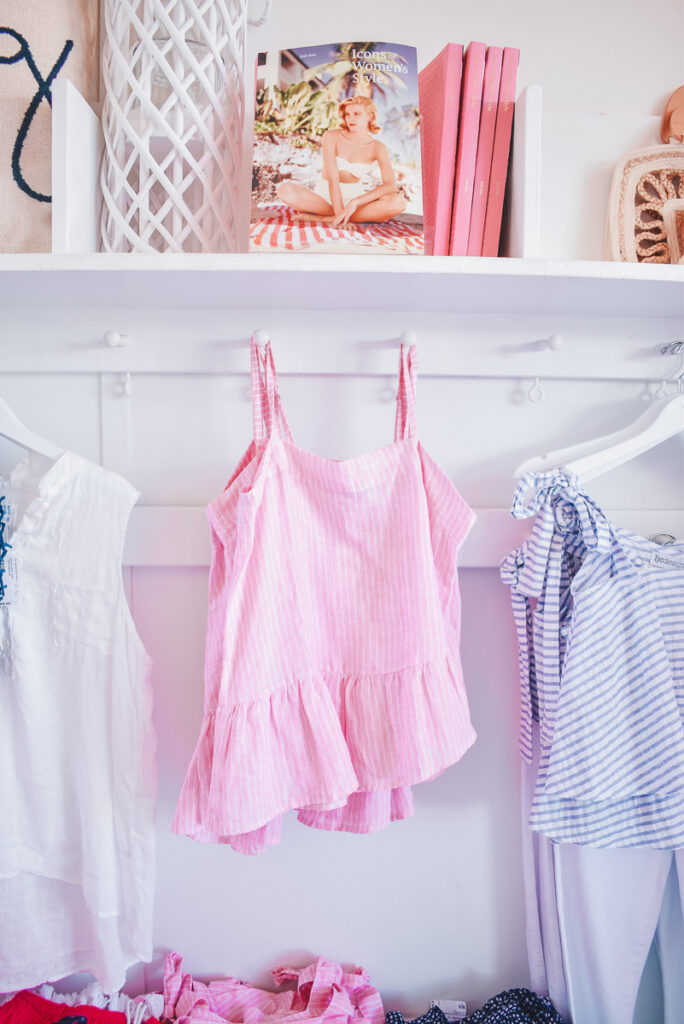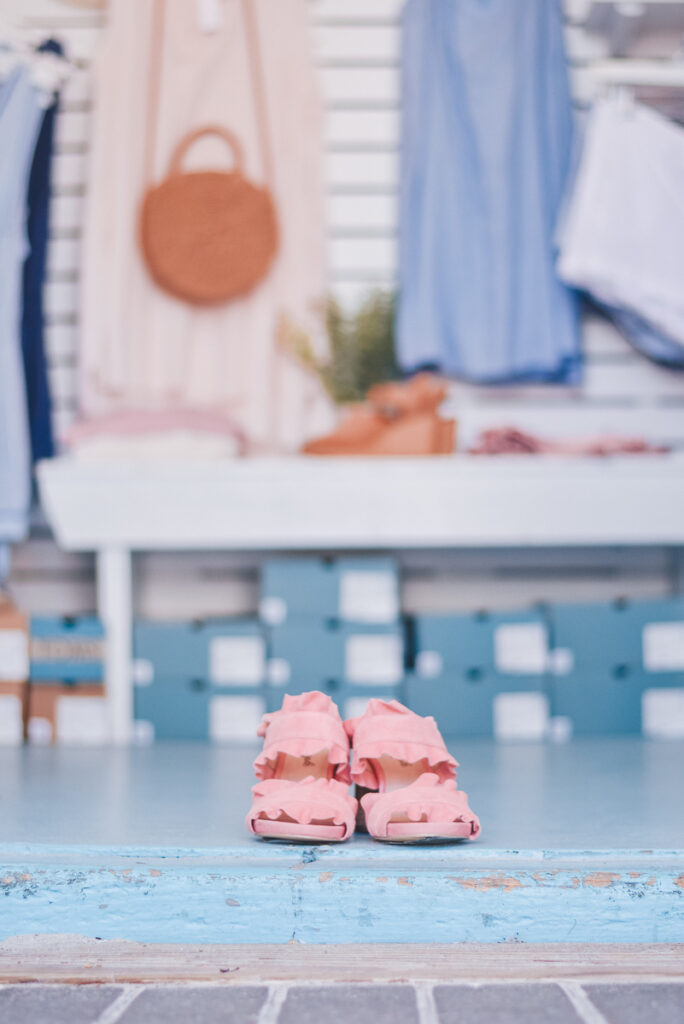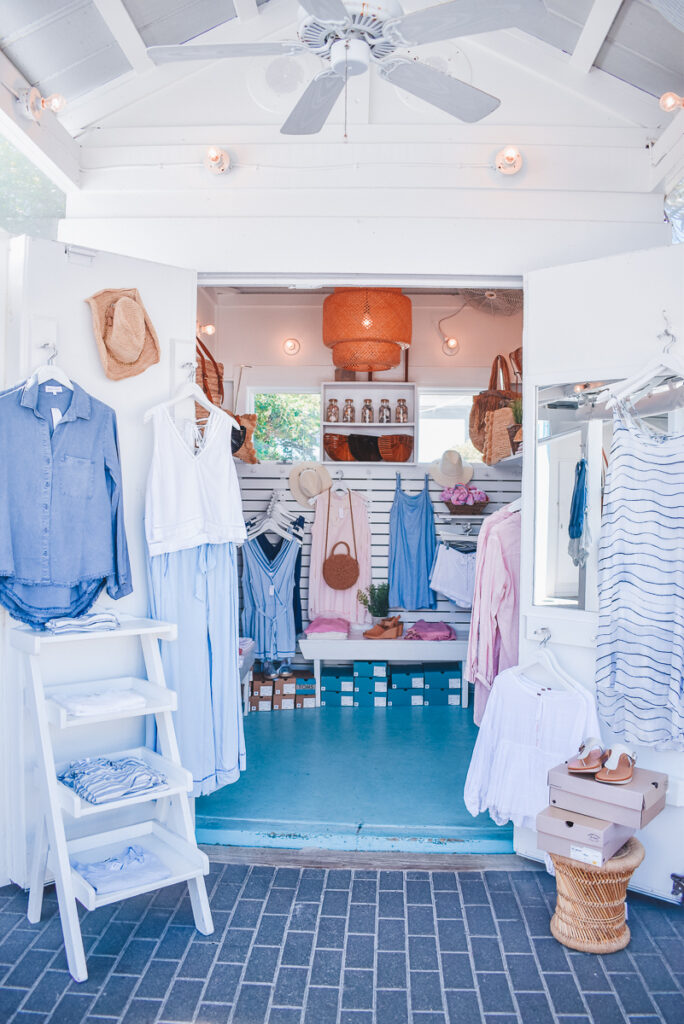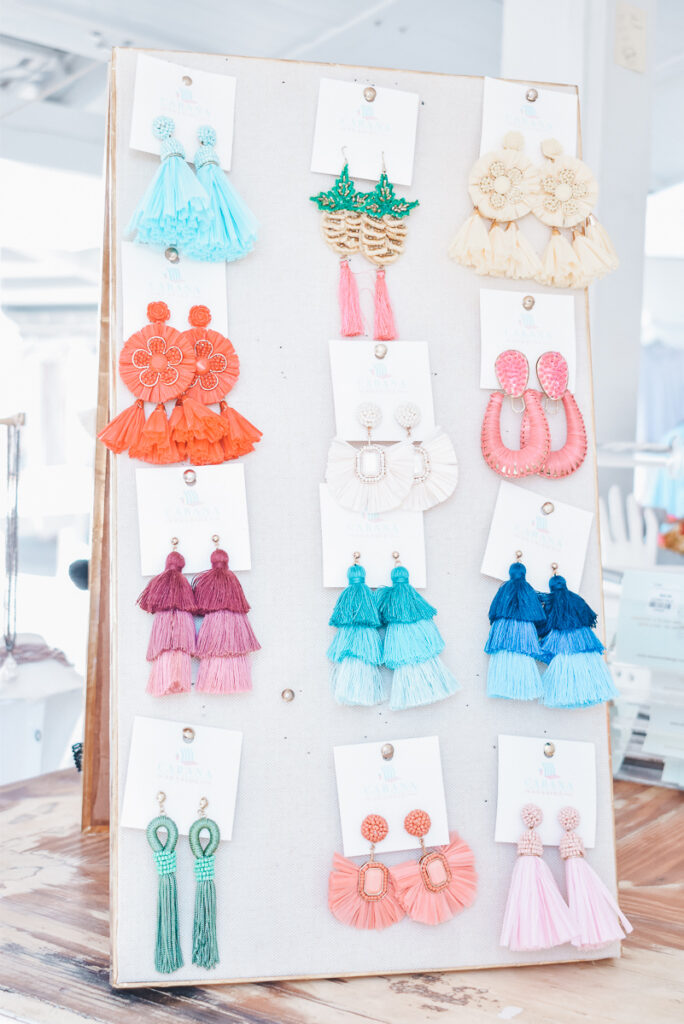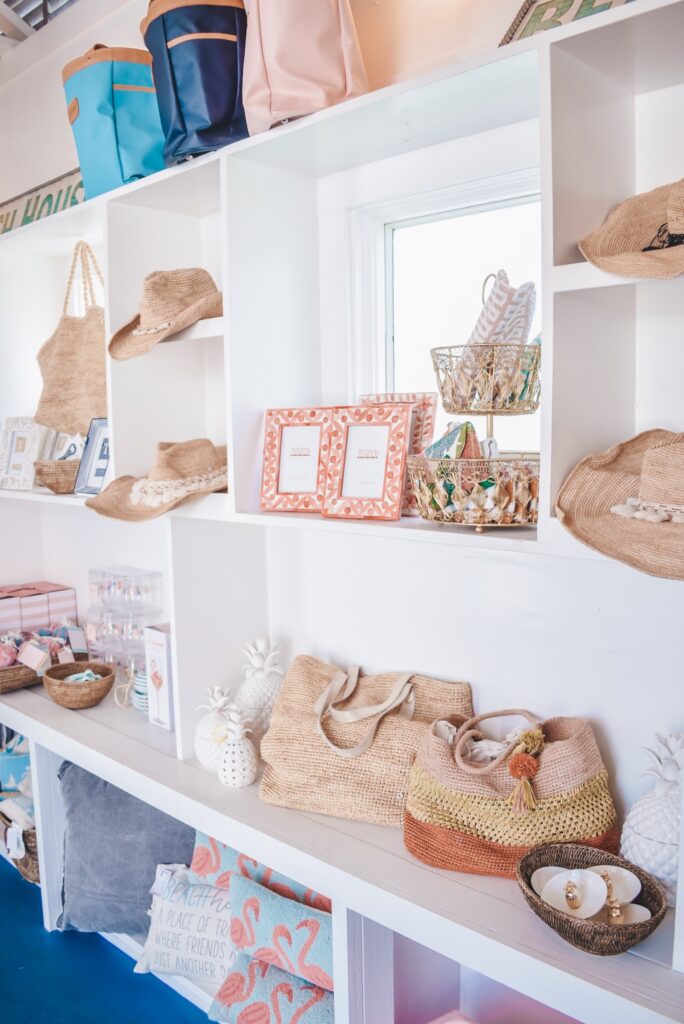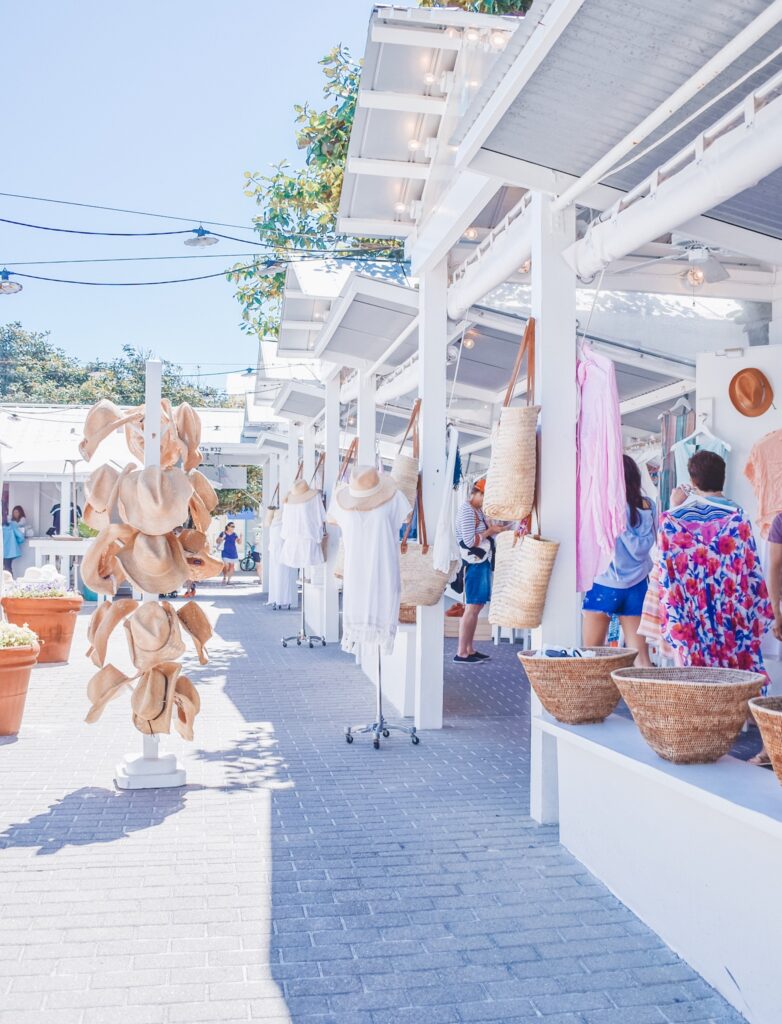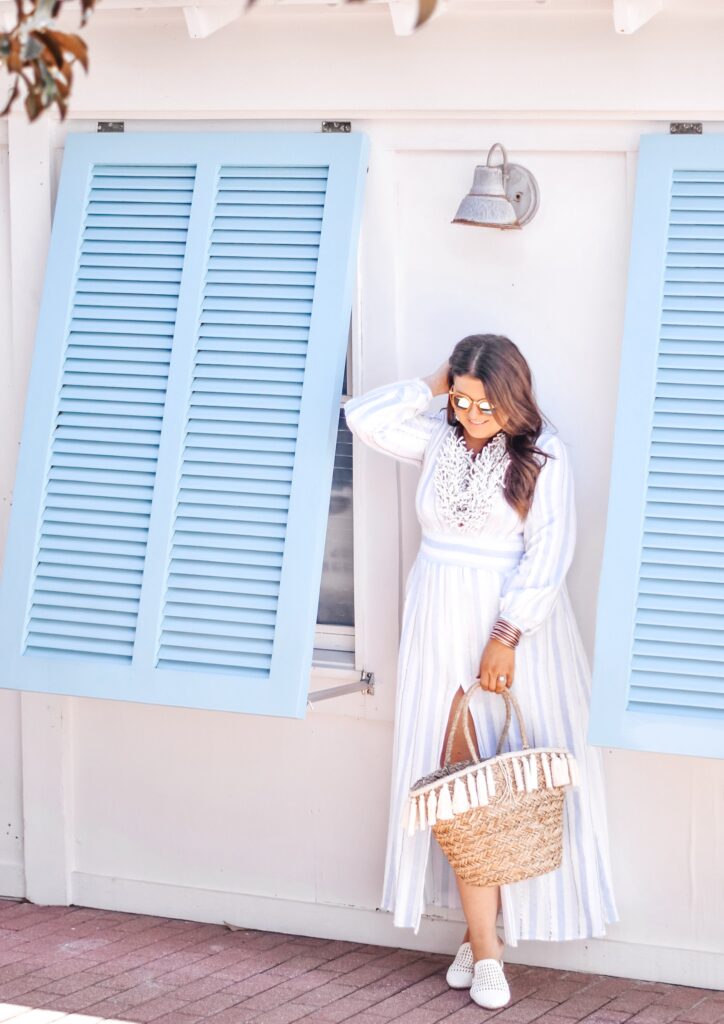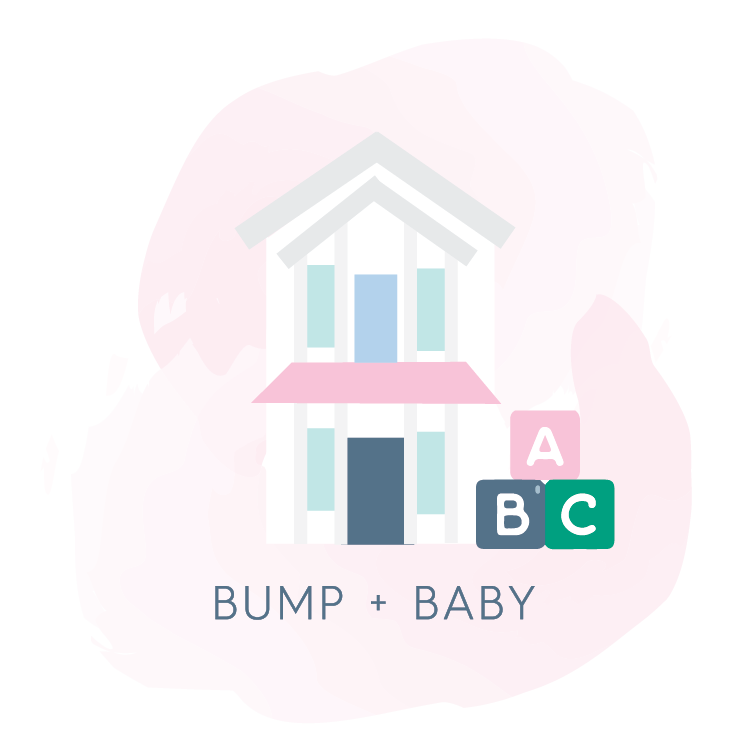 Bump + Baby
Aesthetic: The sweetest shades of pink and blue and the softest textures make this the quintessential mom and baby store. It's part southern, part beachy and precious enough for any tiny prince or princess. Bump + baby feels like you're stepping into a friend's nursery with light and airy tones, adorable keepsakes and little details bringing out all the heart eyes.
What You'll Find: This is the ultimate "welcome to the world" for babies and their beach-loving moms. From diaper bags, the softest onesies ever, infant swimsuits, traditional smocked dresses, classic jon-jons and baby bows to chic stuffed animals, minimalistic toys and mom-focused books, Bump + Baby has everything a mom-to-be needs with the added charm of The Seaside Style®. If you're shower shopping, this is your one-stop shop!
Brands to Love: The Beaufort Bonnet Company, Kite playsuits, Bla Bla dolls, Freshly Picked shoes and diaper bags, Ingrid & Isabel maternity, Ripe maternity, Noodle & Boo and more.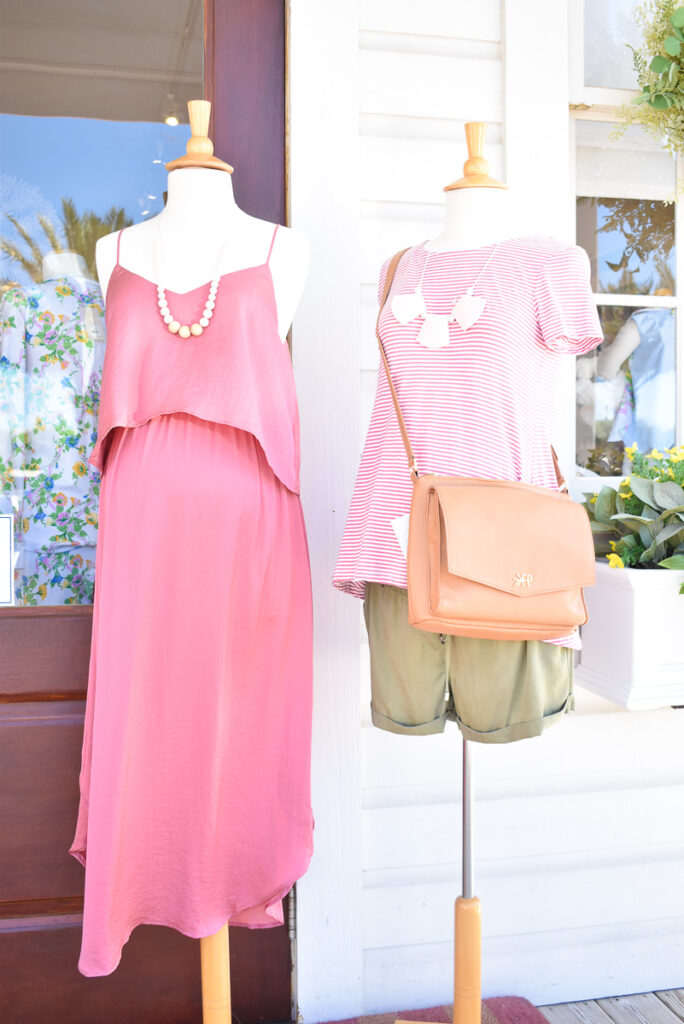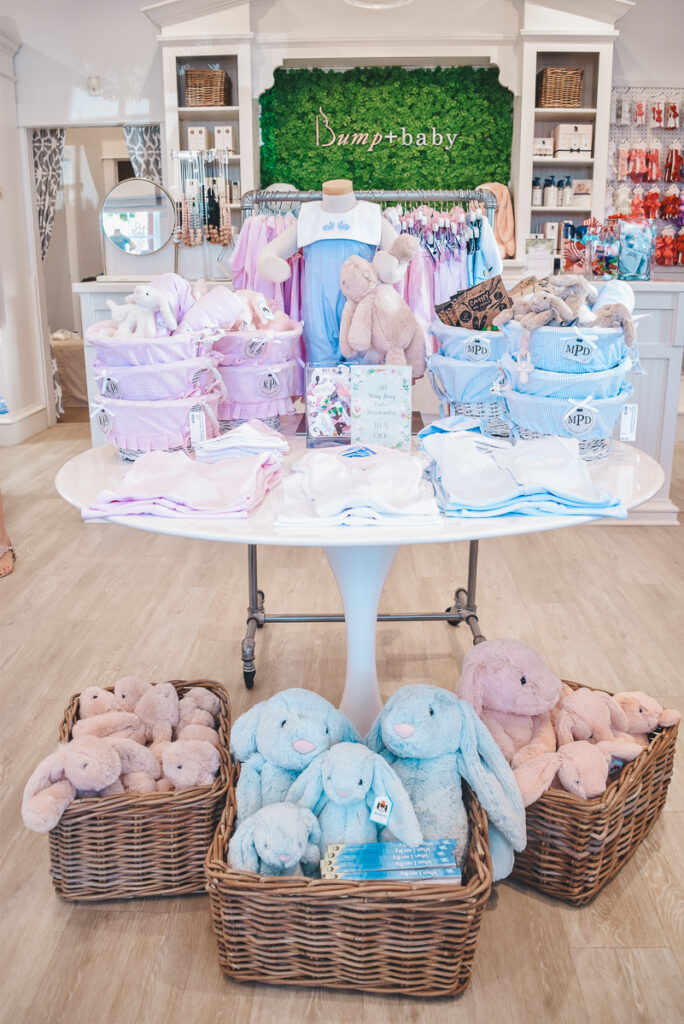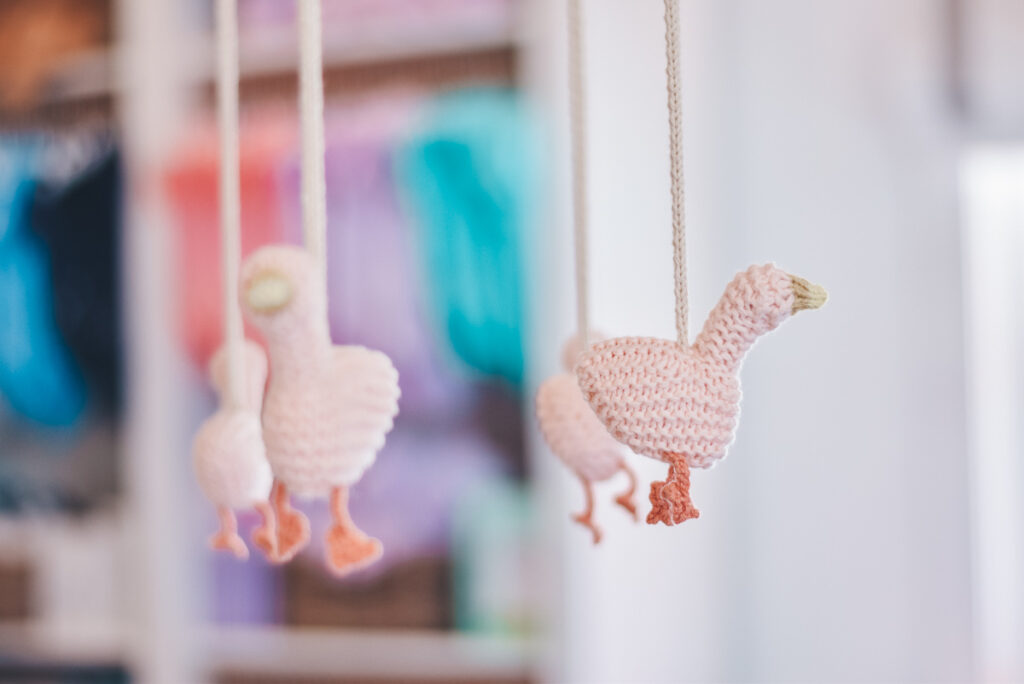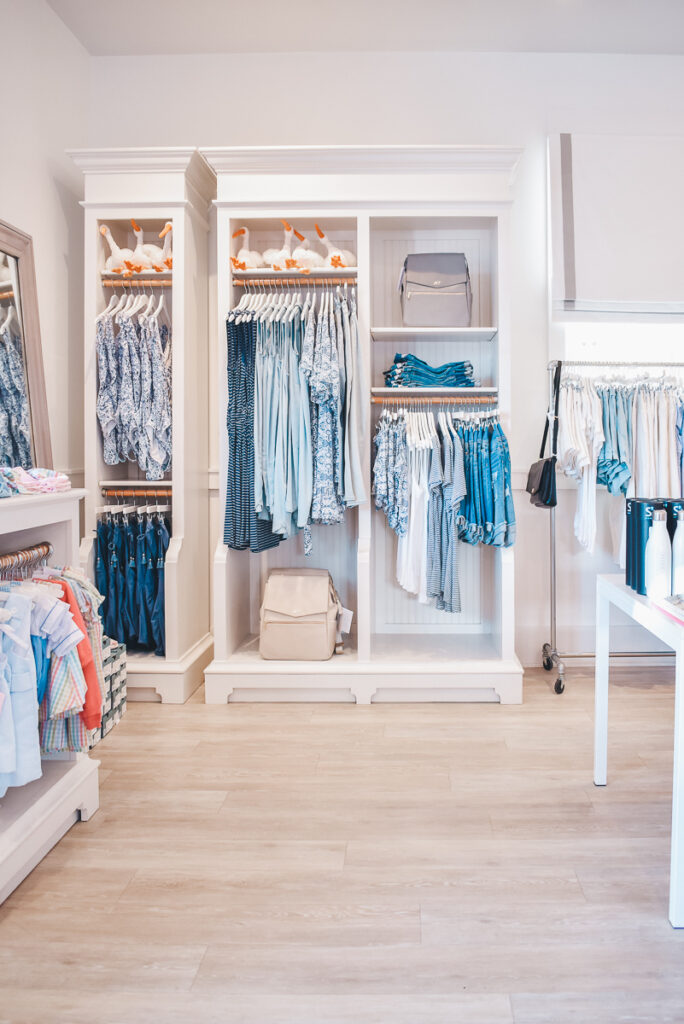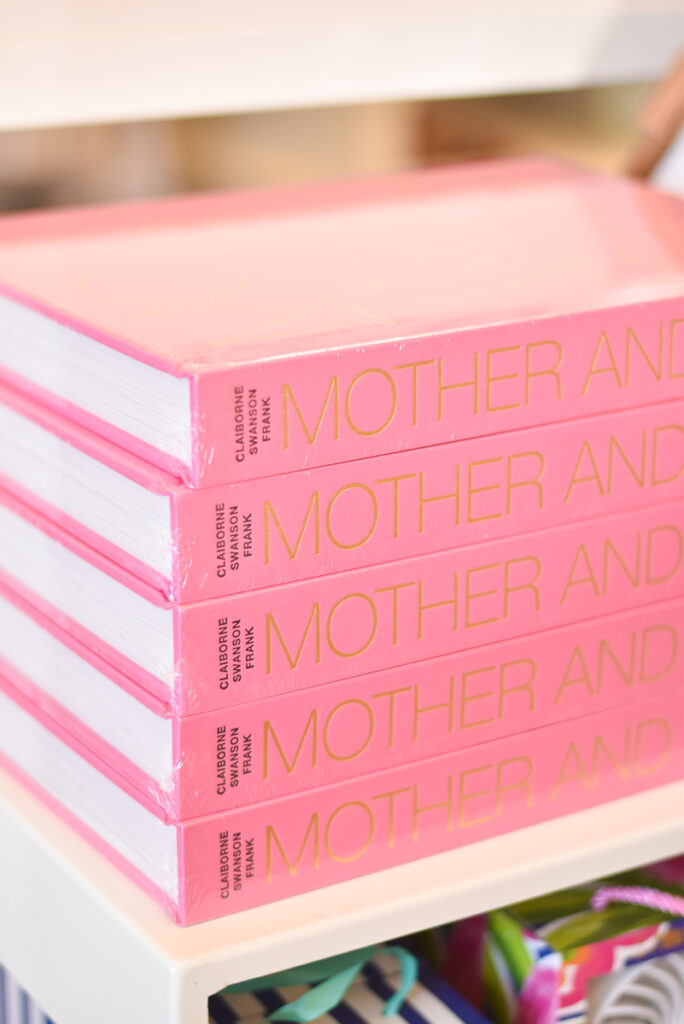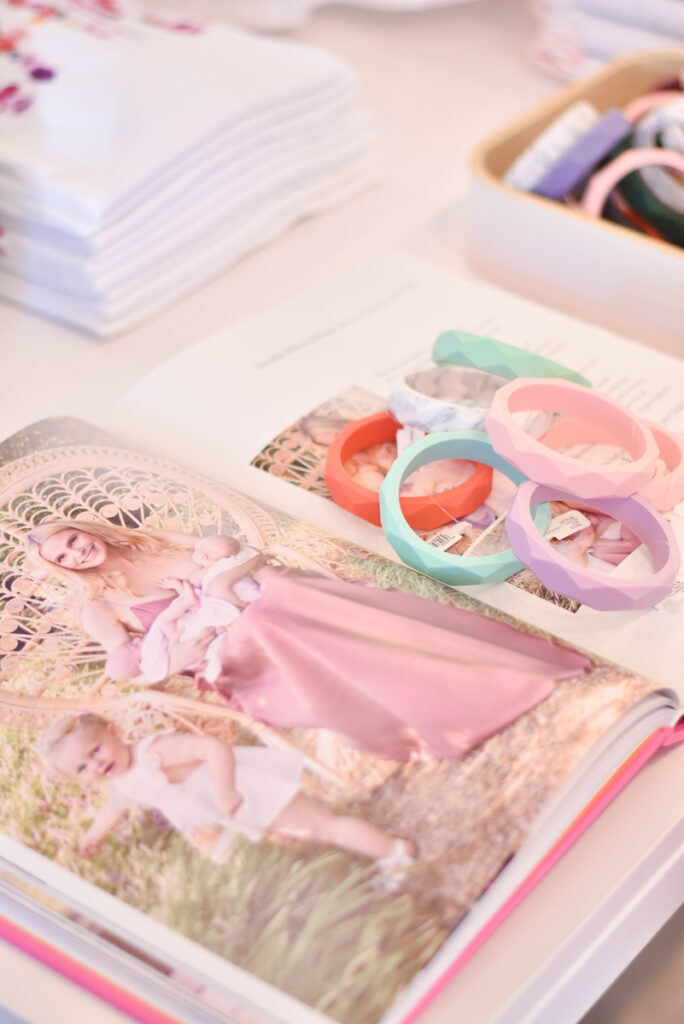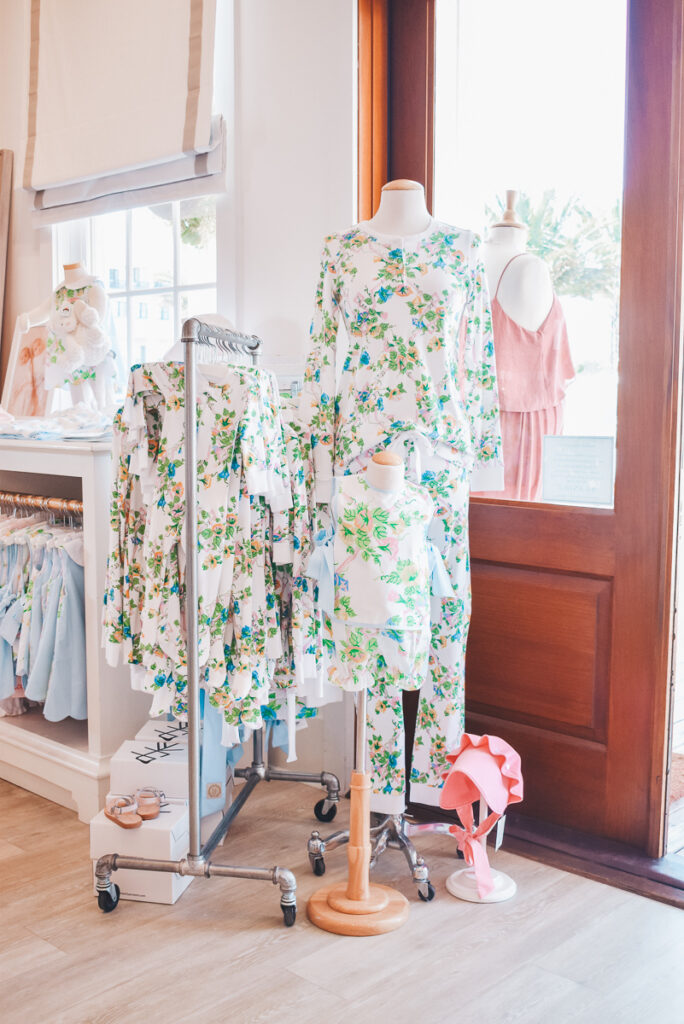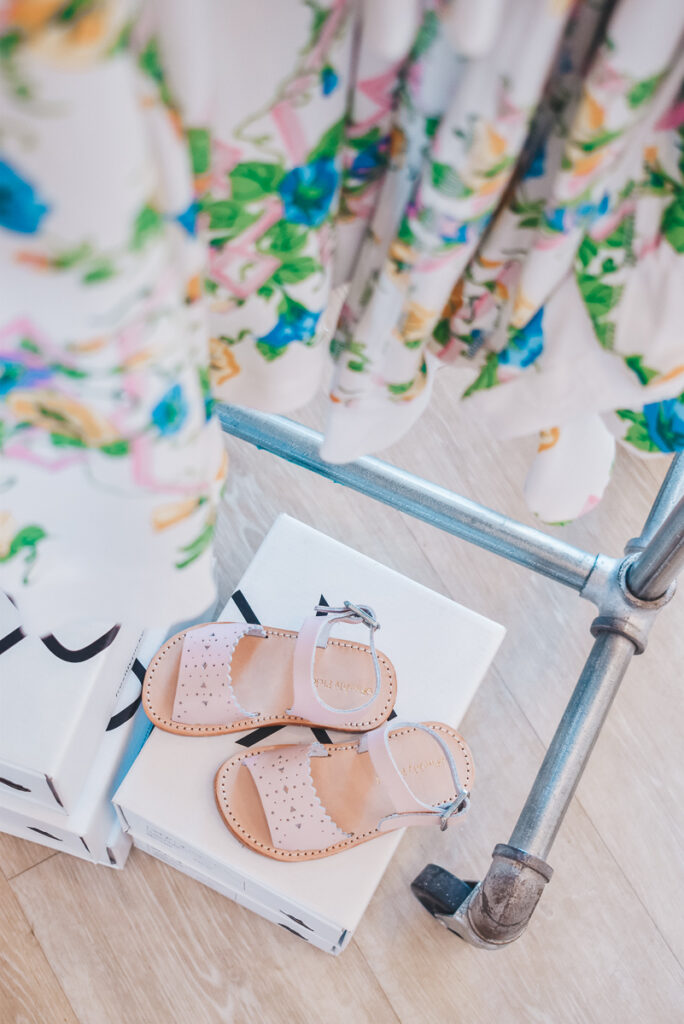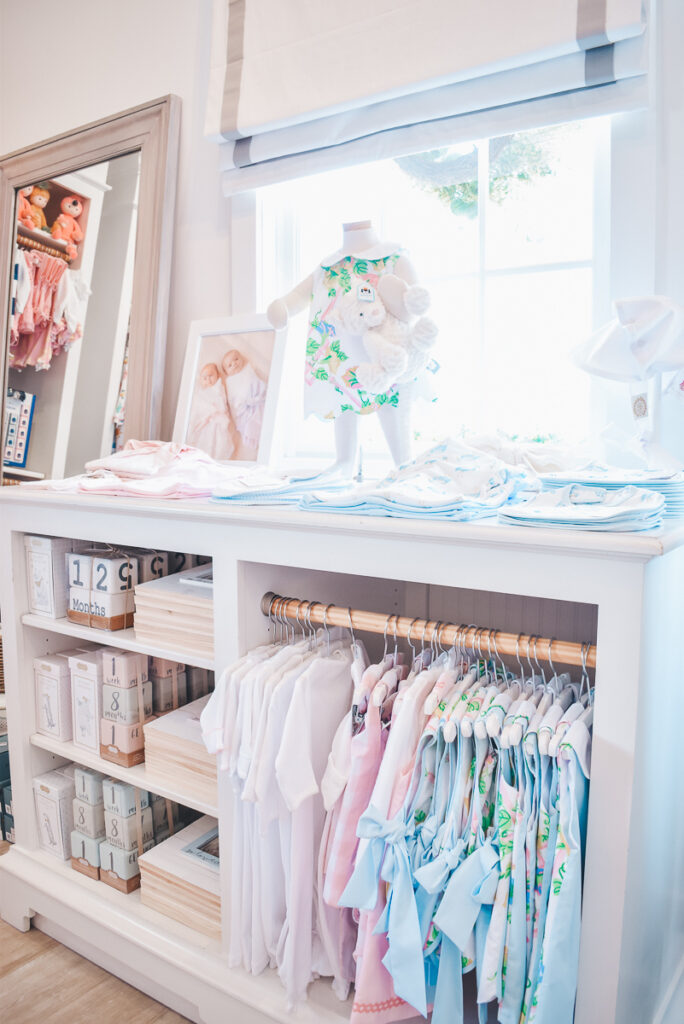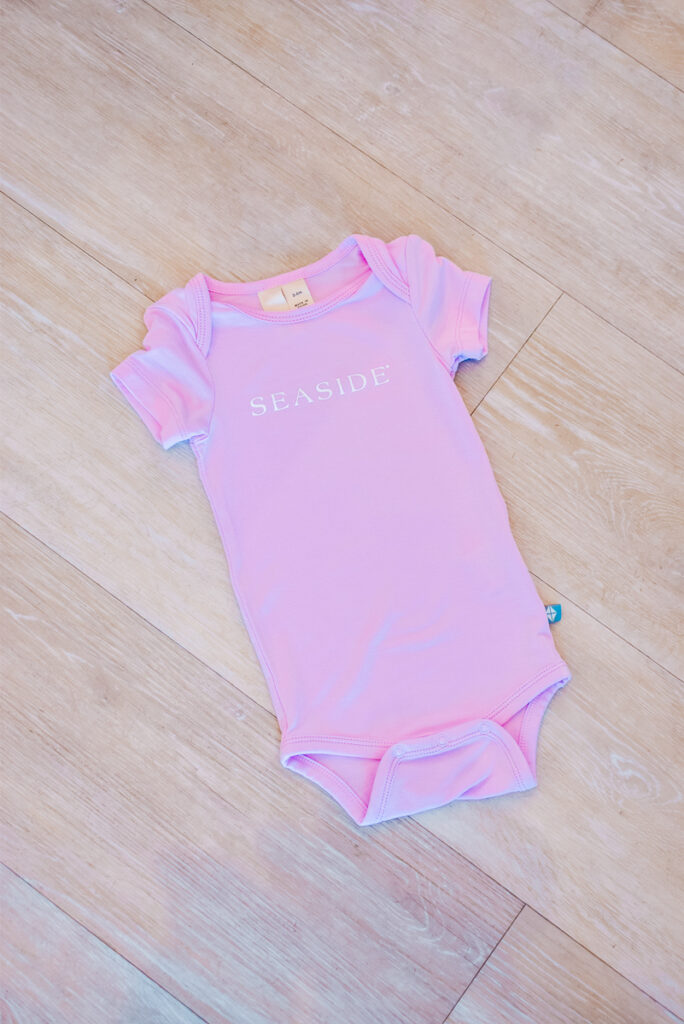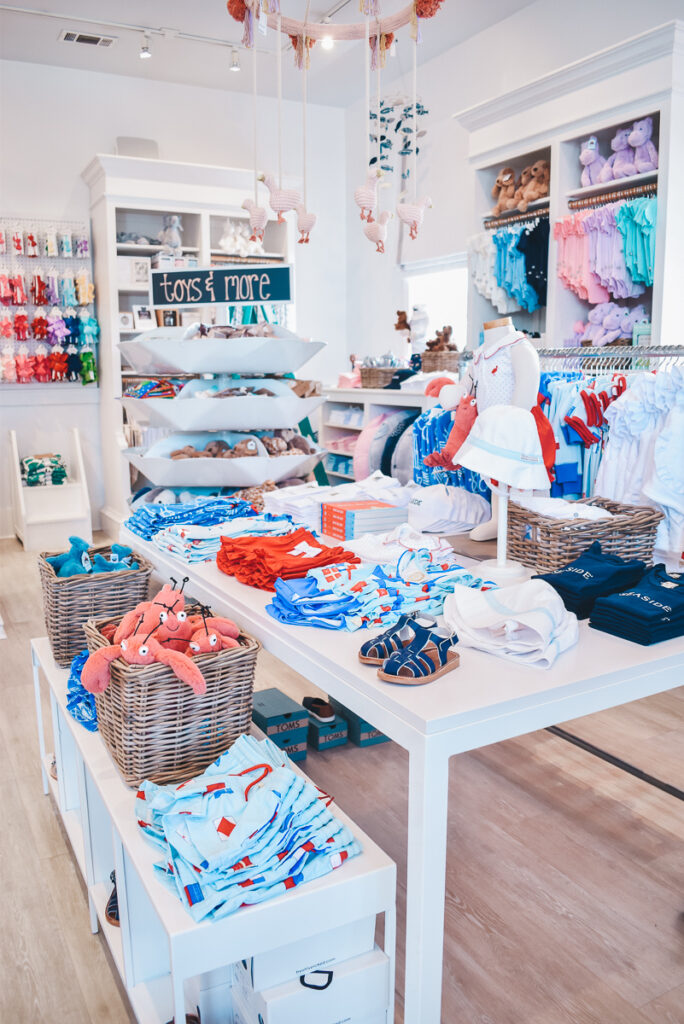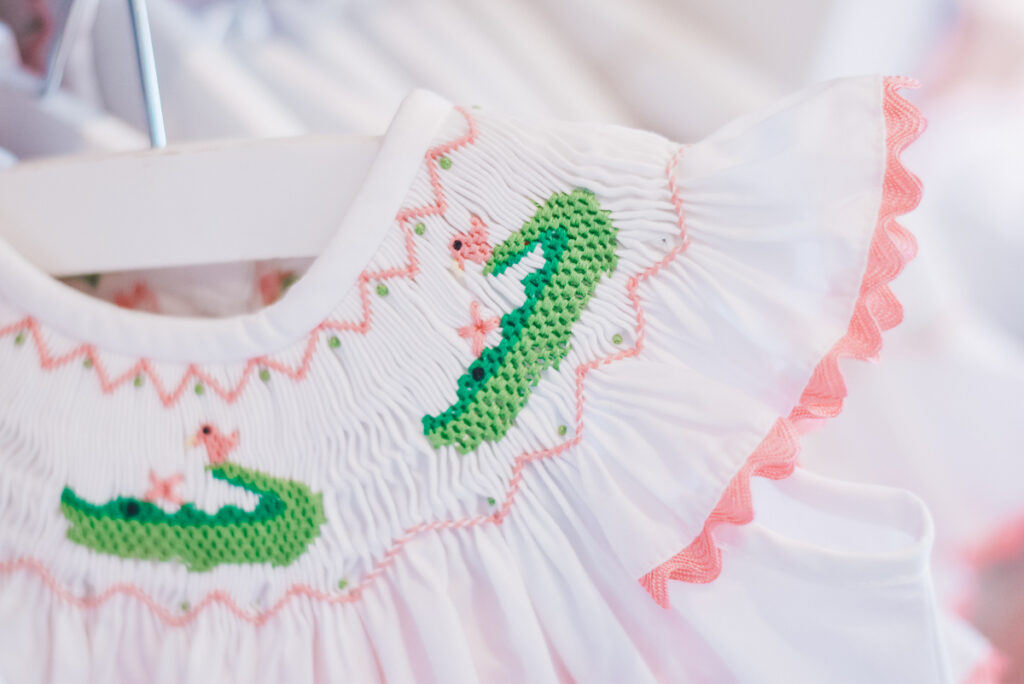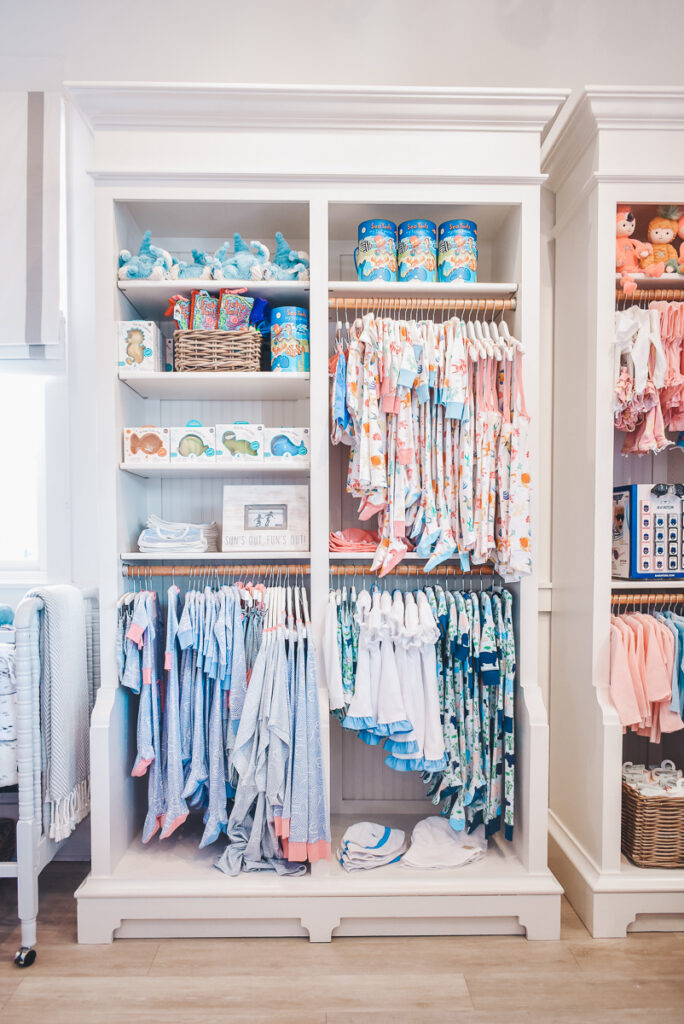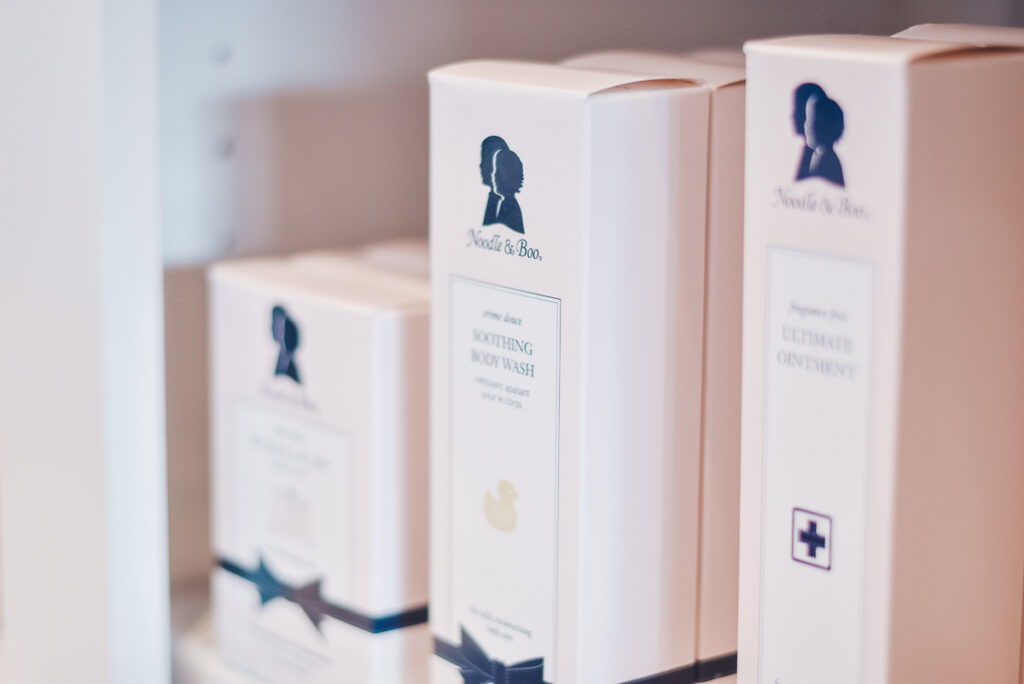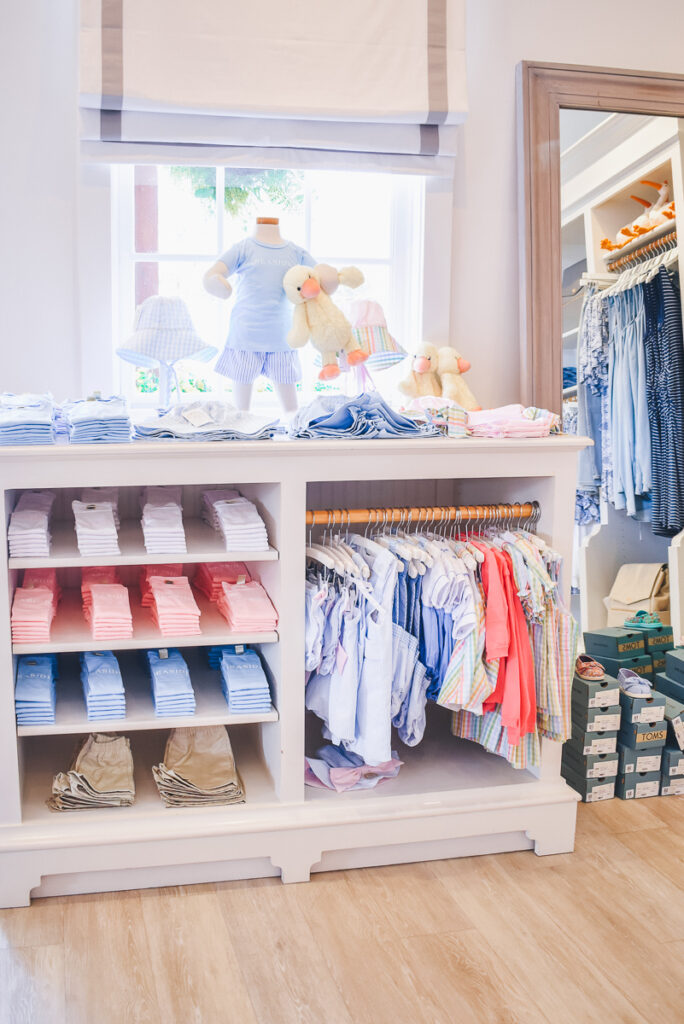 Do you have a favorite yet?
The Seaside Style® and its 5 stores have a lot to love. It's amazing how a brand with such simple beginnings has evolved over the past 3 1/2 decades and become beloved by so many around the world. Yes, a t-shirt may be the most-purchased product, but next time you see that familiar logo, think about the thoughtfully curated stores that shirt came out of, the picture perfect town that welcomes you and the simple, beautiful lifestyle we can all enjoy.
Find even more style and motherhood content on the 30A Mama Podcast. Listen on Apple Podcasts or Spotify or online at 30amama.com/pod.