When it comes to vacations in the Keys, there are a ton of ways to do it and this trip, we did Key West with kids. In the past, we've spent the most family time in Islamorada, and if you've visited Key West, you know it's great for couples, bachelorette parties and bar-hopping. It may not be the first thought for family trips, but I can tell you, it's not only possible to enjoy with children, but a wonderful trip to remember. Hunter and I absolutely love our time in the Keys and could even see ourselves living there one day. Just maybe!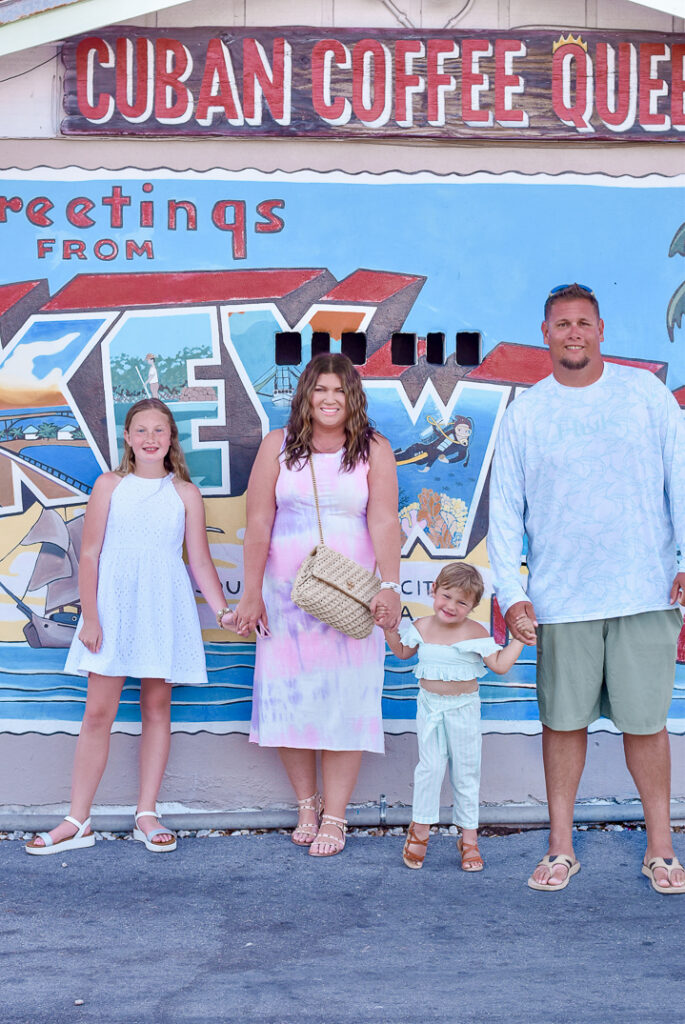 Here's what we did this time around and a few suggestions for your family itinerary.
What to Do in Key West with Kids
Plan Stops to and from Key West
Our favorite place to stop on the way in is Robbie's in Islamorada. You can buy a bucket of fish and feed the tarpon from the dock. It's such a fun experience and the girls love it. The pelicans can be a little aggressive the moment you're dropping a fish, so keep that in mind, but otherwise a stop I hope they remember for years. There's a restaurant, coffee truck and open-air stands to browse knick knacks and vacay supplies.
Rent a Boat
This was hands-down our favorite activity because the water in the Keys is just beautiful. It's the best playground and we wanted a full day to swim, cruise and snorkel. We rented a boat out of Hurricane Hole Marina from Florida Keys Boat Rentals. It was a perfect day and we got to see an incredible offshore reef, play in the sandbars and look for sea turtles. We spotted about 6!
See the Southernmost Point
Visit Mallory Square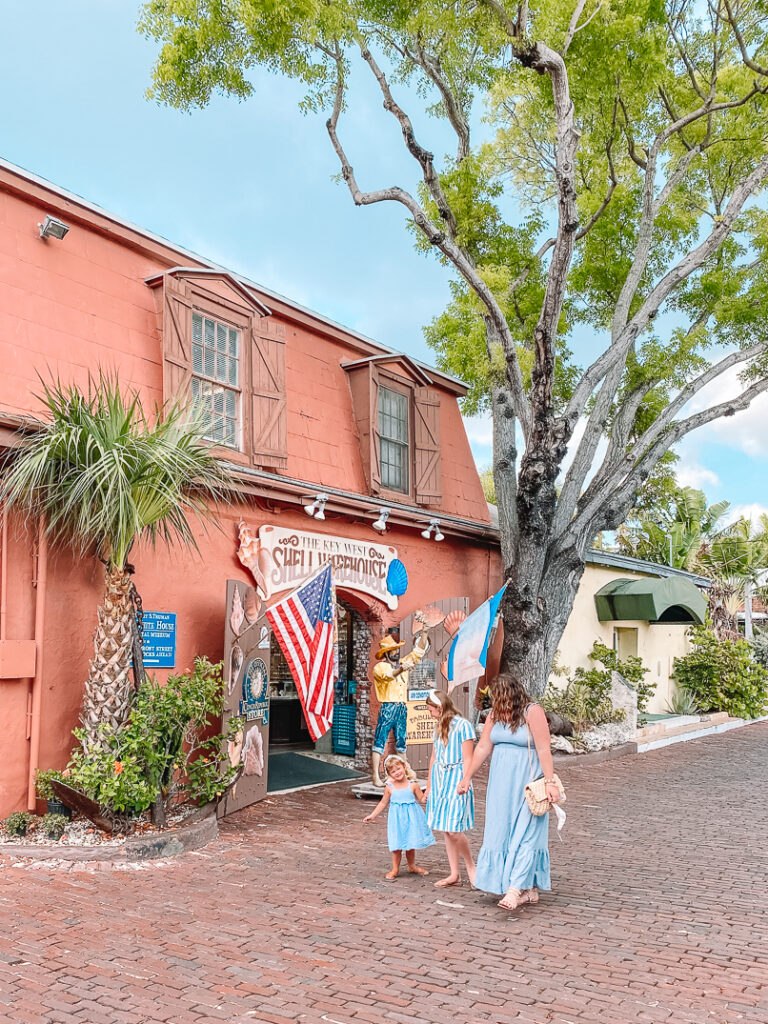 Definitely on the touristy side, but isn't that the point every now and then? Browse the local shops and food stands while you wait for sunset or between museum visits. Shell shops, conch fritters, souvenirs, sponge stands and a ton of gift options can be found here.
Browse the Shipwreck Museum
I have to put this on the list because it was not only really interesting to all of us, but also the best view of the town of Key West. The only catch is that you have to climb a few stories to reach the lookout tower on top – just like in the old days spotting shipwrecks. I didn't take any photos inside the museum, but it was so fascinating for all of us to hear how the people of Key West made shipwrecks their business back in the day.
Walk through the Aquarium
Small and quaint, but worth a walk through with kids to see the giant sea turtles rehabbing onsite. You can also get a discount by bundling with nearby attractions.
Visit Hemingway House
Walking through the house and seeing the famous Hemingway cats is a fun way to spend the morning or afternoon. You can chat with older kids about the history of the house and the writer or just take in the details.
Eat Key Lime Pie
Can't leave Key West without a bite of Key Lime pie. Kermit's is an easy and delicious spot to grab a slice — classic and plain or a few jazzed up options. I loved the option with toasted coconut on top. So good!
Where to Stay in Key West with Kids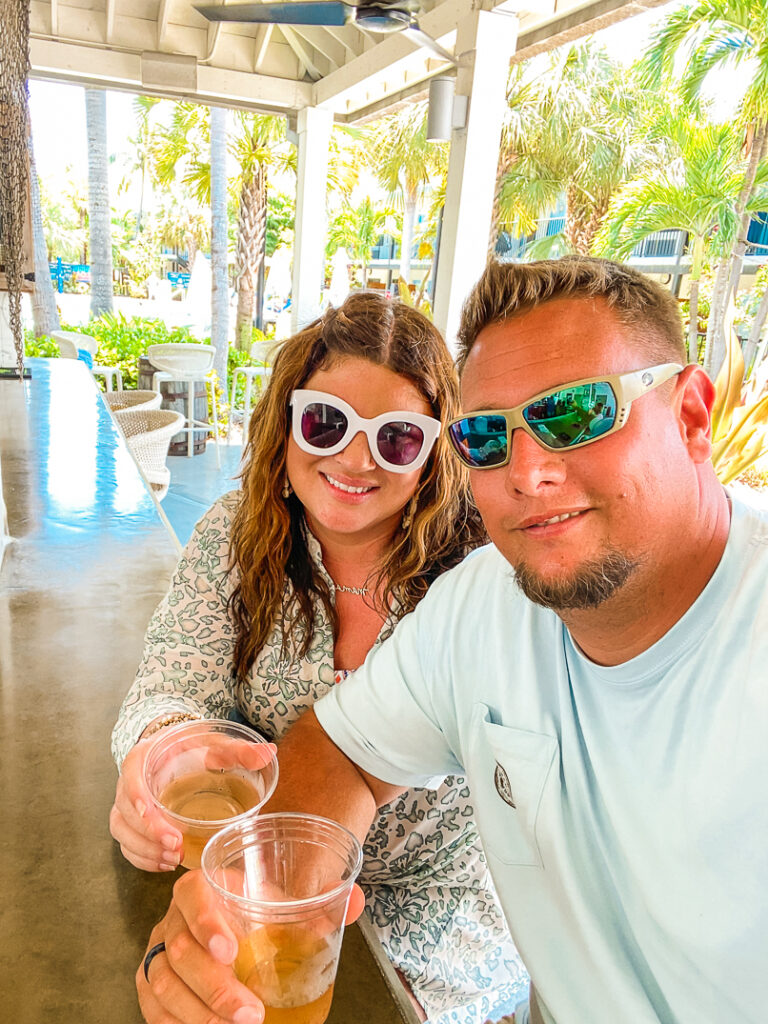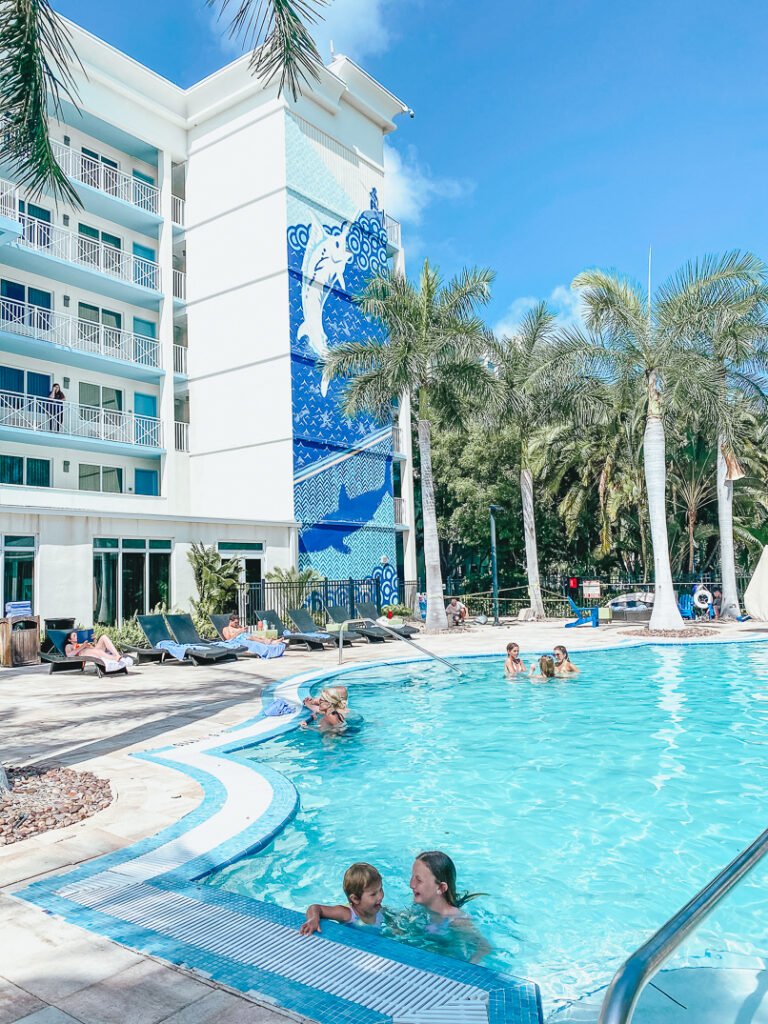 The Gates Key West / 24 North
This cute hotel is a little out of the main touristy area (not walking distance), but was right next door the the Key West Songwriters Festival. I collaborated with these sister hotels to share them on Instagram stories. We were able to listen to the performances from the pool deck, which made it completely worthwhile. With kids you might not want to stay super close to Duval Street, so for an affordable, quiet option this sister hotel combo was fine.
Other Hotel Options
The Marker Key West
Southernmost Beach Resort
Hyatt Centric Key West
Perry Key West
Emery's swimsuit // Collins' two piece set
Where to Eat in Key West with Kids
There is SO MUCH good food in Key West. From seafood to Cuban to food to delicious steaks and plenty of snack, I know I'm going to enjoy every meal.
Pepe
One of the older establishments, this place has been open for over 100 years. Breakfas is popular here as well as steaks and nightly specials for dinner. The mango shrimp special was delicious and the girls loved their peel-and-eat shrimp and bites of our food. There isn't technically a kids menu, but our girls normally eat what we eat anyway so it worked well for us.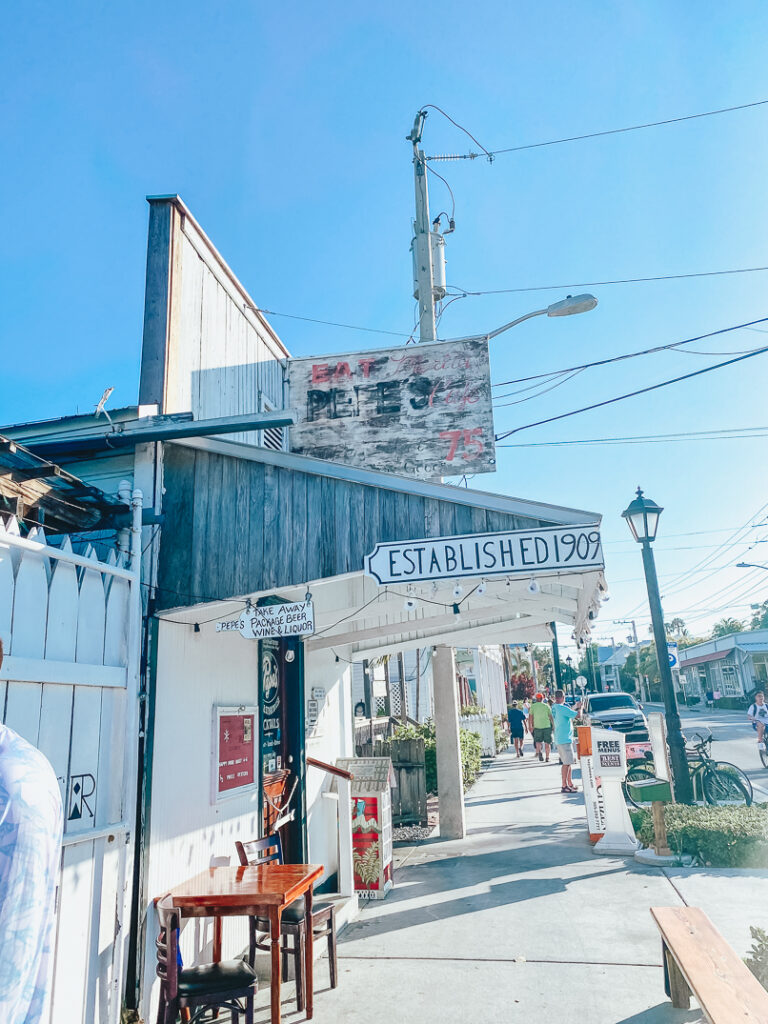 Sandy's
Delicious, authentic Cuban sandwiches. Bike over or grab-and-go in the car like we did. We ate this after a day on the boat and they hit the spot. Every bite was gone in record time.
Cuban Coffee Queen
Worth standing in line for coffee, obviously, but also the breakfast and lunch bites. Don't miss the Key West painting on the side of the building! You can order ahead so you only have to wait to get to the window vs also waiting for the order to be made.
Fisherman's Café
Fast breakfast option with giant, delicious breakfast sandwiches. This is another walk-up window with plenty of dock area to walk and eat, watching the boats come in and pelicans look for breakfast.
Blue Heaven
The Creperie
Hot Tin Roof
Have you visited Key West with kids?/ Let me know what other places and activities you've done!