If you've tried to make 30A restaurant reservations, you probably know, they can be hard to find. The majority of the dining establishments around South Walton are first-come, first-serve and many have wait lines you just have to accept to enjoy the delicious dishes that await. That's not to say you can't enjoy an impromptu dinner out — we do that plenty — but you have to account for the time of year, whether it's the busy season and time of day. There are also a short list of 30A restaurants that take reservations so you can plan and schedule in advance.
Here are a few of my favorite local spots where you can try to score a reservation and skip the wait.
East 30A Restaurant Reservations
Pescado
If you're a foodie, you'll definitely want to score a reservation here because the menu is next level. For a more casual option if it's not too busy, you can wing it and try for a bar seat on the rooftop with one of the best views of Rosemary Beach.
Menu & Hours: rooftop30a.com
For Reservations: (850) 213-4600 or rooftop30a.com
The Citizen
One of the newer 30A restuarants, The Citizen in Alys Beach is swanky and cool with is chic navy decor and upscale coastal vibe. Walk-ins will typically have to wait for a table or seat at the bar or raw bar, but if you have a larger group (8+), making a reservation will ensure you have the best experience. The craft cocktails are some of the best along 30A, food is thoughtfully prepared and the ambience is icing on the cake.
Menu & Hours: citizenalys.com
For Reservations: for parties of 8 or more 850-909-0702
Restaurant Paradis
In the heart of Rosemary Beach, Restaurant Paradis is a frequent stop of ours for date night and "just because" special meals. The Cast Iron Filet — Hunter's go-to dish –and Lobster Crusted Grouper are favorites. The setting feels romantic and sophisticated and I highly advise taking a tour of the cocktail menu.
Menu, Hours & Reservations: restaurantparadis.com/
Central 30A Restaurant Reservations
Café 30A
I actually worked here many moons ago one summer in college garnishing food. Seeing a place from the kitchen and the care that goes into each dish gives you next level appreciation for the food that comes out. Every dish is delicious and martinis are the drink of choice here. Great spot for big family dinner or celebrating special occasions. Fun fact: This is one of the oldest currently-operating restaurants on 30A and was always THE place to spot celebs in town.
Menu & Hours: cafethirtya.com/
For Reservations: (required) 850) 231-2166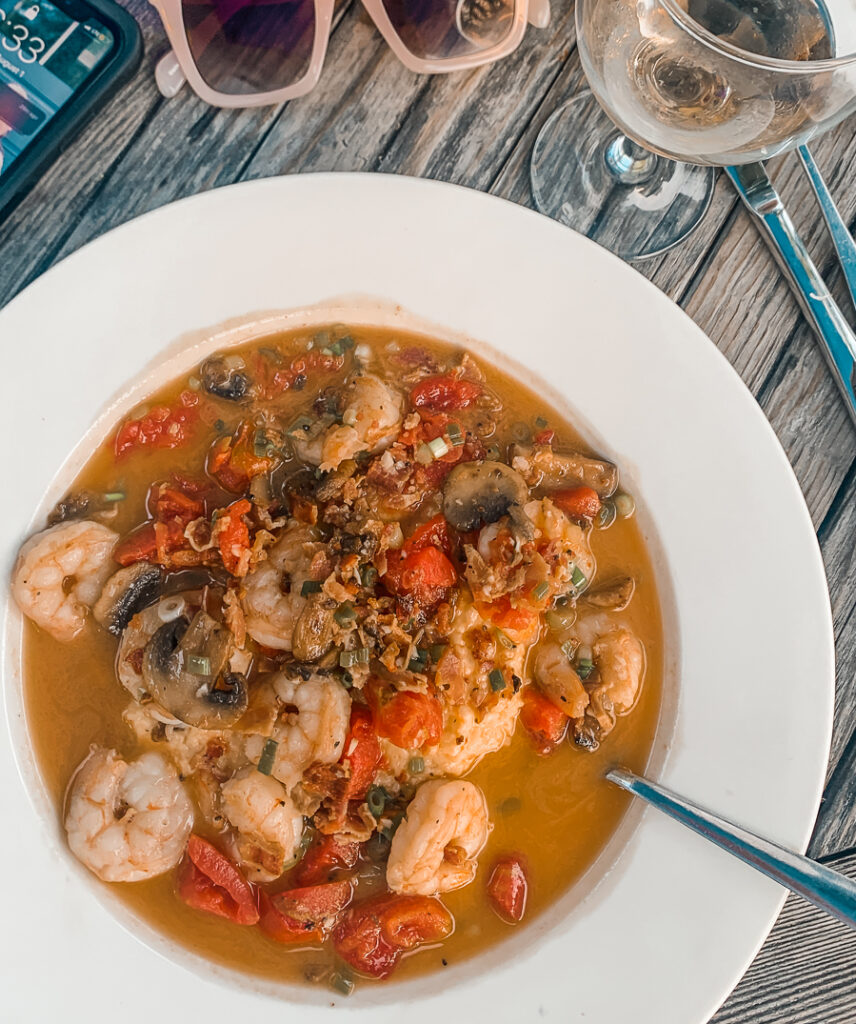 Grayton Seafood
Tabitha and the team at Grayton Seafood always help you feel like family and the food is top notch. You can't go wrong with any choice, but if you happen to be fishing with Florida Boy Adventures or any local charter, they can cook your catch. It is the definition of fresh seafood and worth every bite.
Menu & Hours: graytonseafood.com
For 30A Restaurant Reservations: text or call 850-714-2155
Surfing Deer
Surfing Deer is such a wonderful Seagrove spot with a menu that makes your mouth water. If you're looking for 30A restaurant reservations with a family that has been in the business for decades, this is a great spot. From starters to dessert, everything is good. I can say that because over the years, I think I've tried almost every single item. We've celebrated a ton here from anniversaries to friends in town. The indoor restaurant is chic and swanky feeling, and the outdoor tables along 30A are fun for people watching while you dine. Either way, can't go wrong!
Menu & Hours: surfingdeer.com
For Reservations: via Resy here
Great Southern
Located in the heart of Seaside, don't miss their famous Grits a Ya Ya for dinner, delicious brunch and al fresco dining. Also can't go wrong with the beignets or the Fried Green Tomato Benedict.
Menu, Hours & Reservations: thegreatsoutherncafe.com/ (typically reservations open 1 week out)
Bud & Alley's
A Seaside classic, this is the spot for that picture perfect Gulf view, delicious food and plenty of people watching. At lunch, I usually get the smoked tuna dip – a great light meal on its own – or the Caesar with Shrimp. I absolutely love the Bud & Alley's Crab Cakes — always a treat — and the Grilled Fish of the Day for dinner. Don't miss the mojitos or margaritas. If you score a sunset seat, it will be a dinner to remember.
Menu & Hours: budandalleys.com/
Reservations: budandalleys.com/ 850-231-5900
Borago
Delicious Italian in a cozy Grayton Beach setting, this spot has been here for ages. I love the mushroom ravioli or Creamy Seafood Fricassee and like to sip the Aperol Spritz.
Menu & Hours: boragorestaurant.com
For Reservations: by phone only (850) 213-4156 and (850) 213-4157
West 30A Restaurant Reservations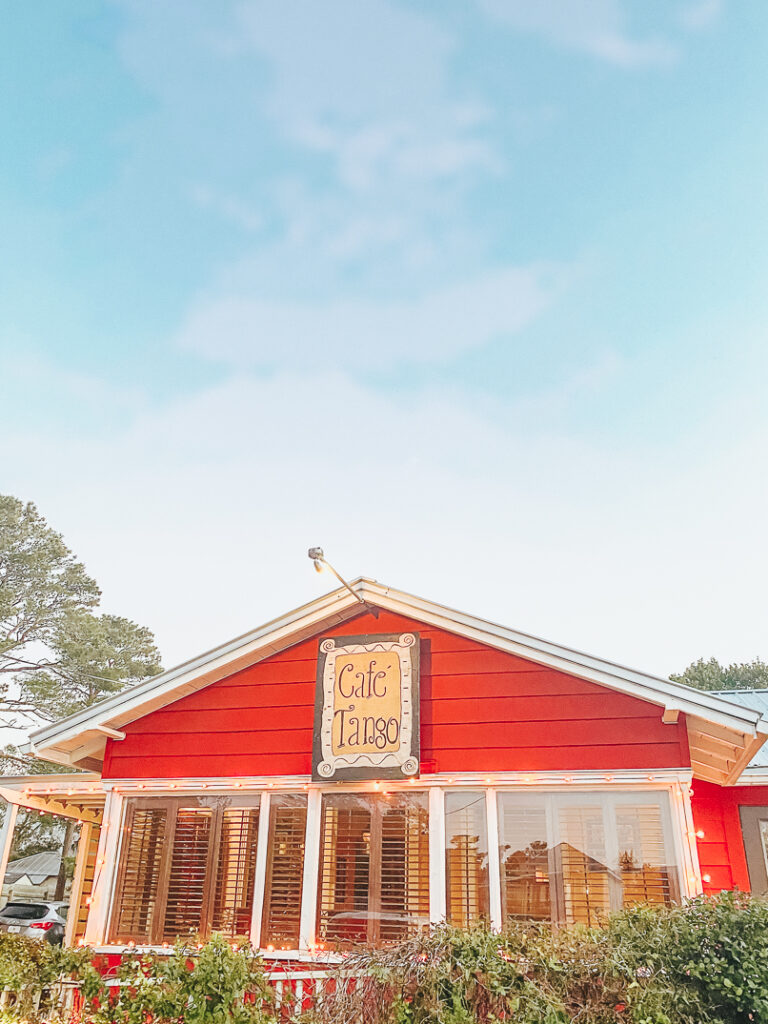 Café Tango
This cozy spot in Santa Rosa Beach is a hidden gem worth seeking out. Located in one of the area's oldest cottages on Scenic Highway 30A, you can find romantic upscale dining and delicious dishes in a quaint dune-side setting. The number of tables they serve is in the single digits which makes this spot such a gem. They have a land and sea menu and an extensive wine list to select the perfect pairing. I love The Dancing Fish option with Gulf shrimp and lump crabmeat and Hunter goes for the Filet. Don't miss the Key Lime Pie for dessert. Not a bite was left behind!
Menu & Hours: cafetango30-a.com
For Reservations: call 850-267-0054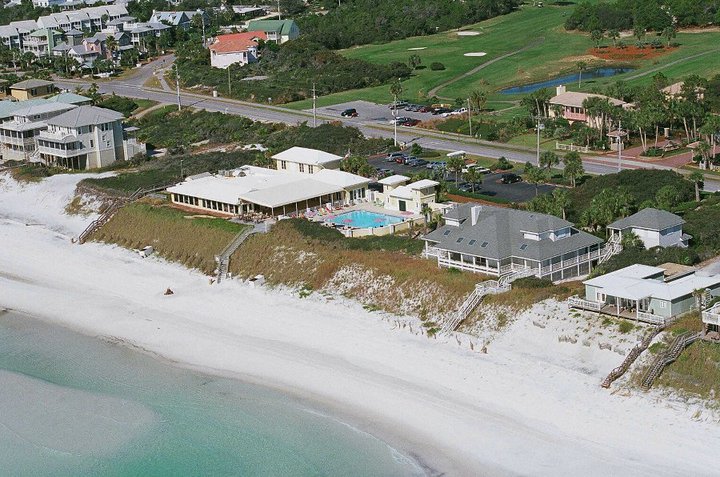 Vue on 30A
The name says enough about this restaurant at Santa Rosa Golf & Beach Club in Dune Allen, and the food is pretty tasty too. Picture panoramic dining views, an outdoor deck and one of the most amazing places to watch the sunset. Trust me on this one, I spent 5 years here as the Marketing Director in my 20s and loved dining here every day for lunch. More than a decade later, it's even better now!
Menu & Hours: vueon30a.net/
For Reservations: vueon30a.net/reservations/
Blue Mabel
The south meets a smokehouse with a twist at this delicious spot in Blue Mountain Beach. With brunch items from Brisket Hash to a Keto Power Bowl and incredible burgers, fresh salads and thoughtful dinner pairings, this is a laid-back spot that will keep your mouth-watering. Every dish is a gem.
Menu & Hours: bluemabel.com/ (Lunch and Dinner)
For Reservations: resy.com/cities/ecp/blue-mabel
Off 30A Restaurant Reservations
The Bay
The Bay is one of our absolute favorites for the sheer fact that it's easy to get to and very family friendly. I almost never go the reservation route here and prefer to hang out on the sand with a glass of rosé while my kids play and grab a bite when a table opens up. For reservations, you'll be guaranteed a spot indoors or on the deck, so be sure to save a little time before or after to chill and enjoy the view. The Jon the 2nd sushi roll is my go-to food order and with its delicious tuna bake on top, it never disappoints.
Menu, Hours & Reservations: baysouthwalton.com (typically reservations open 1 week out)
Farm & Fire
Directly across from The Bay, upstairs is Farm & Fire with its wood-fired pizza oven and mouth-watering menu. The vibe is like a speakeasy and their crafted spirits are a highlight. This is also a fun spot for family and you can hop downstairs after dinner to let the kids play and watch the sunset.
Menu, Hours & Reservations: farmandfirepizza.com
Emeril's Coastal Kitchen
Chef Emeril Lagasse's local restaurant at Grand Boulevard is a relaxed, sophisticated spot for delicious coastal cuisine and a lively brunch. This is a great spot for birthdays, anniversaries and fun celebrations. Be sure to mention if it's a special occasion so you don't miss the fireworks.
Menu, Hours & Reservations: emerilsrestaurants.com/emerils-coastal/
For more 30A content, click here.
pin to save for later…