I am so excited to share this post with you today! What better day than a Labor Day holiday to share one of my go-to spaces lately for a little rest and relaxation at home.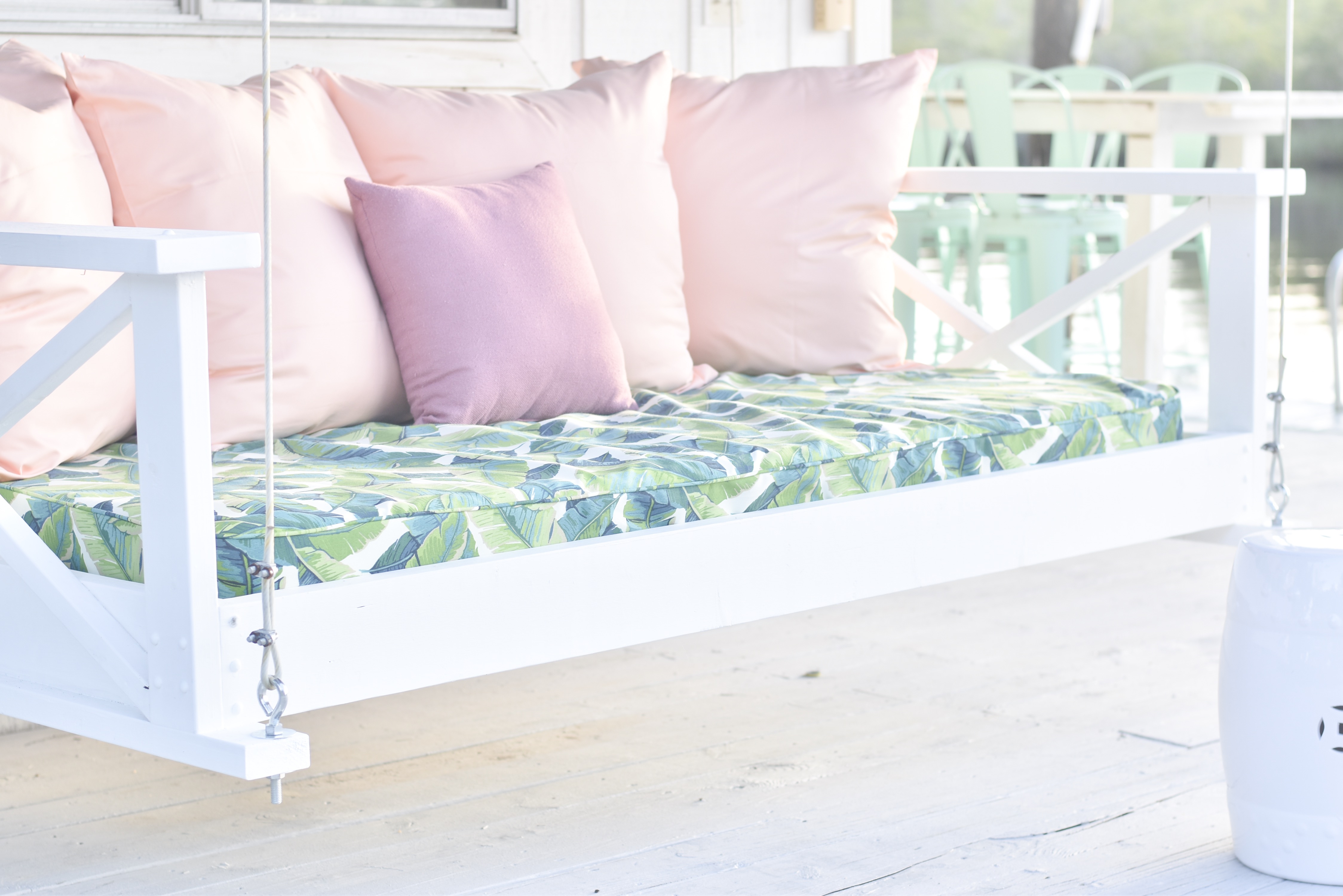 Several of you have asked for the final product after seeing my initial sneak peek of this Nate and Lane swing bed a few weeks back. It's been a busy summer of travel and work projects, but once I was finally able to put this space together, I can't get enough!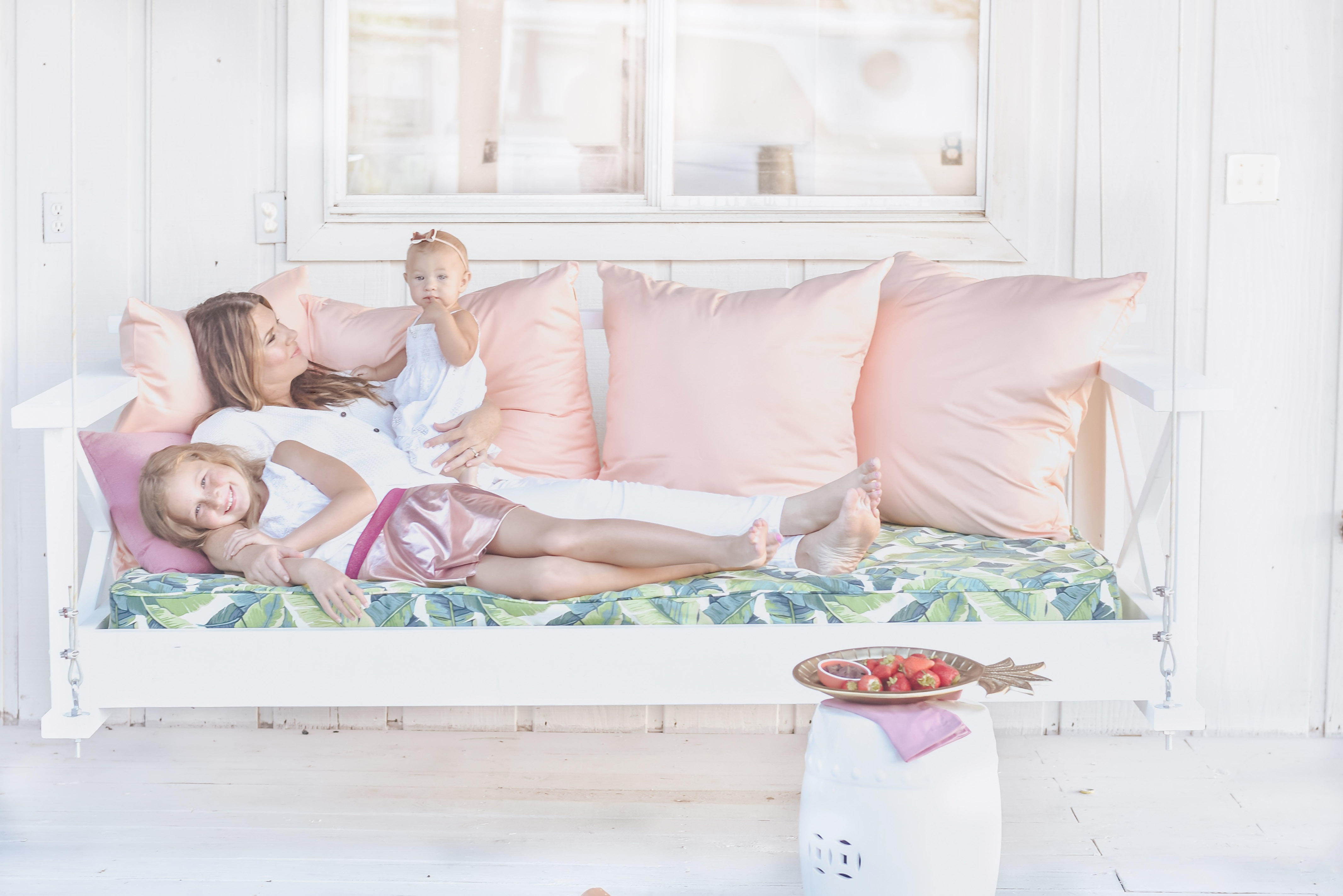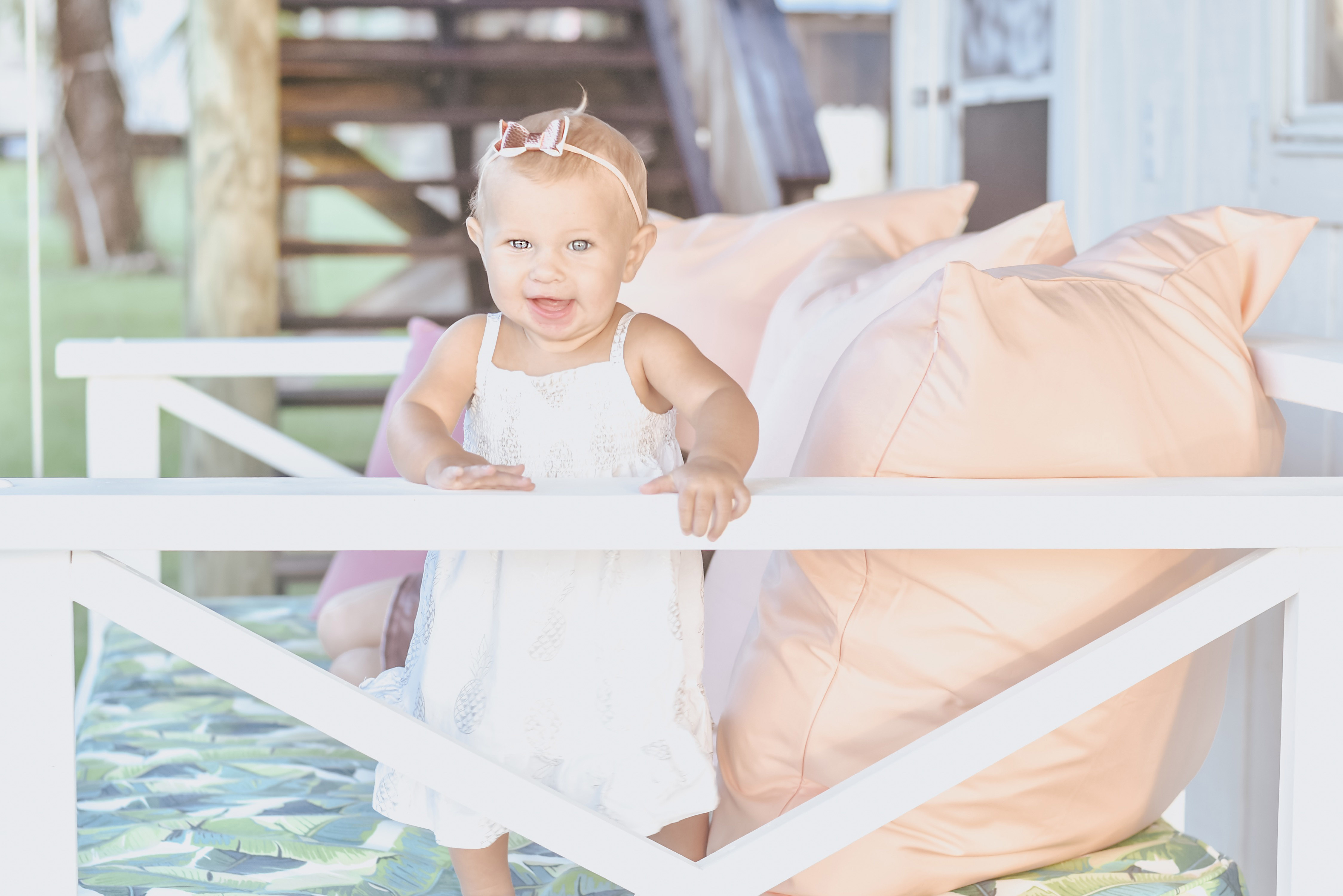 After school drop off in the morning, I love to wander down to the dock for a little quiet time. If Collins is already back down for her morning nap, I can bring just the monitor and tune in to an audiobook or podcast. It's such a pleasant way to start the day and gather my thoughts before attacking my to do list. If Collins is with me, she loves to crawl around on the bed and try to stand up along the arms. Lately, one of my favorite snacks has been strawberries and brownie batter hummus, which my  mom introduced me to. If you haven't tried it yet, you're missing out 100%! I think it tastes just like brownie batter but isn't a guilty snack. (This brand is called "delighted by" and I found it at Publix.)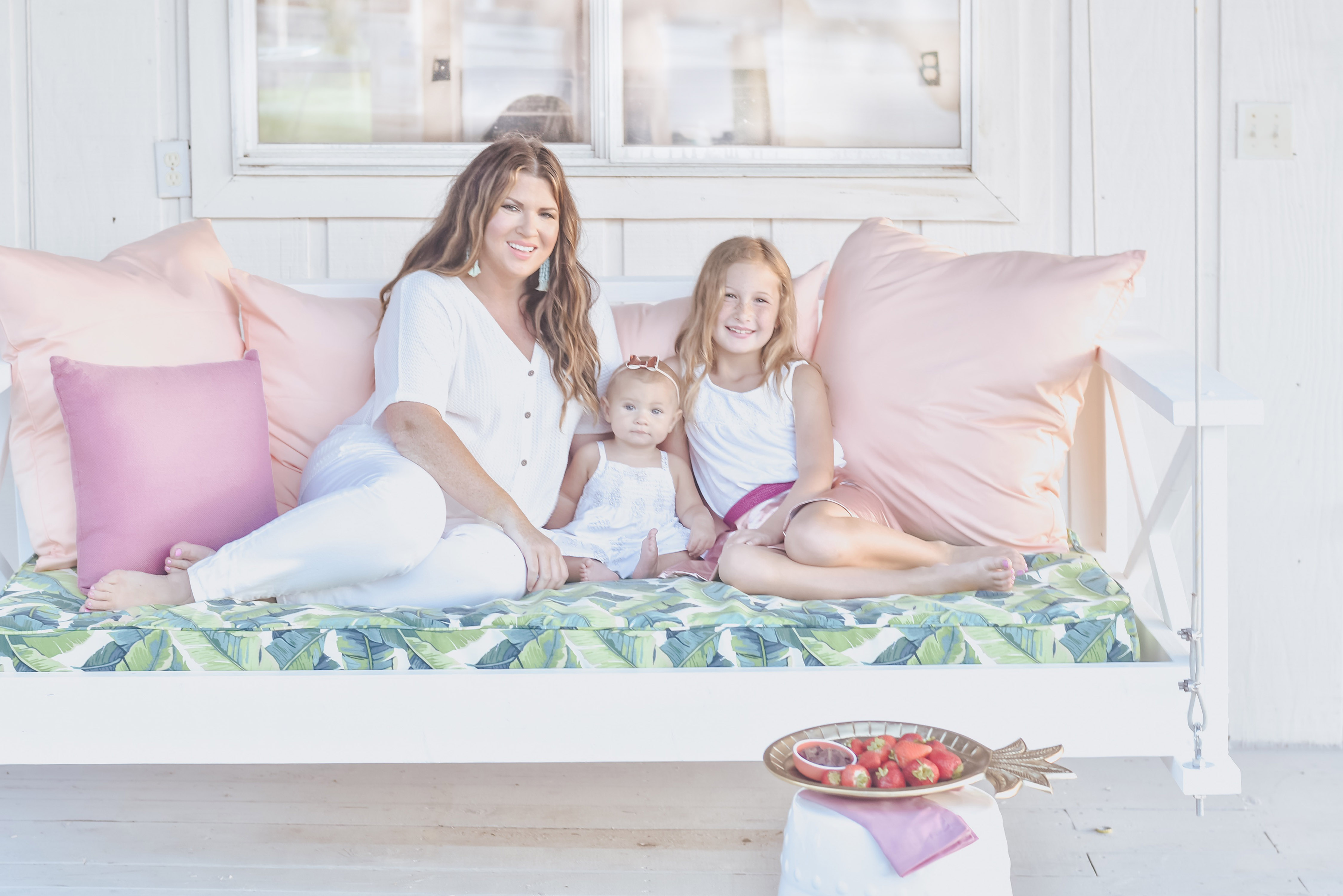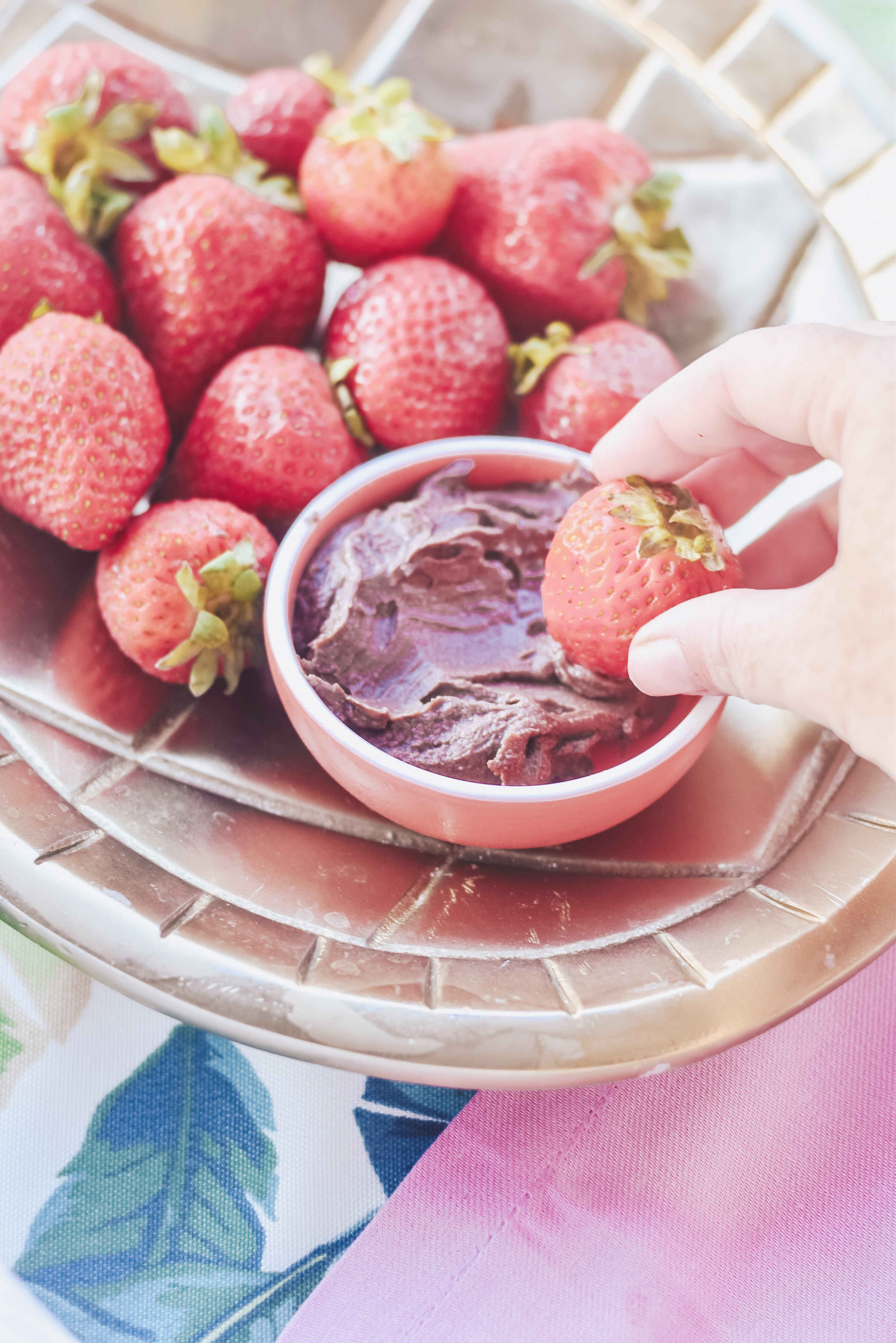 But back to the swing bed… The talented duo at Nate and Lane, Farra and Eric, work together to design and build custom swing beds for clients throughout the country. They are super sweet and have so many choices to make it a truly custom piece from style and size to paint finish and hardware.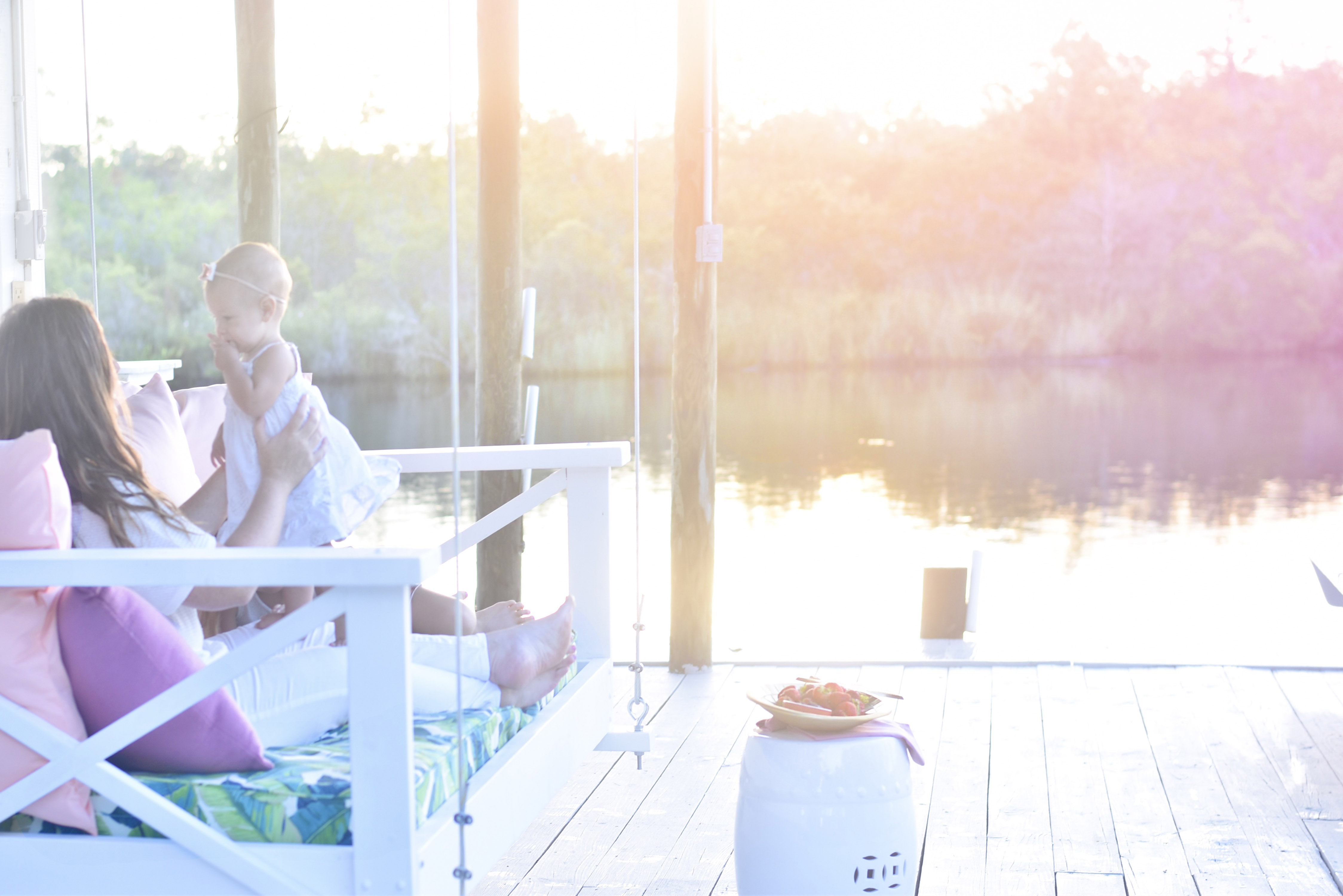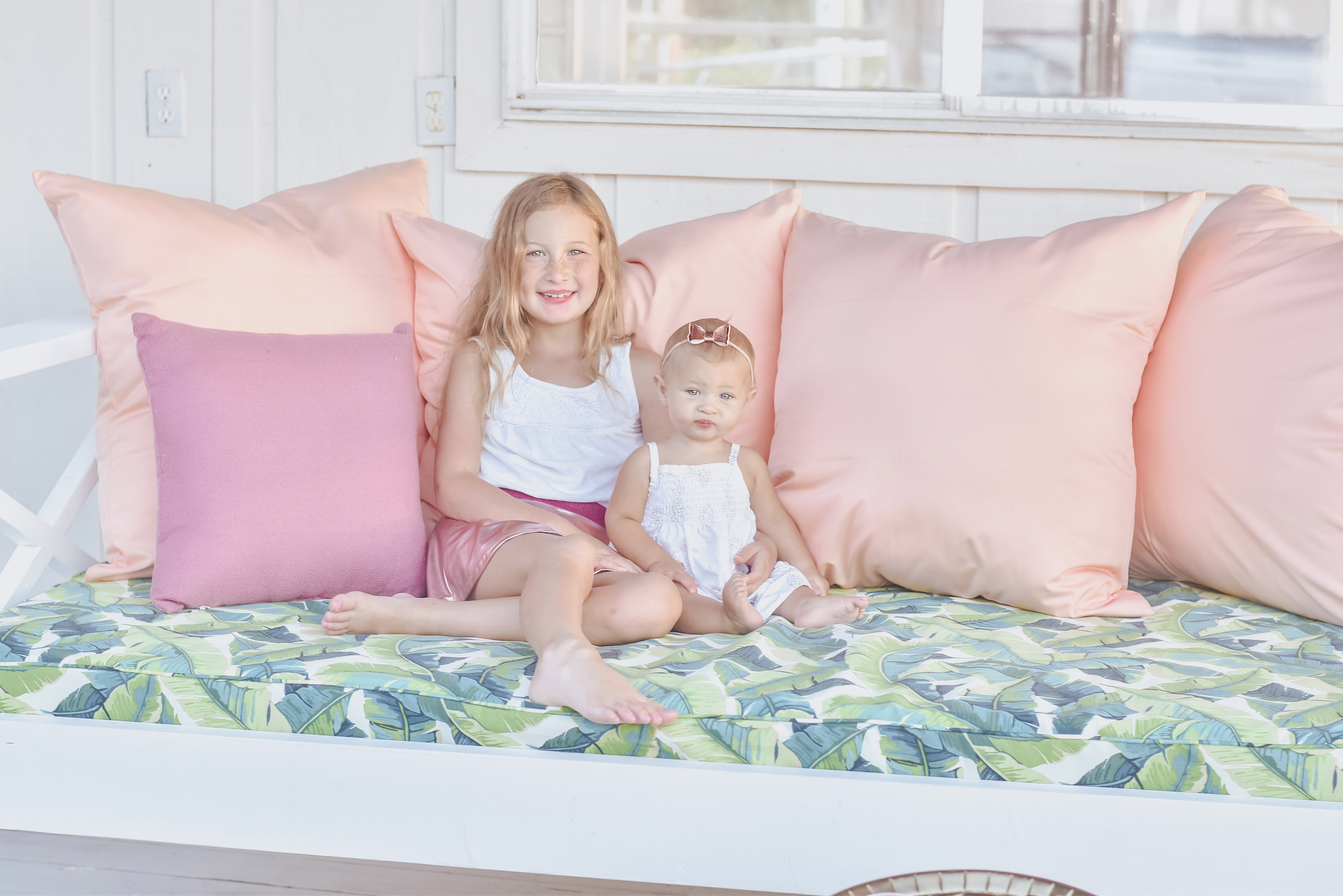 I debated between putting a swing bed on our upstairs porch or down on the dock, but thought it would be best on the dock since we have a bar and high top table but really no lounge seating. The space is large enough to accommodate a pretty good size bed, so I opted for the twin size. If your space is slightly smaller, the crib size would be perfect or if you have even more room, consider going for the full size, which is the largest and most spacious.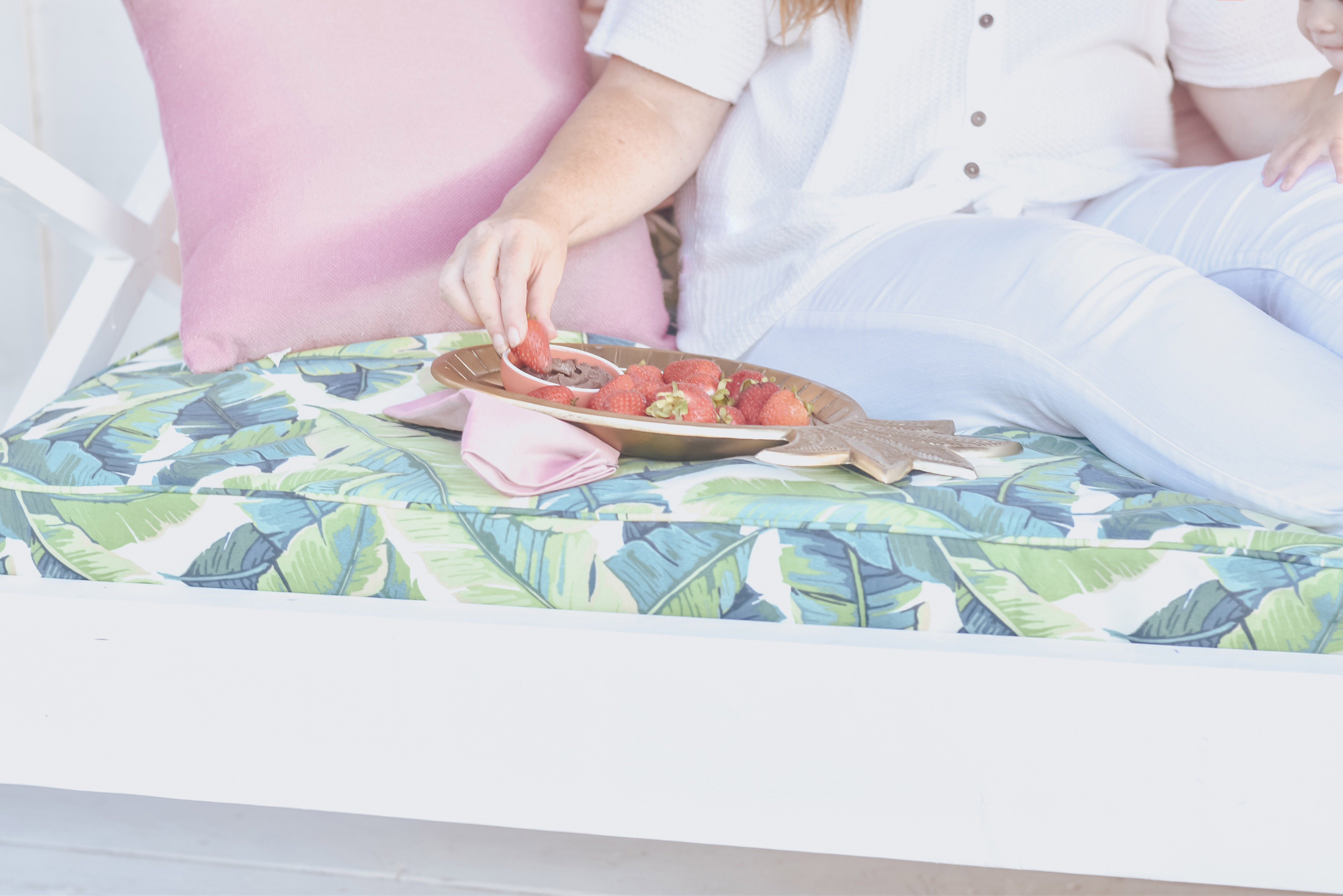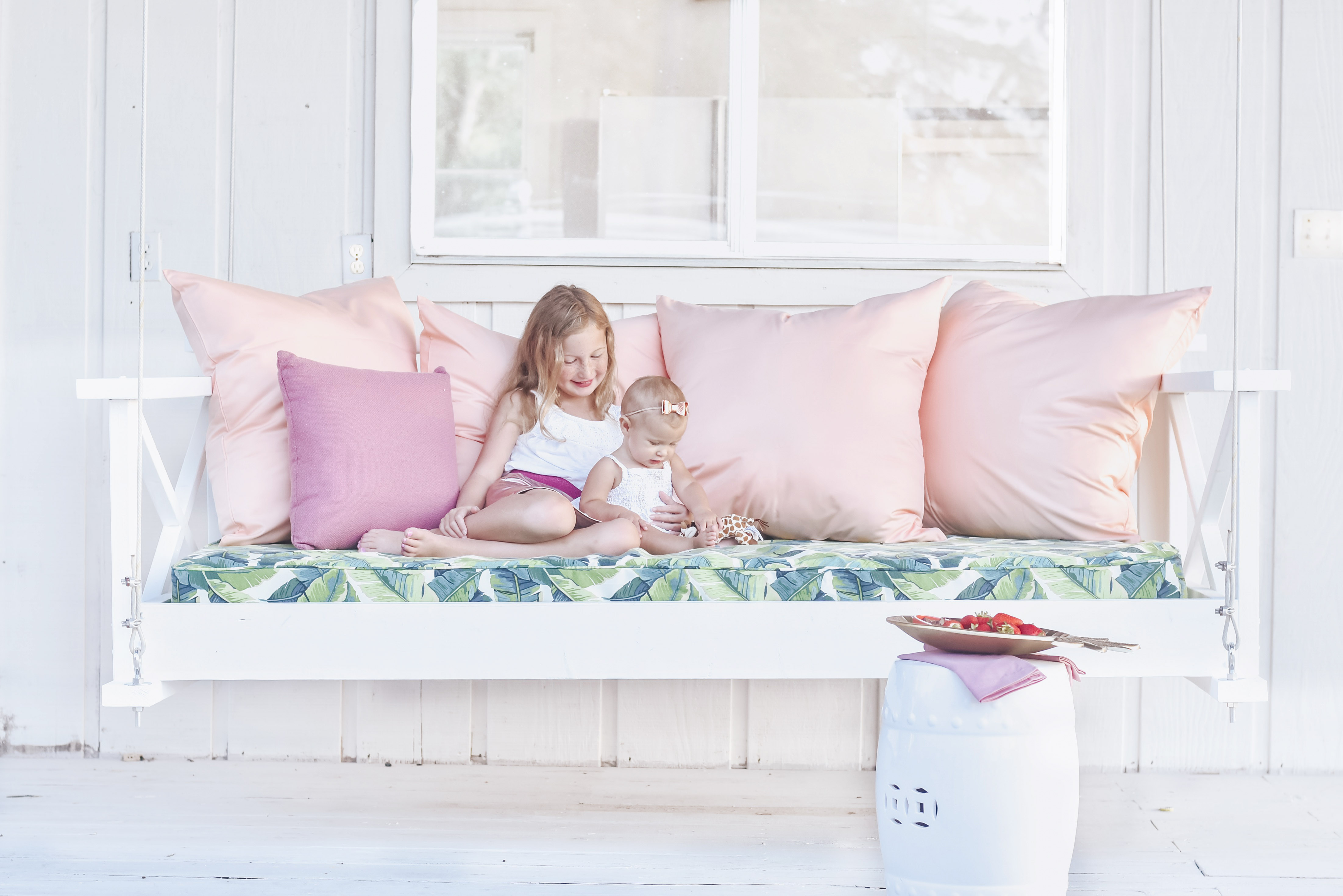 While I love the Emery style for the name alone, I ultimately decided to add the Bailey bed to our outdoor space. I love the crisscross coastal detail on the sides, which is what really made the Bailey bed irresistible to me. My paint finish is pure white and for hardware, I chose coated cable, though rope or chain is also an option.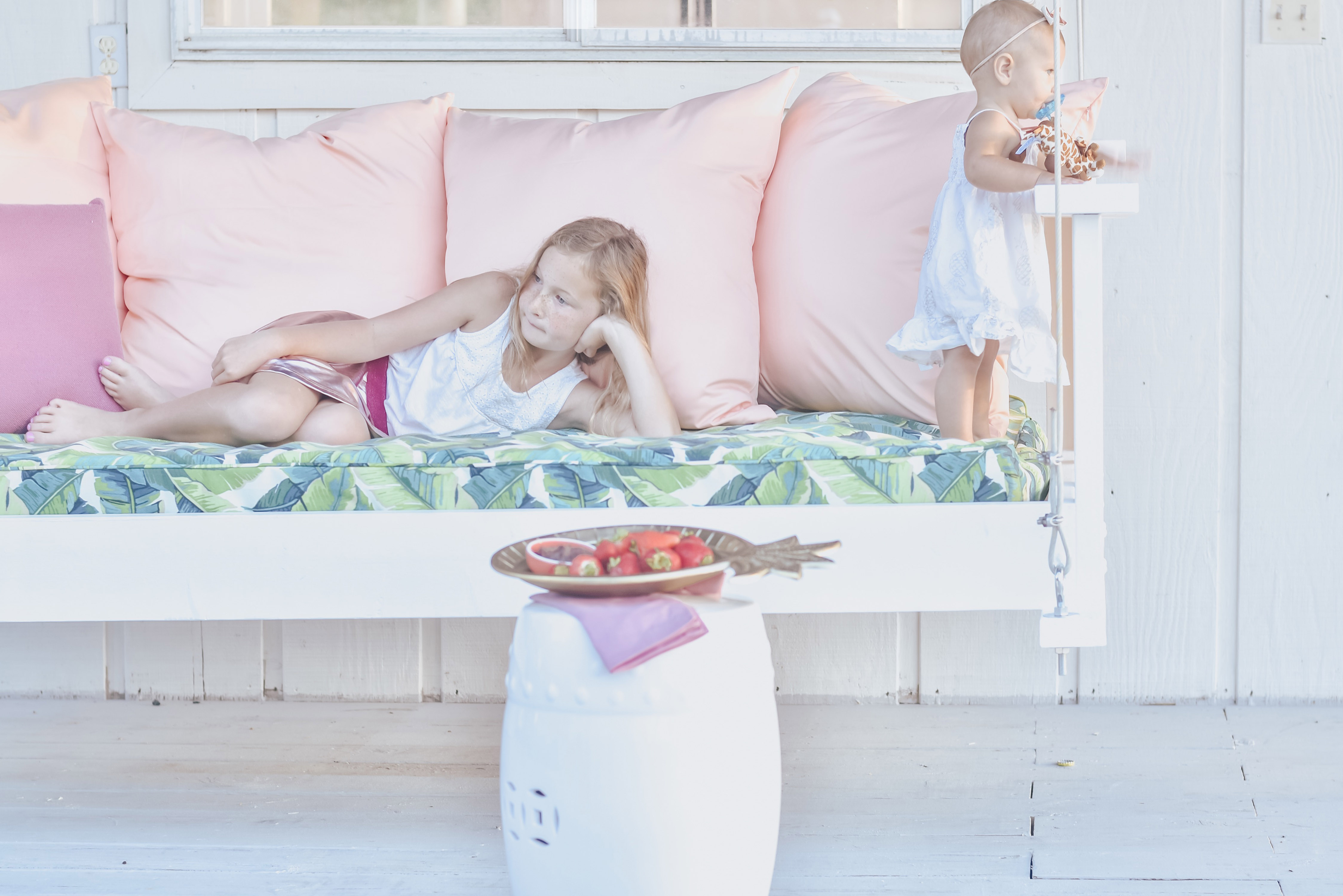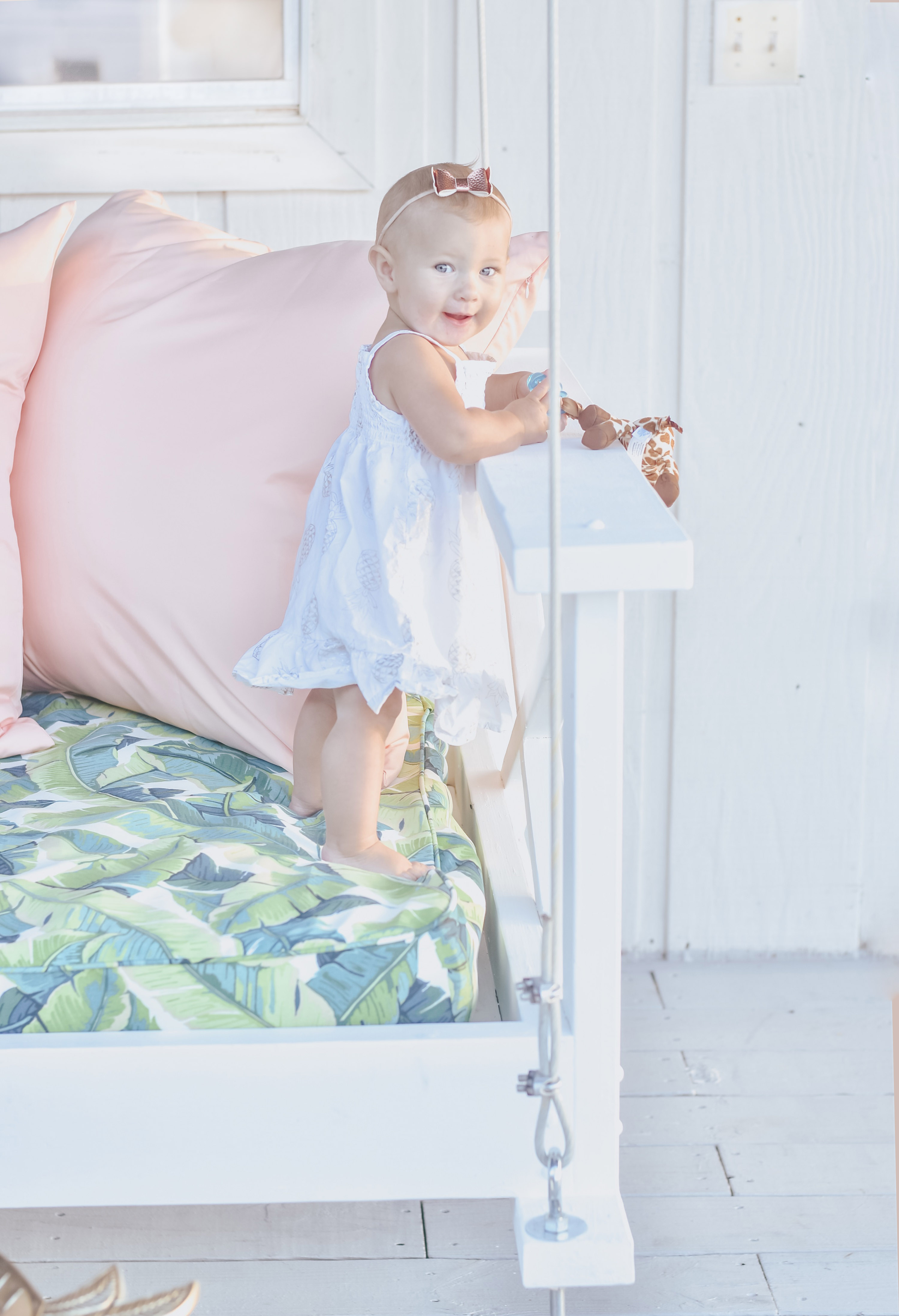 Once I made my final style decisions, the Nate and Lane team got busy on the construction and completion of the swing bed. Meanwhile, I began the search for decor. I went for a basic twin size mattress on Amazon and needed an outdoor mattress cover to go with it. Initially, I wanted a classic cabana stripe, but thought in the end, that a print might be better to mask imperfections over time, since it will have food, kids and exposure to the elements.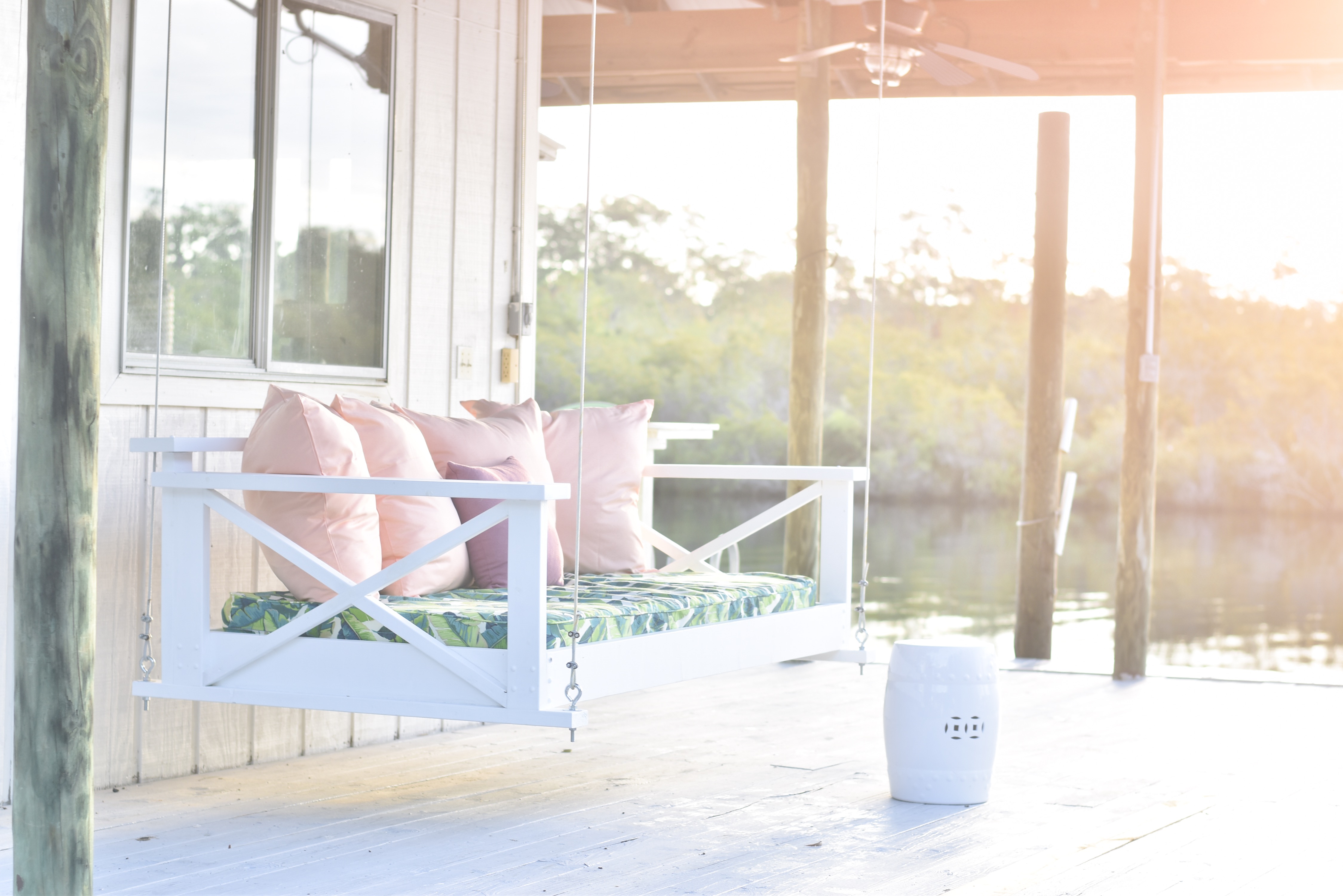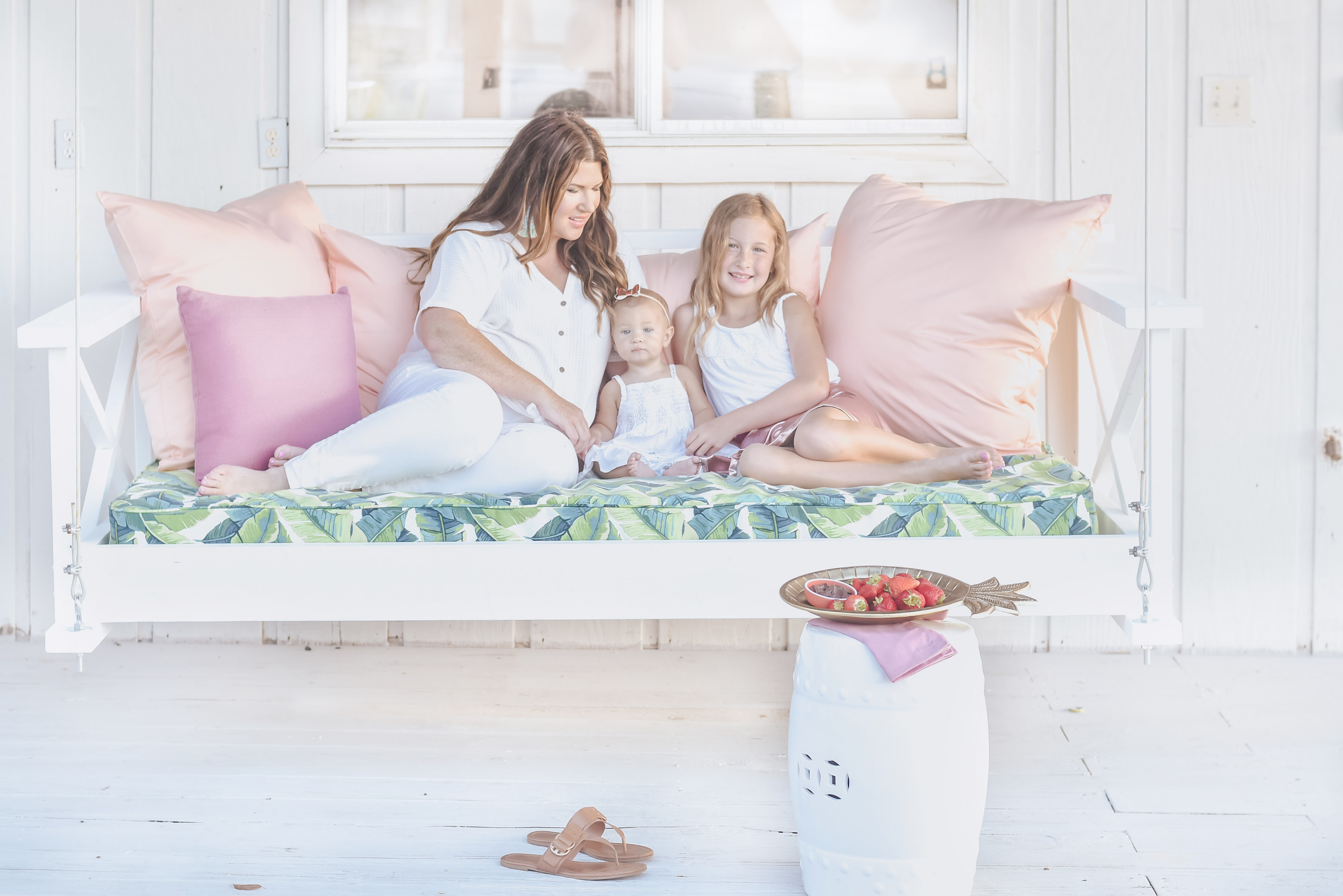 I found this pretty palm print cover that coordinates nicely with our existing turquoise chairs on the deck. Considering the size of the bed, I knew I'd need pillows larger than the standard 18″ or 20″. I finally found these 28″ pillows in a fabric that works outdoors and chose the cream blush shade. You can find every size from 12×12″ to 28×28″ in over 40 shades and the price is completely budget friendly. To make it even easier (and because 28″ outdoor pillow inserts were a bit challenging to find) I grabbed a $25 box of polyfil and stuffed each of the 4 big pillows. 
So, what do you think? I absolutely love how the space turned out and can't thank the Nate and Lane team enough. Id you're interested in your own swing bed, browse their site for all available styles at nateandlane.com.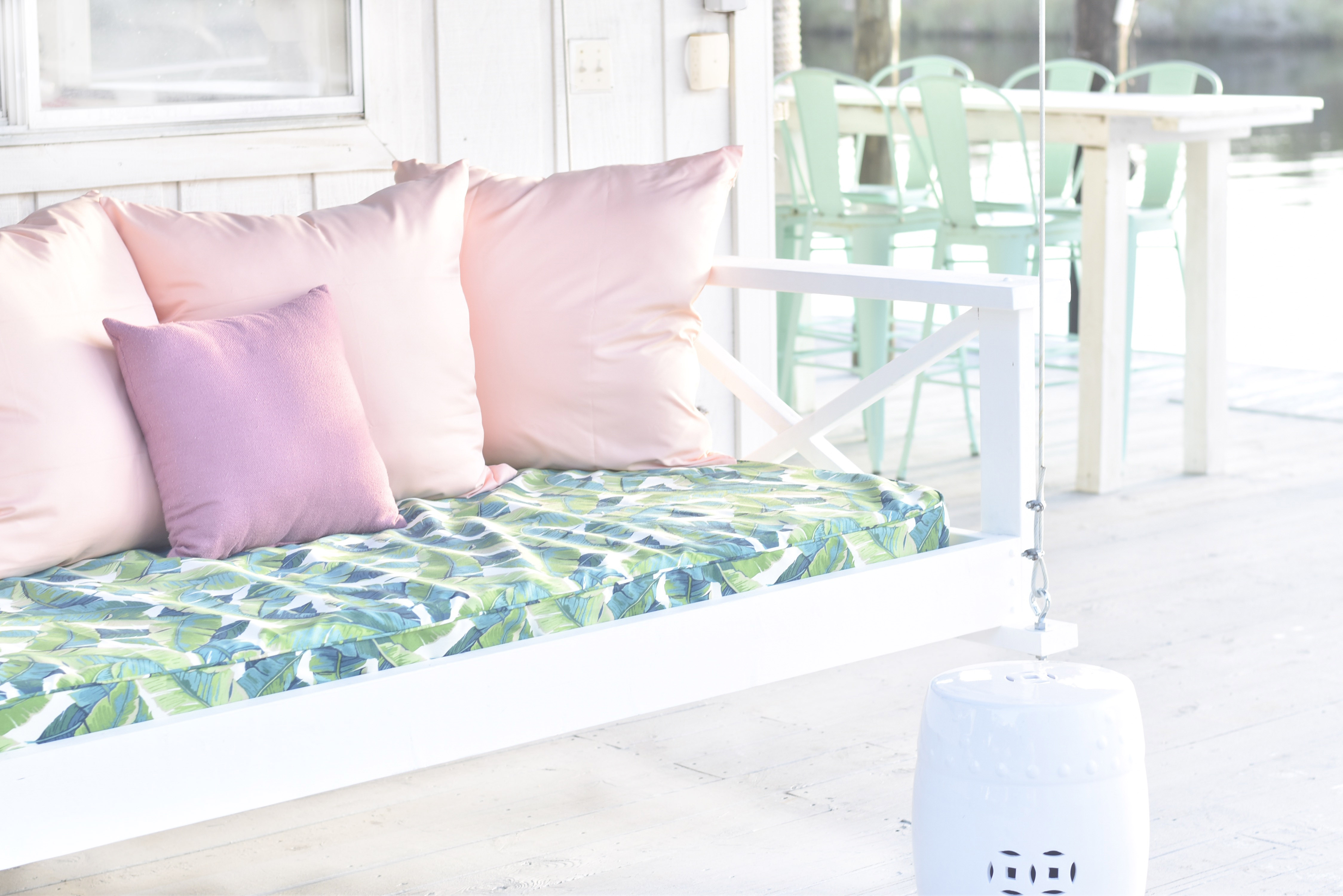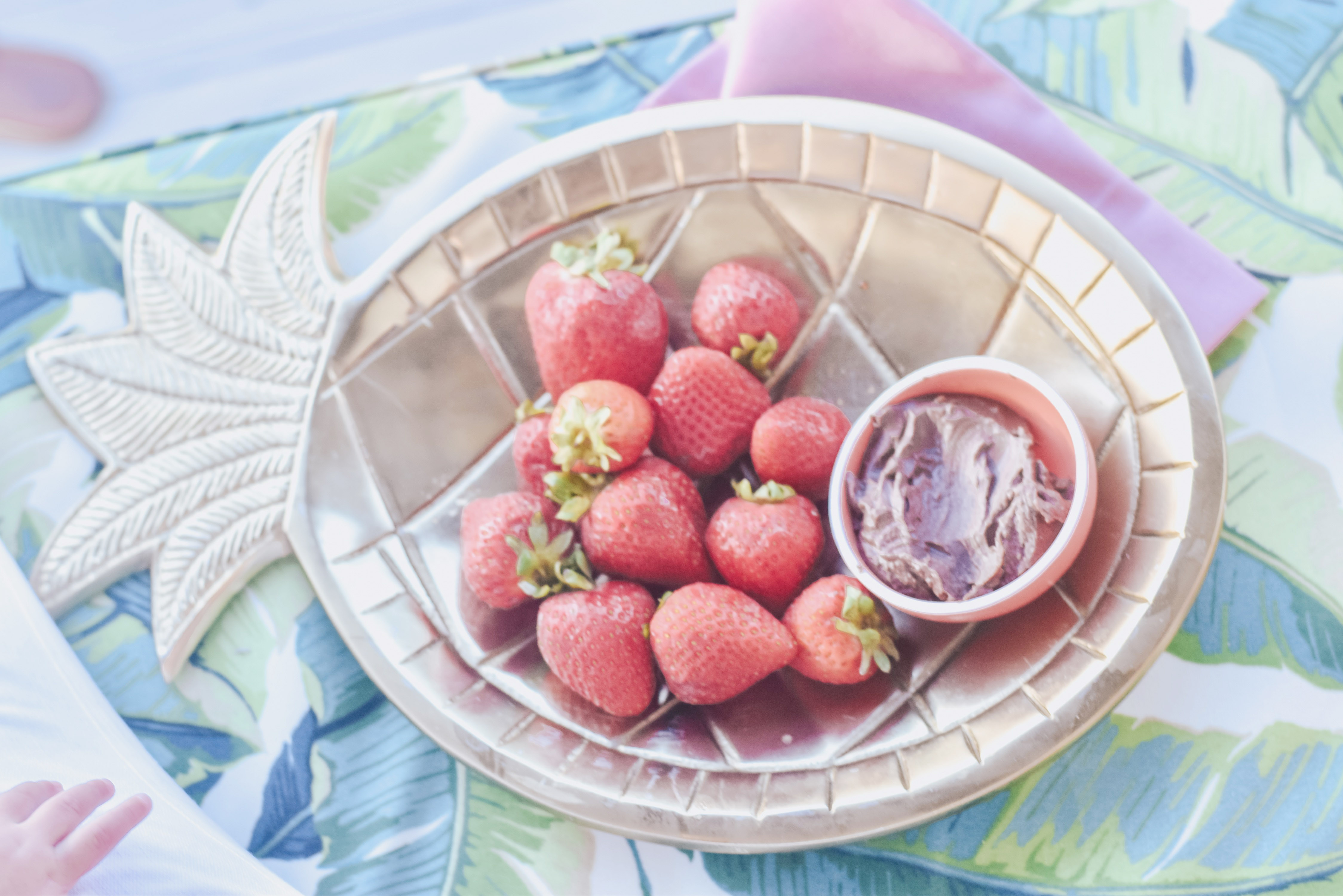 Pin this to save for later!