This post is part of my weekly Q&A series "30 Questions on 30A" where I interview friends, blogger babes and girl bosses to learn what makes them tick and find out their 30A favorites!
I'm so excited to bring back my 30 Questions on 30A series! One of the goals I have for the blog this year involves sharing more posts about life at the beach. Because our little area is only now being discovered by so many, I'm constantly asked by friends and readers about favorite activities on 30A – what to do, where to go and what to wear. This weekly Q&A is a fun way to get to know incredible "mom-preneurs" or girl bosses that I admire at various points in their life or careers and get the scoop on their local favorites and everyday lifestyle.
To kick off the new year, the first 30 Questions on 30A is with my beautiful friend Jessica Fay. Jessica is a blogger at Lipstick, Heels and a Baby and has two adorable boys (Braydon, 4 and Walker, 2) plus a little one on the way. She is the quintessential beach babe with a heart of gold and a sense of humor that will keep you laughing through any girls weekend (or a 9 hour drive to Miami — I can vouch!). Her hair and makeup skills are beyond impressive and her love for her boys is just the sweetest. Through her blog, she shares style and beauty tips to help trendy moms stay on point without losing themselves after kids. Follow Jessica on Instagram here and read on to get to know her even more!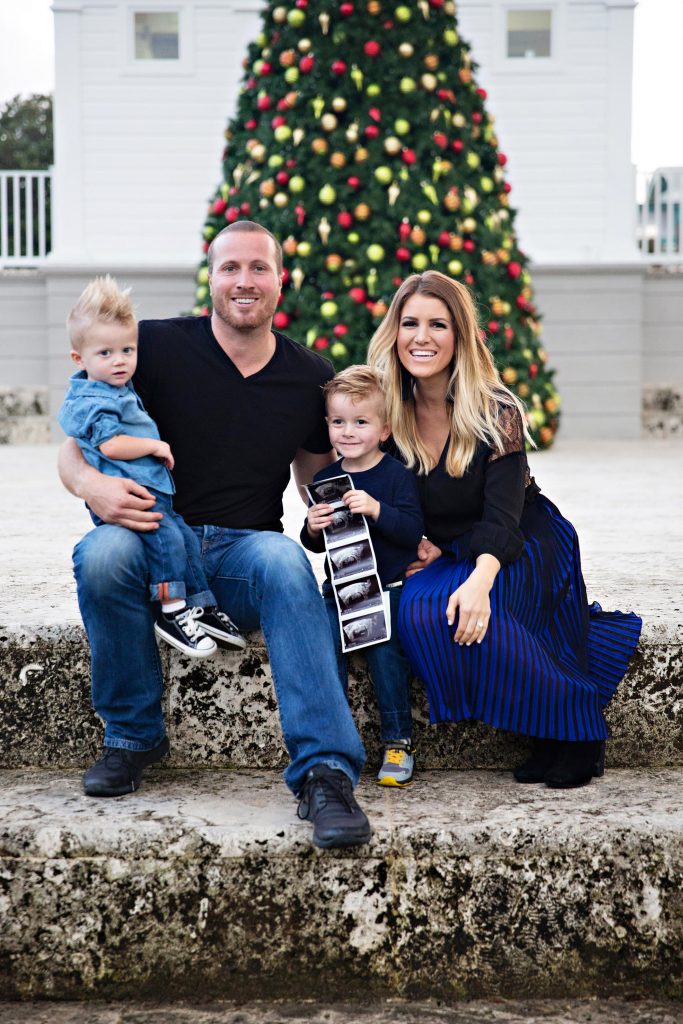 1. How do you describe your business in three words?
Mama with style.
2. How do you describe your personal style?
I would describe my style as a mix of big city street style with colorful island inspired accents. My favorite time of year is spring and summer because I can mix in my favorites details of bright colors and neons with my everyday neutral outfits!
3. How did you first hear about 30A?
Ryan and I first moved to Destin from North Carolina, we had lived here about a week when someone told us we need to go and explore 30A. We knew immediately this is where we wanted to settle down and raise our family.
4. Favorite tourist spot on 30A that is a guilty pleasure?
Can I say the beach? The beach is the biggest tourist attraction we have and I try to put my toes in the sand every single day. We can't take these powder white beaches for granted!
5. Who would you dream of having coffee with?
Reese Witherspoon. I have adored her as an actress and a working mother for years. Plus she is super cute. Plus, I love her southern charm.
6. Best spot to grab cocktails?
Best view on 30A to grab a drink would have to be Bud & Alleys!
7. Favorite date night restaurant?
Restaurant Paradis in Rosemary Beach. Best lobster, filet and moscow mules hands down!!!!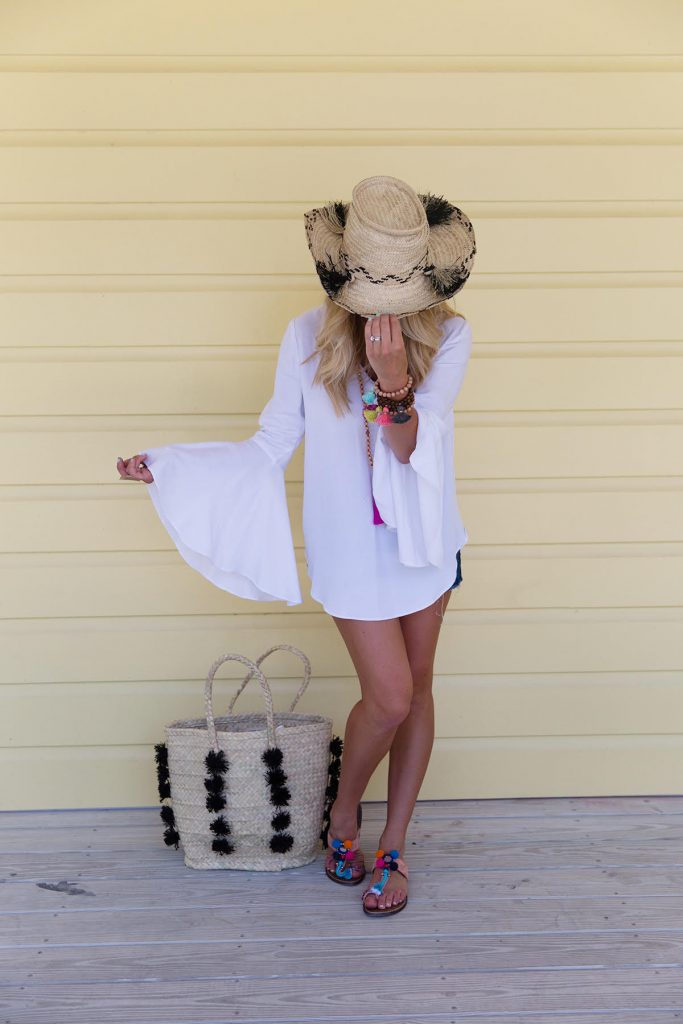 8. Favorite 30A place to go or thing to do with kids?
Seaside is our go to with the boys. They have everything we need from the park, places to walk, casual dining and ice cream!
9. Favorite sunset view?
The beach. We love hopping in the golf cart for a quick trip to the beach to watch the sunset. It's close to home and we can bring our own drinks and blankets.
10. What's in your beach bag?
Sunscreen and tanning oil, obvi! Beach towels and a beach sheet (I love to lay my beach sheet down and then put towels on top of it. It keeps your towels from getting quite as sandy – if this is possible with kids) Snacks. Lots of waters. Bluetooth speaker. Several pairs of sunglasses and hats. Cover up.
11. Favorite 30A memory so far?
Growing our family. We have raised Braydon since he was about 8 months old here, we had our son, Walker here. Now, we are expecting our third baby here this summer!
12. Favorite time of day?
Mornings! The ocean is calm, the beach is quiet and this is the best time to go dolphin sighting with a warm cup of coffee.
13. First website you check in the morning?
Actually it's my instagram notifications, then I do a quick scan through my email to see how my day is going to go.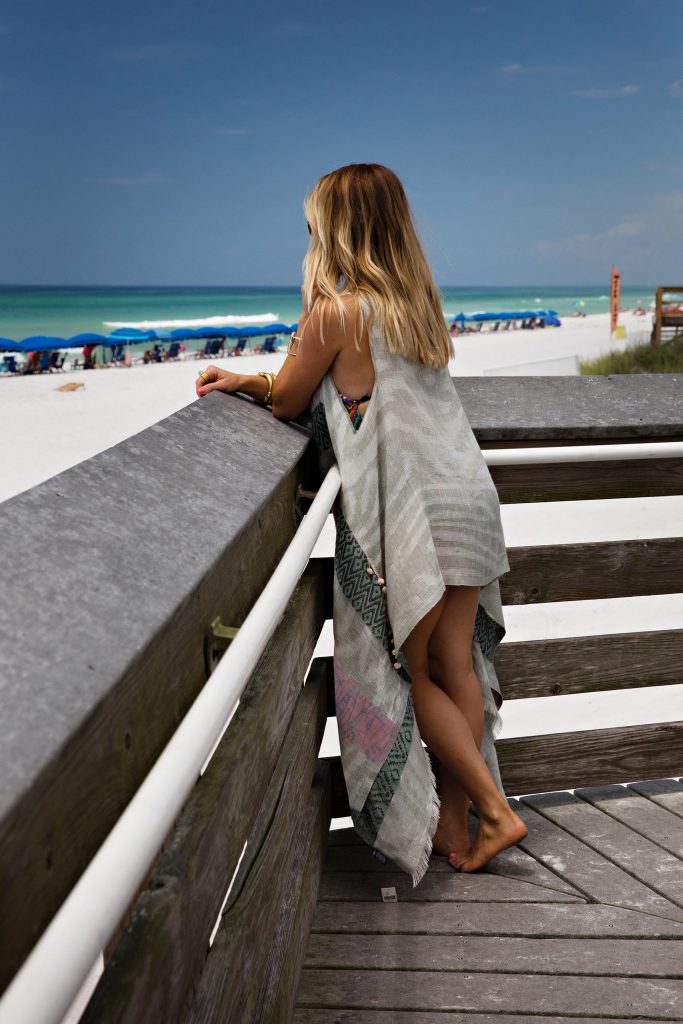 14. Last dish you ordered?
Thai food is a major pregnancy craving I am having. So actually chicken penang curry!
15. Most used app on your phone?
Gmail. All day every day!
16. How long does it take you to get ready in the morning?
Now this depends!! If it is a work from home kind of day. About 2 minutes. Brush teeth, switch from pjs to yoga pants and throw my hair up in a bun. On an average day, it takes me about 45 minutes and then an extra 20 minutes to get the kids ready!
17. What one beauty product can't you live without?
iT Cosmetics Confidence in a Cream
18. What is the last clothing or accessory item you purchased?
I went a little crazy at the Nordstrom sale. I bought a few pairs of shoes, two sweaters, a Nike sweatshirt and two baseball caps.
19. Favorite fashion trend of all time?
In the fall and winter – I LOVE leather and feel like it never will go out of style. In the summer I am a sucker for the good ole cut off denim shorts – not too short though. 😉
20. What influencers do you love to follow?
I love to follow @emilyanngemma because her style is affordable, relatable and wearable for everyday! I also love following home decor bloggers to give me ideas for my house!
21. What is your guilty pleasure?
Eating pasta with just butter and cheese. I used to beg my mom to let me have it for dinner as a kid and I still love it now. Carbs with cheese please!
22. How do you unwind?
Snuggling on the couch with the boys every night. It is my favorite time to have one in each arm and them laying on my chest til they fall asleep. Those are moments I will always treasure!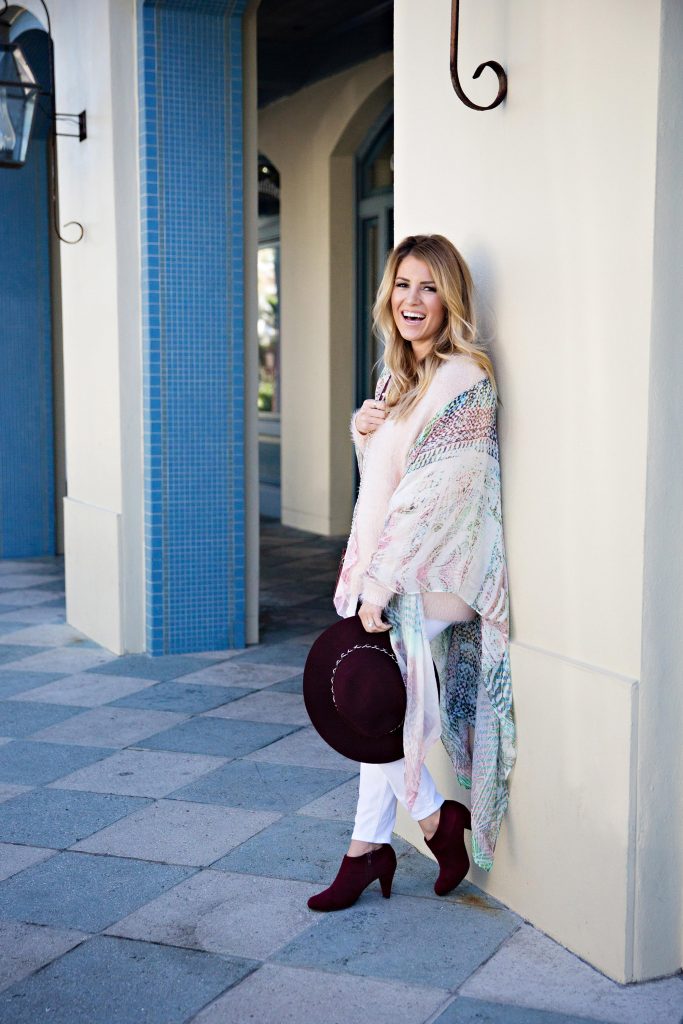 23. Do you have any hidden talents?
I wish! I mean – I am a crazy fast cleaner. Ha! Our house will look like a bomb went off and I can have it cleaned, including the toilets, sinks and mirrors in about 20 minutes!
24. Who is the last person you called on the phone (texting doesn't count)?
My mom. duh!
25. What would you be doing if you weren't on your current career path?
I would be a hairstylist. I LOVED being behind the chair and being an educator but being home with my boys is so much more important to me. I love that I can work from home!
26. Who has been your biggest influence?
My husband. He keeps me dedicated to my blog but also grounded and helps me remember to put family first always. Work can wait!
27. What are your best words of advice for aspiring lady bosses chasing the dream?
Do not give up, work hard, have patience and most of all stay true and honest to yourself. You are your biggest competitor.
28. Tips for balancing it all?
Make time for work but more time for play. When I find myself working too much I become not only harder on myself but also harder on my family. 20 years from now I won't remember those hours spent behind the computer I will remember the memories I made with our family.
29. What most excites you about life lately?
Well – our 3rd baby of course!!!!
30. Who/what is your spirit animal?
Ah man. I am so bad with these. I am better with "What fruit would you be if you had to choose?" which is totally a pineapple!
Thanks for reading!
Save this article by pinning the image below.