Ever stayed at the Wyndham Grand Bonnet Creek in Orlando, FL? This gem was new to us and though it was our first time visiting, it definitely won't be the last. There are so many things to love about this gorgeous property and while it's hard to bottle the feeling you get when you're here, it's a wonderful sentiment that feels both adventurous and like a home away from home. It's the best of fast and slow, busy and idle, comfort and luxury.
This post comes in collaboration with Wyndham Grand Bonnet Creek. All opinions expressed are my own.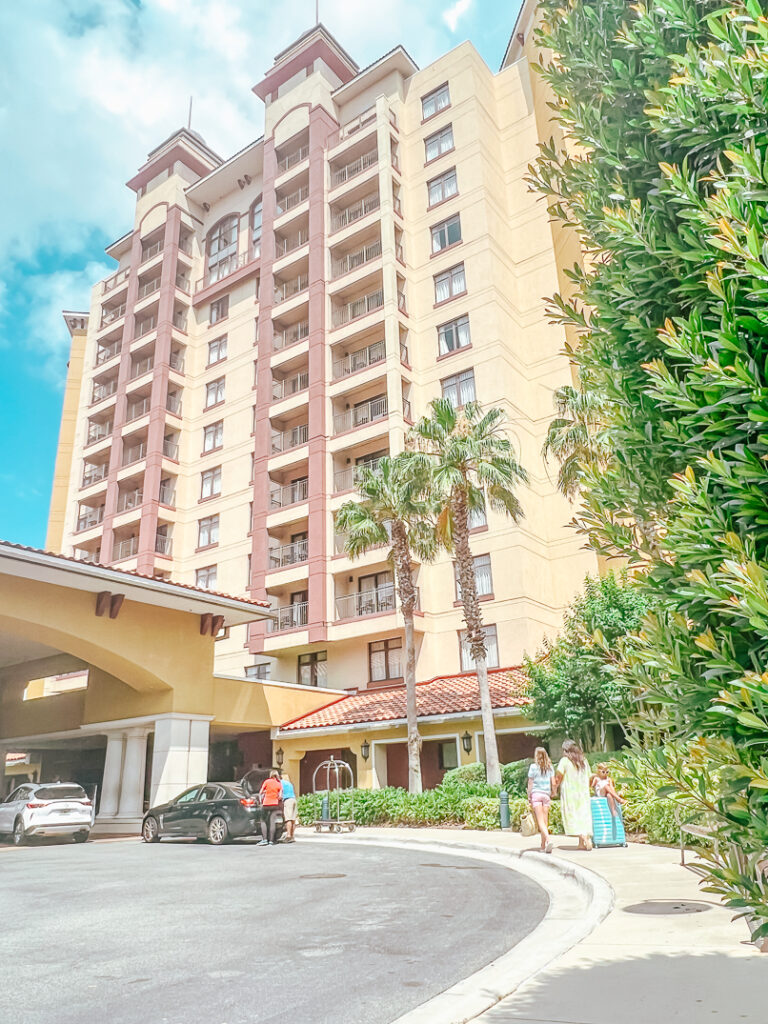 Here are 10 Things to Love About Wyndham Grand Bonnet Creek
Disney Adjacent Location
We have to start with this dreamy location! Whether you're heading to Orlando for Disney, Universal or just a family escape, the Wyndham Grand Bonnet Creek is perfectly situated for your next vacay. While it's not technically a Disney property, you do drive through the iconic Walt Disney World welcome sign to access the property and this feature did not go unnoticed by my kiddos. Squeals of delight as we cruised under Mickey rang out in the car and it set the tone for a fun and relaxing weekend. Surrounded by Epcot, Hollywood Studios and Disney Springs, this location makes for easy access to parks and Disney attractions.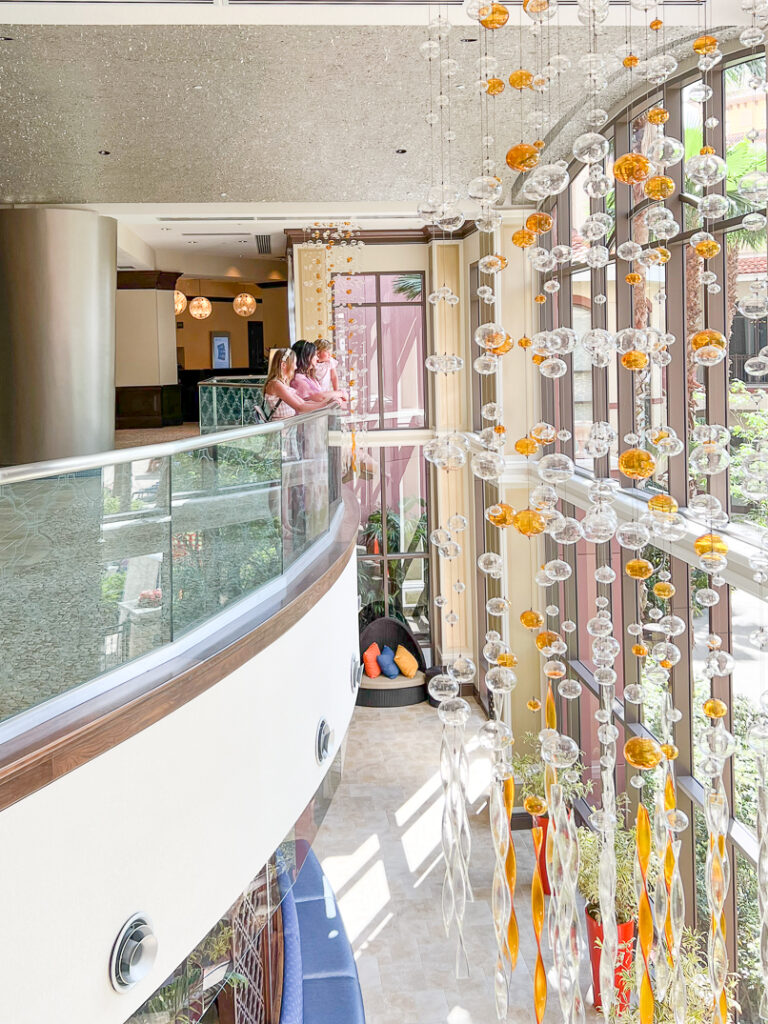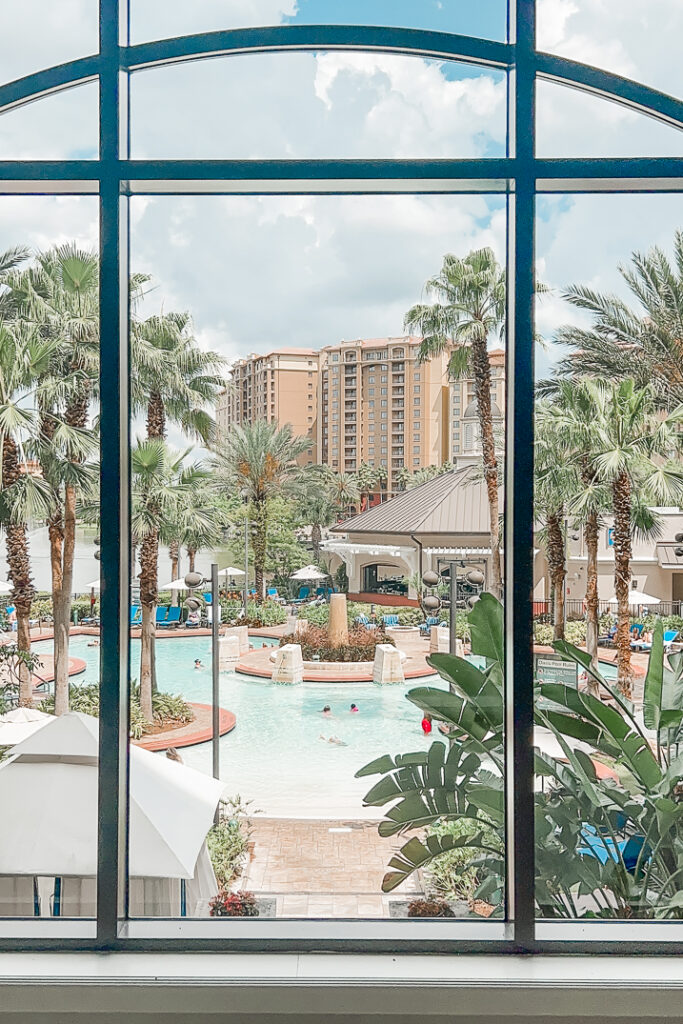 Expansive Property with Scenic Lake Views
Not only is this high rise hotel full of its own laundry list of amenities and perks, but the Wyndham Grand Bonnet Creek is connected to a network of Club Wyndham lodging lining the 10-acre lake. The walking path is easily accessible, connecting everything and is dotted with benches, swings, moments of interest and scenic views. In total, there are 62 ares of recreation. Each building has its own amenities and guests of Wyndham Grand Bonnet Creek can hop from place to place to fully embrace this unique location.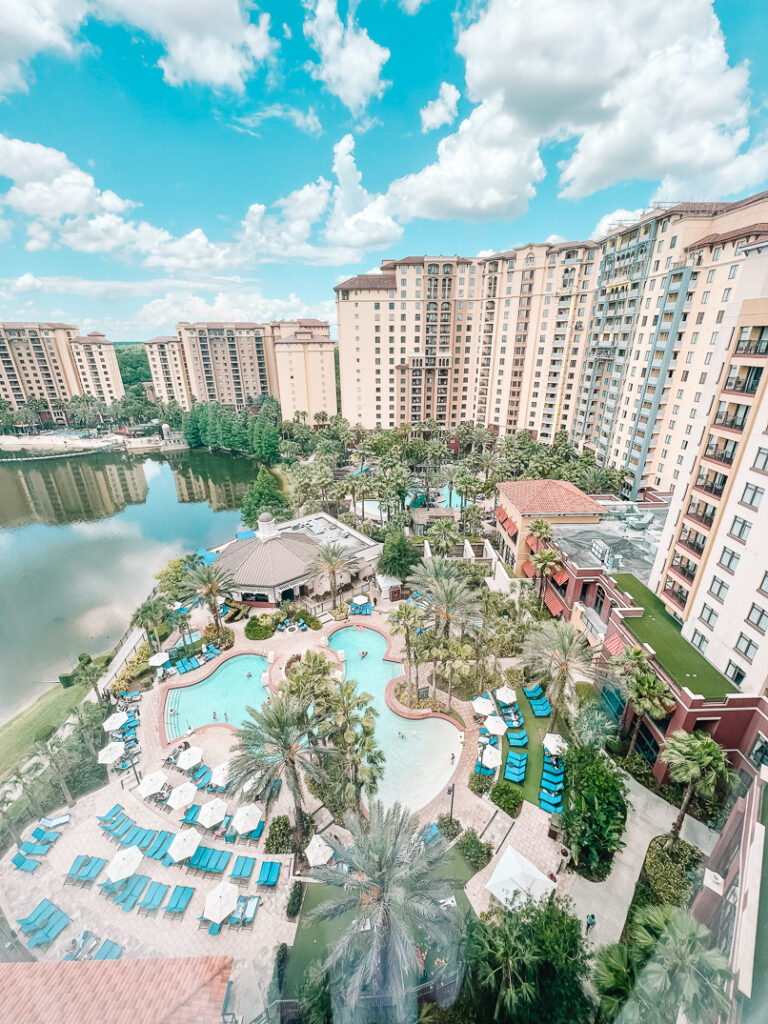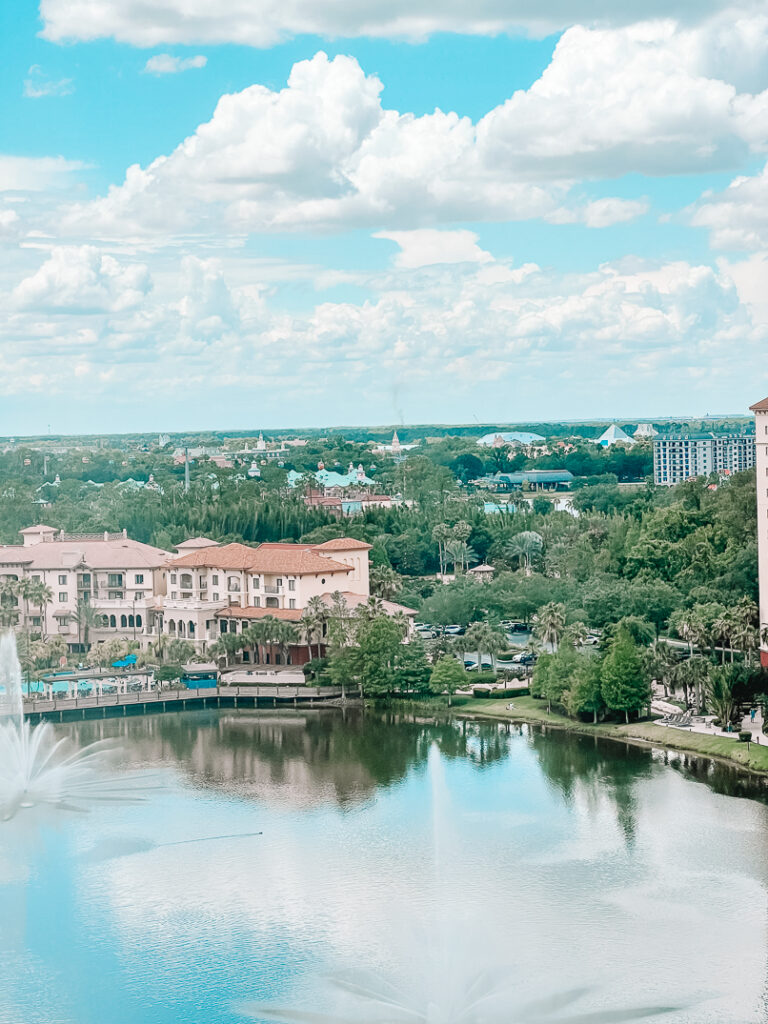 This is the view from our room, which shows a portion around the lake to Club Wyndham and in the distance you can see all the way to Epcot. One night we sat by the window and watched the fireworks before bedtime.
Mini Golf & More
Speaking of amenities, we were able to take advantage of so many fun activities both on-site at the hotel and around the extended property and lake walk. As a family, we absolutely love mini golf, so when the front desk told us about this, we were thrilled to play. We walked around the lake to Club Wyndham to check out putters and sign up for a playing time and experience even more fun. We played two full rounds and Emery won both. I might need a trip just to play a rematch!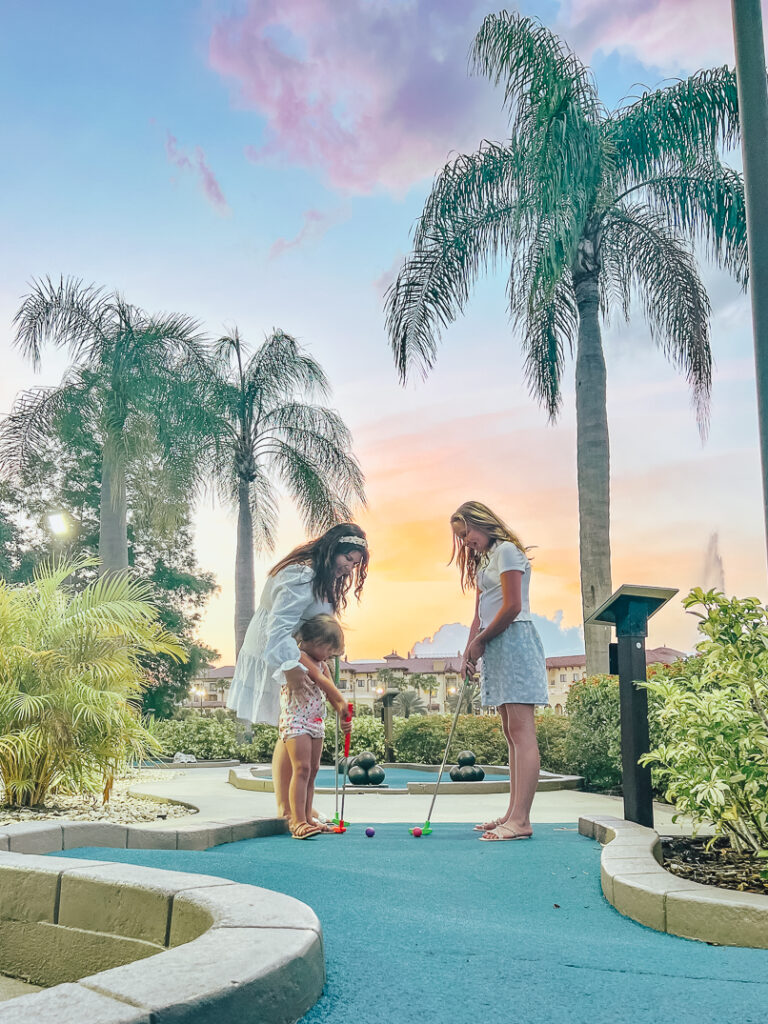 Other amenities include an arcade, billiards, ping pong, fitness center, poolside games like corn hole, giant Connect 4 and Blue Harmony Spa, which offers massages, body treatments, and facials.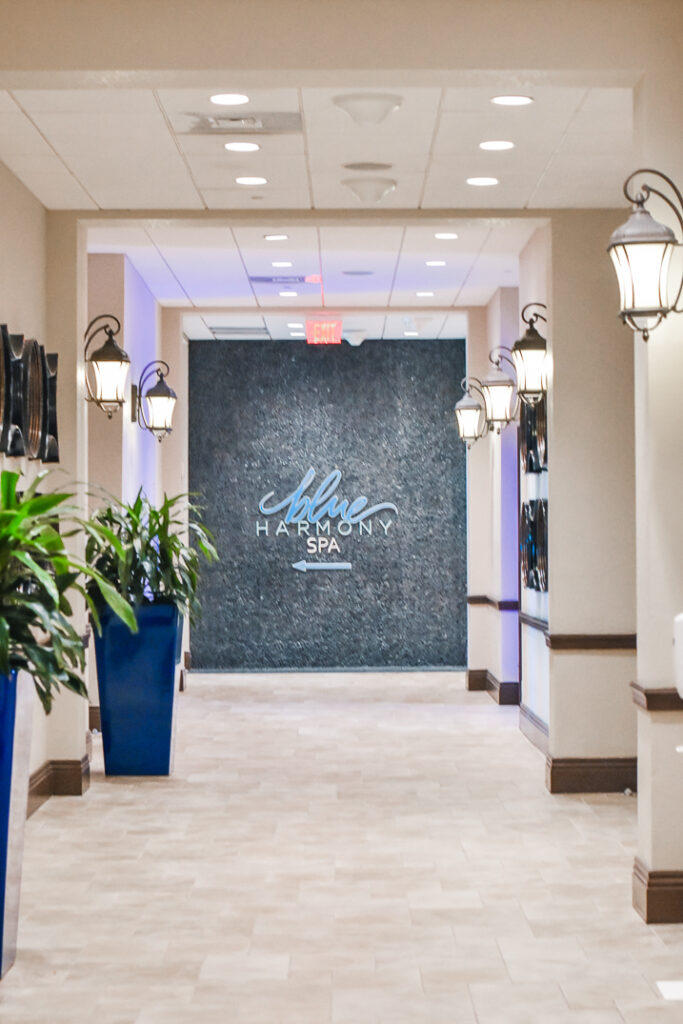 Pools Pools Pools
I am now to the stage in motherhood when my girls want to spend every waking moment of vacation at a pool. Yes, Disney World is around the corner and yes, there are fabulous other amenities available, but the allure of the pool is hard to beat. I'm fairly certain they dream of swimming while they sleep. With Wyndham Grand Bonnet Creek's 5 – yes F-I-V-E – pools on property, this was a kid's vacay dream come true. We loved the main pool at the hotel most, followed by the pirate ship pool and the lazy river pool.
There are also a couple water slides onsite (one by the pirate ship, one further around the lake), but only Emery was tall enough to meet the height requirements at the one we visited, so we didn't spend as much time there.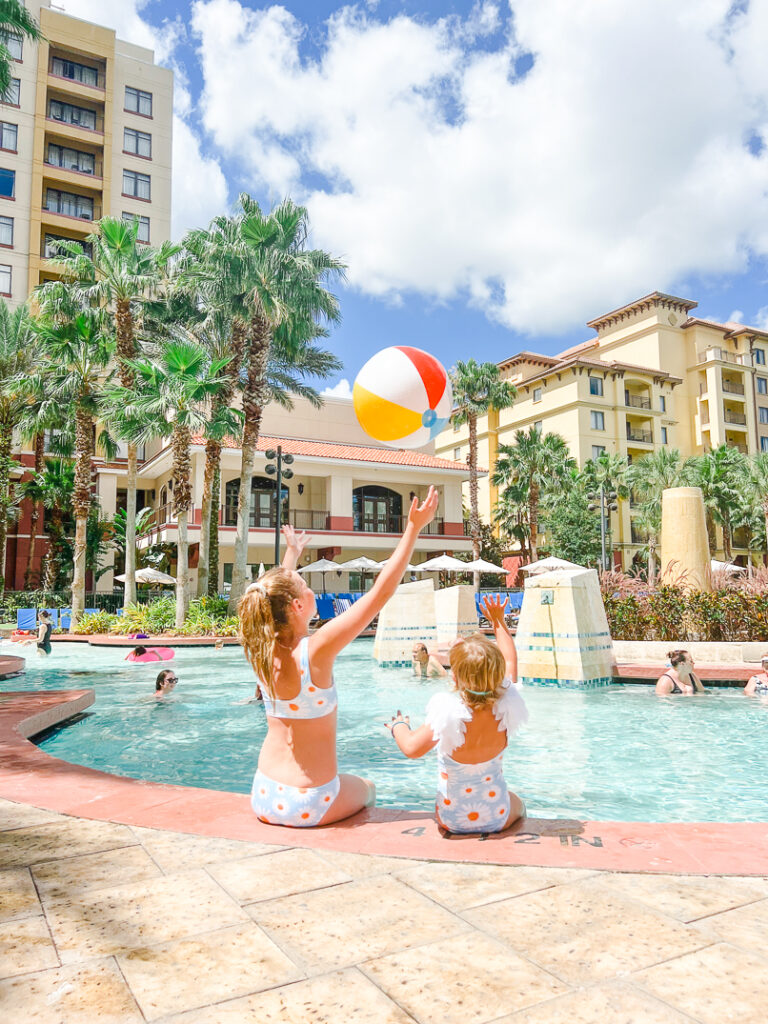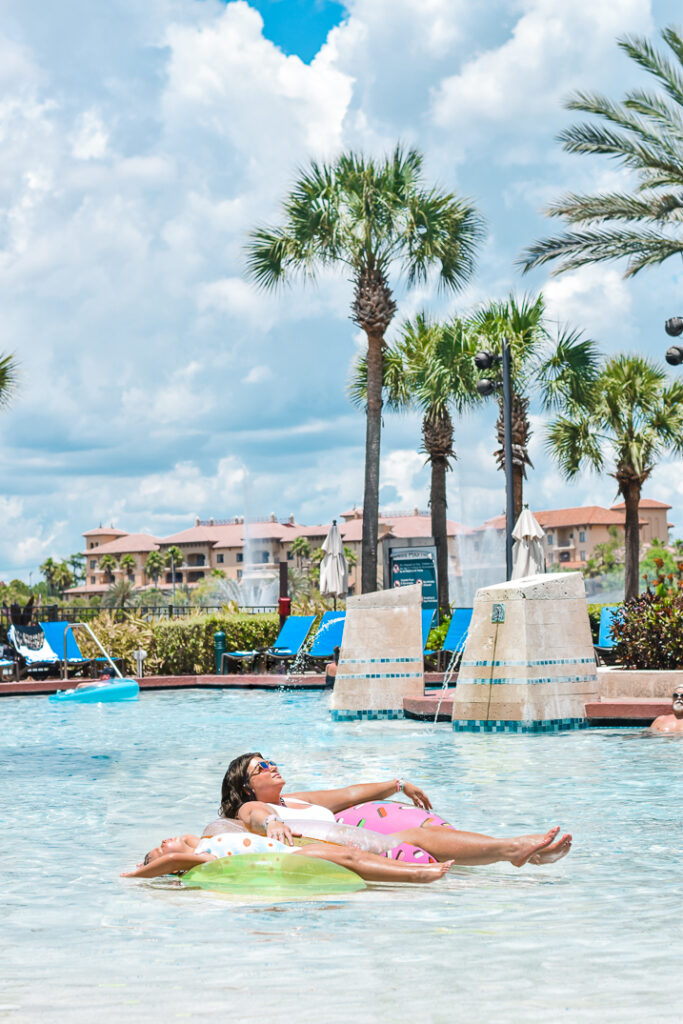 We love the zero entry, and the 3-4 ft areas which are perfect for an infinite number of handstands and flips. Even during the most crowded times at the pool, it didn't feel packed because of all the nooks and water features that help to separate and feel more intimate. I watched from the side, swam with the girls and floated in the sun to my heart's content. The pool also provides towels and has the sweetest pool service attendants who were attentive and great with kids. A frozen drink on a hot day feels like heaven and piña colada was my drink of choice along with Shirley Temples for the girls. Highly recommend!
Other pools around the lake also had fun kiddie splash areas and a variety of options for younger kids who might want more water play vs swimming.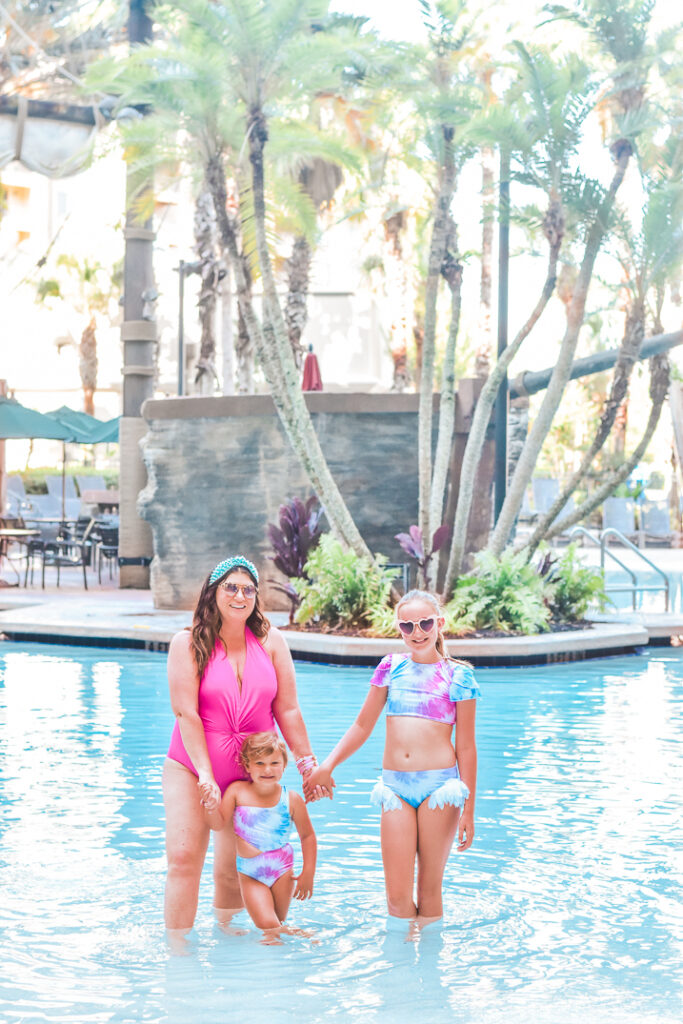 shop Collins' tie dye swimsuit
Lazy River
My girls LOVE a lazy river and the fact that we could access one just a short walk away was a huge bonus. The loop is fairly short, but is great for younger kids and when you can go around an endless number of times, what's not to love? Tubes are provided and there are also snacks at every pool. This one was home to a sno cone stand, which is always a fun poolside treat..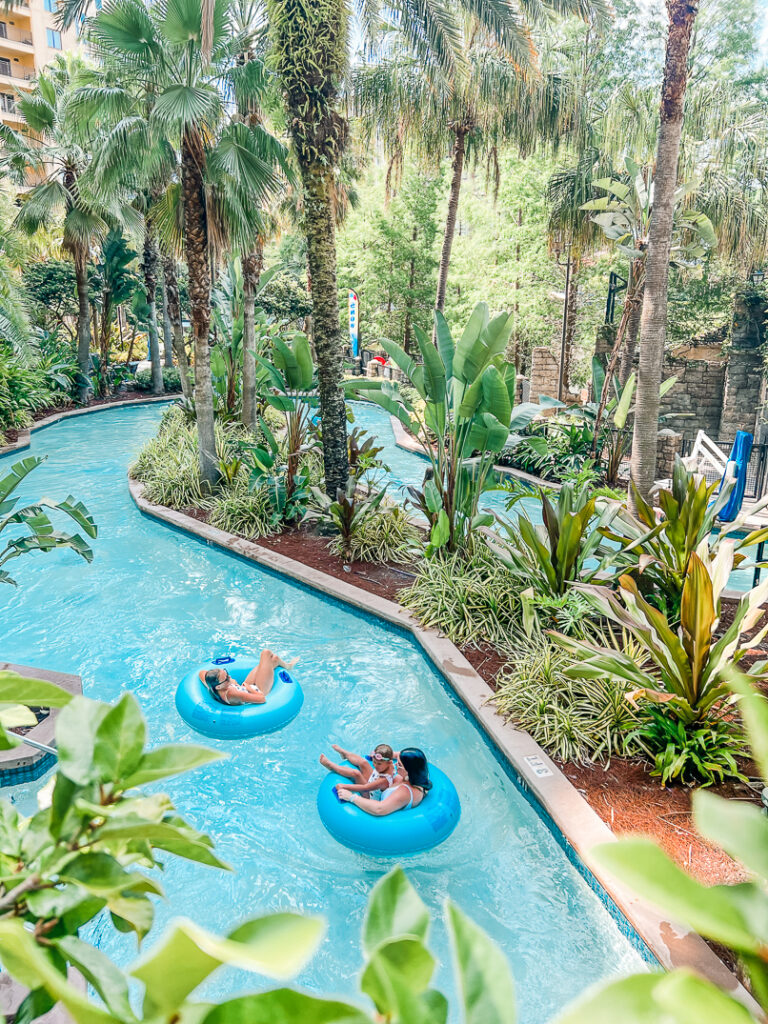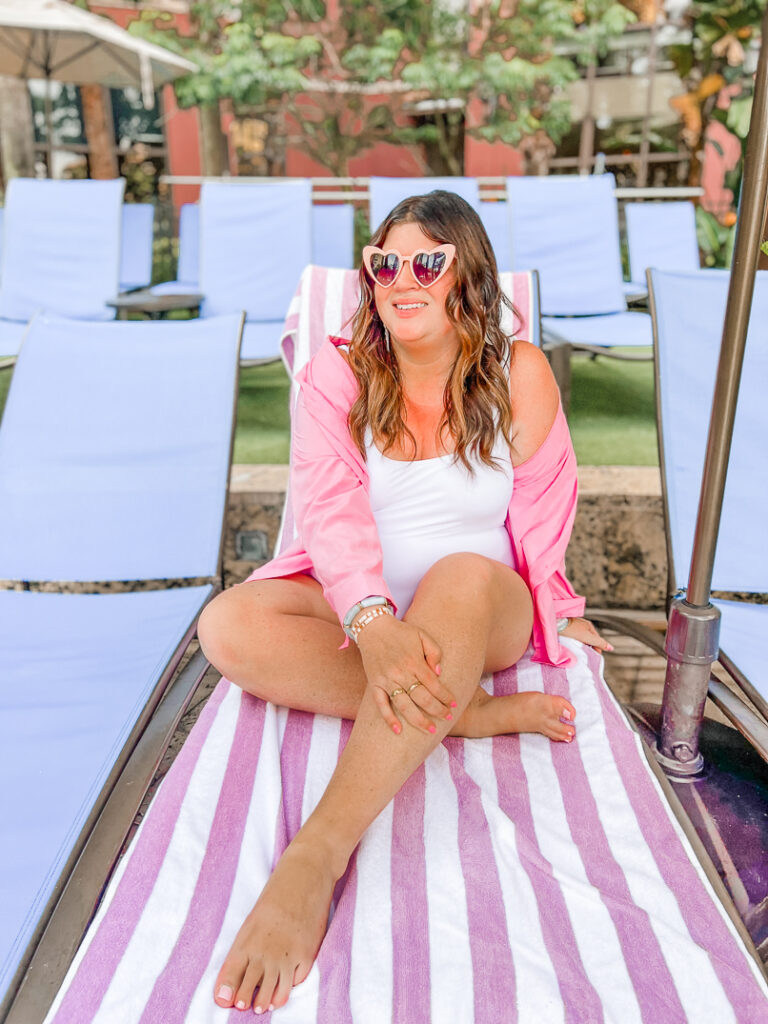 Casual Dining at Barista
From early grab n go breakfasts options and coffee to late night ice cream, we found plenty of bites and treats to enjoy during our stay. The lobby downstairs is home to Barista, which serves up select Starbucks coffee as well as breakfast sandwiches, bagels and a variety of quick service drinks and snacks. I loved the toasted egg croissant with a latte on the side.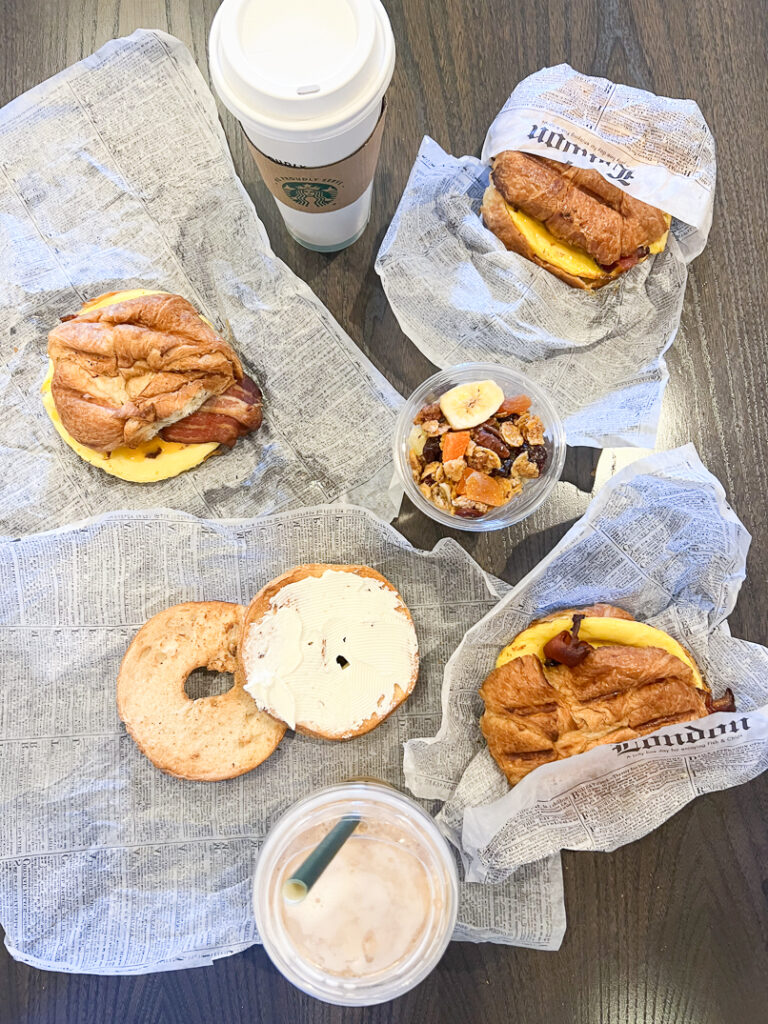 In the evening, ice cream is the treat of choice and we couldn't resist a few scoops enjoyed in the lobby. Emery loves cookies and cream and I convinced Collins to share a sorbet with me.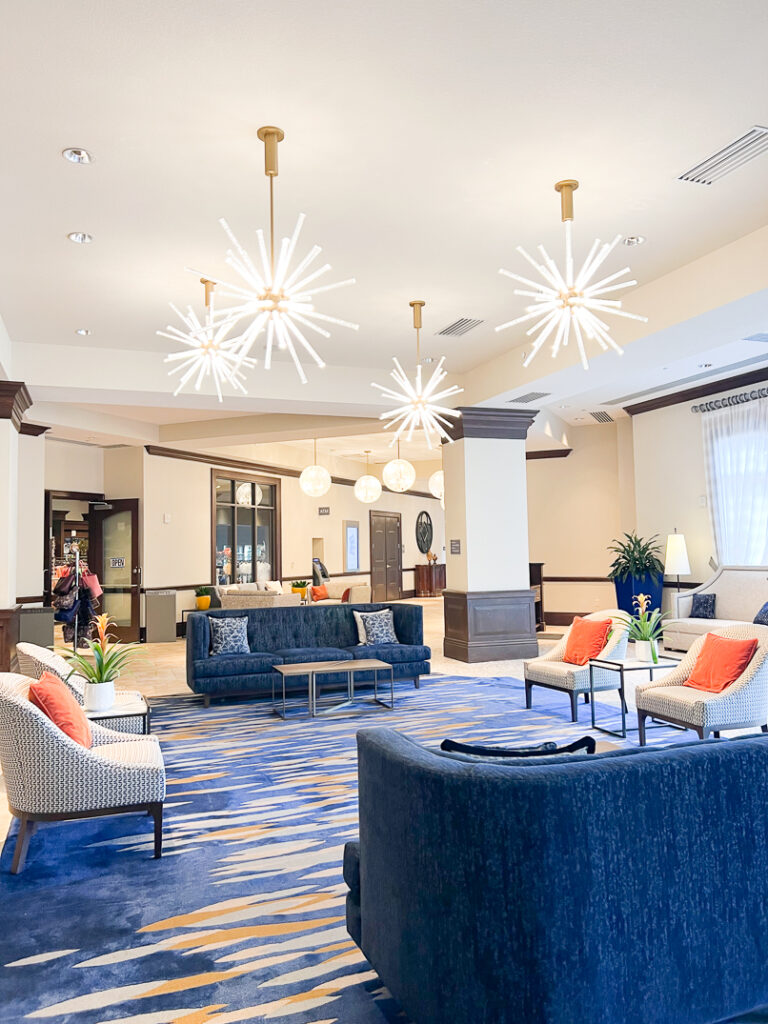 Back Bay Bar & Grill
This was such a convenient spot for casual dining located right off of the main pool deck. Back Bay is an open air restaurant with deck seating and service to the pool. We ordered drinks each day via pool attendants and grabbed lunch here one day between dips in the pool. They had classic kids food that the girls loved and a fun variety of coastal cuisine that you can enjoy at a table or in a lounge chair. I had to go for the nachos … because, nachos… but so many options were tempting to order. As we were dining on the deck, we had a front row seat to see a few feathered friends looking for a snack below our table. How cute are these ducks?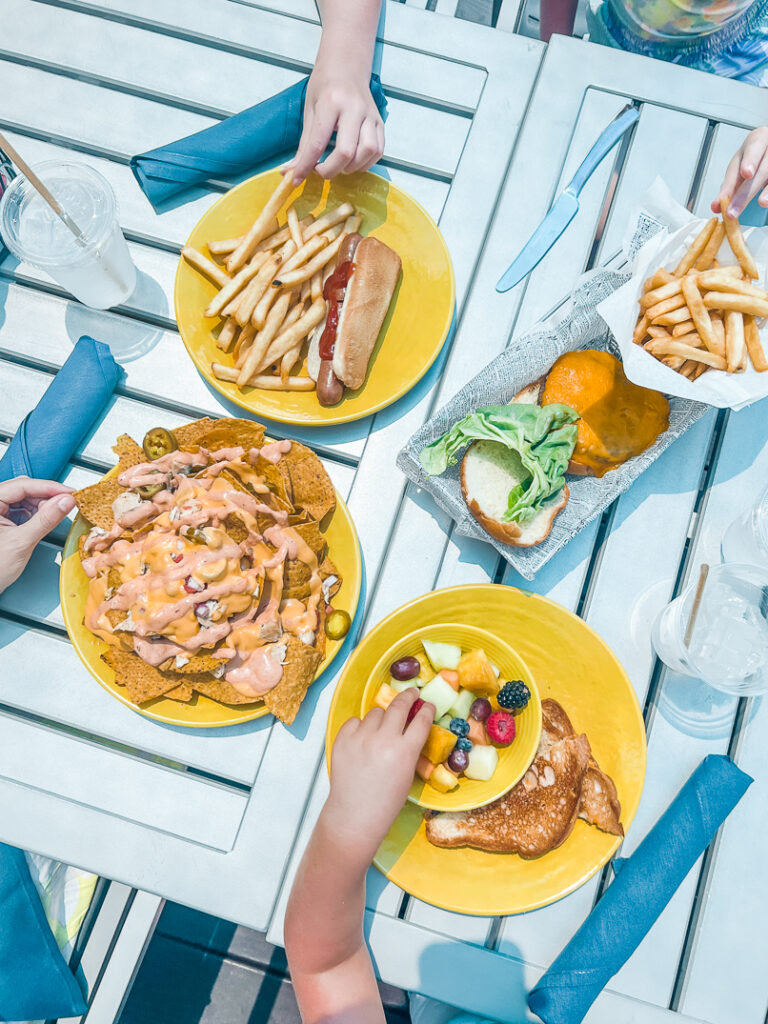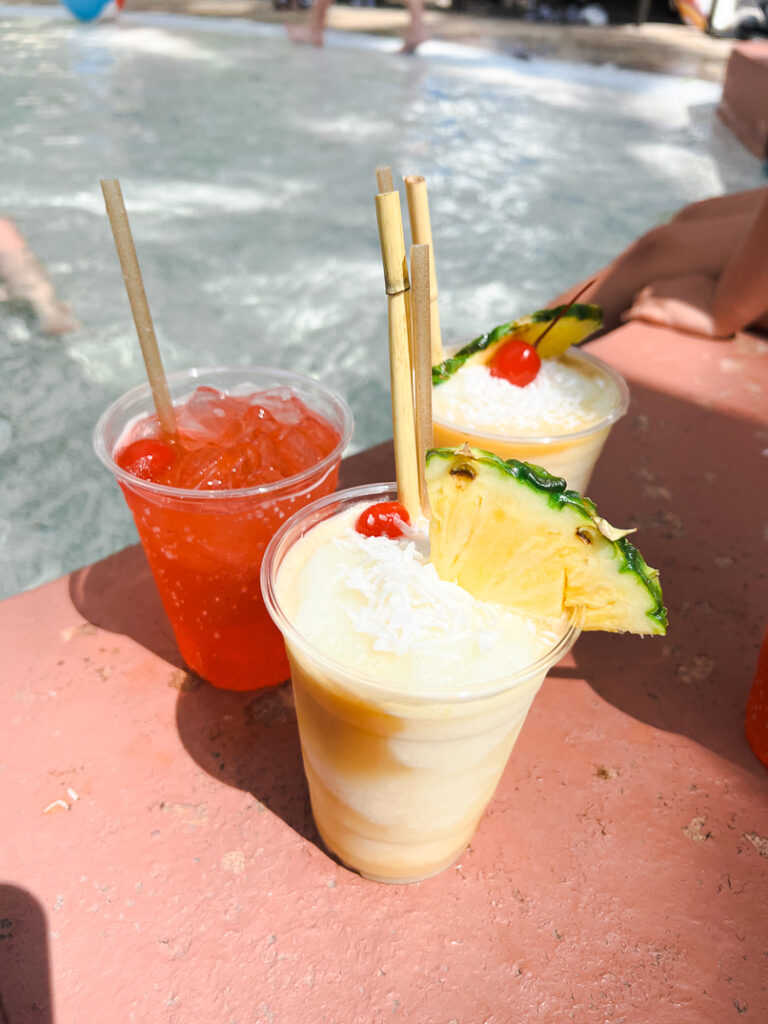 Delicious Dining at Deep Blu
This is one you're going to one to make a reservation for now, it's that good. Deep Blu at Wyndham Grand Bonnet Creek was our favorite meal of the trip, hands down. It's a sleek seafood spot with southern-inspired food and its own sushi bar. We couldn't decide and ended up with an order of sushi (Emery's choice) and the snapper special (my choice) split between the two of us. Collins opted for a kids cheeseburger, which she gave two thumbs up. This is a such a cool spot and on the second floor of the hotel (which is actually the lobby floor), it gives a great view of the sunset as well. Even if you're staying elsewhere, you can still reserve a spot on OpenTable.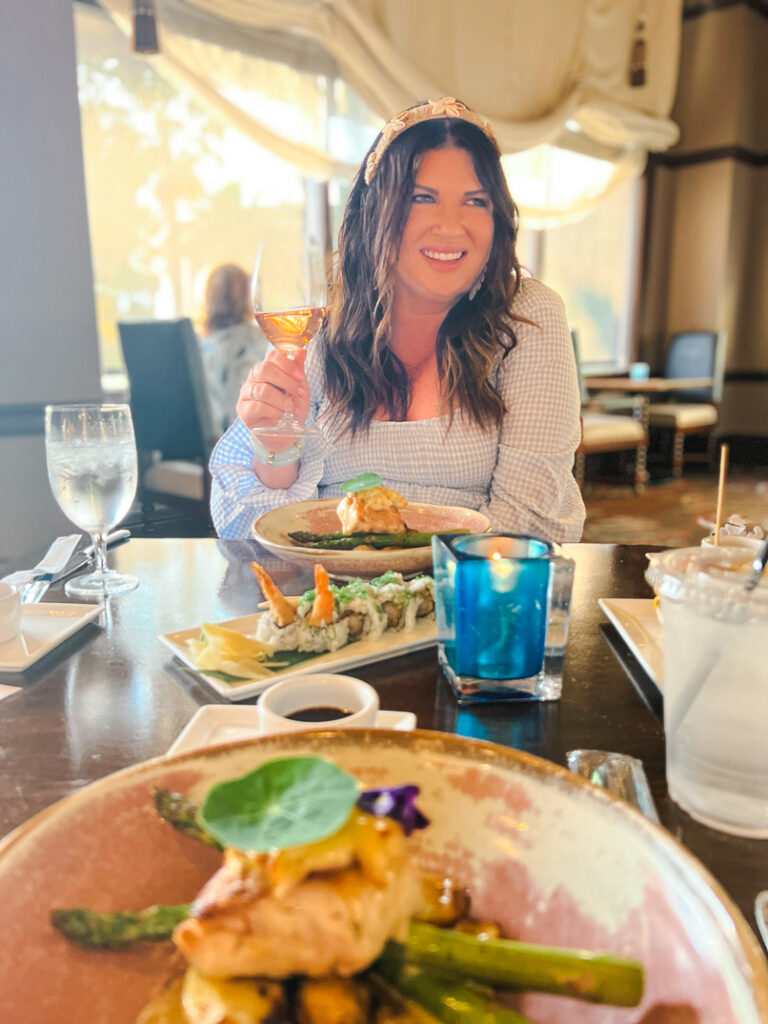 Rooms Fit for a Family
Let's talk about the rooms at Wyndham Grand Bonnet Creek. Clean, roomy, comfy and perfect for everyone to find their own little space. The room we stayed in was a Lake View Family Bunk King, outfitted with a lush king size bed, bunk beds for the kids and a sleeper sofa. In addition to the bathroom (shower, vanity, toilet), is an extra counter and vanity adjacent to the bunk beds which made for easy mornings and getting ready with a group (or girls who are suddenly interested in primping). There was plenty of room to spread out and relax while still connecting as a family.
All rooms are equipped with:
Simmons Beautyrest® Mattresses
55-Inch Flat-Screen LG LED 4K Ultra TV with Premium Cable
High-Speed Wireless Internet
Alarm Clock with Bluetooth and Charging Station
Self-Controlled Air Conditioning and Heat
Keurig Coffer Maker with Premium Coffees and Teas
Mini Refrigerator
Iron and Ironing Board
Hair Dryer
Massaging Showerhead
Executive Work Areas with Phone and Charging Station
In-Room Safe
Cordless Phone with Voicemail and Speakerphone
Unlimited Local and Toll-Free Calls
Bottled Water (two bottles per stay)
We loved the view outside the window and could see the Disney fireworks from the sofa. I also heard that the fireworks view is great from the other side of the lake for the most unobstructed view from the ground.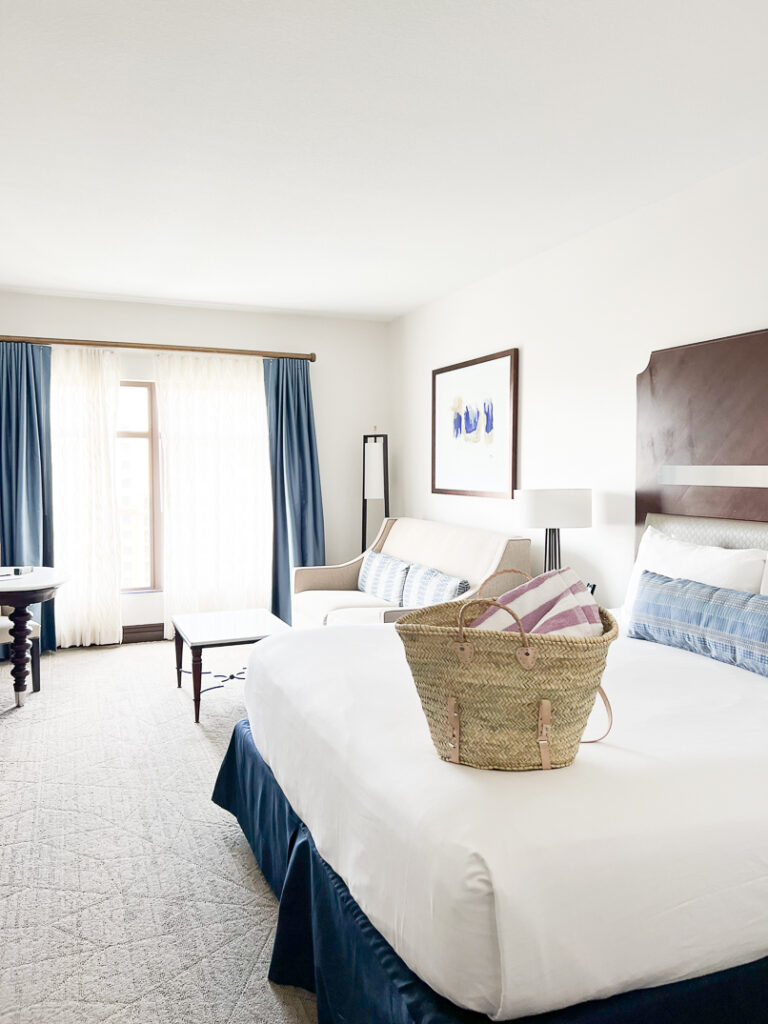 Free shuttle to parks & Disney Springs
One evening for dinner, we hopped aboard the free hotel shuttle and made our way to Disney Springs to meet up with friends. This was such a treat because it's so close to the hotel and has even more activities and entertainment available. It can be busy there because it's such a hotspot, so skipping the hassle of parking makes the shuttle option even sweeter. Be sure to check the times so you can plan accordingly as there is only 1 evening return trip (when we visited). You can also Uber for a few bucks if you need to return to the hotel before the shuttle arrives.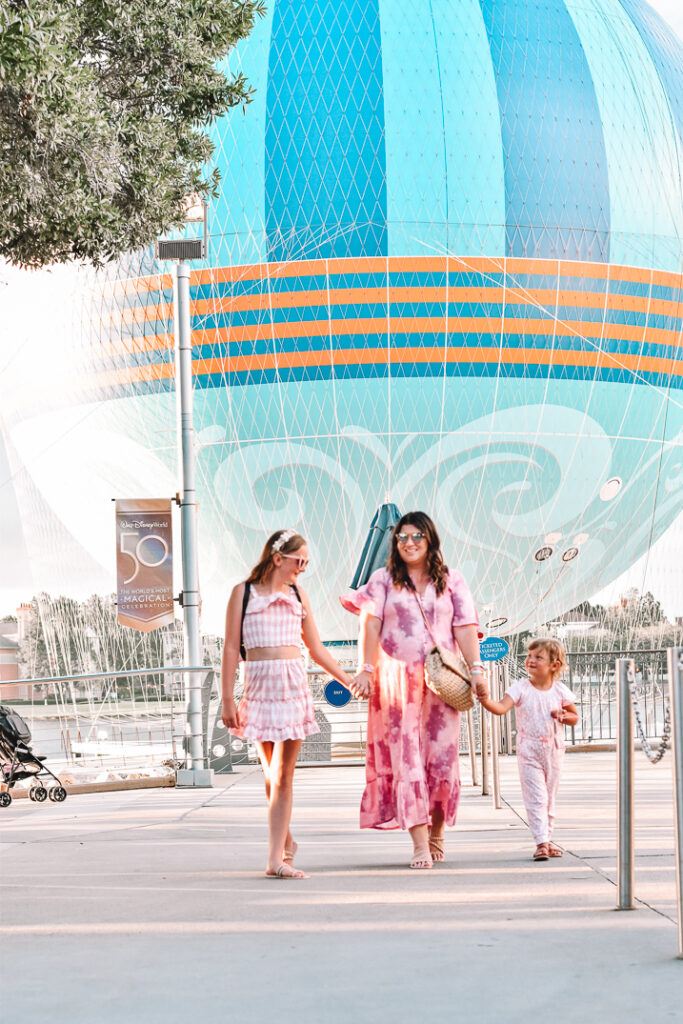 When we visited in May, the schedule was as follows, though keep in mind this may vary for future stays:
Shuttle to Magic Kingdom Ticket and Transportation Center – 8:30 AM, 9:30 AM, 12:30 PM, 2:45 PM
Shuttle to Hotel from Magic Kingdom – 3:15 PM, 8:15 PM, 10:00 PM, 10:45 PM
---
Shuttle to Animal Kingdom – 7:45 AM, 10:30 AM, 11:30 AM, 1:15 PM
Shuttle to Hotel from Animal Kingdom – 4:45, 8:00 PM
---
Shuttle to Hollywood Studios – 8:30 AM, 10:30 AM, 11:30 AM, 1:15 PM
Shuttle to Hotel from Hollywood Studios – 5:00 PM, 9:30 PM
---
Shuttle to Epcot – 9:30AM, 12:30 PM, 2:45 PM
Shuttle to Hotel from Epcot – 3:30 PM, 8:30 PM, 10:15 PM
---
Shuttle to Disney Springs – 12:30 PM, 2:45 PM, 4:15 PM, 6:15 PM, 7:15 PM
Shuttle to Hotel from Disney Springs – 5:15 PM, 9:15 PM, 11:00 PM
Palm Trees, Bare feet and Sweet Memories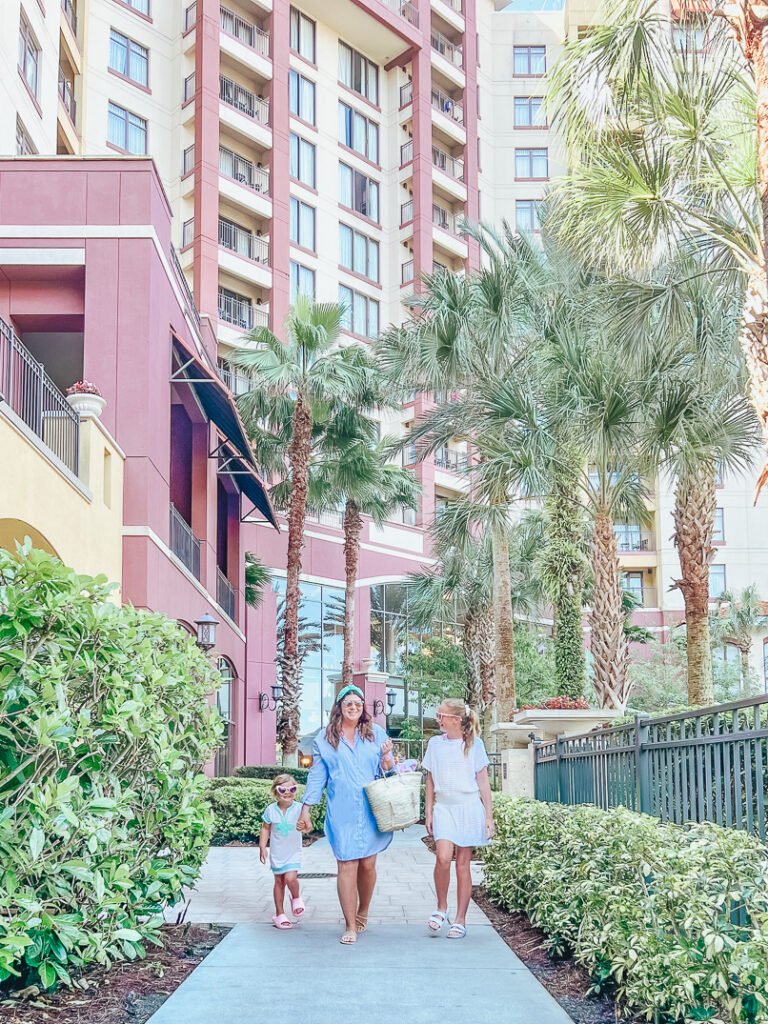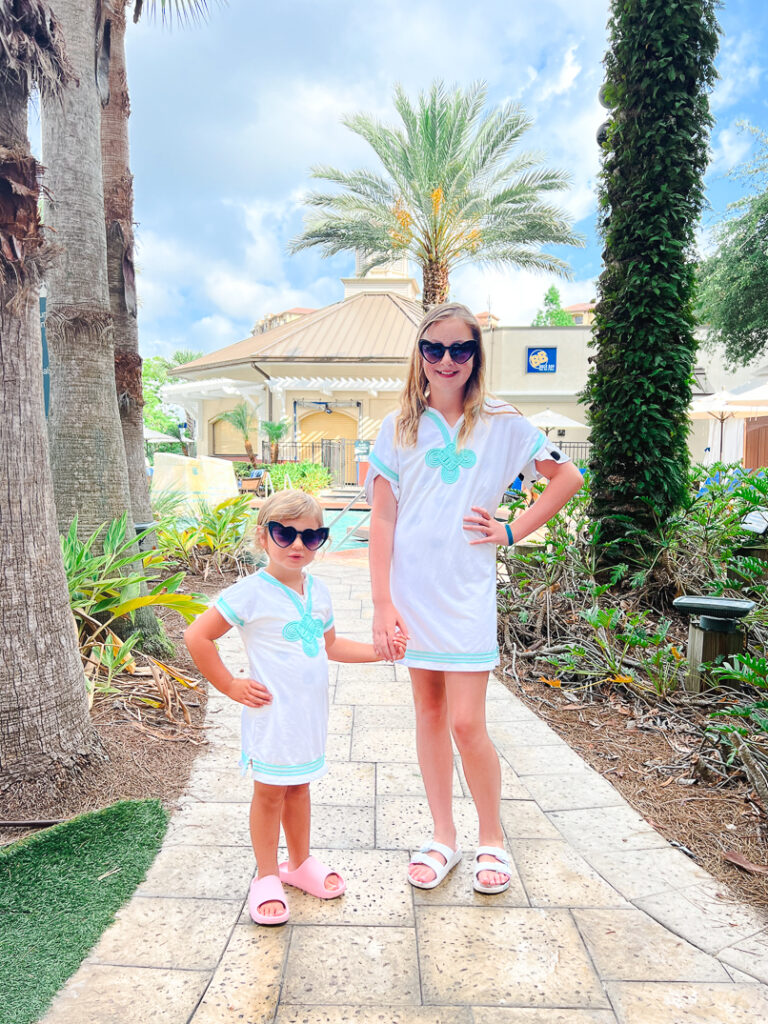 shop girls coverups & matching women coverup // shop polka dot swimsuits
With any travels, the best parts of the trips are just the unfiltered moments and precious quality time with my girls. When they love a place and the activities, it's such a joy for me to see them filled with joy. The giggles are priceless, the snuggles are the best and the memories we take away are truly special.
For booking info and planning your next trip, click here.
Thank you Wyndham Grand Bonnet Creek for hosting us and for a wonderful stay!