Looking for a special Valentine's Day gift for a lady in your life? If you're shopping for yourself, a girlfriend or just want to give this as a major hint to your hubby or boyfriend, I've got you covered.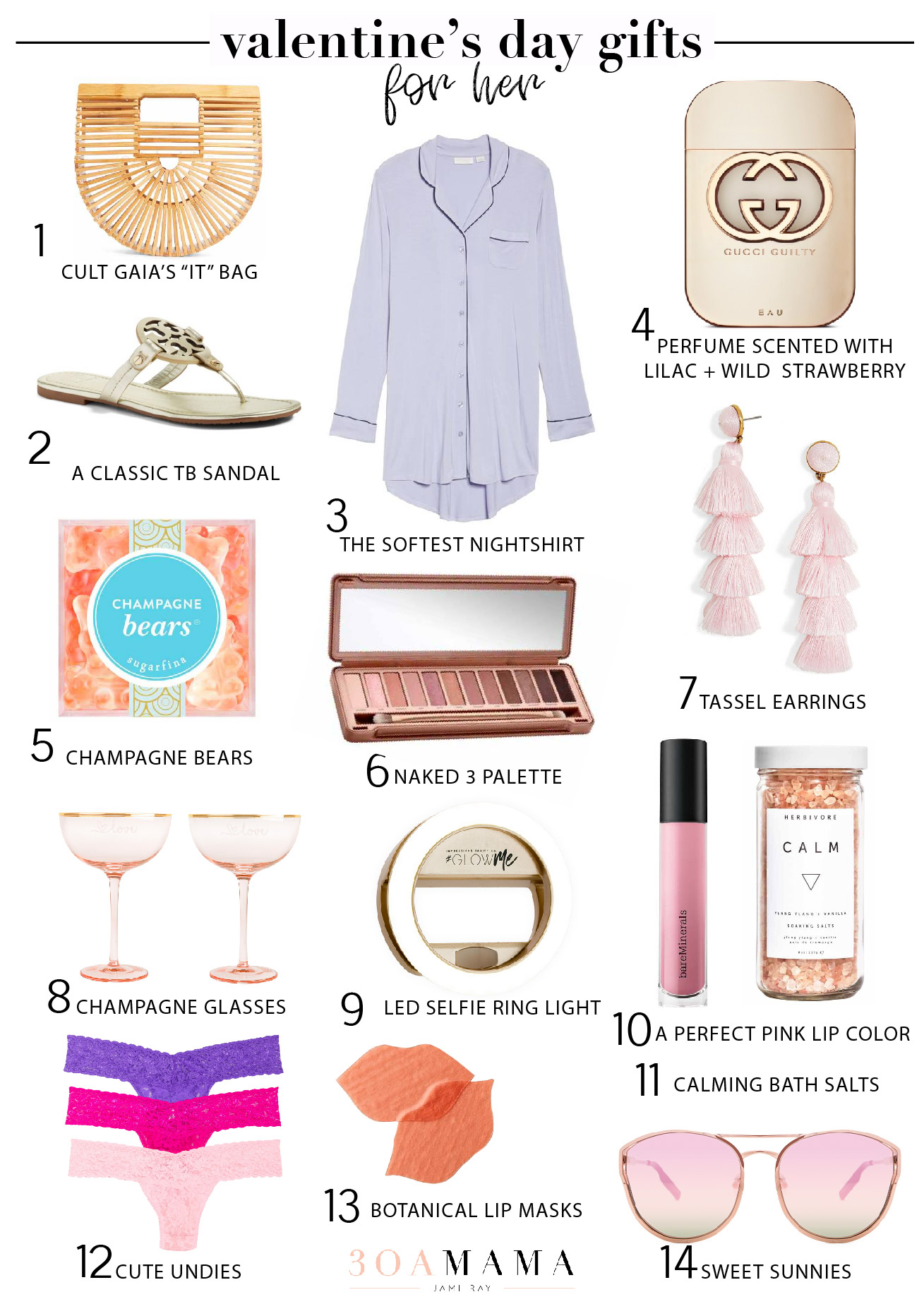 1 / 2 / 3 / 4 / 5 / 6 / 7 / 8 / 9 / 10 / 11 / 12 / 13 / 14
This bag started popping up a few seasons back and unlike some trends that don't stick around more than a few months, this one is back on the trend list for spring and summer. I bought the pink acrylic version a year ago and love what a statement bag it is. This year, a mini version caught my eye, which would be perfect for vacations and a great addition to a beach wardrobe.
When you can wear open-toed shoes nearly year-round, it's worth investing in a classic pair that will stand the test of time. I love these in nude leather or this pretty gold leather.
This is honestly the softest fabric and so comfortable for sleeping or lounging around the house. I have the exact same pajama set here and wear it nearly every night.
I recently went on a spraying spree in Sephora and tested a ton of fragrances to try to find a new favorite. This one by Gucci with notes of lilac and wild strawberry was a clear winner.
To me, these are a perennial favorite and always deserve a spot on a Valentine gift list. They're delicious and never last long around our house!
I've been using this eyeshadow palette on and off for a few years and absolutely love coming back to it again and again. The blush and rosy tones are complimentary for all skin tones, but look especially great with blue eyes. Or maybe I'm just partial to blue. 🙂 Use the neutral shades for everyday makeup and amp up to a flashy smoky eye using the darker shades and the rose gold shimmers.
These are so fun to wear and are surprisingly light for a statement earring. I have them in the blush shade pictured above as well as a hot pink version, but there are a ton of colors to choose from.
Say cheers with these lovely rose-colored coupes. They would make any bar cart instantly chic, but are best enjoyed with your favorite bottle of bubbly served by a handsome date.
I know this one might seem a little frivolous or even shallow, but don't knock it til you've tried one! Lighting makes all the difference and this little phone attachment is just what you need to take the most flattering selfie of you and your Valentine.
I love the sweet, pinky shade of this lip color that goes on super smooth. Any time I wear this, I get questions about what color I'm wearing. There are so many great colors, but Luxe is my go-to.
What woman doesn't need something to help calm and relax? These are a fun reason to change up the nightly bedtime routine and opt for a soak in the bath instead.
Forget overly sexy lingerie or pieces you'll only wear once a year, this 3-pack of everyday underwear is the perfect set made of soft, stretchy lace that is evenly matched in the looks and comfort departments.
Devote a little extra attention to your smile with these lip masks that help fight signs of aging around the mouth by moisturizing and soothing.