Mamas, this is just the escape you need. Whether you're ready for a change of scenery, crave a family-friendly vacay your crew can enjoy together or just want a kid-free trip to reset and relax, you'll find a stay at Sanctuary at Redfish will help recharge, rejuvenate and breathe fresh air into the space you're in.
Read to the end for a booking special you're going to want to take advantage of. Spoiler alert: it involves a little bubbly.
Where to Stay Along 30A?
If you've ever visited 30A, you know there are a TON of factors to consider when planning a trip. Location, amenities, budget, size of rental, level of luxury… all the things. Some of the more "resort" neighborhoods can sometimes steal the spotlight, but if you appreciate a relaxed retreat in a prime, yet secluded location, Sanctuary at Redfish in Blue Mountain Beach is one you won't want to miss.
30A is known for having limited hotels, but a full spectrum of lodging options. The best bet when planning a trip to South Walton is to book a house, cottage or condo through a rental company like Newman-Dailey Resort Properties. This local company is your go-to source for booking Sanctuary at Redfish and they offer a range of condos on property to suit you.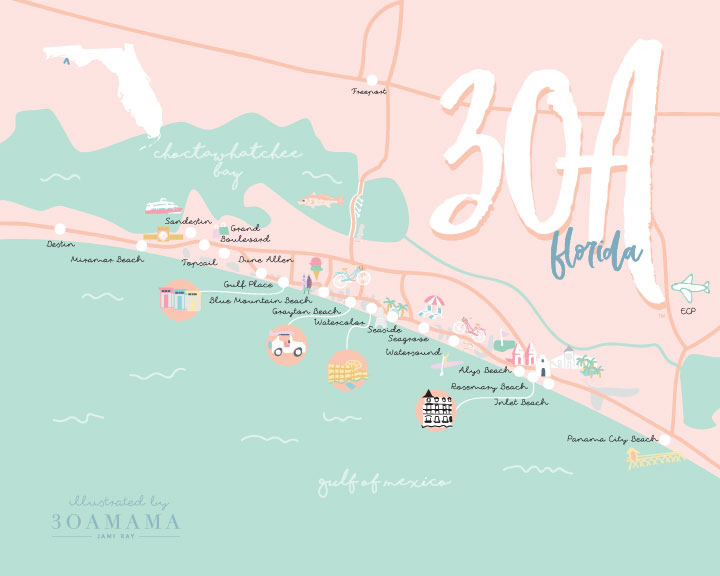 Click here to purchase the 30A Mama Illustrated Map in a range of sizes.
Do not post, distribute or alter this map in any way without express permission.
Sanctuary at Redfish Property Details
Sanctuary at Redfish Location
At the risk of sounding repetitive, Sanctuary at Redfish is well… a sanctuary. It's amazing how you can feel miles away from crowds or busy beaches, yet be within walking or biking distance to favorite destinations like Grayton Beach, Seaside and Watercolor. This spot really is the perfect location that offers proximity to hot spots balanced with seclusion that feels like a true luxury in a busy beach town. Sanctuary at Redfish is uniquely situated on both 30A and one of South Walton's coastal dune lakes. It's a quiet stretch that feels tucked away yet close to so many amazing places.
Sanctuary at Redfish Amenities & Activities
Beach Access
If you've been visiting 30A for more than a season or two, you know how much the area has grown and how busy it can feel. The beach is a hot commodity with its sugar white sand and stunningly clear turquoise waters. Renting a property that includes beach access can be a make-or-break detail. It can be hard to find a vacant stretch of sand to enjoy in other locations, but Sanctuary at Redfish offers the ultimate amenity: spacious, beautiful beach with your name on it. It's not a place you'll expect to see 4 rows of chairs or overwhelming crowds.
True to its name, it's a retreat, even at the beach. Our condo included a complimentary set-up (2 chairs and 1 umbrella), which was perfect for our trip.
Getting to the beach is an experience in itself. Forget never-ending boardwalks or winding trails. Sanctuary at Redfish boasts its own dune lake "ferry" to transport guests from its private dock straight to the Gulf. The boat goes back and forth constantly so you can always catch a ride in either direction. My boat-loving family adored this.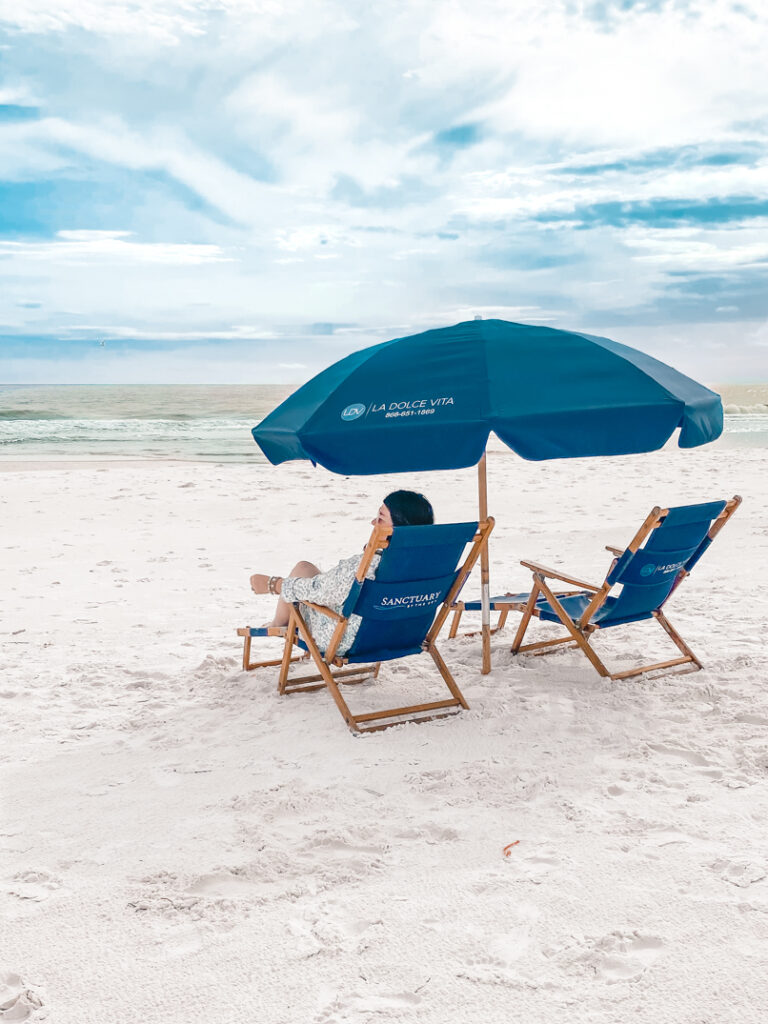 Coastal Dune Lake
Walton County's coastal dune lakes are such gems and truly incredible features that only occur in a handful of locations world-wide. The dune lakes are an ecological rarity, touching and often spilling into the Gulf of Mexico. It's a beautiful scene thanks to the work of Mother Nature and as a further bonus, this also provides a longer list of activities to enjoy.
It's a bucket list activity to paddle a dune lake, whether in kayak, canoe or SUP-style. Sanctuary at Redfish has onsite canoes available for guests on a first-come, first-serve basis. For an afternoon adventure, we separated into two canoes, raced, cruised and paddled our way to the beach. For our family, these kinds of activities are so much fun and feel like it bonds us together even more with memories I hope my kids keep forever.
Pool Deck
If you or your family are feeling less outdoorsy and more loungey, the pool situation at Sanctuary at Redfish is one you'll win major points for. The property boasts 4 different pools, including one for adults only (again… letting you fully commit to either your family vacay or kid-free escape – no judgment here!).
My kids could spend every waking moment swimming and splashing in the pool, so having such a beautiful resort-style pool deck was such a treat. There is plenty of seating as well as bathrooms, a fire pit and grilling area available to guests.
Sanctuary at Redfish Style & Vibe
Sanctuary is located on what I might call THE quietest stretch of 30A, tucked into lush green trees with a ton of natural texture and an organic feel. It's a gated property so it feels a bit hidden and exclusive. The color palette features rich earth tones like clay, tan and mustard, that pair perfectly with all of the natural surroundings.
The condo we stayed in, #2121, had beautiful coastal style, a comfy vibe that felt like home and more than enough space for our family of 4. With 3 bedrooms, 4 bathrooms, a full kitchen, dining room and extended balcony, this property had more than enough room for our crew and we loved retreating here after a day at the beach or pool. 
Newman-Dailey also does an incredible job at maintaining comfort through their cleaning and sanitizing procedures, so your only worry is how to spend the day. They also have a local team available 24/7 to ensure your vacation is epic.
Where to Eat Along 30A
For a stay at Sanctuary at Redfish and the benefit of a full kitchen, you could easily have groceries delivered and never leave the condo. If you prefer to get out and explore the area, here are a few of my favorite places within biking and walking distance:
Food & Drink Favorites Nearby
Blue Mountain Bakery // Blue Mountain Beach (breakfast or lunch)
Crackings // Grayton Beach (breakfast or brunch)
Blue Mabel // Blue Mountain Beach (lunch, cocktails or dinner)
Blue Mountain Beach Creamery // Blue Mountain Beach (donuts or ice cream)
Black Bear Bread // Grayton Beach (breakfast or lunch – the salmon tartine is my fave)
Red Bar // Grayton Beach (a classic – try Sunday brunch!)
Redfish Taco // Blue Mountain Beach (dinner)
Chiringo // Grayton Beach (lunch or dinner)
Chanticleer Bakery & Eatery // Grayton Beach (a local favorite for lunch – every dish is delish)
Nanbu Noodle Bar // Grayton Beach (try the poke bowl or Bento box)
Borago // (upscale Italian for dinner)
Grayton Seafood (dinner al fresco)
You really can't go wrong with any of these and of course, can also venture further to Watercolor, Seaside, Seagrove and beyond to the east or Gulf Place, Dune Allen and Sandestin to the west.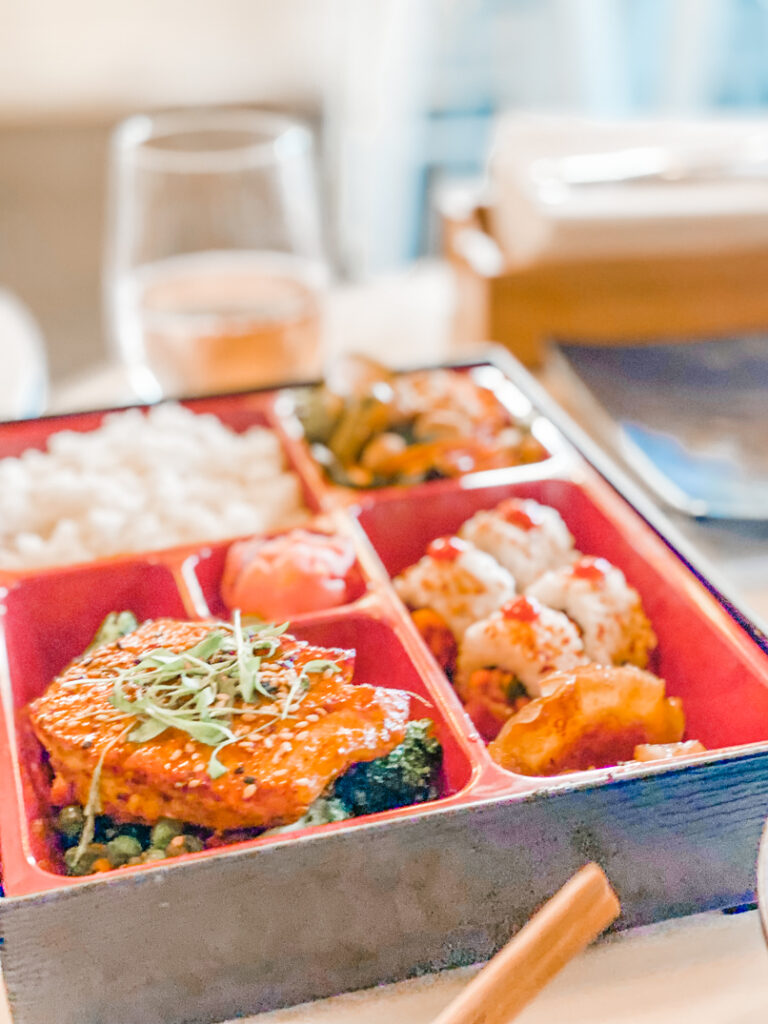 MOMosa Booking Special
Okay, I promised a FABuLOUS booking special at the beginning of this post and here it is. Newman-Dailey is celebrating moms with the MOMosa Vacation, a fun way to lift up all of you mamas and give you an excuse to escape to the beach. When you book a MOMosa Vacation, you'll receive the MOMosa starter kit that will allow you to customize your sparkling morning cocktail. The package includes a soft side cooler, sparkling wine (Brut), champagne-flute govinos for you & your crew, and 3 flavors of Ocean Spray Cran drinks. Click here for full MOMosa details
What do yall think? Are you ready to plan your next escape?

Our stay was provided by Newman-Dailey. All opinions expressed are my own.