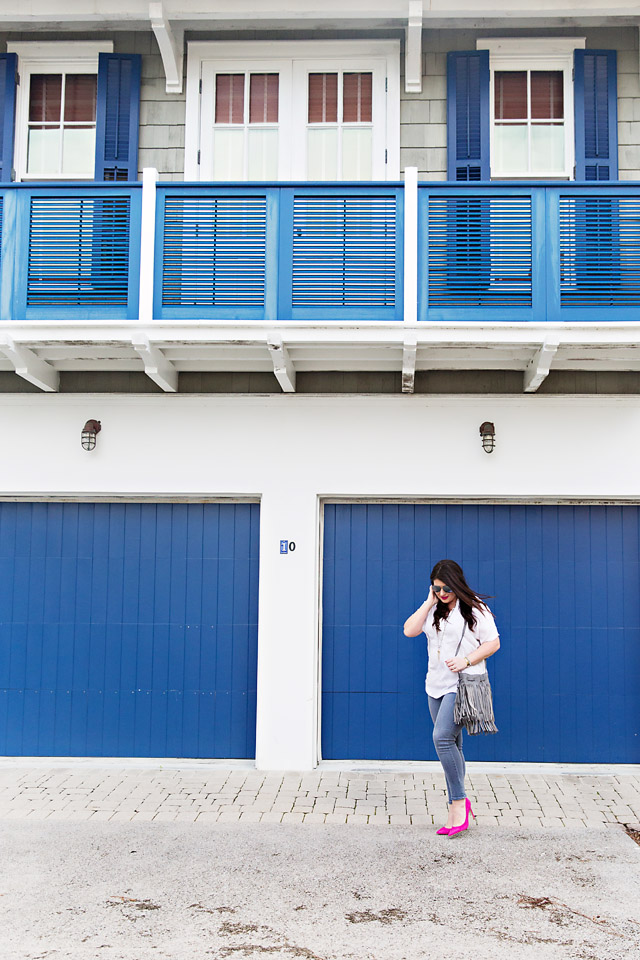 Top  // Jeans (similar here)  //  Heels  //  Bag  //  Sunglasses  //  Lipstick  //  Nail Polish  //  Cuff
Photos: Jacqueline Ward Images
It was a magical, sunny day –  one of the first warm ones after a string of cold January days  – when I realized three things. One, I'm SO ready for spring and all that it brings. Bright colors, happy hues, pops of fresh white and a cool breeze rolling off the Gulf as the sun shines down making everything sparkle just a little.  It's pure bliss! The second thing I realized is how much I love the color pink. And these heels.
I believe in pink. I believe that laughing is the best calorie burner. I believe in kissing, kissing a lot. I believe in being strong when everything seems to be going wrong. I believe that happy girls are the prettiest girls. I believe that tomorrow is another day and I believe in miracles. – Audrey Hepburn
I go in phases where I mix this girly shade into what I'm wearing, then take a break for awhile. Consider this a warning, I think it's about to be a regular again. The third thing I realized, if you can't tell, is how much I need a tan! It's January after all, but a girl needs some color. 🙂
This combination of blouse/jeans/heels has been my go-to uniform lately and this fringe bag is really fun to carry. It never fails to get a compliment.
P.S. How fabulous is this shade of blue I found when out and about in Rosemary Beach? It's just so happy and bright – the perfect shade for spring. What about you? What color cheery color brings a smile to your face this time of year?