Thanks to Huggies for sponsoring this content and thank YOU for supporting the brands that I choose to work with.
You know you're a mom of a little one when your bag is fully stocked with baby wipes at all times. Over the years and with baby #2, I may have edited down what I carry as "essentials" in my purse or diaper bag, but one thing remains the same. Must. Have. Plenty. Of. Wipes. If you've ever been in a situation when you need one and didn't have one, you'll never make that mistake again!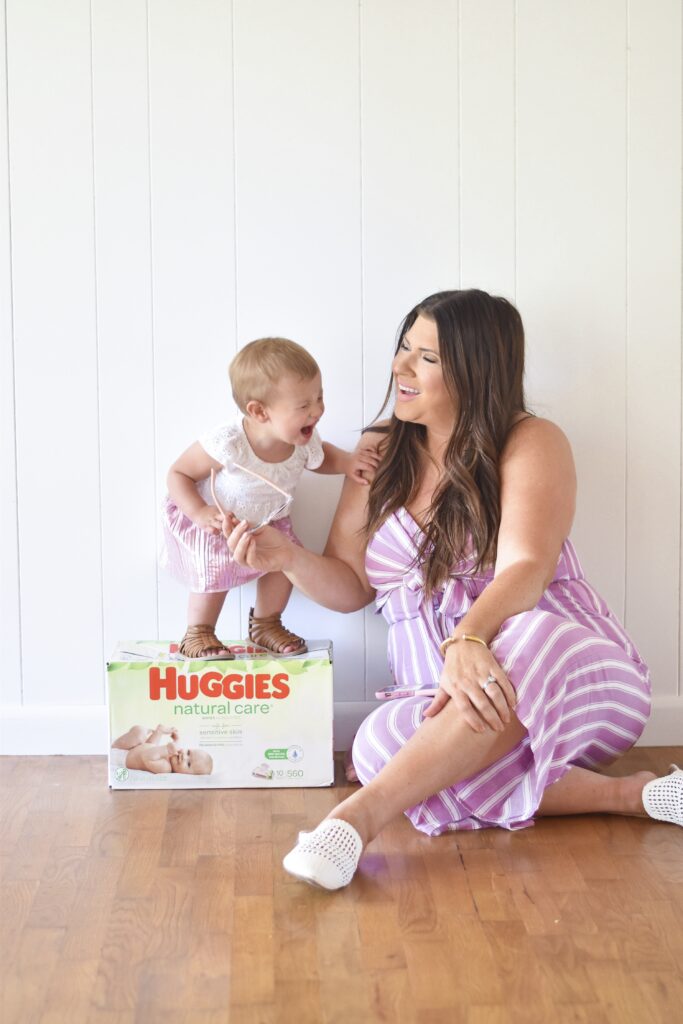 This is the laugh I get when I ask if my 1 year old wants to potty train! 😂 Looks like we'll be continuing our love affair with diapers and wipes for the forseeable future. If you're a mama in the same boat, I'm excited to share that Huggies Natural Care Wipes have been recently reformulated and are hypoallergenic, fragrance free, alcohol free, and paraben free! 🙌🏻
They even rate as a 2 on the EWG scale. To be honest, I didn't always look at that as closely as I've started doing lately and it's so nice to know they're safe for sensitive baby skin. I've lost count at the number of diaper changes we've been through at this point, but let's just say it's a lot. I want to know that when I reach to grab a wipe that it's strong enough to handle the job, moist enough to make it easier and something that's okay to put on my baby's bottom.
Huggies Natural Care Wipes are so easy to travel with. They can go in a suitcase, in the car and even in a backpack. I also use these for all sorts of things on-the-go from wiping hands to wiping up little messes in the car or stroller.
You can grab Natural Care wipes at Walmart or add to your next grocery pickup order! If you're an Ibotta user, be sure to use this to save even more: https://ibotta.com/?q=HuggiesNaturalCareWipes