You know charcuterie boards, but do you know cocoa-cuterie boards aka hot chocolate dessert boards? While beautiful and artful charcuterie boards continue to be everywhere this season, Emery and I decided to get in on the fun with a sweet spin on this trend. We put together a hot chocolate dessert board full of sweets, treats and delicious bites to enjoy along with your favorite cup of cocoa.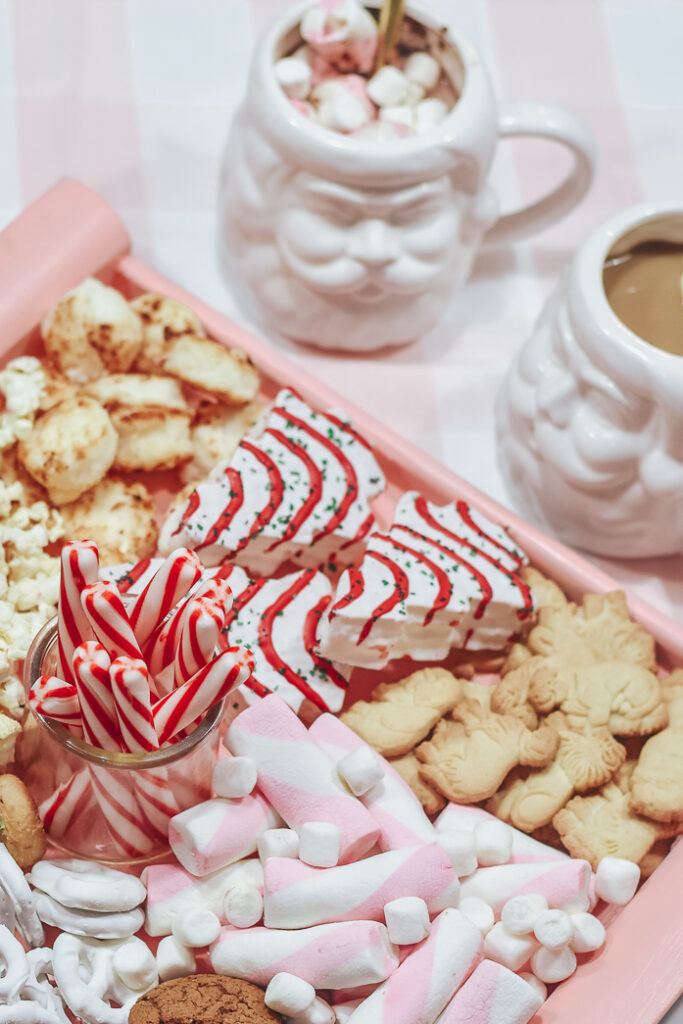 Yes, this is very sugar heavy. No, we don't eat one of these every day. Some occasions call for a fun splurge in the sweets department and Christmas is a great time to relax and indulge just a little.
Dessert Board Ingredients
Honestly, this is NOT fancy or complicated in any way. Our hot chocolate dessert board is all stuff you can grab at the dollar store or grocery. You can make your own, of course, but sometimes, the sweetest things come from simply making stuff look more fun.
Soft Candy Canes
Party Popcorn (my favorite!!)
Coconut Macaroons (found these at the DG and they were a surprise fave!)
Animal Crackers
Classic Marshmallows
Mini M&M Cookies
Ginger Snaps
Yogurt-covered pretzels
Anything else you or your little ones like!
Fruit would be a healthy addition, but this was all about the sweets. You could also add actual cocoa to the board and chocolate or white chocolate chips to mix in.
How to Assemble
The beautiful thing about a hot chocolate dessert board is that there's no wrong way to do it. You can mix it all up or keep in sections. Make the sections a clean diagonal or curve it to make a fun pattern. Anything goes!
Make this an after-school treat and turn on a favorite Christmas movie for a guaranteed hit. If you make your own version, I'd love to see! Tag me on Instagram @jamiray.