I'll be adding to this post and sharing more soon, but wanted to go ahead and get up a few notes and links for now.
A Few Notes on Visiting Now
From what friends and readers have shared over the past few weeks and cast members we talked to, it seems like this March crowd is significantly higher than recent weeks at Disney World. We heard the next two weeks will be the most yet post-COVID. It still feels so much more open and less crowded than a "typical" visit, but this week was not quite as sparse as it might have been in January or February. I think many people are itching to get back to travel and seeing their Disney favorites.
Park hours vary and the list of attractions and dining options open have been changing so be sure to check each before you go.
The character meet-and-greets you're used to are gone and a new approach is in place. Fast Passes aren't an option and the traditional parades are on pause. Because of this change in the dynamic, we aimed to focus on rides, snacks and enjoying more park details than usual. It's definitely different that the "usual" trip, but I have to say I think I prefer the new character options better. More on that in a bit!
For rides, wait times are significantly lower than usual and even the pace of the line moves faster than the estimates. At Magic Kingdom, we had a 5 minute wait for Jungle Cruise first thing in the morning and rode Haunted Mansion, Thunder Mountain and Splash Mountain in the last 30-40 minutes of the day. It was awesome! Mid-day crowds were highest and wait times were listed as over an hour for some of those thrill rides and most popular little kid rides like Dumbo and Tea Party, but we did rides with shorter times mid-day and waited less than 30 minutes in line.
More to come soon!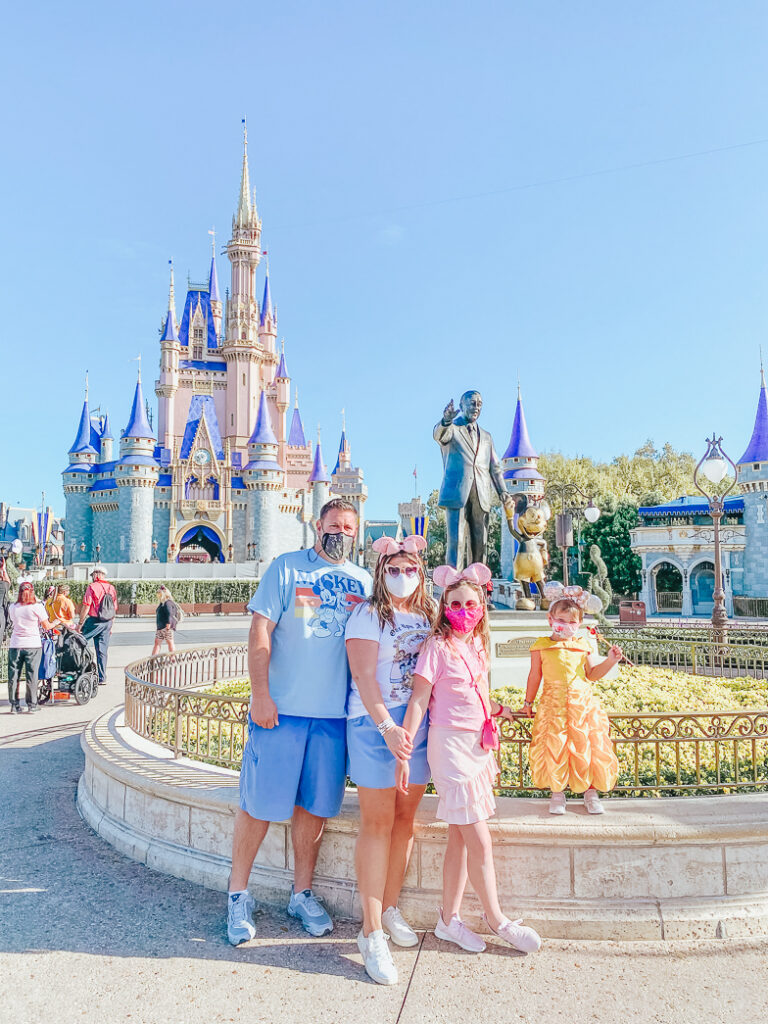 What to Wear to Disney
Disney's Mask Policy
Obviously, a mask is a must right now. Disney is strict about the type of mask you can wear (no mesh, no gaiters, must cover chin and nose securely, etc) and specific that you must wear a mask at all times unless stationary to eat. Cast members will remind you to adjust if needed. We weren't sure how this would go with the hot weather and so much walking, but it really wasn't bad. Just a small thing to be able to enjoy the parks during this time.
Disney Outfits
We like to go with a mix of casual Disney inspired looks and full-on princess for the littlest traveler.
Magic Kingdom Outfits
On Hunter: Mickey shirt
On Me: Pink ears | sequin mask | Once Upon a Time tee | tie-waist shorts | shoes
On Emery: Pink ears | sequin mask | Aurora tee | pink ruffle skirt | mouse ears purse
On Collins: silver and gold mouse ears | Belle dress | Minnie mask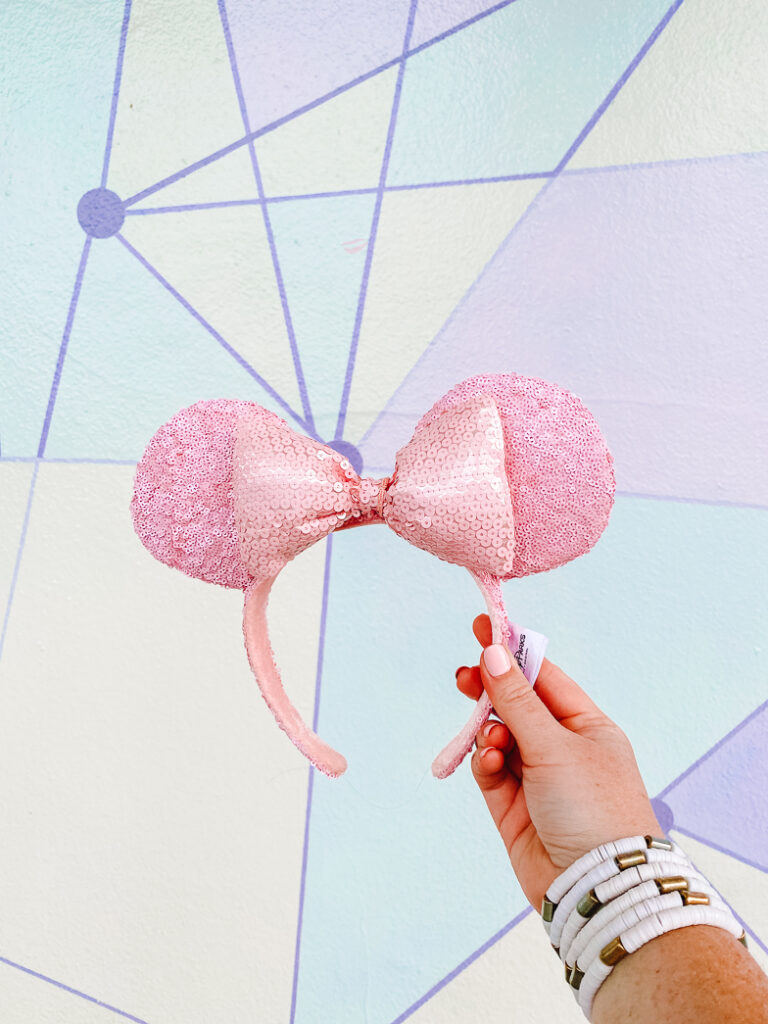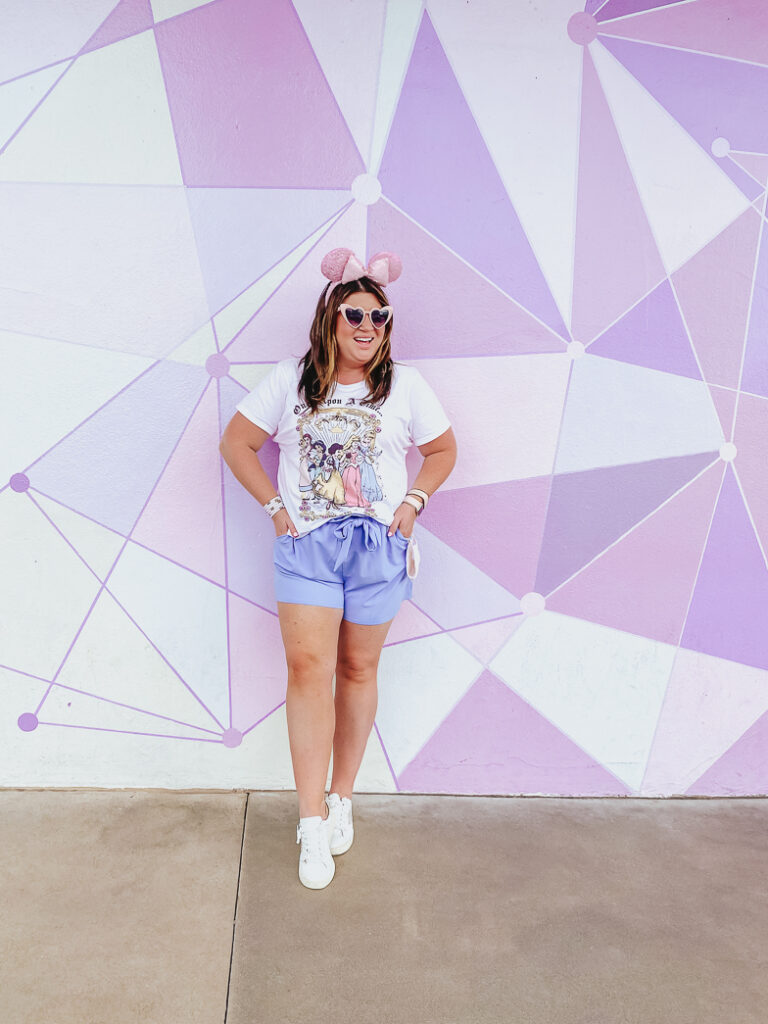 Pink ears | sequin mask | Once Upon a Time tee | tie-waist shorts | sneakers
Epcot Outfits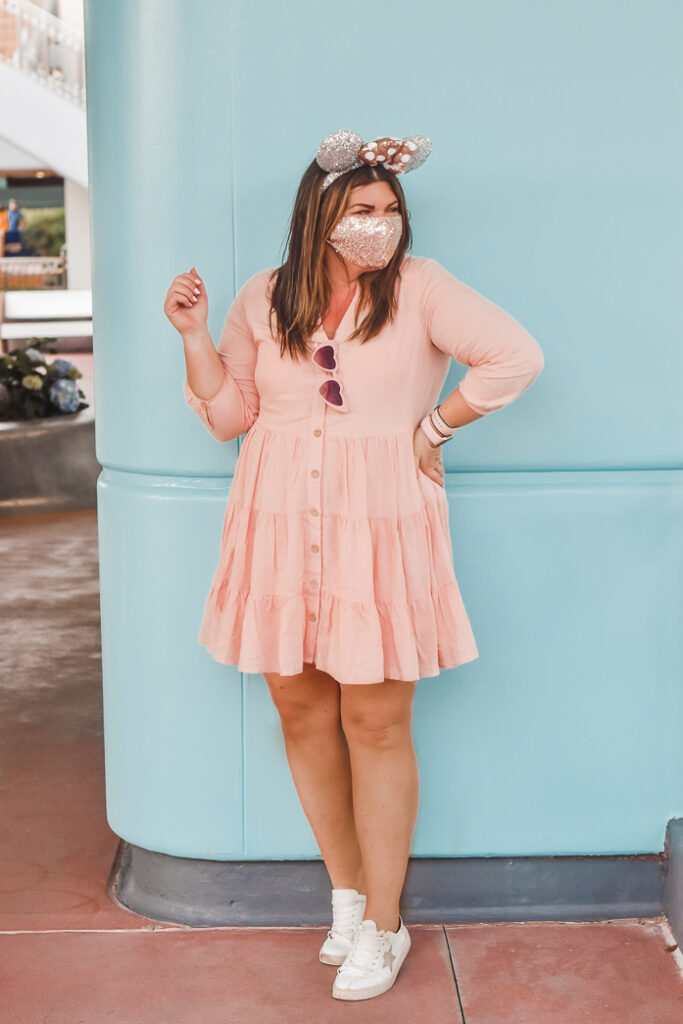 silver and gold mouse ears | Just Peachy dress | sneakers
Animal Kingdom Outfits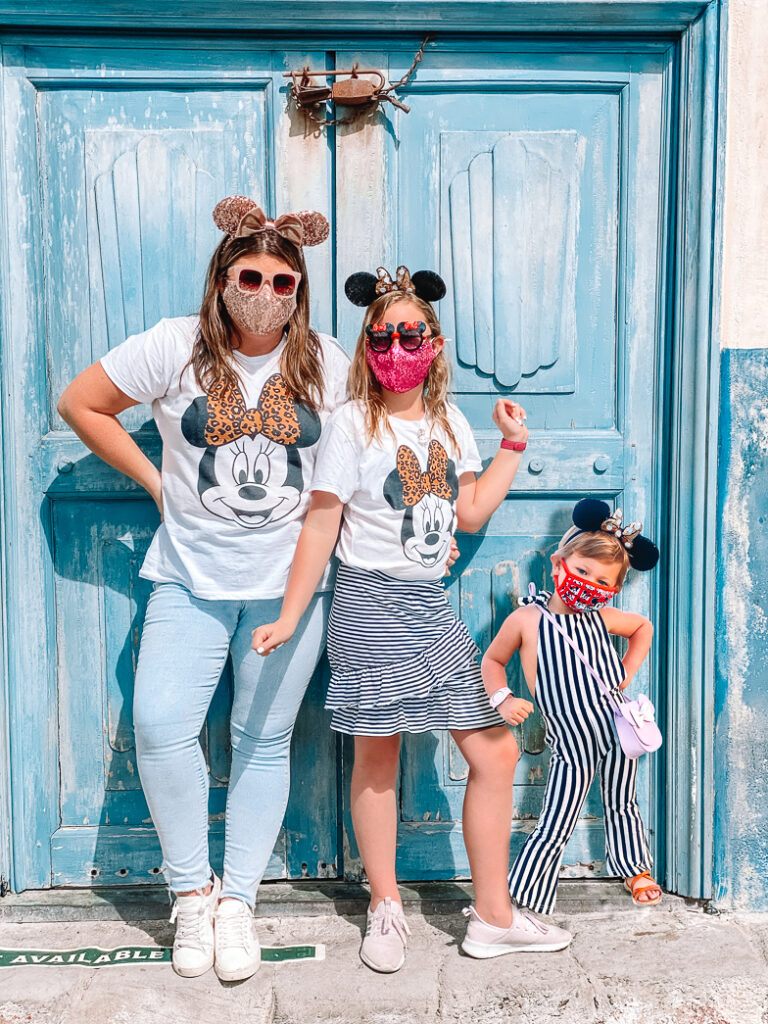 On Me: Minnie with leopard bow shirt | rose gold mouse ears (similar here for $11) | sneakers
On Emery: skinny mouse ears with gold bow | Minnie with leopard bow shirt | striped skirt
On Collins: skinny mouse ears with gold bow | toddler striped jumpsuit | Minnie purse | Minnie mask