If you've been thinking about a holiday trip to New York City, the idea of Christmas in the city can sound exciting, festive and perhaps even daunting. There's so much to do and so little time!
Where do you start? What do you plan? Where do you stay?
As a frequent traveler to NYC and mom to two girls who love Christmas in New York, I take pride in putting together fun experiences each time we visit. I also get questions about how I do this and what I choose, so I'm sharing all our trip details and itinerary favorites for anyone interested in planning something similar.
In this post you'll find our 4-day holiday itinerary, plus logistics including flights, hotels, family friendly tips and more.
Christmas in New York: The Best Time to Visit
The goal of our holiday trips is to experience all the joy and wonder of Christmas in the city so we make sure to plan our dates within the window when decor and festivities are at the peak. The Rockefeller tree typically goes up the last few days of November and this year (2021) the tree lighting ceremony was December 1. To me, that's kind of the indicator that everything else will be in Christmas mode, so I suggest visiting anytime in December, but personally, I prefer the first or second weekend of December.
That does mean that the city is more crowded with other tourists doing the same thing, but it's all part of going to a busy place to see something different that our little beach town. The crowds don't bother me as much because I try to be strategic about where we go and timing of when we visit certain sights, but it's important to note that people are kind of everywhere during this time.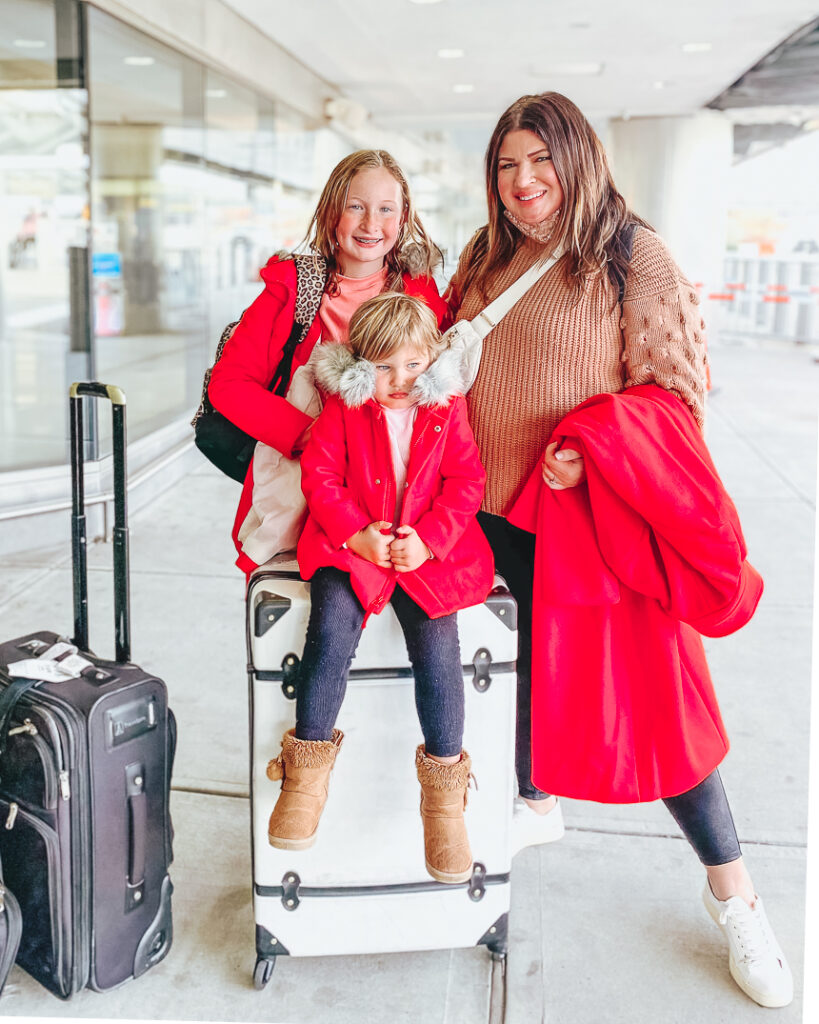 Christmas in New York: Flying in and Budget Airlines
For the past 3 Christmas trips, we've flown Allegiant Airlines from VPS to EWR. I always have questions about this when we go, so let me break down a few pros and cons of flying this way.
Pros:
Price. The first major pro is that it's a budget airline and therefore, price is the most appealing detail. I bring my mom or mother-in-law along with the girls and for 4 of us, it's usually around $600 round-trip. I've paid that much and more for a single flight before, so to me that's a score.
Direct Flight. Traveling with kids can be an adventure itself, so getting to the destination without the hassle of changing flights or potential missed connections is usually the option I'll choose if I have a choice.
Arrival Time. This does require an early alarm, but I love that Allegiant has an early departure time so that we arrive around lunch time. It gives us time to enjoy the city the same day versus just having a travel day to check in and go to bed.
Ideal Trip Length. The Allegiant schedule for our airport (VPS) is Thursday and Sunday, so we choose between a long weekend or during the week (Sunday – Thursday). For me, 4 days, 3 nights is perfect and I feel like we can squeeze in all the fun things without feeling exhausted or burnt out.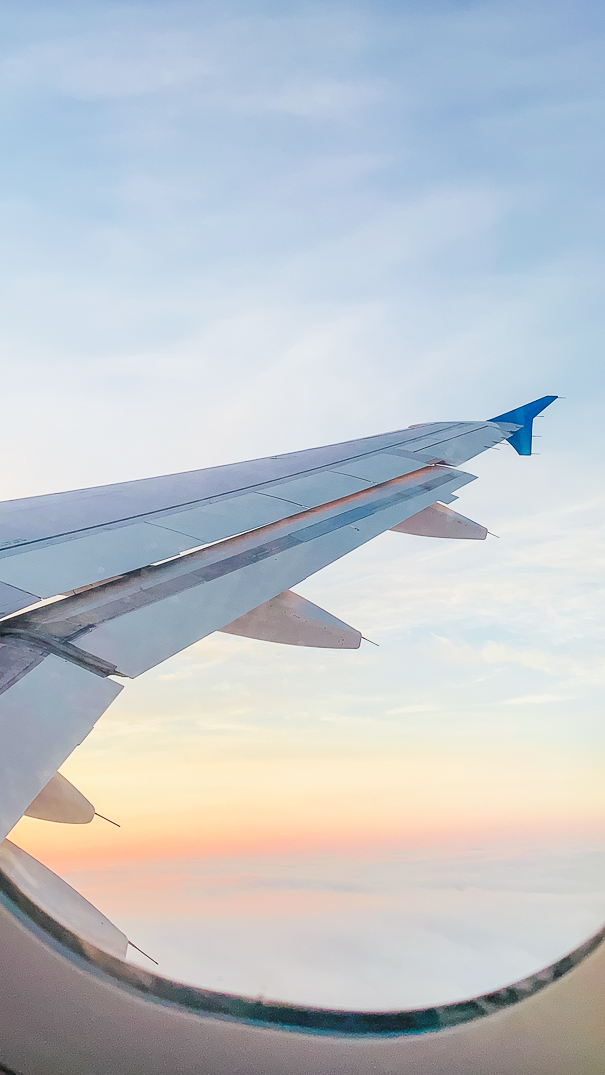 Cons:
Cancellations / Delays. For our particular airport (VPS), which is tiny, Allegiant has only one flight, so if for any reason there is an issue, delay or the airline cancels, there isn't another flight that day or possibly even for a few days. It's a gamble, since air travel is a little chaotic right now, but I've never experienced this or had an issue to date. Knock on wood!
Baggage Fees. Allegiant and most budget airlines (even non-budget these days) charge a ton for extra bags. It's cheapest to book your bag fees when you book your flight, so go ahead and spring for that initially so you don't end up paying more. It might feel like you're saving at first, but it can add up. Allegiant allows an individual personal item for each person free, then charges for carryons and checked bags.
Pro Tip. I like to have each person carry their own backpack or small bag with an outfit, in-flight entertainment and anything else that might fit, then I check one large luggage piece with everything else and we don't pay for carryons. We also wear our biggest coats on the plane even though it's often 65/70 degrees in Florida when we leave, but could be 30 when we land. It cuts down on packing space.
If budget airlines are not your thing and you prefer to fly Delta, use points, etc., there are other options of course, just not typically non-stop and not typically $600 for 4 people.
For more family travel posts, click here.
Where to Stay for Christmas in New York
Over the years, I've stayed in a range of hotels and areas of Manhattan — Chelsea for Fashion Week, UES visiting friends, Soho and the East Village for a cool experience. They're all fun in their own way, but for our Christmas trips, I prefer to stay in walking distance to the majority of our activities, somewhere between Rockefeller Center and Central Park.
This trip, we opted for Park Central Hotel and I absolutely loved it. The location was truly perfect and really cut down on Uber rides because we walked to almost everything. It's a 4-star hotel so not quite The Plaza, but it was very clean, comfortable and felt like home for our trip.
Other suggestions: The Dream Midtown (stayed here a few years back and loved it – great rooftop spot and Serafina restaurant downstairs), WestHouse (next to Park Central) or Sixty Soho (if you really prefer Soho area).
Our 4-Day, 3-Night Itinerary
Because so many of you asked for a list of NYC recommendations and how to plan a trip like this, I'm probably oversharing the specifics, but this gives you an idea of what you can fit into this timeframe. Feel free to copy this exactly or pick and choose things you like and mix in your own itinerary items.
I also share the timeline of when to plan this as far out as 6 months.
Day 1 Thursday
6-11:00 AM Fly in via Allegiant, arrive at Newark (EWR) and Uber to hotel.
11:30 AM Drop bags at hotel and walk to Black Tap Midtown for burgers and shakes. This is the girls first request every time and I think the giant milkshakes have a little something to do with it.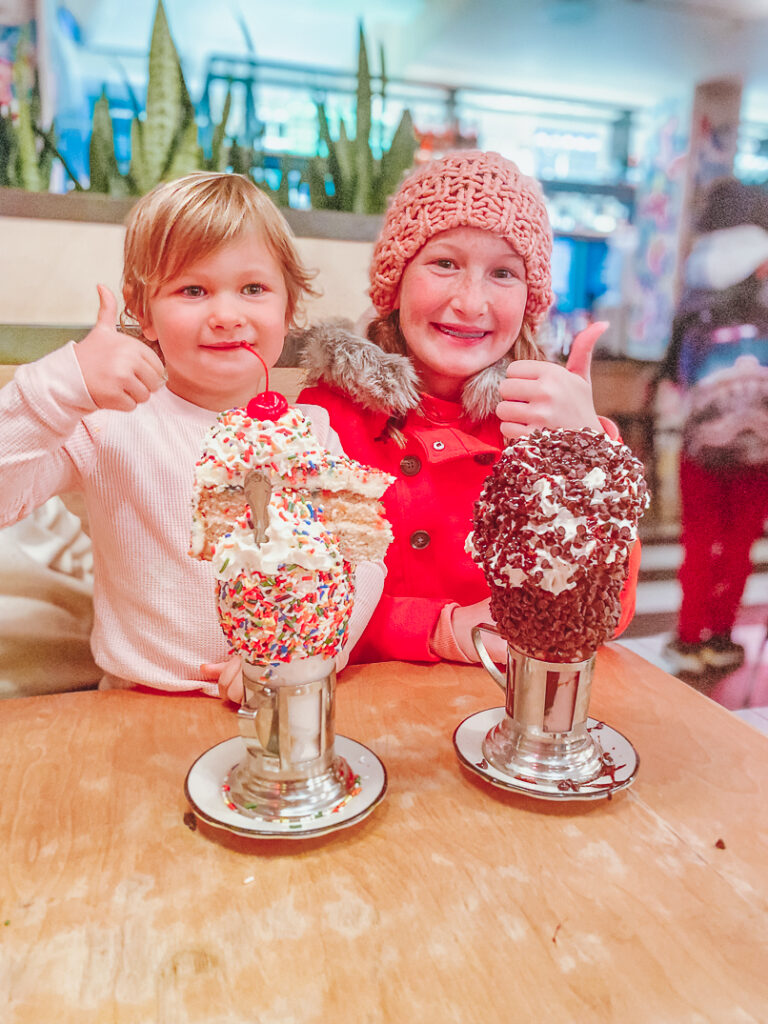 1:00 PM Wander down 5th Avenue and Park Avenue, browsing department store windows, hotel decor and all the city sights. Bergdorf, Saks and hotels like the St Regis are always fabulous.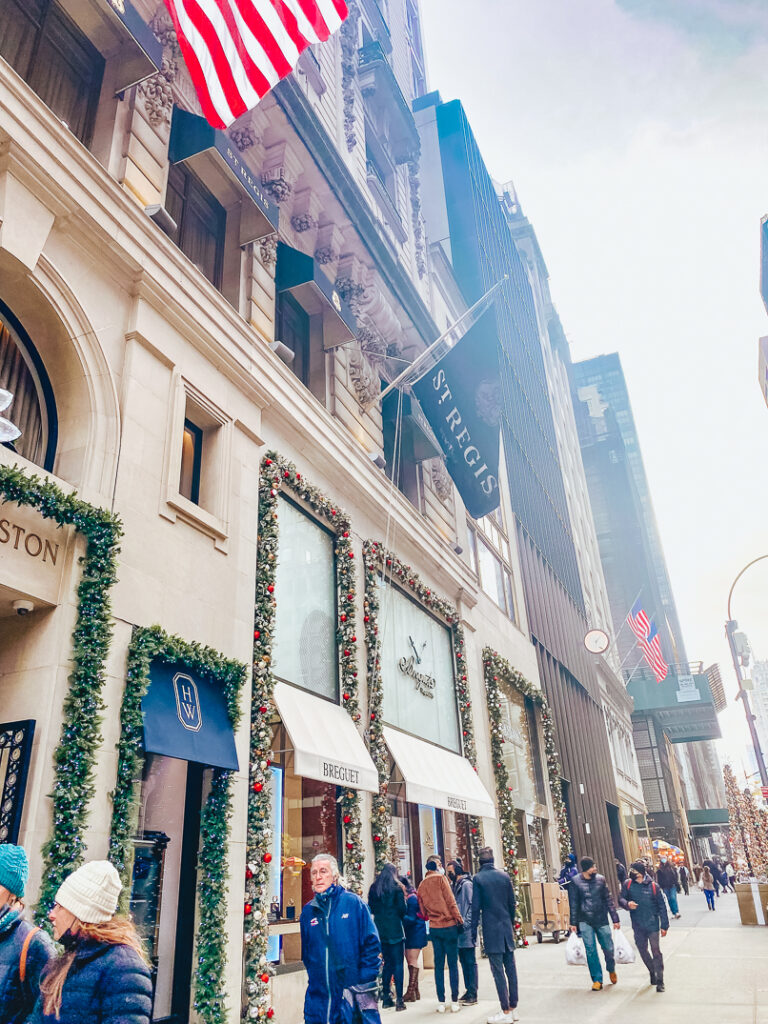 3:00 PM Early check-in, Park Central Hotel. Time to freshen up! This location is convenient because it's walking distance to so much and makes changing clothes or popping in super easy.
4:30 PM Walk to Radio City Music Hall for 5:00 PM The Rockettes Christmas Spectacular show. It doesn't feel like Christmas in New York without seeing this and I love to book it on the first night. The level of talent in this show is incredible and the first time I saw it, I actually cried a little. I didn't expect such a nostalgic and spiritual element and it was moving. Highly recommend. You don't have to dress up, but it's fun for the girls to put on a little sparkle and a nice coat for the event. It makes it feel that much more special.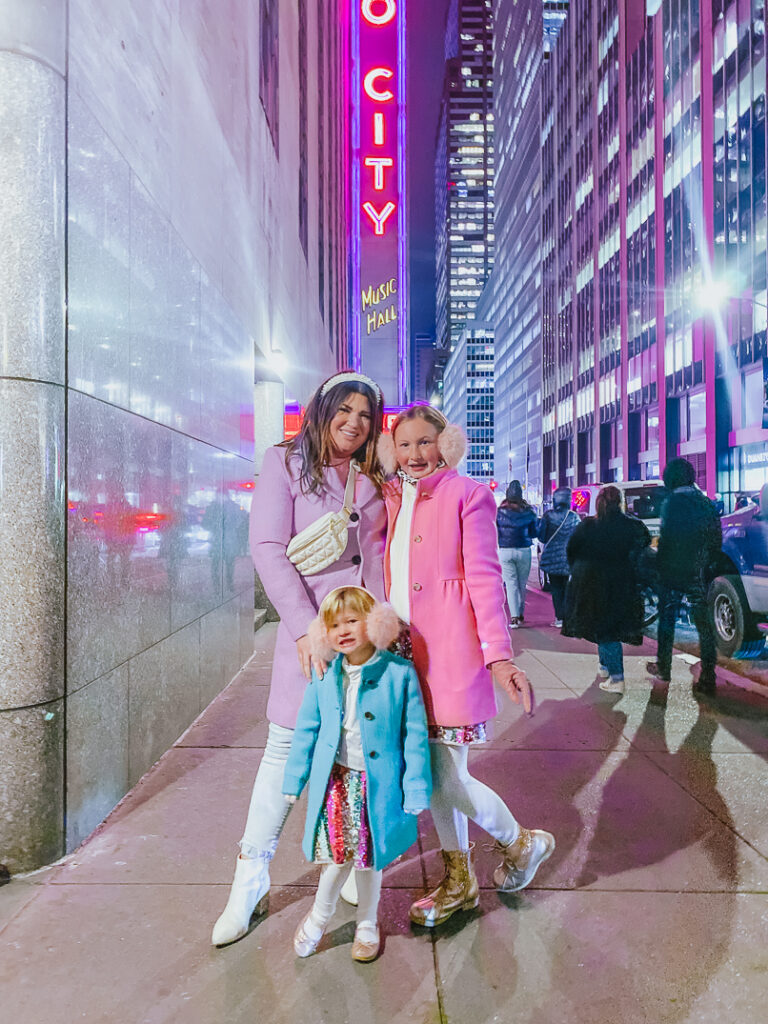 6:30 PM Walk to Rockefeller Center to see the tree at night. Other nearby decor and photo ops are the tree at Lotte New York Palace, Saks Fifth Avenue lights and the Cartier building.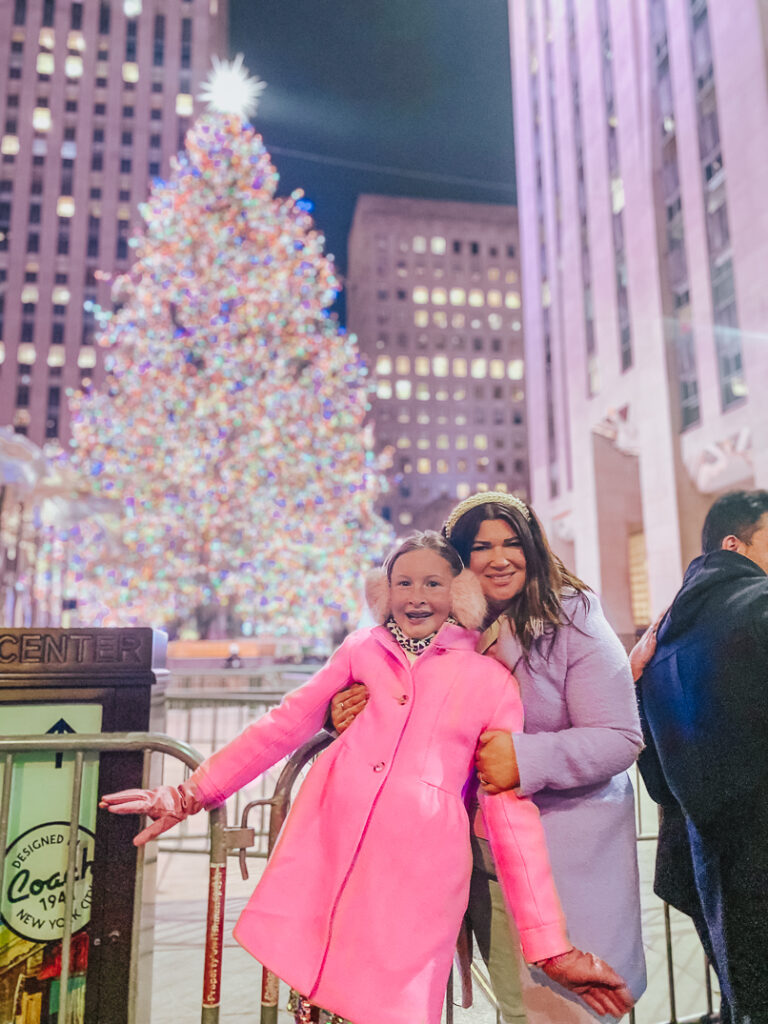 7:00 PM Order in dinner via Uber Eats, Door Dash etc. The possibilities are endless and after a long travel day, this is the perfect time to skip the in-person dining and opt for pajamas and an early bedtime.
Day 2 Friday
7:30 AM Coffee, hot chocolate and pastries for breakfast. We love the Ralph's Coffee pop-up truck in Rockefeller Center or Lodi, the cute little spot right across from the Today Show.
8:00 AM Ice skating at The Rink at Rockefeller Center. Another major Christmas in New York moment! I like that this is a smaller rink because we are Floridians, not pro skaters and it takes forever to make a circle around with a little kid. You can book your hour of skating ahead of time and a ticket guarantees your spot on the ice on the date and time you select. If you wait to buy a ticket on-site, you'll have to wait in a long line and risk it selling out for the day. It's so easy to book ahead, then print your tickets or download to scan from your phone. Lockers are free to store shoes and purses while you're on the ice, but if you have a stroller, you'll have to stow it.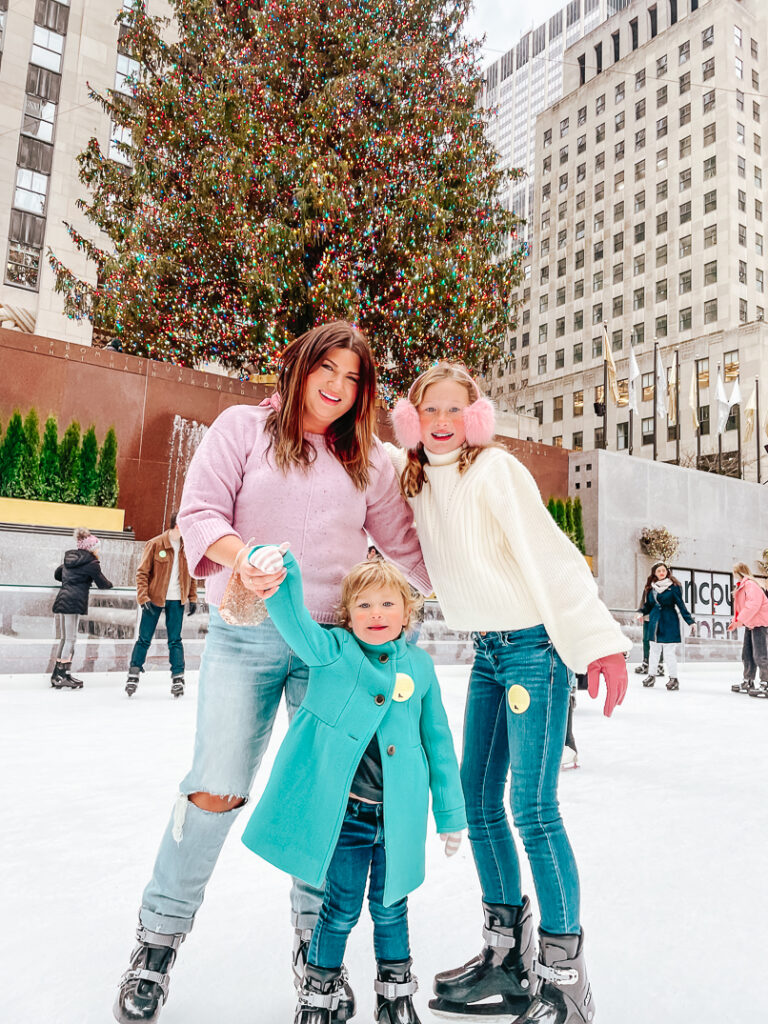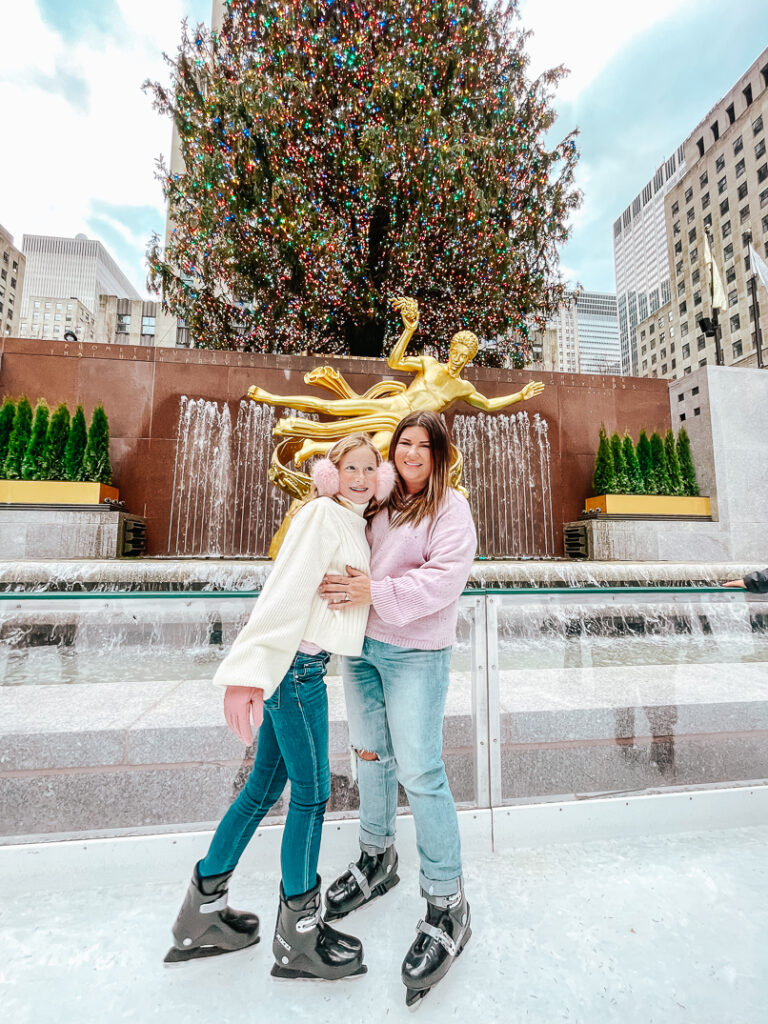 9:30 AM FAO Schwartz visit. If you've been to the awesome toy stores on 30A like Duckie's, Gigi's and Seaside Kids, FAO Schwartz might not be that impressive in terms of their merch. It is practically a rite of passage for kids and mine love it so we make a run through and let them pick a toy. Pro tip: go up to the second floor window for a gorgeous view of Rockefeller Center and the tree in all its glory.
10:30 AM Top of the Rock view or NBC Studio Tour. Since you're already at Rockefeller Center, might as well add one of these in. The view from the top is gorgeous and you can see the city in all directions. Sunset is a popular time to visit for pretty skies, but it can get crowded so morning is my pick with kids. It's been awhile since I've done the studio tour and it wasn't available this year, but I would love to take the girls to see behind the scenes.
12:30 PM Tavern on the Green reservation via OpenTable. This is definitely a more upscale choice for kids, but it's one of those places you just have to try at least once. Love the salmon burger.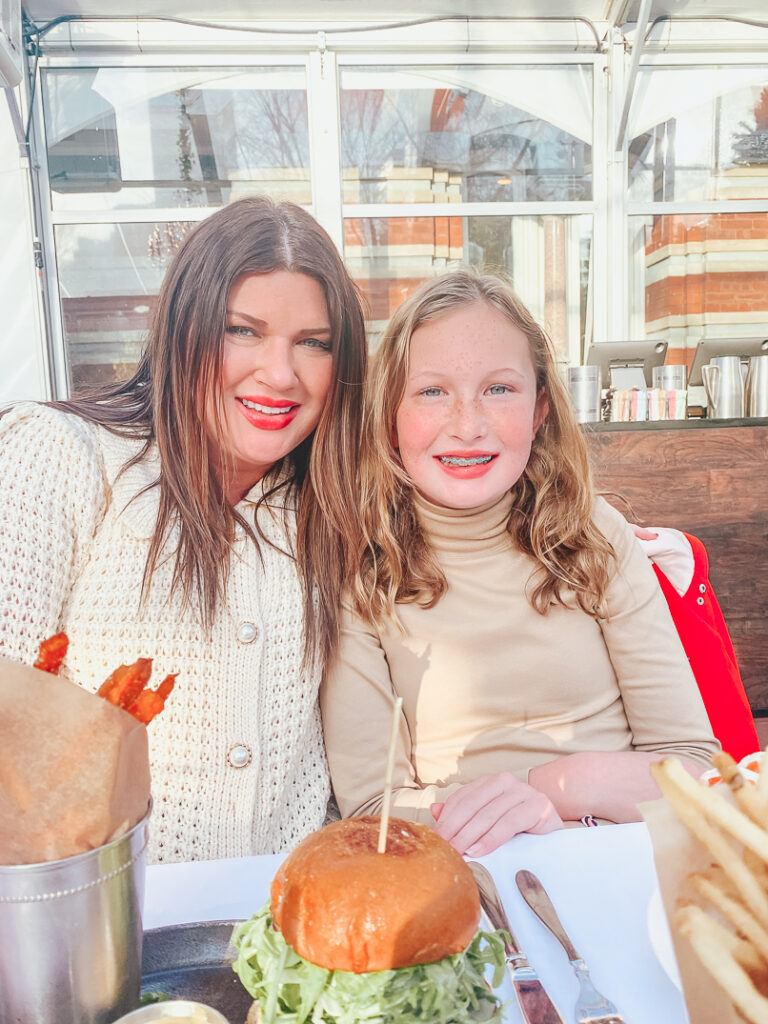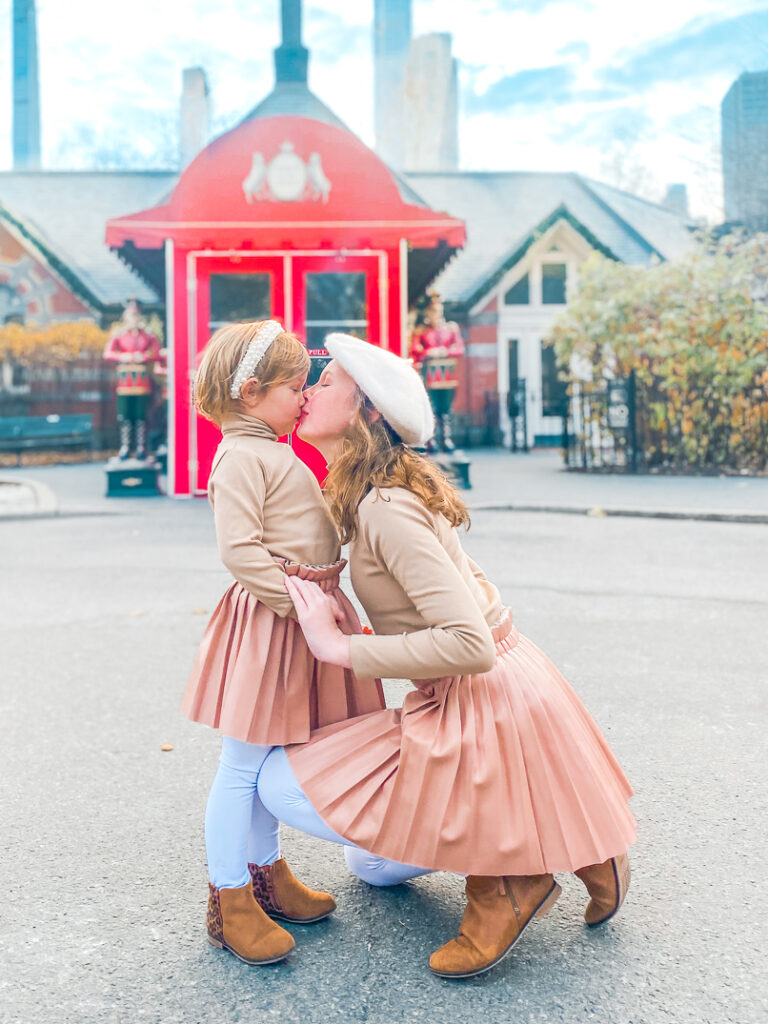 2:00 PM Walk back through Central Park toward the hotel. After eating way too much, we wandered toward 5th avenue, seeing the Central Park Carousel, Wllman Rink, Gapstow Bridge and The Plaza Hotel. If you have time or interest to see more of Central Park like the Bow Bridge, Central Park Zoo, the Met or grabbing a treat at Laduree, it's all amazing, but by this time my crew is a little tired.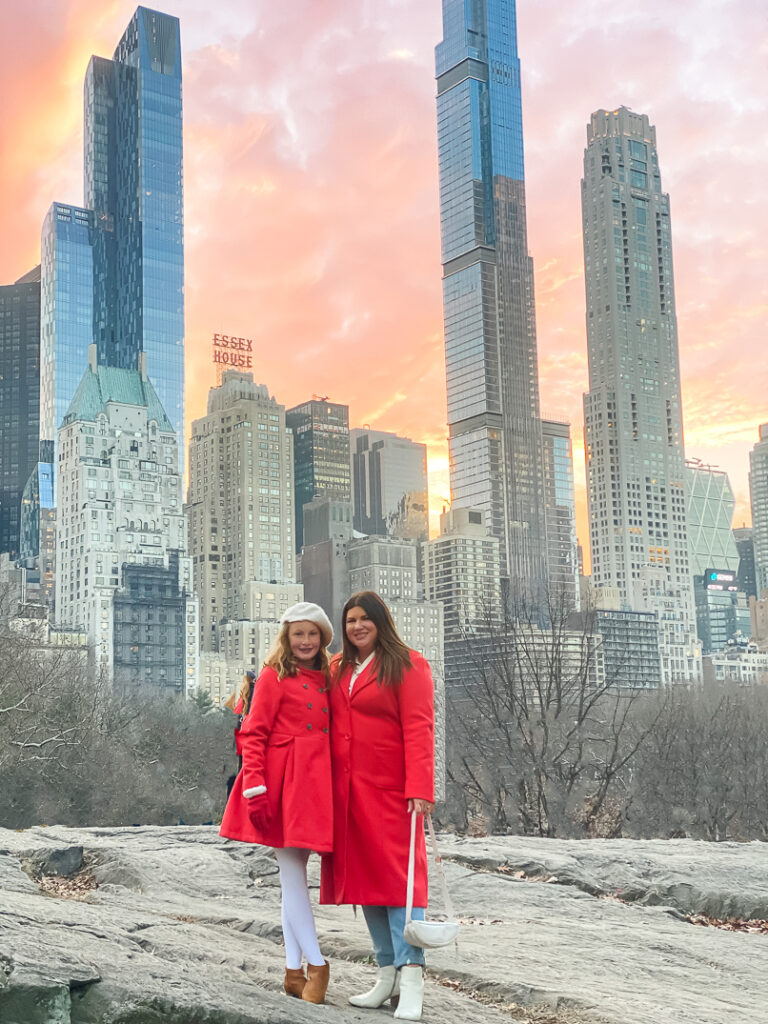 3-7:00 PM Nap time and dinner.
8:00 PM Aladdin on Broadway. We walked here from the hotel and it was fine, but it also can be one of the busiest, craziest places with packed sidewalks and overstimulation. With kids, it's probably better to Uber to the door of the theatre if that feels like too much. We absolutely loved Aladdin and it was a highlight of the trip. The music, performances and sets were just so good and I actually had to Google how they pulled off the last scene. Highly recommend this as well as The Lion King for kids Broadway shows.
Day 3, Saturday
08:00 AM Uber to Bubby's Tribeca for brunch. This is always a hit and such a delicious spot. It gets busy later in the morning and they don't take reservations for brunch, so it's worth waking up early for. Fun fact: this is also a block away from the Ghostbusters fire house, which is a neat thing to see because it's a real, functioning fire department.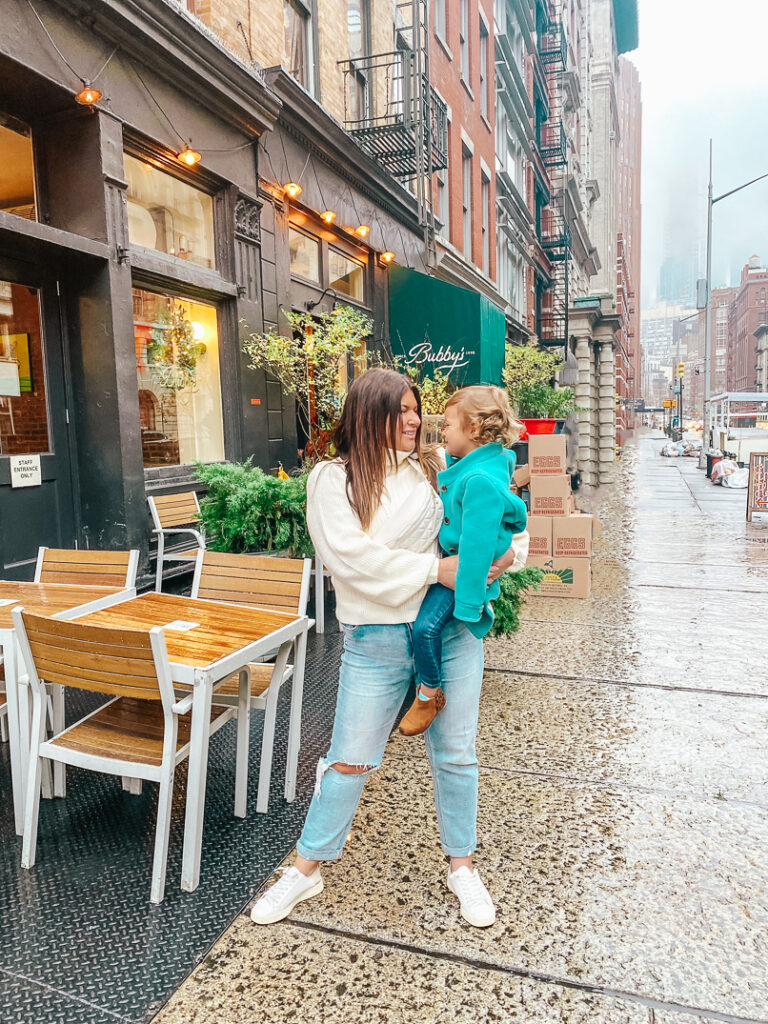 9:30 AM Explore the Financial District. Walk south toward Oculus Viewing Deck, Freedom Tower, Wall Street and a view of the Statue of Liberty. The Seaglass Carousel looks so cute but wasn't open when we were nearby.
11:30 AM Explore Soho and the Village. Uber or walk back toward Tribeca and Soho. By now shops are open and there is so much to see and explore. A few favorite spots to wander in or just window shop are Sezane, Hill House, Tiny's, Little Owl (aka the Friends apartment exterior).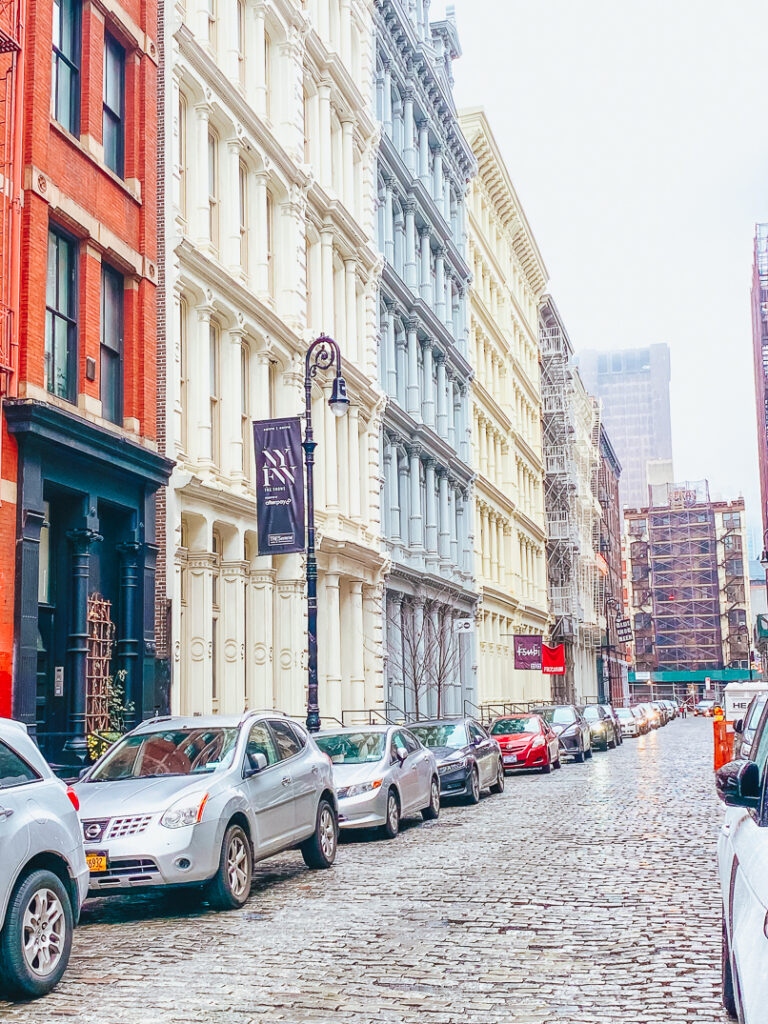 For coffee and snacks, check out:
Felix Roasting Co. (cute coffee shop above)
Cha Cha Matcha
Dominique Ansel Bakery
Magnolia Bakery
Milk Bar
Depending on how much shopping and sight-seeing you want to do, this could take 2 hours or become a full day. I suggest pausing for lunch, then shop til you drop with a full belly.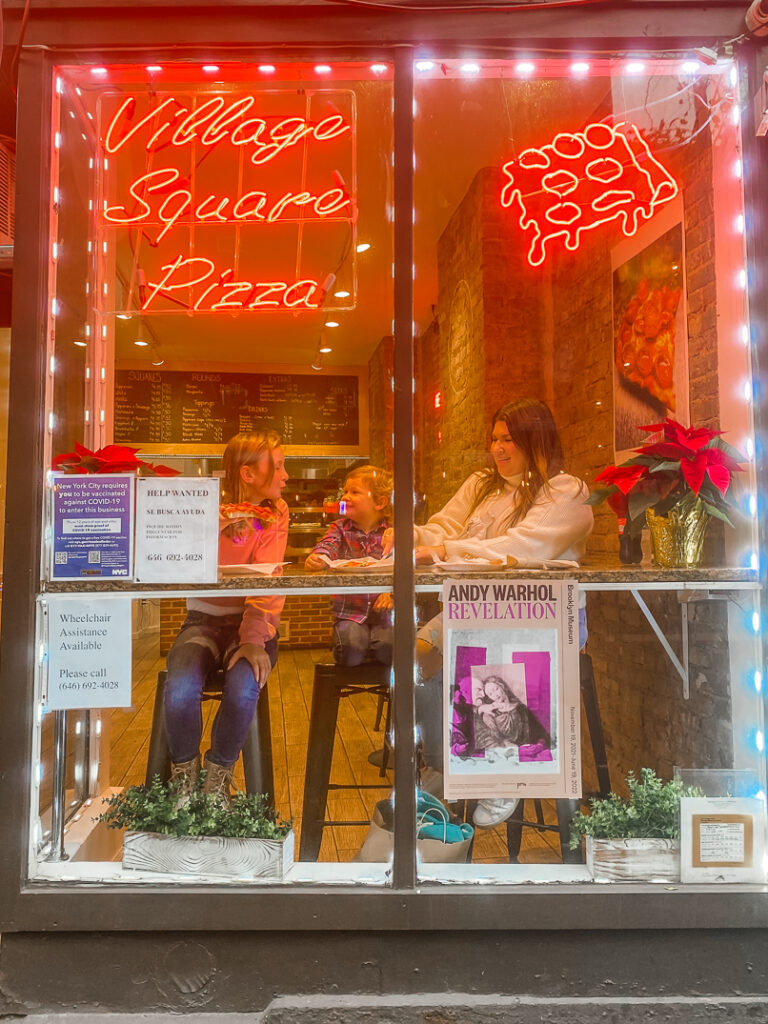 1:00 PM Lunch. We grabbed a few quick slices at Village Pizza, but other suggestions are:
John's on Bleecker
The Butcher's Daughter
Jacks Wife Freda
Ruby's
Tacombi
Sadelle's
Rosemary's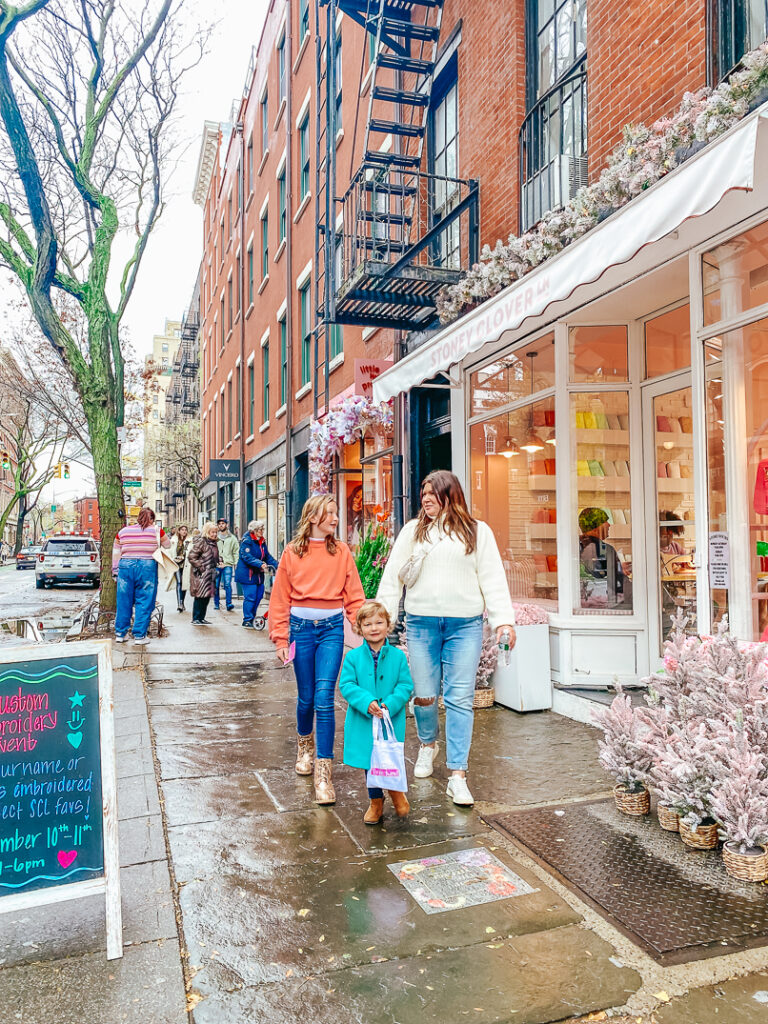 3:00 PM Explore Union Square. There's a cute holiday market pop up here, which is fun to browse. If you're freezing and ready for a pick-me-up, grab a hot chocolate at Max Brenner.
5:00 PM Uber to the hotel.
6:30 PM Dinner. Order in Uber Eats / DoorDash. While I usually plan more dinners out, since this was our first Christmas in New York after COVID, I wanted to be cautious and do a few more meals in that we normally would. Plus, after lots of stroller-free walking, everyone's legs were tired and ready for some R&R at the hotel.
If you're up for dinner out, here are a few on my list, most require reservations:
Polo Bar
Rubirosa
Beauty & Essex
Eataly
abc Kitchen or abc Cucina
Carbone if you're feelin fancy
Sunday Dec 12
6:30 AM Uber to the Brooklyn Bridge with a quick bite from the hotel Starbucks. This stop is really unnecessary unless you just want the photo op like I did, but I like to squeeze in a lot and had never stopped here.
7:30 AM Leave for airport
10:30 AM – 1:00 PM Fly home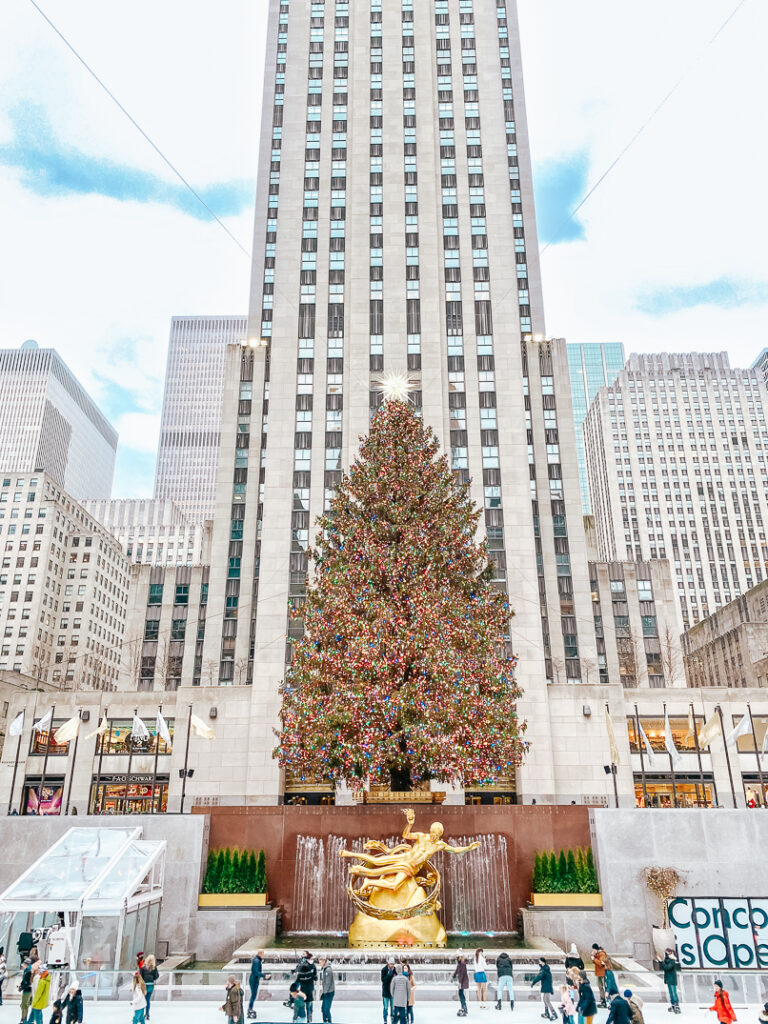 When to Start Planning Christmas in New York
For a holiday trip NYC with kids, I've planned this trip in advance and I've also winged it and gone last minute, adding it whatever activities and reservations I can. My preference is to start early and book your key details ahead. There's a lot you can fill in later, but the essentials are, well… essential.
6-9 Months Out (spring/summer):
Book flights if possible, especially if flying Allegiant as seats are extremely limited.
Book hotel for the best rate and room selection. Prices go up quickly as the date approaches.
3-6 Months Out (summer/early fall):
Book Broadway shows and Rockettes tickets.
Book skating at Rockefeller Center, Bryant Park or Wollman Rink.
2-4 weeks out:
Book restaurant reservations.
I love taking the girls to experience Christmas in New York. We missed it so much last year and are happy to be back again, even if things are still getting "back to normal." It's a treat to be able to come here and a trip that I look forward to all year long. I hope they remember these moments for years to come.
For even more family travel and past trips, check out 30A Mama Travel posts here.