This has been hands down one of the most fun projects I've done in awhile. Who knew a playhouse makeover would be so fun?! I'm kicking myself that I didn't take the plunge when Emery was younger but we kept putting it off and could never pick a playhouse to commit to. She's been having so much fun with it at age 8 so I know Collins, who is only 1, should get good use out of it for a few years.
The Playhouse Before
I spent what I'm sure is way too much time reviewing different playhouse designs and comparing the specs. My main goal was that I wanted both girls to be able enjoy it so I needed to narrow down to the larger sizes, particularly the taller interiors. I landed on the KidKraft Greystone ​​​​​​​and I can actually stand up inside. The KidKraft Seaside house is also tall inside and another great option.​​​​​​​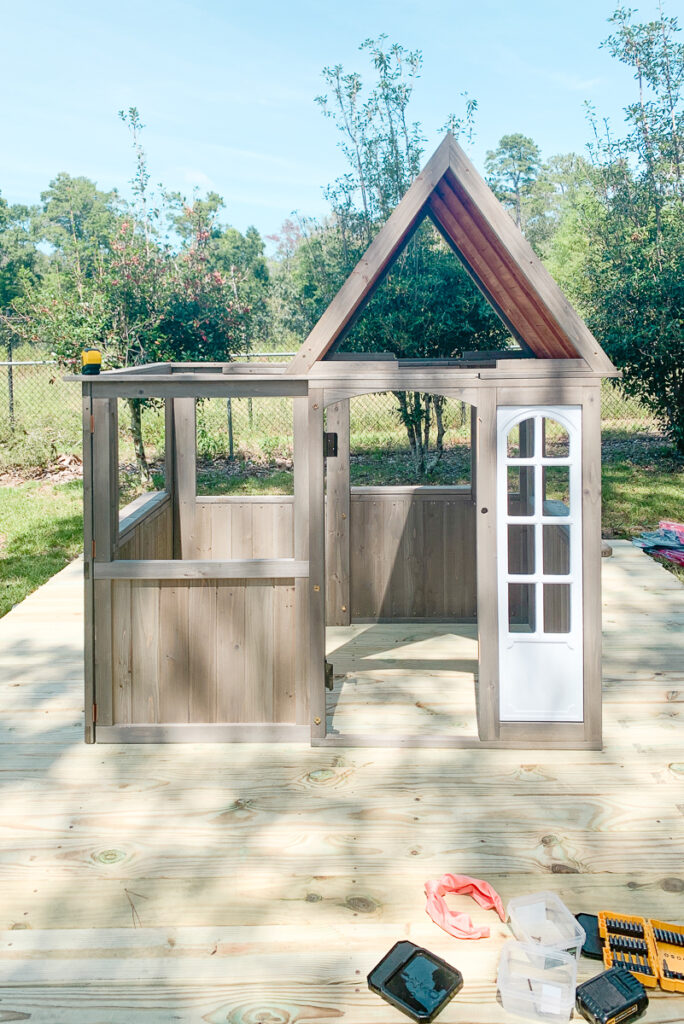 It's taller than it looks from the outside! With two people, this took about 3 hours to assemble. I stopped at the end of the wood assembly instructions to paint and didn't install all the extras which are mostly plastic (kitchen sink, cooking accessories, etc).
The photo above is where I left off on assembly when I started painting.
The Deck
We also built a base because our yard is a bit uneven and the playhouse doesn't have a floor. If it's on dirt or grass, that's what the kids will be playing on inside. I like the elevation of the deck and it wasn't hard to build. You can do this before playhouse assembly or between paint coats – either way!
Watch the time-lapse video on my Instagram saved under the highlight "playhouse".
We bought 2×6 boards for the frame (7 of those, with 3 being interior support) and 5 3/4 deck board for the top (20 I think). We added 2 screws at each intersection which means we used over 200 screws! I highly recommend a power tool for this!
The Paint
Since the playhouse is made of cedar, this part is CRUCIAL! You don't want to use typical exterior paint on the main house because it won't stand the test of time and may chip away easily. What you need is a solid stain and sealer. I used this one by Behr from Home Depot. I bought a gallon and did 2 full coats on both the inside and outside. It dries quickly so I was able to do the painting in one day.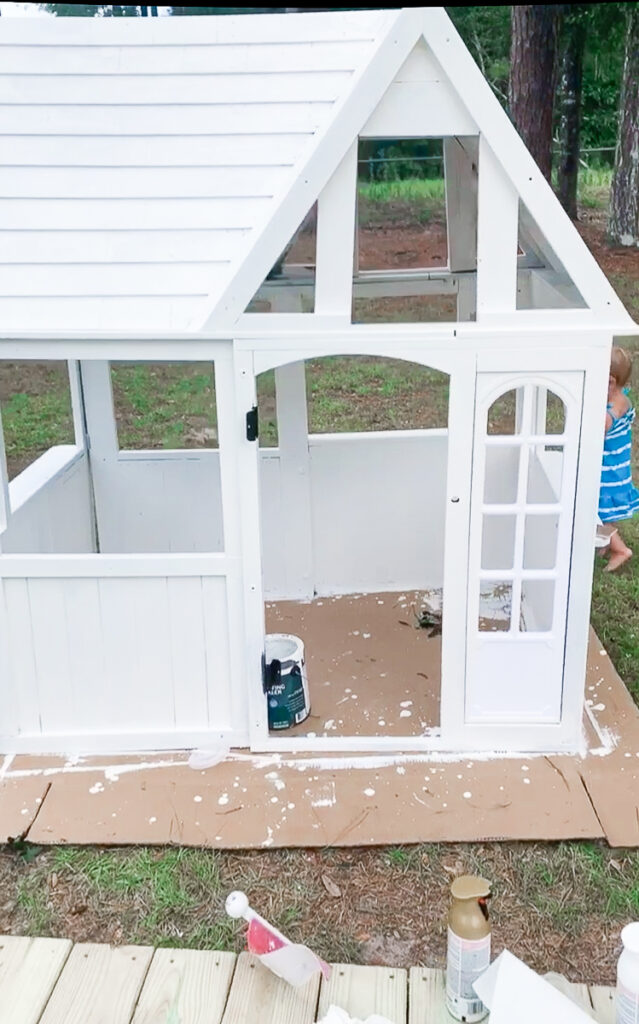 The Decor
We did a beach house play house theme and everything I used was either cheap or on hand already. I found leftover trim from our kitchen reno for the Bahama shutter — which I made myself — my not-so-straight attempt at shutter making. We painted the little chalkboard signs that came with it and I found the planters at Homegoods in the clearance section. The palm fronds and pinecones came from the backyard. We also had scrap wood I cut into small pieces for the upright beach sign.
For the smaller areas where I wanted a pop of color, I bought a few samples of exterior paint. A little goes a long way so I didn't need much and these were about $3 each. The colors I used were Passion Fruit Punch (peachy), (mint) and (blue). I used these for the door, shutters, beach signs and a little accent on the planters.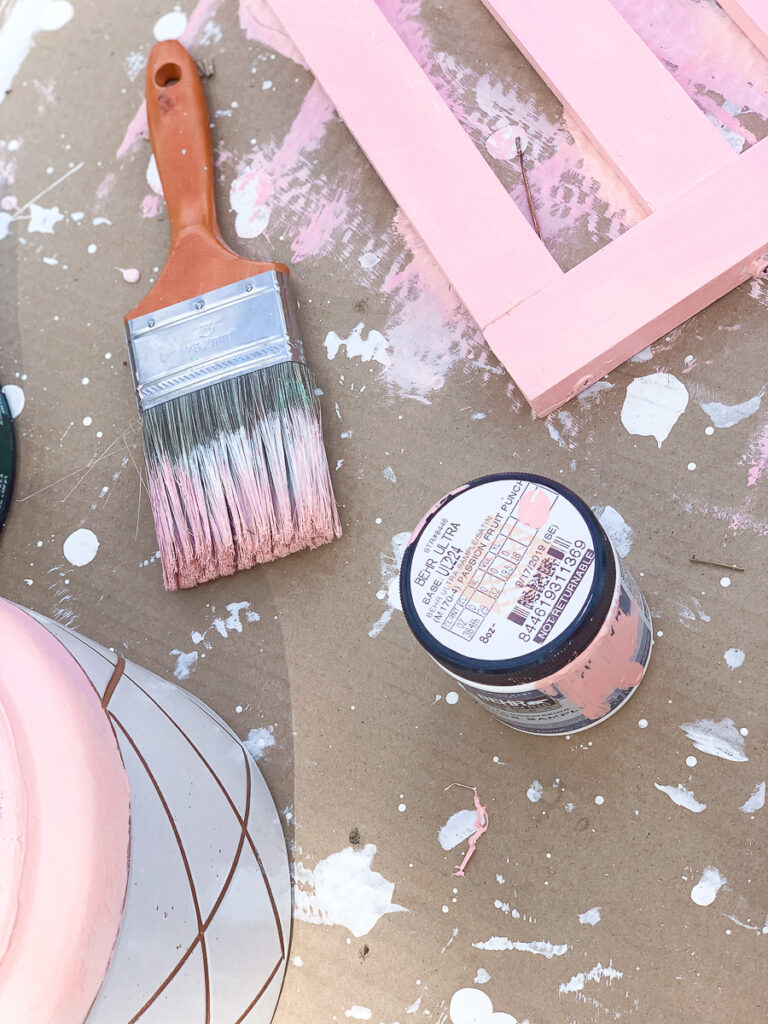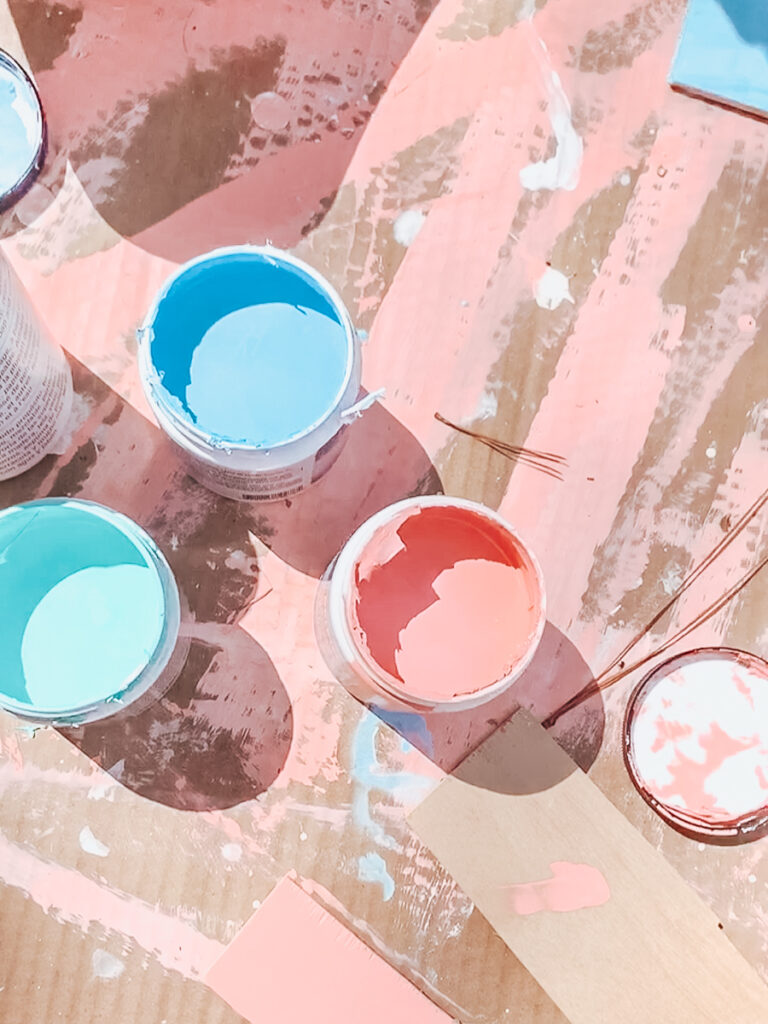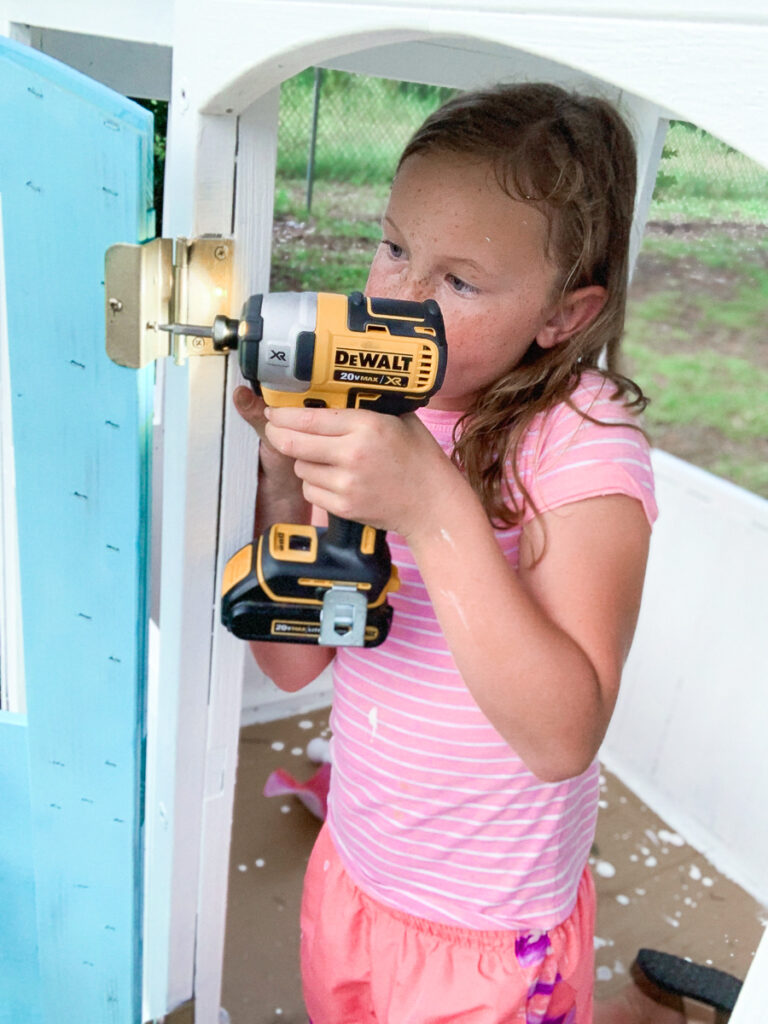 The Playhouse After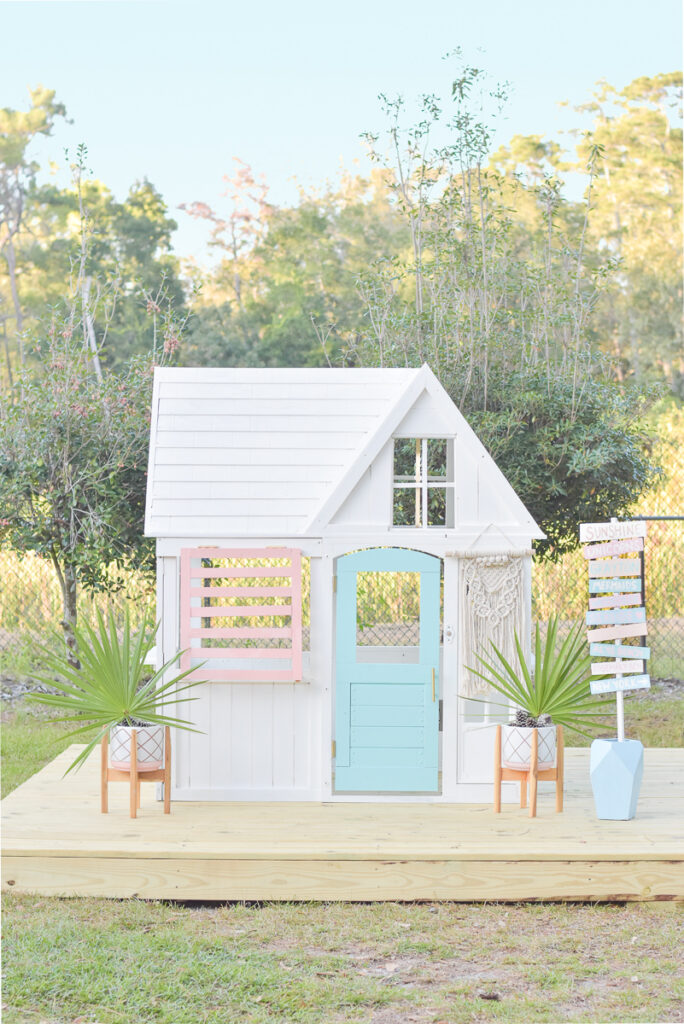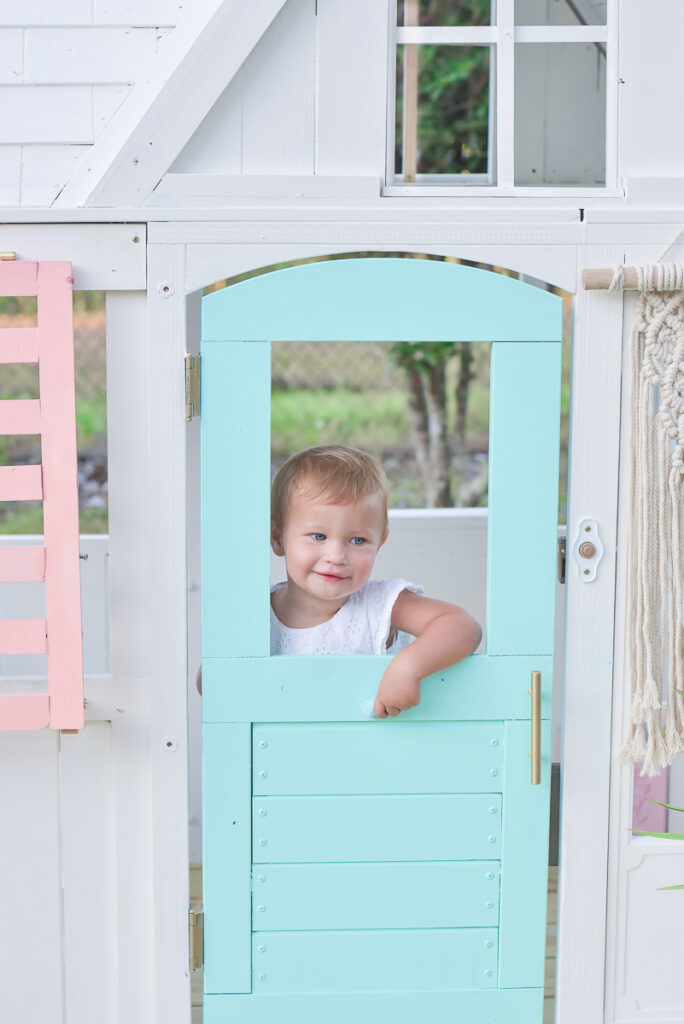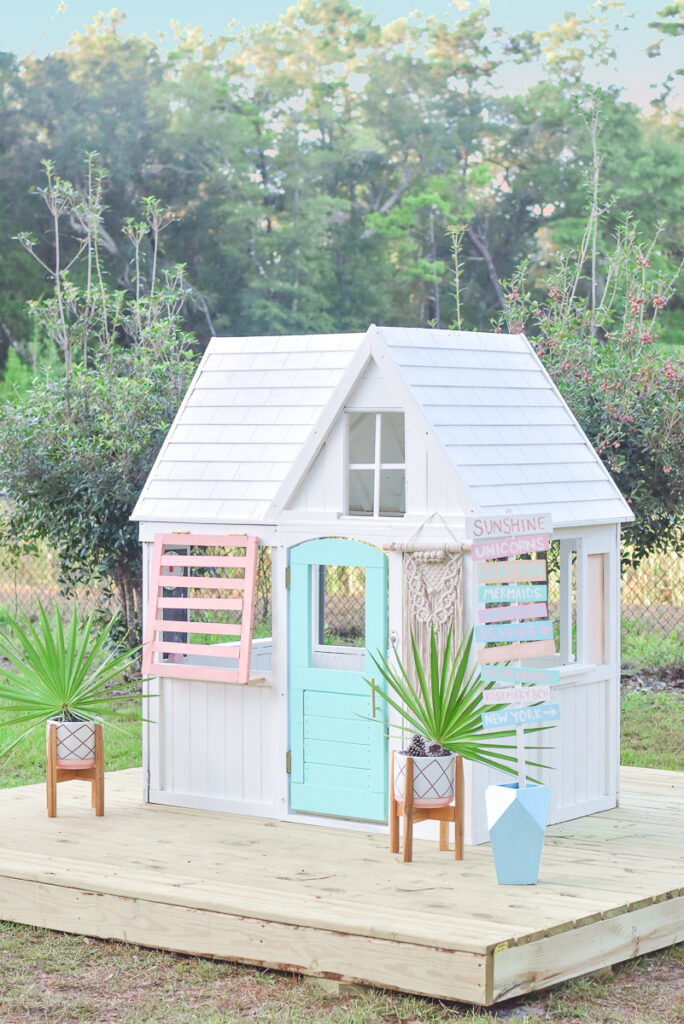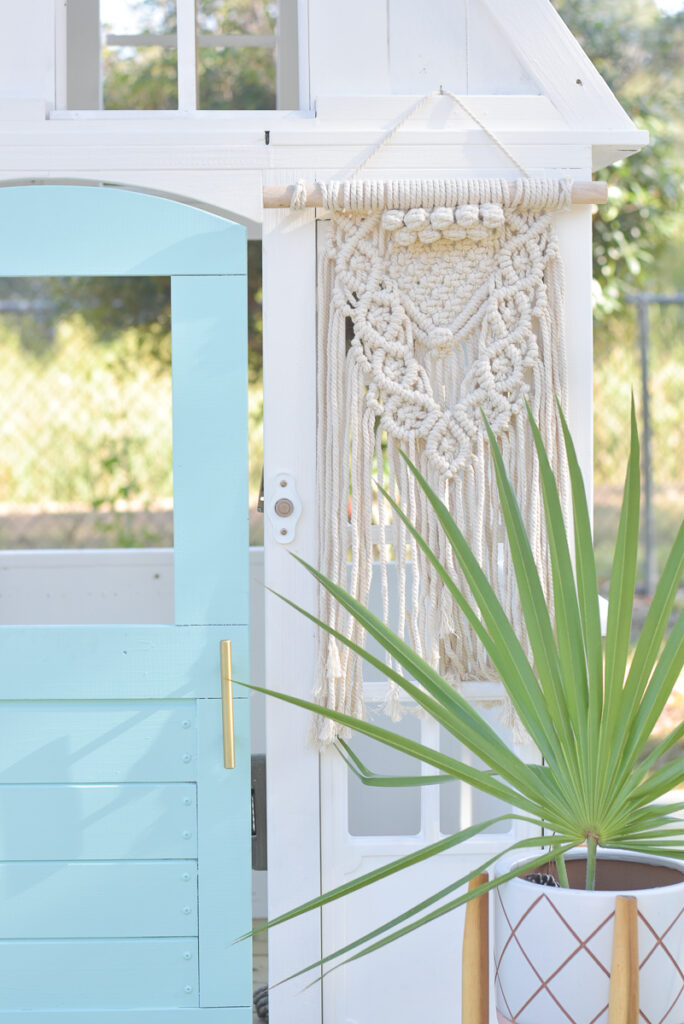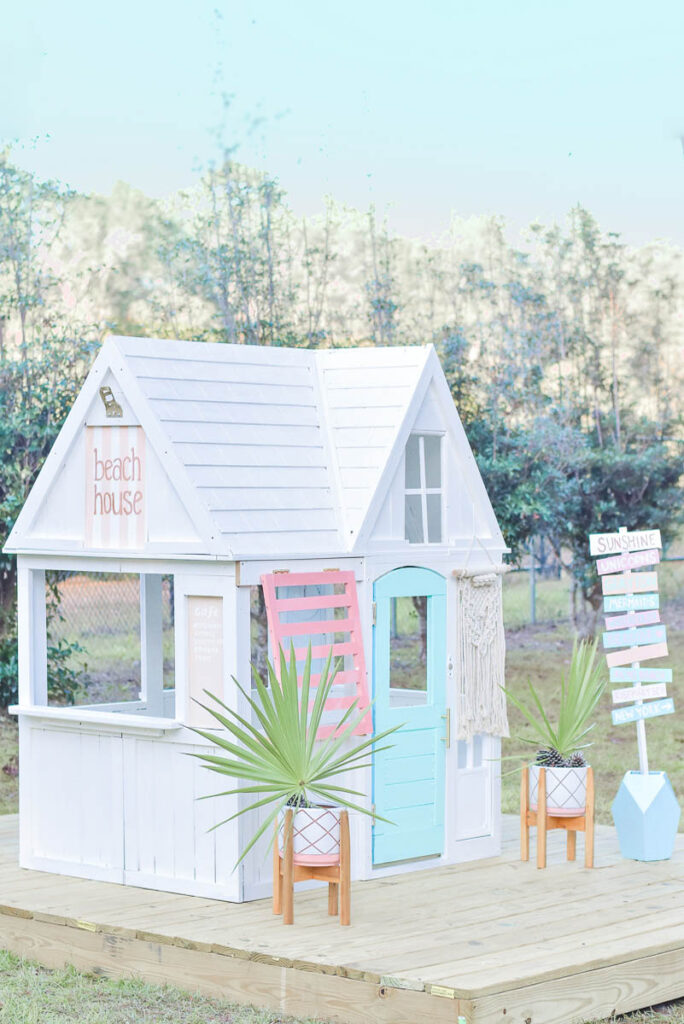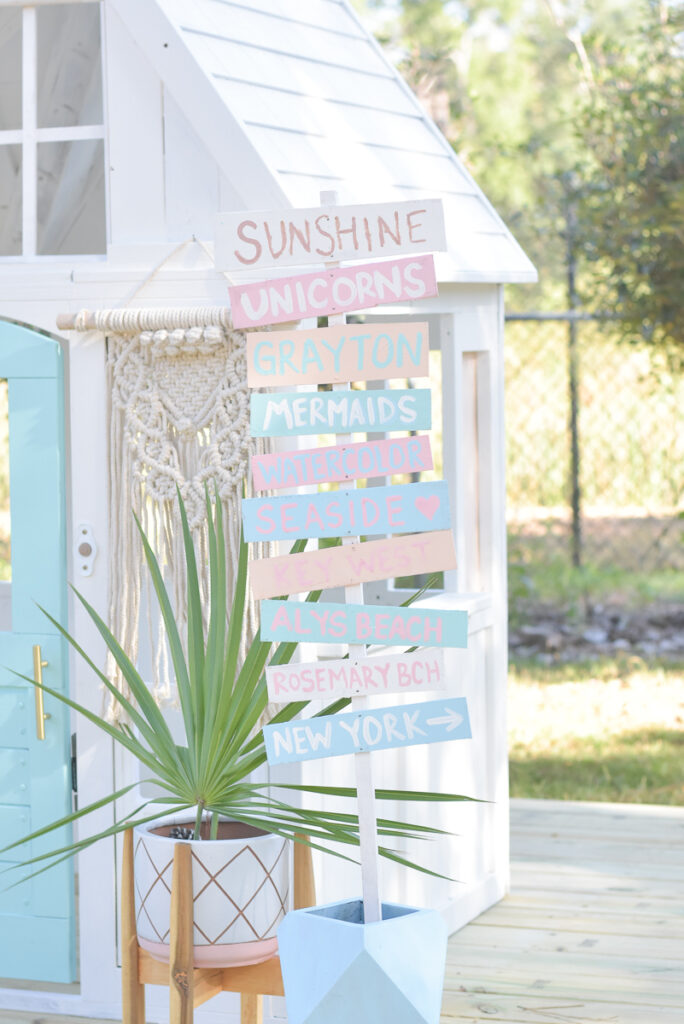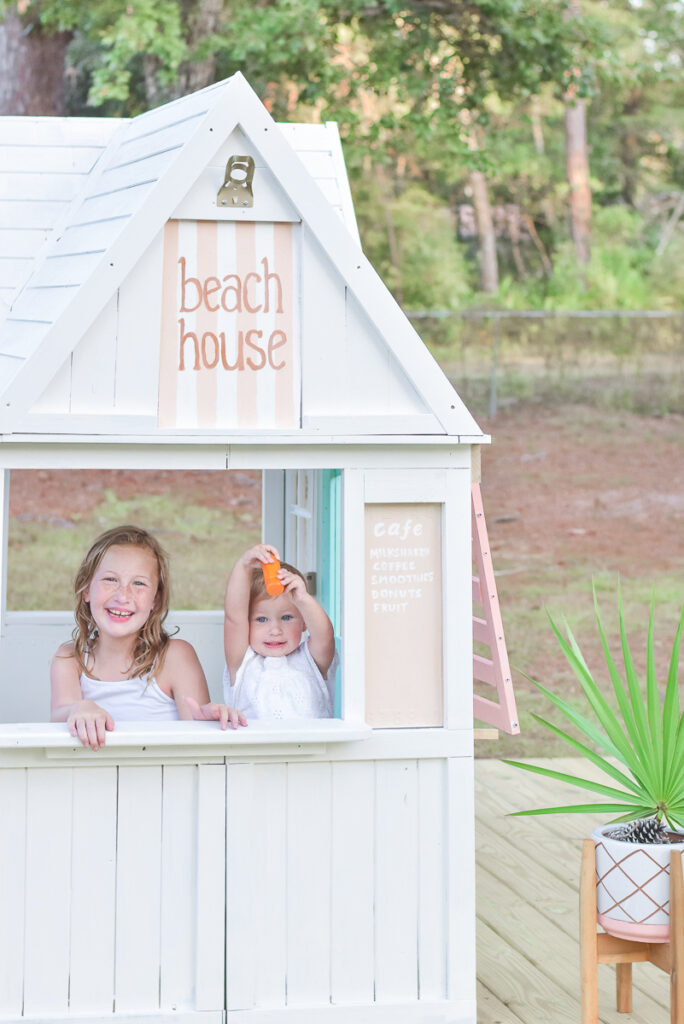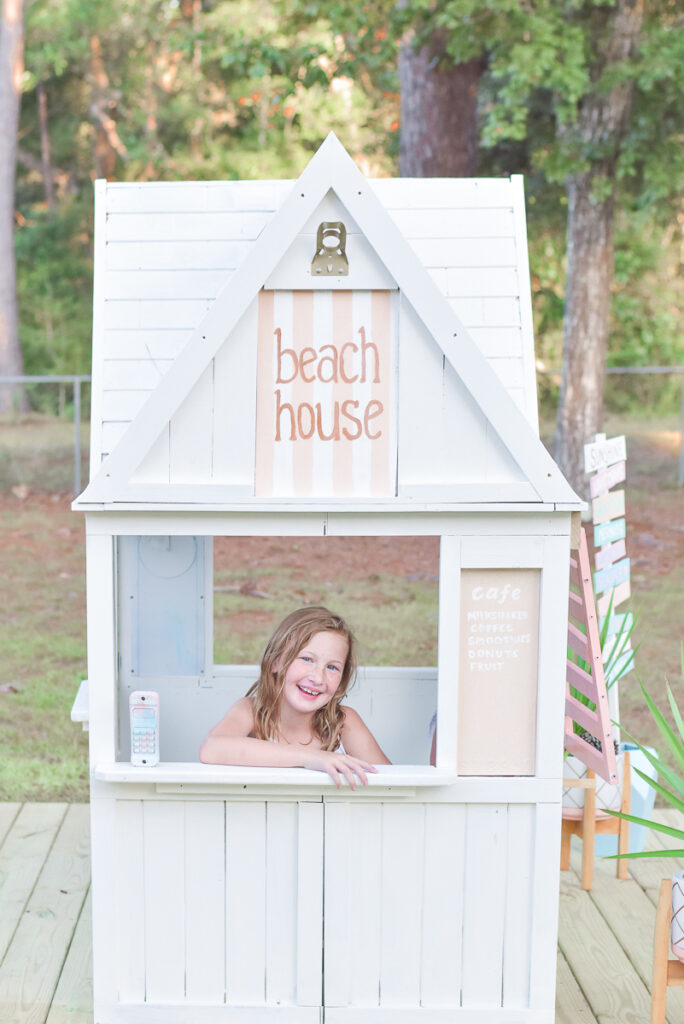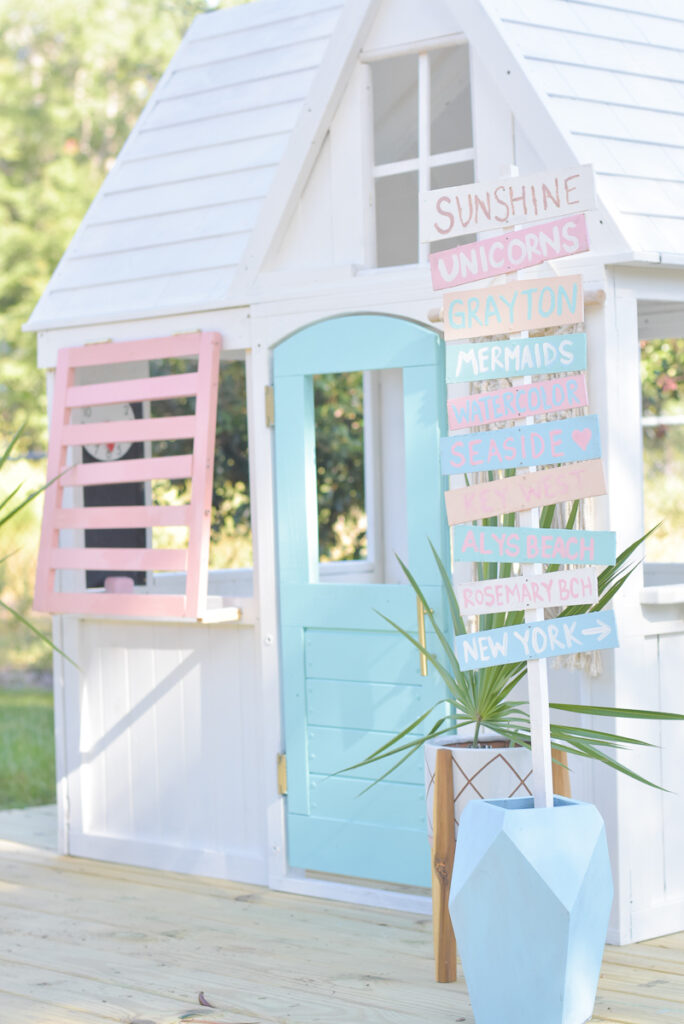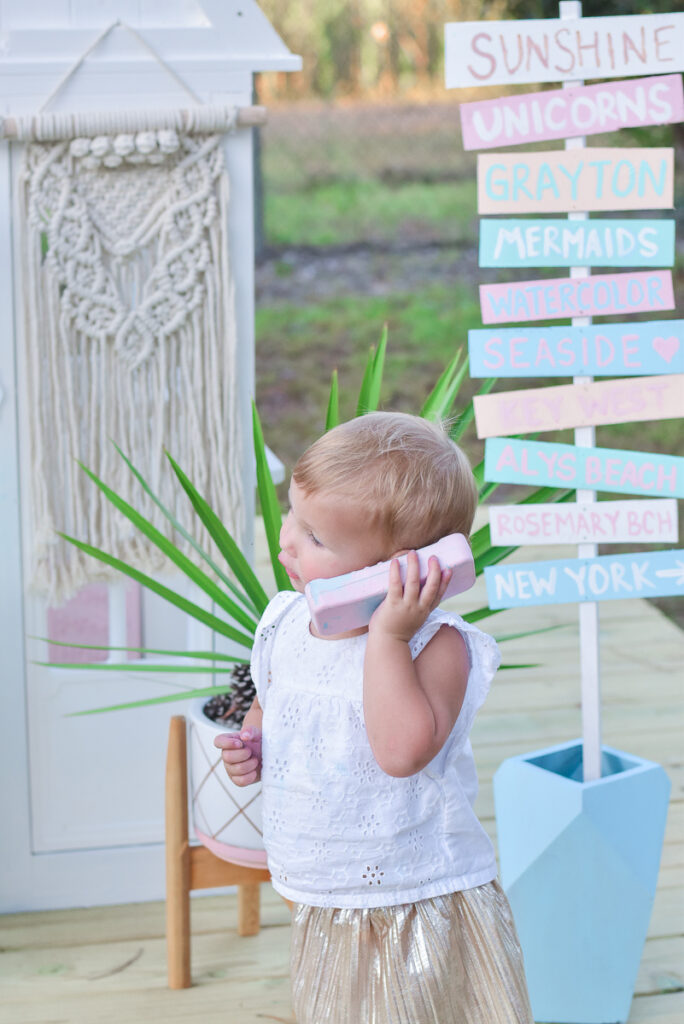 What do you think? The girls have been playing in this every afternoon after school and I absolutely love it. Even some of our neighbor kids who are Emery's age and older have been playing in it with us. I'd say it's been a hit. A little labor of love, but worth the finished product.
A few finishing touches on my list…
Deck stain. I still want to stain the deck, but I wanted to see the full finished look before I decided on a stain or solid stain shade. The playhouse is easily picked up by two adults so painting under or around it is no issue.
Rocks around the base. I saw that idea on one of my dives into Pinterest and I love the finish it gives. I haven't had time to pick up rocks just yet, but it's on my list to create a little perimeter around the deck so nothing can get in or out.
Door mat and seasonal decor. We've already talked about the fun possibilities of decorating for Halloween, Christmas and other holidays so that's something to look forward to as the seasons change, but I also want a cute door mat for the front door. On my shopping list!
That's all for now! Let me know if you have any questions I didn't cover in this post and I'll be happy to answer!
Looking for more fun toy ideas? Find all of these new toy arrivals at Walmart!