Isn't it funny how your personality can have such a big impact on style choices – including accessories? If you know your enneagram type, you might have experienced first-hand how detailed and accurate the different descriptions can be for your behavior. It's actually kind of wild!
If you haven't taken the test, there's a short Enneagram quiz here that takes almost no time and identifies your strongest type. I should mention that I'm not an expert, just an enthusiast.
I was recently helping someone pick out a gift for another mama and thought it would be fun to share how we arrived at a certain gift. It was all about the enneagram! Habits and preferences can sometimes predict what kind of accessory you'll gravitate toward and your personality type gives little clues about your everyday behavior.
We put together a little list of accessories by enneagram type and I'd love to hear if this is accurate for you. It's not always a perfect predictor but I've found that the enneagram types are usually spot-on.
Enneagram Type 1
The Reformer or The Perfectionist. You are typically organized and stand by your principles. Doing the right thing and being fair is in your DNA. Your go-to accessory just might be your Sweet Mama necklace that reminds you of why (and for whom) you do what you do.

Enneagram Type 2
The Supporter. You are nurturing, helpful and such an amazing friend. You thrive on connections, relationships and being there for others. You're probably a proud owner of an oversize carry-all tote like this Rosemary Tote, perfect for holding "all the things" you or your people might need.

Enneagram Type 3
The Achiever. Some might think of you as a diva or princess, but you prefer to think of it as driven and specific. You don't necessarily *need* to be the center of attention, though if you are, you'd prefer to look your best and be seen in the best light. The only thing better than a gorgeous pearl headband might be a crown, but this will do.

Enneagram Type 4
The Individualist. Life is all about meaning and finding your true purpose is everything. You don't want to be like everyone else and that's cool. Outfit details with different shapes, patterns, or color combos are right up your alley, so even if everything else is simple, you have one thing that sets you apart. These fun pink diamond leopard earrings are uniquely you.

Enneagram Type 5
The Investigator. If a question needs answering, you're the girl. In fact you probably already have a lot of factoids on the tip of your tongue and are queen of an internet deep dive. You get absorbed in books, love a true crime podcast and can sit and relax for hours thinking about the smallest details or learning something new. Sun protection is one of many things you're passionate about so this oversized Shady Beach Visor is all you.

Enneagram Type 6
The Loyalist. Best friend, trusty buddy and maybe the inspiration for the song "I'll Be There For You." You feel best with familiar things, love the security of repeat loos and might go for the safe choice just one more time. No worries there. (Though you might find something else to fret over). This Climb On Up bracelet has a literal locking mechanism that feels secure, chic and reminds you of your favorite people and creature comforts.

Enneagram Type 7
The Enthusiast. Life is full of adventures waiting to happen and the more fun, the better. You're often the life of the party and the first one to say yes. Your theory is why not? Variety and options make things better so switching things up with a fun pair of Pink Drink Rosé earrings seems like a smashing way to add to your look.

Enneagram Type 8
The Challenger. If anyone is in charge, it's probably you and you probably look *fab-u-lous* while keeping it all together. You know just what to do and have no trouble deciding on details and sticking to your guns A power clutch has your name on it and this chic Lipstick Lover Clutch will pair perfectly with your style – whether it's a boss blazer or a bold shade on your lips.

Enneagram Type 9
The Peacemaker. Harmony, comfort, collaboration. Does this sound like you? Together is better and "keep calm and carry on" is you through and through. These chic White Leaf Earrings are not only beautifully peaceful, but nicely pair with a variety of outfits, making your getting-ready time ever more easy and zen as you grab them again and again.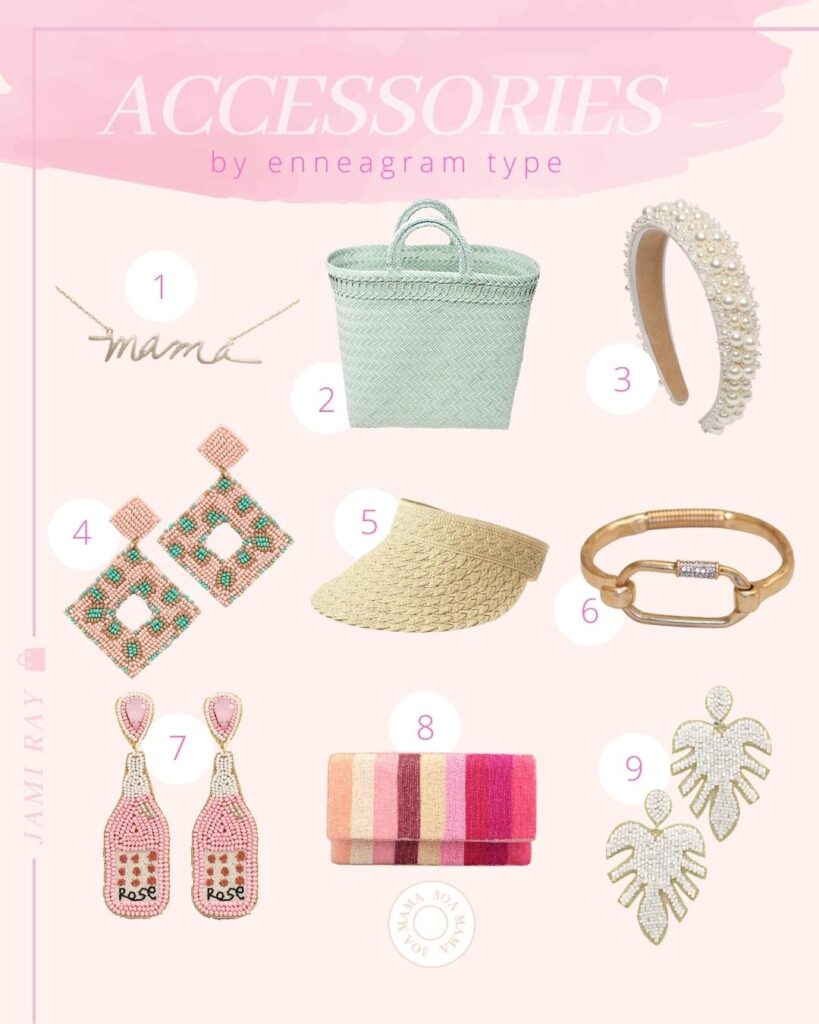 What did you think? Was this accurate for your enneagram type?