First, let me admit that I really had no clue Jekyll Island Club existed before our trip. I'd heard of Georgia's small barrier islands (14 total including St Simon's Island, Sea Island, Tybee Island, etc), but never visited any or even had this area on my list of potential destinations. (Does anyone else keep a list of places to go when wanderlust strikes?)
I typically am the one who plans the itineraries, researches places to go and handles the details. This time around, Hunter did all of that and said he knew we would love this place. I packed bags for us and the girls and happily departed without even a glance at the hotel website or an Instagram search for photos nearby.
This is a time when family travel is unlike it's ever been before. We're all searching for space ad solitude. Interestingly, 30A has been as busy as ever with an influx of visitors and since Hunter's business relies on tourism, this season of quarantine and social distancing for most others has been the busiest working season I can remember for our family. After 15 days off in 15 weeks, he was ready for a quiet escape.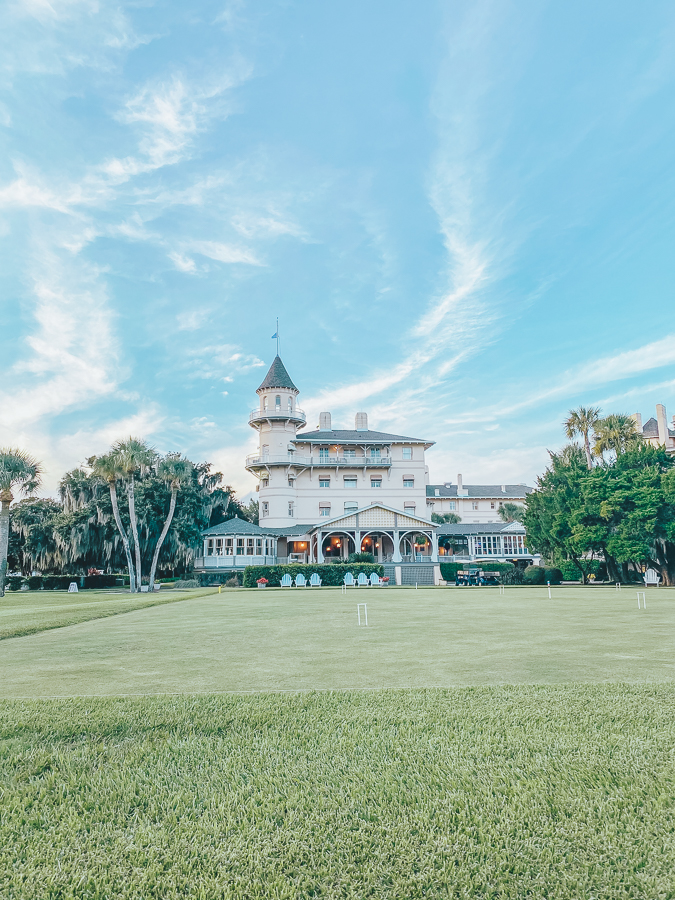 Jekyll Island Club
Driving onto the island and pulling up to the club feels like entering another world that could easily be today or sometime in the last 100 years. Visiting Jekyll Island Club is like finding a gem. The antiquity and style of the property are evident immediately and with a little digging into the archives of the club, I have to say, the history is pretty incredible.
In 1886, the 240-acre island was purchased for $125K by the Jekyll Island Club and became a super-exclusive resort and hunting club for members and their families. It was so exclusive that it was said the club's membership represented one-sixth of the world's wealth by 1900. Think business tycoons like JP Morgan, William Rockefeller, William Vanderbilt, Joseph Pulitzer and Marshall Field.
The Jekyll Island Club later evolved and changed ownership to eventually become the resort it is today, but here are two more tidbits I found so interesting about the club's history:
The idea of the Federal Reserve and a central bank was a wild idea at the time (1910) and to make it happen, JP Morgan secretly hosted a senator, 3 bankers and the assistant to the Sec of the Treasury here. While at the club, they drafted what would eventually become the Federal Reserve Act but wouldn't even admit to the secret meeting that launched it until over 20 years later.
The first transcontinental phone call in 1915 took place with 5 participants including POTUS Woodrow Wilson, inventor Alexander Graham Bell and the president of AT&T, who took the call right from the Jekyll Club.
Check out the full history of the club here.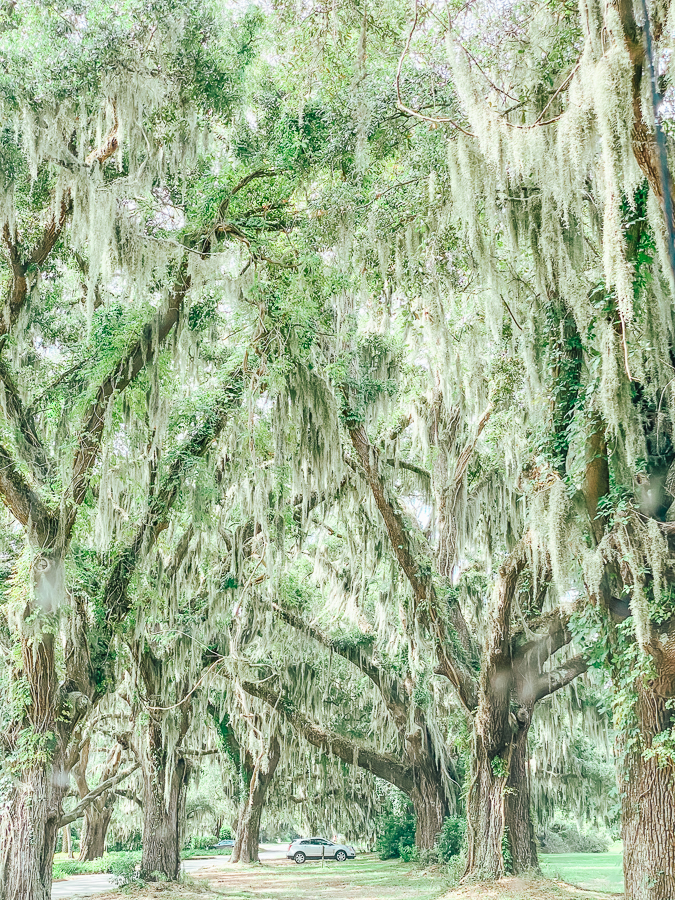 Style
The entire island is beautiful with striking oak trees that drape like a canopy with Spanish moss hanging from every branch. Palm trees and palmettos mix with the ancient oaks for an aesthetic that is distinctly southern and coastal. On the club grounds, 100 year old cottages and mini mansions dot the expansive property and I couldn't get enough of their architecture and historic details.
The original club building still stands with its signature turret plus a connected annex that was built in the 1920s and now serves as the main lodging area. The exterior is a sweet buttercream with well-manicured lawns, expansive porches and a century-old swimming pool. It feels like a film set and I loved imagining guests enjoying the resort in days gone by. The expansive space and lack of crowding truly feels like a luxury.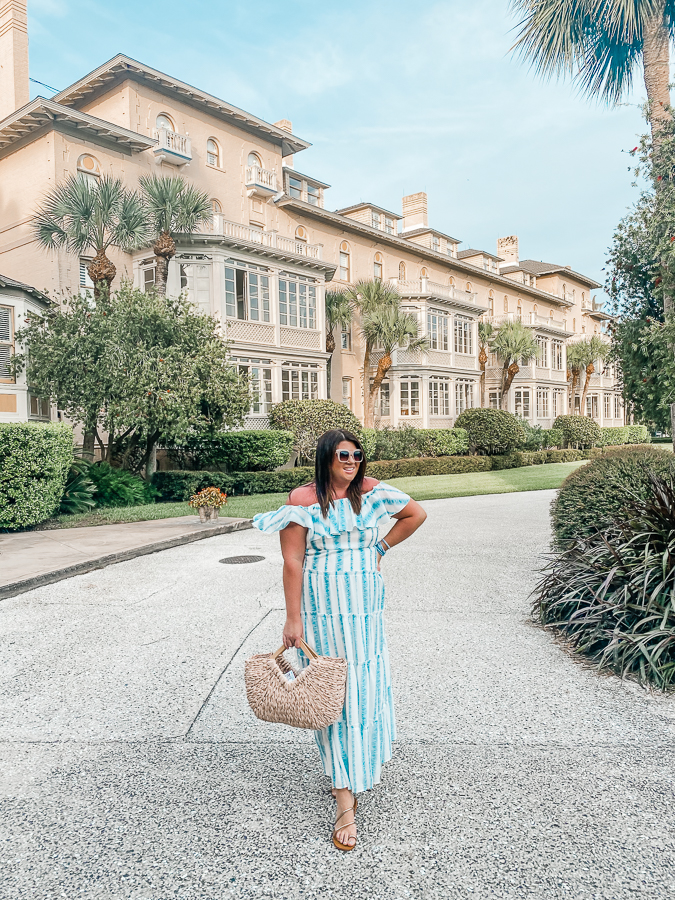 Accommodations
Inside the Jekyll Island Club is a balance of old money elegance and a relaxed beachy aesthetic. You'll see a mix of preppy white and blues in areas like the Palm Court front desk area and porches, with rich mahogany finishes throughout the lounge, library, dining rooms and guest rooms. The resort offers 157 rooms in five historical settings. Some options include the upscale San Souci suites (said to be the first condo concept) and rooms with a balcony or enclosed glass porch.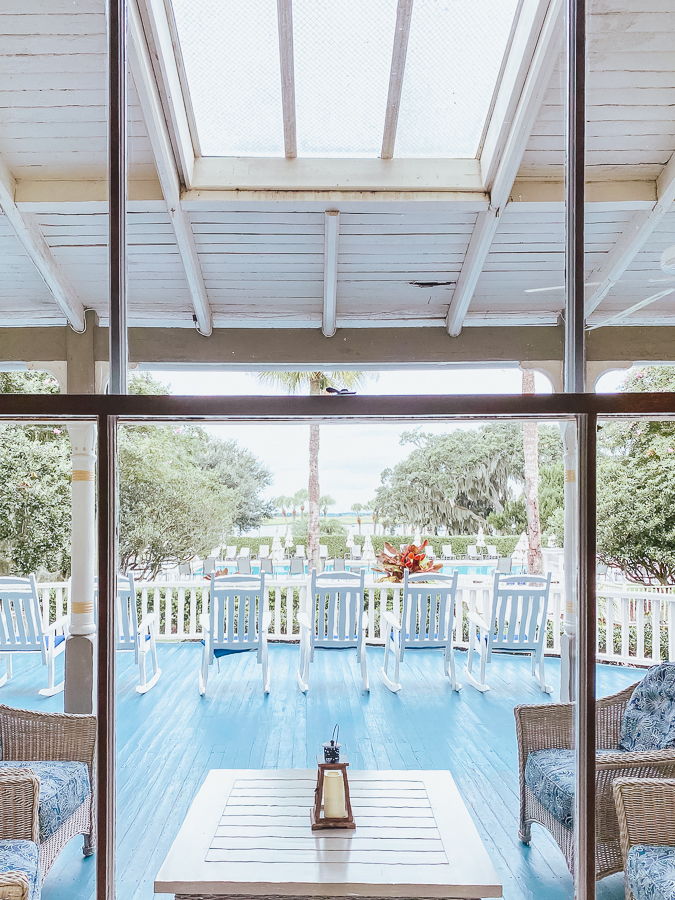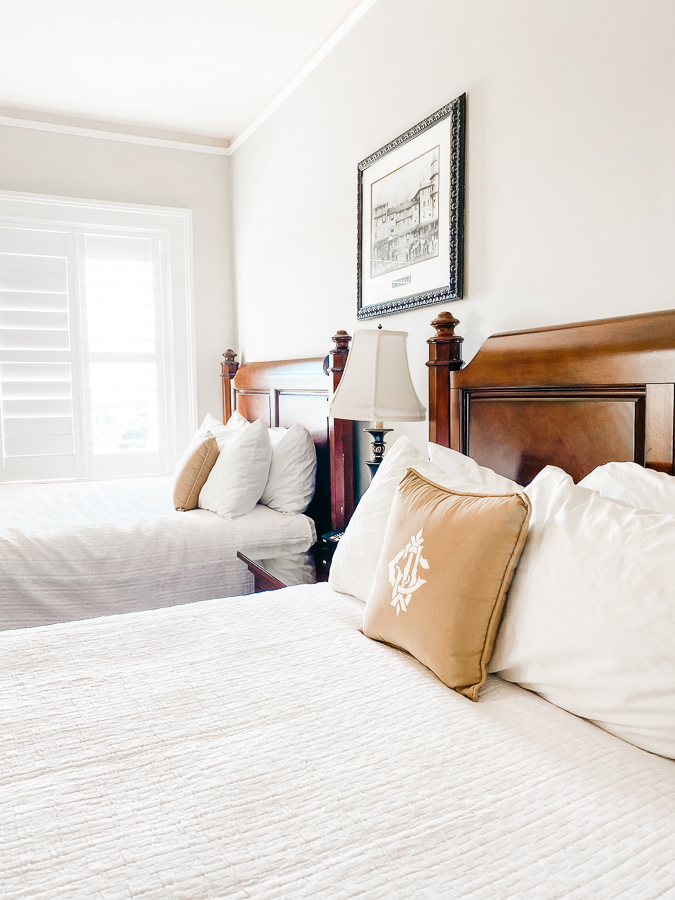 The Clubhouse has a dark and cozy lounge with library and bar. We spent a rainy morning exploring the historic photos and details on the walls, even playing a full game of monopoly in the same room perhaps in which business deals and conversations of yesterday still impact us today.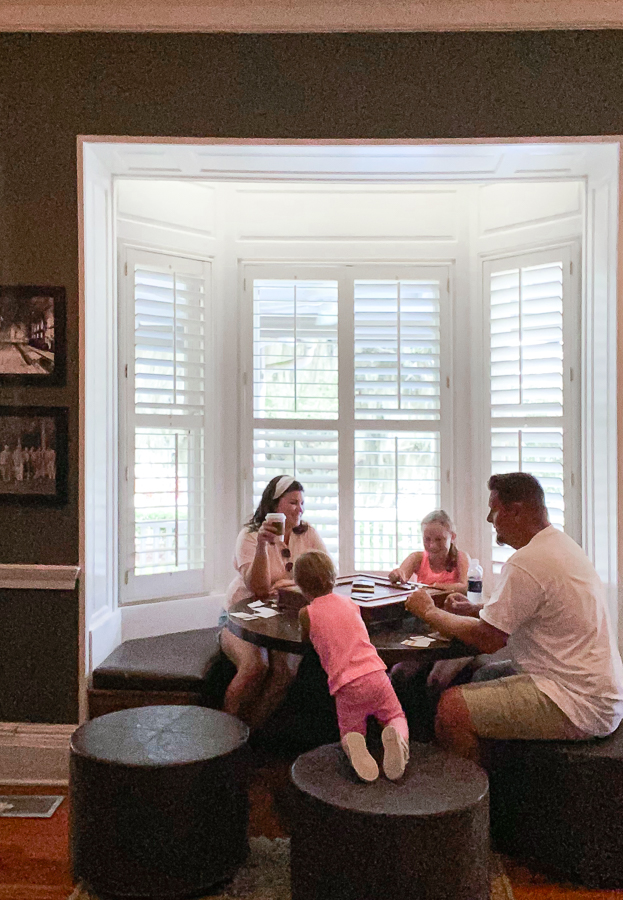 Guests also have access to the Jekyll Ocean Club on the other side of the island with full beach amenities.
I should note that there were a few differences from their normal offerings in terms of precautions and extra measures. There was no valet, no housekeeping during the stay and no shuttle service between resorts.​​​​​​​​​​​​​​
This is a random detail, I know, but I wanted to include this since it was a popular question during our stay. A lot of you asked if this resort is haunted, and while we did hear rumors and listened to other stories on podcasts and other articles, we didn't have any sort of remotely supernatural experience. If you stay here and you do, please let me know!
Dining
We frequented The Pantry most, stopping in for breakfast croissants, bagel or cereal in the morning, then bottled water, snacks, and even a s'more kit just for fun.
The Pool Bar was also a favorite, serving up poolside cocktails, chocolate milkshakes for the girls and a delicious lunch on lounge chairs.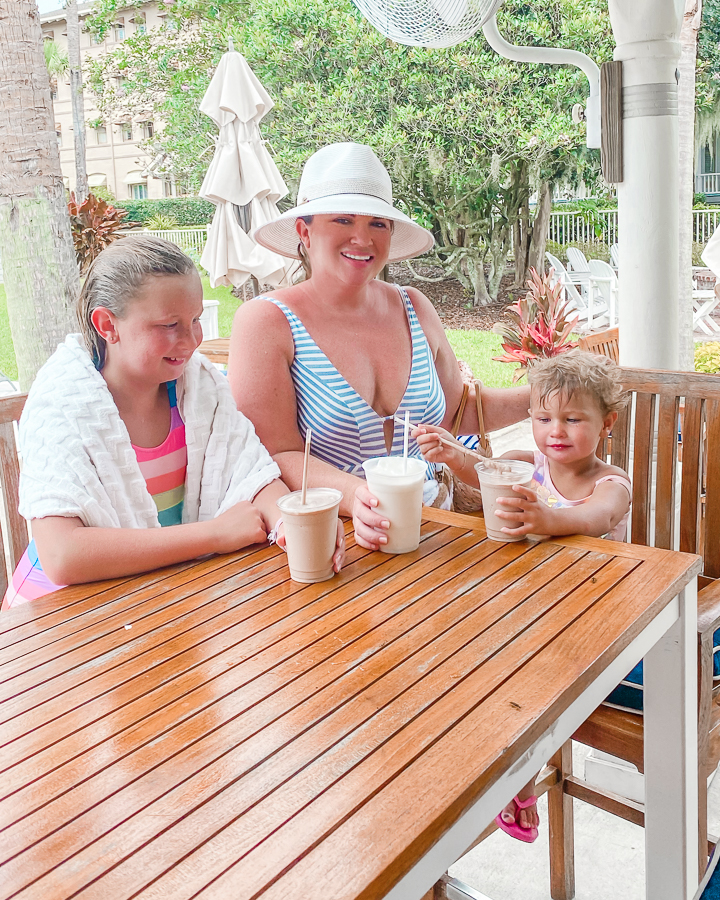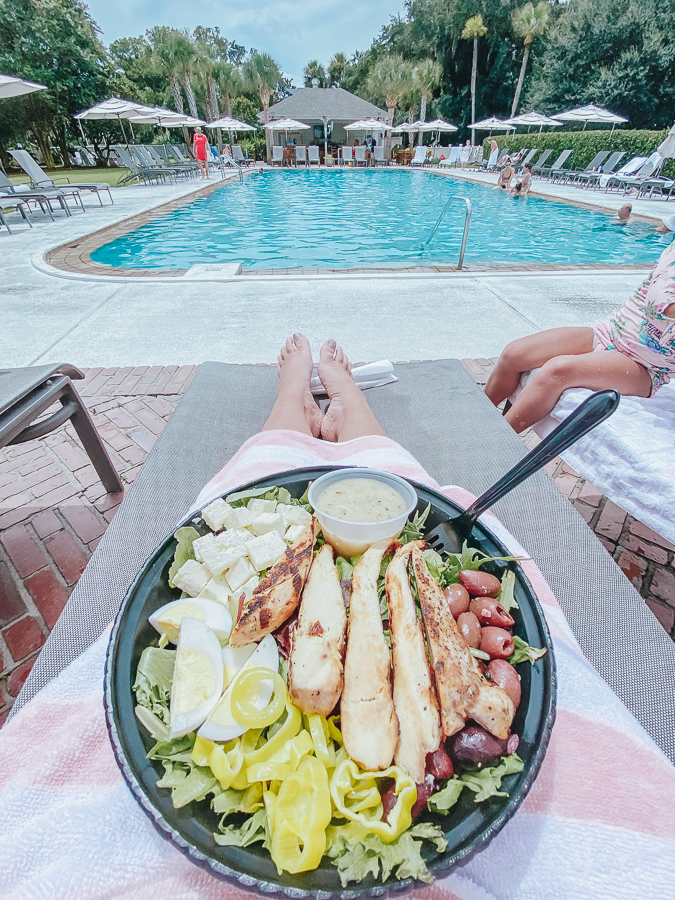 Also onsite is The Wharf, located at the end of the dock a few steps away from the Clubhouse. Reservations are currently recommended for best service, but we were able to dine with only a short wait. Tables were distanced and the open-air deck was the perfect place to enjoy a family dinner at sunset. We had delicious seafood dishes: poached shrimp and fries for E, macaroni for C, the seafood boil for Hunter and shrimp and grits for me. (By the way, this area is known for Shrimp and Grits, with a food festival just for this esteemed dish, so I opted to partake more than once on our stay!)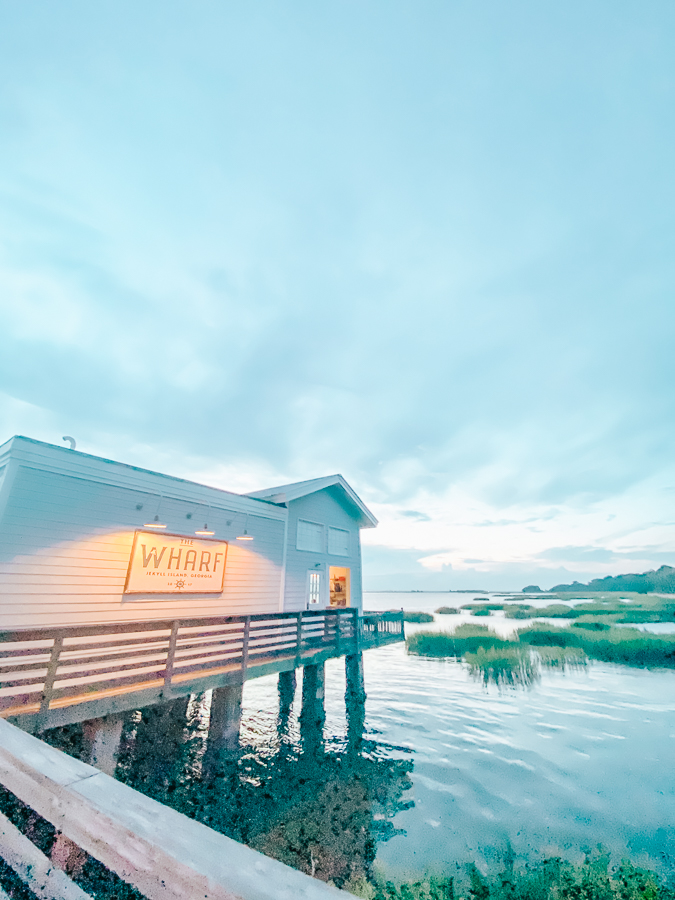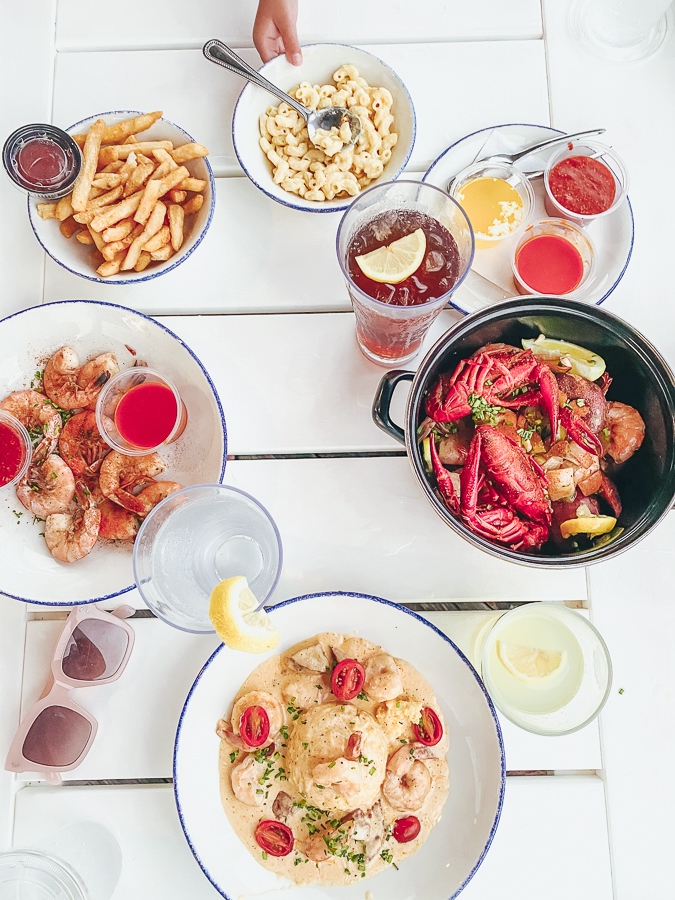 The Grand Dining Room inside the Clubhouse was closed during our visit except for weekend breakfast / brunch. I hear the shrimp and grits are popular there as well, but we were only able to enjoy brunch on Sunday.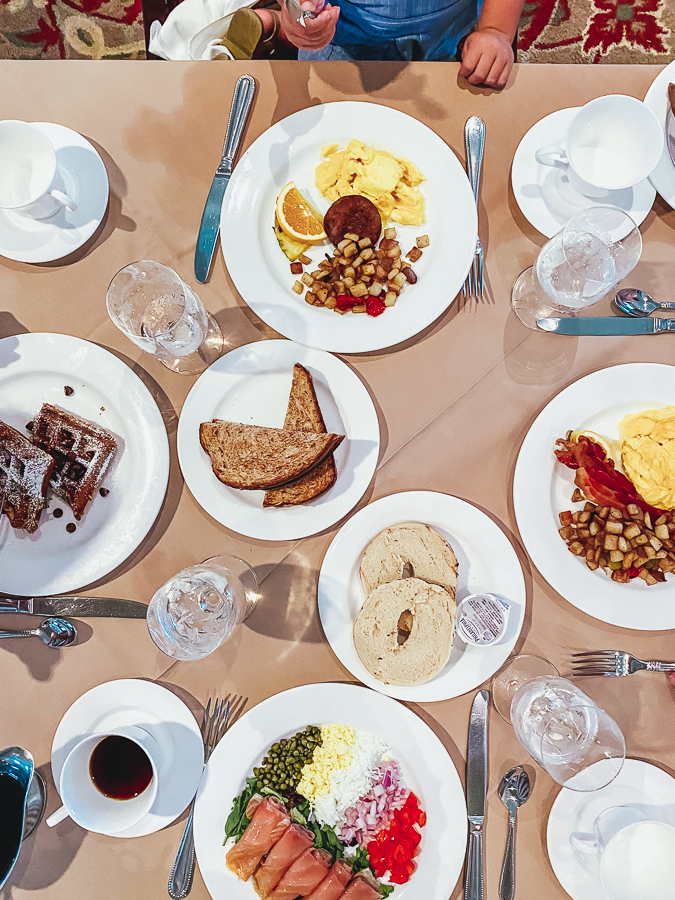 We ordered pizza our first night in from Red Bug Pizza, who delivered to the club and it was a hit. We also ventured off property to the Westin, located in the newer "downtown" area to try their restaurant. It was fine and good, but I think we enjoyed our onsite dining choices most.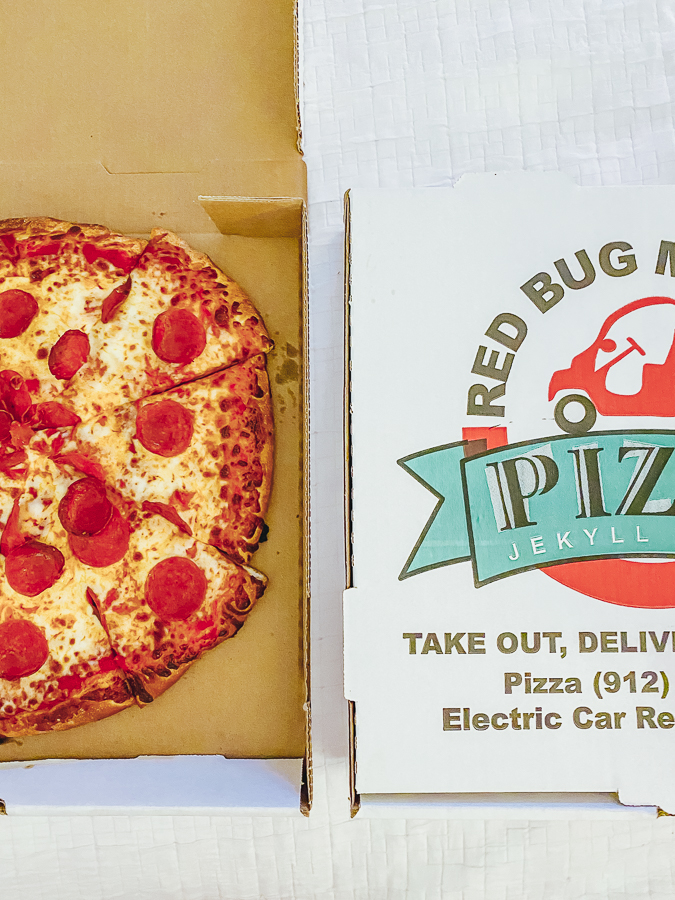 Activities
There are so many simple activities to do here. It does remind me a lot of the 30A approach to enjoying the simple life at the beach, but here it was just different. Here are a few things we enjoyed:
Bike Riding
The Jekyll Club has bike rentals for the entire family and we opted for a full day rental. We started late in the morning so we were also able to ride early the following morning before returning. We cruised all over the island to the historic area, through the residential neighborhoods, to the beach, to the downtown, to the marina and dockside area, then back to the clubhouse. It was hot and humid (also August), but we got a good sweat in. I highly recommend following this with a leisurely day at the pool.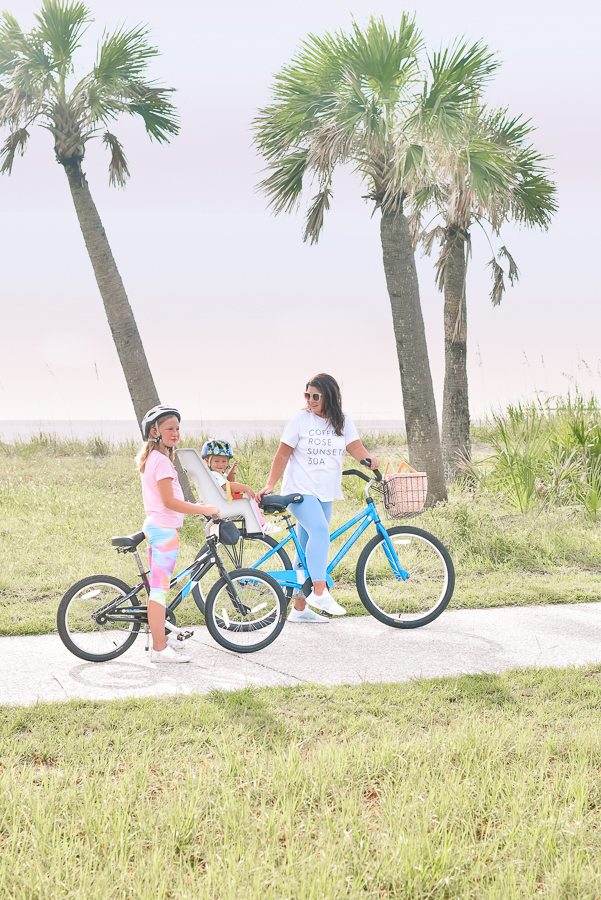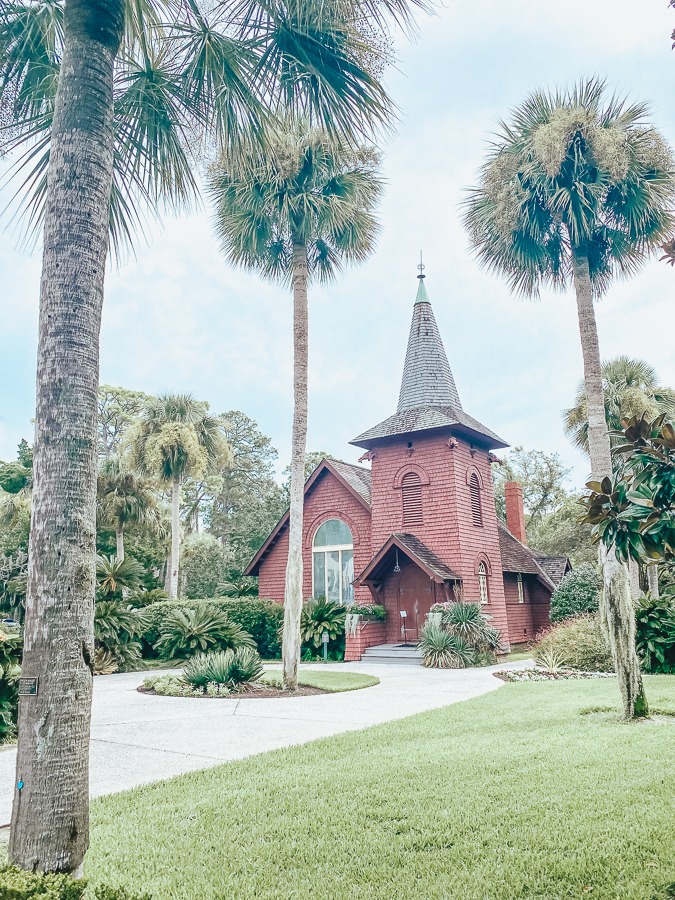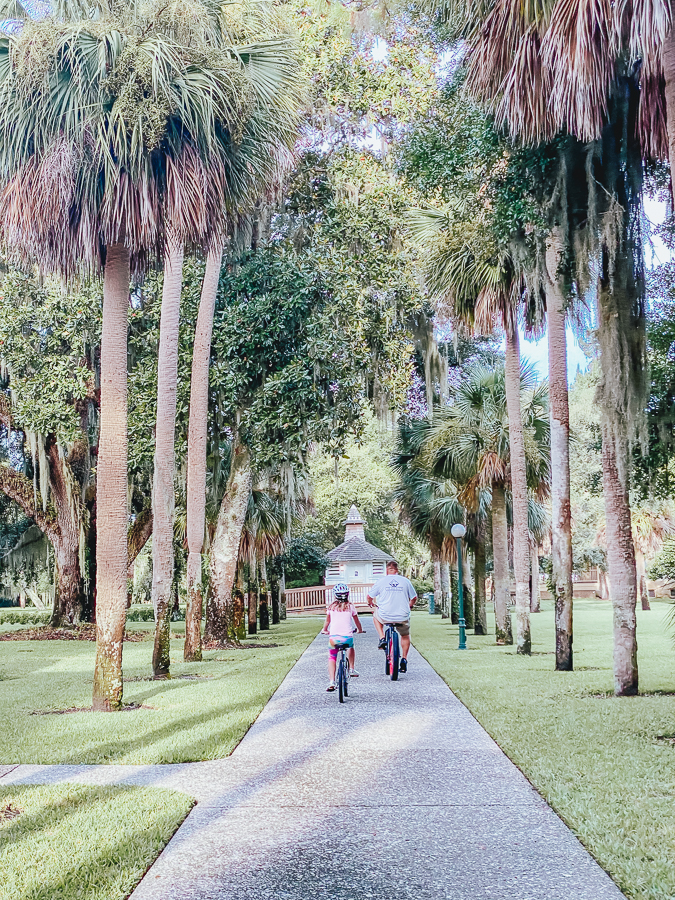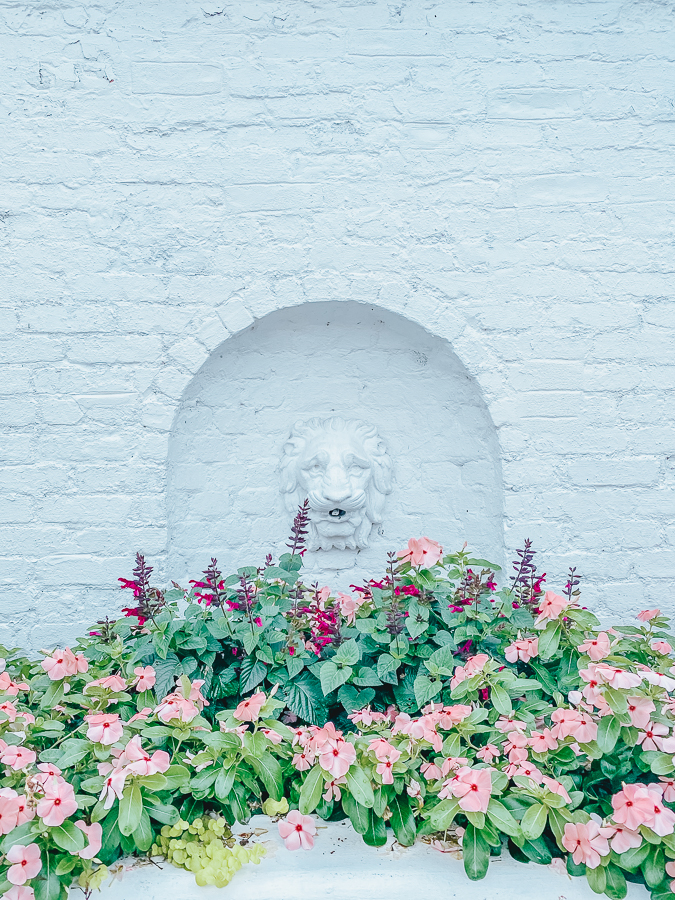 Croquet
This one was my favorite. I'm convinced we need a mini croquet course at home. Guests sign up for a 90 minute slot on the green and use the club's provided equipment. There was even a small club for Collins. We get a little competitive as a family and it was so fun to work our way around the wickets together.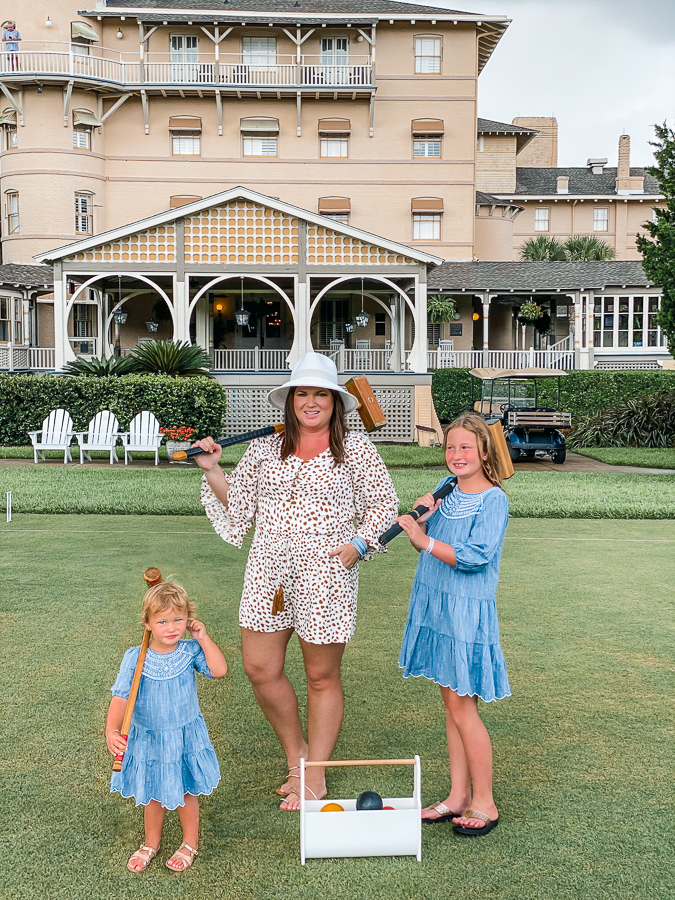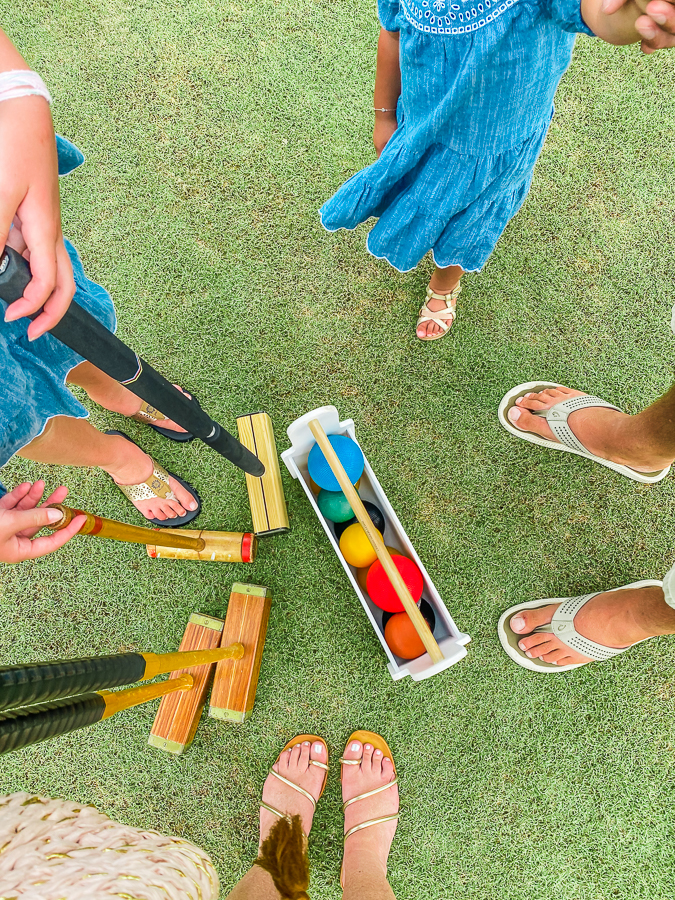 Club Pool
If you have kids, you know the pool is always a hit. No matter where you go or what options are around, the pool will always be a top request by little ones. The Jekyll Club pool was a frequent spot of ours and it was a perfect place for the girls to swim. I found a photo in the hotel of the pool being dedicated in 1927, complete with bevy of beauties ready to enjoy the new amenity. Now nearly 100 years later, we were splashing around enjoying the same one.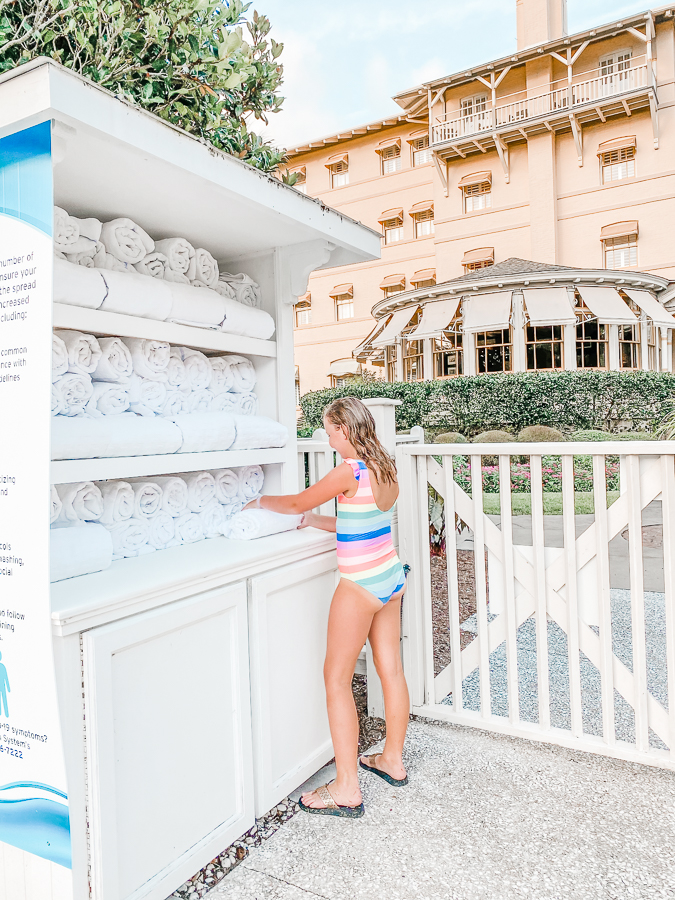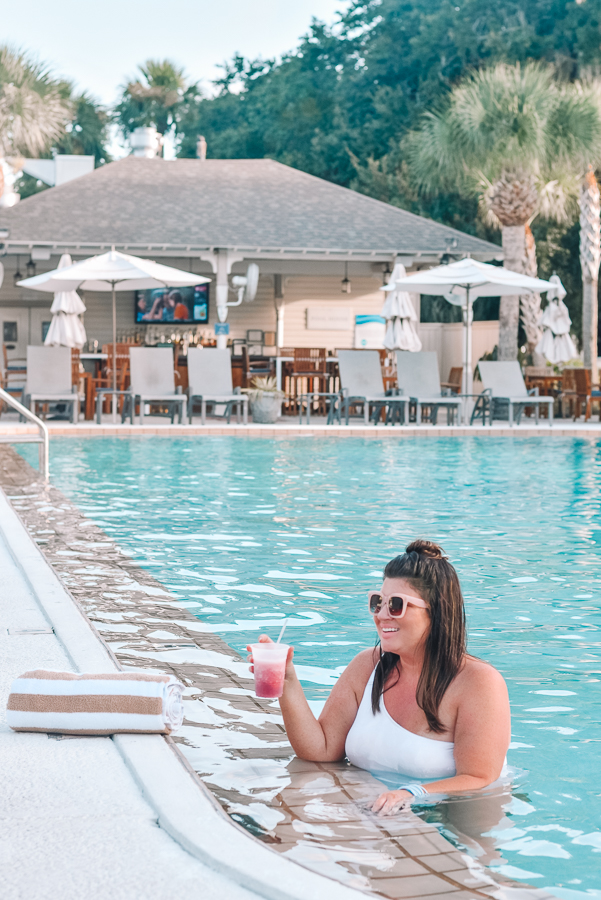 Driftwood Beach
This is a popular photo op on the island and when we visited, I could instantly see why. Hundreds of driftwood trees and branches sit serenely on the water's edge in a permanent state of rest. It's beautiful and a tiny bit haunting. Overall, just a striking scene. I brought my Bluetooth camera shutter and we managed to snap a few family photos on our own.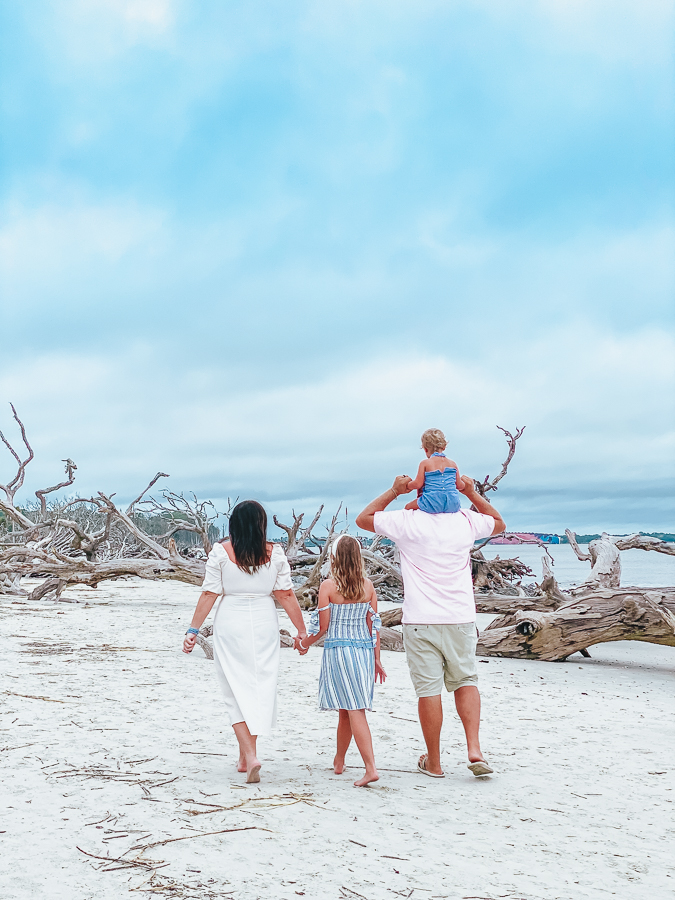 It's so easy to take photos with this and get everyone in the photo – even on a trip. I use a similar iPhone tripod and this clicker. If you look closely you can see it in my hand above.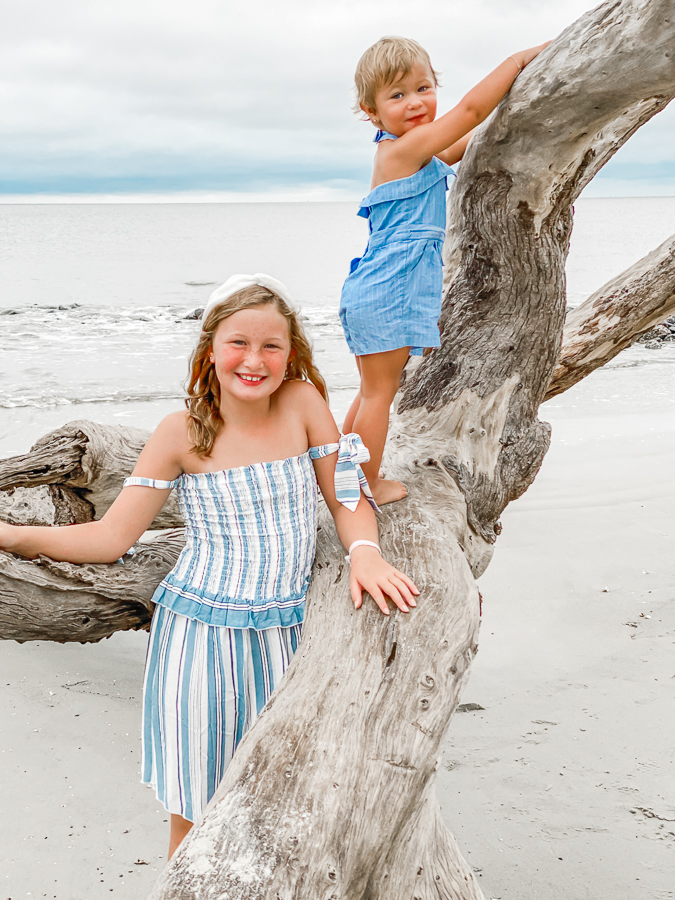 Georgia Sea Turtle Center
This was such a fun experience for the girls and neat for us, too. The Georgia Sea Turtle Center (in a converted former power plant) is a marine rehab, research and education center. There are interactive displays, so much information, and real life sea turtles. You can walk through the rehab center and see the "patients" recovering and swimming around their tanks. It's a cool sight and impressive to see the real time care happening.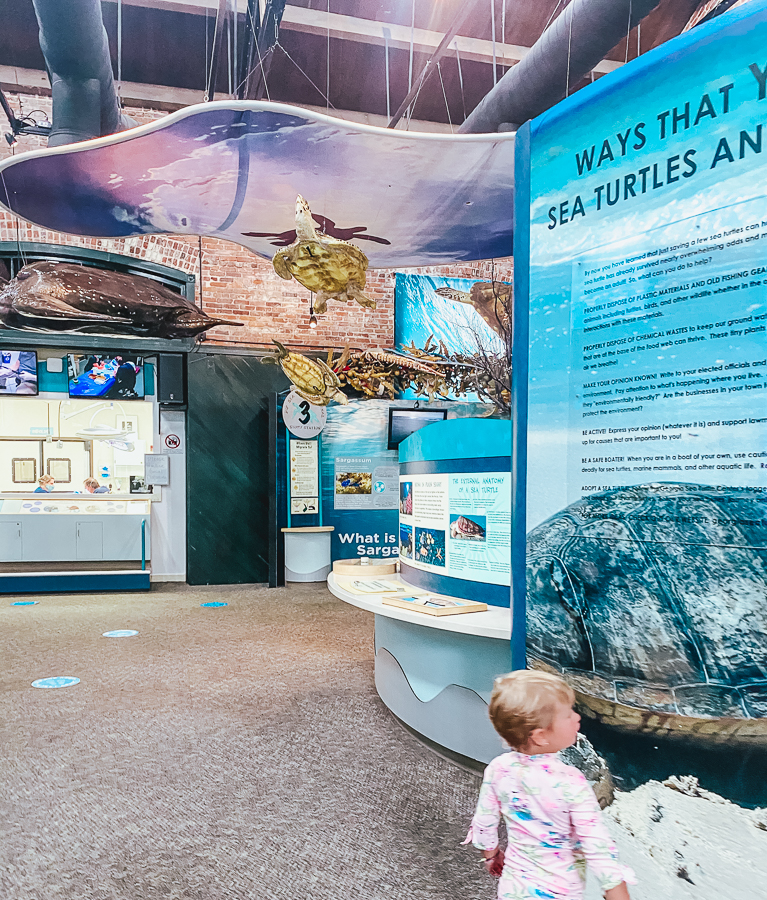 Wildlife Spotting
On the first day, I remember Hunter wondering if there were any deer on the island. (Remember, it was founded as a hunting camp many years ago.) Right away, we say 4-5 deer grazing and then it was a constant deer sightings. Wildlife is everywhere. We saw birds of all kinds, big bucks on the golf course and even roseate spoonbills in the marsh. Emery thought they were flamingoes at first but we learned of this local pink bird after Googling.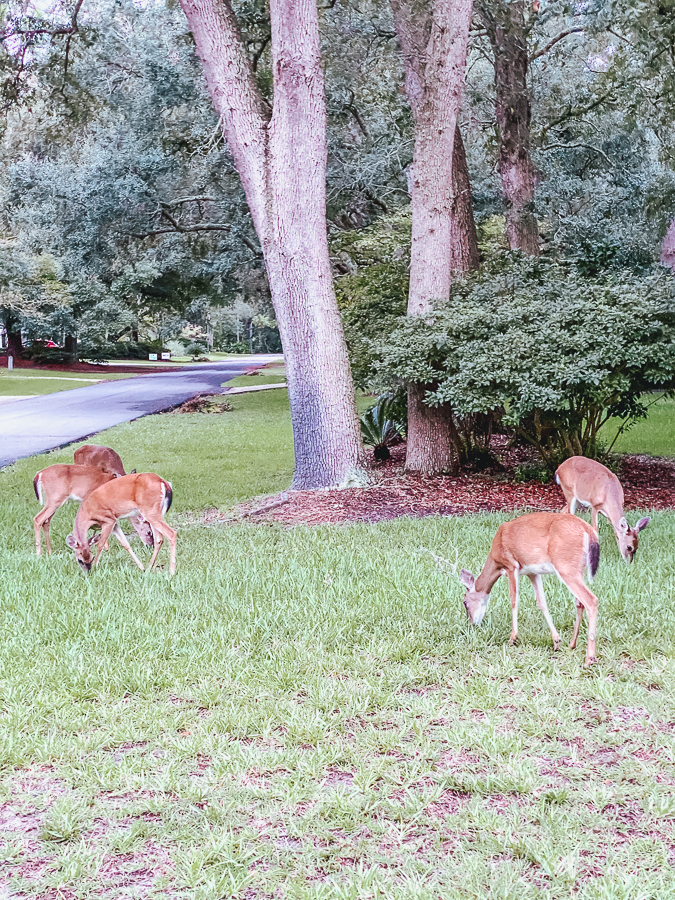 Tidewinds
We didn't make it to this spot, but it looked like fun education. There are interactive displays and touch tanks for kids to learn more about local sea life.
Even More
Jekyll Island also boasts an 18 hole golf course, horseback riding on the beach, carriage rides around the Clubhouse, and countless historic sites to take in.
It's also a short drive away from Sea Island and St Simon's Island, where we went for lunch at Southern Soul BBQ and a little exploring. I wanted to check out The Cloister, but it was only open to resort guests. Guess I'll have to put that on a future visit list.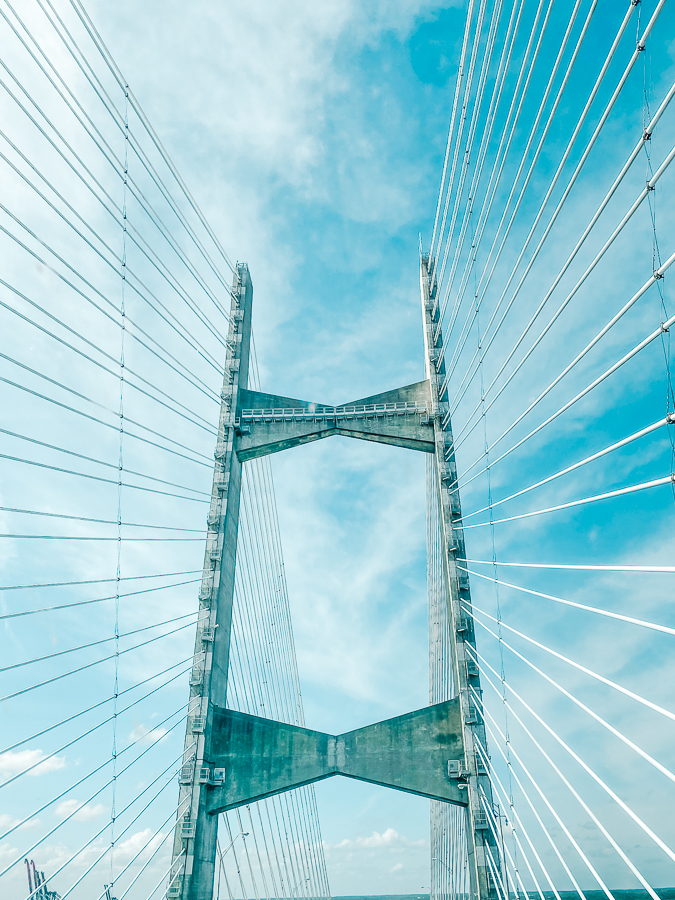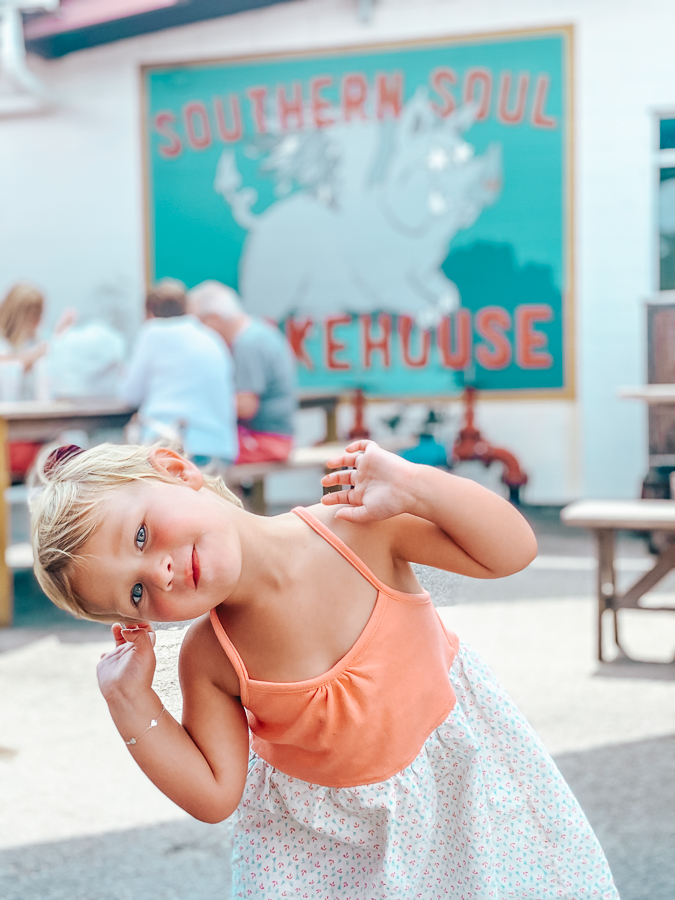 If you're looking for a relaxed destination with a rich history, plenty of open-air space and outdoor activities, this is a wonderful choice. Find full club details, specials and booking information at jekyllislandclub.com.​​​​​​​
Pin to save this trip for later.