Sharing a fun photo diary of our blogger weekend at The Pointe 30A, hosted by Jessica Fay and 30A Babe.
We had such an action-packed weekend of fun that I'm going to break down our full itinerary for you here. From brews and rooftop rosé to bikes and bites, here's everything we experienced.
Looking for my full 30A guide and map? Find it here!
Massage at Spa Pearl
Thanks to Clean Juice Market Shops, our weekend was off to an uber-relaxing start with a much-needed massage at The Pearl Rosemary Beach's onsite place to pamper: Spa Pearl. The treatment rooms are located around the pool area in private cabanas, which I love.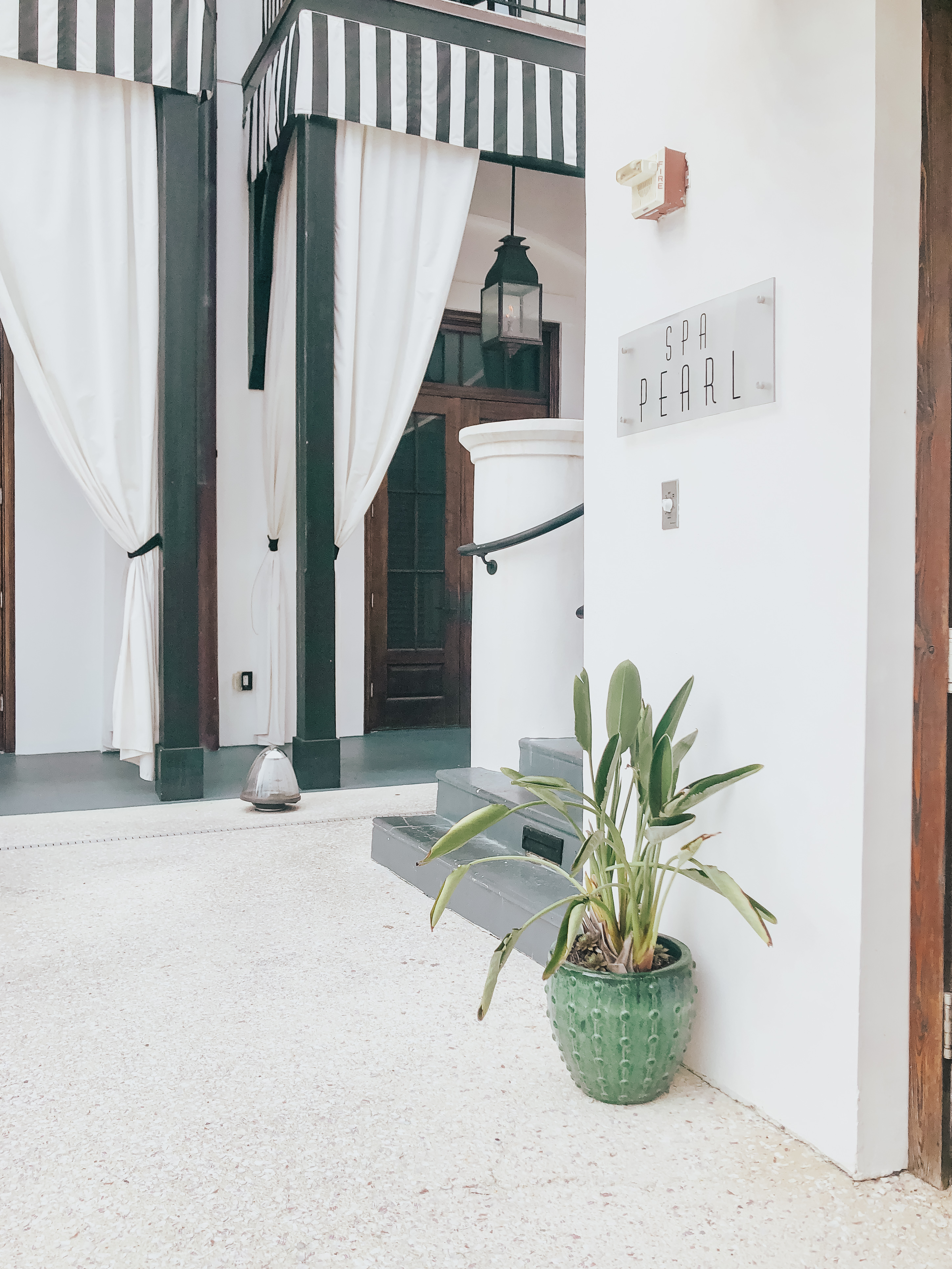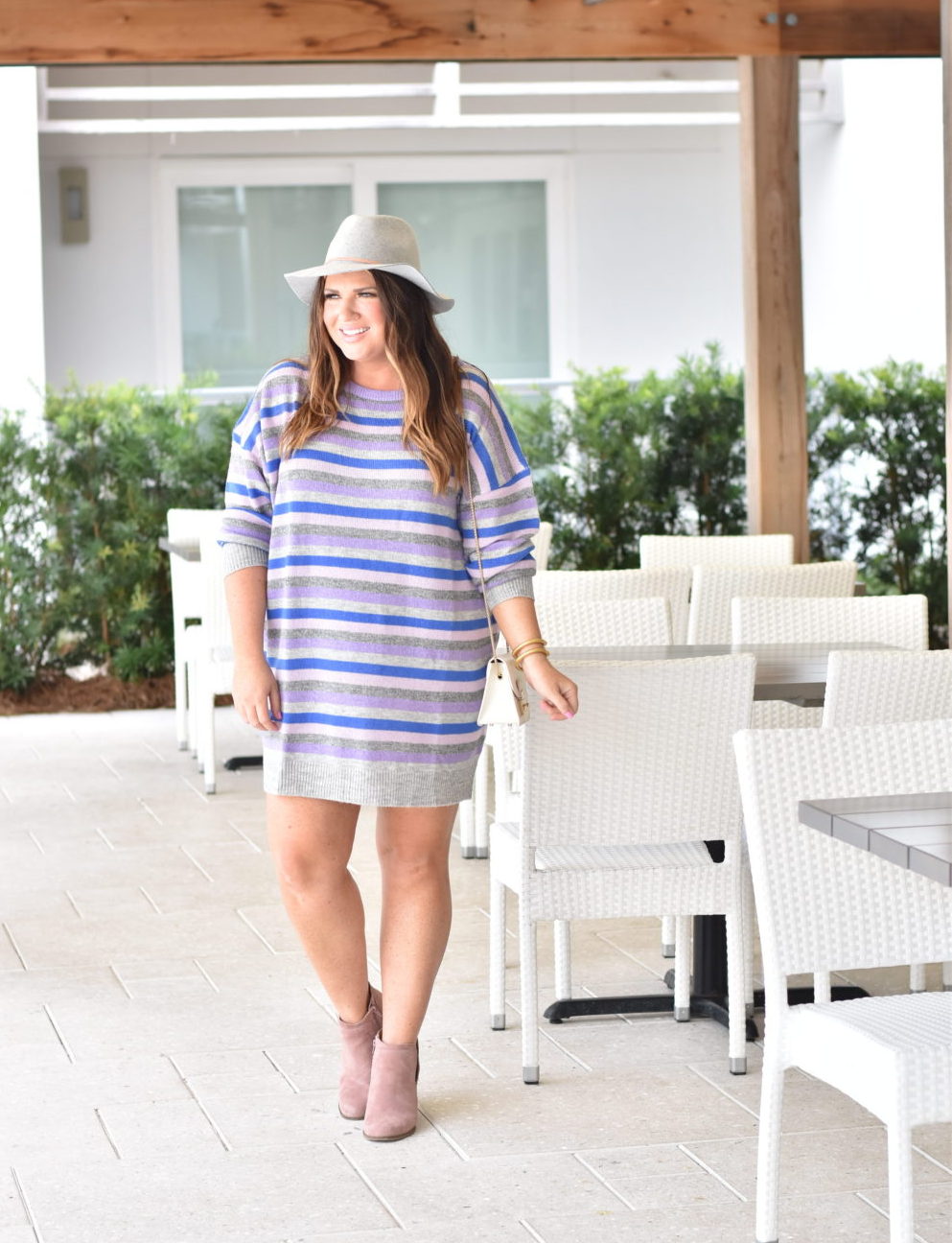 Shop My Wardrobe

Checking into The Pointe
I arrived just in time for a sunset happy hour on the roof. If you haven't visited The Pointe, it's aptly named for its prime location at the intersection of 30A east and highway 98. From the top floor, you can look out toward Inlet Beach and see 30Avenue, Shades and the Donut Hole, In the other direction you see the rooftops of Rosemary Beach and Alys Beach with the Gulf stretching along the southern view. It really is a beautiful sight and a great spot to take it all in.
Between our group of girls, we stayed in 2 3-bedroom suites. The Pointe also has smaller units if you're looking to do a couple's getaway or need only enough room for a single family, but I love that there's room for a big group or multiple families, if you prefer.
To book a stay at The Pointe, click here.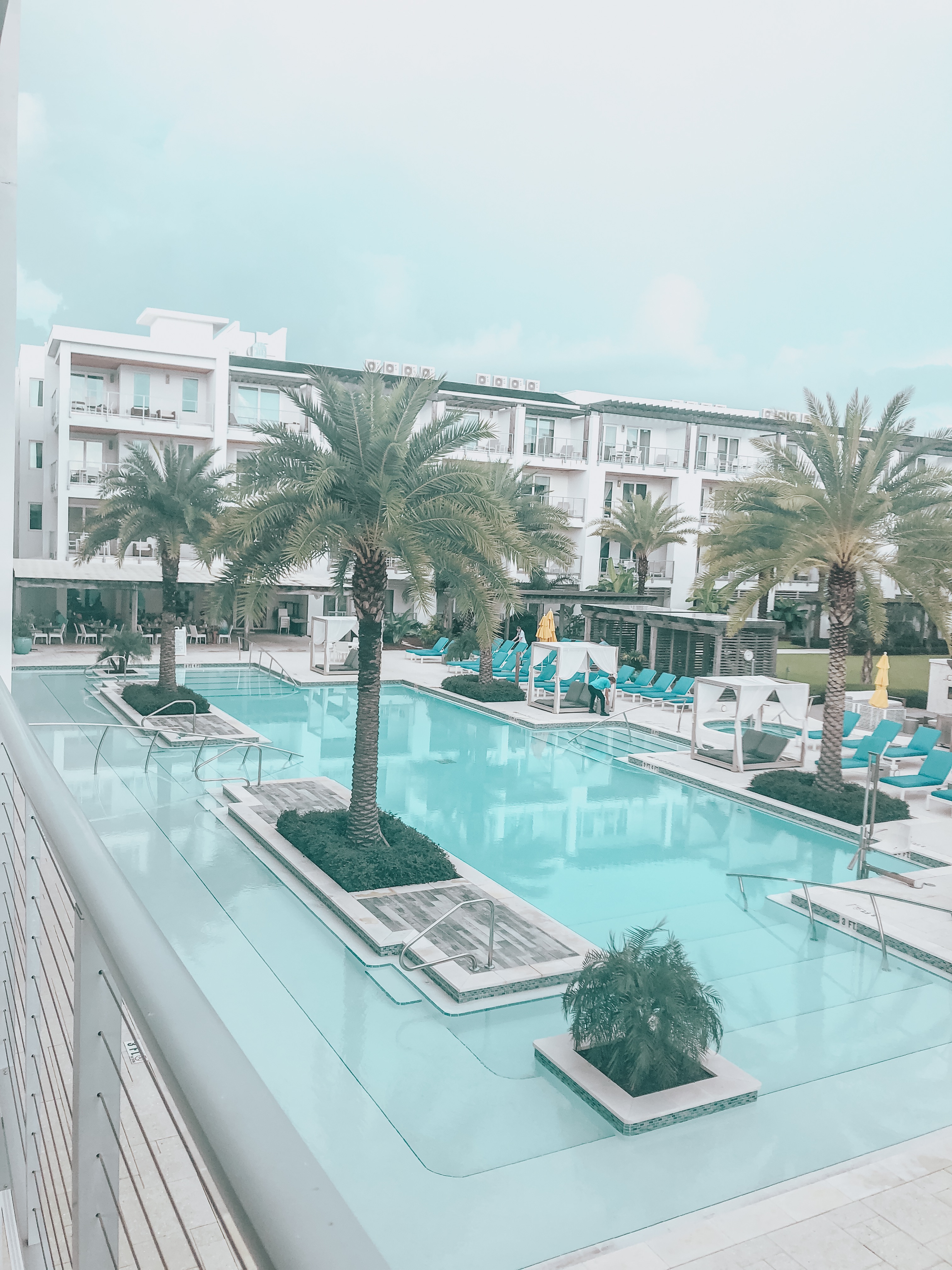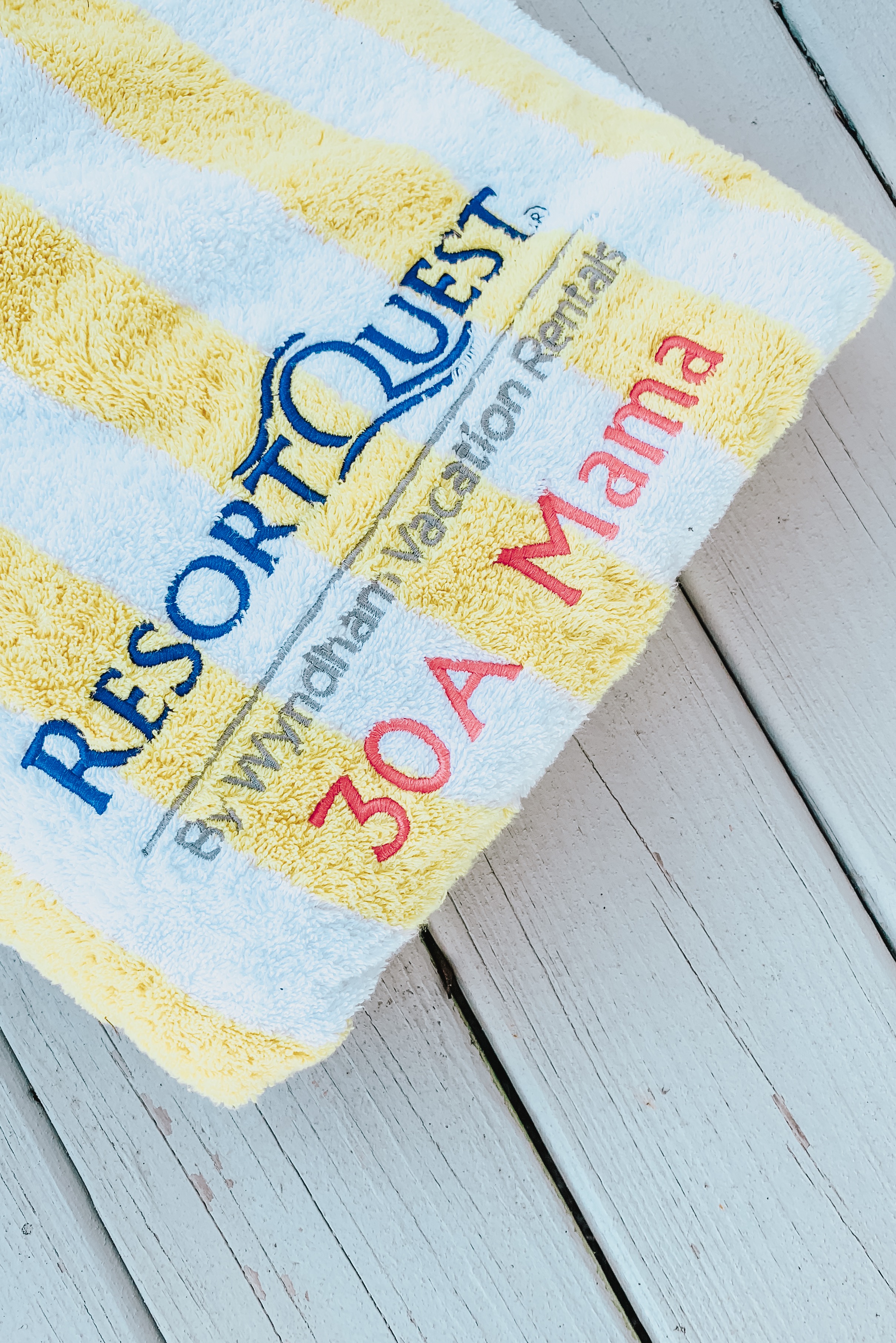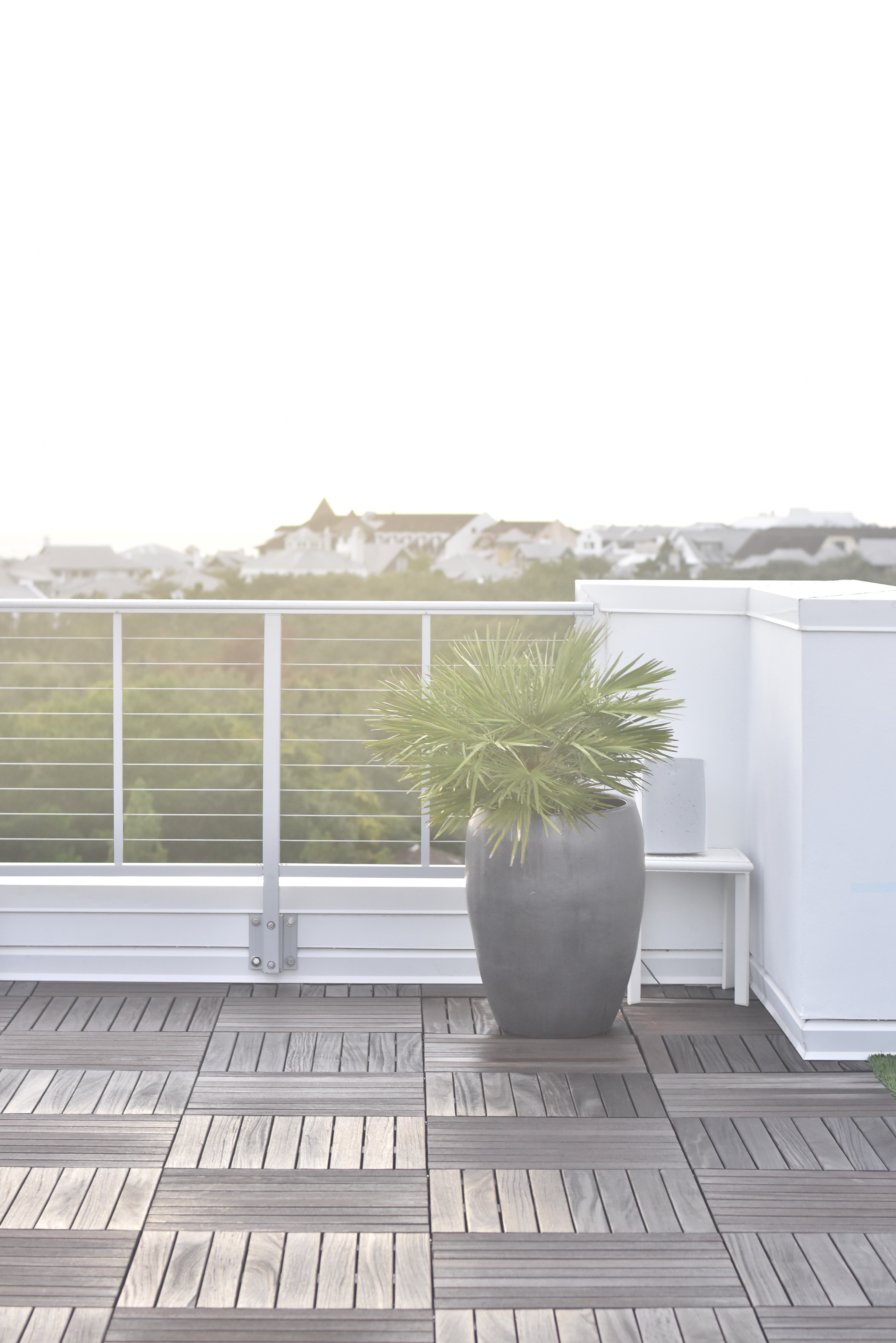 This trip was like my Instagram feed coming to life. The girls joining in are all so sweet and so fun to spend time with. From left to right: me, Sarah Knuth, Jordan Underwood, Brooke Webb, Jessica Fay, Bailey Schwartz, Hollie Woodward and Katy Harrell.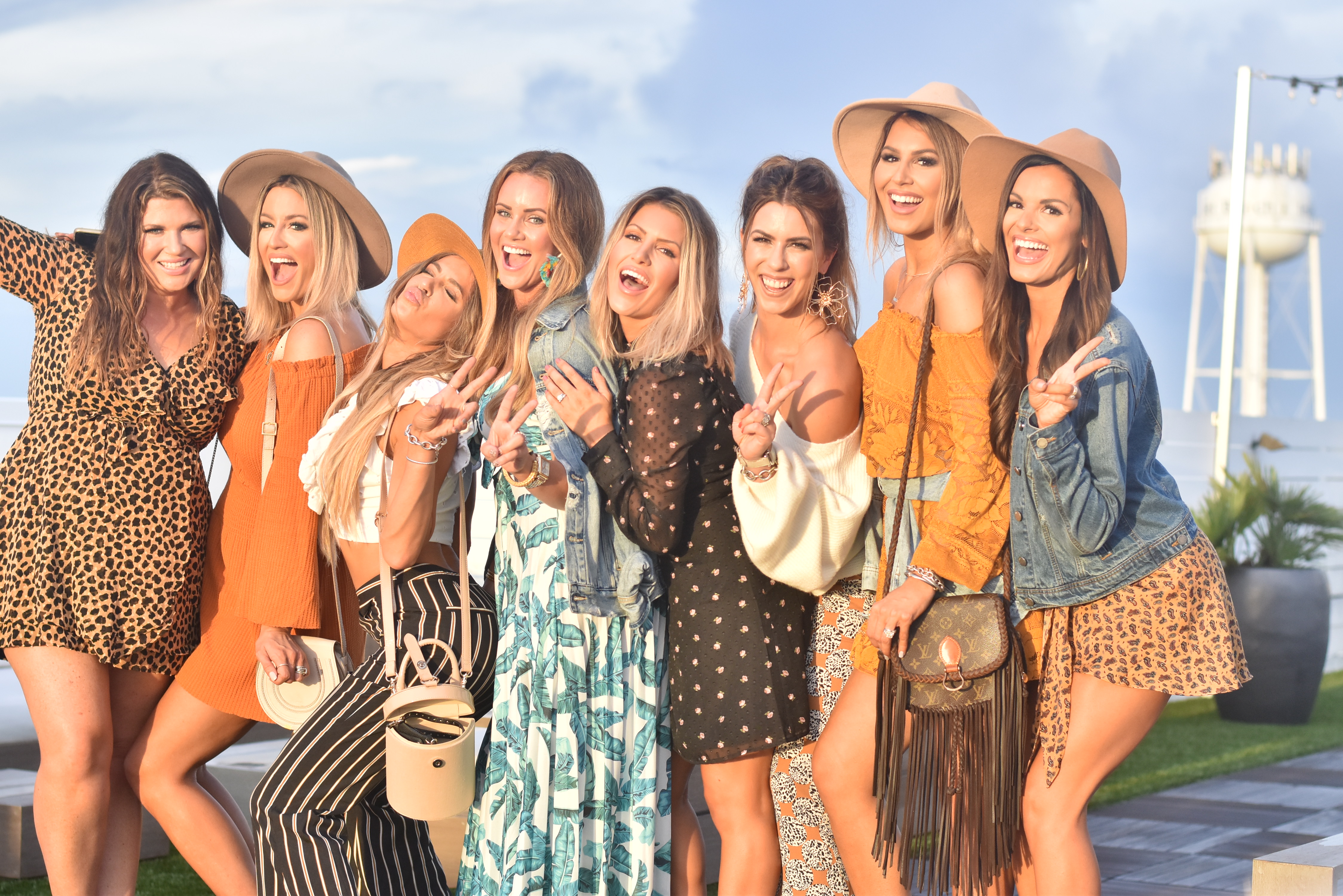 Dinner by 30A Catering
You know when you're traveling and you think how amazing it would be to have someone prepare dinner for you without you having to leave your room? That's exactly how our first meal went. We had all the luxuries of going out to dinner – no grocery shopping, no cooking, no dirty pans in the sink – with an added bonus of sitting comfortably in our pajamas. It was bliss! 
Breakfast at Big Bad Breakfast
This is one of those places you can't go wrong no matter what you order. Hunter and I love to come here for breakfast and by now you know me well enough to guess that I ordered what I always do here: the avocado toast. With a runny egg, a healthy spread of avo on a thick slice of bread and an arugula topping, I just can't seem to order anything else. A couple of the other girls ordered the same and we all agreed it was a hit.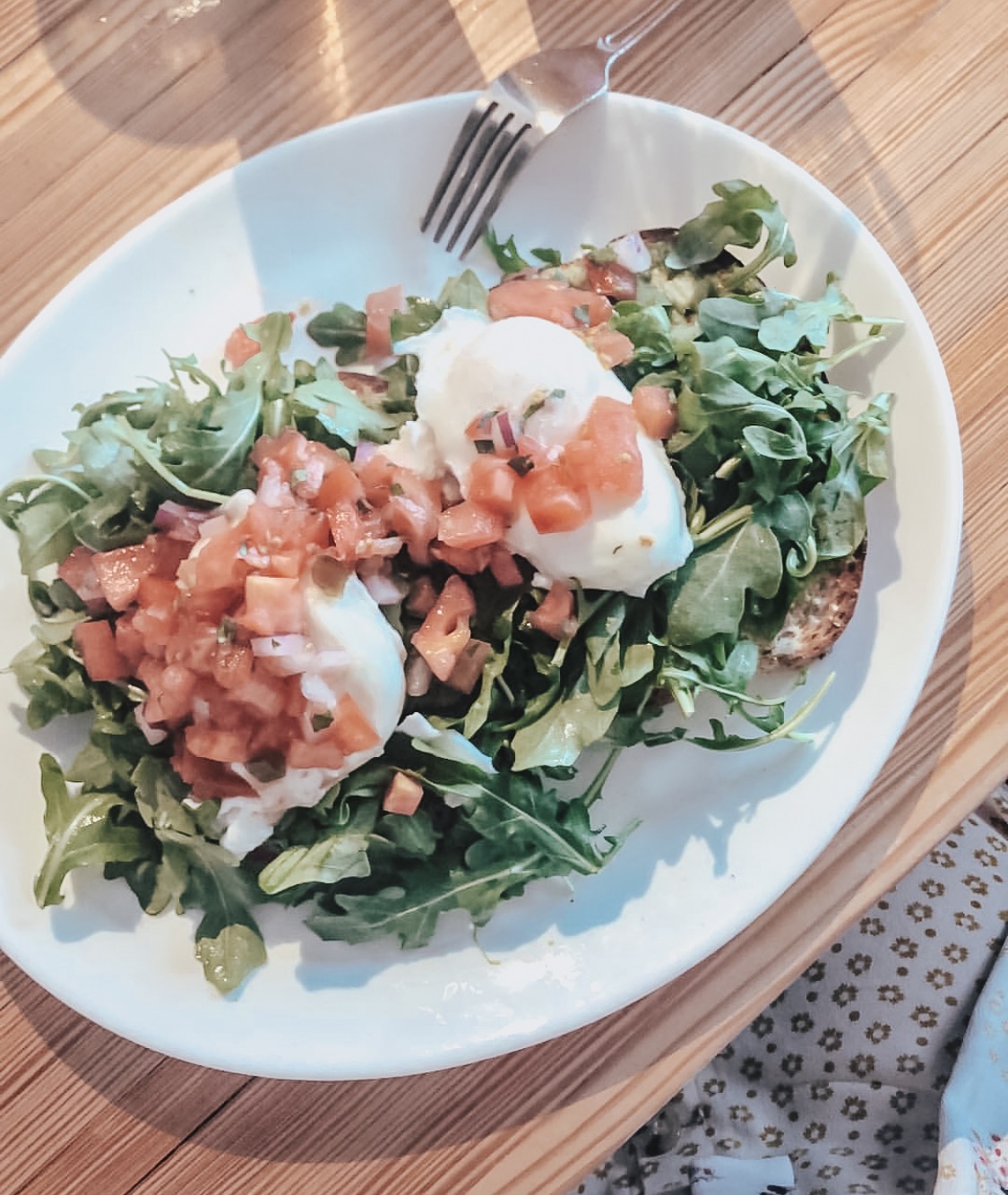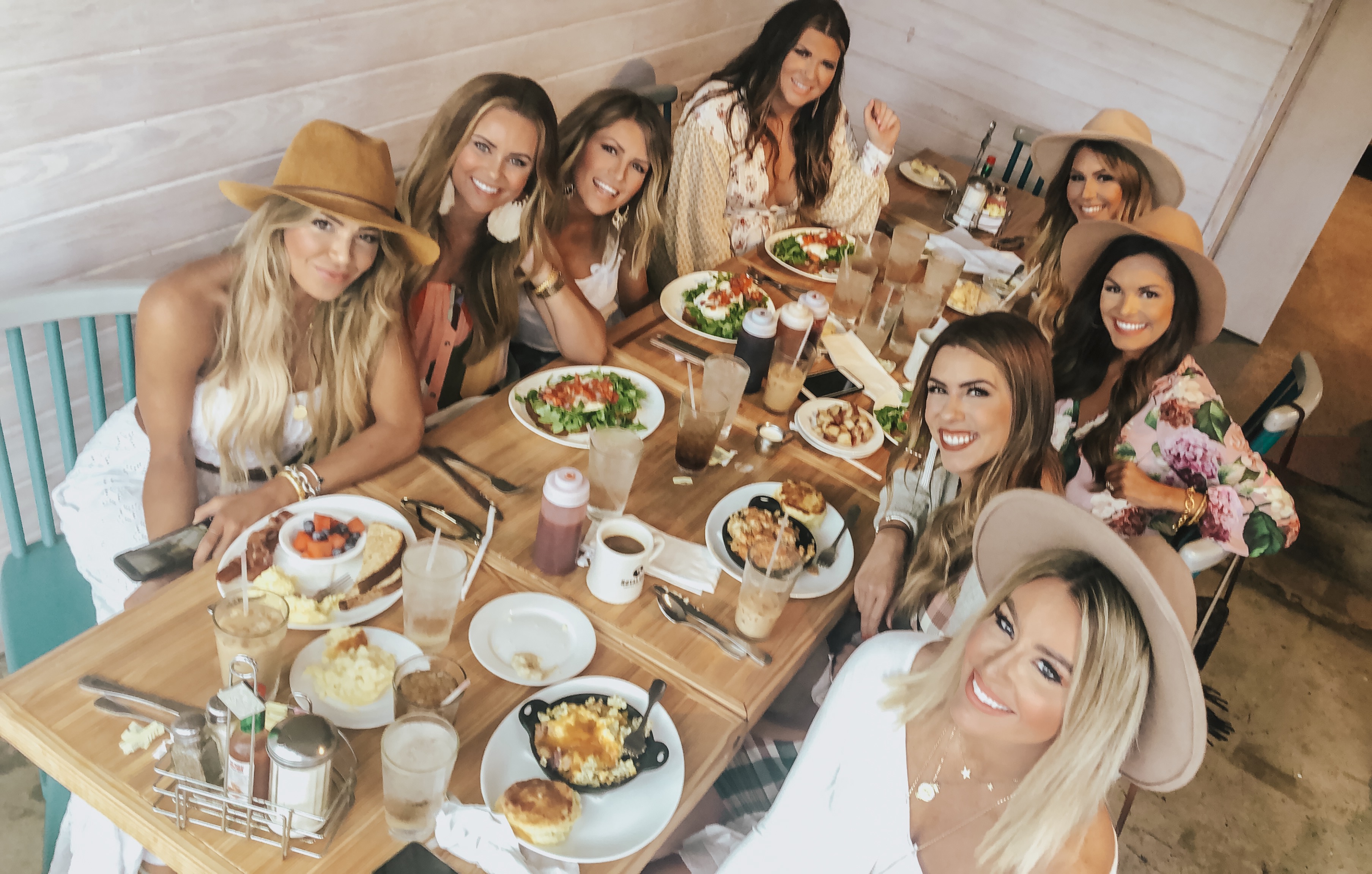 Tour of Grayton Beer Company
After breakfast, we hopped in with Gulf Coast Go and headed to the brewery and taproom at Grayton Beer. I love coming here and seeing the bottling process in action, which is always so mesmerizing to watch. When we visited, they were bottling the1890 Founder's Ale which is a ____ beer. Of course, my favorite is the 30A Rosé Gose, which all the girls got to try during our tasting. The Taproom has a full wall of beer with so many of their brews to choose from.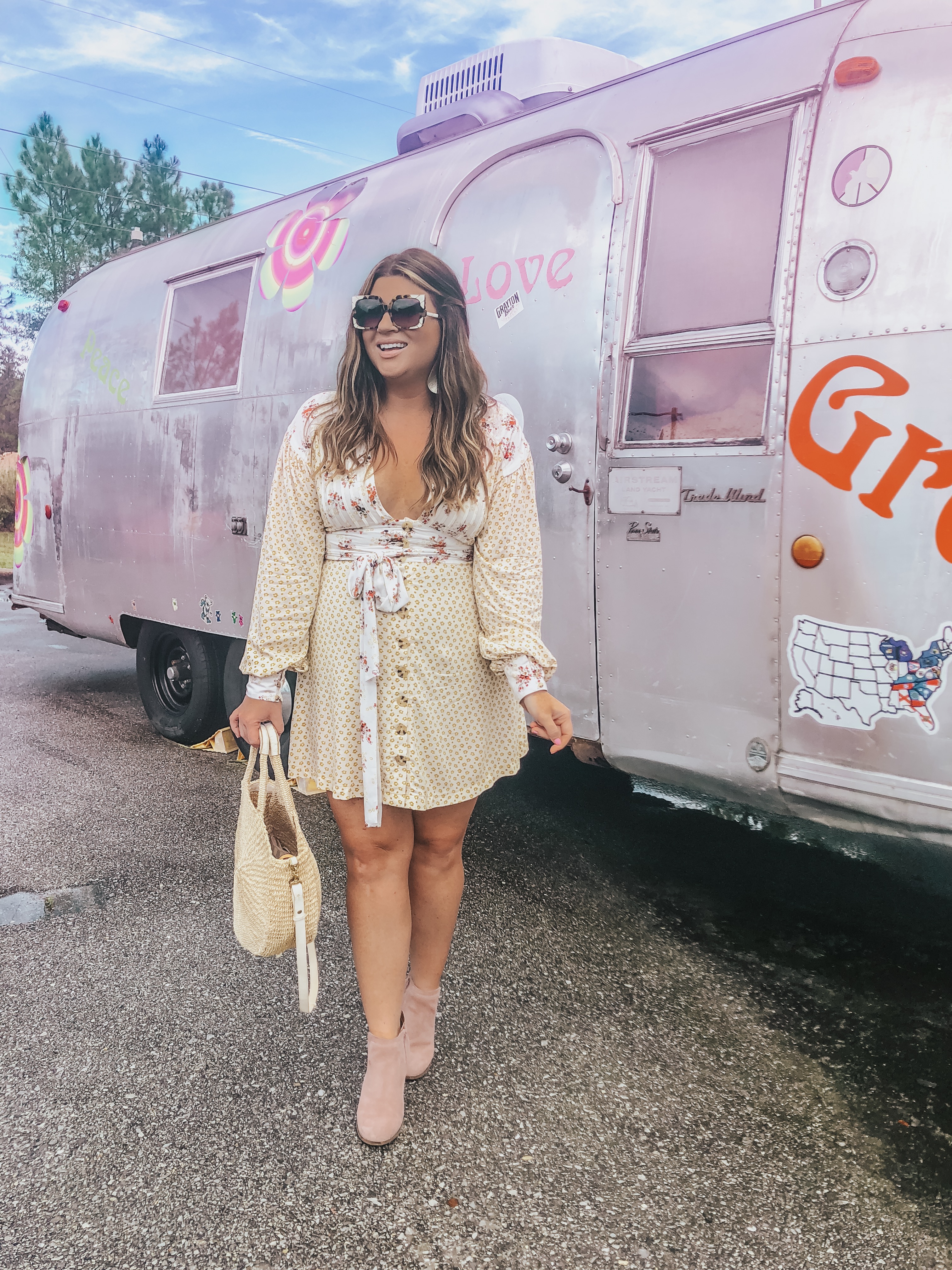 Shop My Wardrobe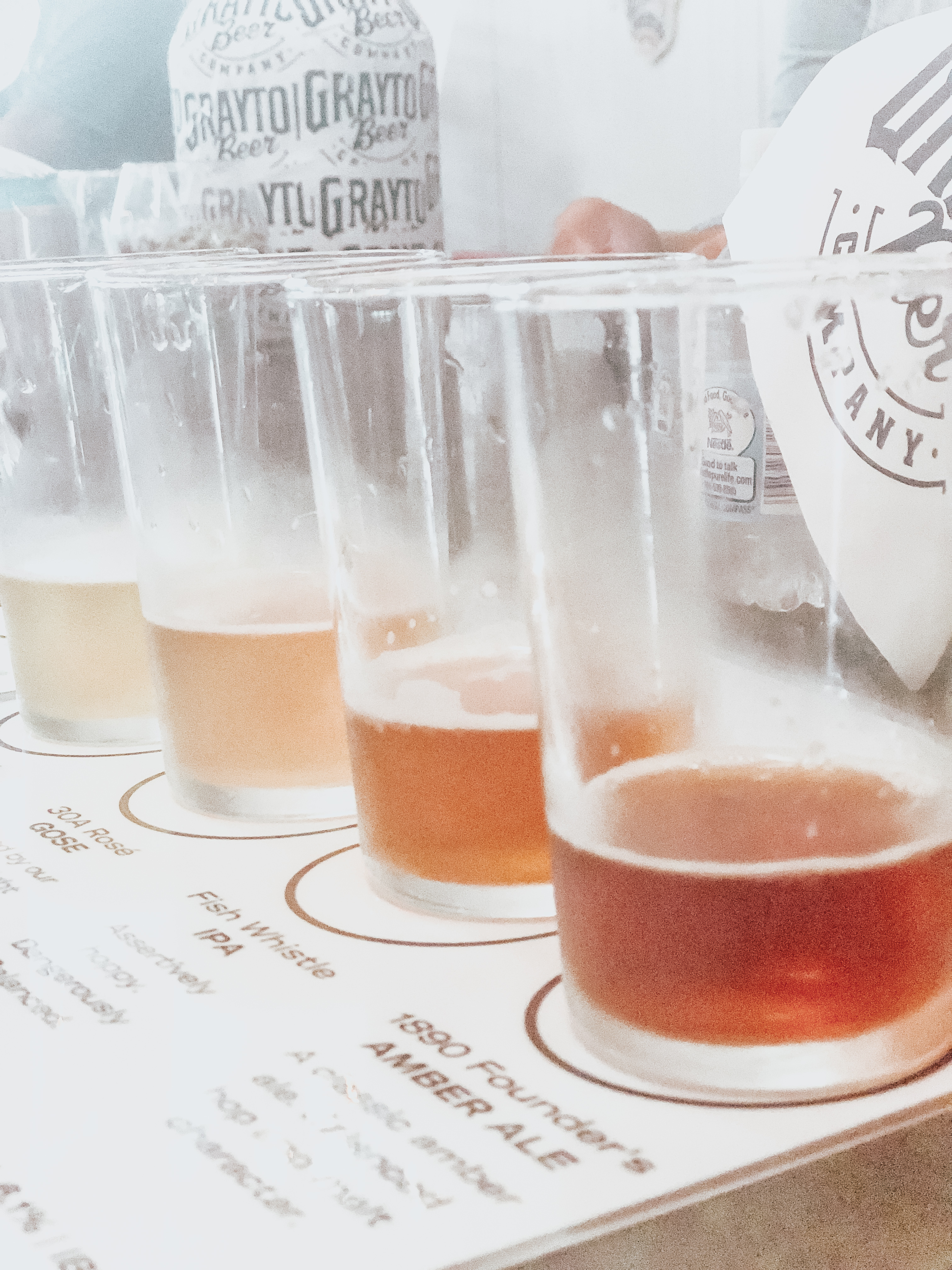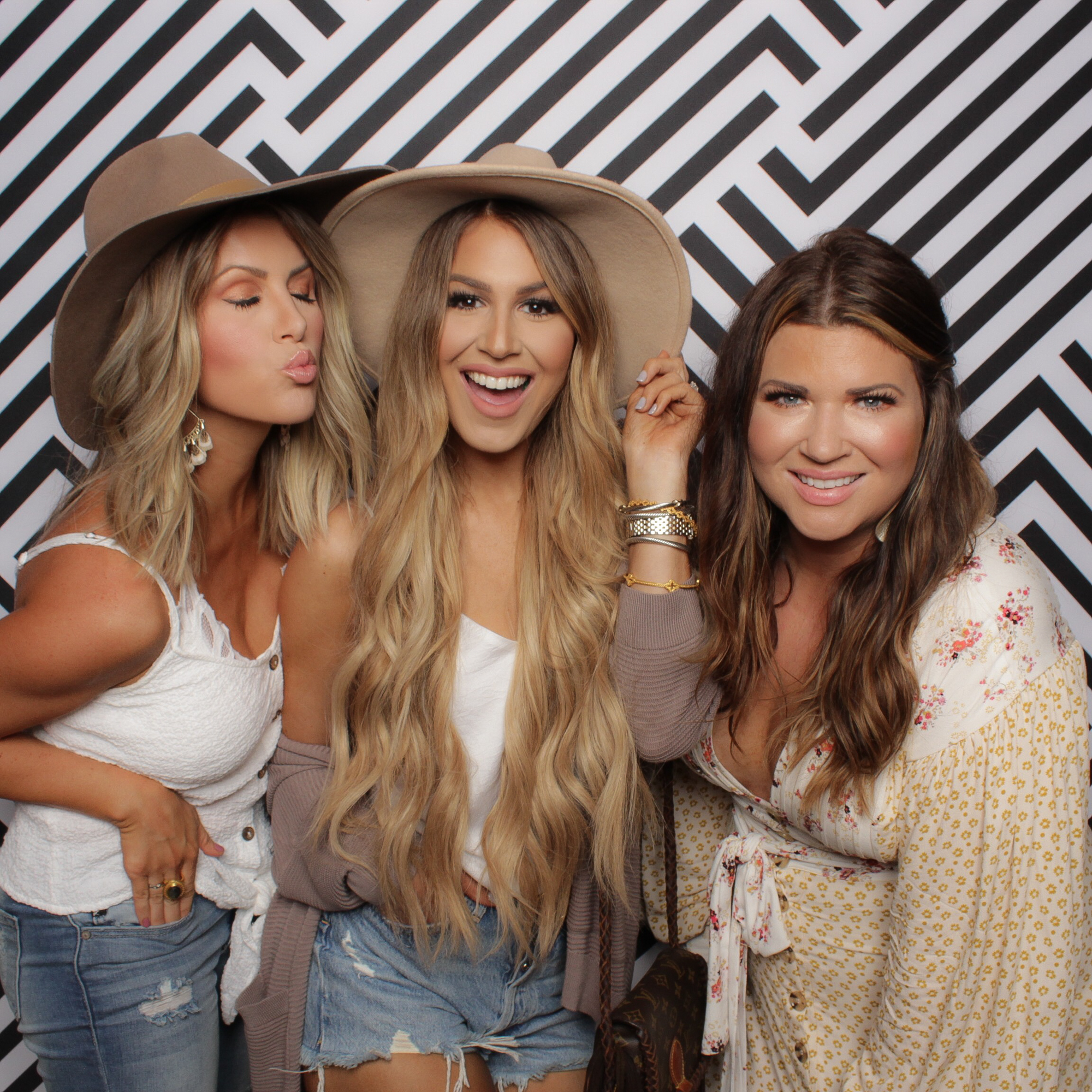 Lunch at Grayton BrewPub
From hops to table, Grayton Beer has expanded their offerings beyond the Taproom to a full-fledged restaurant and bar in Grayton Beach. Here you can find savory southern staples (hello, hushpuppies!), fresh salads and what I ordered – a simple BLT that is worth every single bite. We sipped 30A Beach Blonde and 30A Rosé with our meals, feeling so much more appreciative of the finished product after peeking into the production process that morning.
Check out this fun post with Grayton Beer's 30A Rosé.
Dinner at 45 Central
Did someone say paella? Yes please! I always love indulging in a plate of paella from the giant pan stirring out front on Friday nights and with a sunset over Seaside and a glass of rosé, it was pretty close to perfect.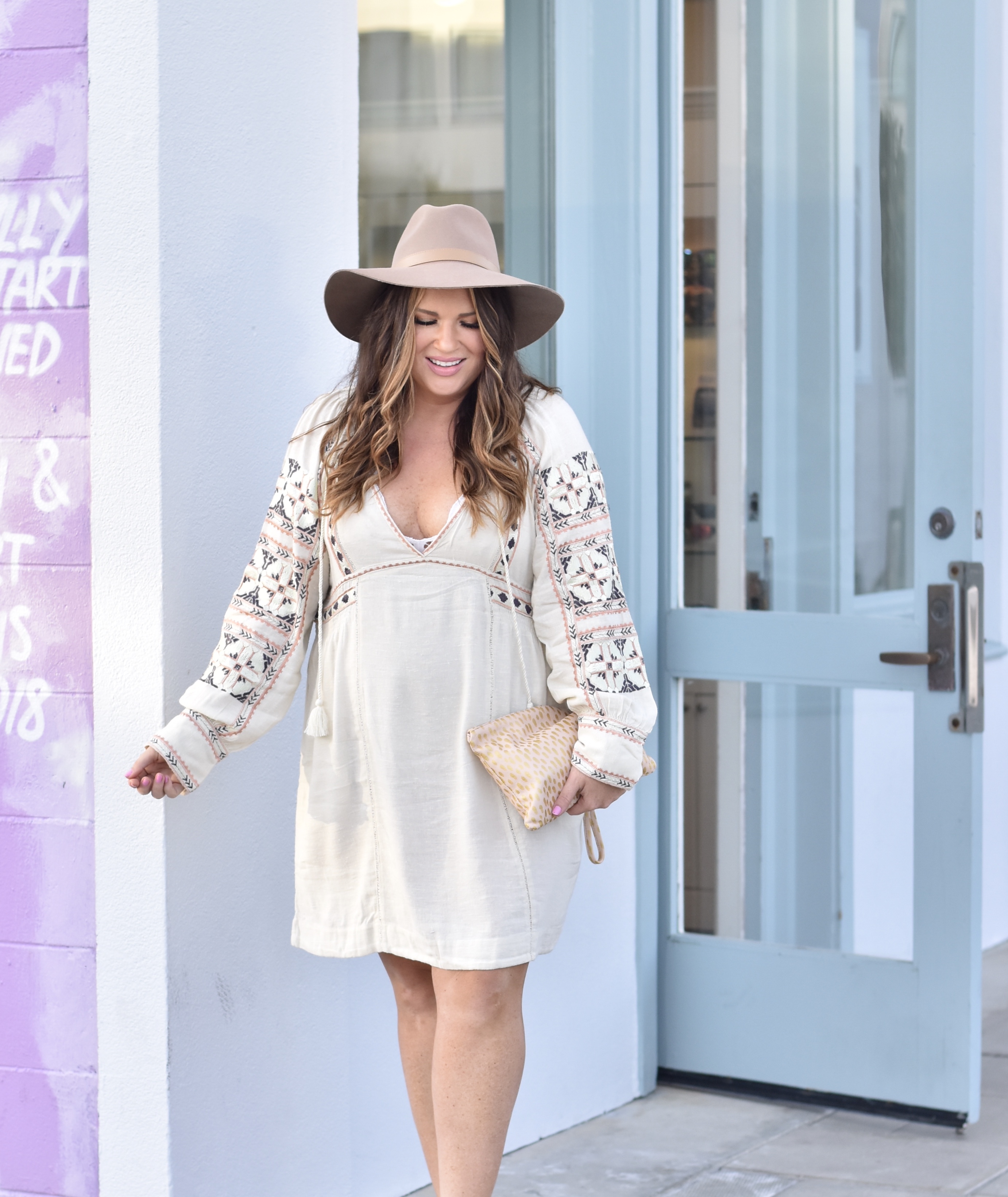 Shop My Wardrobe

Breakfast at Grits & Grind
Located in Seacrest between Ophelia Swimwear and La Cocina is the delicious day starter, Grits & Grind. From mimosas to omelets and even a piled on pancake, you really can't go wrong here. I went with a yummy Huevos Rancheros dish and we all sipped mimosas to kick off the day with a little bubbly.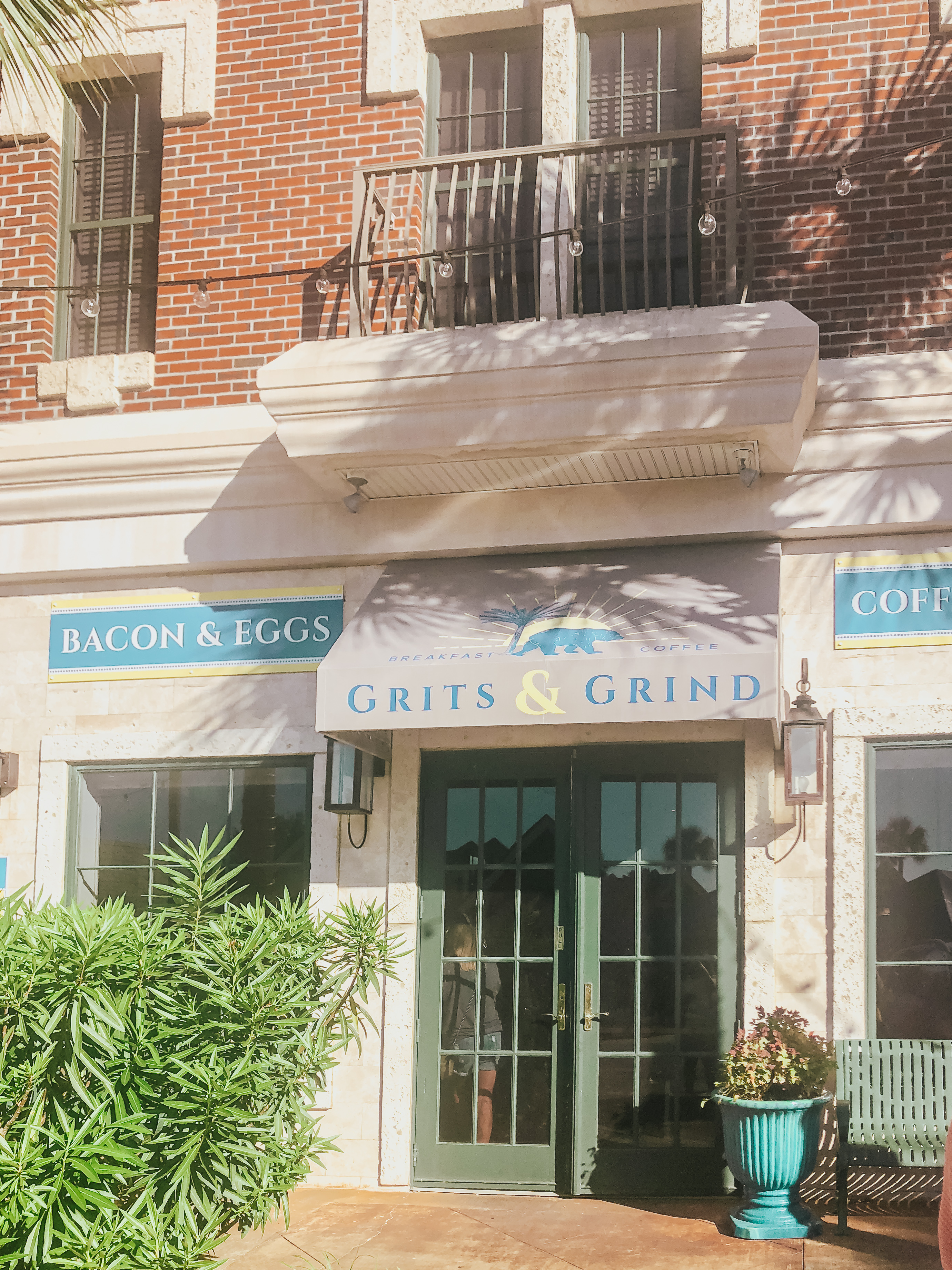 Bike Tour with Eventure 
This was possibly my favorite part of the weekend because it was one thing I hadn't done yet – even as a local. Jason Medina of Eventure Tours lead us on the most fun bike adventure, cruising 30A and the streets of Inlet Beach on electric bikes. Of course, biking is great exercise, but this was my speed (pun intended – ha!). You pedal briefly to start, but otherwise control the speed and "driving" the bike with only a twist of the handlebars. That way the focus isn't on pedaling hard to cover so much ground, but sightseeing and feeling the wind in your hair as you do. Definitely an activity to add to your 30A bucket list.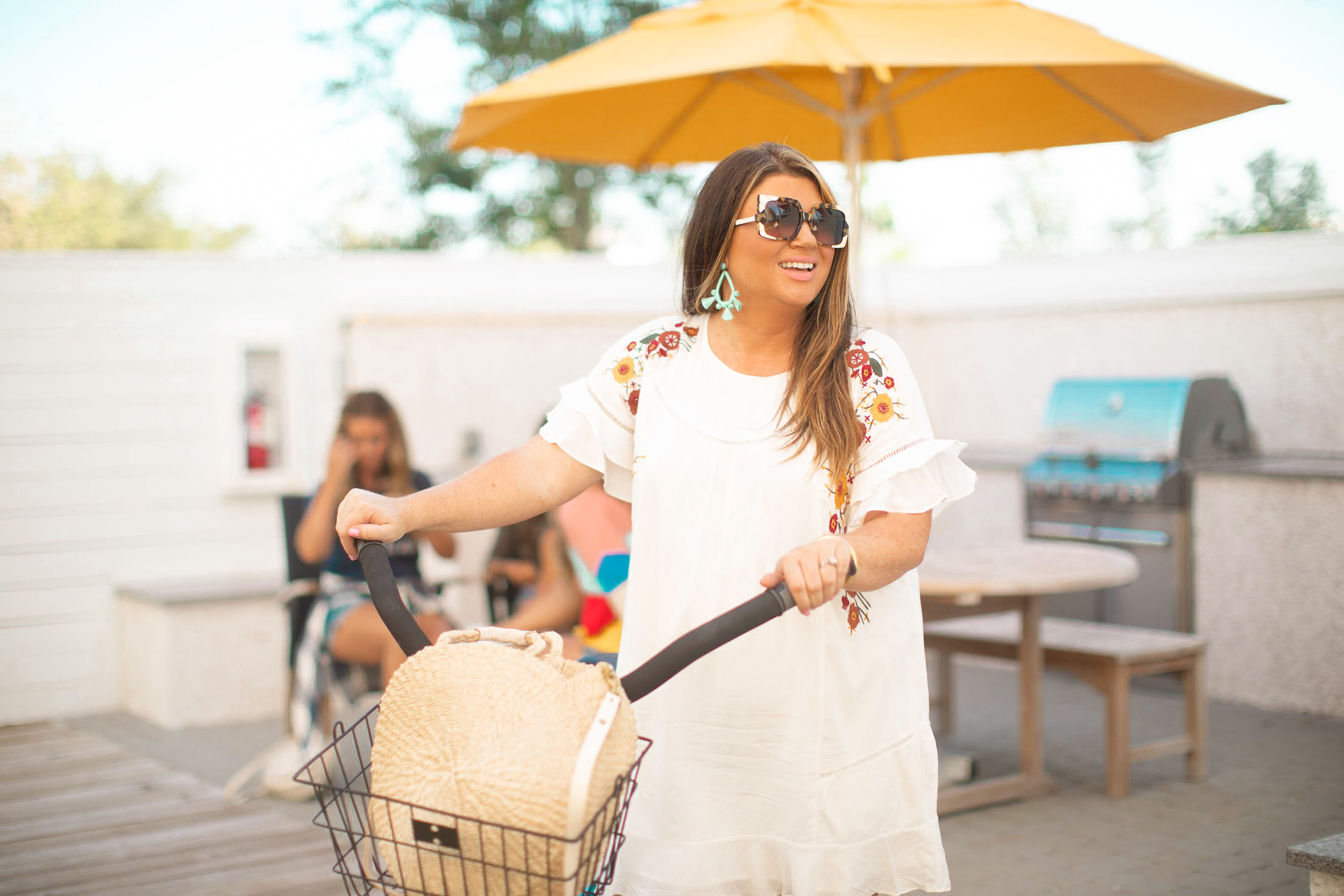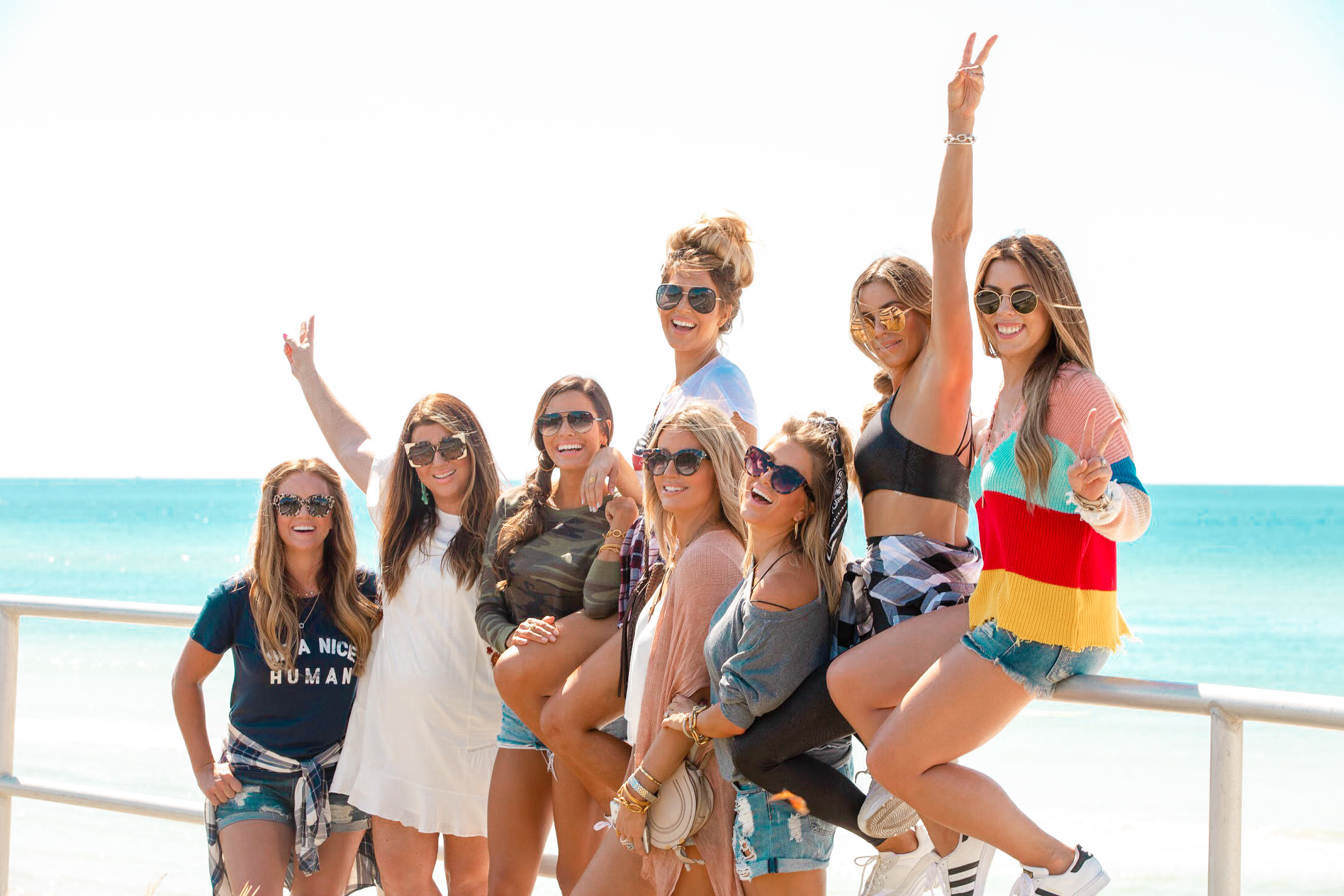 Pool Time at The Pointe
With so much packed into the blogger weekend, this part of the itinerary was one I was ready for. The Pointe has a massive pool with cute lounges, cabanas and palm trees galore. It feels like an oasis and is such a nice way to unwind and soak in the sun. We had beautiful weather and were more than willing to dip our toes in while catching up and planning what to wear that night. It might have been the end of September, but it felt like a perfect summer day!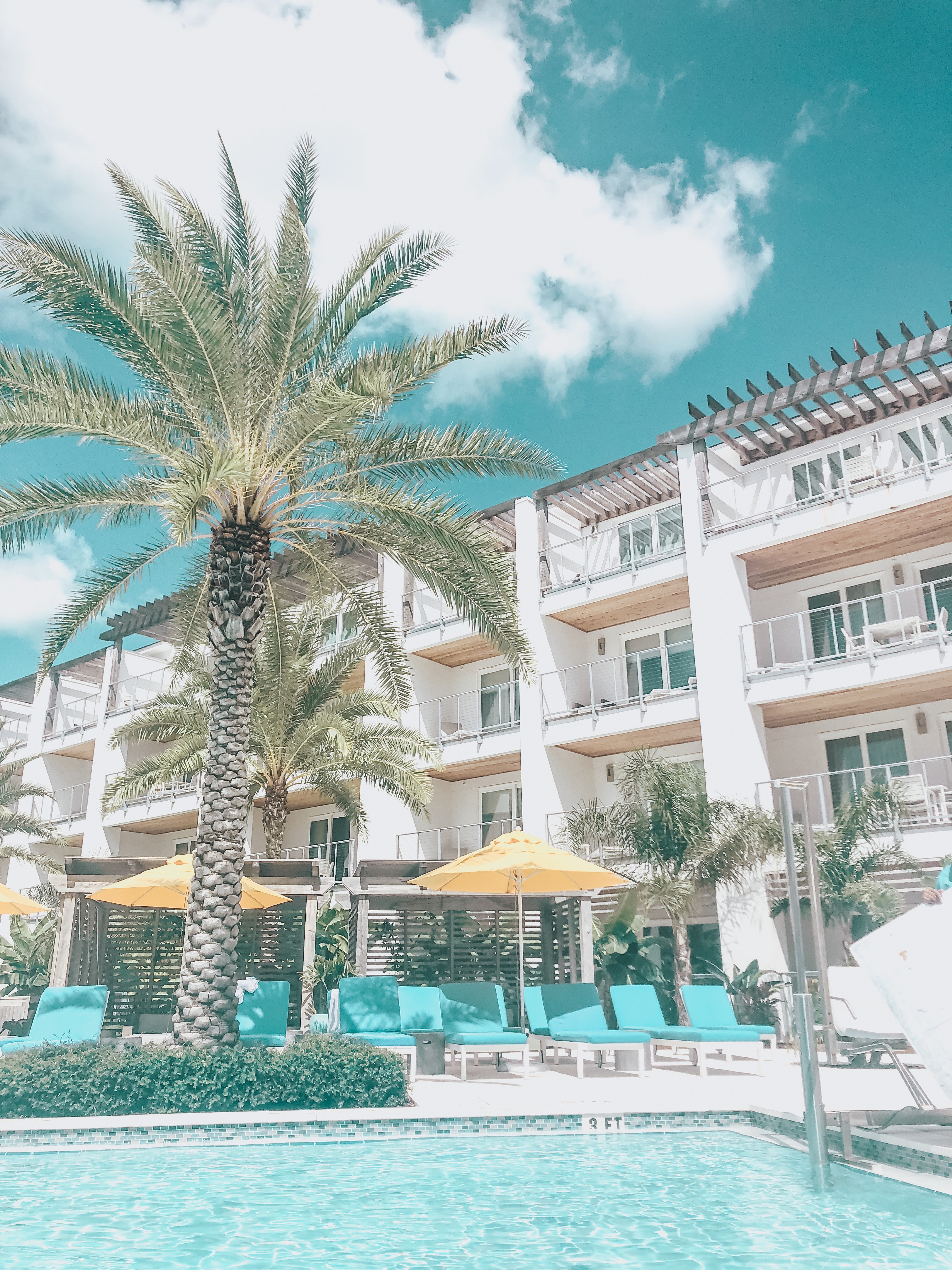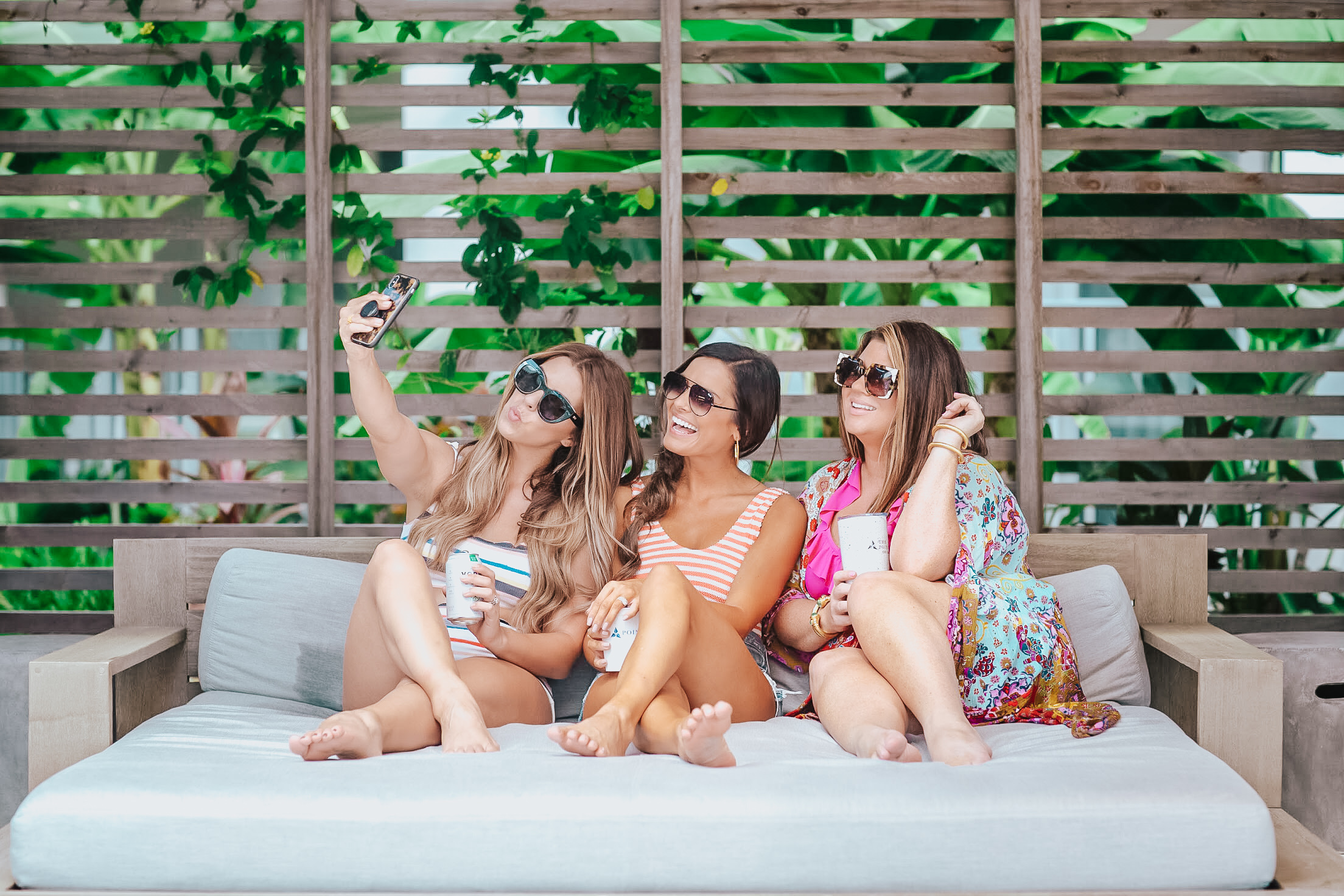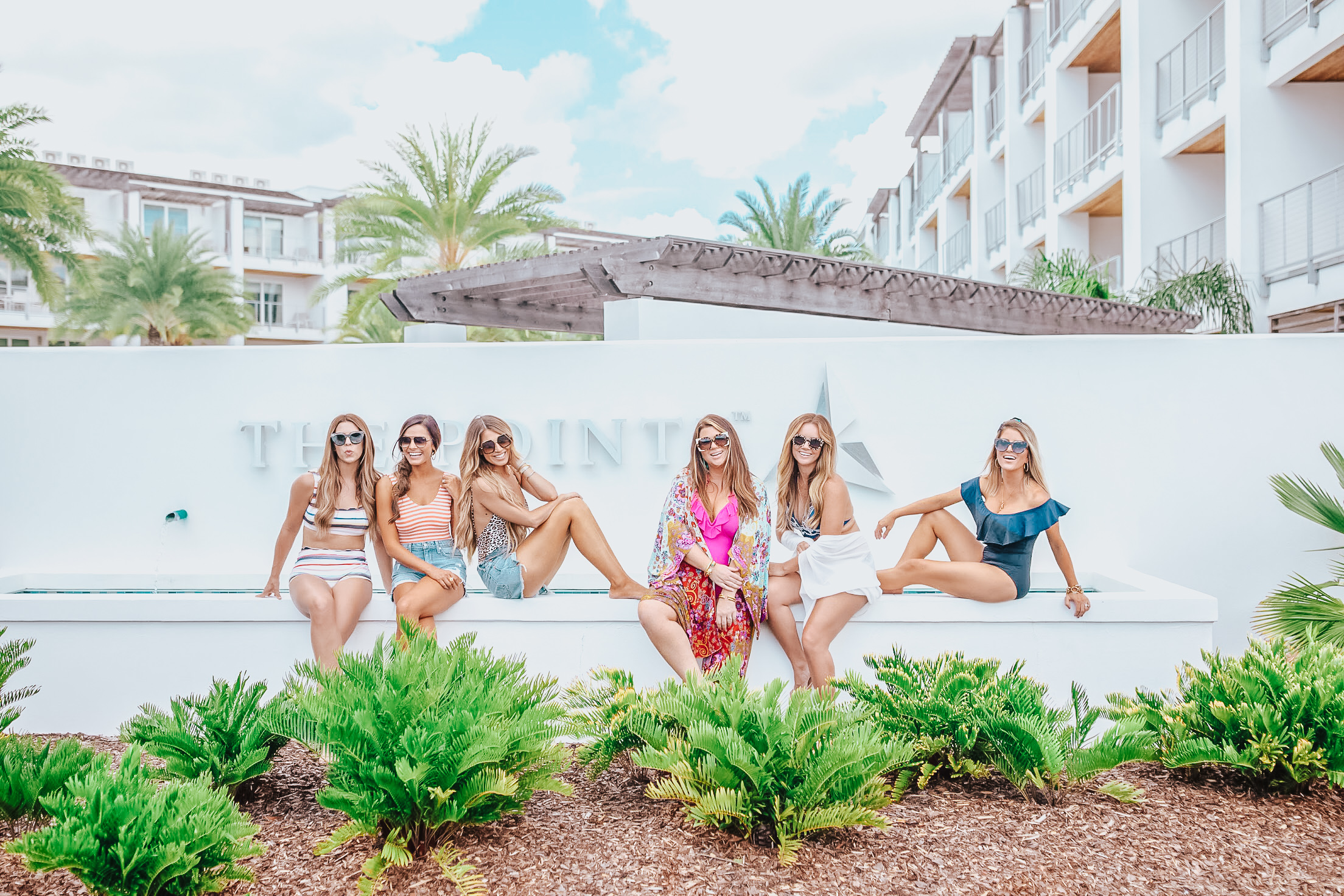 Views + Light Bites at Pescado
Another favorite spot on 30A, Pescado in Rosemary Beach is one of those places that feels like a dream. From the rooftop, there's beauty in every direction no matter what time of day. We devoured charcuterie, a few glasses of rosé and all decided we could move in with such chic styling.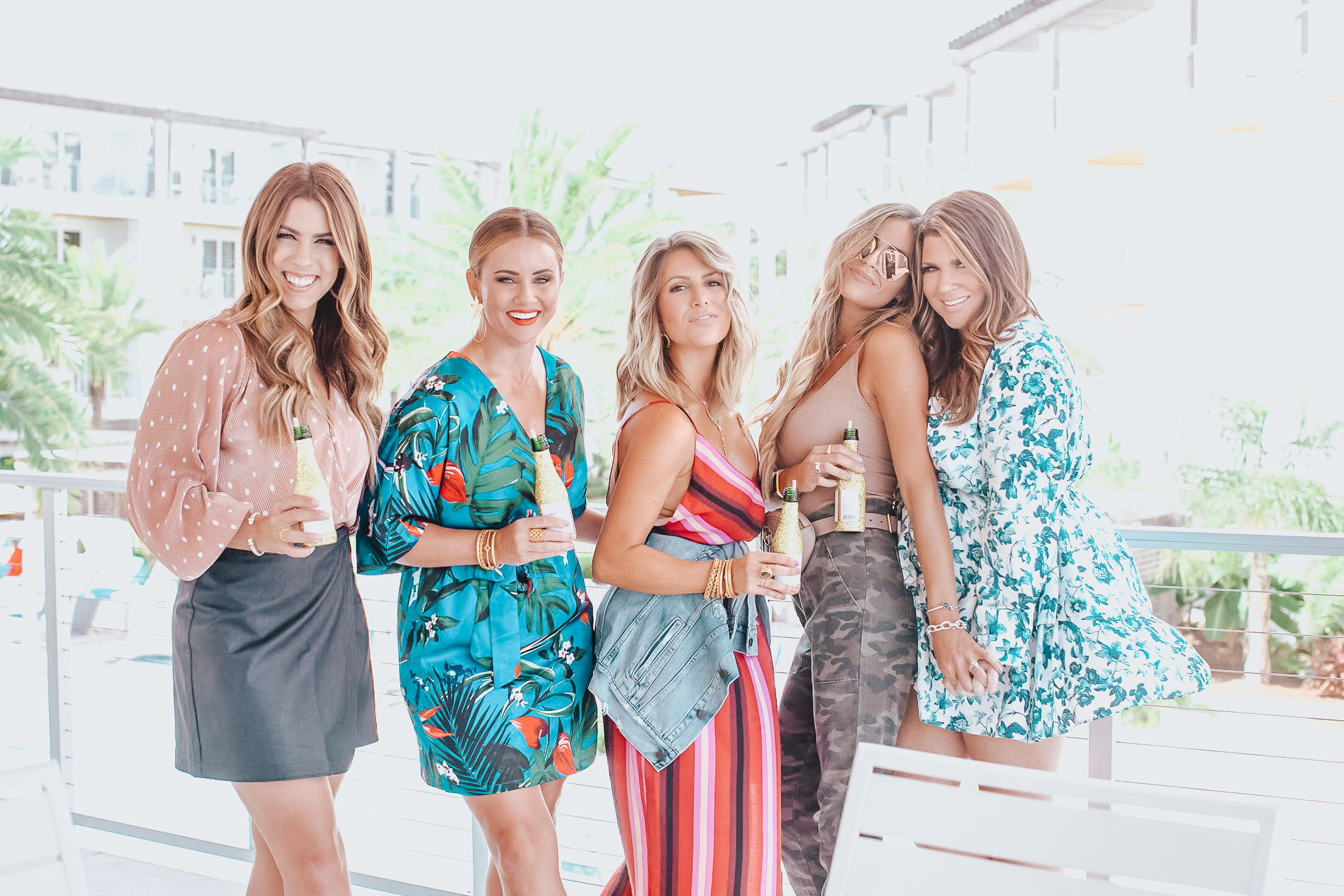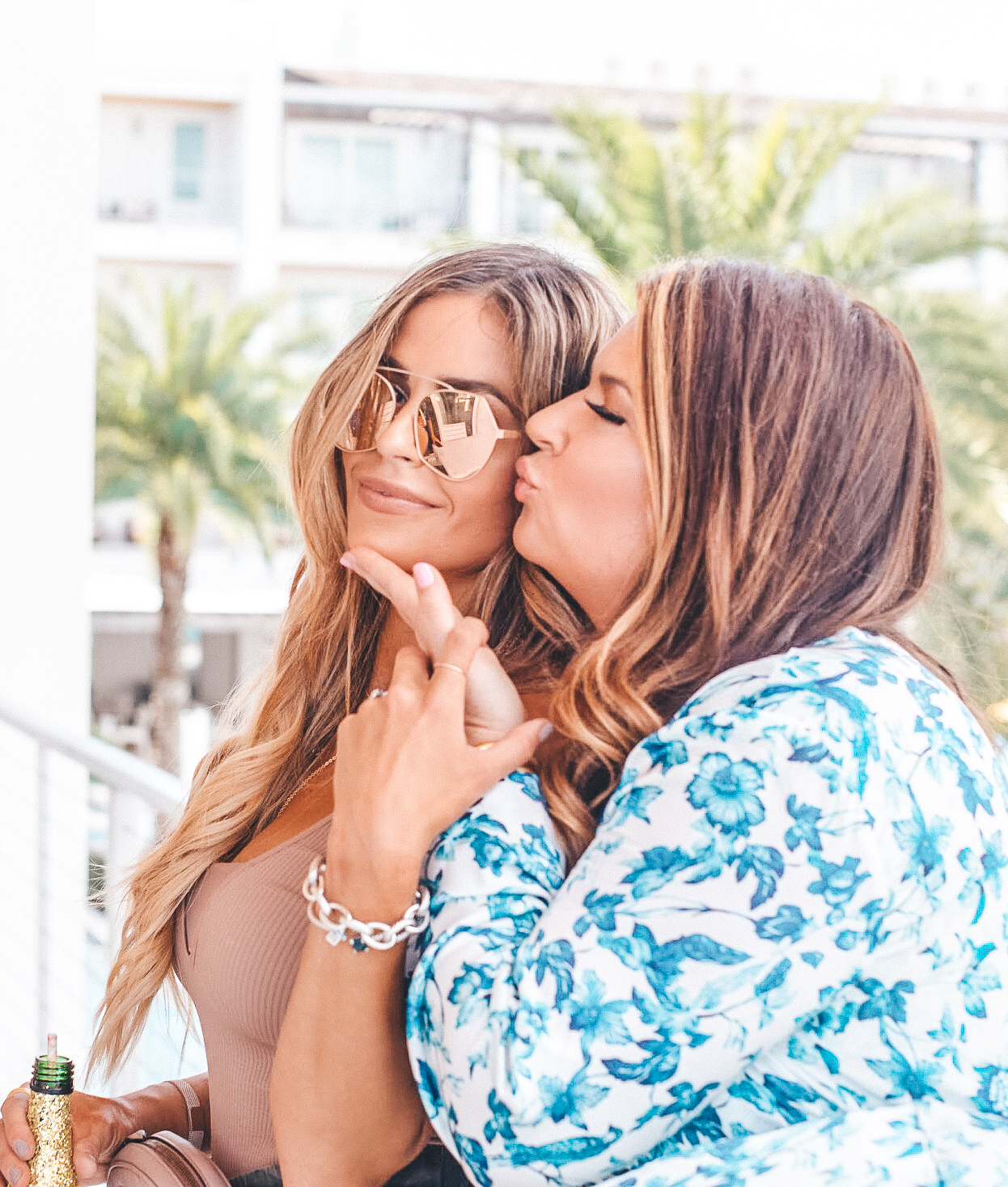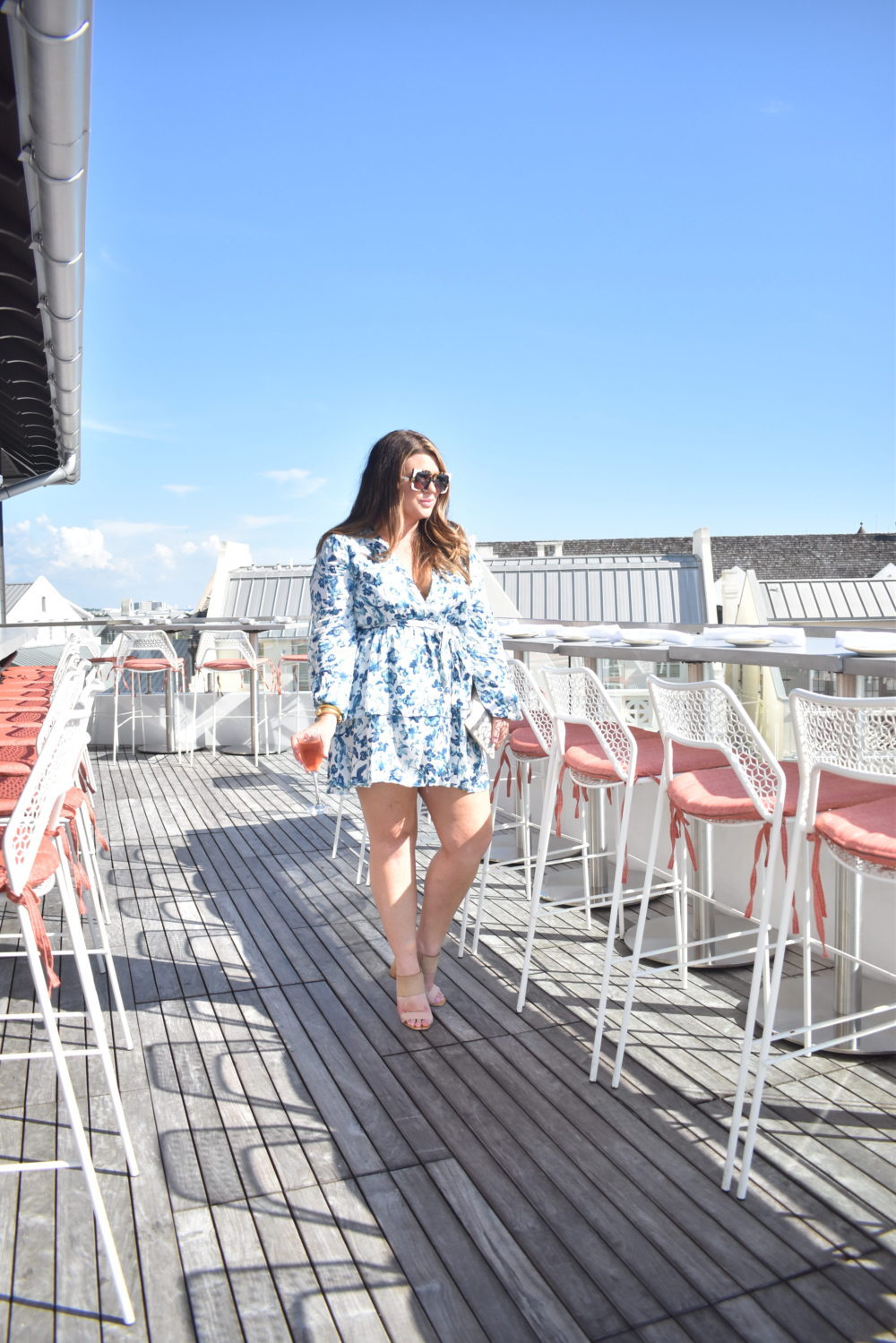 Shop My Wardrobe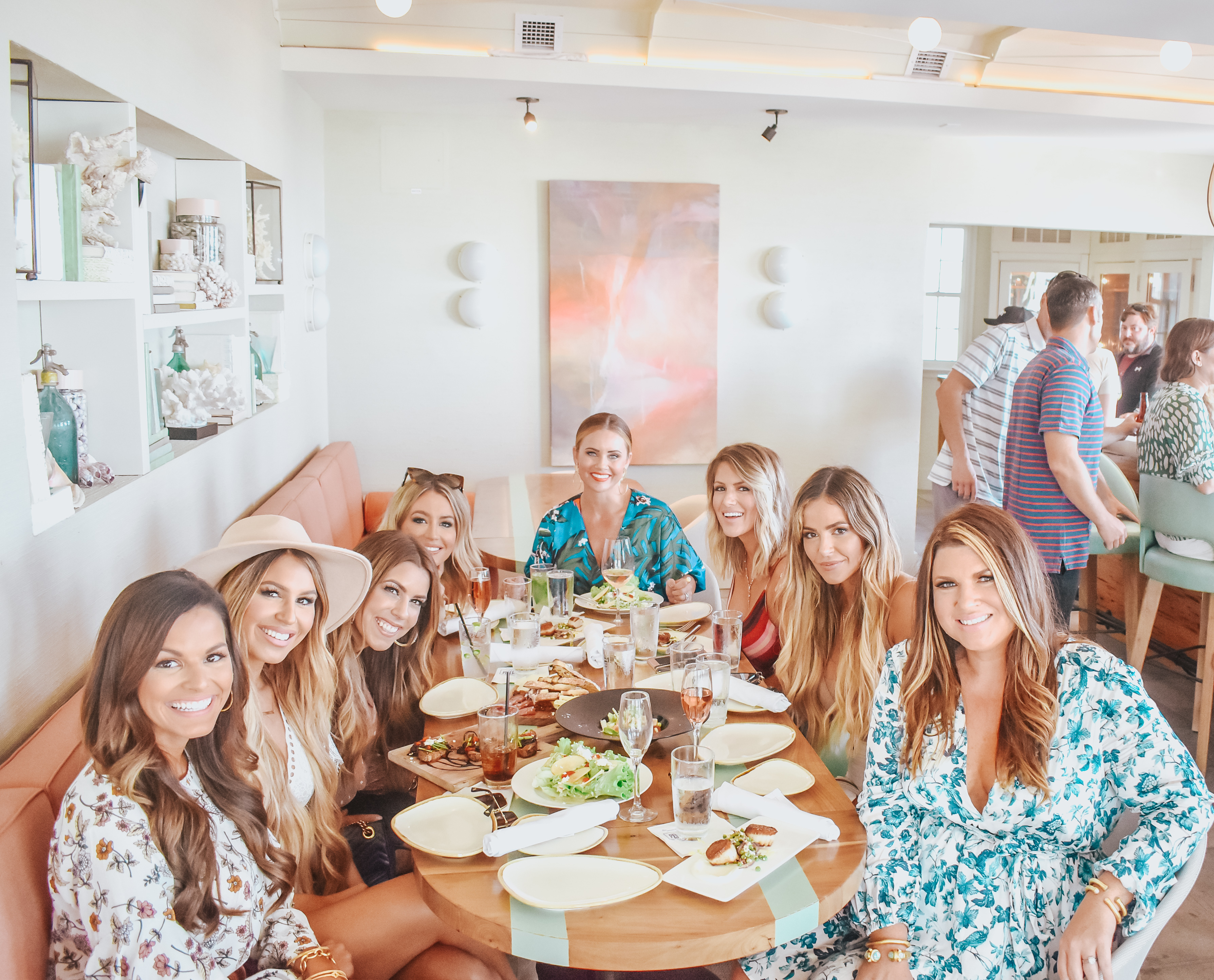 Dinner at Surfing Deer
If you haven't had the clothesline bacon at Surfing Deer, have you really experienced the 30A dining scene? It's one of those fun starters that instantly disappears, it's so good. This time around, I ordered a ___ for dinner and saved just enough room to enjoy a spoonful of dessert.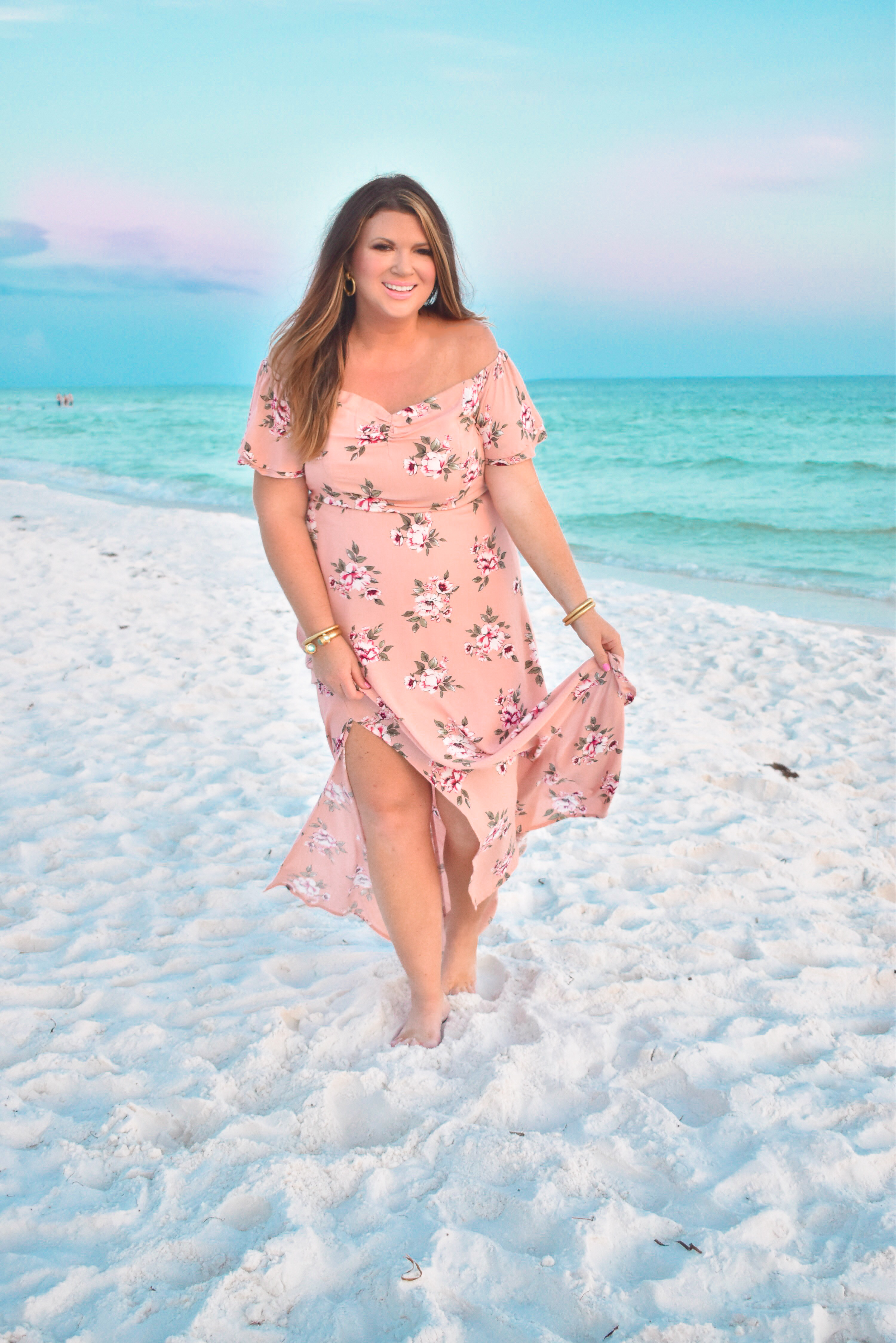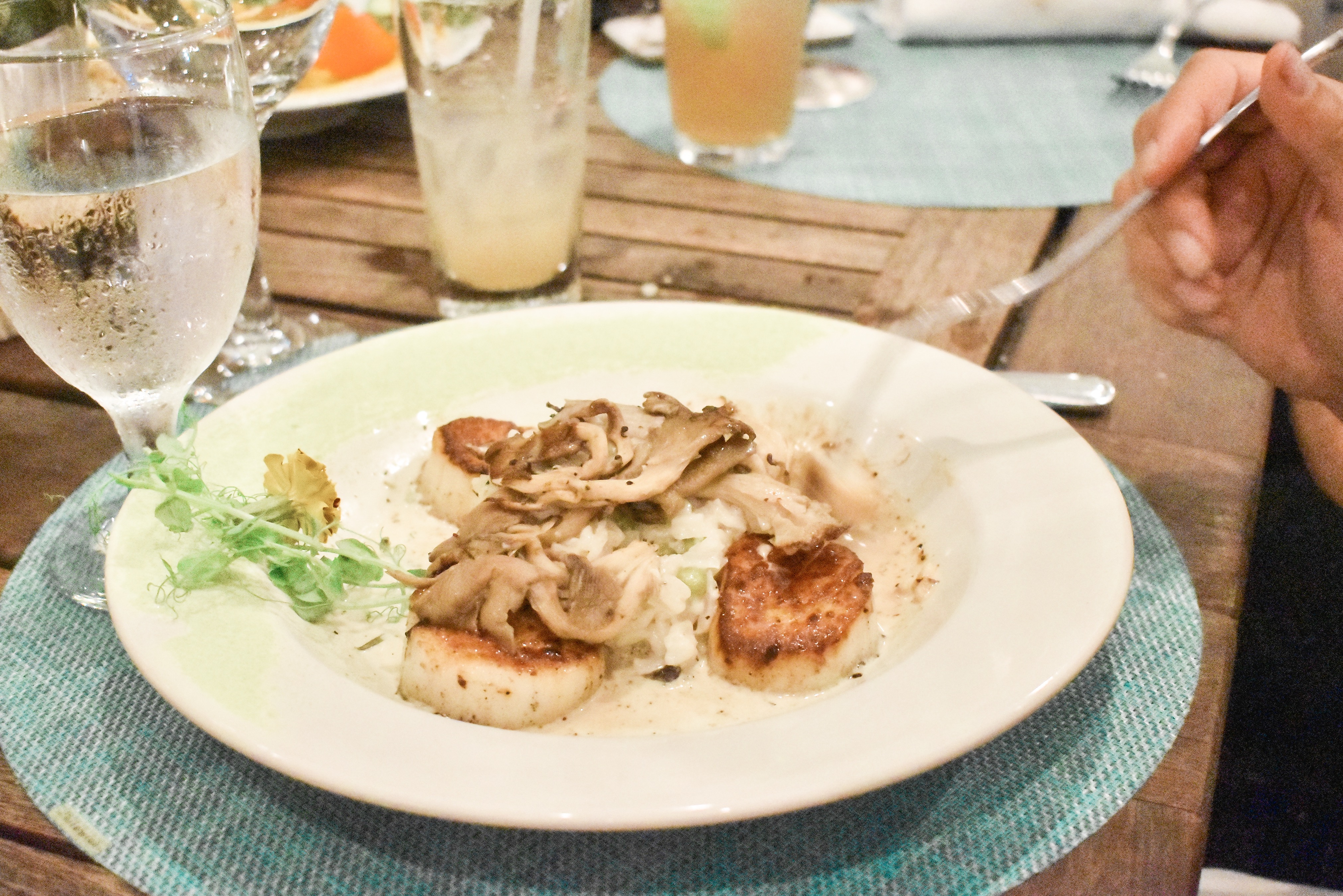 Brunch at Back Beach Barbecue
To finish off the weekend, we chowed down on our last meal together at Back Beach BBQ in Panama City. They were just taking the brisket off the smoker and gave us a sample as we ordered. It was so delicious, I couldn't help but change my order to that. We all shared a few sides from potato salad to baked beans and macaroni and cheese.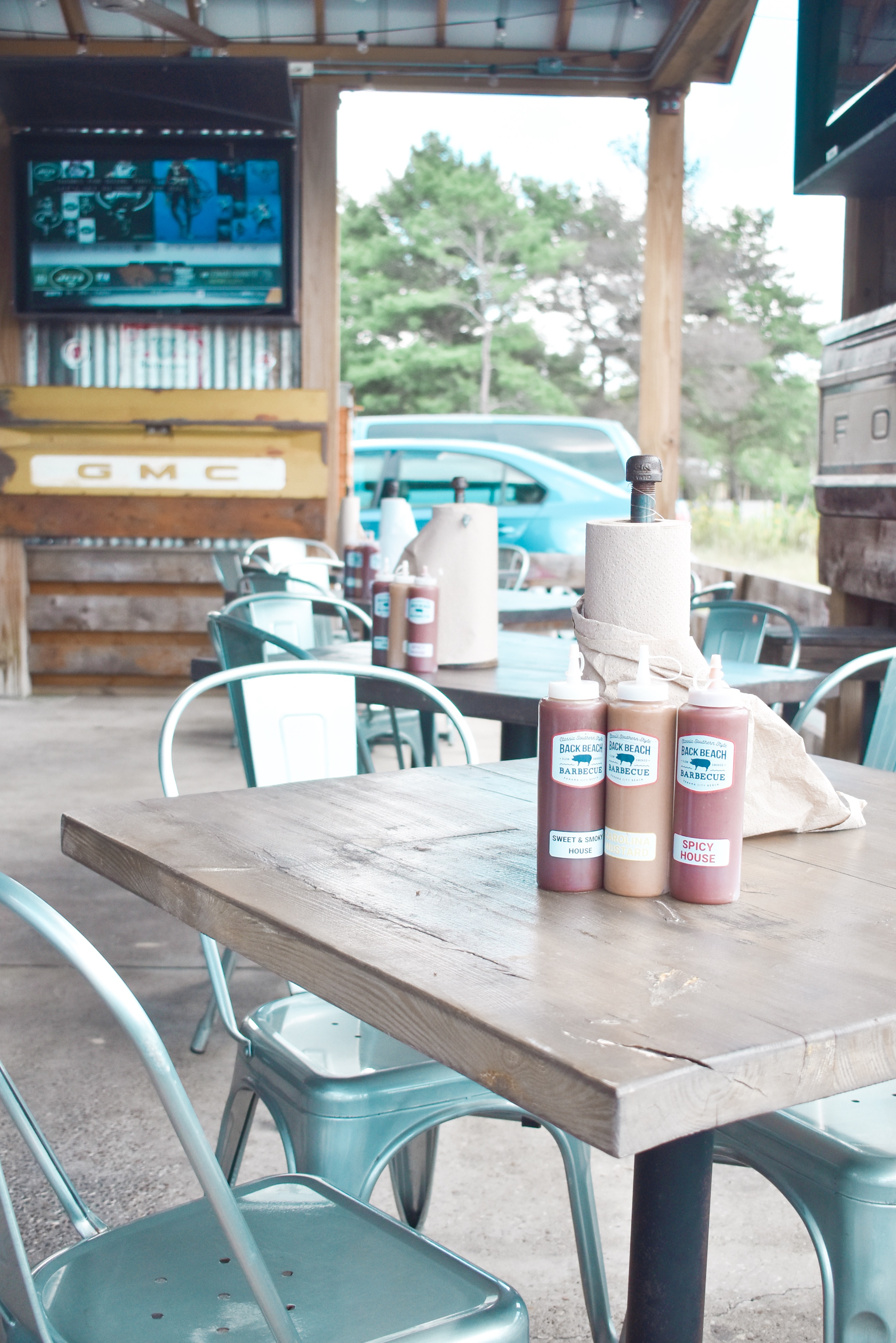 Thanks so much to ResortQuest and our hosts for including me in this group. It was so nice to connect with everyone and enjoy a little staycation in my favorite area.