Special thanks to Walmart for sponsoring this post. All opinions expressed are my own.
"Whoever said orange is the new pink was seriously disturbed."
Bonus points if you can name that movie! While I'm a big fan of thrillers and scary movies, I'll be the first to admit I prefer my Halloween festivities on the girly side with a splash of pastel. So instead of a super spooky, uber scary setup, the girls and I opted for a sweet pink Halloween brunch. Peach, pink, blush, bashful and a side of black and white is my idea of a pretty and festive palette.
When it comes to making the most of sweet moments with my daughters, I like taking simple activities and making them seem even more special through their eyes. It doesn't have to be fancy and really doesn't take a lot of effort, just a little creativity and a store with all the essentials. Mamas, I'm talking about Walmart here and I know you can appreciate this one stop shop and their everyday low prices. Costumes, indoor decor, outdoor decor, party supplies – you name it!
Since I knew we had a low-key, no-rush morning, we turned breakfast into a pink Halloween brunch with festive details that were too cute to spook and just a touch fa-BOO-lous. (I LOVE a good pun and listed a bunch of Halloween captions here.) We turned a plain glass of milk into ghost milk with flair and made over basic strawberry cream cheese bagels into BOOgels with googly eyes. After I tried one last year in this post, balloon swag is now my favorite party detail that is ridiculously easy to make and adds so much personality to a space.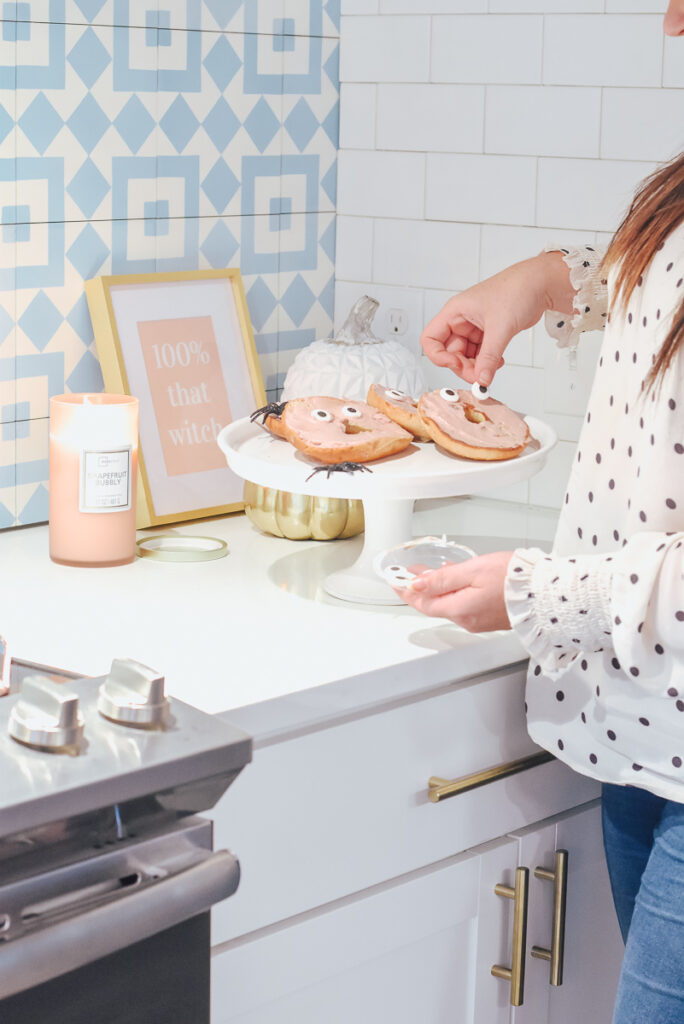 Pink Halloween Supplies
Here are a few things I grabbed at Walmart.com to bring it all together.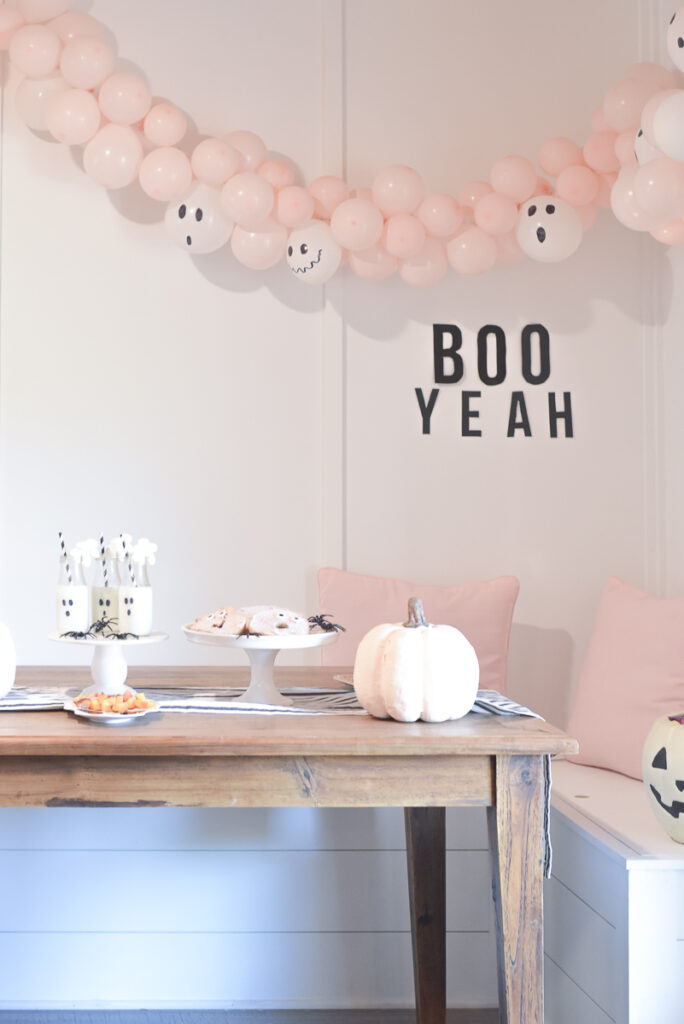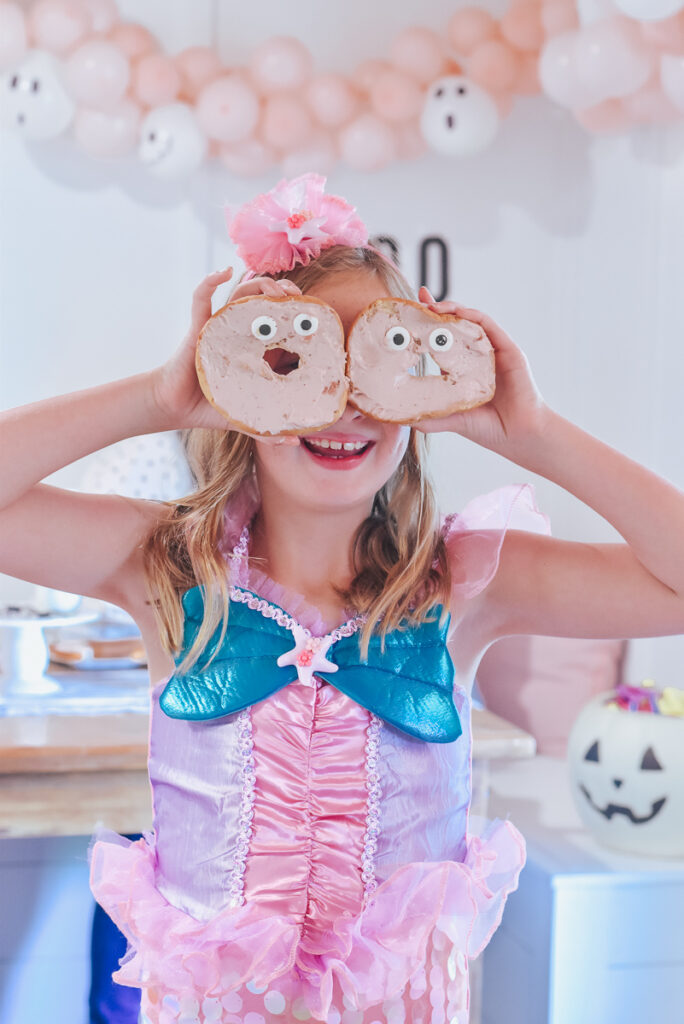 blush balloons + balloon tape (+ Sharpie-drawn faces)
cake stand (love this wooden one too!)
Ghost milk (small coffee bottles + a Sharpie-drawn face)​​​​​​​glitter spiders
bagels and Wilton candy eyes
glitter spiders
gold frame with this printable
skeleton plate with fruit crown
Halloween Costumes
Of course it wouldn't be a Halloween moment without costumes. Emery went for this fun sealife mermaid costume. The sequins are a total statement and the colors are precious. It even comes with a coordinating headband.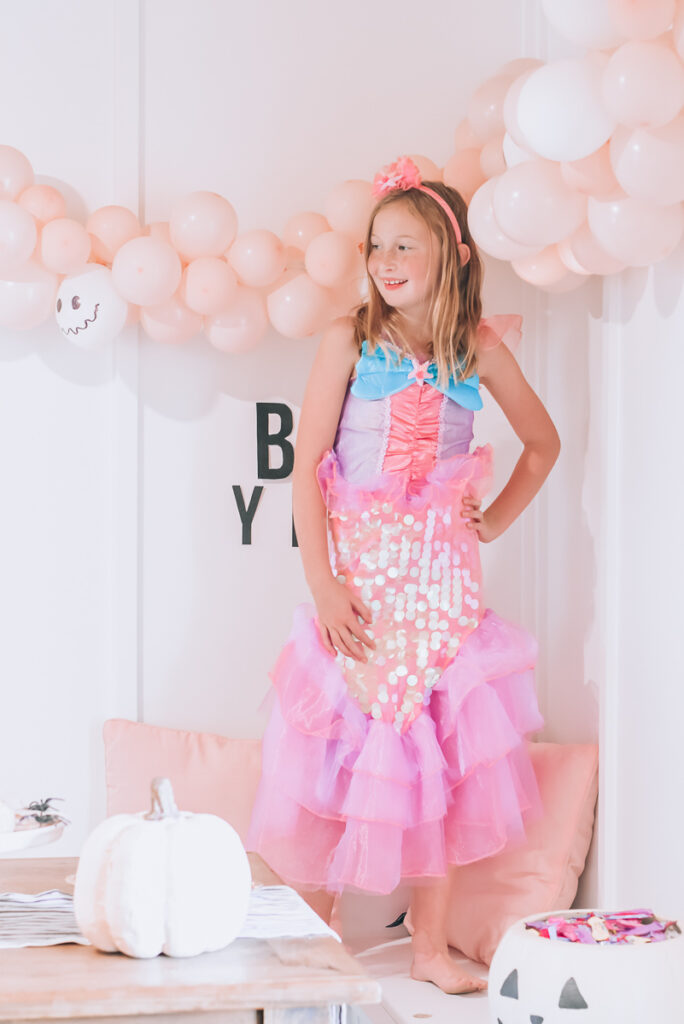 We've been watching the original and anticipating the release of the sequel, so I wasn't surprised Collins immediately grabbed this Disney Frozen 2 Elsa dress and Disney Frozen 2 Elsa shoes. She wore it all day and nearly to bed before I took it off for bath time.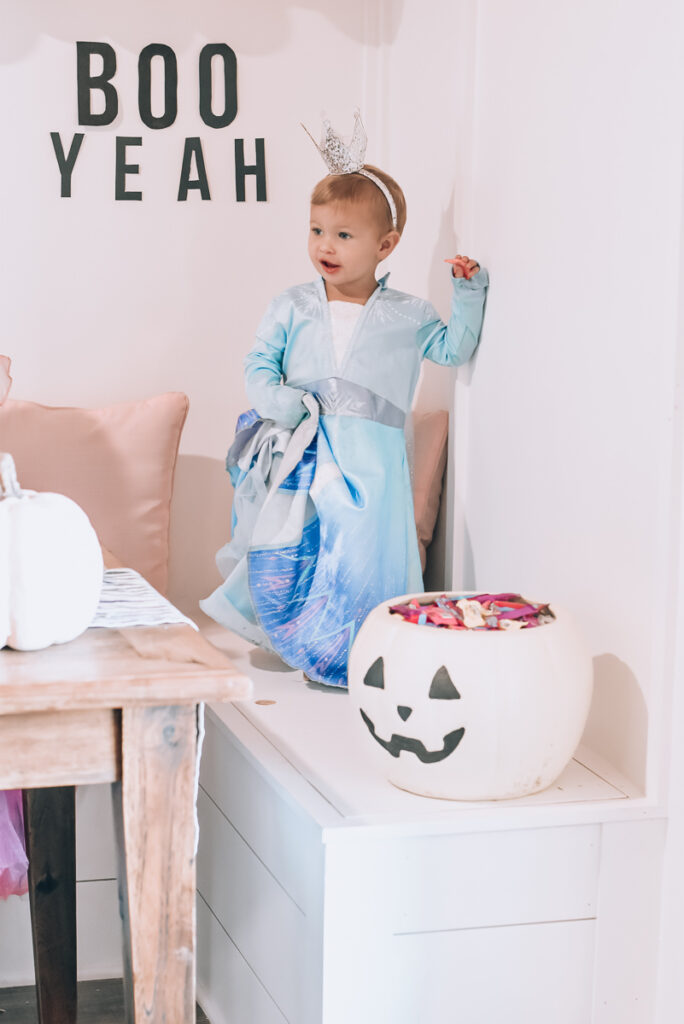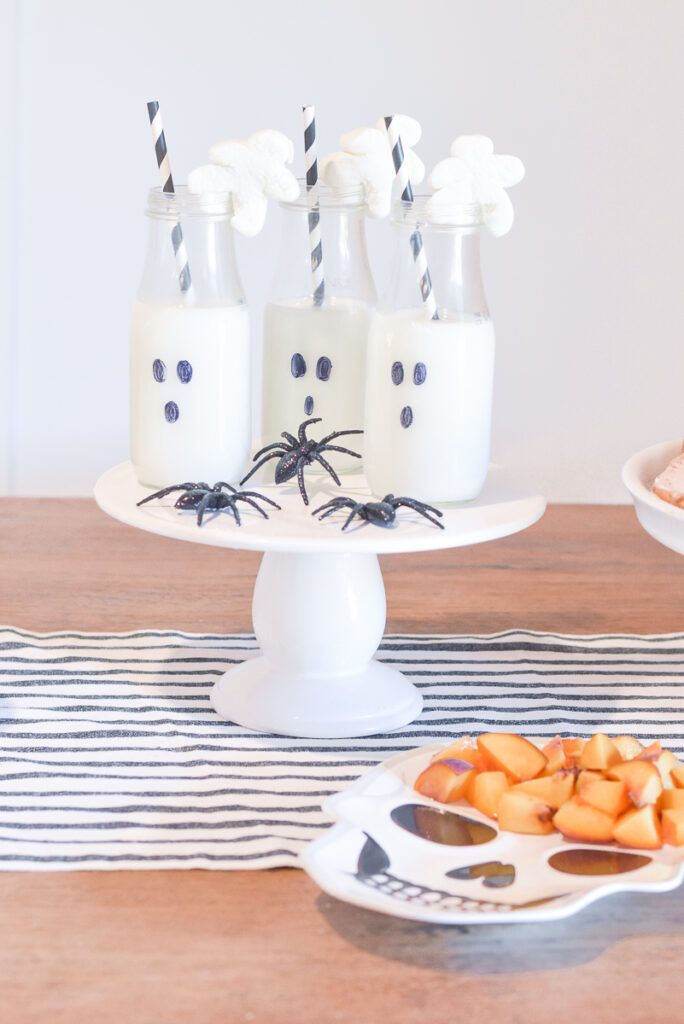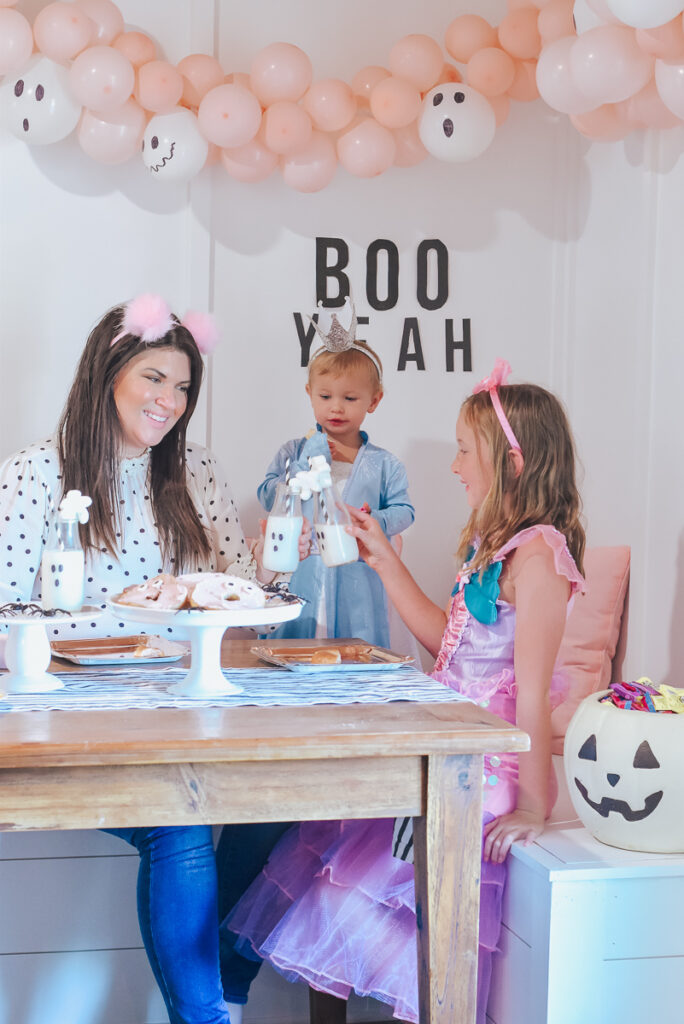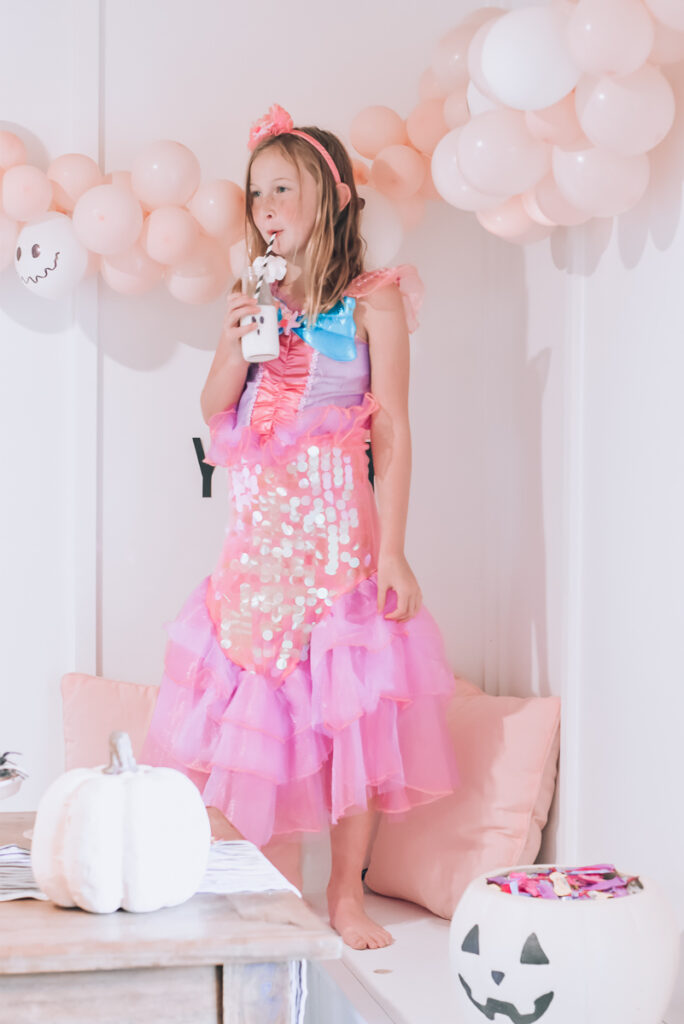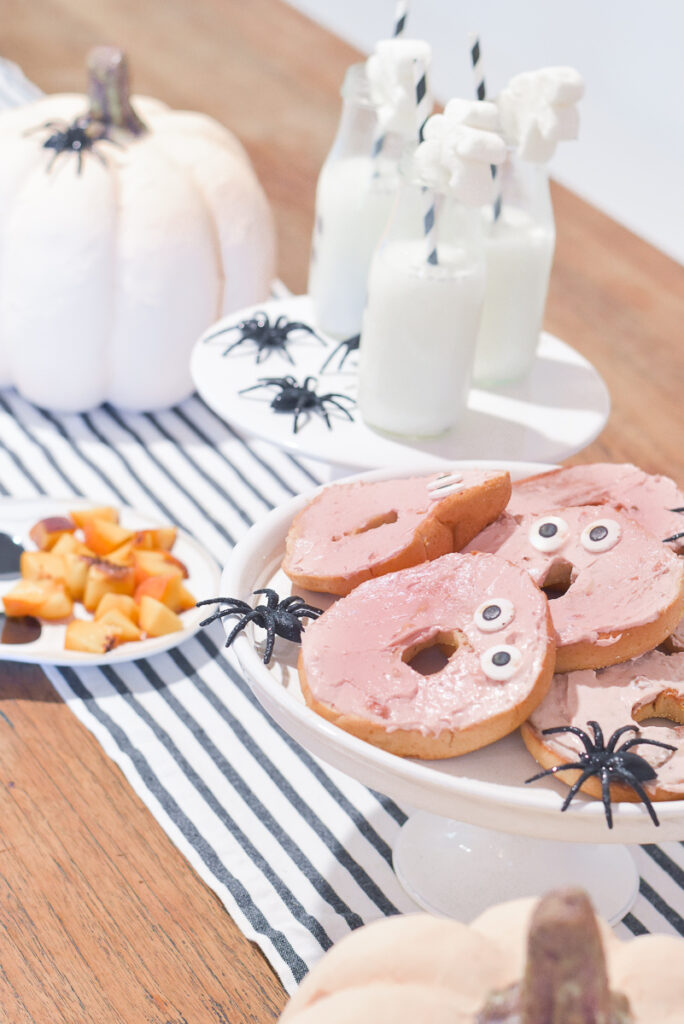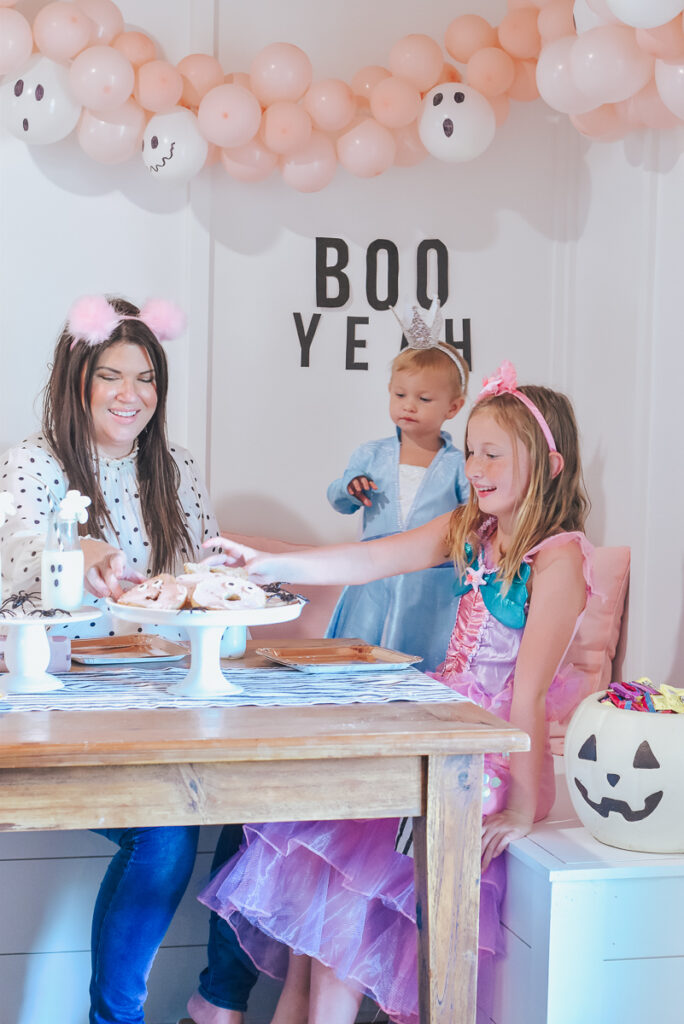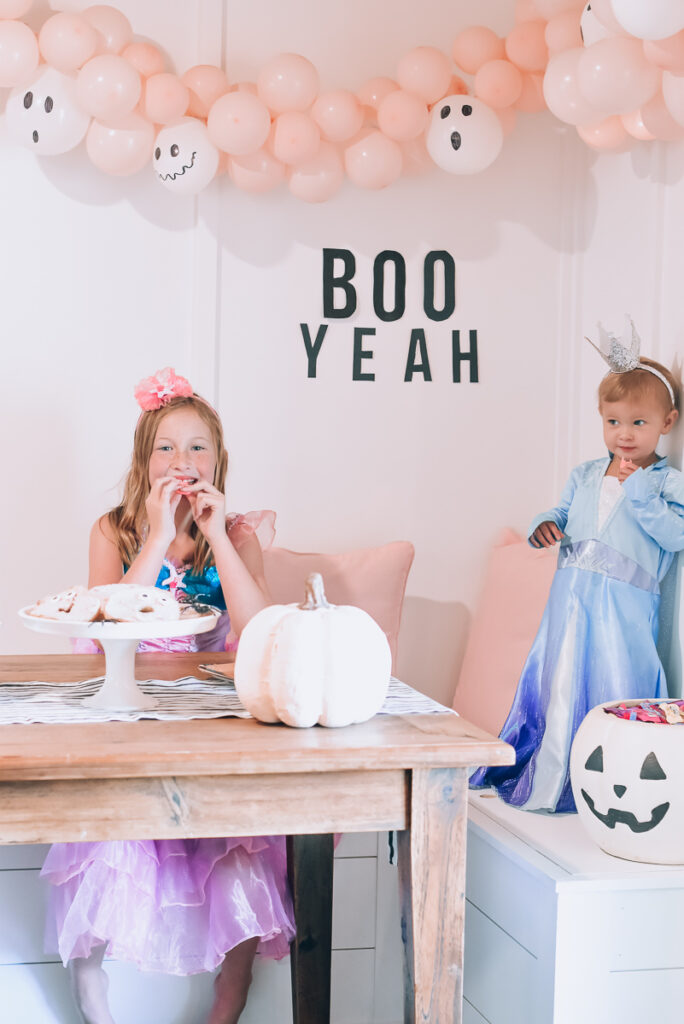 Other Costumes To Love

Clearly my girls are princess fans and love all things sparkly. BUT there are so many affordable costumes at Walmart from characters to classic Halloween to all things sparkly. The prices are so good. If you need coordinating costumes, a rose gold Minnie, pink Minnie and classic red Minnie are adorable. A few other favorites on the sweeter side are Princess Jasmine, Glenda the Good Witch. I'm anticipating seeing lots of PJ Mask characters on Halloween (Owlette), Gekko and Catboy) along with Descendants 3 (Audrey) and Toy Story (Buzz Lightyear). A couple other boy costumes that have been top sellers are Captain America, Black Panther, Storm Trooper, Minecraft Zombie, Ninja Turtles,​​​​​​​