Let's talk skincare! I can't tell you how much time and how many years I wasted not caring for my skin properly. Aside from the usual teenage breakouts or a zit that time of the month, I've always had pretty good skin with no major issues (unless you count being fair and freckled, which I used to loathe). I have combination skin — sometimes oily, sometimes dry — but since I didn't have an obvious problem area, I skimped on skin care because it didn't seem like a priority back then, but now in my 30s, I can't get enough!
I like experimenting with various brands to see what helps my skin look and feel best and over the last few years I've tried so many – some good, some great and some that work wonders. I don't get facials as often as I'd like, but when I do, the intake form always asks what brand I use or if I use a "mixed bag". I always check mixed bag because I'm constantly trying new products and like taking a multifaceted approach. Here I'm sharing my most used brands, products and what I love about each of them.
What Order To Apply Skincare
But… First things first: how to layer skincare. This may be elementary for you skin care aficionados, but I used to always get confused on what order to apply my products. Is it the serum then the moisturizer or the eye cream then the face oil? If you're using multiple products, it can be tricky, but overall the key is to apply the lightest to the heaviest so each products can have its best chance to soak in and do its job.
It becomes routine and, of course, there are variations if it's a day you exfoliate or put on a mask, etc, but I created this guide to help!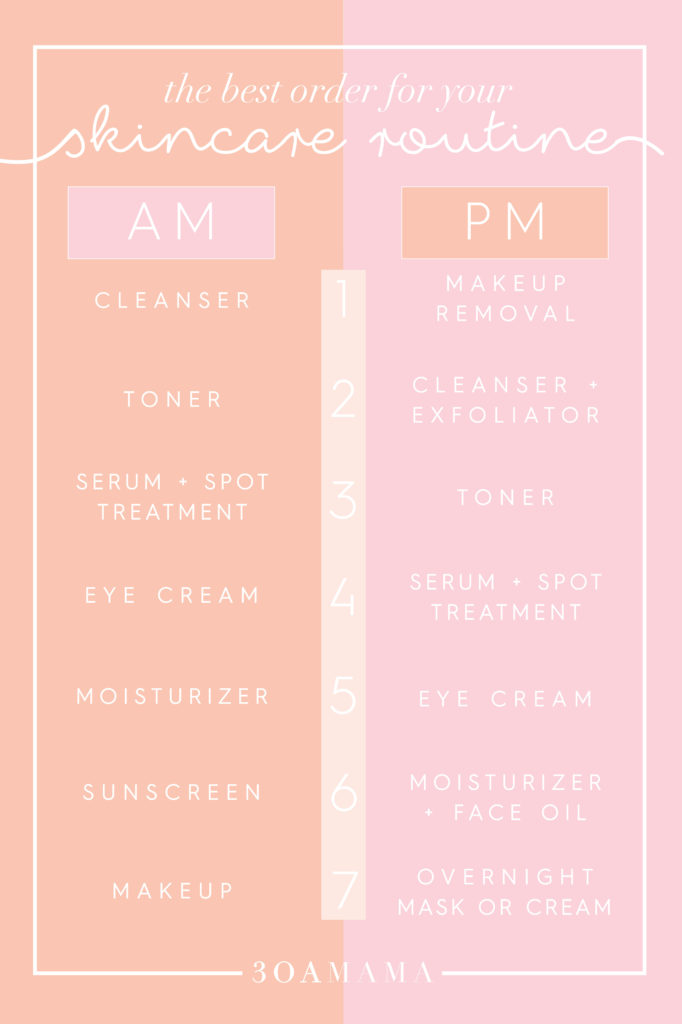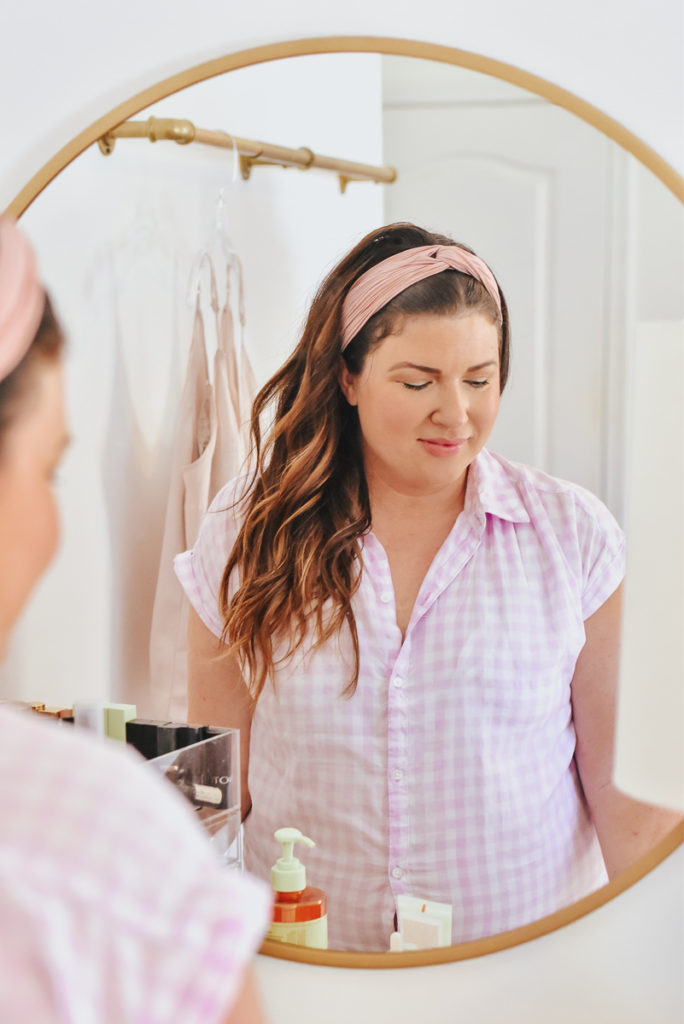 Cleanser
Of course I love a good make up wipe when I'm traveling or doing a shortcut routine, but as I get older, I try to use these less and remove my make up in a more gentle way without wiping. I like cleansing creams like Kate Somerville exfoliKate or Tula purifying face cleanser. Since I usually have on a full face of makeup, this step is key to removing the day's look and making sure skin is prepped to receive all the goodness that comes next.
Toner
I used to skip this step, I'll be the first to admit, but now I can tell a big difference in taking the time to apply toner. It really just gives one more pass at making sure skin is clean (no more oil or makeup!) and helps tighten pores after cleansing. I love to use Pixi Glow Tonic and even have personalized pumps. I recently tried the new Pixi Rose Tonic and typically use that as my travel toner, but also have been alternating the Tula Pro-Glycolic 10% pH Resurfacing Toner. For toning, I dab on with a cotton pad, trying not to swipe as much as pat in gently.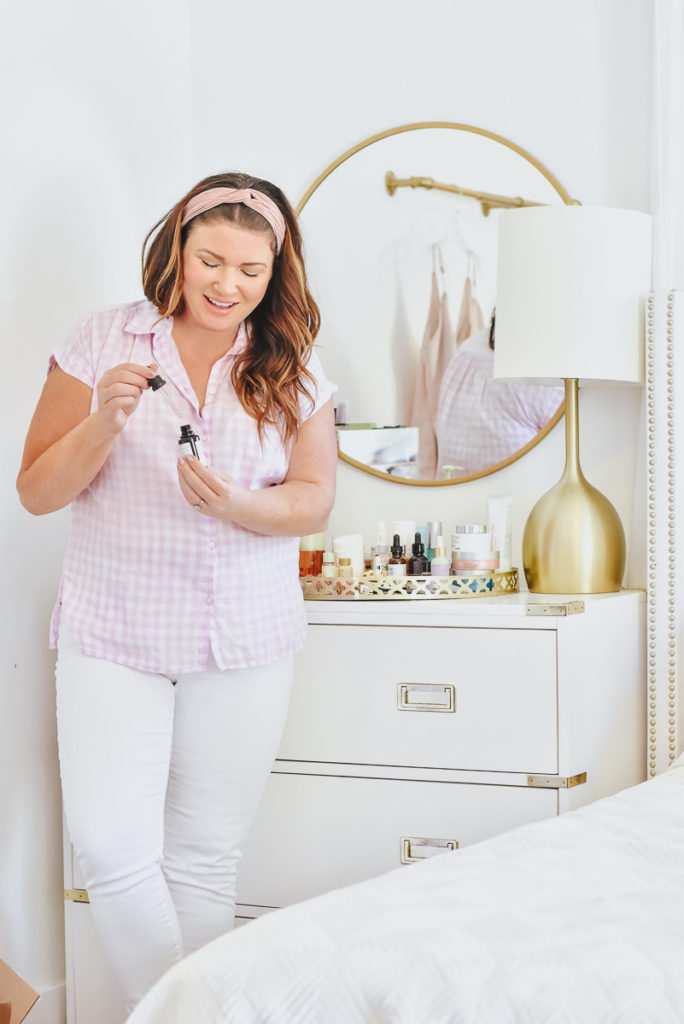 Serums
If you're not into serums just yet, let me start by saying serums are a woman's best friend! These are like the concentrated super heroes of skin care. Depending on what your skin needs, you can find a serum to focus on a specific condition and let it do its job all day and night.
Lately, I've been loving Edible Beauty No 3 Exotic Goddess Age Serum, Skinceuticals H.A. Intensifier, InstaNatural Vitamin C Serum, philosophy's When Hope Is Not Enough Serum, and especially for nighttime: Pixi Overnight Glow Serum. These favorites have Vitamin C (to give antioxidant support and defend via ingredients like kakadu plum extract, acerola cherry), hyaluronic acid (which helps firm, smooth and plump by hydrating), aloe vera and jojoba oil (to increase radiance) and white tea extract (to combat collagen and elastin depletion). You can even mix on your hand and apply together or alternate serums on different days/nights. Your skin will feel a little sticky or tacky after this, which is normal, so I just let it sit a couple minutes before moving on to the next step. I've found night is best to layer multiple serums and I don't mix more than 3. Also, if you're doing retinol or acne treatments, be careful how you mix so as not to negate the benefits or disrupt your skin.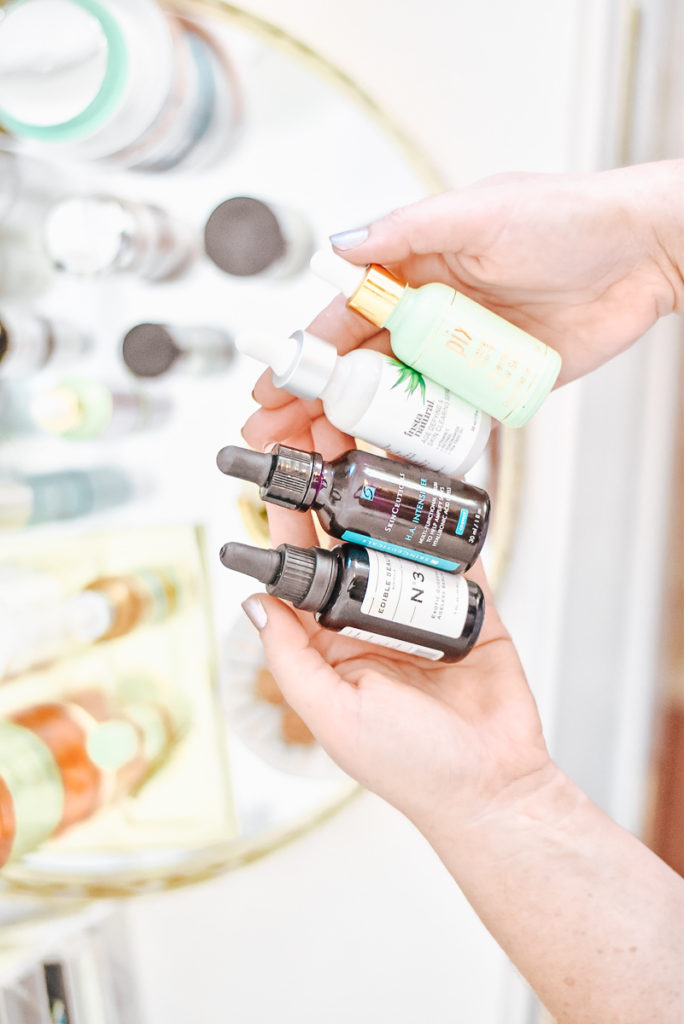 Eye Cream
This is another one of those steps I wish I hadn't skipped for so many years! I do eye cream right after serums so they can both soak in together. I like to dab either Erno Laszlo Antioxidant Complex For Eyes or Skinceuticals Eye Balm on the undereye and crow's feet areas. In the morning, I use Dr. Brandt Needles No More No More Baggage Eye Depuffing Gel at this step before applying makeup.
Since eyes and the surrounding skin are the most sensitive area, here are a few things I've learned as far as where, how and how much to use when applying eye cream:
use your ring finger for the gentlest application
pat product into skin and never, ever rub your eye area
use a pea size amount of product
avoid the inner half of the under eye area. Focus on the outside corner and up/around to the brow bone.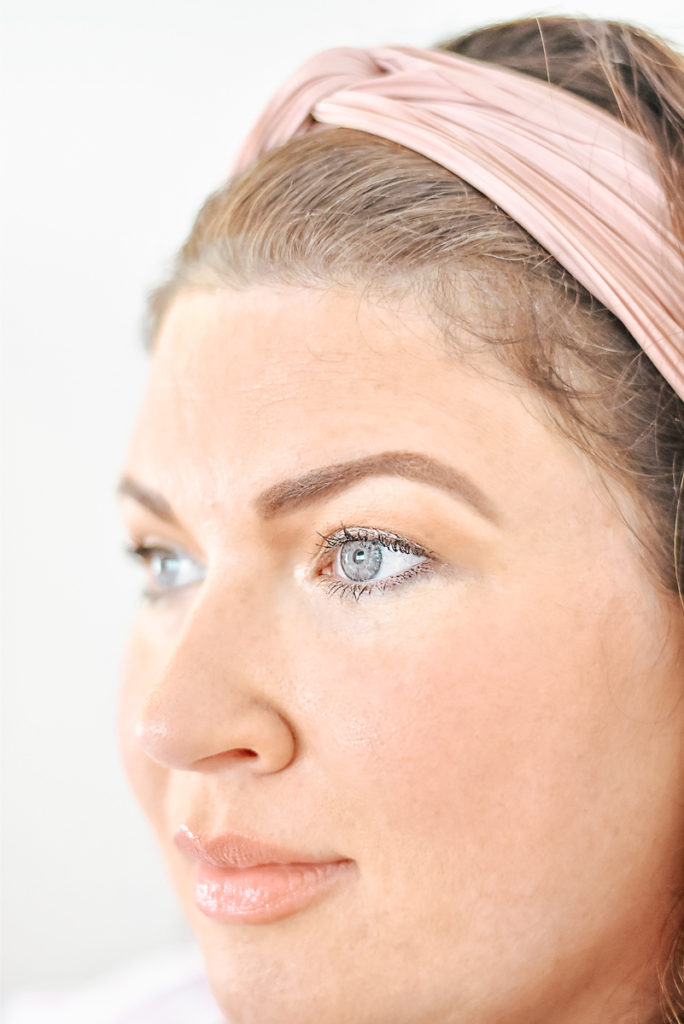 Moisturizer + Face Oils
This step is one of my favorites because it's the chance to really let your skin hydrate, which automatically feels so amazing! I did a couple posts on my Olay skincare challenges here, which was so fun, and lately I've also been loving InstaNatural Vitamin C Moisturizer Cream, which helps hydrate as well as combats aging and uneven skin tone. I also like Osea Atmoshpere Protection Cream before makeup with its algae and avocado to help defend and nourish under makeup. I've also really gotten into facial oils and my favorite by far has been this Jasmine Oil Blend, which not only smells amazing, but feels wonderful. I use less for day than night of course, but love the feeling of hydration it gives.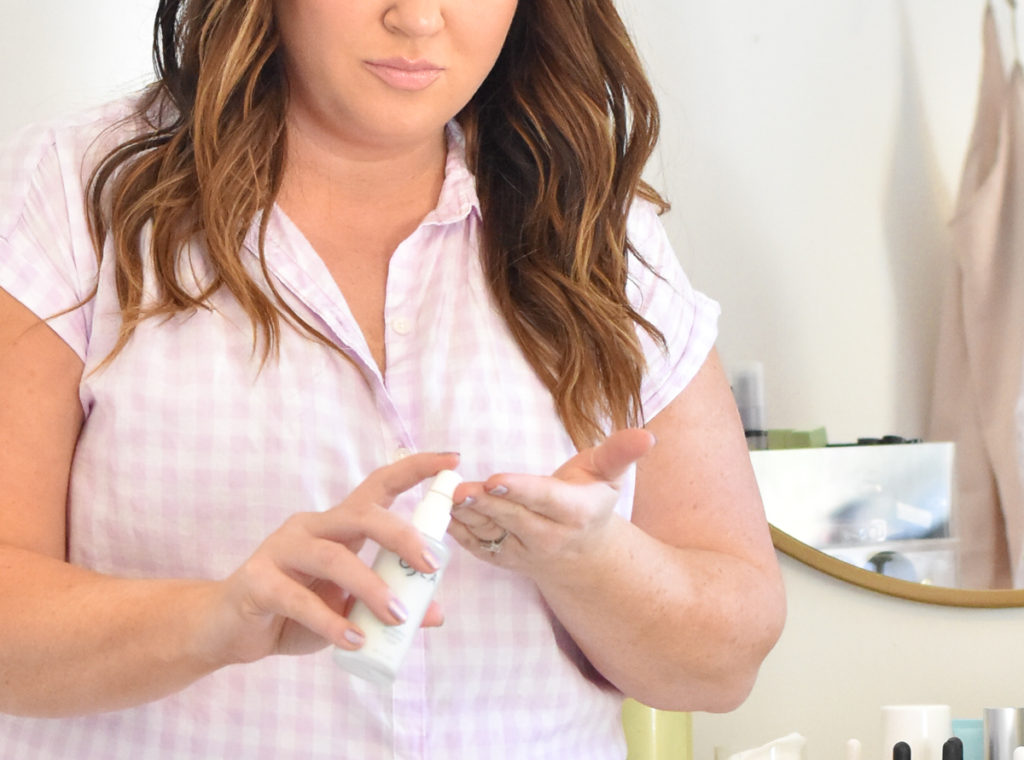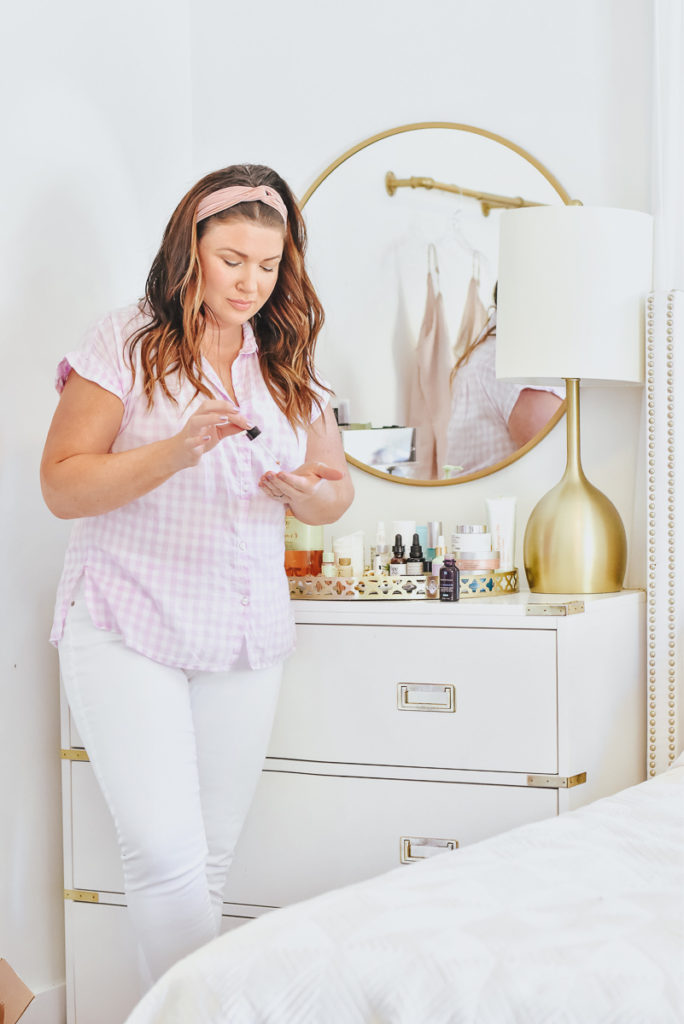 Overnight Masks and Creams
This is where a nighttime routine really pays off! I love piling these on before bed to wake up feeling refreshed with soft smooth skin. In addition to the Pixi Overnight Glow Serum, I've been amazed by the Dr Brandt Hydro Biotic Recovery Sleeping Mask (Sephora link if you prefer) and feel like I have baby soft skin in the morning after using. If you only try one new product, try that one! I also use this Peter Thomas Roth Pumpkin Enzyme Mask Resurfacer seasonally as needed and always think of fall when I smell the amazing pumpkin scent.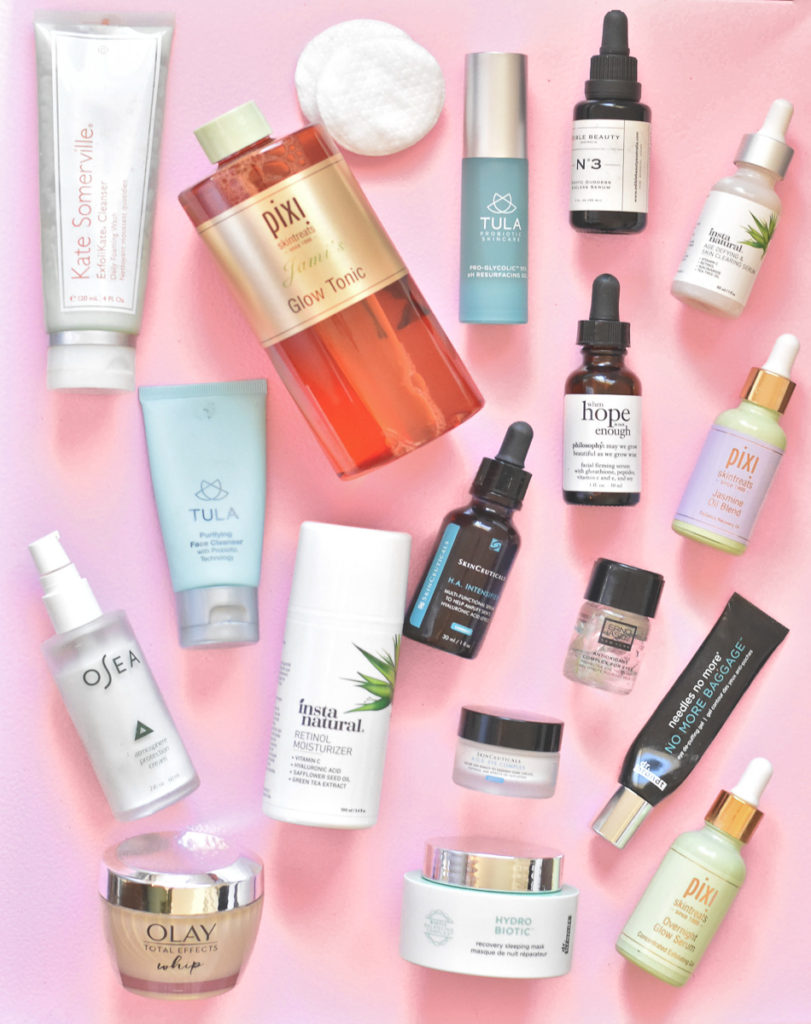 As you can see, right now my approach to skincare is a mixed bag of products from a variety of brands. I'm still exploring and love discovering new treatments to fight aging and make sure my skin stays hydrated. I'd love to hear what products you find yourself using again and again. Leave your tip in the comments!