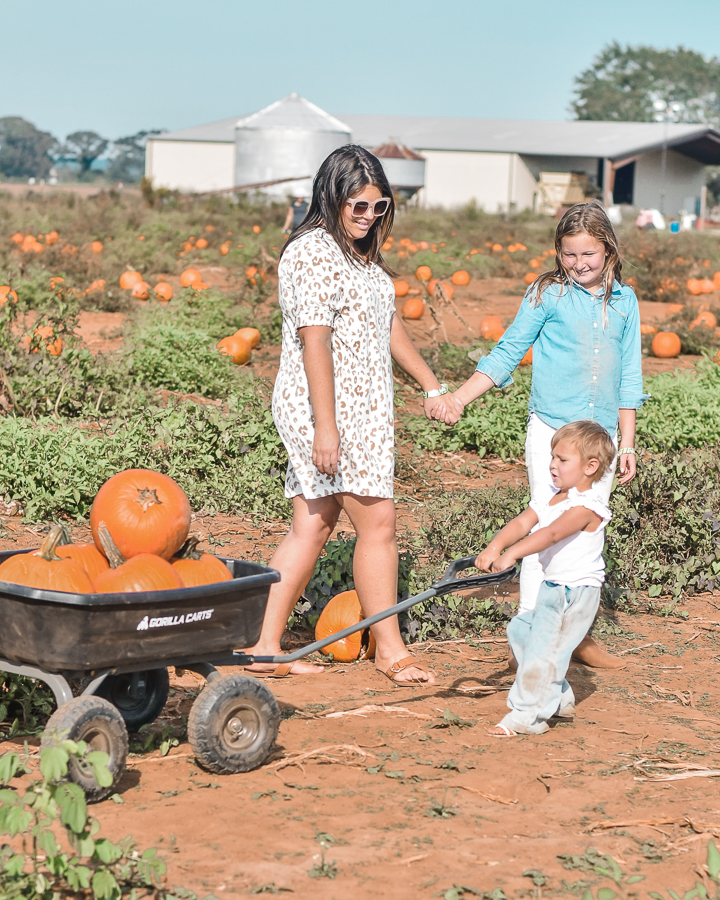 If you're looking for a fun outdoor activity for you and the family this fall, it might be time to go pumpkin patch hopping. We don't have a ton of farm options and true pumpkin patches, but these local spots do such a good job of putting together adorable fall moments and pumpkin-perfect vignettes. Definitely worth a visit for a memorable afternoon and plenty of fresh air.
Holland Farms
Location: Milton, FL
Open: Sunday 9am – 6pm and Monday-Saturday 8 am – 6pm beginning Sept 26
Cost: $12 per person (2 and under are free)
Activities: pick-your-own pumpkin patch, corn maze, zip line, hay ride, mini train rides, pedal tractors, photo ops and more.
Camp Helen Pumpkin Patch
Location: Inlet Beach / Panama City Beach
Open: daily 9am – 4pm
Cost: free admission, rates vary based on pumpkin sizes
Activities: mini pumpkin patch and fall photo ops
Pro Straw Pumpkin Patch
Location: 4401 US Hwy 98, Santa Rosa Beach, FL
Open: Monday – Saturday, 9am – 4pm
Cost: free admission, rates vary based on pumpkin sizes
Activities: pick-your-own pumpkin patch and photo ops
Mary Esther Methodist Church Pumpkin Patch
Location: 703 E Miracle Strip Pkwy, Fort Walton Beach, FL
Open: daily 12pm – 8pm (awaiting pumpkin delivery)
Cost: free admission, rates vary based on pumpkin sizes
Activities: pick-your-own pumpkin patch and photo ops