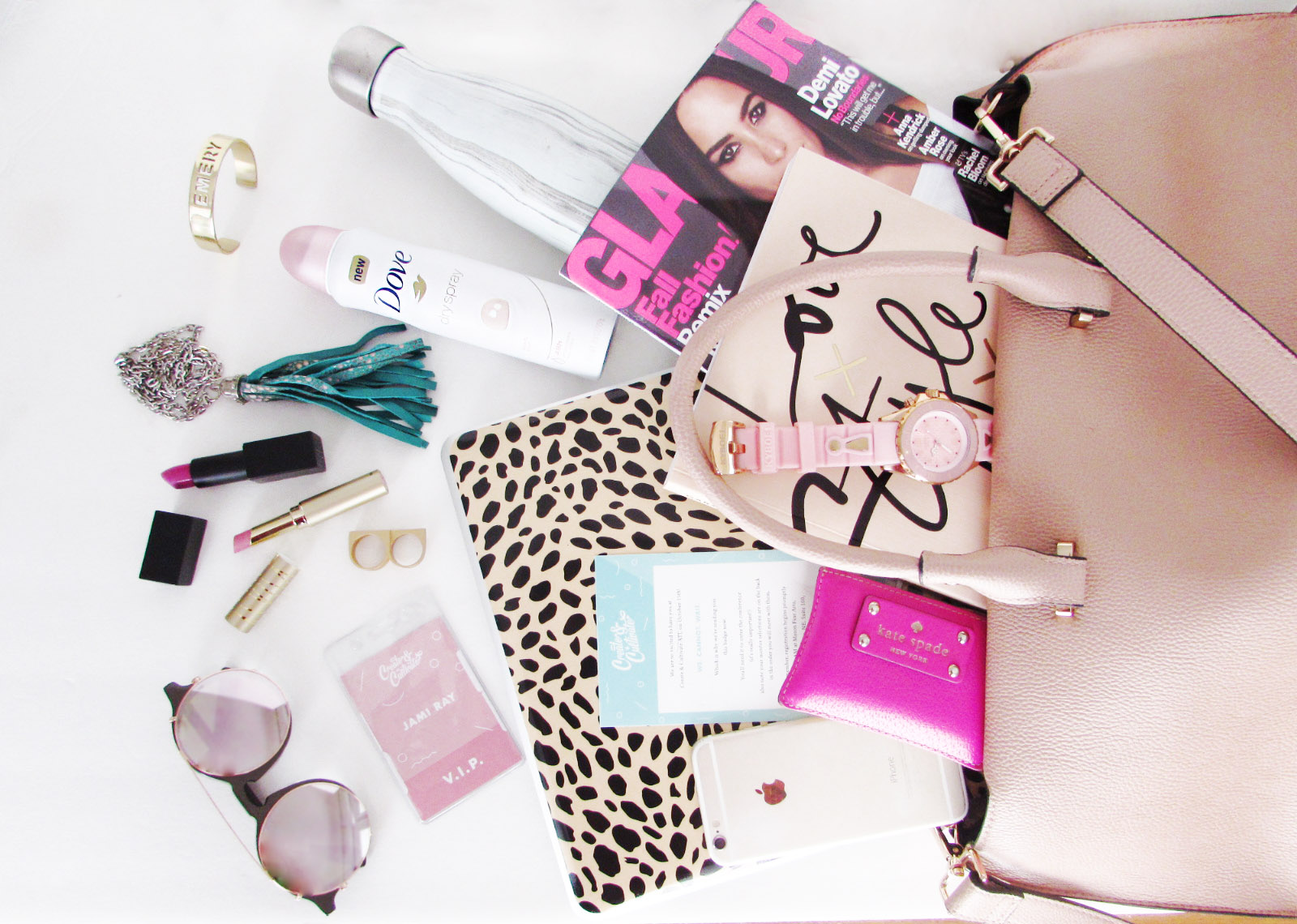 I am so excited to head to the ATL this weekend for the Create + Cultivate conference. If you have never been or aren't familiar, I highly recommend adding it to your wishlist of conferences, particularly if you are a female entrepreneur or work in digital media. It's an incredible place for bloggers, but there are so many more roles beyond that. Speakers include those in PR, design, retail, event planning, food, entertainment and more. For today's Friday Five, I'm focusing on what I'm packing (pictured above) and what I'm most looking forward to. Here we go!
1. The VIP Badge.
There are two options when you register for Create + Cultivate, VIP or General Admission. If you can work it into your budget, spring for VIP status. You are then able to select your own track of the two possible schedules which means you can choose which set of panels best meets your needs. To me, this was important so I could attend the sessions most relevant to my everyday tasks and objectives. Plus, as a VIP,  you get first pick of the mentors during the mentor sessions, access to the VIP lounge (cozy place to rest your feet during a 12 hour day) and a major swag bag.
2. Keeping it Cool.
I'm so excited to partner with Dove to put their Dry Spray Antiperspirant to the test in Hotlanta. This little gem smells divine and has an instantly dry application with all the care of Dove. Living at the beach surrounded by Florida heat and humidity, I know how important it is to have a product I can rely on so I can focus on other things in the moment, not whether or not I'm visibly sweating. At Create + Cultivate, I will be in a room full of women, many of whom I admire and follow on social media. Having the opportunity to chat one-one-one with these ladies is enough to trigger an episode like Kate Hudson in How to Lose a Guy in 10 Days when she gets so nervous she puts tissues under her arms. (Ha! Y'all know what I'm talking about!)
3. The Photo Booth
If you're also attending this weekend's conference, make sure to stop by the Dove Photo Booth. We all love a cute photo op (never met one I didn't like!) and the sweet team at Dove will be onsite ready to hit the flash. Plus, check out the new Dry Spray products to find your favorite scent. (I'm loving the Beauty Finish!)
4. The C+C Lineup
Courtney Kerr. Ayesha Curry. Mandy Kellogg Rye. Meghan Markle. Sarah Michelle Gellar. Nicole Richie. The list goes on! Those are just a few of the names that make me super excited to attend the conference.
5. Drive Time + Audio Books
Let's keep it real here. A mini road trip means a healthy amount of alone time to unwind, brainstorm and be one with my thoughts. It's a rare thing and this season has been majorly full. I've been listening to this book on Audible which is really a good listen. It's a wonderful reminder that we're all dealing with the same challenges as moms, wives and entrepreneurs and I love the way Jen Hatmaker shares her perspective. Can we be friends?
Be sure to check back for my full C+C recap next week!