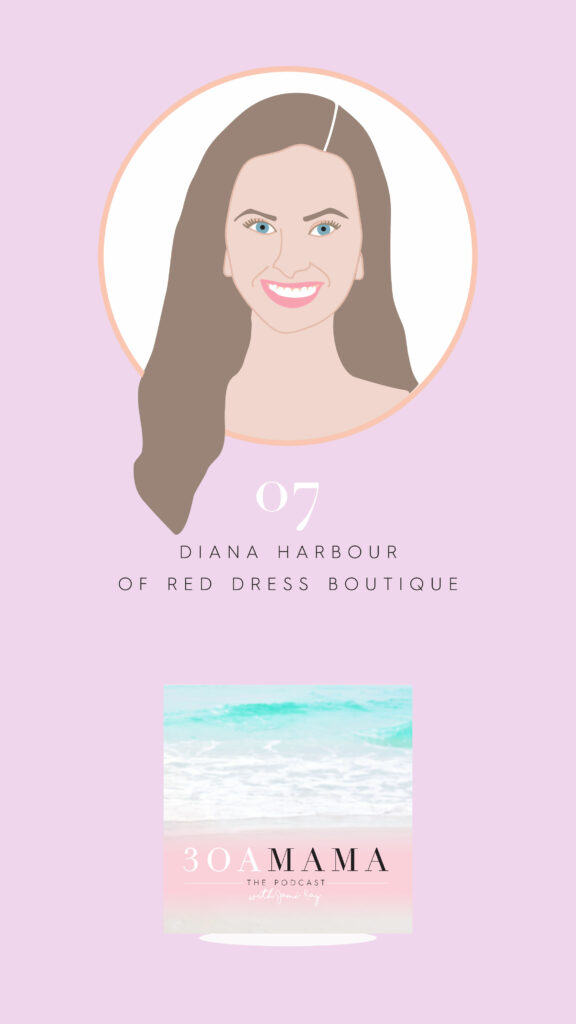 Hi mamas and podcast listeners! With this episode, I'm getting right back into the swing of things with an incredible interview with Red Dress Boutique's founder and owner Diana Harbour.
Scroll to the bottom for some of my favorite Red Dress looks!
Now you all know how passionate I am about sharing the stories of inspiring, real-life, relatable moms in our area doing amazing things, whether they are entrepreneurs, savvy in their fields or just chasing the beach bum dream in their own way here around 30A. So this is the first episode where I'm branching out to interview someone beyond our full-time locals. I mean, yall, this story will blow you away and yet Diana is as down-to-earth and real as it gets. There was not one ounce of pretense. We talk about Diana's story, her path to success — which by the way, includes a little show called Shark Tank and a little investor named Mark Cuban — We talk about certain stigmas in fashion and the influencer space and even why she'd love to end up here one day, Diana is a super fan of our 30A area, so she is more than deserving of the 30A Mama title and I know you all will be as inspired by our chat as I've been. Be sure to screen shot this episode and tag us as you're listening along. I'd love to see who's tuning in and it really gives our guests a warm welcome. 
CLICK HERE to listen on iTunes!
or CLICK HERE for the full podcast archives, show notes and more!
Press play to hear the full episode.
on the early struggles:
We lived out of a suitcase each for an entire year. I didn't have anyone directing me on what to do with this business. Everything was really learning to turn on a dime to make sure I didn't fail.

Diana Harbour on 30A Mama Podcast
on why she loves 30A:
I always draw inspiration from here because for me this is a true, happy, peaceful place and I keep coming back just because I keep drawing more and more from it.

Diana Harbour on 30A Mama Podcast
on why she finds working with influencers so effective:
We don't — and I had to learn this — don't go reaching out for the blogger with a million followers just because they have a million followers. What we look for is… who's engaging with them, who's commenting, who's messaging them — who's… like… IN IT. Because you have influencers that you love and you follow because you're in it and you're invested in them as a person. And that's what we look for.

Diana Harbour on 30A Mama Podcast
Diana's Links
Instagram: @shopreddress and @dianaharbour
Website: shopreddress.com
Follow Along with 30A Mama
Instagram: @jamiray, Pinterest: @jamiray, Twitter: @jamiray_ and our Facebook Group: 30A Mama Chat Club
Shop My Red Dress Picks:
use code FLASH20 for 20% off right now