When it comes to choosing where you'll lay your head for your next 30A vacay, the list of choices can go on and on. As a mom and entrepreneur with a small business, one of my favorite things to do is support other mom-owned businesses. I'm excited to share an adorable beach rental operated by my friend Kristen, who is a mom and a 30A local. The girls and I took full advantage of a staycation at her cozy condo, aptly named Beach Please in Inlet Beach.
---
---
Beach Please is south of 98 and about a block from the Gulf. We arrived just in time to take in the peach and yellow skies from the balcony, giving a gorgeous western view of the sunset.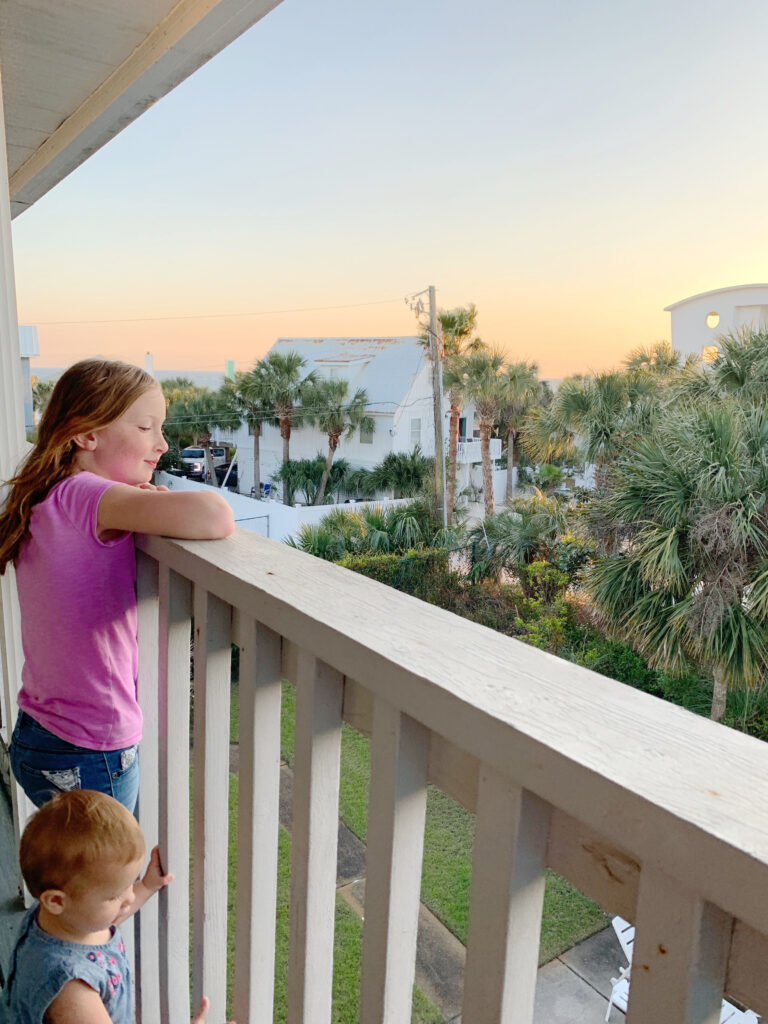 The balcony has a pretty view of Inlet Beach along with the patio and swimming pool below.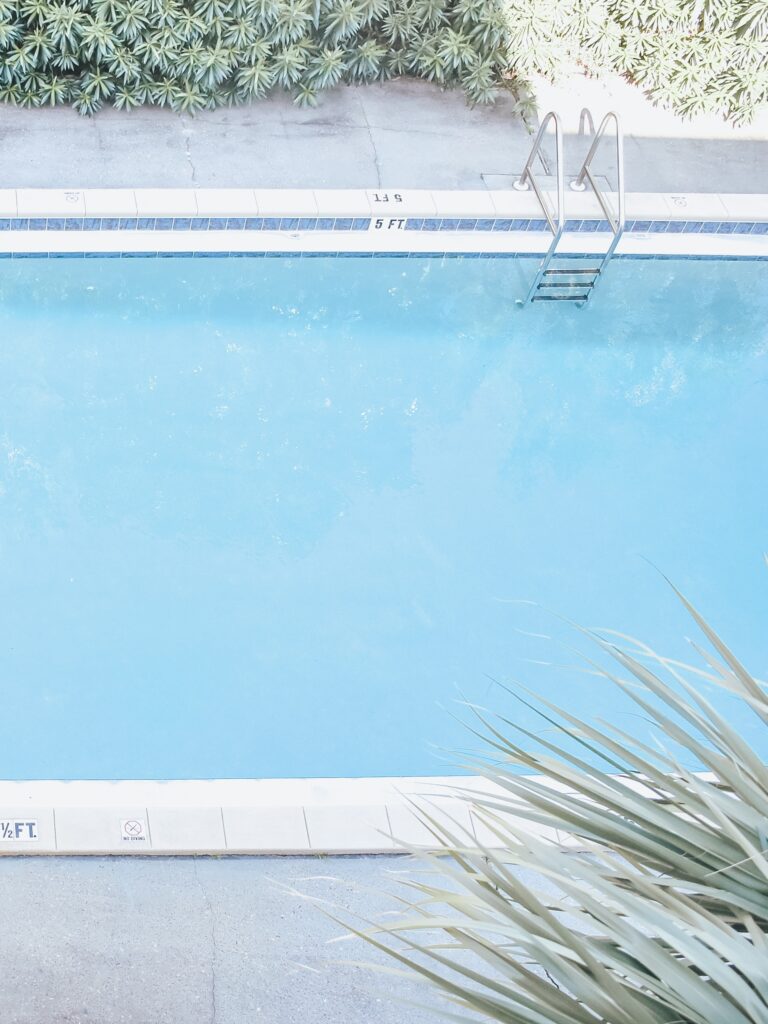 To give you an idea of the walking distance from the condo to the beach, this is the view from the parking area looking south to the Gulf. It's so close!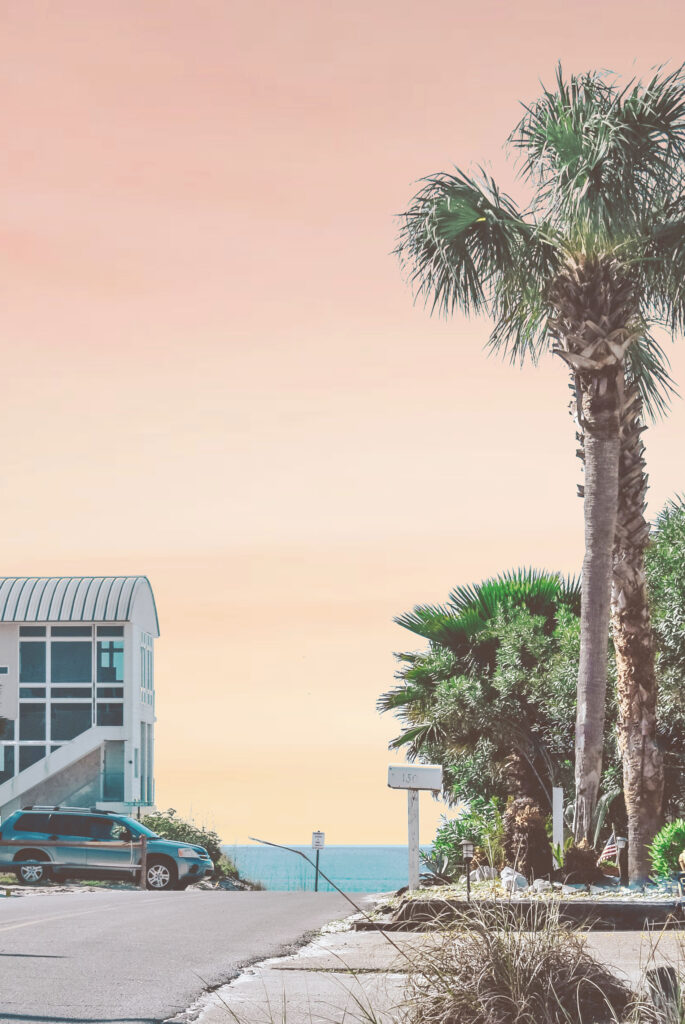 The condo is a studio with open living/sleeping area plus cleverly placed bunk beds along the hallway, allowing it to sleep 4. My kids thought it was a hotel suite with really fun sleeping options. Emery loved the bunk beds! When you first walk in, you see a bathroom to the right and the hall bunks ahead. Further into the studio is the bedroom and living area with kitchen and counter dining.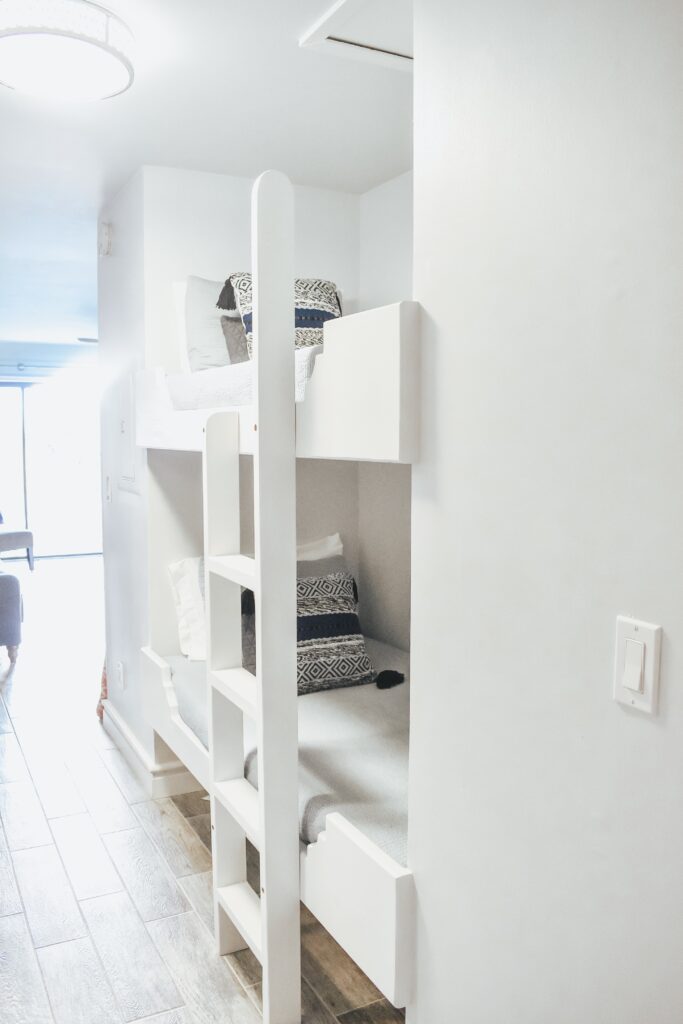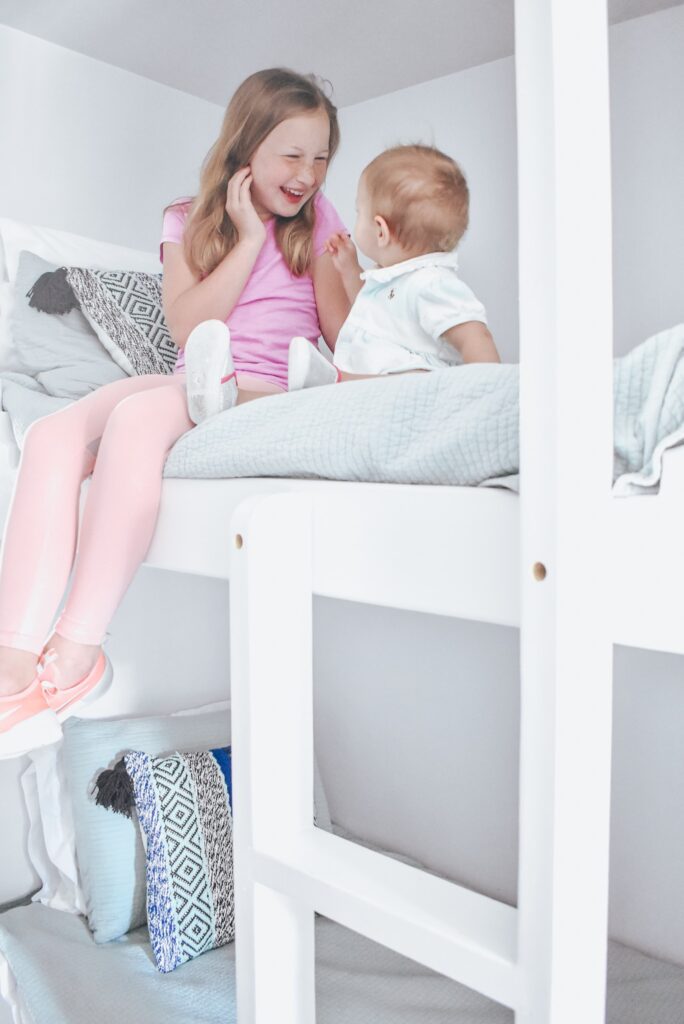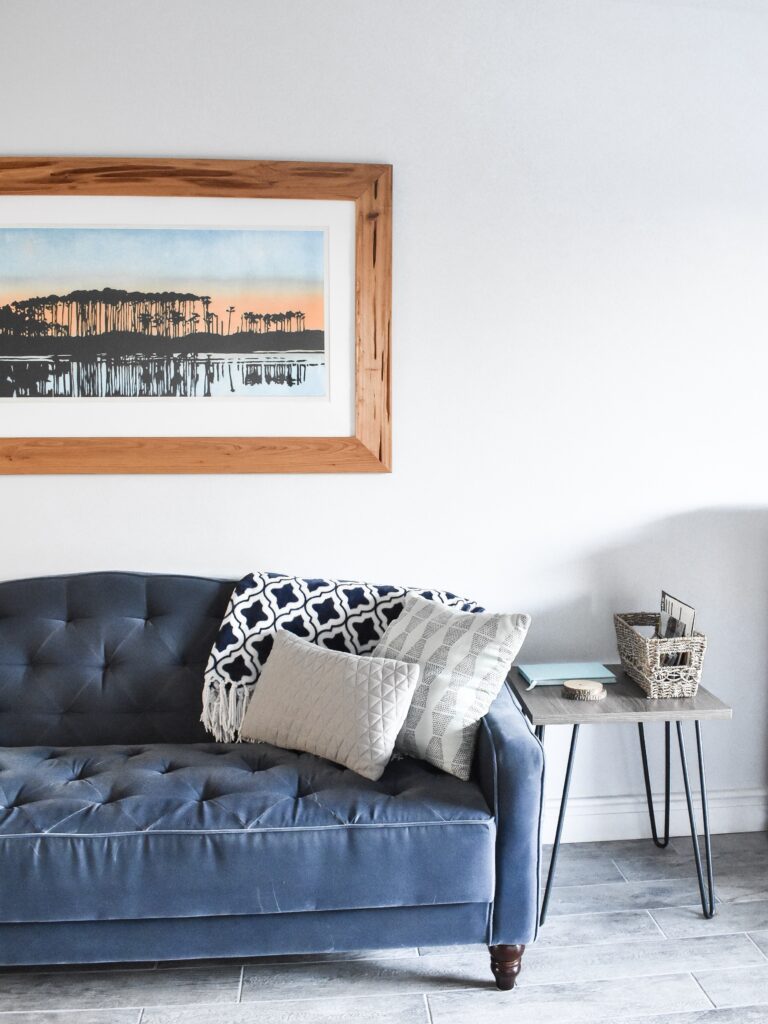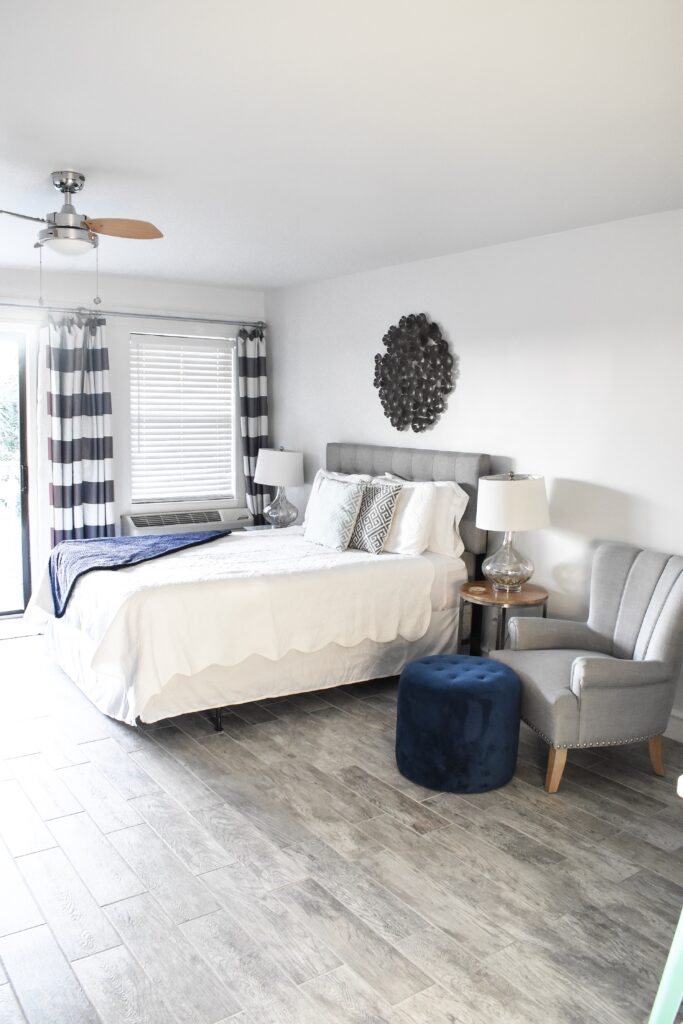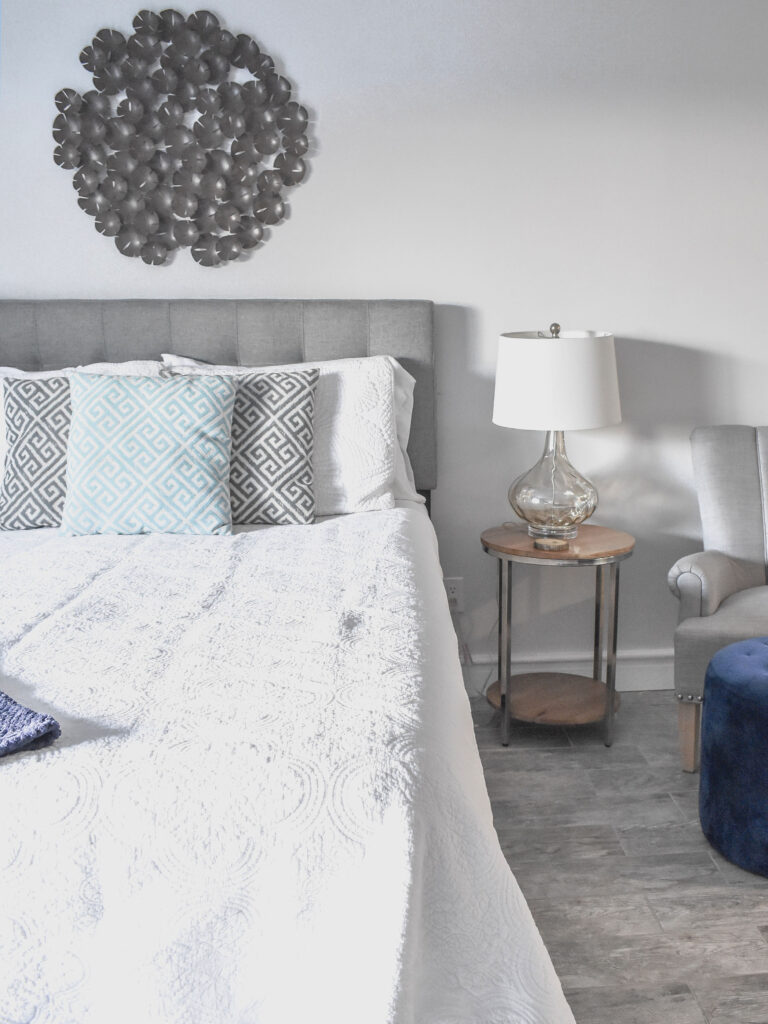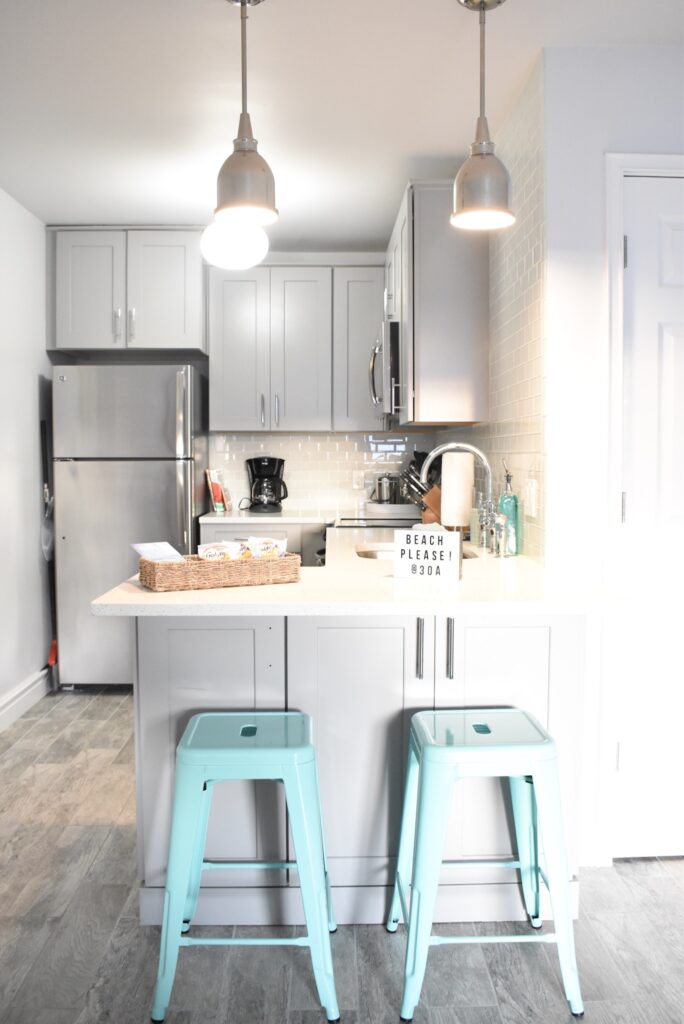 I've spent a ton of time in Inlet Beach and Rosemary Beach and knew we had a fairly short but scenic walk between Beach Please and the Donut Hole. After a lazy morning sleeping in and hanging on the balcony, we decided to stroll over on foot, to fill up and wander a little further into Rosemary Beach.
Inlet Beach has so many pretty houses, gorgeous streets and a beautiful overlook just before the start of Rosemary Beach.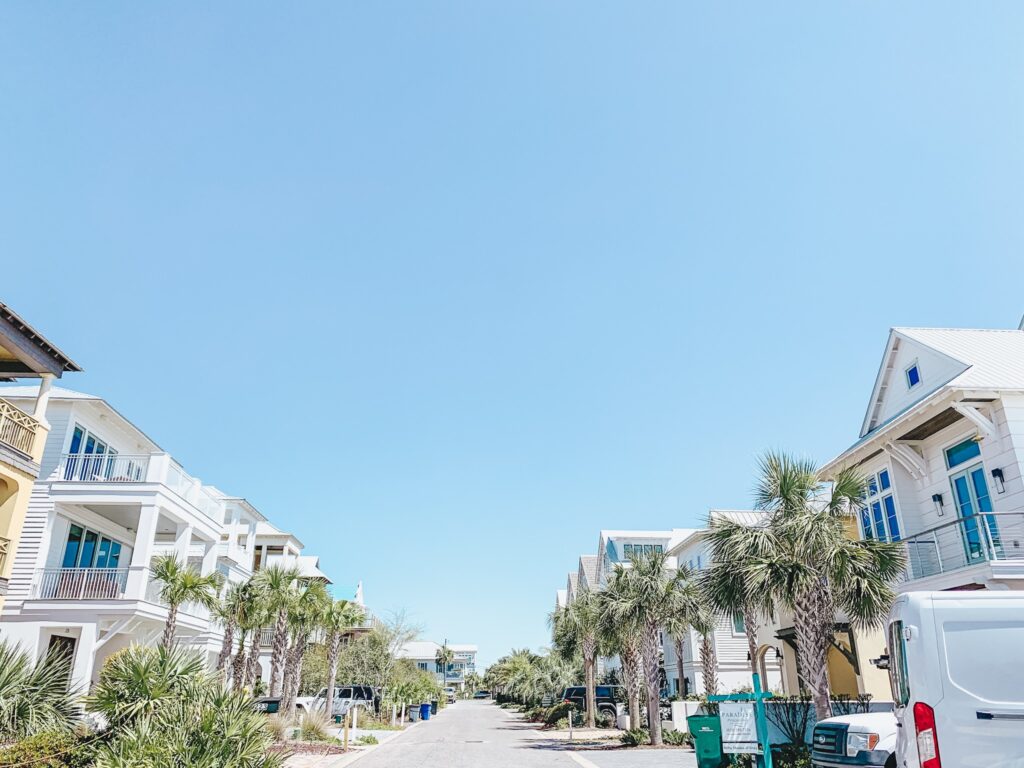 At the Donut Hole, if you plan to eat in (beyond just grabbing a donut to go), you might as well anticipate a line. We arrived around 9:30 to a long line but were seated within 15-20 minutes. This is when the corn hole games and ping pong come in handy! Emery opted for a chocolate chip pancake and Collins and I split an omelet.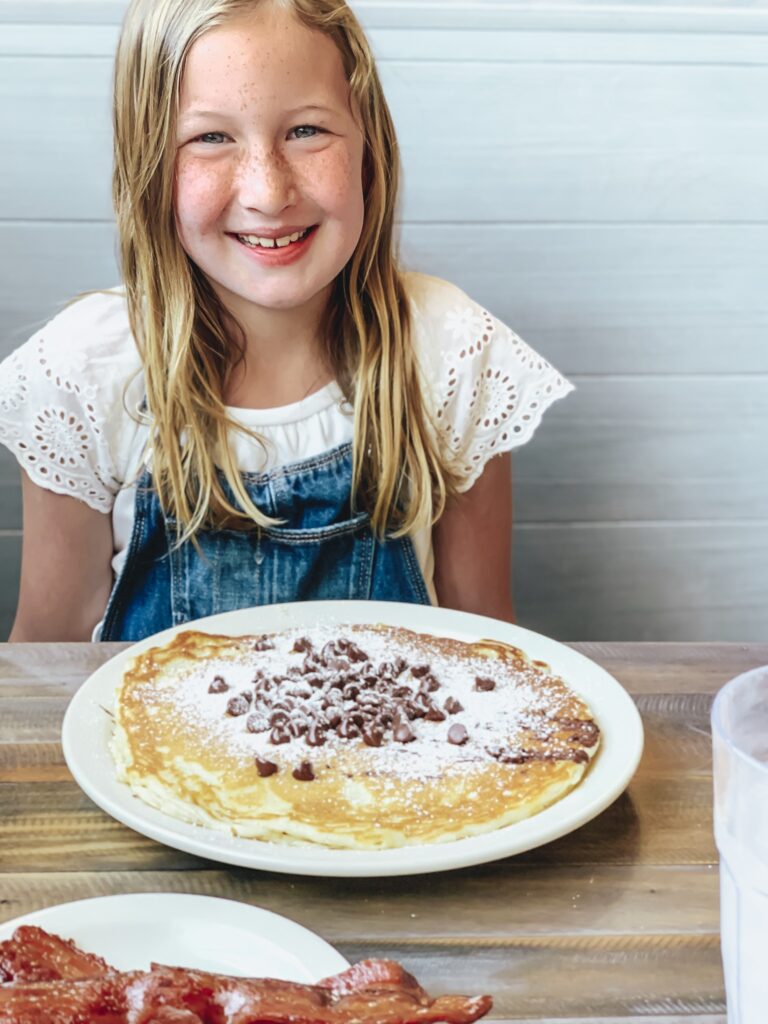 It was a beautiful day to wander and walk so I pushed the stroller along to Rosemary Beach. If you haven't had a chance to browse the merchants, there are plenty favorites. For shopping, I love Tracery (chic interiors), Willow Boutique (upscale fashion), Gigi's Fabulous Fashions & Toys (kids dream!), Hidden Lantern (cute bookstore), Disco (feminine and fun style), Patchouli's (beauty and apothecary) and Rosemary Beach Trading (chic souvenirs). For dining, every options is good: La Crema Tapas (fondue for sure), Cowgirl Kitchen (drunken shrimp tacos), Edward's, Summer Kitchen, The Pearl's Havana Beach (downstairs and rooftop bar), Paradis, Sugar Shak (sweet treats), The Daughters Kitchen (donuts and brunch), Wild Olives and Amavida (coffee and tea).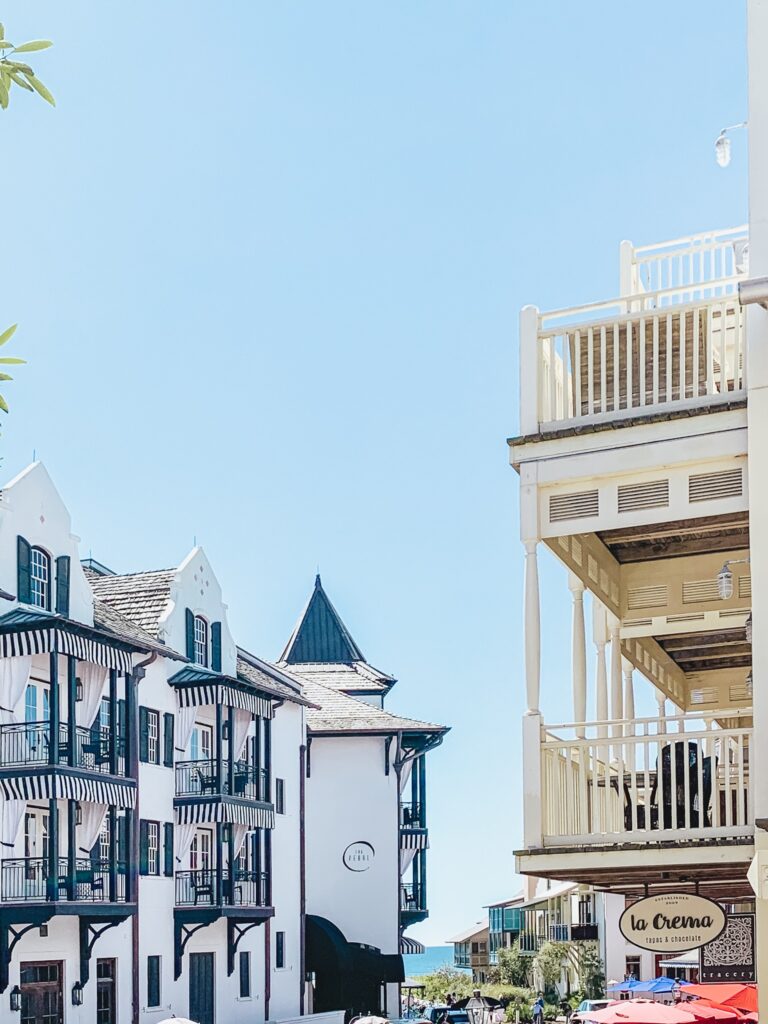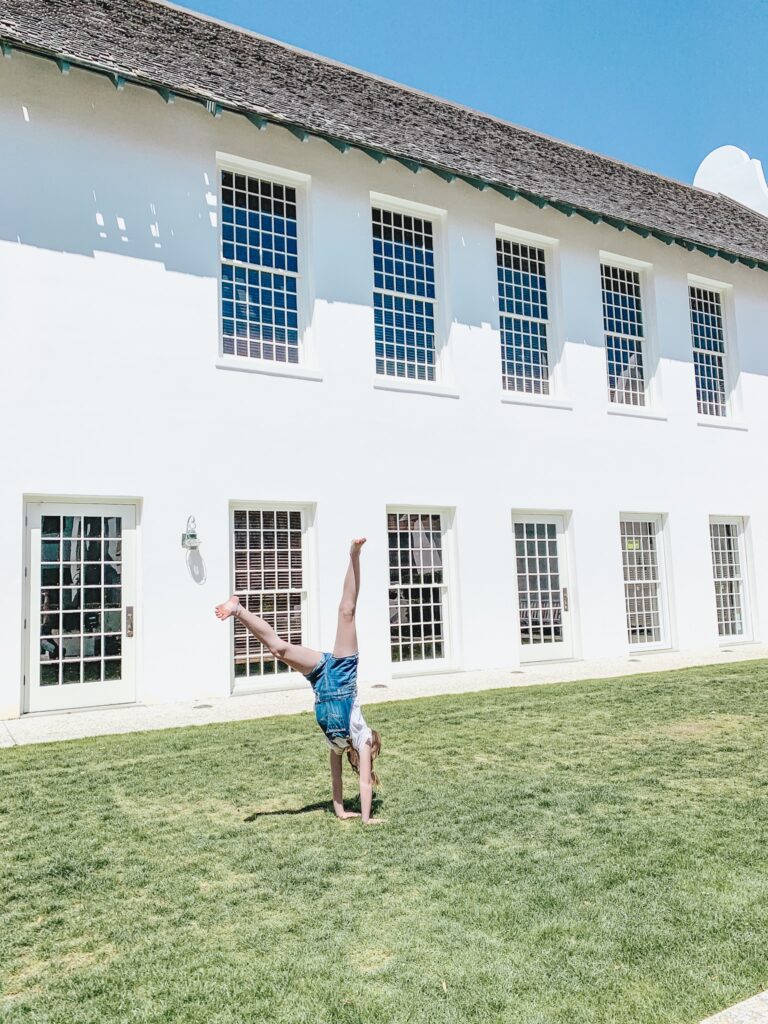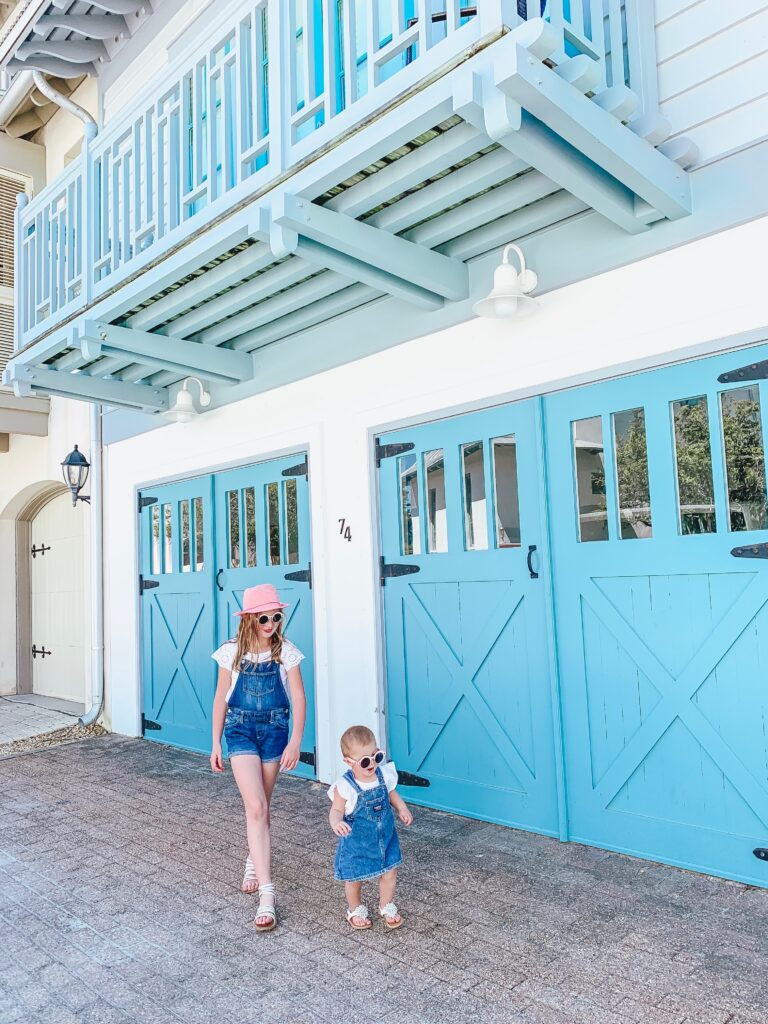 We ate, we walked, we ate some more and then we were ready to nap. After a refresh, we hit the beach in these matching swimsuits.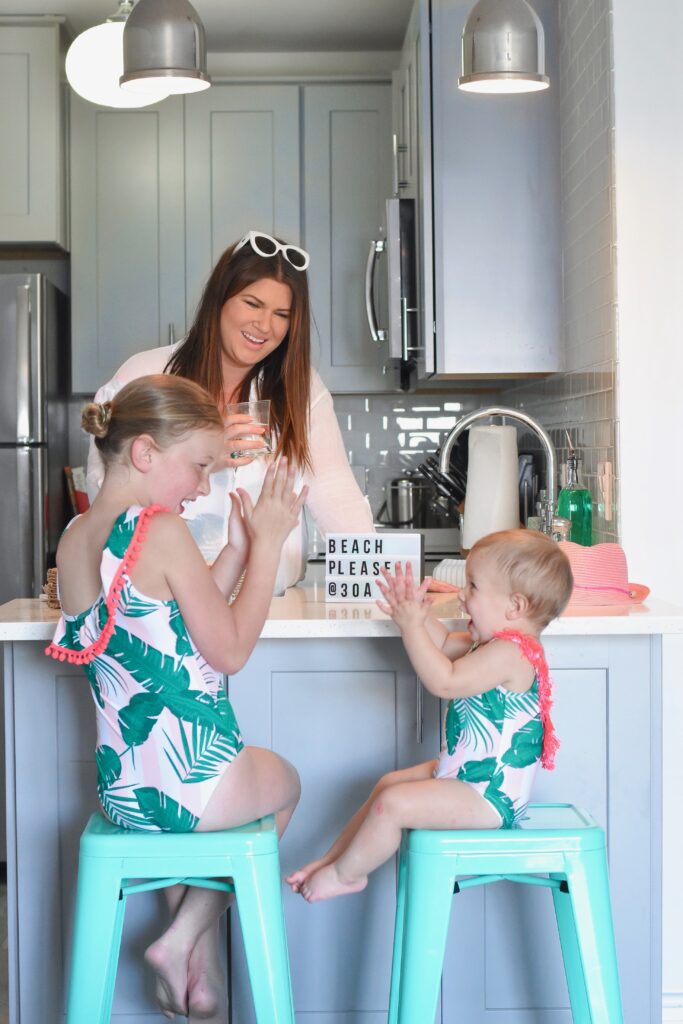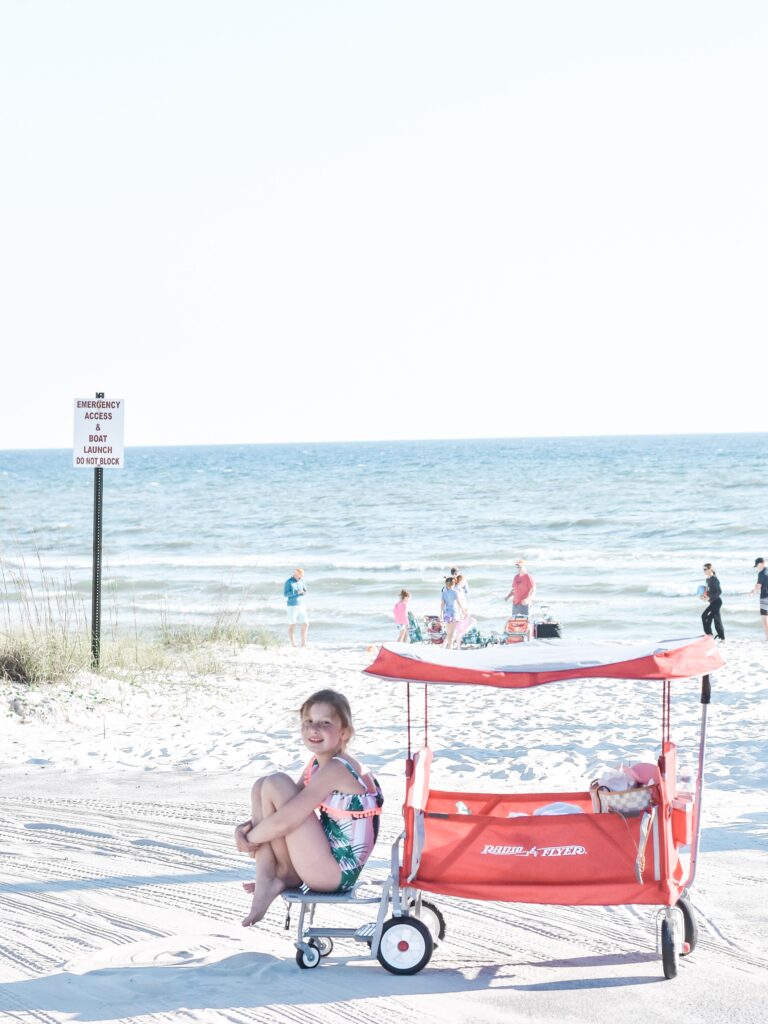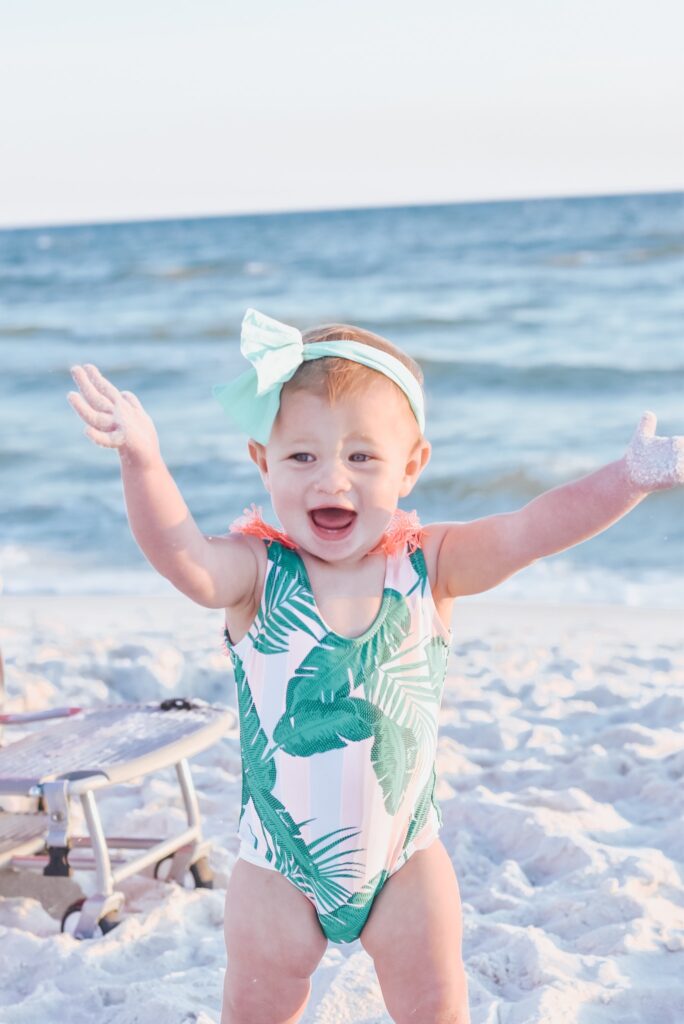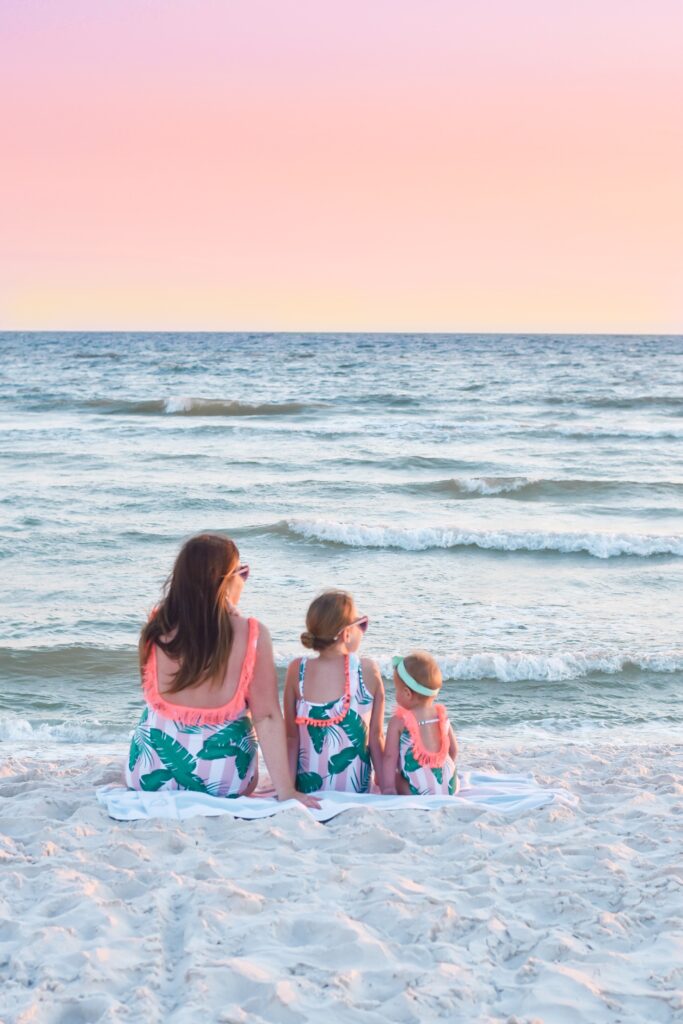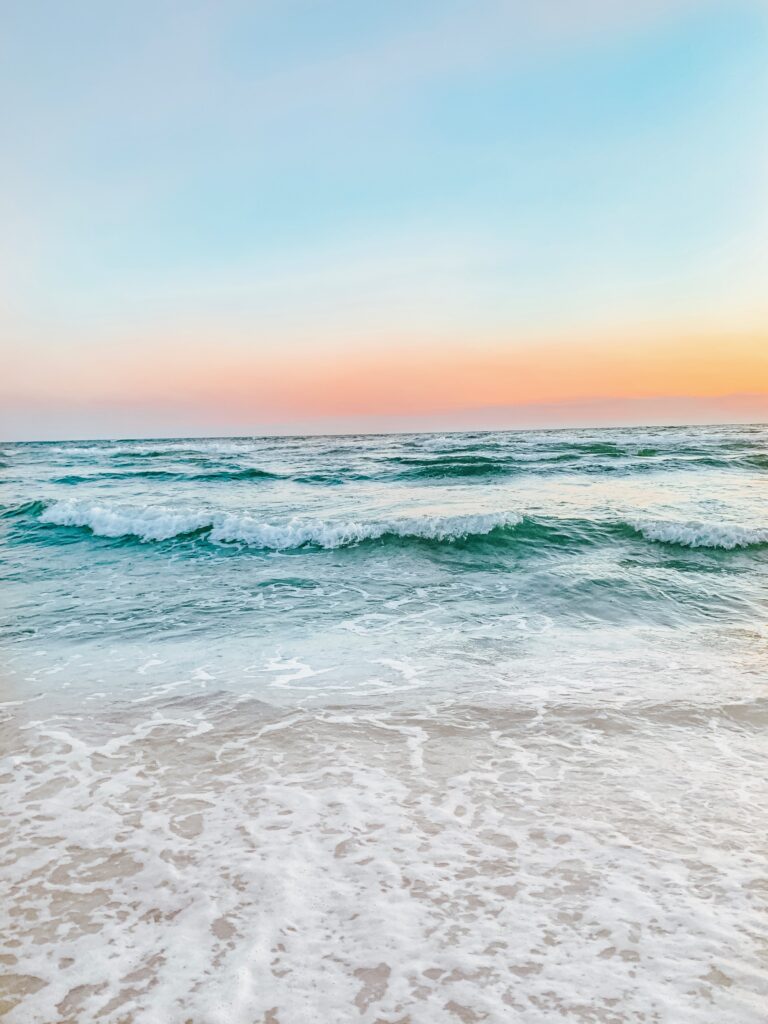 At the end of the day, we decided to order in. Thankfully, with both Rosemary Beach and 30Avenue nearby, there are several options to choose from. I opted for Shades (on the corner of 98 and 30A) and devoured this dish in record time with Collins and Emery polishing off the potatoes after their meals.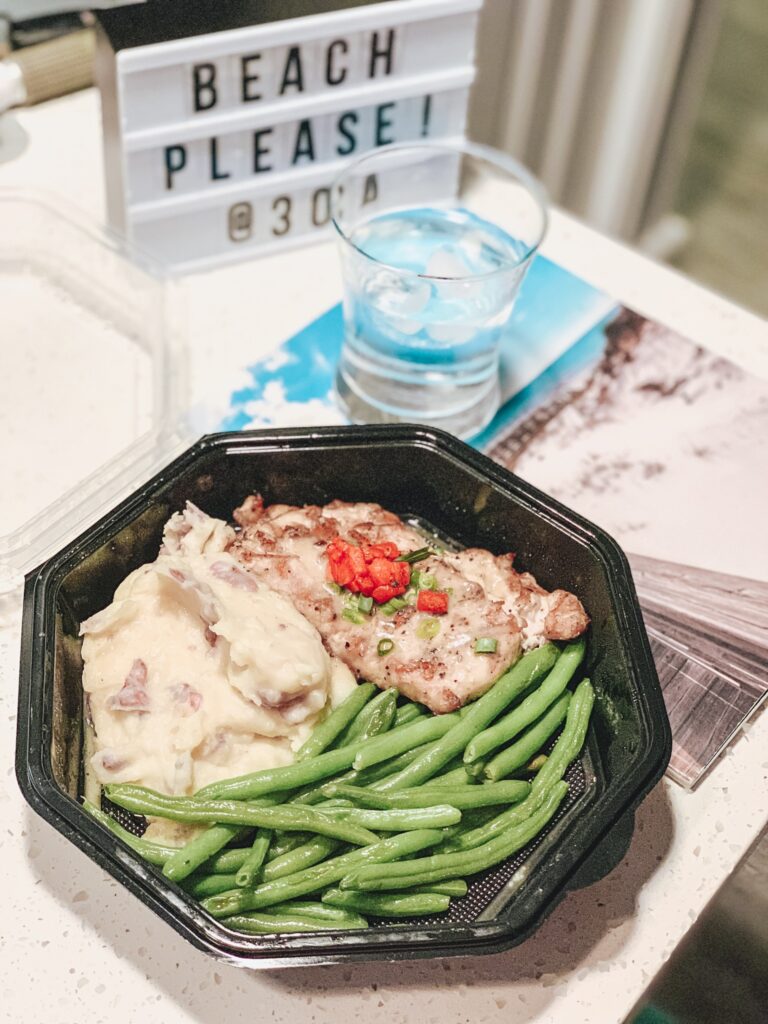 I love that Kristen has created such a cute and cozy space that helped us feel right at home. We cozied up and turned on the TV to watch Netflix. Emery adored sleeping in the bunk beds and I loved that I could fall asleep to the sound of the waves crashing. Every detail was thoughtfully placed and the vibe is a relaxed coastal aesthetic. If you're into grocery shopping and cooking on vacay, there is plenty of counter space and room in the kitchen. I even set up my computer there for a mini work station at one point. The shower was spacious and perfect for both girls to splash after the beach. Plus, I always appreciate having enough counter space to spread my hair and makeup "stuff" everywhere. We loved being such a short walk to the beach and close enough to walk or bike to all of our meals and activities.
Our stay at Beach Please was so fun and I highly recommend it to anyone looking for a simple, laid-back beach stay. Find the booking link here at Airbnb.
As we got ready to check out, I pitched the idea of more donuts and I had two enthusiastic yesses! (Collins' face below cracks me up!!)