This post is sponsored by BabbleBoxx.com.
If you're a mom with at least one school-age kiddo, you're probably feeling the August rush of prepping for classes. Same here! Summer has flown by and we're now in one of the busiest shopping seasons of the year. There is so much to get from supplies (They need how many boxes of tissue???) to clothes (How in the world did they outgrow every single thing from last year???) and even lunch box snacks (Gotta find that blend of healthy and tasty – am I right?!). When the shopping list grows longer and longer, it can all feel like so much. That's where Babbleboxx comes in. They're helping me get in the "back to school" spirit with this box full of goodies perfect for a new school year. This is like a mama's dream come true and honestly, after I unpacked everything, I'm not even sure how it all fit in such a neat box. Read on to see everything that came inside, how we're using each of these items and a special discount code for OshKosh B'Gosh.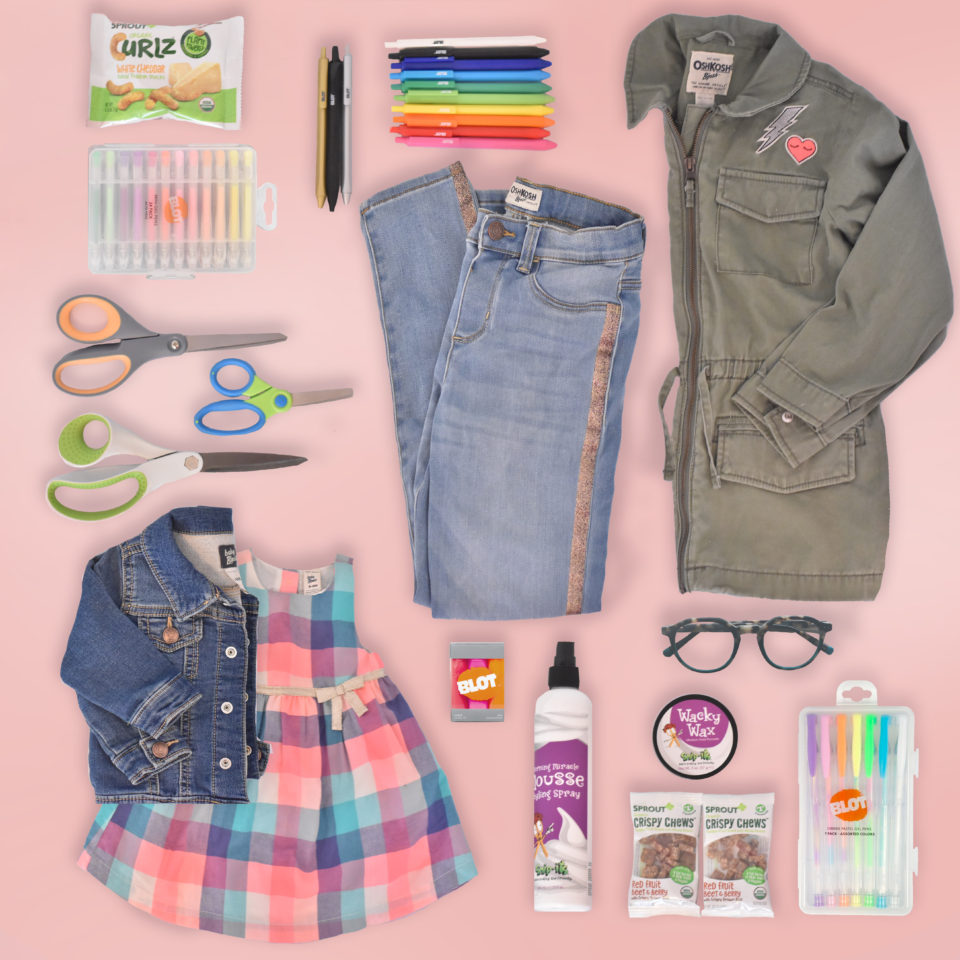 Babbleboxx Contents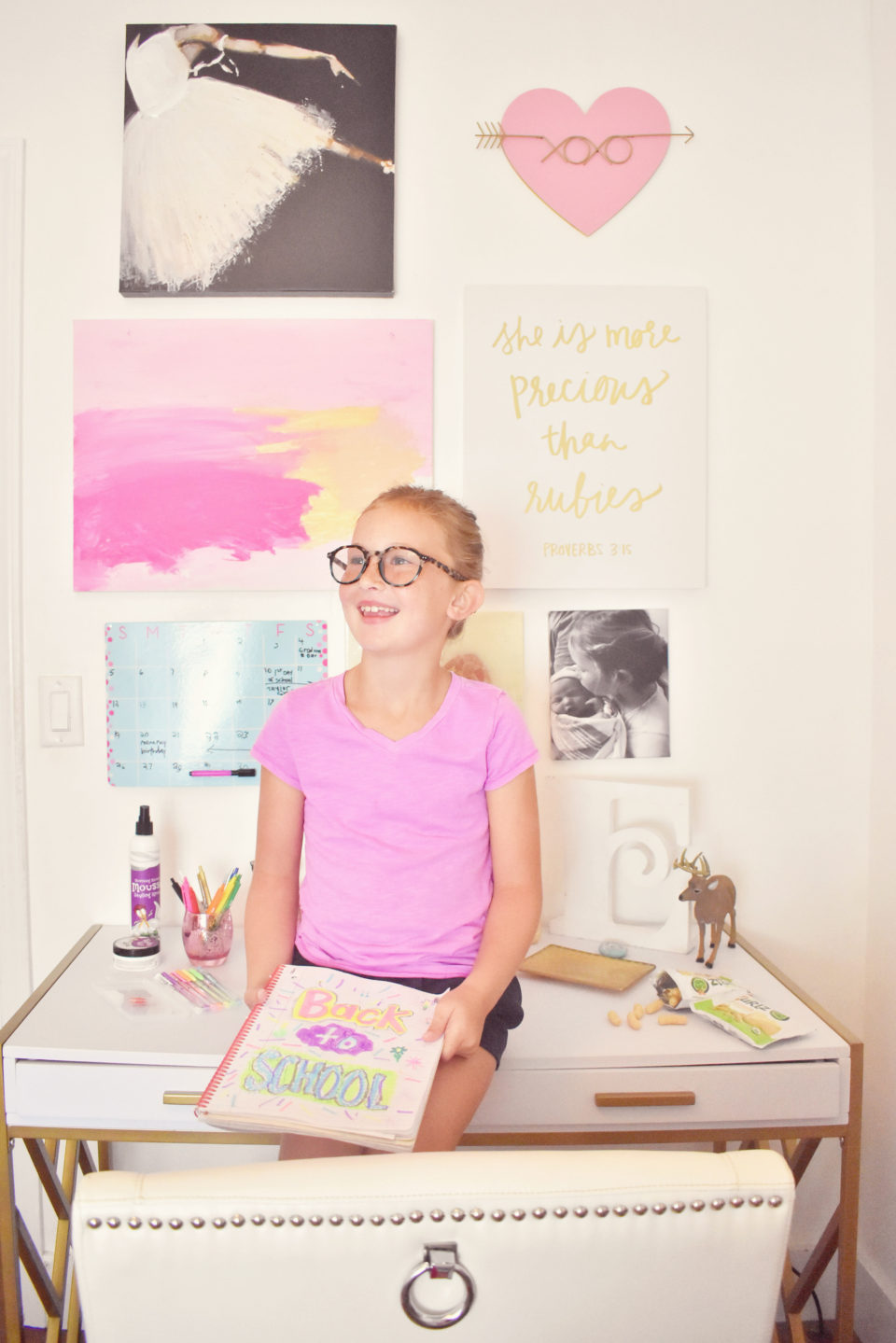 Zenni Optical
Emery absolutely loves these kids glasses and has been wearing them almost every day! They are super cute and have a fun style, but most importantly they're a very functional accessory that goes beyond fashion alone. These glasses are not prescription, but are blue blocker lenses with virtually clear lenses that protect our vision from blue light and UV rays. So what does this mean? With increased technology and unavoidable exposure to either screens or sunshine, these reduce the harmful effects of blue light on our eyes which to me, is as important as wearing sunscreen or sunglasses. I'll confess I've even borrowed them a few times when I'm working on the computer. It's amazing how much time we spend looking at screens, even when we try to reduce screen time as much as possible. I love that Emery thinks she looks so much cooler with these glasses because that means she'll wear them and keep them on. If you visit Zenni Optical online, you can select from a variety of chic styles or even let your kids pick out their favorite pair. If you need to add a prescription lens, you can do that too, which is great! (This is the exact pair Emery is wearing.)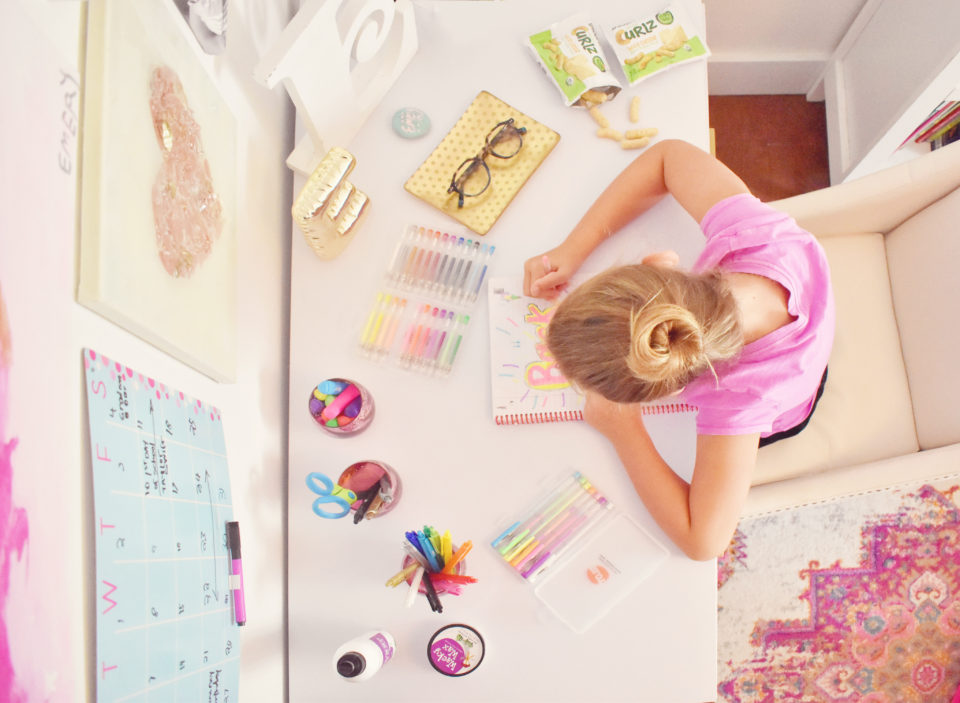 Westcott Scissors
The styles included in this Babbleboxx were Westcott's CarboTitanium 8″ Straight Scissors, Westcott Titanium Bonded 8-inch straight scissors and kid scissors. As soon as I used these for the first time, I could easily see why they're called the world's favorite scissors. They have ergonomic handles, titanium with a non-stick coating and will stay sharper longer without getting bits of tape or glue stuck on the handle (because no one wants sticky scissors). We immediately put the kid scissors into Emery's desk for her to use when doing projects or homework and I grabbed the larger sizes. I use scissors most often when cutting out mailing labels or when wrapping gifts. I can always judge a good pair of scissors by how well they glide across paper and these were flawless!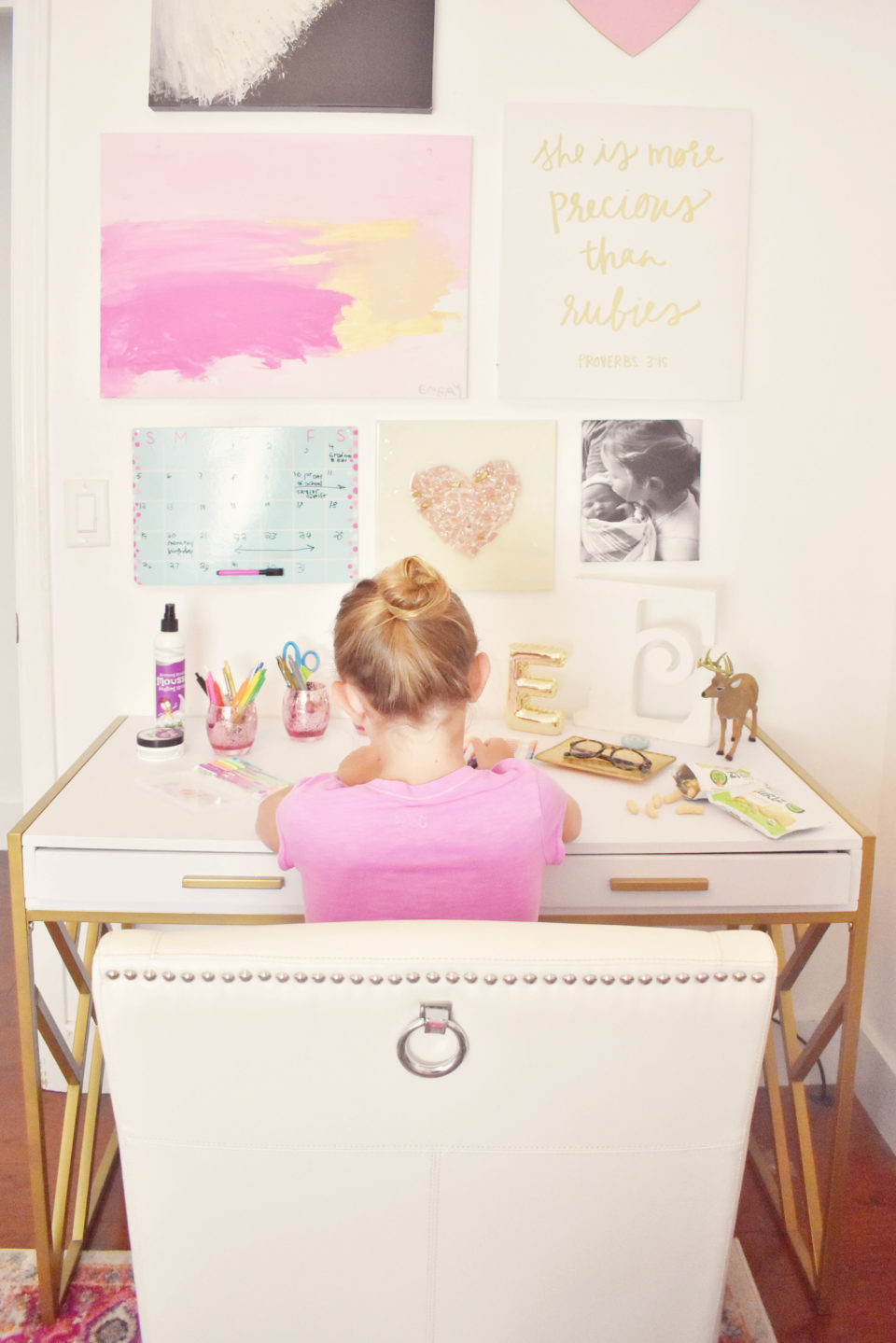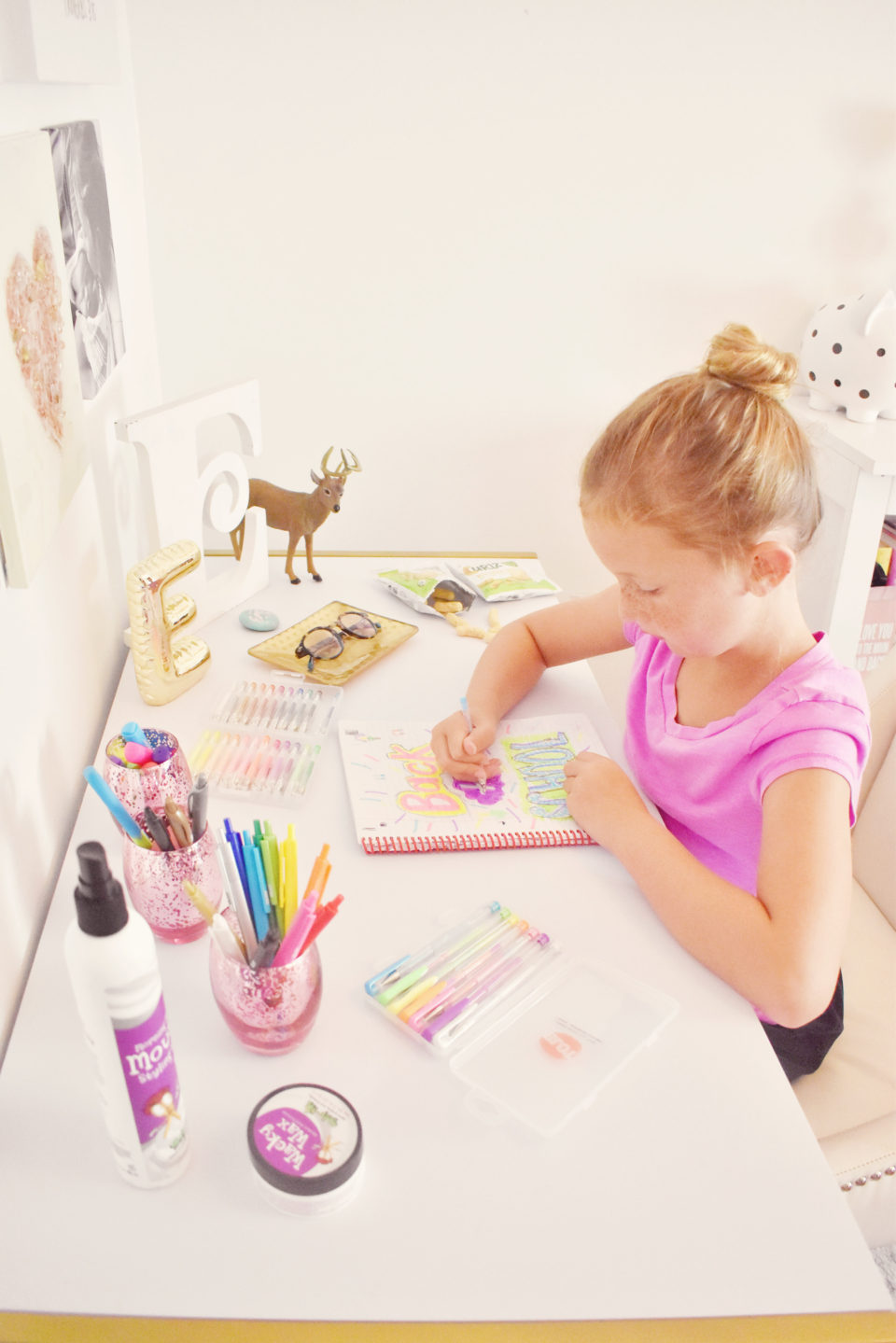 Blot
Just like her mama, Emery gets so excited about fun school supplies so all of the writing, drawing and colorful pens were a big hit! Everything is so fun to use, but I think the ombre pastel gel pens are her favorite so far.
Ombre Pastel Gel Pens: Why are color transitions so fascinating? These ombre colors blend and change as you hit the point where the different ink colors meet. I may or may not have stolen one of these for my own desk!
Mini Gel Pens: These have quick-drying gel ink in a range of vibrant hues and an assortment of styles – classic, pastel, neon, metallic, and glitter. So many colors that are sure to inspire an inner artist.
Signature Retractable Ballpoint Pens: Our box included the bright color set and I love the rainbow colors! These are easy to clip to binders and notebooks with the durable plastic clip.
BLOT Mini Highlighters: These felt chisel tip highlights have bold, vivid transparent colors. Plus, the small size means they all fit nicely into a pencil pouch so there are plenty of color options beyond the usual neon yellow.
Signature Mechanical Pencils: Every student needs a good pencil and these lead refill pencils also come with an eraser and tube of refills. Emery made sure to tell me that mechanical pencils are a much bigger deal than the traditional style that needs sharpening – ha!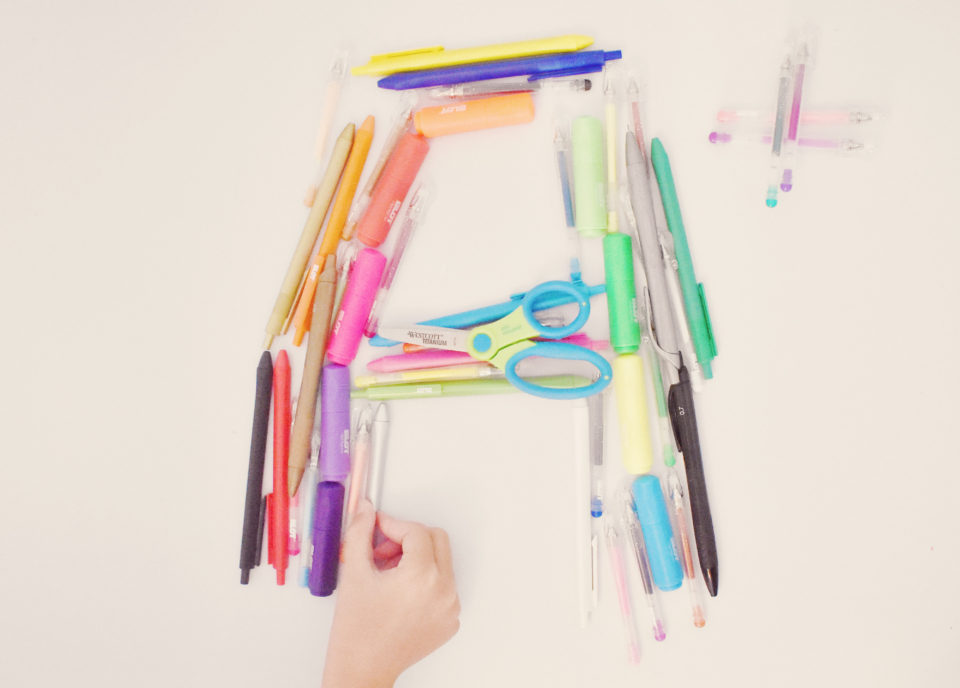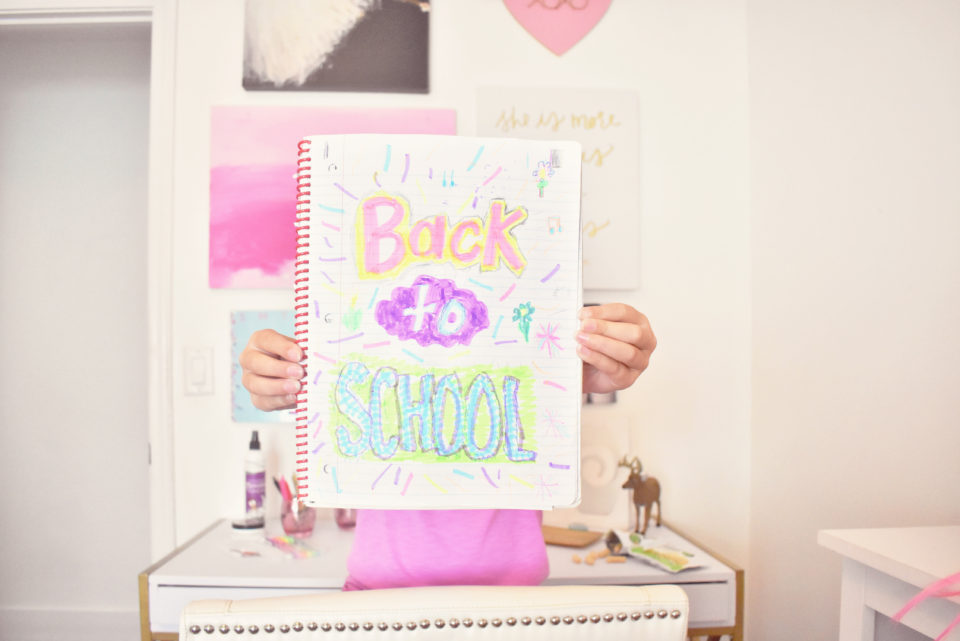 Sprout Organic
It's funny that I don't typically think of snacks as a back-to-school item, but I should because stocking up for lunch boxes is no joke! With 1-2 snacks per day plus a side with her meal can really add up. Finding a balance between tasty and healthy can be a challenge, too. Our box included both Sprout Organic Curlz and Crispy Chews. Sprout products are made with real, honest, pure ingredients and are USDA certified organic and non-GMO. Plus they are the first brand to launch a complete line of plant powered purees and snacks with protein from chickpeas, lentils and beans. The Curlz are a crunchy, cheesy plant-based snack that comes in a 5 pack, perfect for lunches. The Crispy Chews are whoe grain rice, fruits and veggies blended into a chewy fruit snack with a hint of crunch. I taste-tested these and have to admit, they're pretty good!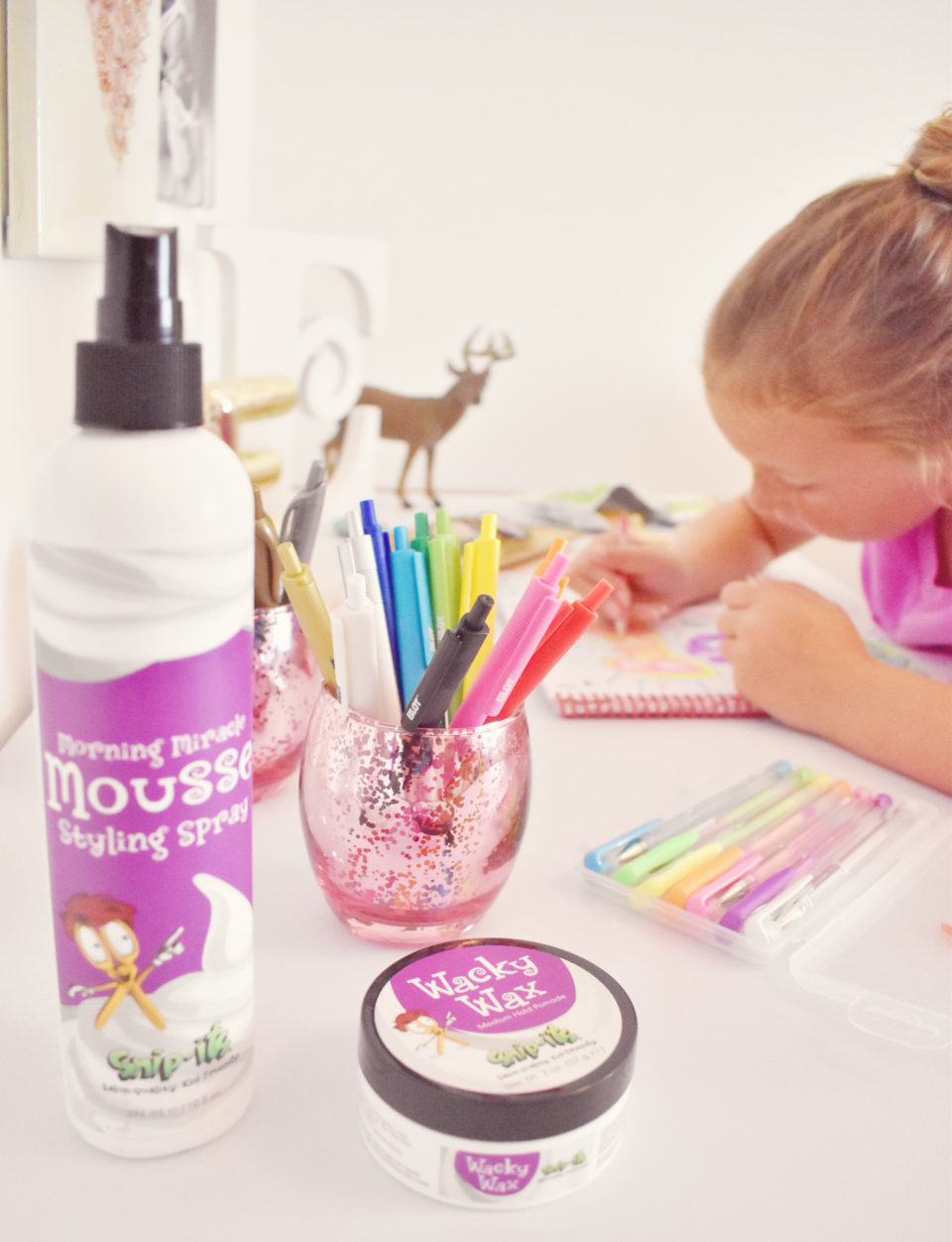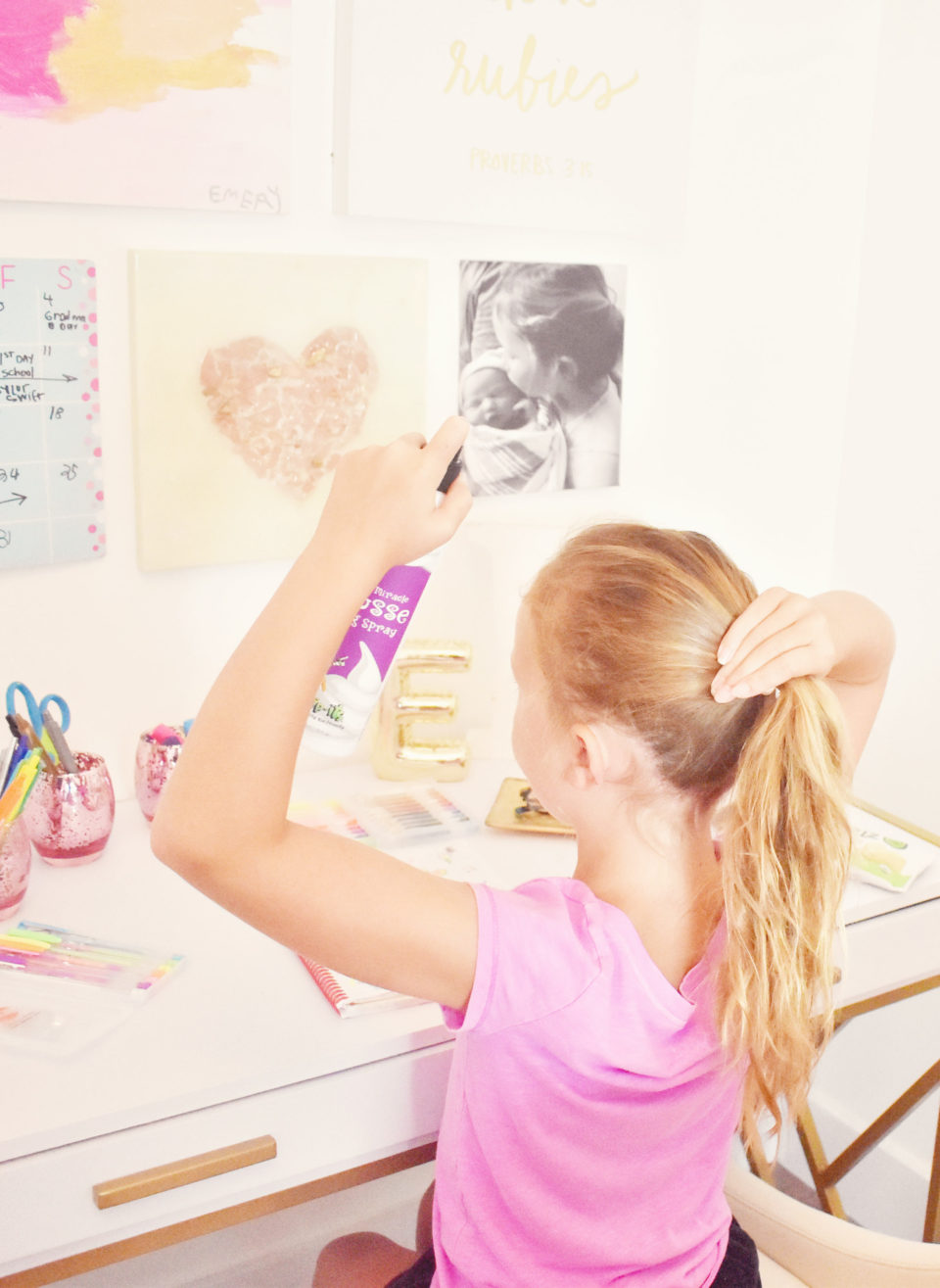 Snip-Its Salon
Conquering the morning hair routine is no easy feat. Emery's hair has a natural wave like mine but needs a little help in the volume department and staying tame. Our Babbleboxx included Snip-Its kids natural hair products – both the Morning Miracle Mousse Styling Spray and a Wacky Wax Medium Hold Pomade. The alcohol-free mousse is like a spray gel that also has UV protecting properties and is great for when Emery wants either more volume or a smoother finish. The pomade is similar to a strong hold gel that has a soft feel but stays all day. This would be great for little boys hair or for super slicked back buns.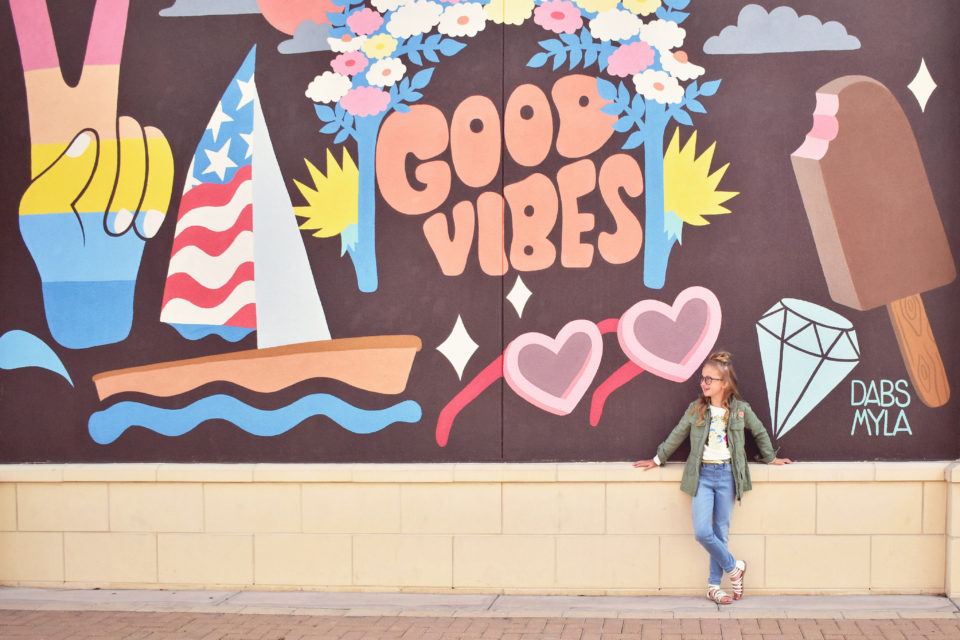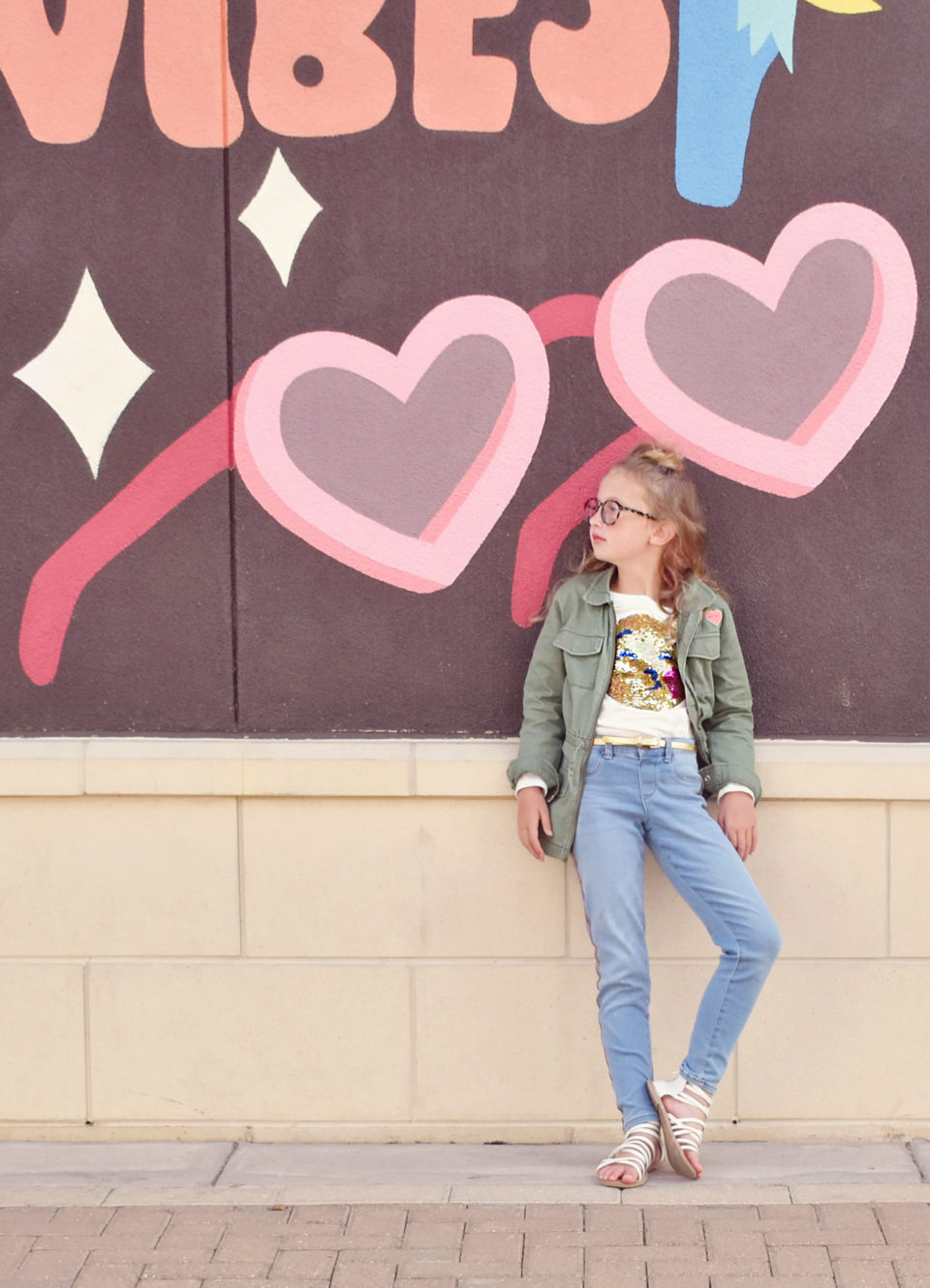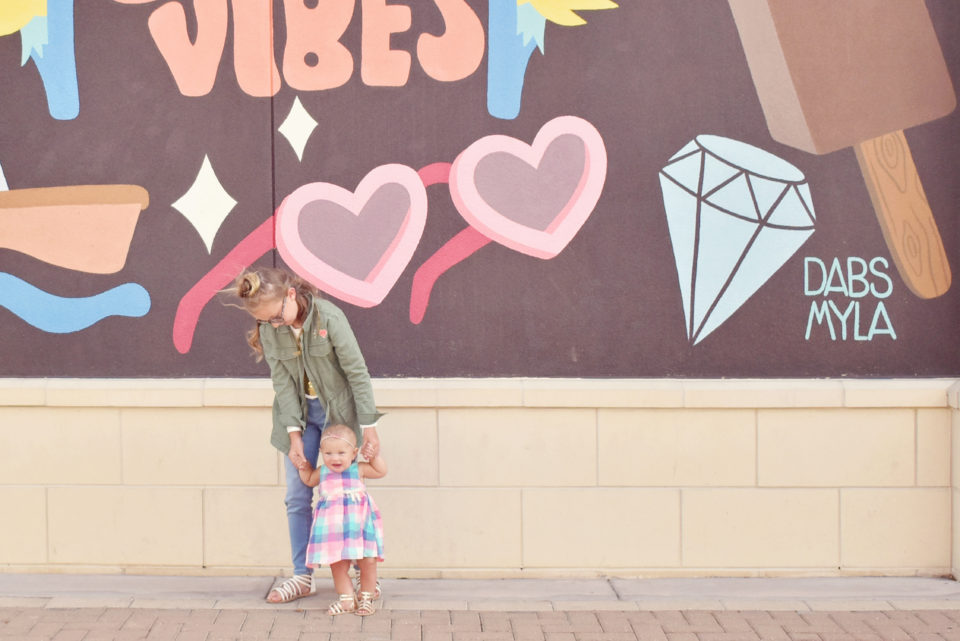 OshKosh B'gosh
Of course, no back to school box would be complete without a snazzy new outfit and Babbleboxx went above and beyond with this delivery. Even little sis got in on the action with adorable OshKosh girls clothes! Emery's outfit included a fun sequin emoji tee (the reversible sequins seem to be all the rage with her age group!), a cute utility jacket with patch details and kids jeans with a chic gold accent down the leg. Collins' outfit included a sweet plaid dress and adorable baby-sized jean jacket. OshKosh offers an assortment of clothing for boys and girls in sizes 3M – 14 and makes it fun to mix and match styles. In addition to sneakers, hoodies, jeans and other stylish pieces, you can also find uniform polos if your school has a more strict dress code.
Babbleboxx is offering 20% off OshKosh B'gosh purchases of $40+ (in store code: 038222 or online with code OKBG3549). Valid through September 30, 2018 Exclusions Apply