I've been a long-haired girl as far back as I can remember. My sister and I always grew our hair out and would even blow dry each other's hair when we were younger. Keeping my hair healthy and growing has been a staple of my beauty routine as I've gotten older. Now, I realize how much I appreciate the length. There were a few times — twice in about ten years to be exact — that I chopped my hair *just below the shoulders* (gasp). It was fun for a moment, but having long hair has always felt for "me".
Bad hair days are inevitable, and even though I know they happen to the best of us, they can still have an effect on my mood and outlook. Anyone else?
How I treat my hair helps assure more good hair days than bad. With so many other things going on around us, why not keep up these little habits that help us mamas feel confident and good about ourselves. I think we need that more than ever these days.
PS I know hair isn't everything, but if you're like me and enjoy wearing your hair long, maintenance and healthy hair isn't complicated. It does take a few thoughtful swaps and little habits that can have a big impact.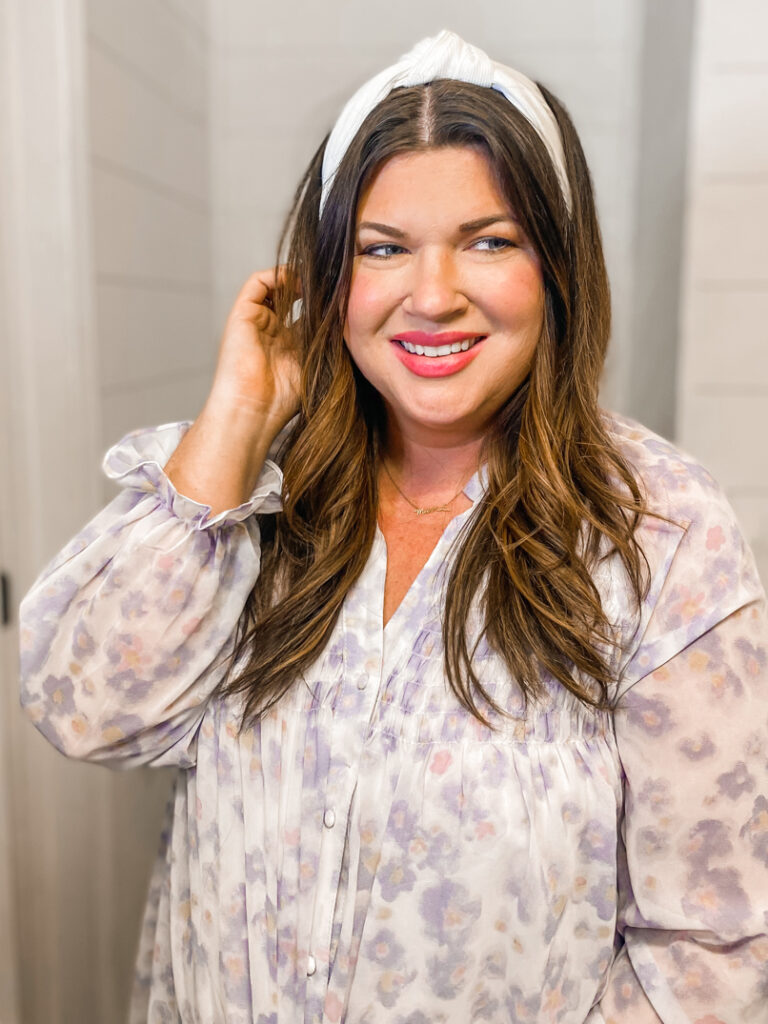 Here are 6 habits for long healthy hair.
Less heat
I am preaching to myself on this one. Heat styling gives the exact round curls or sleek straight hair I like, but it's best to lay off the heat whenever you can to keep your hair in the best condition. I'm not one to blow dry AND curl or use more than one heat styler in a given day. I've steadily learned to do less to get the same style I want with less time scorching my hair. Every now and then for a special occasion, I may go overboard, but on a typical day, I skip blow drying my hair altogether. Sometimes I'll do a final few minutes on my scalp when it's almost dry.
I use a curling iron or straightener every other day and turn the heat setting down or shorten the time each tool is actually on my hair. Just a couple curls for a relaxed wavy look or a few swipes of the straightener for a smoother look. The styles usually last for 2 days without more heat styling. It's also important to use a heat protectant so on the days you do heat style your hair, you have maximum protection to keep your strands from getting fried.
JavaScript is currently disabled in this browser. Reactivate it to view this content.
Scalp treatments
Healthy hair growth starts at the scalp and I'll admit, this is one habit that came very late in my routine. It's an easy addition that makes a big difference, but one you may not be doing yet. A simple deep clean on your scalp gives you a fresh foundation for long healthy hair and potential for growth. I have a few favorites here and the idea is the same product to product.
Most scalp treatments are great for dandruff, but if you don't deal with that, you may have never considered this for your own hair. Let me tell ya, the results are worth a try.
My hair feels so light and clean at the root after one of these. If you use dry shampoo a lot, you NEED to do a scalp treatment every few washes. Consider it a detox for your scalp. I love this one with salicylic acid, this classic shampoo and conditioner, and this one with charcoal and tea tree to soothe and hydrate.
JavaScript is currently disabled in this browser. Reactivate it to view this content.
Leave conditioner on ends
Now that you're set with the scalp, we can't forget the ends. Trims are essential for hair growth, but extra care goes a long way, because, if you think about it, this is your oldest hair that's been through the most — sun, heat, color stress, you name it. These ends need all the attention they can get and have different needs that the root. Hydration is key along with making sure split ends are under control.
When you wash your hair, leave a small amount of conditioner on the tips for an added boost. I love this IGK Rich Kid air dry cream with coconut oil, a little Olaplex No 6 and this gisou honey-infused leave-in. PS If your kids are tender-headed and complain about brushing, these products work for them as well.
JavaScript is currently disabled in this browser. Reactivate it to view this content.
Silk pillowcase
Now this is beauty sleep! Skip the cotton covers and trade in your old pillowcase for silk. You haven't lived until you've slept on silk. Exaggerating, maybe, but it's amazing what a difference fabric can make. I was skeptical of this, I'll admit, but after a few nights sleeping on silk I was hooked. I found these slip pillowcases a few years back and fell in love. The silk fabric protects your hair cuticle since there's less friction against strands with every toss and turn.
I also like to pile my hair on top of my head or twist into a loose bun so that it's secured but not so tight that it leaves any marks like a ponytail can. A silk scrunchie would be great, but just having a silk pillowcase works wonders. I wake up with my hair feeling so much smoother than with a cotton pillowcase. If you don't want to splurge on the slip brand, check places like TJ Maxx for steals or try these Amazon dupes.
— these are all in a range of colors to match your bedroom, I just love pink —
JavaScript is currently disabled in this browser. Reactivate it to view this content.
Careful brushing
Brushing can be damaging if it's not done with care. This goes for any length hair, but especially for long hair. The last thing you want is all your beautiful hair (and effort to maintain it) to end up in a tangled pile in your brush. If my hair feels especially tangly, I try to gently brush before washing because wet hair can be the most vulnerable. I use a few different brushes (partly because my girls are always stealing and moving mine), but this Wet Brush is always a winner for gently detangling and combing through wet hair. My girls also have their own Disney princess wet brushes. It also helps to use a spray or cream detangler like this one from Oaui, this one from Amika and this Briogeo with aloe and oat milk.
JavaScript is currently disabled in this browser. Reactivate it to view this content.
Be mindful of products & ingredients
Take a look at the key ingredients in products and opt for those with strengthening power that will do double duty. We want to 1) maintain hair health and 2) help make it even better. A few nourishing elements to look for include coconut oil, Argan oil, aloe, or spirulina. You can also incorporate collagen supplements and hair growth capsules like these with grape seed, green tea, zinc, and more.
Let's not forget the most delicious healthy-hair habits involve eating more foods like eggs, berries, Greek yogurt, spinach, fish, avocados and seeds. You can even make a beauty smoothie if you want to down these in one gulp. Overall, the targets here are healthy oils and protein building blocks. Ingredients in your products and what goes in your body can help or hurt so choose carefully.
Sun protection for healthy hair
It's sunny the majority of the year here in Florida, so sun protection is something I'm used to. Even if you're not at the beach, it's worth adding to your routine. If you color your hair or already have dry hair, this is one step that you won't want to skip. Find products that are antioxidant-rich, can combat UV damage and keep any air pollution at bay. This Super Goop powder is great for your part — an area that gets a ton of sun and is probably most forgotten when it comes to sunscreen. This Rita Hazan Lock & Block is a dry mist that block UV rays, humidity and protects color from fading. I'm constantly having to color my roots for grays, so this spray helps preserve the color and keep sun damage at a minimum.
I also love a good hat or hairband from 30A Mama to keep hair off my face. (Shameless plug: check out the latest clothing, accessories, 30A sunset prints and more here: shop.30amama.com)
Which of these hair habits are you already doing and which do you want to add to your routine?