We're getting closer and closer to Christmas (yay!), which means it's time for another giveaway as part of the 12 Days of Blogmas series I'm participating in along with 11 other bloggers. Be sure to scroll down to the bottom for all the details, but first up I'm talking about a local charity event I've had the pleasure to get involved in and sharing how you can help make a difference, too!
Do what you can where you are with what you have.
I love that my job as a digital content creator and graphic designer means there is a wide variety of projects I get to be part of. Each project is fun and meaningful in its own way.  One moment, I am designing the cover of a kids magazine or planning social media posts for a client and the next I am sending 10 ft wine bottles off to print or brainstorming ways to fit a masquerade mask into a party invitation. All in a day's work!
With the season of giving upon us, I know now is the perfect time to offer our time and talents to organizations that need our help. Consider giving the gift of hope this Christmas to a charity that could use extra support. Allow me to introduce you to La Lumière: A Masquerade Affair.  I have partnered with this event to donate my design services and provide the branding for this year's theme. I really love the aesthetic and the way it turned out.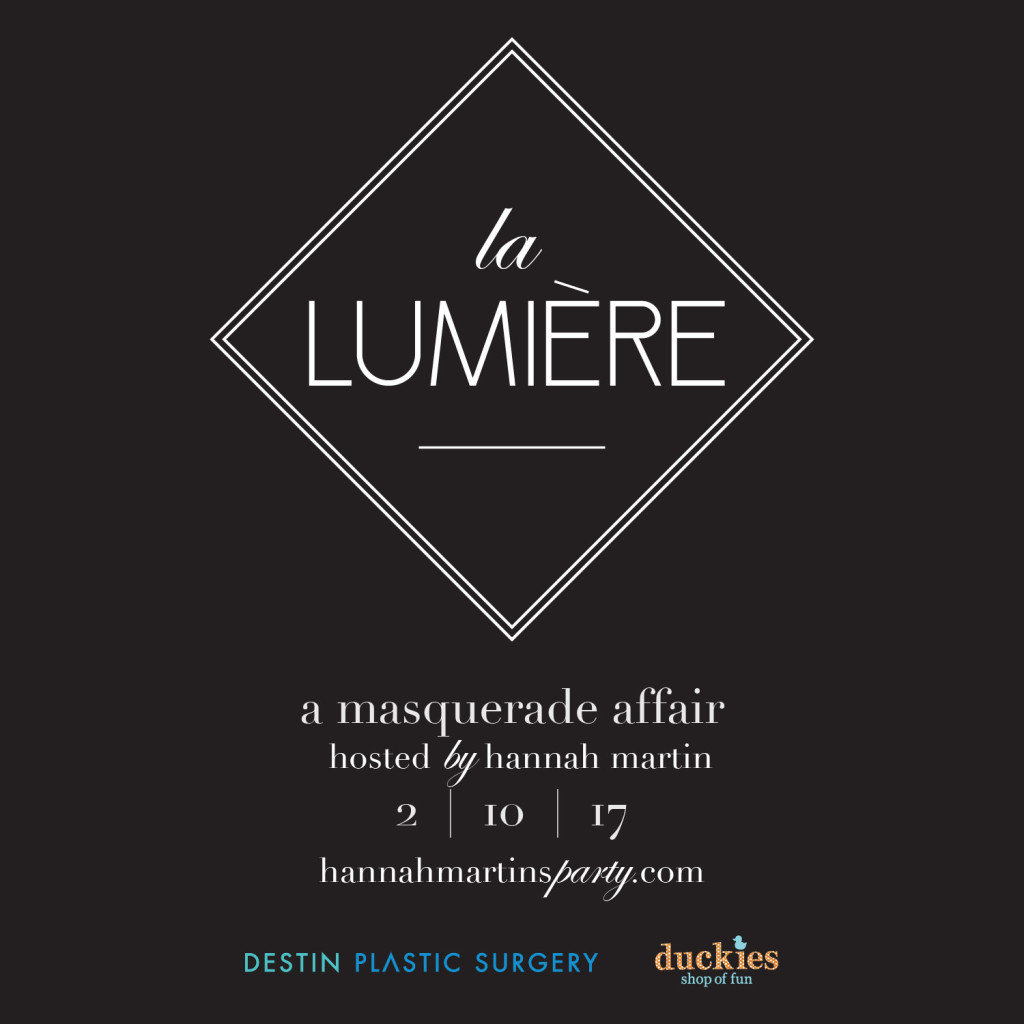 This is one of those events that is an amazing time (make that AHHH-mazing!) full of swanky chic style and entertainment that will knock your socks off (hello, Cirque du Soleil-style performers!), but even more than that, it is an incredible fundraiser for a much-needed cause. Hannah Martin, a 30A Broker Associate at The Premier Property Group, has a huge heart for giving back and for the last two years has turned her birthday party  into a philanthropic shindig raising money for a local charity. She recently announced the theme of her 3rd Annual Birthday Bash benefitting Special Olympics Florida – Walton County – "La Lumière: A Masquerade Affair" – will take place Friday, February 10, 2017, from 6:00 to 10:00 p.m. at St. Joe Club & Resort's LakeHouse on Western Lake in Watercolor. While this event technically happens outside the holiday season, businesses and individuals have been quick to step up this Christmas to sponsor what they can and give to a larger movement that has raised an impressive amount in just its third year. If you can get involved in any way to directly benefit our local Special Olympics, please consider giving here. I am so excited to be part of this team and can't wait to see what an impact La Lumière has on our community.
12 Days of Blogmas Giveaway:
And speaking of giving back, one lucky reader will win a holiday-inspired nail collection and a cooling foot scrub in today's Blogmas giveaway! Head on over to Stephanie's blog accordingtoblaire.com to enter and be sure to check out check out the other bloggers participating in 12 Days of Blogmas: