There's something about a staycation that is so refreshing and exciting. Getting to experience my own little town in a fresh way with a fabulous group of blogger babes is something I'll say yes to anytime! We had an amazing weekend on 30A soaking up the sun, dining on delicious bites from neighborhood to neighborhood and unwinding in true beach fashion. If you followed my Instagram Stories then you know it was a blast as we were all completely spoiled. I promised to give you all the scoop so you can have our full itinerary in mind while planning your next trip to 30A.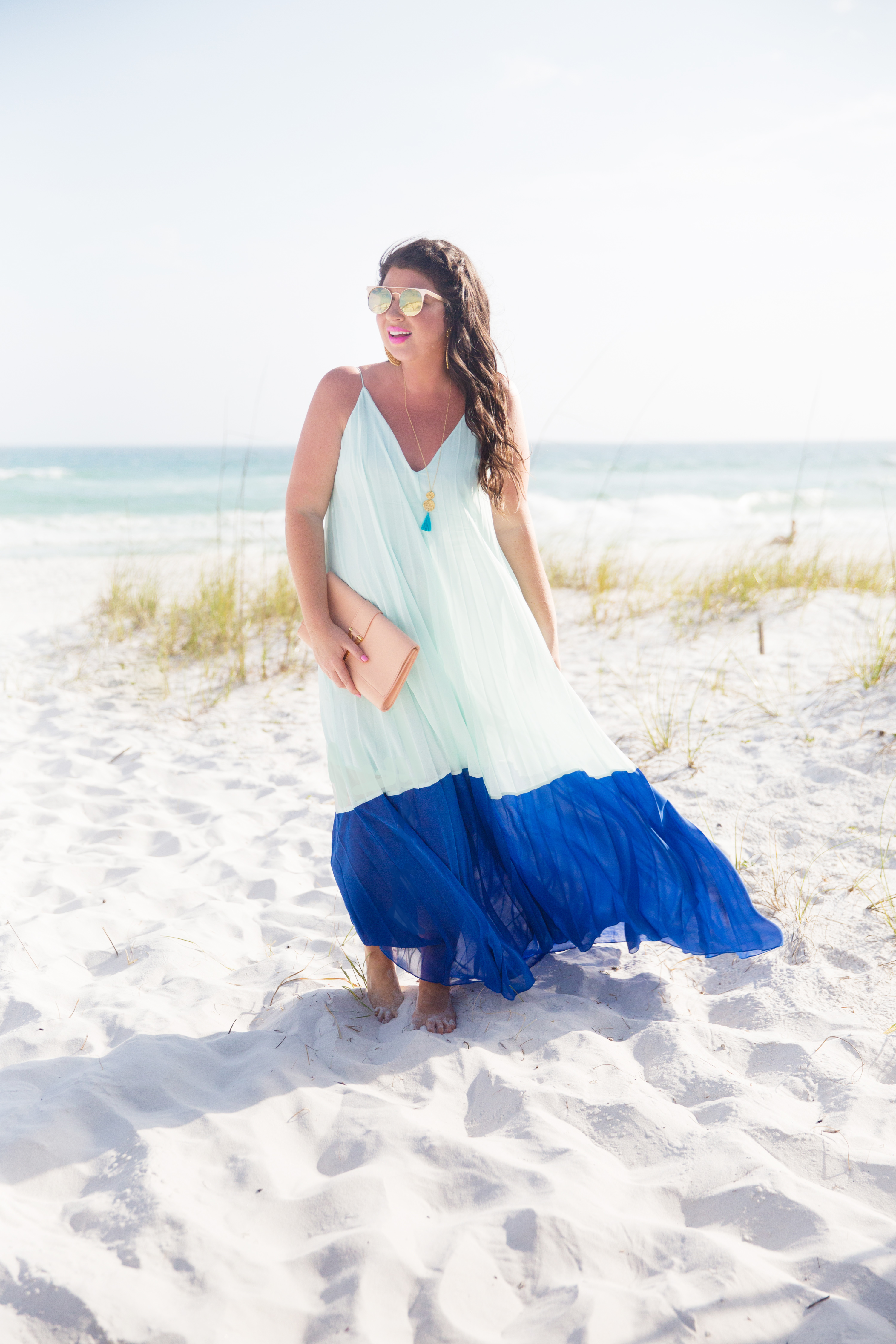 Sunglasses (c/o Willow Boutique) | Necklace | Dress
Here's a rundown of all our 30A Blogger Vacay details.
Where We Stayed
Thanks to the team at Live Well 30A, we had a prime Gulf-front house in Seagrove right on the beach near Eastern Lake. (This is the same neighborhood that may or may not have a couple country music neighbors nearby!) Our specific beach house, which was a 4 bedroom property and sleeps 10, can be found here along with plenty more rentals around the area on Rent30A.com. Use code livewellstreetstyle to get 10% off the house we stayed in as well as any other Rent 30A property.
Where We Ate
When we arrived Thursday and got settled in to the beach house, the first thing on our list was dinner. We headed to The Hub near WaterSound for a yummy meal in the "backyard". There are multiple dining options here, so everyone can take their pick and even mix and match items to suit their taste. We needed up with an entire table full of food from Mile Marker Fifteen (don't miss the nachos or Mexican street corn) and Local Smoke (try this if you love barbecue). Along with live music and a fun open-air vibe, this is a great place for families and kids to roam.
Friday morning, we were treated to an amazing in-house brunch experience thanks to Chef 30A. He arrived with everything in hand and whipped up a delicious meal with eggs benedict and filet served with fresh-squeezed juices we couldn't get enough of. That's a perk I could definitely get used to!
After a full day at the beach Friday, we headed over to Seaside for dinner at 45 Central. This wine bar is known for their sushi, tapas and paella on Friday, but we were treated to a special selection curated by the chef. Our courses ranged from an impressive charcuterie board, grouper ceviche, beef tartare and more. It was wonderful and everyone was so sweet!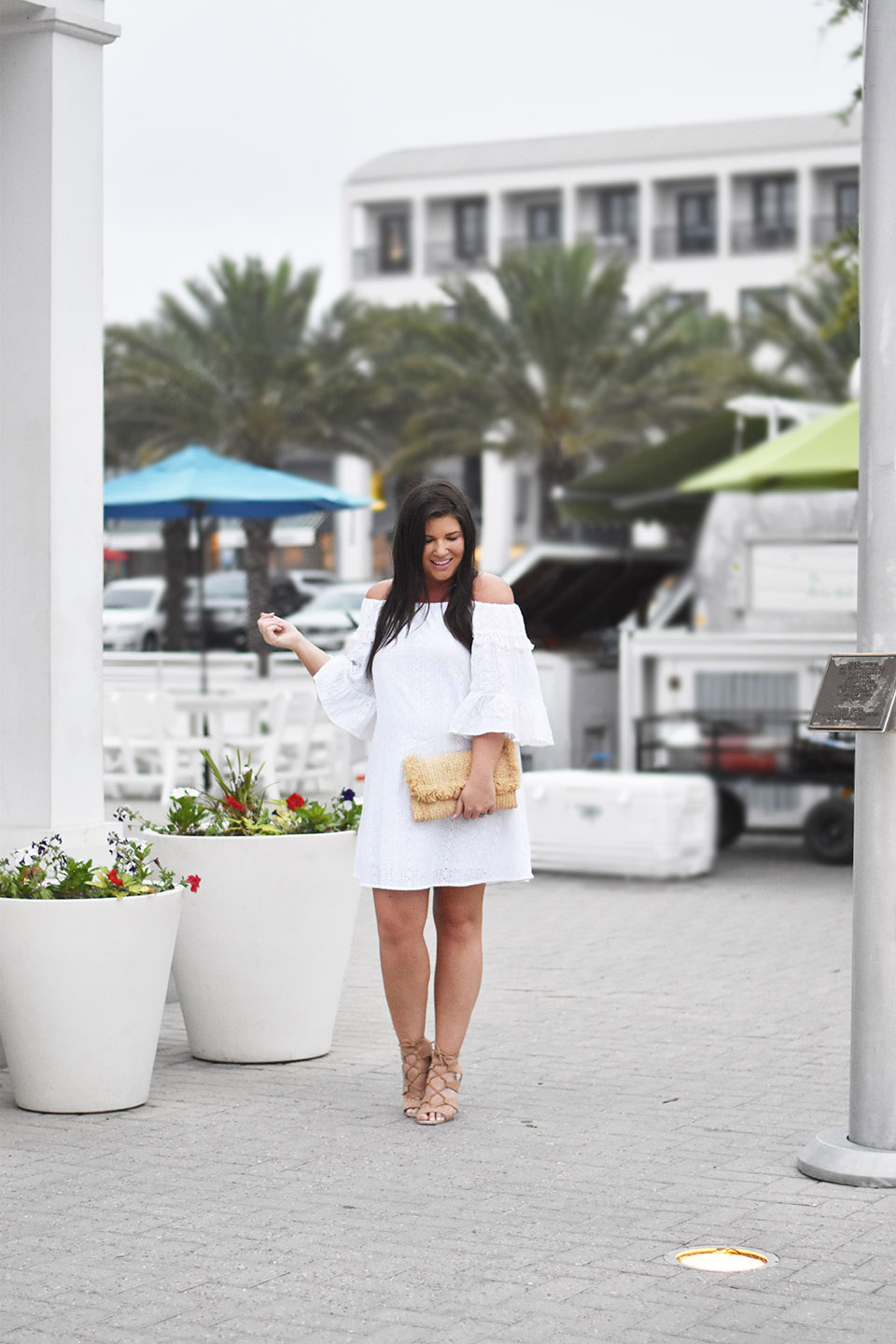 Saturday morning we kicked off the day bright and early with donuts at Charlie's Donuts in Alys Beach and wandered the sidewalks admiring all of the pretty architectural and details that Alys Beach is full of. I couldn't resist a blueberry cake donut and highly recommend getting up early to enjoy before they sell out. Totally worth every calorie!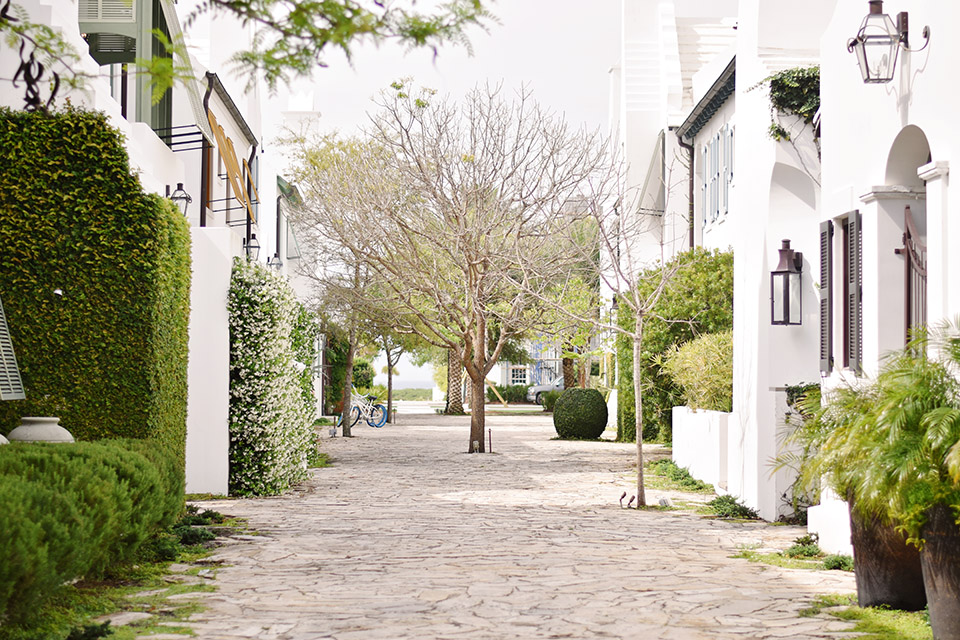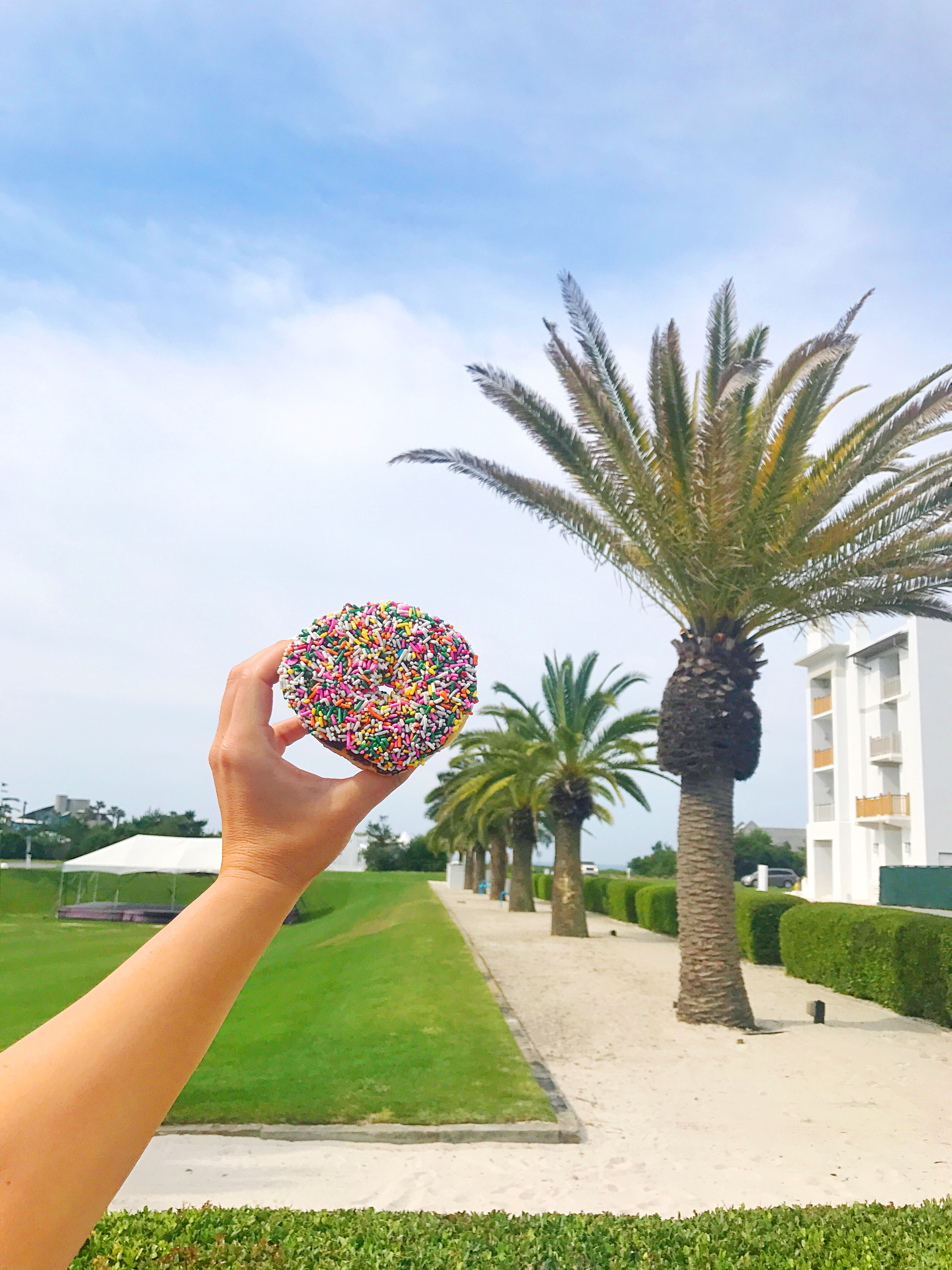 Next we had lunch at Chiringo, one of my new favorites in Grayton Beach. I love the downstairs juice bar and lunch upstairs with the windows open. Depending on your mood, I suggest trying the Fried Shrimp Basket or the Organic Chicken Grain Bowl with blackened chicken. You can't go wrong! Plus, you have to try the Tsunami, a yummy blend of pineapple and strawberry juice (and rum – if you're not going the Shirley Temple route).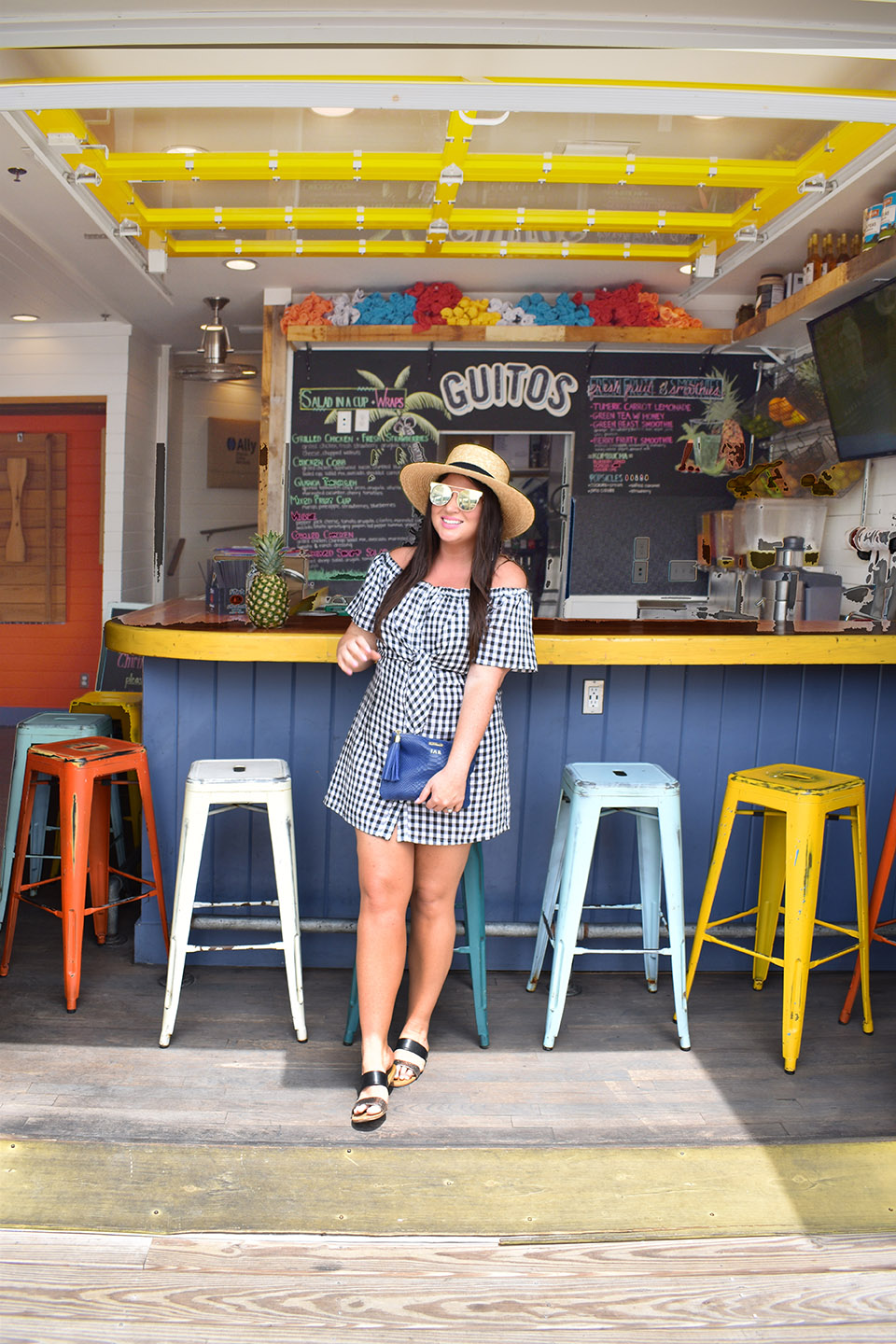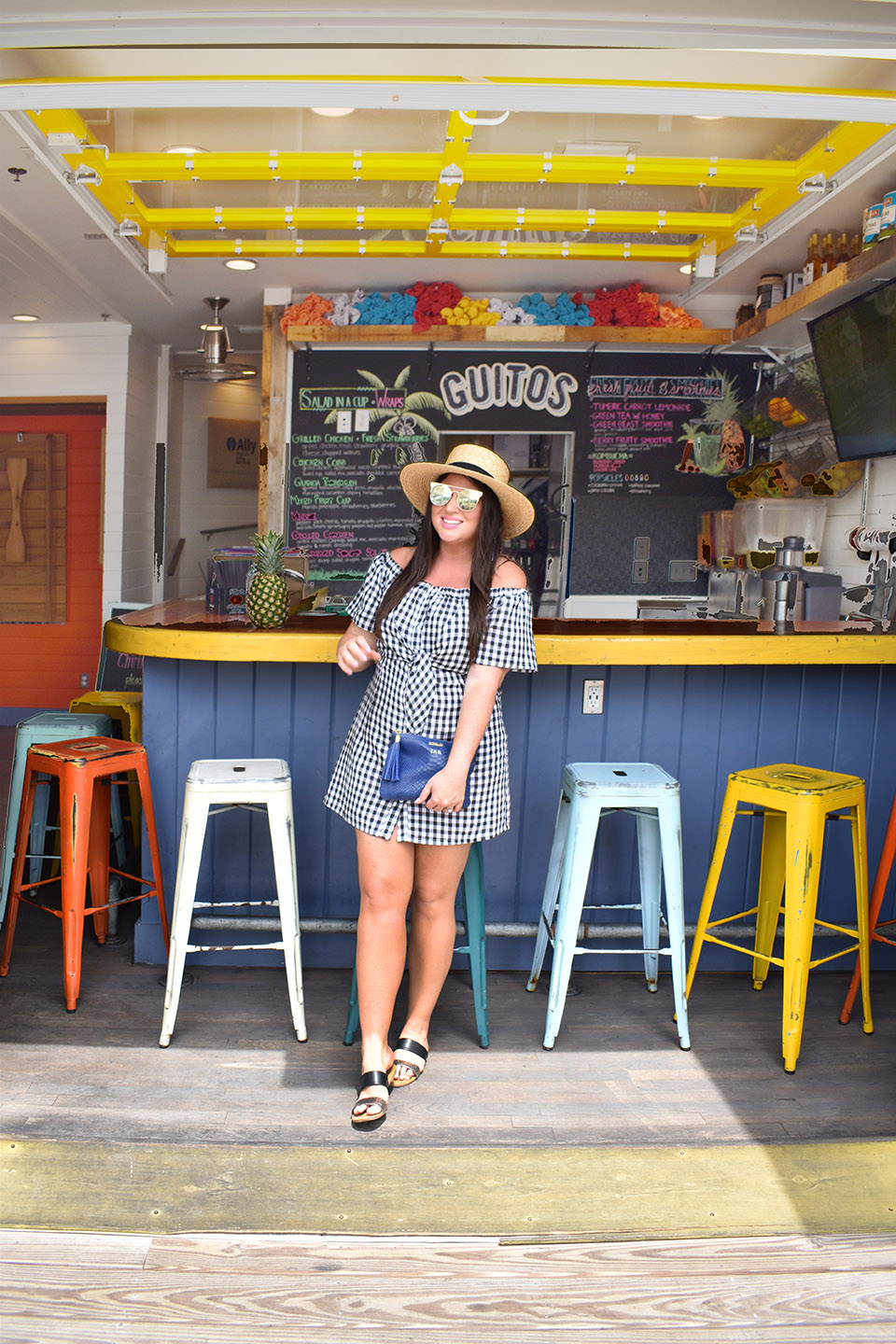 Hat | Sunglasses | Dress
The team at LiveWell is known for their beach bonfires, so Saturday night involved a laid-back bonfire right behind the house and a quintessential beach meal – a southern shrimp boil. This was one of my favorites and so tasty. You'll definitely have to put this on your must-eat list!
We finished off our weekend dining with brunch at Sunset Bay Café in Sandestin. I couldn't resist the French Toast, which was so delicious, or the strawberry lemon pancake, which a few of us split as a bonus. Best pancake ever!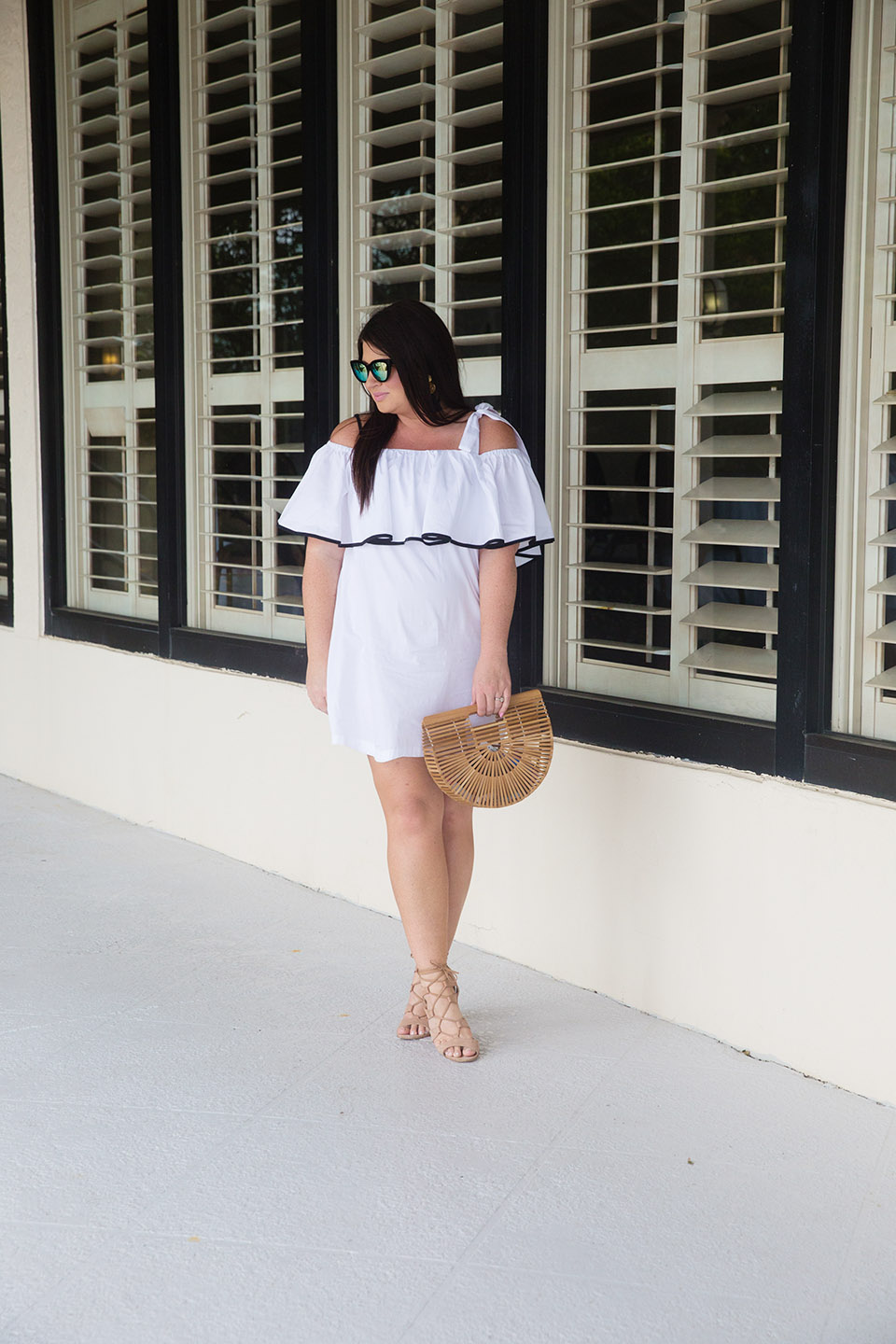 Sunglasses | Dress | Bag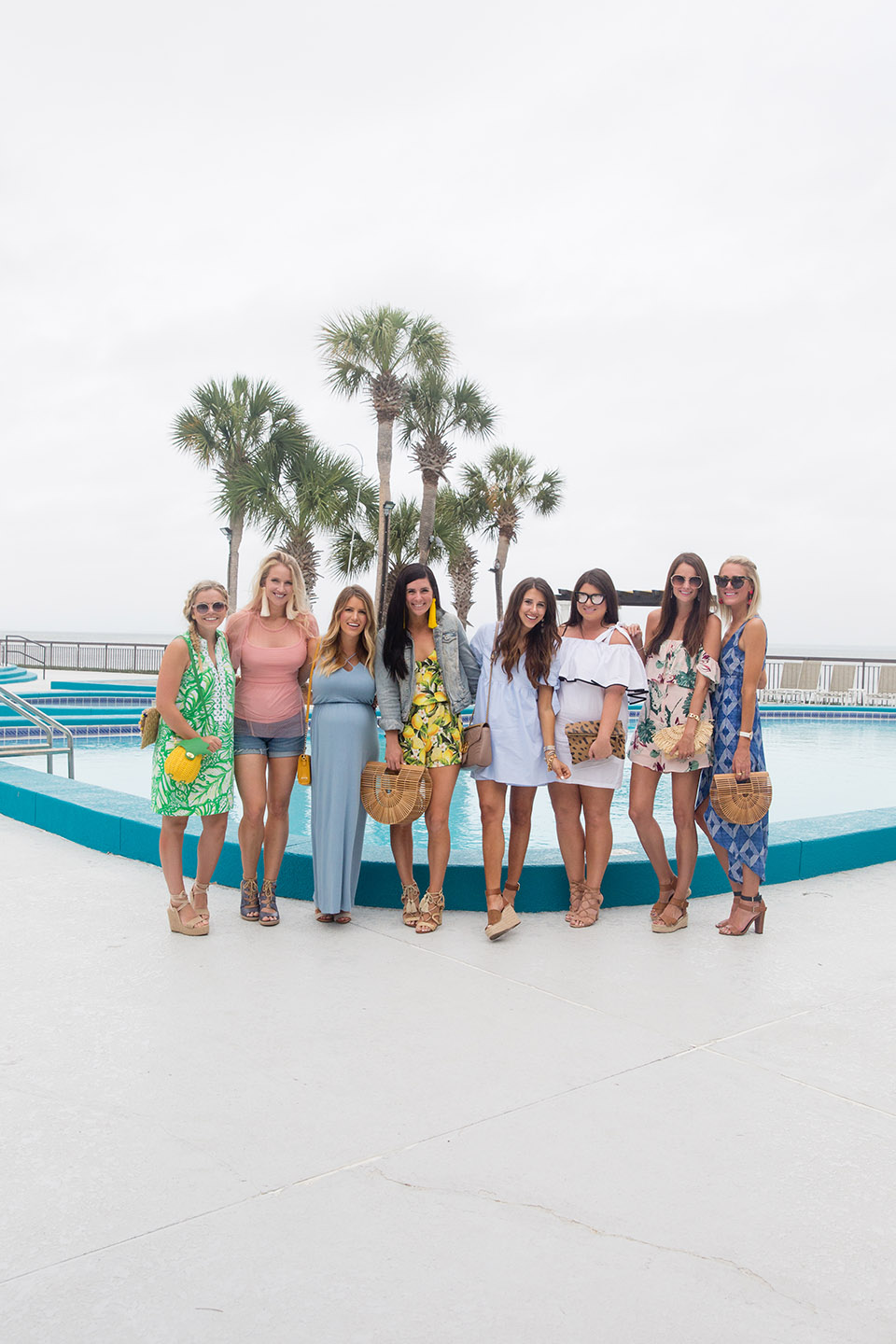 What We Did
Since our goal was to keep the weekend relaxing and low-key, our main activity involved beach time – soaking up the sun and spending time on 30A's sugar white sands. Beach chairs are a must and LiveWell handles setup so all you have to do is wander down to the Gulf, beach bag and oversize sunnies in hand.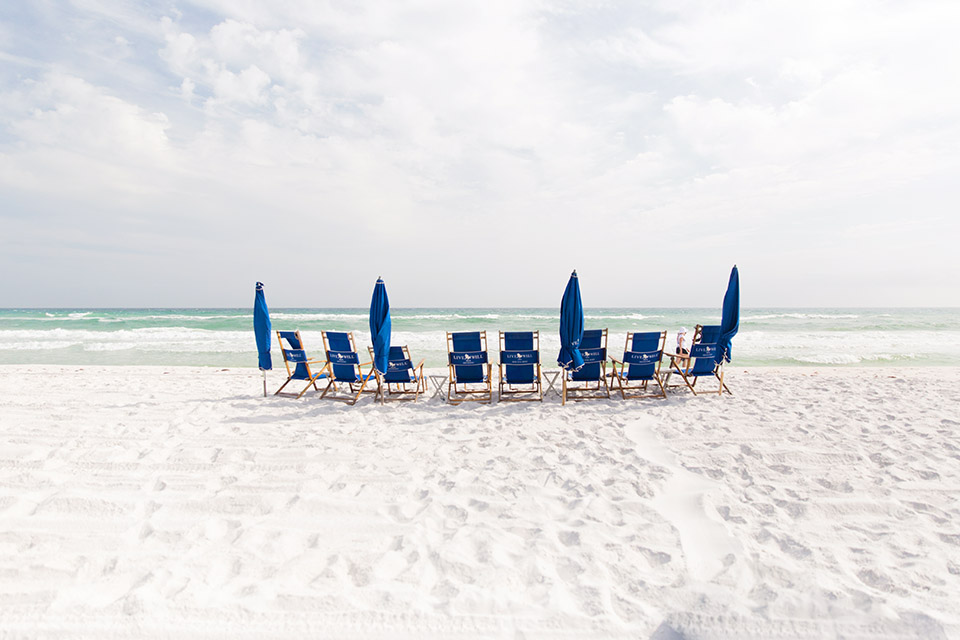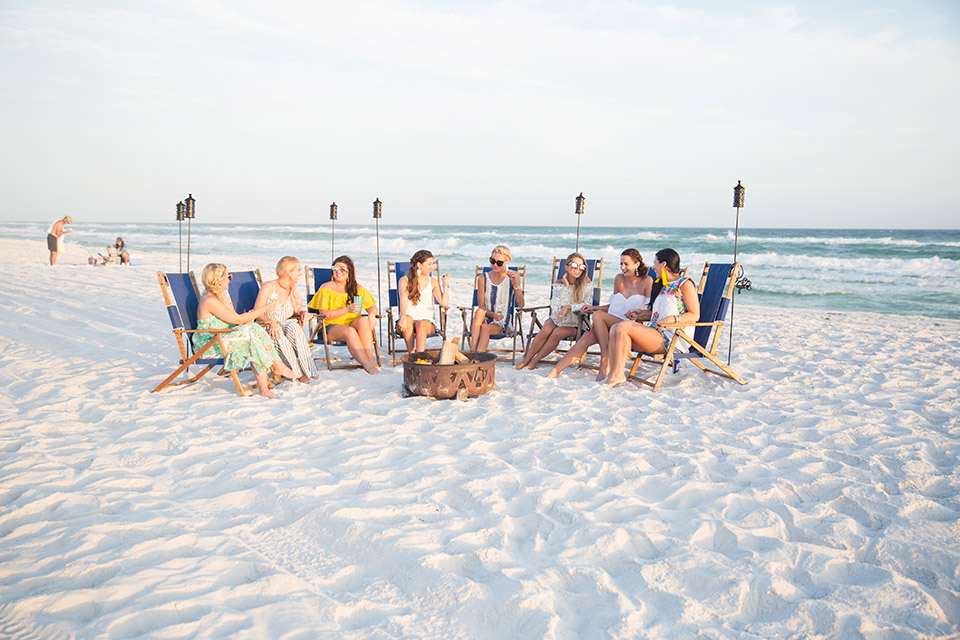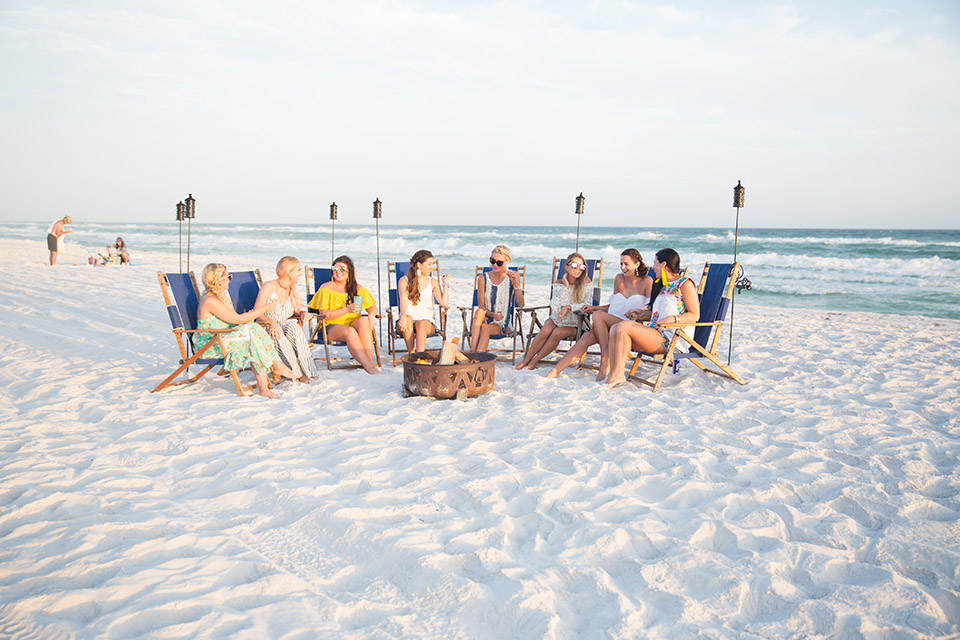 I mentioned the beach bonfire which is one of LiveWell's signature experiences. This is a great activity for families or big groups, especially as a way to celebrate an occasion (think wedding, rehearsal, reunion, etc) or just as a way to have a laid-back night watching the sunset with the ones you love. Our beach house came stocked with groceries, which meant we had one less thing to worry about and plenty of bites to nibble on between meals. They also rent bikes — the transportation of choice on 30A — with bikes for everyone in the family. And speaking of family, this was a girls-only trip, but should you need any baby / toddler items like cribs, highchairs or even a babysitter, LiveWell can take care of that for you. (Take home one of their logo hats at livewell30agear.com.)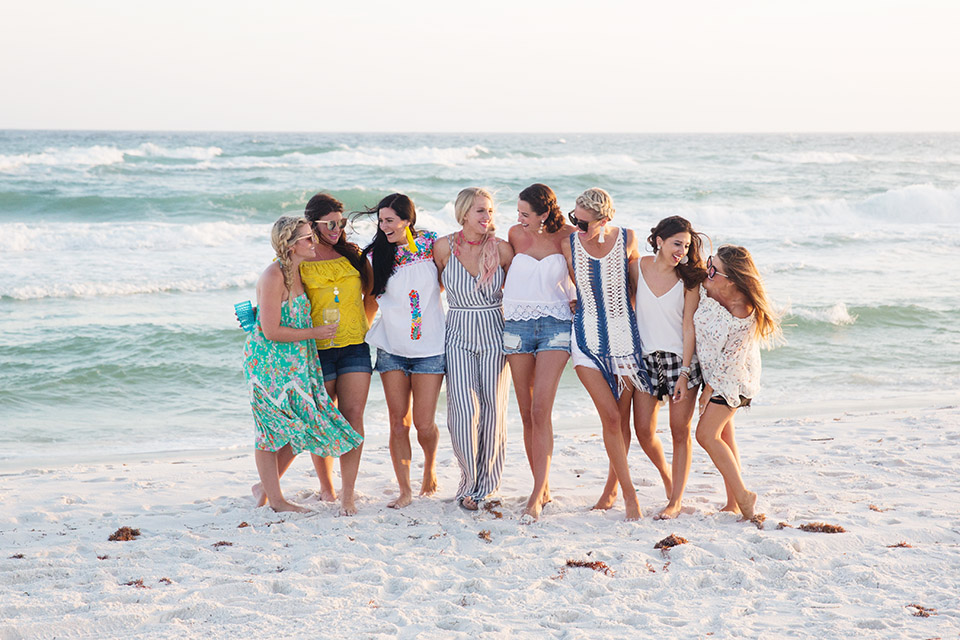 Our Crew // Kristin – Living in Color Print | Me | Lynlee – Gal About Town | Jessica – Happily Hughes | Amanda – The Miller Affect | Jen – Belle de Couture | Dede – Dress Up Buttercup | Jessica – Lipstick, Heels and a Baby
Special thanks to my sweet friend Jessica of Lipstick Heels and a Baby, who organized this and brought our awesome group together.
If you have any other questions about our 30A Blogger Vacay, comment below and I'm happy to answer!