Happy Friday! As usual, this week has completely flown by and here I am pre-weekend looking at a to-do list that looks almost the same as it did at the start of the week. Does that happen to anyone else? I know it's just this season of life with a baby and I'm really enjoying our little moments, but man has my productivity changed! Today's Friday Five has some great weekend sales and more. Take a look…
1 – Style
Clearly this part of my routine is long overdue, but I'm finally becoming more interested in fitness in hopes of getting into better shape and working on my muscle tone. I couldn't tell you the last time I saw a muscle in the mirror, and certainly not an ab, but I'm feeling like this season will be a great opportunity for me to improve. Obviously, easier said than done, but when it comes to working out, it definitely helps to have fun workout gear. I came across this new-to-me brand and love the styles. How fun are these leggings? Can't decide if I like the lilac or pink style more? They're said to lift and compress which are two words that immediately sold me.

2 – Beauty
What is it about a birthday that really makes you look in the mirror at 10x zoom and scrutinize every detail? That was me this week. I'm really enjoying my current skincare routine and love how my skin is looking lately. A few lotions and potions go a long way, but most important right now, since it's still 90 degrees or more, is a good sunscreen. I've been using this Coola Face Sunscreen which smells amazing and is very light even though it stays put.

3 – Motherhood
I shared this little nugget on Instagram and her oh-so-lovely early wake up time. I'd love to hear what time your kiddos get up and who's up first – you or them!
4 – Real Life
We're heading out on the boat tomorrow with friends for a laid-back family fun day and I'm pretty sure I'll be wearing this tried and true Trina Turk off the shoulder suit. What are your weekend plans?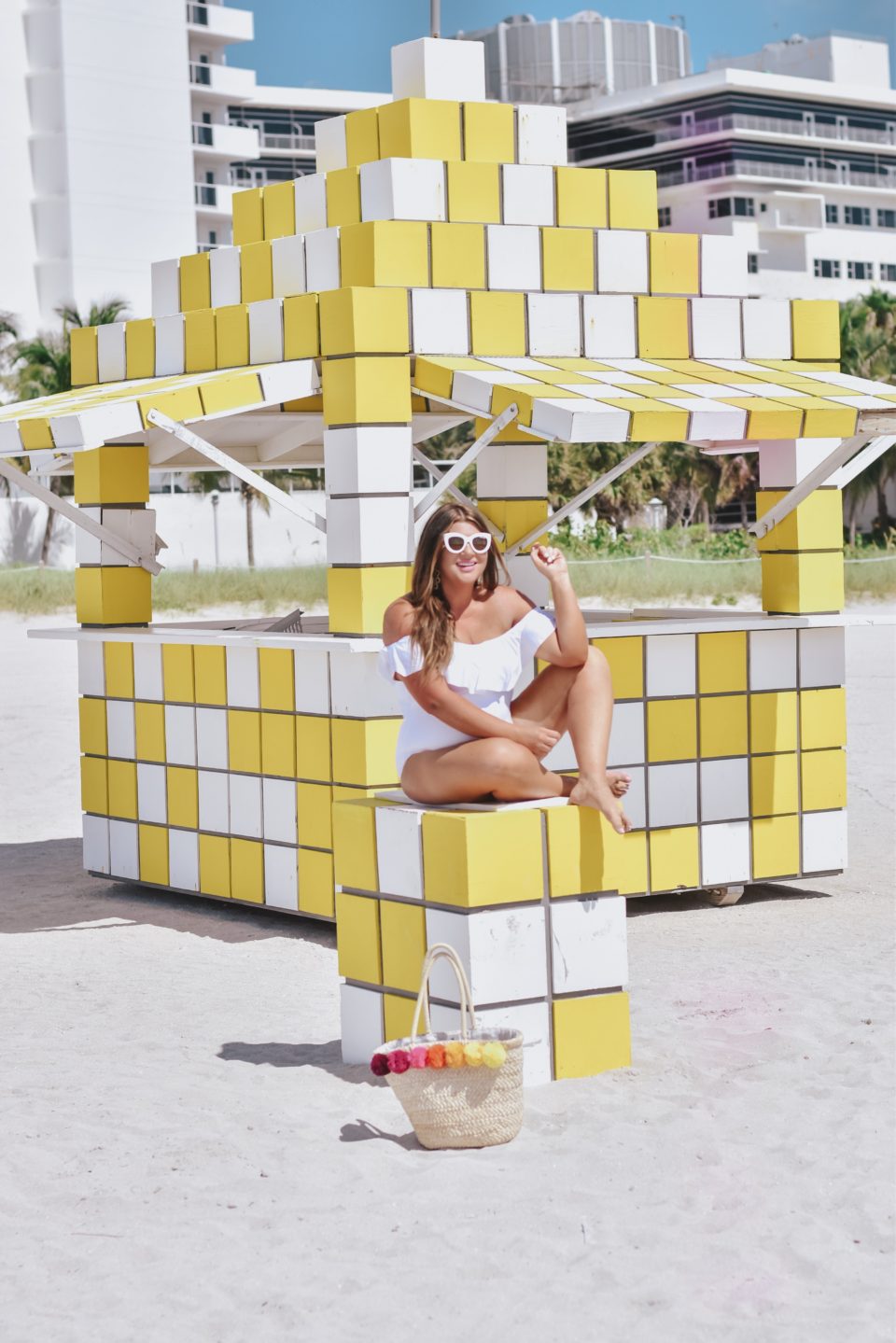 5 – On Sale
Anthropologie: 20% off everything for Anthro Day! I love this initial necklace, this pretty blouse in sky or pink and these pastel bowls we use for cereal and oatmeal.
Sephora Insider Sale: 10-20% off beauty, depending on your loyalty level.
BaubleBar: 20% off with code SAVE20 or 30% off $50+ with code SAVE30. I love these hoops in blush, these celestial stunners and these frilly flamingo earrings.