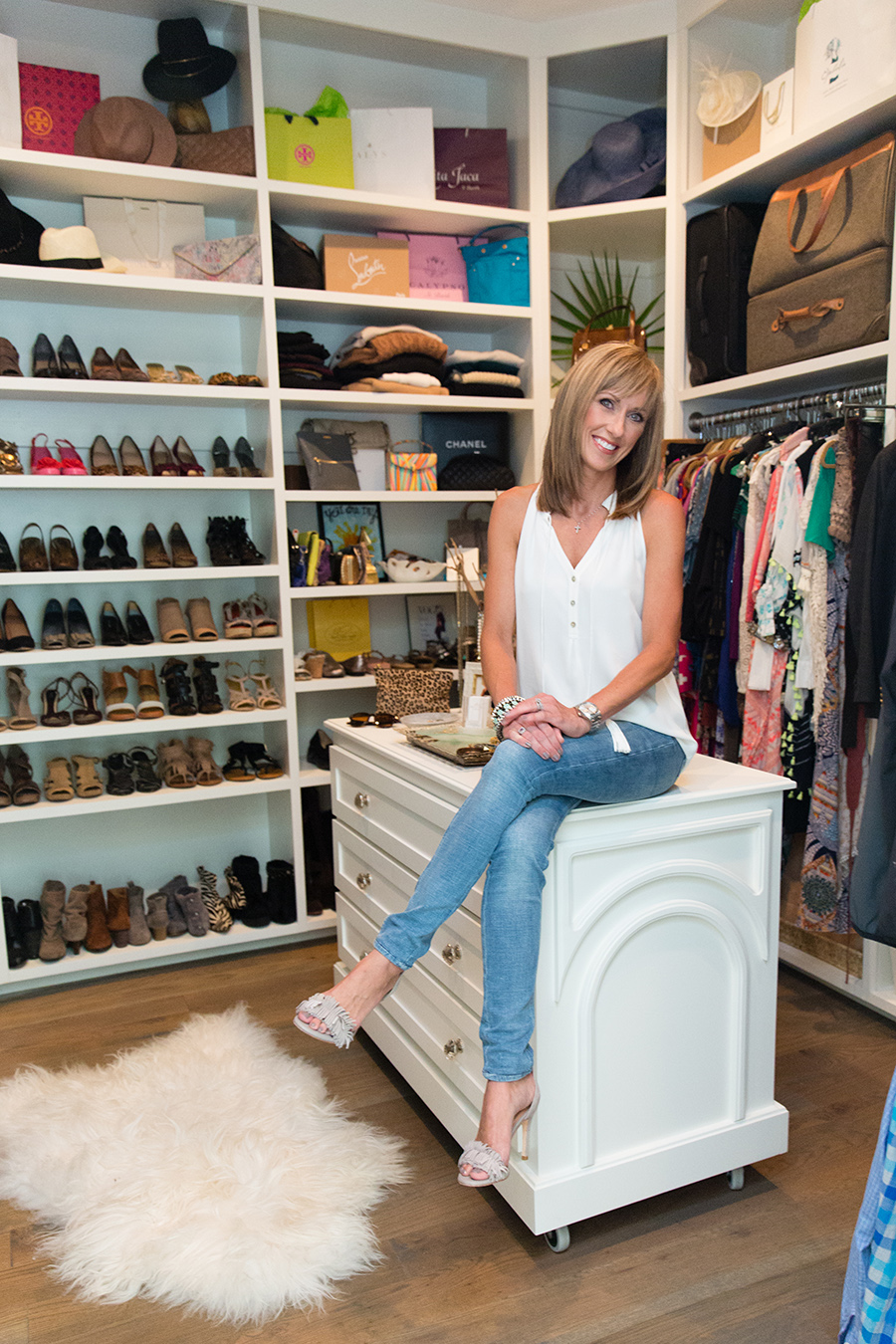 Wardrobe Made Simple's Amy Giles in her WaterSound home, photographed by Jacqueline Ward Images
If you've ever met Amy Giles, you know she is a chic ball of energy. She's a Type A girl who is always on the go, warmly greets you with a hug and remembers to ask about that little detail from whatever your last conversation was. All with impeccable style. With a background in medical sales, it's no surprise that when she planned a distinct curve in her career path last fall to have a more flexible schedule, her newfound job title as a stylist would bring out the same dedication and passion she was used to devoting to her former career. Enter Wardrobe Made Simple, a business Amy has developed to help women (and men!) take an organized approach to fashion and feel more confident through personal style. When she isn't spending time with her husband John and twin girls Cooper and Riley, Amy makes the rounds on 30A and travels the south meeting with clients, reworking wardrobes and shopping for just the right pieces to fit an individual's style or budget. To kick off our new feature "30 Questions on 30A" we caught up with Amy in a fitting locale – the fabulous closet in her WaterSound home. Take a look and be sure to scroll down for all the fab photos captured by Jacqueline Ward Images.
How do you describe your business in three words?
Building Fashion Confidence
How do you describe your personal style?
Classic contemporary with a little edge and beach thrown in.
How did you first hear about 30A?
When we moved to Destin 15 years ago, we decided to explore the "outskirts" of Destin and stumbled upon this cool, undiscovered area called 30A.
Where is your favorite place to watch the sunset?
Watersound Beach
Favorite 30A restaurant?
Edward's for dinner and George's for lunch
What's in your beach bag?
Shine Lipgloss with SPF from Patchoulis, Sisley and Melaleuca Sunscreen, Tom Ford Sunnies, iPhone 6, snacks and beach toys for the girls
What is your favorite 30A experience so far?
With my girls watching my husband participate in the Grayton Beach Rags to Riches Regatta on the 4th of July.
What is your favorite color?
Shades of Blue
What is your favorite time of day?
Dusk
What do you order when you get coffee?
Skinny Vanilla Latte with Honey
Who would you dream of having coffee with?
Rachel Zoe
First website you check in the morning?
Toss up between Bloglovin or Shopbop
Last dish you ordered?
The Snapper with succotash at Edward's
Last book you read?
The Yellow Eyes of Crocodiles by Katherine Pancol (on my vacation with John last December…… I don't make time to read an entire book normally)
Most used app on your phone?
Instagram
How long does it take you to get ready in the morning?
30- 45 min
What one beauty product can't you live without?
Lipgloss
What is the last clothing or accessory item you purchased?
A cool poncho and Mother denim from Willow Boutique
What is your favorite fashion trend of all time?
I love seventies retro style- flared pants, high waists and platforms.
What blogger/website do you love to follow for fashion?
Brighton the Day—- by Brighton Keller
What is your guilty pleasure?
Chocolate!!!
How do you unwind?
Glass of wine in the evening with my husband reviewing our day after girls are asleep
Do you have any hidden talents?
I can dance! I was on Auburn University's Tiger Pause Dance Team!
What would you never wear?
Crocs
Who is the last person you called on the phone (texting doesn't count)?
My grandfather for his 96 birthday
What would you be doing if you weren't on your current career path?
Medical Device Sales (my former career)
Who has been your biggest influence?
My mother
What are your best words of advice?
Treat others how you want to be treated and follow your dreams.
What most excites you about life lately?
My girls, my husband my new career path!!!!
What is your spirit animal?
Dog
BONUS: Describe the quintessential 30A outfit.
A beautiful dress with a cool, chic vest, the perfect wedges (preferably with fridge), a fedora and a HOT, well made handbag.