If you're looking for a laid-back family adventure and a taste of Old Florida, this is the escape for you. We set the destination to Crystal River and embarked on a road trip to swim with the manatees, delight in a change of scenery and make some pretty incredible memories along the way. In a time when we've all adjusted to slowing down and enjoying the simple things in life, I highly recommend getting out to explore more together as a family. This trip is a reminder of just how much fun you can have right down the road.
This post comes in collaboration with Cabana Life and Plantation on Crystal River. All opinions expressed are my own.
To book your stay and manatee tour, click here.
girls white terry coverup | St Barts sleeveless maxi
Where to Stay:
The drive for us was just over 4 hours. Not bad at all, but definitely one you want to make longer than a day trip. Book a few nights and turn it into a whole thing.
Plantation on Crystal River
We spent the weekend at Plantation on Crystal River, an Ascend Hotel. Much of the charm of this area is the simple lifestyle and a hint of feeling like you're stepping back in time. Crystal River is a quaint small town and when it comes to selecting your home away from home, the Plantation on Crystal River stands above the rest. It really is the best location and experience for your manatee encounter.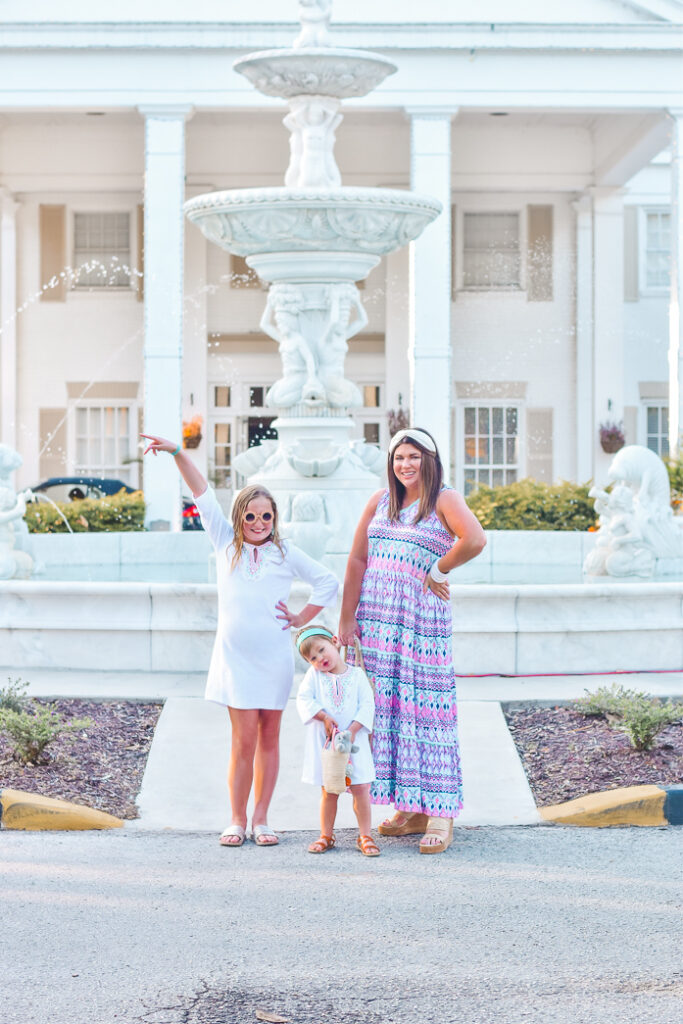 girls white terry coverup | St Barts sleeveless maxi
The Resort & Amenities
Like the name implies, the Plantation is waterfront in the most convenient spot to unwind, enjoy your stay and be close to manatee boat tours. We walked about 50 steps from our room to the boat and it was so perfect. The resort overall is relaxed, casual and comfortable. When you pull into the property, the most beautiful limestone fountain welcomes you with incredible carved manatees bubbling away. The girls loved this feature so much. Truly a work of art.
From the fountain to plush animals in the gift shop, manatees are the name of the game. We had these two buddies in my PR welcome bag and they're now home with us in full cuddle rotation.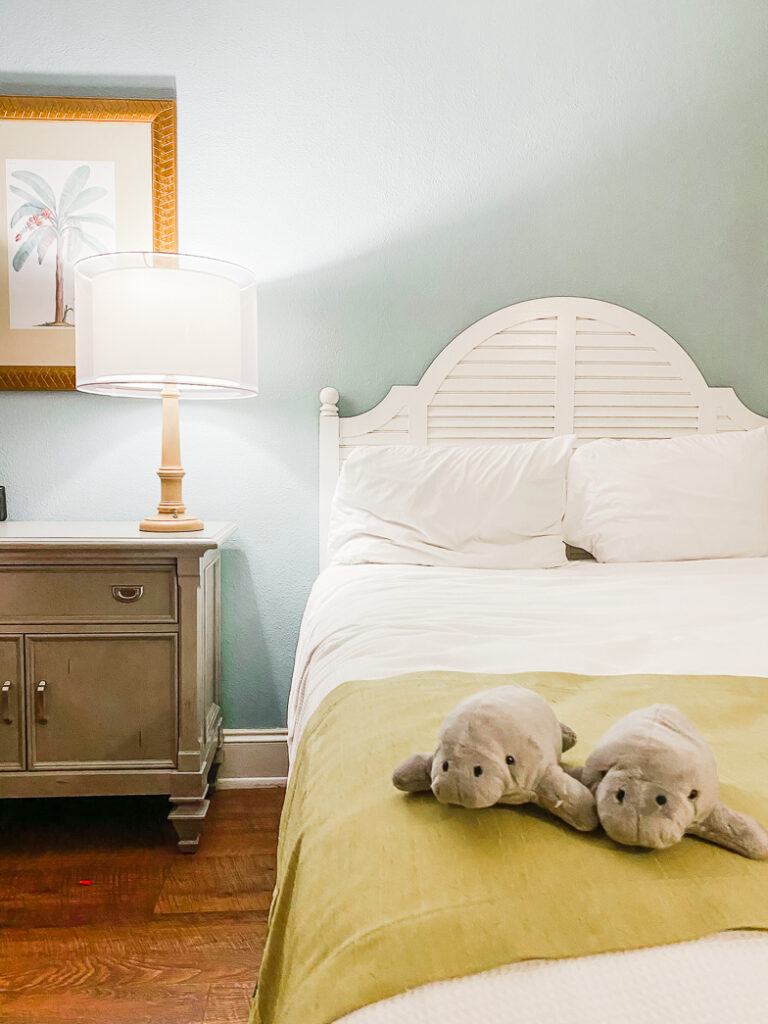 Rooms are cozy and comfy with beds, bathroom and WiFi. Standard rooms have either a water view or garden view along with other amenities that include: on-site restaurants with delicious Floridian cuisine, lagoon-style pool and hot tub, golf course, spa, business center, activity room, outdoor games and, of course, boat rentals, manatee tours and kayaking.
When to Go
The Best Time of Year to Swim with the Manatees
Cold months are the peak months since manatees migrate to Crystal River to stay warmest in the shallow water. It's actually the opposite season of 30A and most southern beaches, which makes it an ideal trip when you can't be sunning and splashing on the beach.
What to Do: Swim with the Manatees
Book a Charter
We booked with Adventure Center, which is the on-site charter for the Plantation on Crystal River. They offer all sorts of water rentals and adventures, but the manatee encounter is the most popular. We had Captain Loopy and mermaid Jessica, who were so fun and educated us on the proper swimming procedures, local knowledge and tips for the best experience.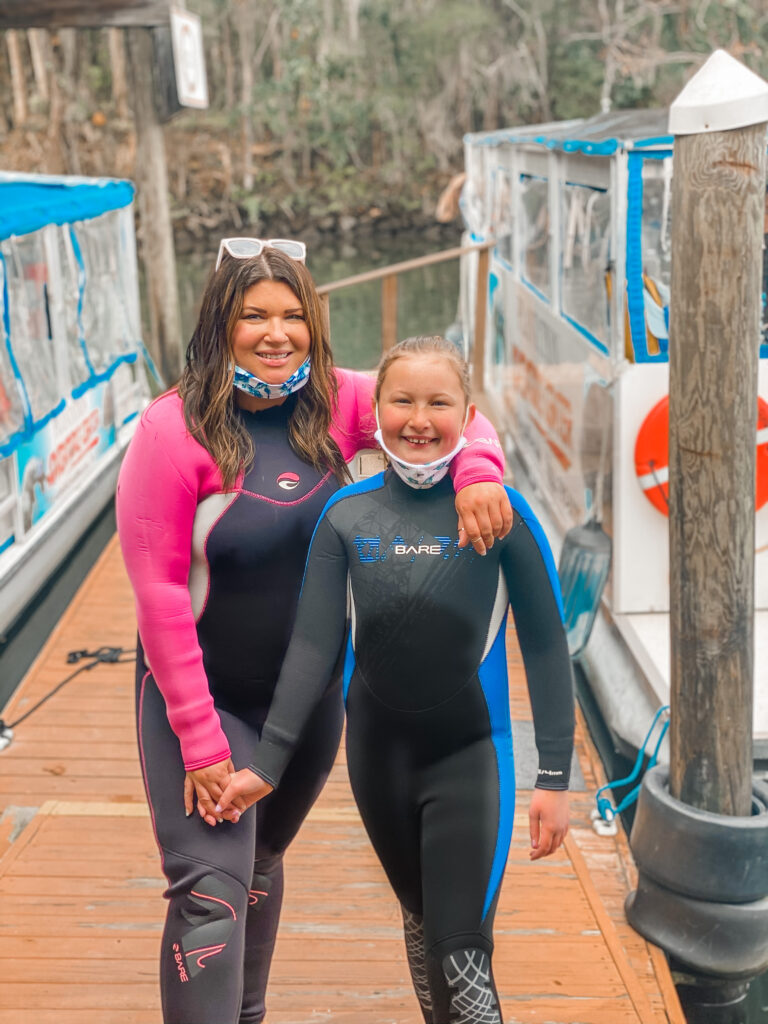 Swim with the Manatees FAQs
As far as tips for this part of the weekend, I'll share a few of the questions I received most below:
What's the deal with manatees?
Manatees may not be the most well-known water wildlife — still holding out for that manatee emoji! — but they are known as gentle giants and are an endangered species. Emery said they're almost like big puppies who swim, if you can picture that. These creatures really are the sweetest. They move slowly, love to eat and mostly just hang out. (Sounds like a lot of us in this pandemic.) Crystal River is the only place in the world where it's legal to swim with manatees and Kings Bay is home to the largest concentration of manatees in the world. This is the spot to go.
When is the best time of day to swim with manatees?
We were on the 10:30 charter and I'd say that was perfect, especially if you have kids in tow. The earlier the better for the most sightings. It tends to get crowded as the day goes on and not only can there be a lot of people in the water, but also the manatees might not be as likely to swim around you. Plus, the more people, the more likely the water will be cloudy as sand is stirred up from swimming and movement.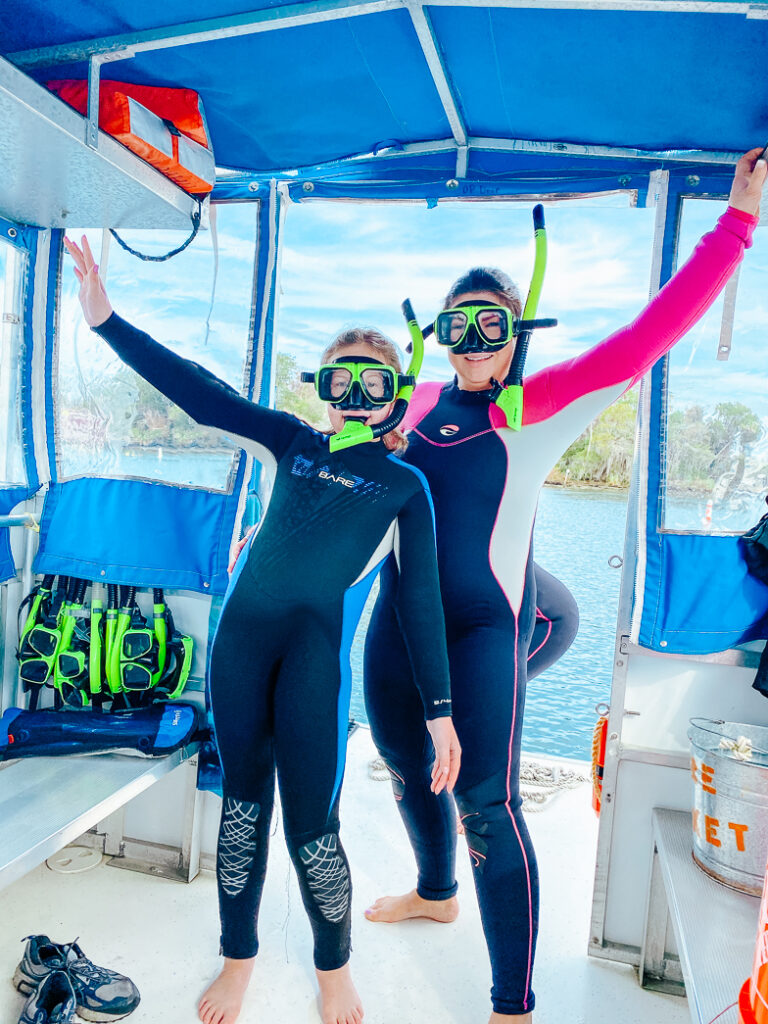 What do you need?
The charter provides all snorkel gear and wet suits, so you really don't need to bring anything. They provide towels on board, even hot chocolate and coffee, which is fabulous because it's typically cold when you get back on the boat. We only brought a few extra cozy towels and a GoPro, but you can actually purchase the photos your guide takes. I did both!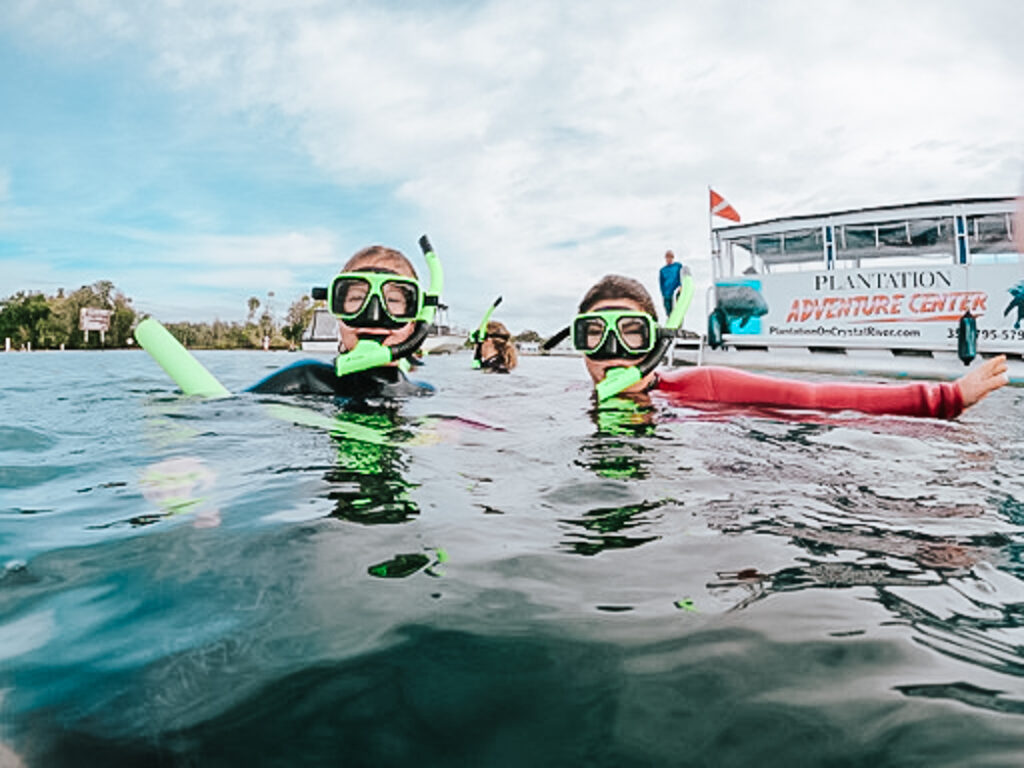 What's it really like? Were you nervous?
First, since manatees are endangered, there's a quick video demonstrating what's appropriate and what isn't as far as swimming behavior and approach. This pre-tour education gives you the full scoop and you can ask all the questions you like. The charter boat pulls up and you climb in to swim over to the manatees. They're mostly on the border of a protected area so there are markings to indicate where you can swim and what's off limits. The guide is right there with you the entire time, too. It feels so safe and honestly, very zen and relaxing.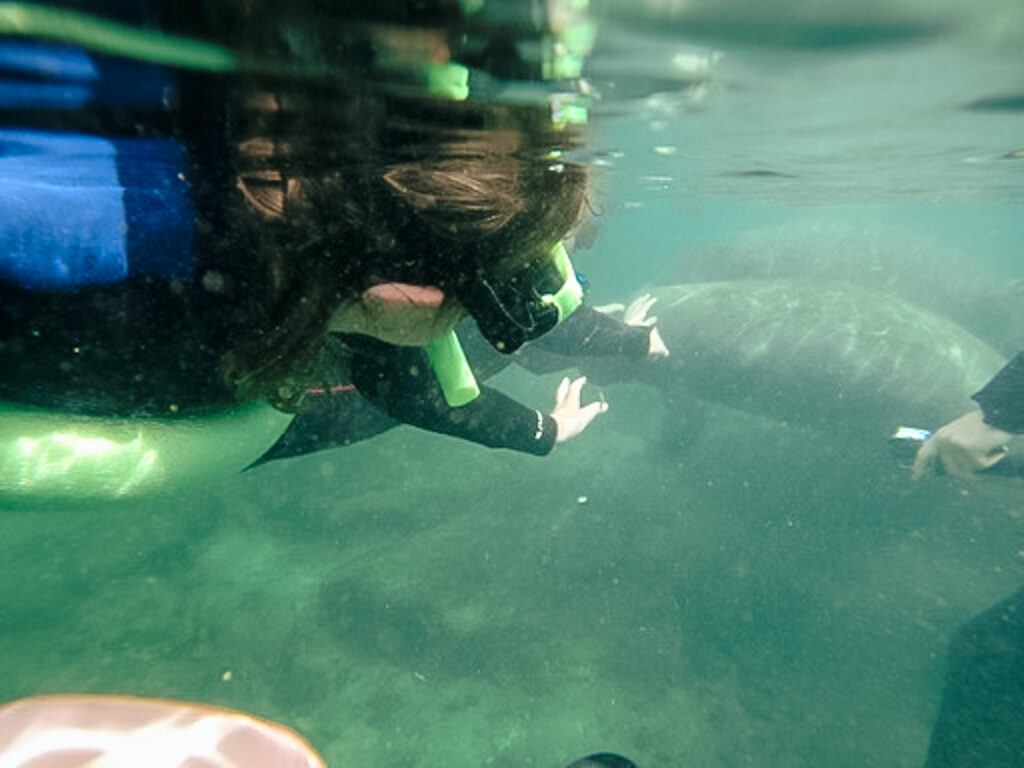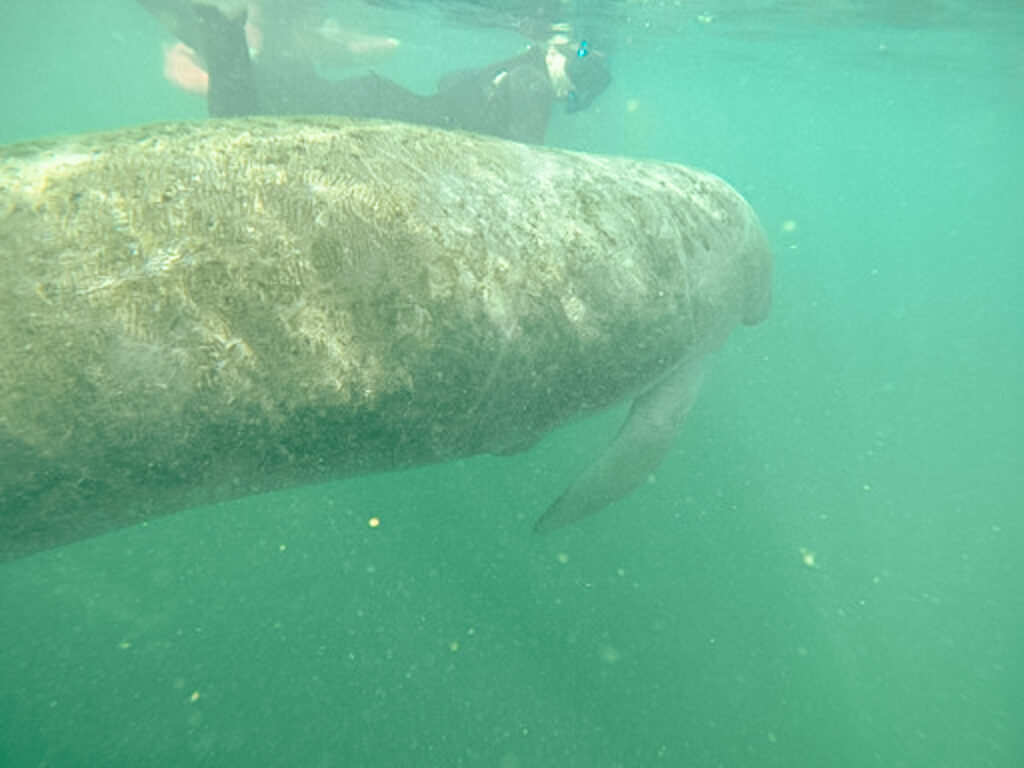 The most important thing they stress is to move slowly and not splash or be disruptive. It's called "passive observation". If the manatees swim to you you can touch and interact, but you can't pursue or be aggressive in any way. The face-to-face interaction was surprising for me even though I knew what to expect. They're just RIGHT THERE saying hi are so friendly. I also didn't expect the quantity of manatees. It's not just one or two, but so many you practically bump into each other.
At one point, a manatee came up to Emery and rolled over for her to pet its belly. It was so cute! Probably our favorite moment.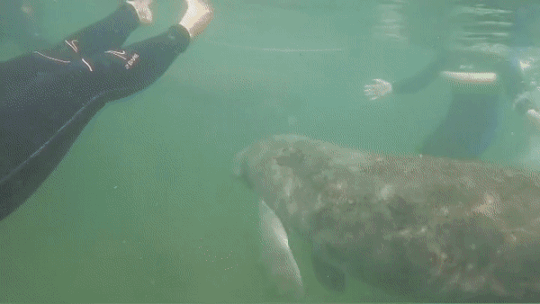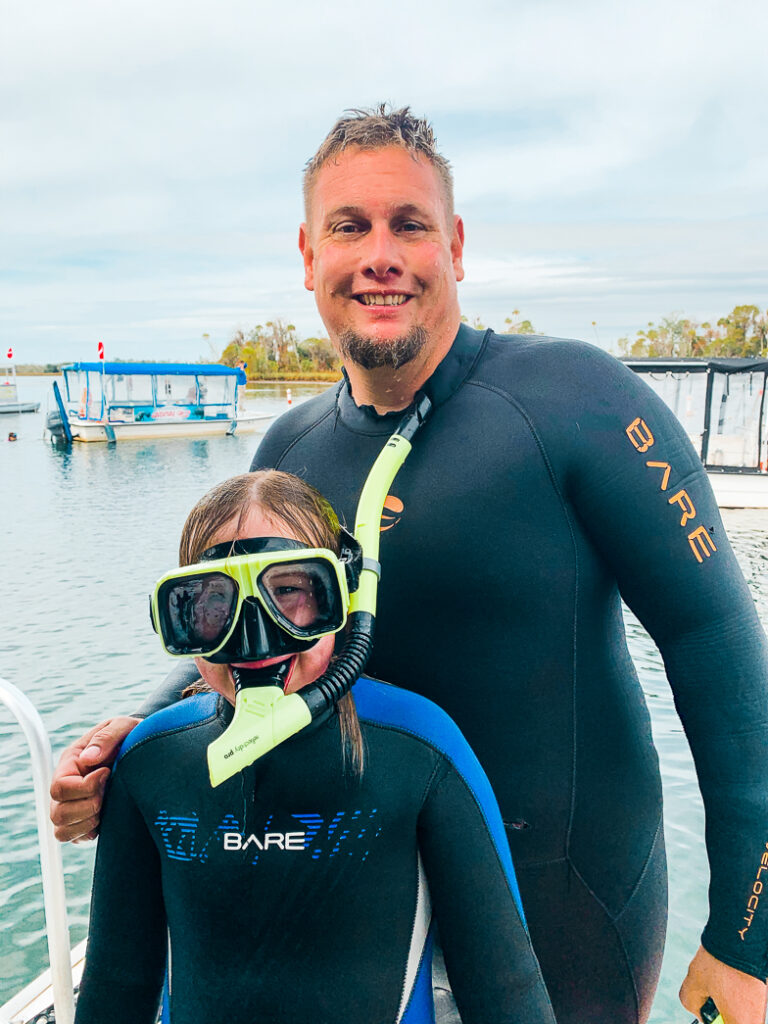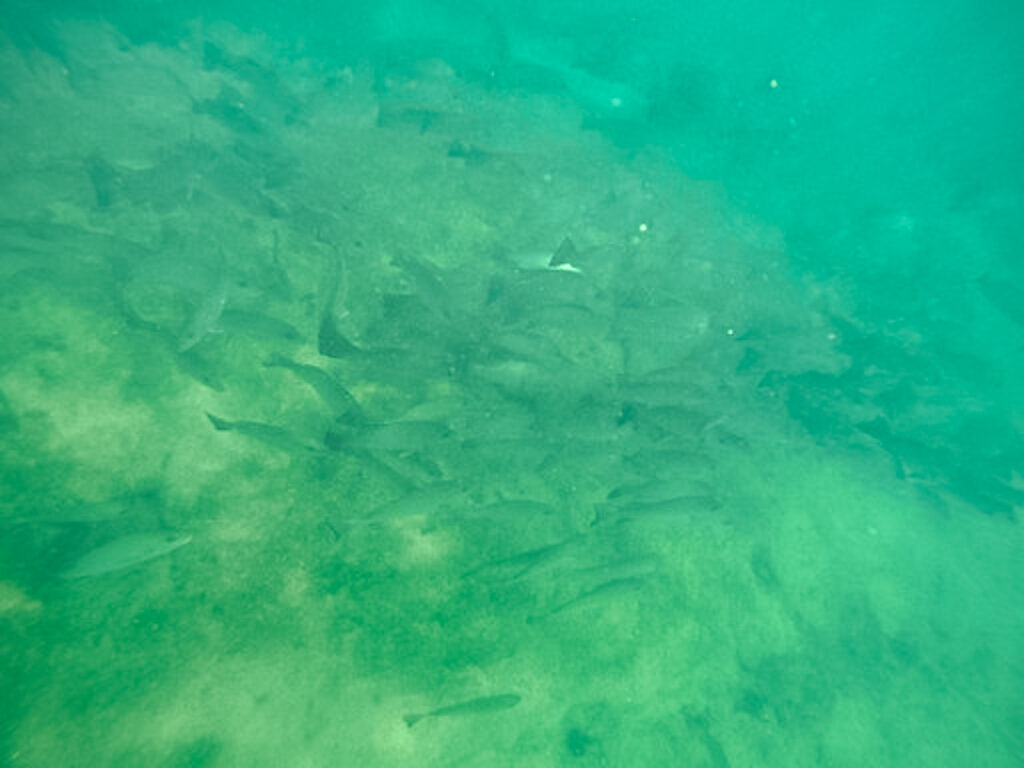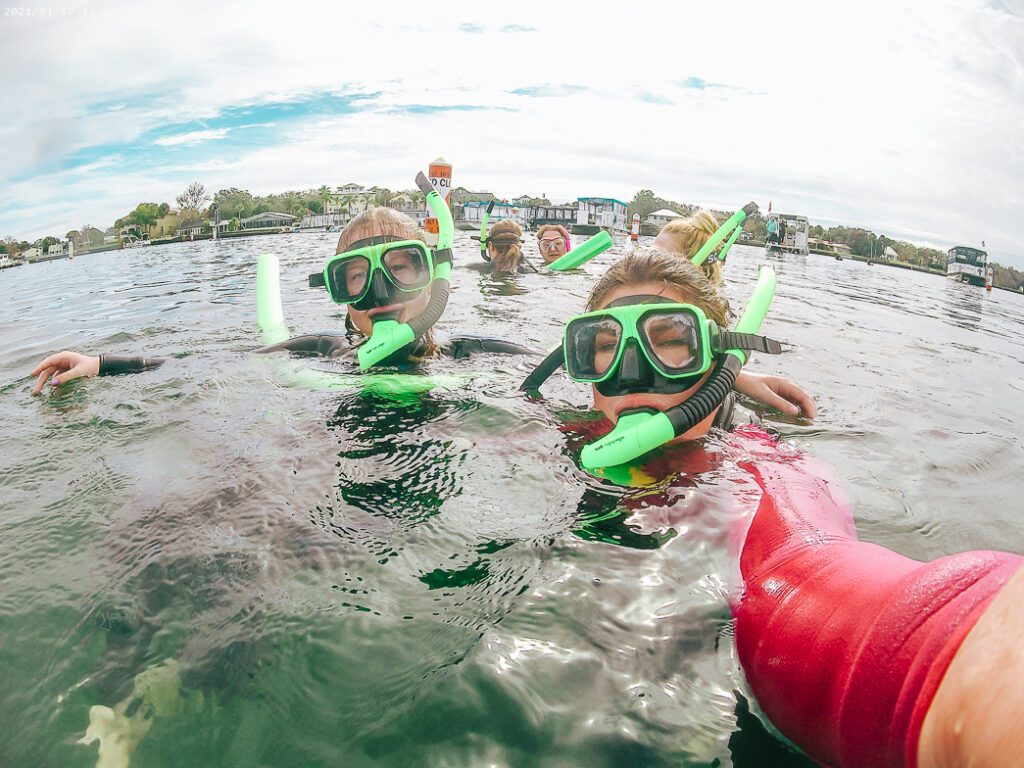 Can young kids go?
Yes, but I'd say it depends on each kid. The charter is 3 hours and that might be a long time if your kid isn't used to being on a boat that long or waiting. We didn't bring a wetsuit for Collins and their included wetsuits start around size small (like a 5/6). She wouldn't been fine to go and swim with us if we'd brought one but we decided to trade off and each swim with Emery while the other was on the boat with Collins.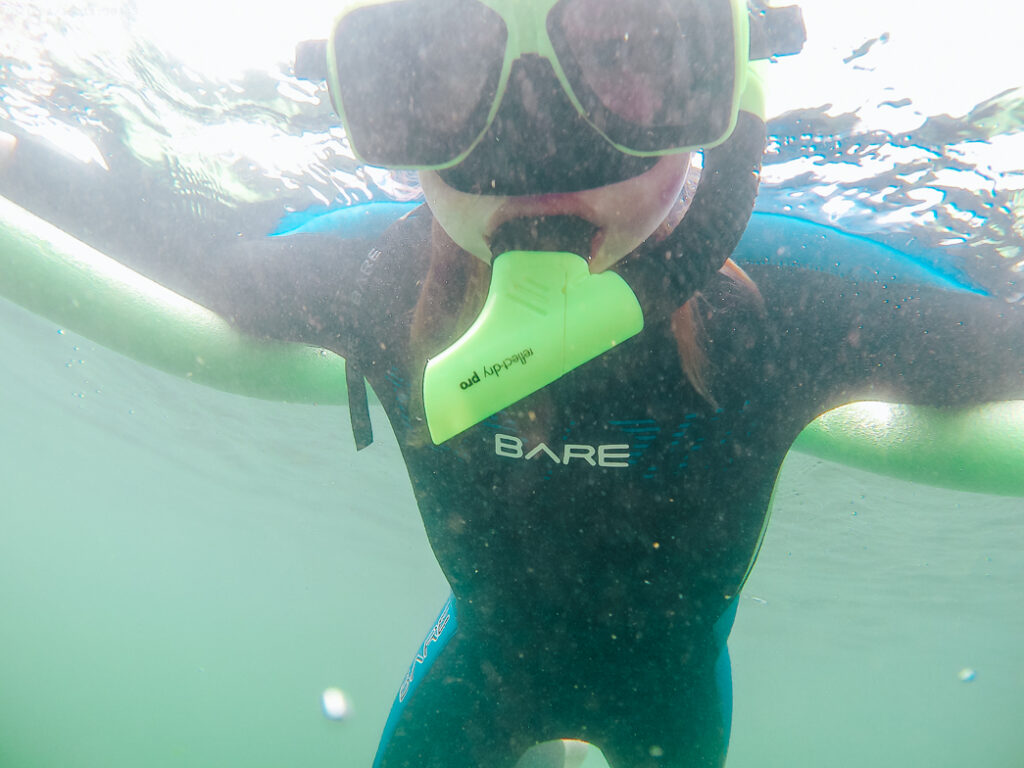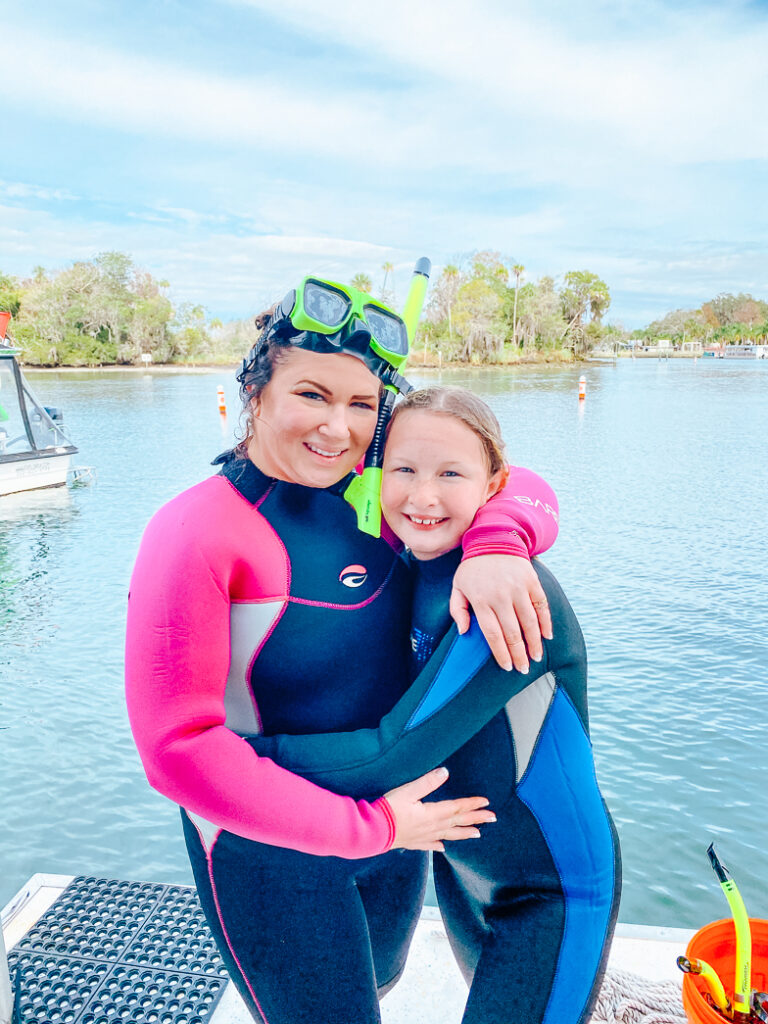 Where to Eat?
We loved the onsite dining at Plantation on Crystal River. The first night, we ate inside the upscale restaurant West 82. The restaurant follows all social distancing, mask-wearing guidelines indoors so we felt completely safe to enjoy our meal. Truly, it was delicious! I ordered grouper, Hunter ordered steak and the girls went with sliders.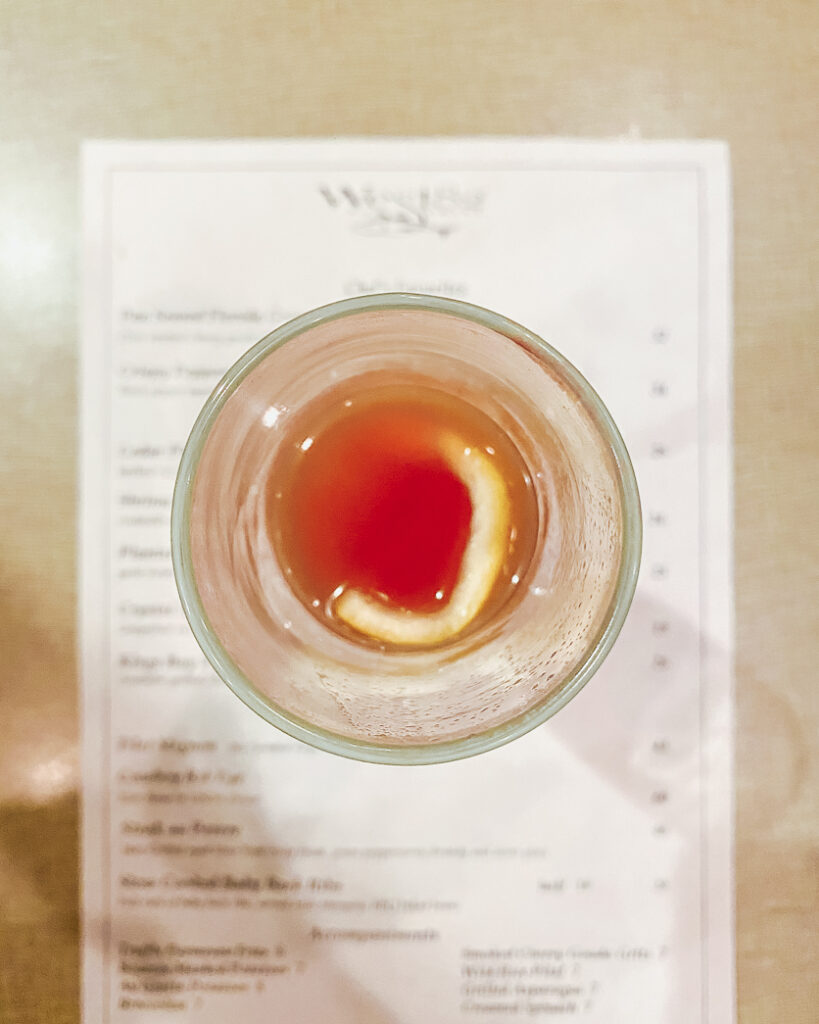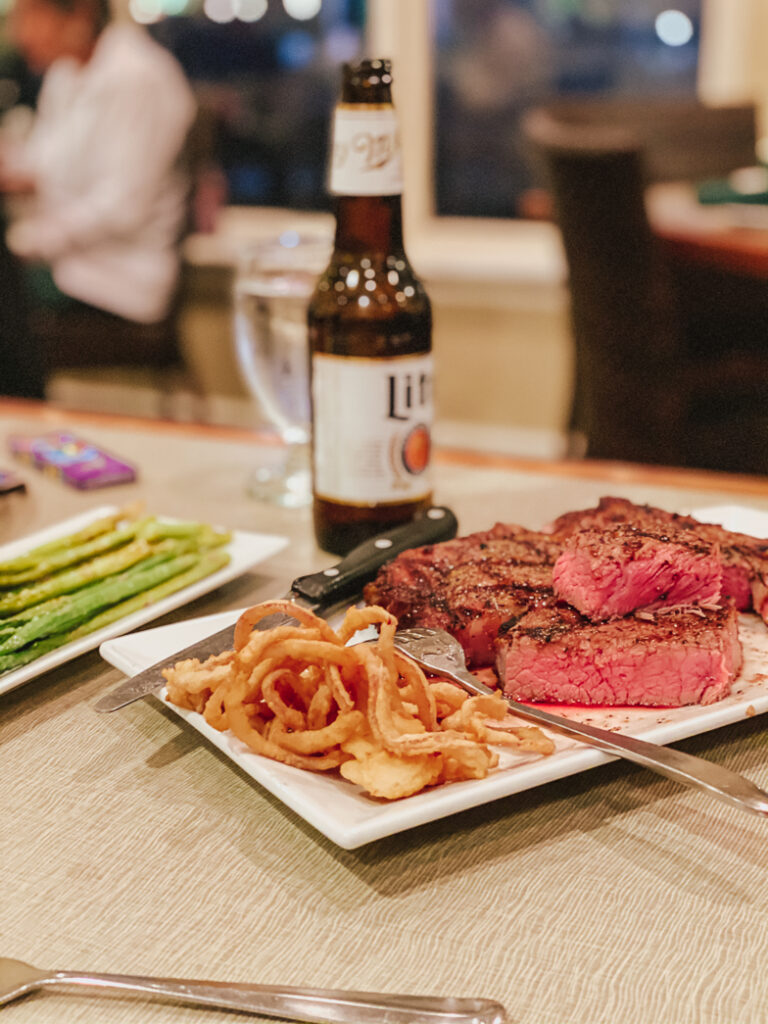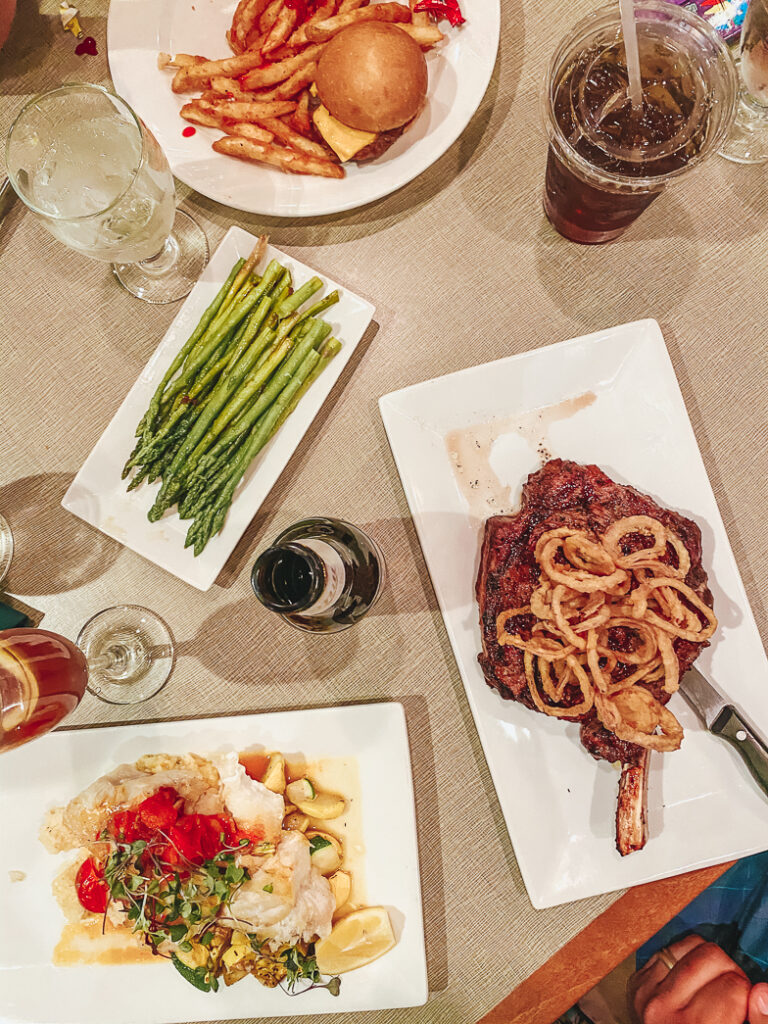 We did breakfast downstairs at West 82 and the highlight was easily the manatee pancakes. Also highly recommend the omelet and a strong coffee!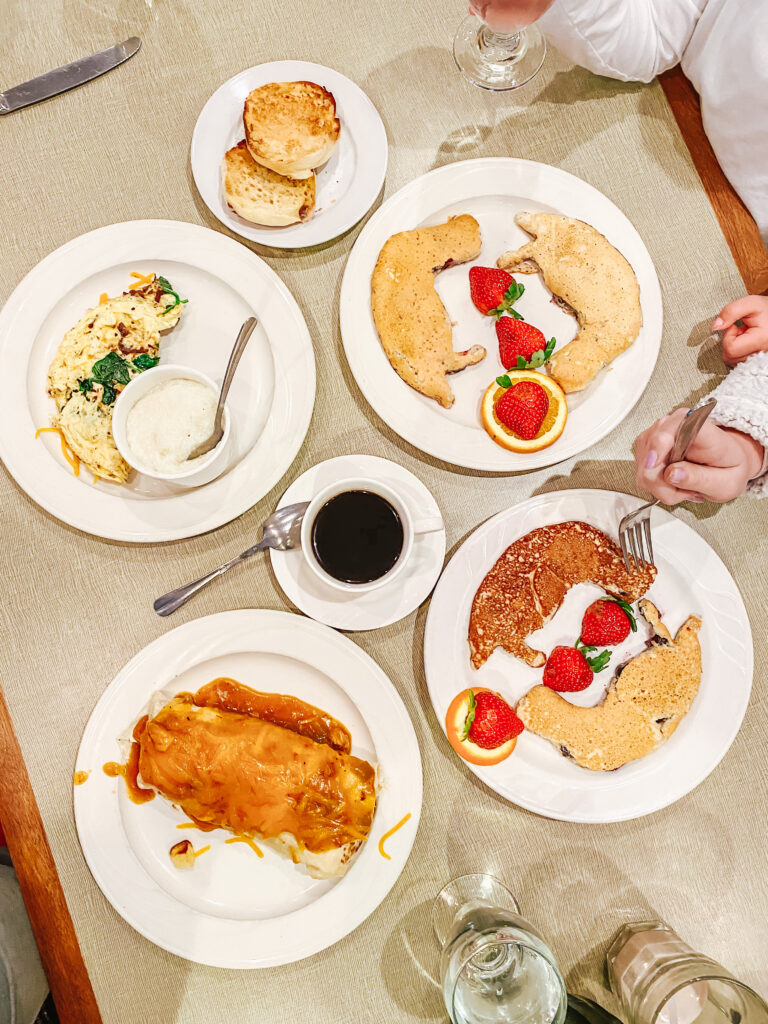 After the manatee tour, we were still a bit wet, a little high on adrenaline and ready to eat. The poolside tiki hut was the perfect spot to crash and refuel. We ordered a burger, boiled shrimp, a blackened grouper sandwich and the kid favorite chicken fingers.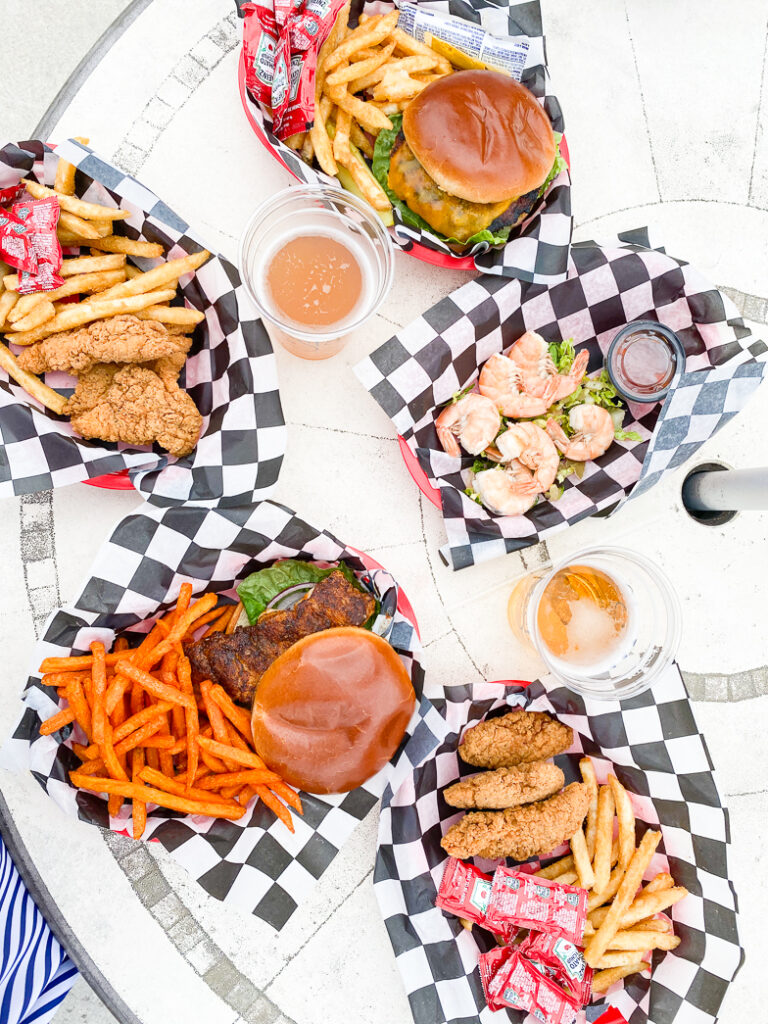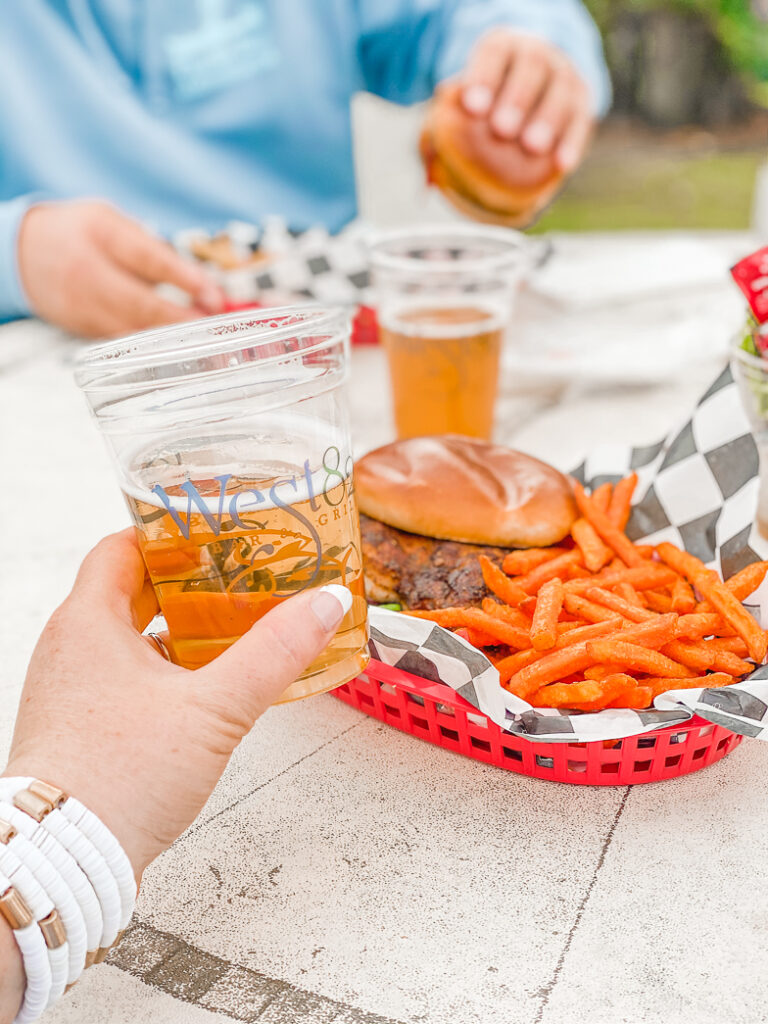 The sweet bartender jazzed up the girls' lemonades with a fun garnish and it was a big hit. When you travel with kids, it's the little things that go a long way.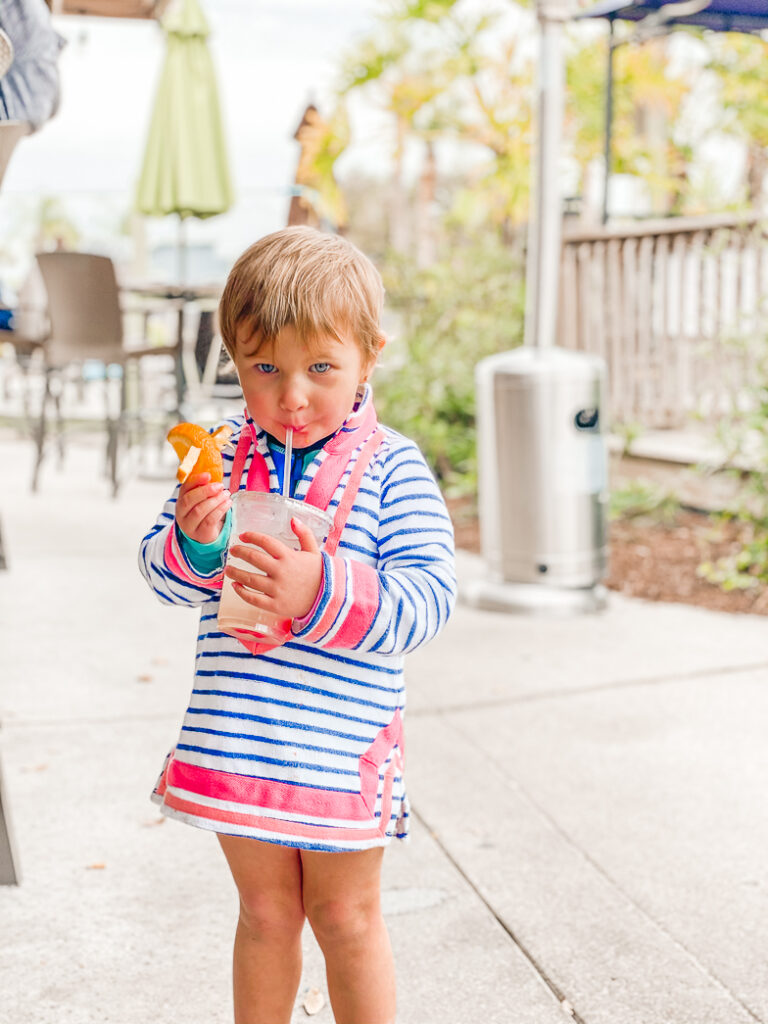 Our last night in Crystal River, we ventured off the hotel property to try Waterfront Social. It's a great spot on the water for casual coastal dinner. We arrived after dark, but I'd suggest going before sunset to get the full scenic view.
What Else to do in Crystal River
Enjoy the Hotel
We spent most of our spare time at the pool. It was heated this time of year and made for fun splash time. What
Wander Downtown
We didn't spend much time off property other than that, but if we'd been in town another full day, I'm sure we would have checked out the other shops and cute downtown area. Worth a stroll if you have time!
Three Sisters Springs
This is an area we planned to visit, but the girls (mostly Collins) made it clear a nap was in order instead of an afternoon excursion. Here you can see so many manatees in their natural habitat without chartering a boat. It's a rare land access point to view these cool creatures.
What to Pack
I am a longtime fan of Cabana Life so it was a perfect fit to partner on this trip. Everything we're wearing is from the brand (other than the charter's wetsuits – ha!). Cabana Life's swimwear and resort style is always the best mix of trendy and classic, stylish and comfortable. From the pool and boat looks to the resort wear and coverups, you can easily find coordinating pieces for the entire family.
Shop the Look
JavaScript is currently disabled in this browser. Reactivate it to view this content.
click on each item to shop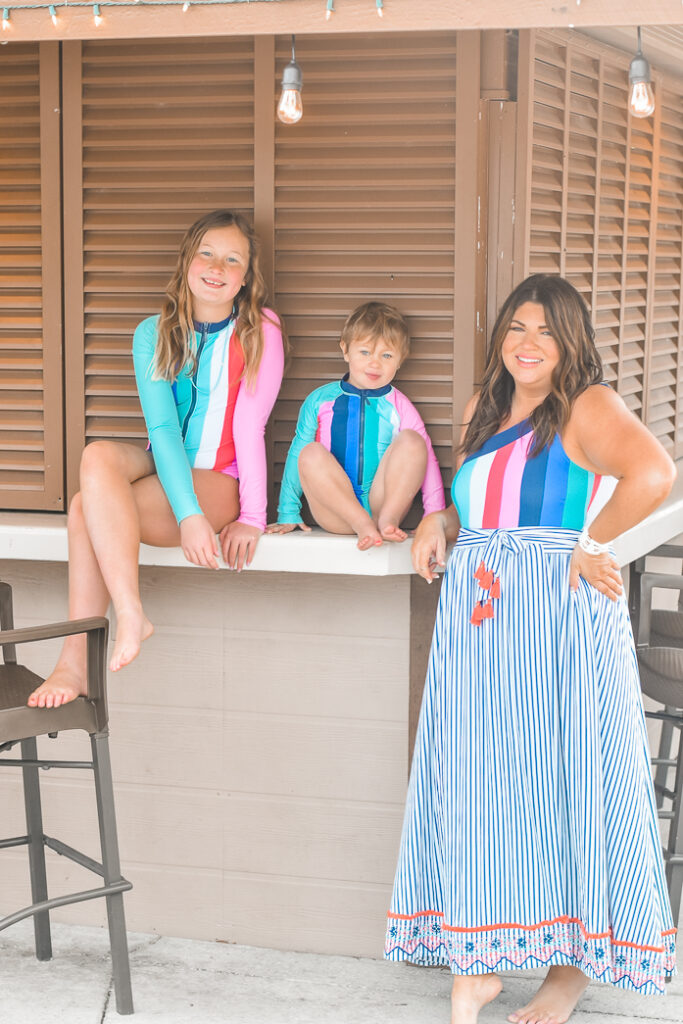 girls stripe unisuit | stripe one piece | stripe coverup skirt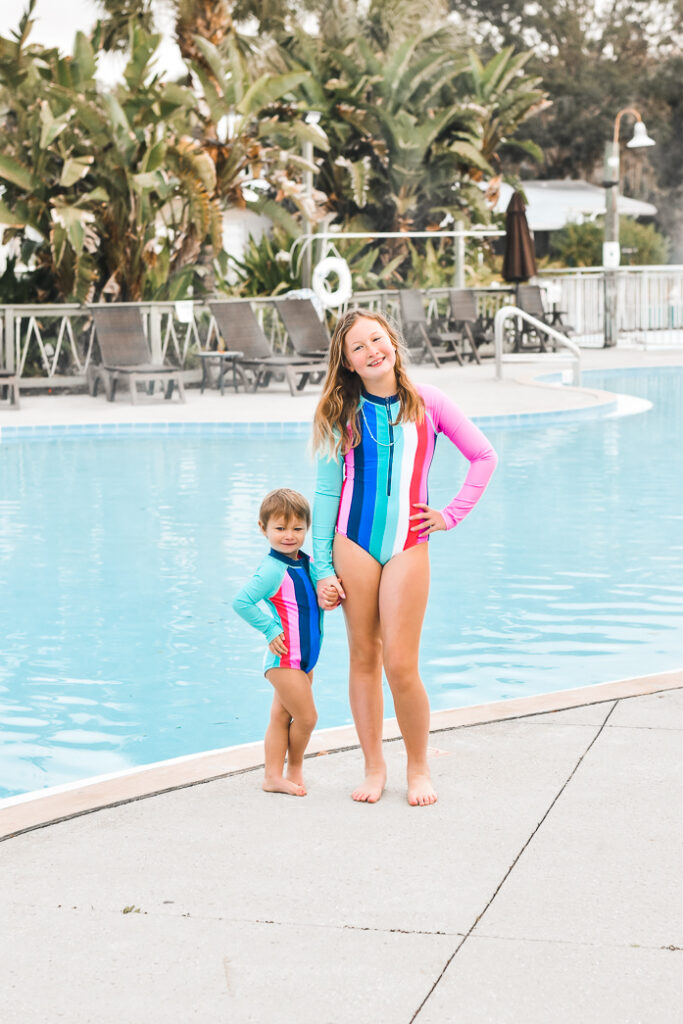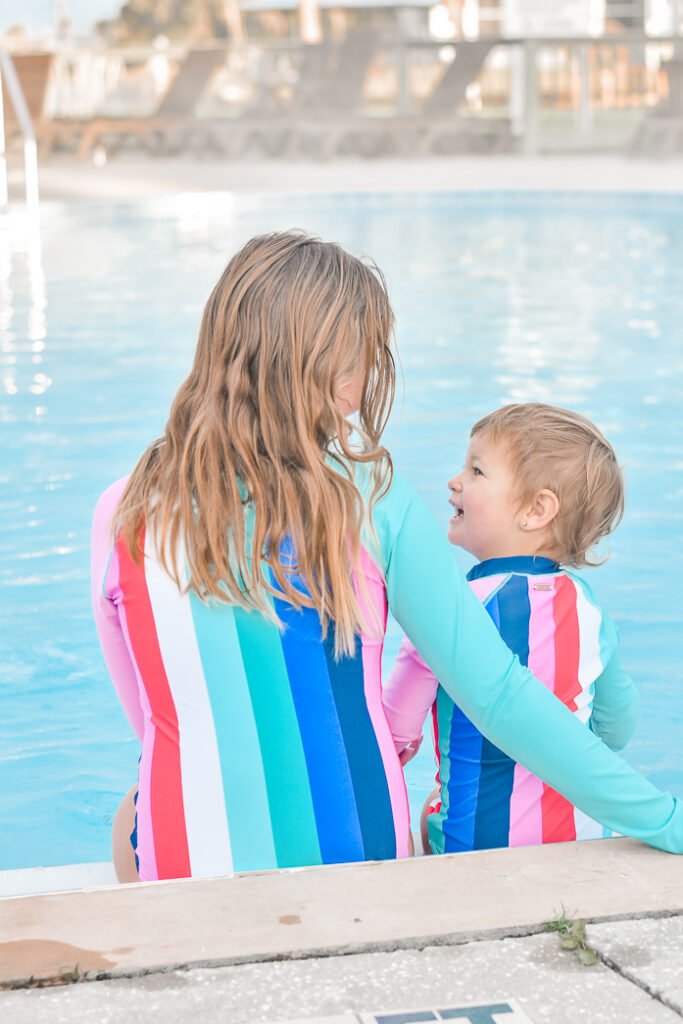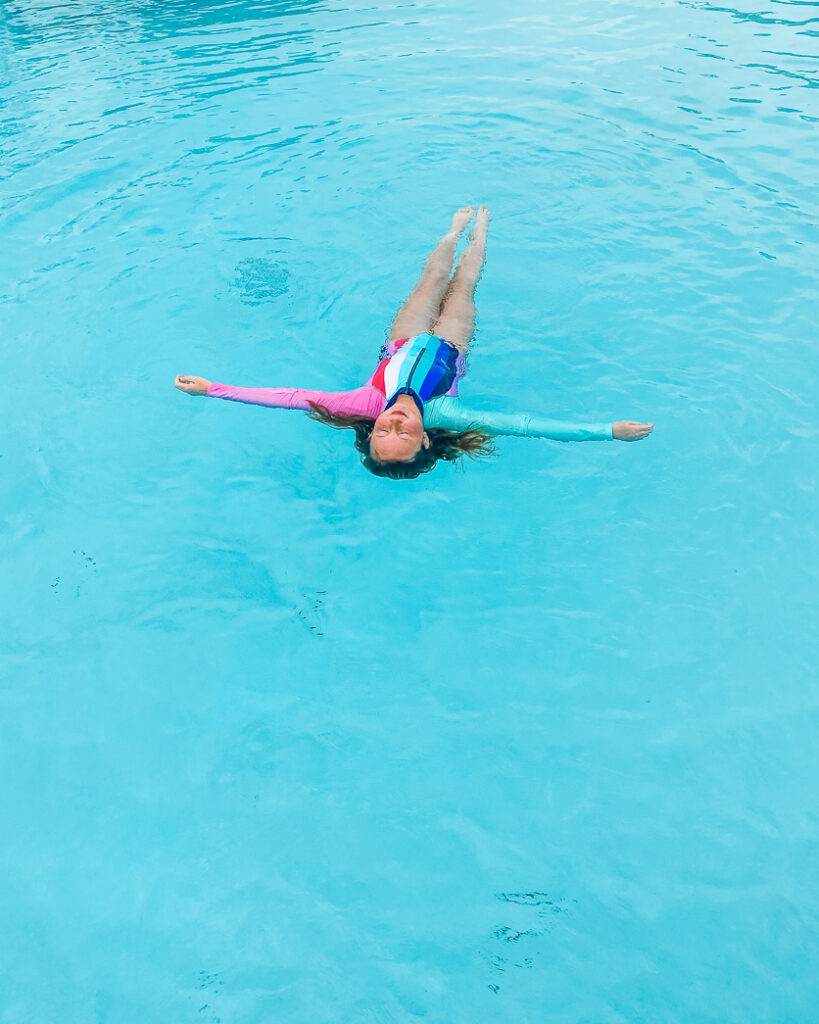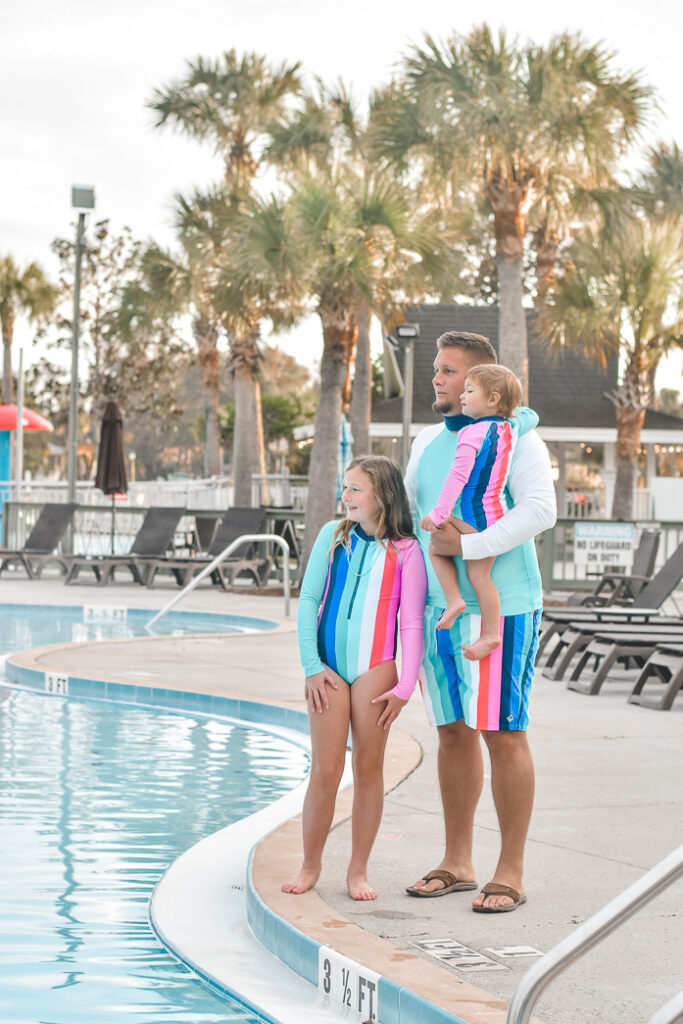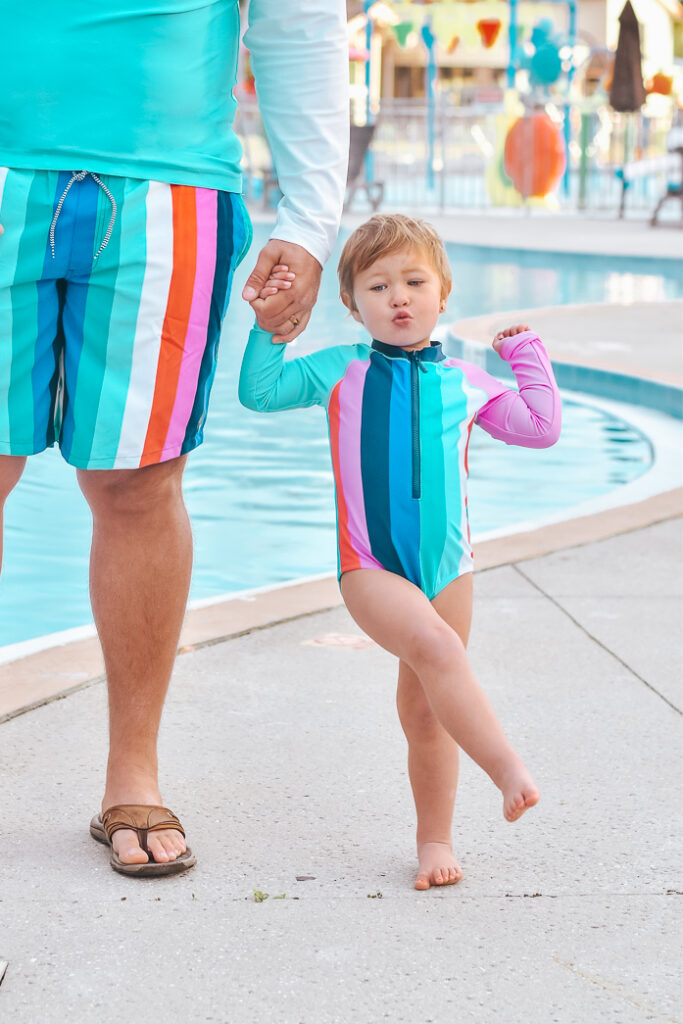 mens mint rashguard | mens stripe trunks | girls stripe unisuit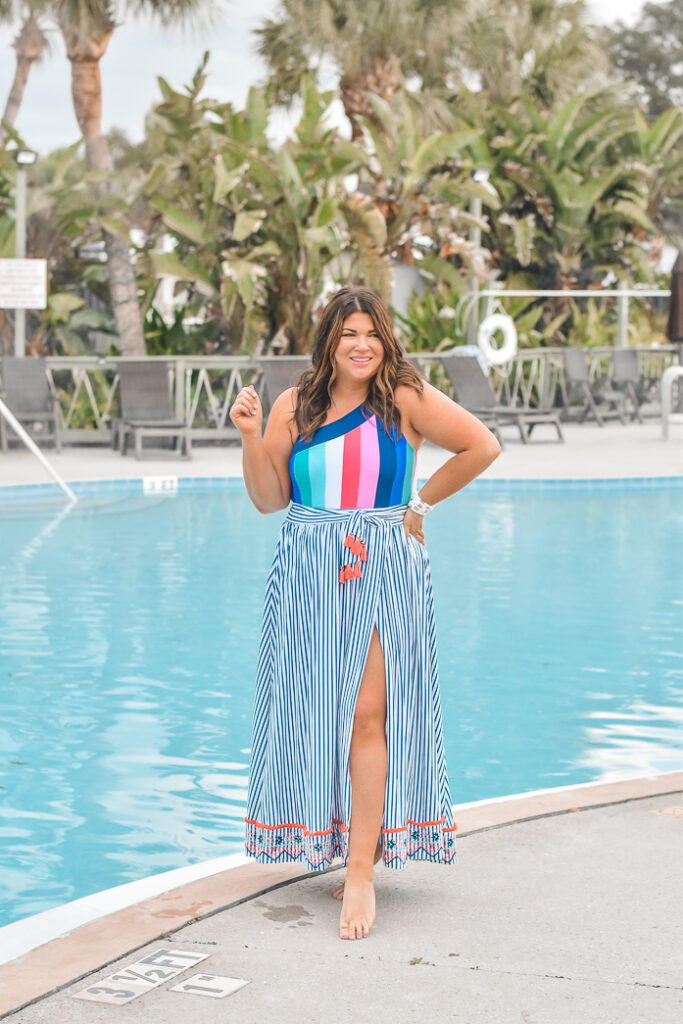 stripe coverup skirt | stripe one piece | (bikini version)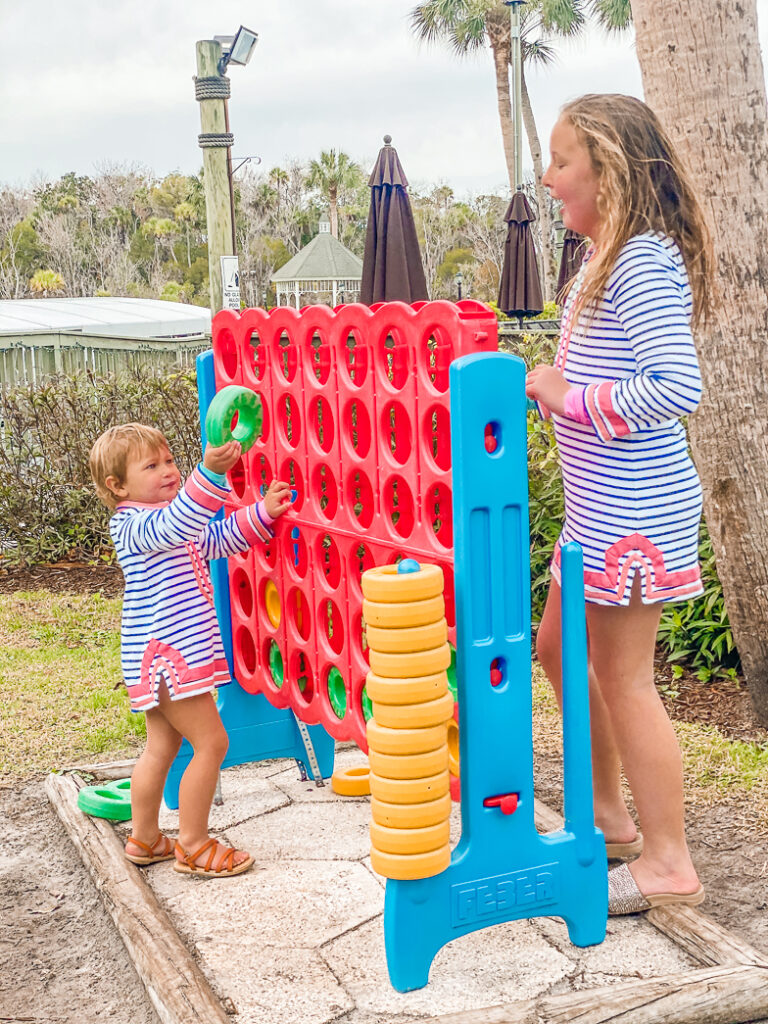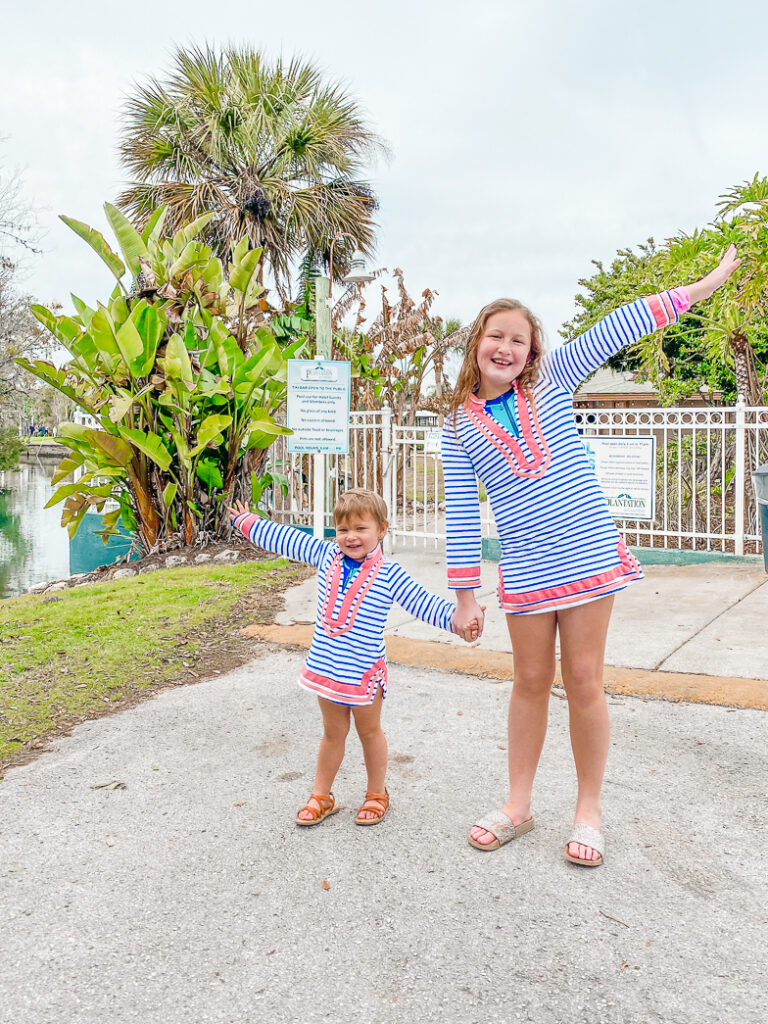 girls stripe terry coverup | (matching mom version)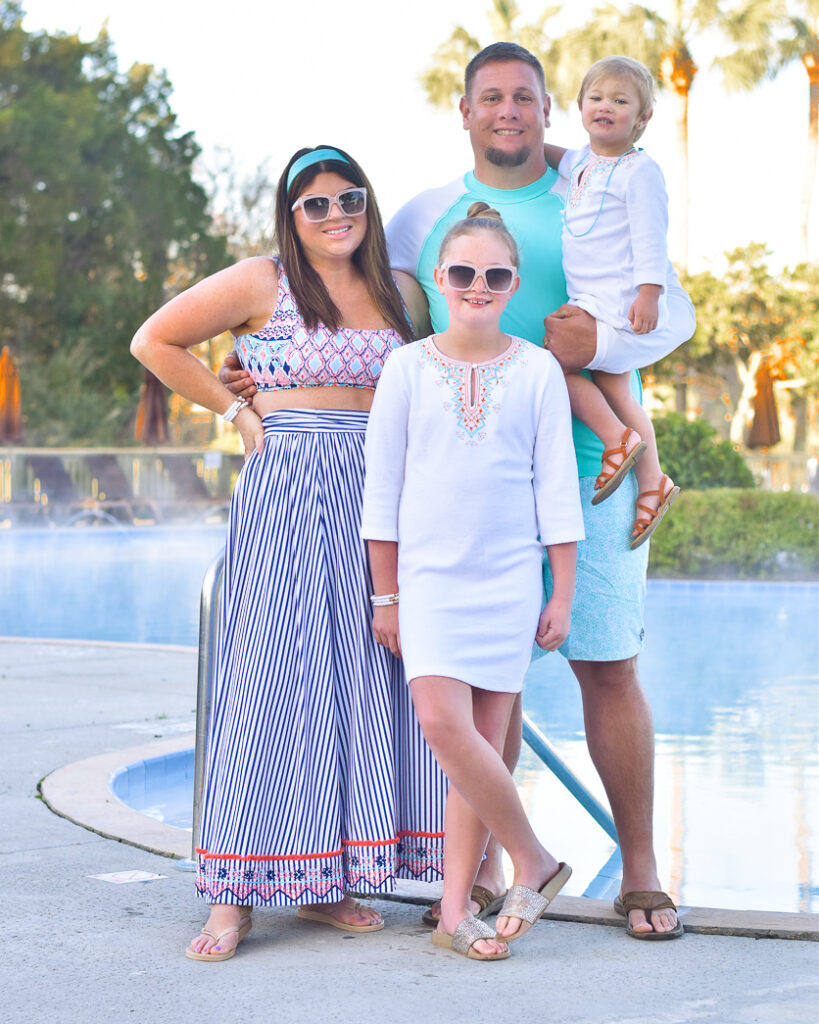 stripe coverup skirt | St Barts bikini top | St Barts bikini bottom | girls white terry coverup | mens mint rashguard | mens trunks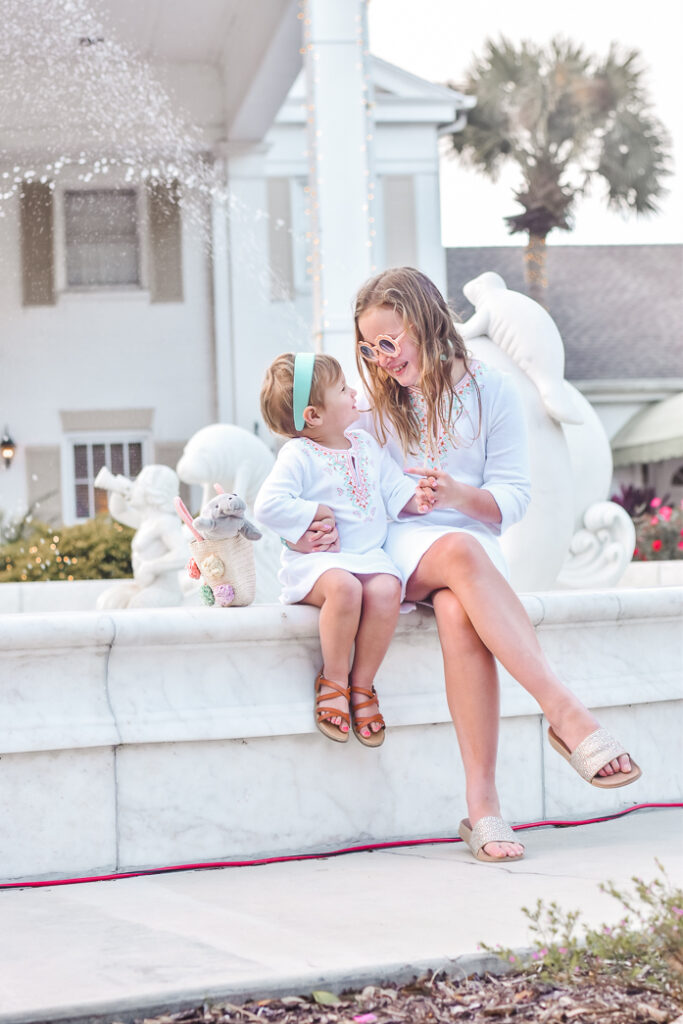 girls white terry coverup | flower sunglasses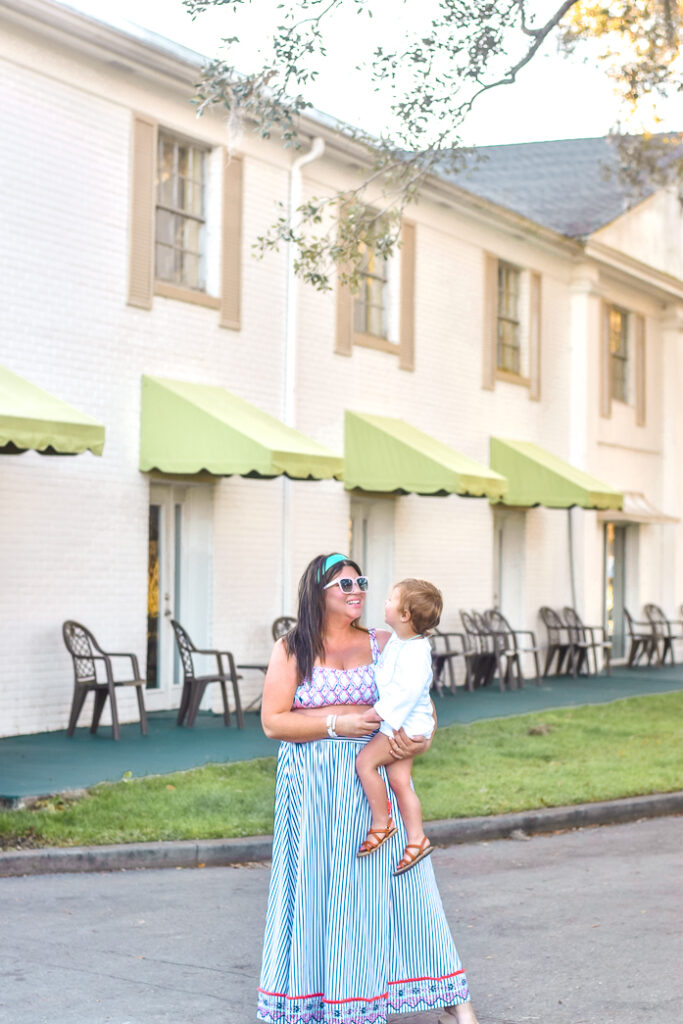 stripe coverup skirt | St Barts bikini top | St Barts bikini bottom | girls white terry coverup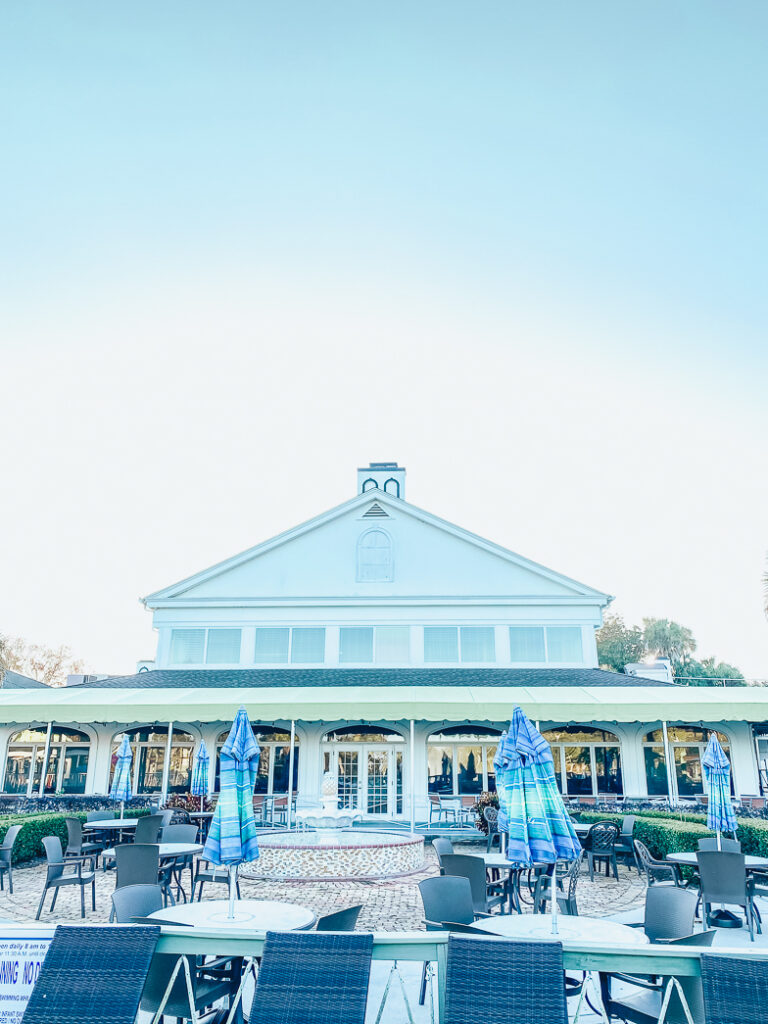 stripe coverup skirt | denim jacket | girls white terry coverup
What do you think? Have you ever swam with the manatees or visited Crystal River? Which swim look was your favorite?
This is one easy and awesome trip you can do and enjoy together to create a ton of fun and memories. I highly recommend you give it a try!